Employee Scheduling Examples and Guide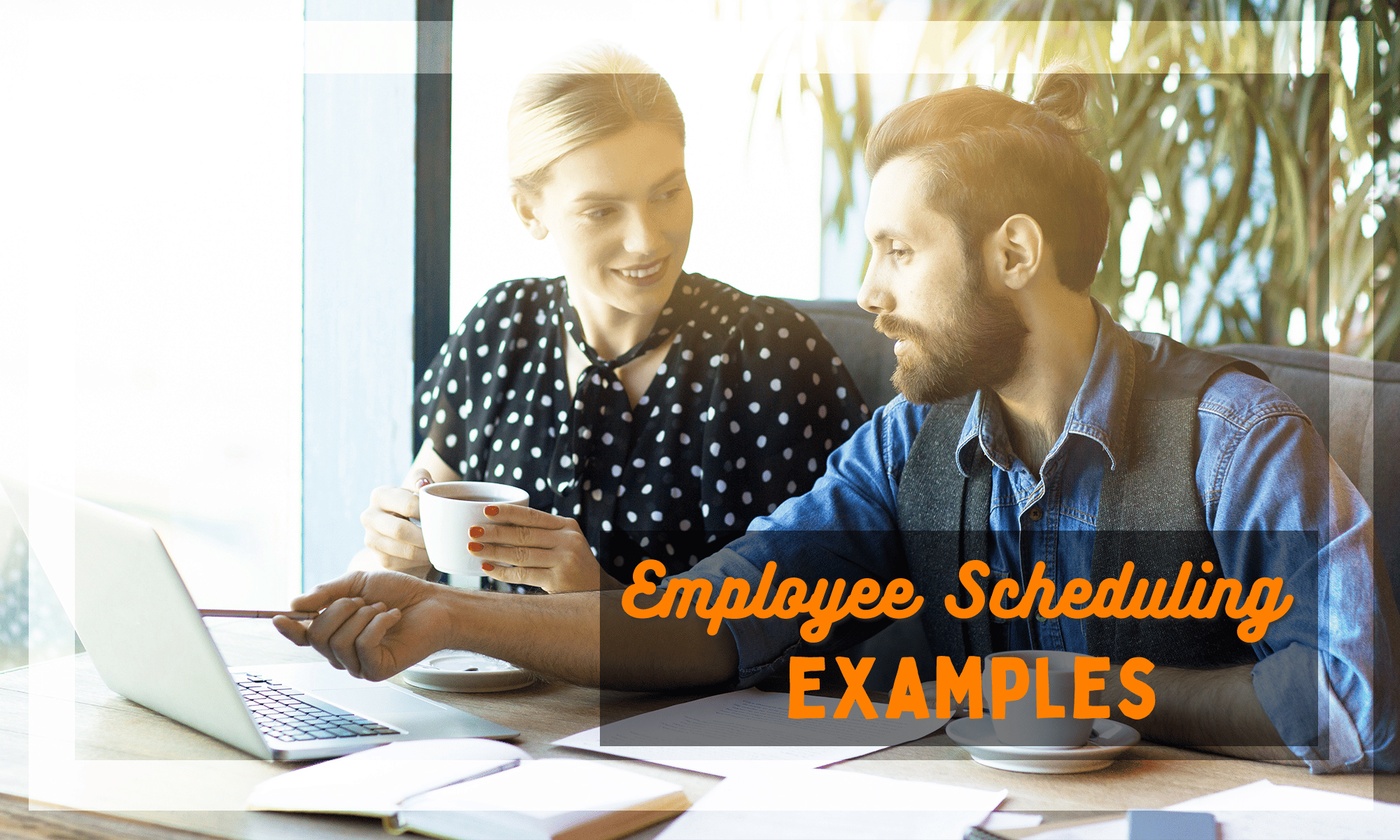 An effective work schedule can be the difference between a profitable business and a failing one. If Managers want to take their operations to the next level, they'll have to figure out how to juggle their individual employees' sensibilities against their business needs, which is easier said than done.
We're going to go into what a work schedule is, why they're important, and examples of some that you can implement into your business, whether you work with full-time employees or part-time employees. Then we're going to talk about how some employee scheduling software can help alleviate most business owner's scheduling needs.
Employee Scheduling Examples
What is an Employee Work Schedule?
An employee work schedule is the overview of the days of the week and number of hours that employees are set to work. The most traditional example of this is the 40-hour work week, typically accomplished by working Monday through Friday, from 9 to 5. Though most employers choose a fixed schedule for convenience's sake and to establish a work-life balance, you can create one that varies as much as you want, or even create one operating on a per-employee basis.
The Different Types of Work Schedules
Here's a quick overview of the most common shift work schedules:
Full-Time Work Schedules
As we mentioned above, these are the schedules that are usually (but not only) 40 hours a week. These employees tend to be paid on an hourly basis or receive a salary. Full-Time work is often accompanied by benefits such as sick leave or health insurance to stay competitive in attracting high-quality talent.
Part-Time Schedules
Part-Time work schedules resemble Full-Time schedules at their core but have a drastically reduced number of hours per week. For most employees, this will be a trade-off between having more free time for their personal development but receiving less benefits.
Fixed Work Schedules
Both Full-Time and Part-Time schedules can be considered Fixed Work Schedules if they generally remain the same (as far as days and time worked) from week to week. The distinction of a Fixed Work schedule becomes more apparent when you look at their opposite, the flexible work schedule.
Flexible Work Schedules
Flexible Work Schedules are hard to define because they can be anything depending on the agreement an employer and team member reach. With this style of scheduling, you're giving your employees the ability to vary their arrival time, departure time, and working days. This is a great scheduling option for business owners who truly only care about the end results.
Seasonal Schedule
A seasonal work schedule is typically only relevant for a few months out of the year – either during the Holidays (November through December and the New Year) or the summer (June, July, and August). This type of scheduling is most relevant to businesses operating around these seasons (For example, a Christmas-themed store), or for businesses that see an influx of traffic during these times (most retail businesses).
Rotating Shift Schedules
Rotating shift schedules are a little like flexible work schedules, though they are more controlled by employers. These might entail working the same number of hours but on different days, or also include an alteration on the hours from week to week.
Split Shift Schedules
Split shifts separate an employee's shift into two different parts. An employee then clocks in and completes the first half, clocks out, and returns later to complete the second shift. This break between shifts is much longer than a standard lunch break.
Compressed Work Schedules
Compressed schedules are schedules that have full-time hours overall, but employees complete that work in fewer days. For example, instead of working 9-5 Monday through Friday, they work 7-5 Monday through Thursday. This results in long hours on each workday, but employees get an extra day off at the end of the week.
On-Call Schedules
Employees remain "available" to come into work as they're needed during certain time periods, as designated by their employer. Sometimes this means they still work their regular shifts, then have an on-call period where they can be called back in. This is most common in medical fields in case of emergencies.
These are just a few of the many different shift schedules an employer might create. You could even mix-and-match strategies to create an alternate work schedule that you feel would work best for you and your team members. While some business owners like sticking to existing schedule templates, there's nothing stopping you from taking a more experimental approach.
Unless of course, you worry about your ability to handle that sort of thing on your own. Then, the idea of employee scheduling software becomes more relevant.
How Employee Scheduling Software Helps
One of the most common employee scheduling questions we get is how exactly software can help business owners. These days, most apps come with an option to view your overall calendar, which makes it easier to identify open shifts and gaps or overlaps in scheduling. With some tools, such as Buddy Punch, you can also automatically send a notification to team members once you've set schedules, and they'll have some time to identify any issues you may have missed.
Furthermore, scheduling software can help you identify underlying issues that might not otherwise have come to light. By looking at the data collected, you might notice things such as specific times where employees are less productive, signs that employee needs are not being met, or other underlying reasons that you're not operating at the level you should.
Then there's other features that scheduling software brings to the table while managing simplicity, accountability, and streamlining. For an example of how all this comes together, look no further than the example set by Buddy Punch.
When we first created Buddy Punch, we wanted to make an employee time tracking and scheduling software that could work for small businesses and enterprise owners alike. It had to be flexible, simple, and capable of maximizing employee accountability across the board to achieve this.
After trial-and-error, experimenting, and listening to constructive feedback – we feel we succeeded. Let's take a look at some of Buddy Punch's features and show how exactly we feel we managed to empower business owners without overwhelming them or their employees.
Note: If you'd rather get hands-on experience with Buddy Punch, you can sign up for a 14-day free trial by clicking here.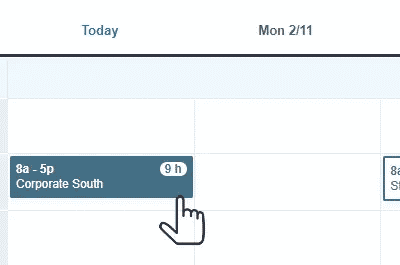 Buddy Punch lets you streamline your shift management by allowing you to create shifts by clicking on an empty cell in the dashboard. Then, you can drag and drop that shift as necessary, filling out the calendar until all necessary team members are scheduled. Once you publish that shift, all scheduled employees will receive a notification automatically.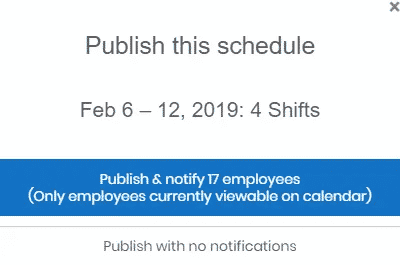 Speaking of notifications, Buddy Punch's notifications feature makes scheduling easier by keeping both managers and team members aware of major changes in staffing. For example, if an employee wants to use some of their vacation days during a time period, you'll receive a notification of their leave request. Once you approve or deny said request, they'll receive a notification back informing them of your decision.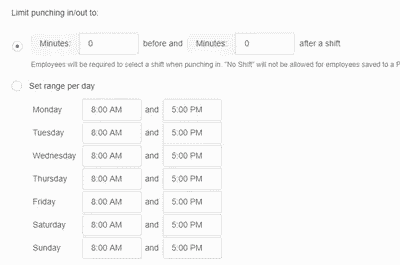 The punch limiting feature is a great example demonstrating how Buddy Punch makes changes to accommodate our clients. This feature is most useful for a select few users who have employees that tend to clock in early or late, which impacts scheduled time and can cause additional overtime. With this, you can set a specific range of time when people can clock in.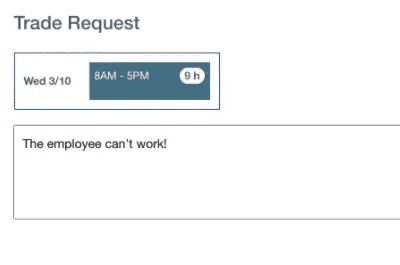 With Buddy Punch's Shift Trades & Covers feature, business owners get to let their employees exercise some autonomy.
The Shift Trades option lets employees (with granted permissions) initiate a shift trade with another employee at their own will. The Shift Covers option allows employees to do the reverse, filling in for another employee or taking over an open shift at will.
Both of these options will reduce the amount of time business owners have to spend dealing with schedule changes after publishing, and employees will benefit from having more control over their own working hours.

At the end of each pay period, you can easily export the gathered data from your employee scheduling directly into your favorite accounting software. Buddy Punch integrates with many of the most common payroll software programs, such as Zapier, QuickBooks, ADP and more. Click here to view the full list of Buddy Punch's integrations.

Buddy Punch Offers Many Other Features
Buddy Punch wasn't built to just be an employee scheduling tool – it's meant to be an end-to-end solution for all things employee management. To that end, we've added many other features such as:
There's still additional benefits to using Buddy Punch.
We have a blog section that's constantly updated with new information that can help business owners optimize operations, our help doc center has articles on how to best utilize Buddy Punch, and our customer support team is always available to answer questions via live chat. Additionally, our support can provide you with a one-on-one personalized demo of Buddy Punch. Book it by clicking here.
Buddy Punch's Online Reviews
As of the writing date, Buddy Punch has 4.8 out of 5 stars and 688 reviews on Capterra.

Below, we'll list just a few reviews that speak to Buddy Punch's ease of use and impact on employee scheduling. (Click here to explore the full list of reviews.)
"While there, I setup my samples and take a few photos of my presentation to attach when I clock out. I like that I can see my schedule, even though I already know my Road Shows are 11 days back to back for each demo. It takes out 39 minutes for my lunch and keeps up with my total hours so I can accurately calculate my check. "

Click here to read the full review.
"I really like that it tracks and accrues PTO & holiday hours. I don't have to ask anyone what my PTO balance is! I think its smart to be able to add a schedule if you happen to work the same amount of hours each day – much easier to add. I also like that I can add a comment or note of some sort, if needed."

Click here to read the full review.
"The interaction with the the different sections is seamless once a person learns all the processes that relate to time in and time off. Having the availability of the calendar option makes keeping up with personal time very simple. The features that allow changes to time and scheduling are made simple and are quick and easy to perform."

Click here to read the full review.
"The interaction with the the different sections is seamless once a person learns all the processes that relate to time in and time off. Having the availability of the calendar option makes keeping up with personal time very simple. The features that allow changes to time and scheduling are made simple and are quick and easy to perform."

Click here to read the full review.
As these reviewers noted, Buddy Punch's scheduling features are simple and intuitive to use.

Try Buddy Punch for Free
If you feel that Buddy Punch could be the right scheduling tool for your business, sign up for a 14-day free trial. You can also view a pre-recorded demo video or book a one-on-one demo.

You May Also Like…