Overcoming Common Shift Scheduling Challenges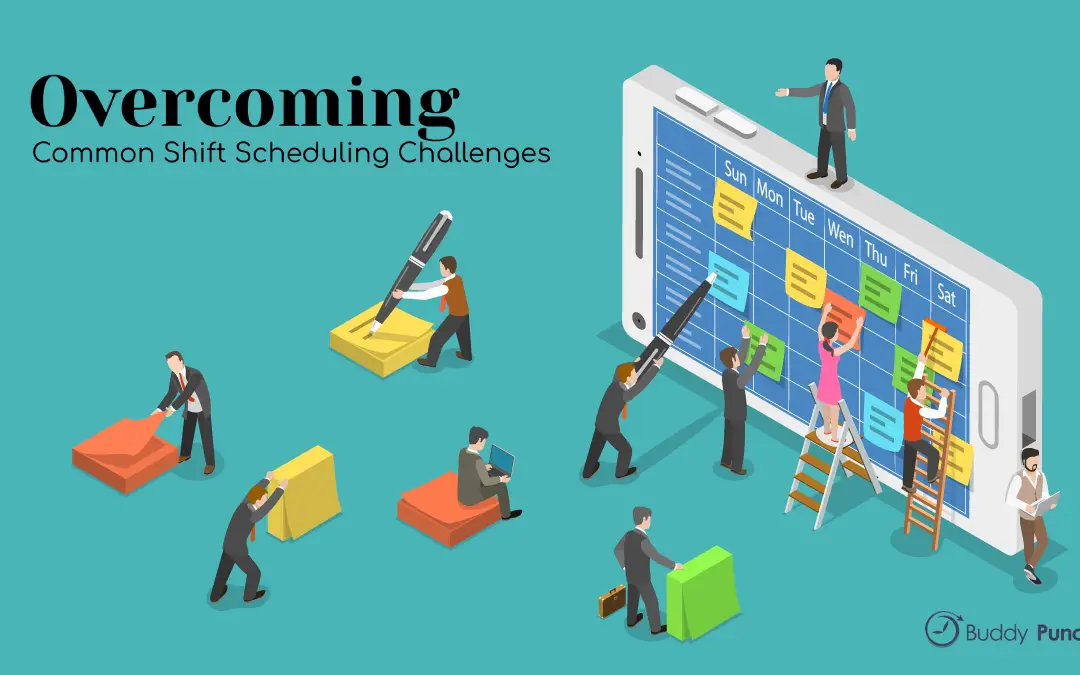 Keeping your employee work schedules smooth and efficient can be extremely challenging. Just one missed work shift can cause significant problems and throw off an entire workday. Beyond the issues that might arise from last minute schedule changes on the floor, it's been reported that missed shifts can also cost workers up to 7% of their annual income in missed wages.
Organizing and managing weekly shift schedules, addressing "no-shows," and rushing to get last-minute shifts covered can be a full-time job in itself, depending on your business's size. And they're just the start of some the issues plaguing scheduling. What if employees are taking more time off to avoid morning shifts or graveyard shifts, but aren't being upfront with the issue they have with their type of work schedule? What if they try to swap fixed shifts behind your back, which leads to issues when one employee is less efficient at a certain task than another?
Due to the many issues that business owners face in the course of their workday, we've come to believe that there's one easy method to resolve most of them: invest in a digital employee scheduling solution.
In this post, we're going to outline some of the most common staffing & scheduling issues that business owners run into. Then, we're going to show exactly how digital solutions resolve them. And we'll be doing that through the digital employee scheduling tool we know best: Buddy Punch, our own software.
By the end of this post, you should be well equipped to create a foolproof schedule week after week.
Note: If what you're looking for is one of the best digital scheduling programs, you really can't go wrong with Buddy Punch. Our tool has many streamlined scheduling features such as drag and drop scheduling, notifications for scheduled team members, and more. We're proud of what we've built, and over 10,000 business owners have made the switch to our software. Click here to learn more about Buddy Punch's scheduling functionalities.
Common Shift Scheduling Issues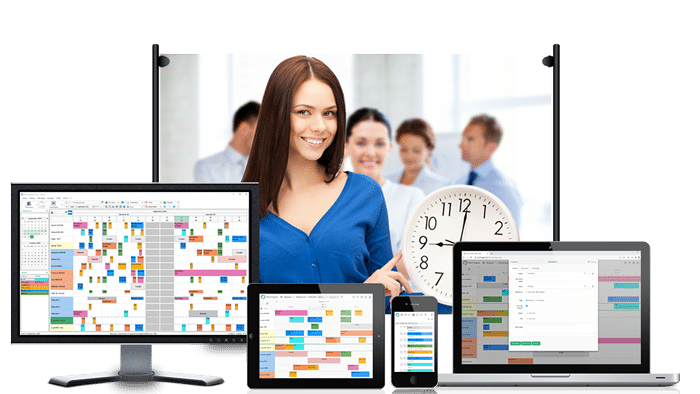 Issue #1 – No-show employees
One of the most common issues retail employers have with employees is when a current employee doesn't show up for a scheduled shift. While a new employee might be more likely to make this kind of mistake, that only makes it the more impactful when it comes from an employee you've come to deem reliable. Endless 40-hour workweeks will cause this to happen eventually, but a sudden open shift means more of your other team members have to pick up the slack, which just results in more stress for them.
How Buddy Punch Solves This Issue
There are a couple of ways that Buddy Punch helps resolve this issue. First off, it has a built-in notification system once you build a schedule, notifying all scheduled employees. This means that employees have ample awareness of when they're set to work and can request time off or mention a prior engagement. Then, once an employee's issue with a shift becomes known, Buddy Punch's Shift Trades & Covers feature allows your employees to initiate shift swaps with each other. This means any would-be no show can be covered well in advance.
Issue #2 – Employee Shortages & Low Employee Retention
Some employers may look to implement flexible work schedules or rotating shift work to solve all their issues – only to still have problems. Sometimes the problem is not how you handle scheduling work hours, but not having enough employees to take on a certain number of hours and work. Recent times have been noticed to have an increase in job openings, whether the problem is perceptions about minimum wage, lack of people willing to work full time or part-time, or employees growing more demanding about the conditions they work in. Unfortunately, not having enough employees means giving your current employees more responsibilities, which can result in them feeling overworked and may even lead to lowered employee retention.
How Buddy Punch Solves This Issue
Buddy Punch helps resolve this issue on the front-end, by helping improve your employee retention to the point where it's easier to get your staff numbers up to where they need to be. Buddy Punch's methods of clocking in and out are simple, requiring only one button press, and its intuitive design and notification system make it easy for all team members to use – employees and administrators alike. This all adds up to a more pleasant working experience, which boosts employee retention, and helps prevent future staff shortages.
Every little thing helps, and it's important to take the necessary steps to keep your employee retention high before it spirals out of control as more employees feel unmotivated or unwilling to deal with rapid changes in the workplace. This is why many business owners look into actively improving their employee retention strategies.
Issue #3 – Shift Work Schedule Types
For some industries, the best type of shift work to operate on consecutive days may make it difficult to find employees. For example, night shifts might be off putting to the average worker (who are usually on a type of schedule with daylight hours). Other less common shift patterns include 12-hour shifts, split shifts, dupont schedule, and rotating shift schedules, though these schedule templates are often reserved for specific industries (such as healthcare or transportation). Depending on how your business is structured, you might benefit from offering different shift type options for employees (for example, maybe part-time employees have a more flexible type of on-call scheduling while your full-time employees have a fixed schedule with day shifts).
How Buddy Punch Solves This Issue
Buddy Punch solves this issue through its numerous flexible scheduling options (including Drag & Drop Scheduling) combined with the Notifications feature to make sure employees always know what sort of schedule they're being selected for, with plenty of advance notice to request off if needed. Additionally, Buddy Punch's positions feature makes it easier for you to put together your desired team for each new shift you create.
Issue #4 – Non-adherence to the law
In addition to employment laws that hold you responsible for managing the hours your team works (such as those enacted by the Fair Labor Standards Act), some business owners have to contend with Fair Workweek Laws, also known as predictive scheduling laws. The fair workweek ordinance demands that a covered employer provide advance notice of work schedules to their shift employees. This manner of protection ensures that workers have a few calendar days' notice (minimum) to see what sort of additional work they may be scheduled for. The only state that has this measure in place is Oregon, but several cities including Los Angeles, New York City, Chicago, Seattle, Philadelphia, Emeryville (California), San Jose, and San Francisco have fair scheduling laws in their jurisdictions.
It's important to note that the idea of fair workweek scheduling is only growing more popular. Some of the practices that these laws target include:
Clopening (scheduling an employee to close a retail business, then scheduling them to open it just a short time later)
Good faith estimates (in Los Angeles, "Employers will be required to provide workers with a written, good-faith estimate of their work schedule before hiring and within 10 days of a current employee's request.")
At least 10 hours rest between shifts (unless an employee's consent is given to be scheduled for a shift starting sooner, or for longer shifts in general)
Predictability Pay (compensation for schedule changes or canceled shifts)
So, in addition to established issues with employee shift schedules, there's an increasing pressure on employees to be able to keep up with the sort of demands associated with fair workweek laws.
How Buddy Punch Solves This Issue
Through every feature we've mentioned – Drag & Drop Scheduling, Notifications, Positions, and more – and others such as Punch Limiting and Automatic Punch Outs, Buddy Punch gives business owners complete control over schedules – including making them and what their team members do during them. Even any attempts to work over set hours (intentional or otherwise) can be automatically blocked through Buddy Punch's settings.
It's this complete level of control that makes it much easier for employers to control employee schedules, and best of all many of Buddy Punch's features are automatic. Set and forget.
This is probably why more and more business owners are turning to staff scheduling software to help them manage work shifts and on-call shifts.
Software Resolves Many Scheduling Issues
There are a couple of business reasons to seek out an employee scheduling software to help with shift management. Many of these tools come with built-in features that either automate the scheduling process or drastically streamline it to make it easier on employers and employees alike.
Buddy Punch's Other Features
Even though we've highlighted some of Buddy Punch's most popular scheduling features, there's a lot more to consider when you're using our tool.
Departments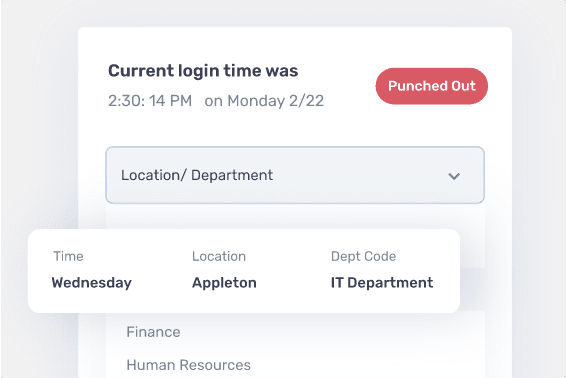 Departments are like Job Codes, allowing you to create and assign codes for your hourly employees to punch in to. You can create custom codes, such as a code for food service or cleaning in a restaurant, and monitor how much work is completed in each task on a weekly basis (which makes it easy to optimize your operations thanks to an understanding of labor costs).
Punch Limiting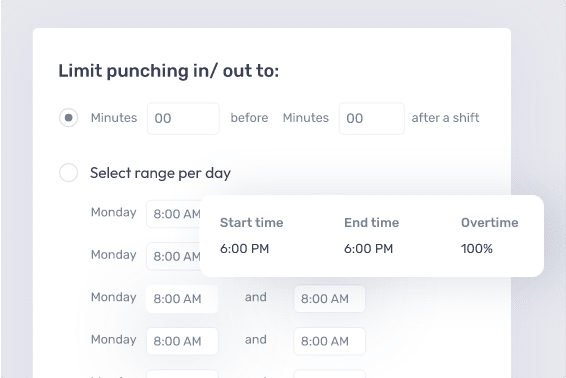 If you have employees with a tendency to punch in and out early or late, you can use Buddy Punch's punch limiting feature to set a specific time when employees can punch in and punch out. In addition to holding them accountable for their time on the clock, this helps you avoid racking up overtime hours. Paying an hour and a half times a regular rate of pay adds up too much to let it go unchecked.
Locations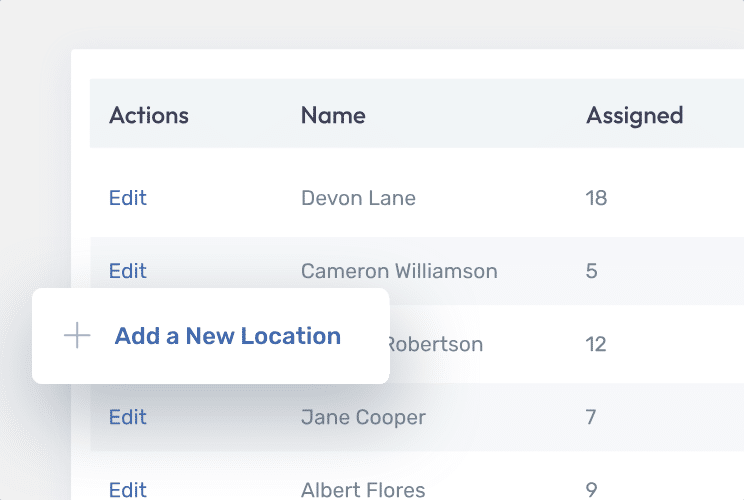 How do you make sure your employees are where they're supposed to be while on the clock? Or get an accurate read for how things are performing at multiple job sites so you can optimize your profits? Buddy Punch's Location feature lets you accomplish both of these things. When your employees clock in to work their schedule, you'll see where they're working and for how long.
Customizable Reports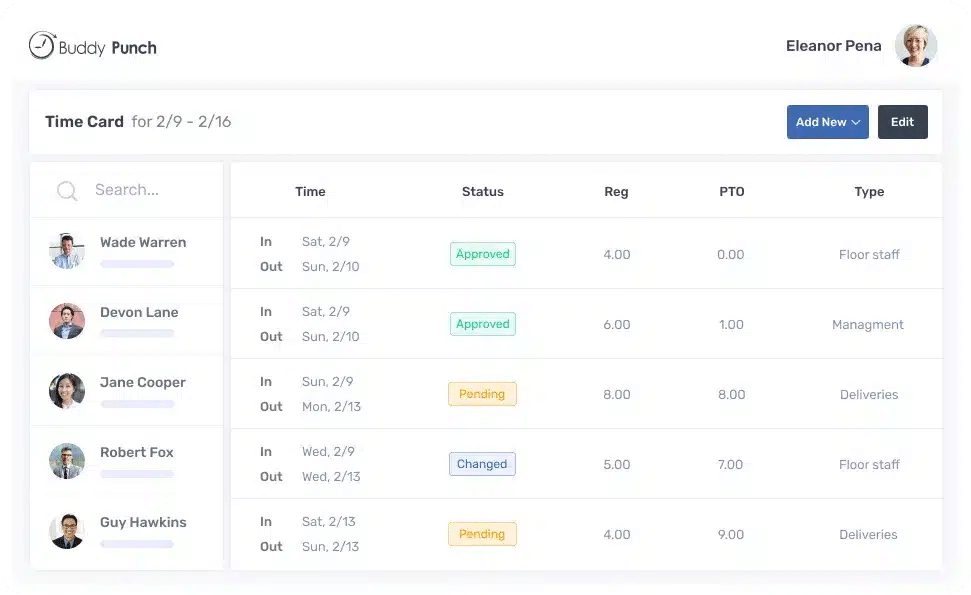 If you ever want to check in on the data Buddy Punch has been collecting, you can use the customizable reports feature to get an overview of each of your team members. See their hours summary, PTO accrued, Daily Hours, and more – all in an easy-to-understand database. Plus, you can export it as a CSV or PDF at will.
And More
Even these are just the tip of the iceberg when it comes to Buddy Punch's many employee scheduling features. We created this tool when we struggled to manage 3 employees at 20 different locations, and wanted to make sure we could find software that would help us avoid common scheduling pitfalls while streamlining both time tracking and scheduling. When we didn't find something that fit our needs, we decided to build it ourselves.
Today, we're proud of what we've built, and over 10,000 businesses have made the switch to Buddy Punch. In fact, it's so well-liked that on software review site Capterra it has 833 ratings and an overall score of 4.8 out of 5 possible stars.
Here's what one reviewer had to say:
"Best scheduling/time tracking app on the market in Canada"
Overall: Cannot say enough about their support. Even if the product was not as amazing as it is, I would highly recommend Buddy Punch due to the unbelievable support!
What about manual solutions?
Some business owners are resistant to adopting digital methods, which can be understandable. Taking on a new system for employee scheduling means changing what you've grown used to and you feel like works best for your style. Even though we think digital methods are better suited for meting business needs all around, here are a few manual options to help improve common scheduling issues: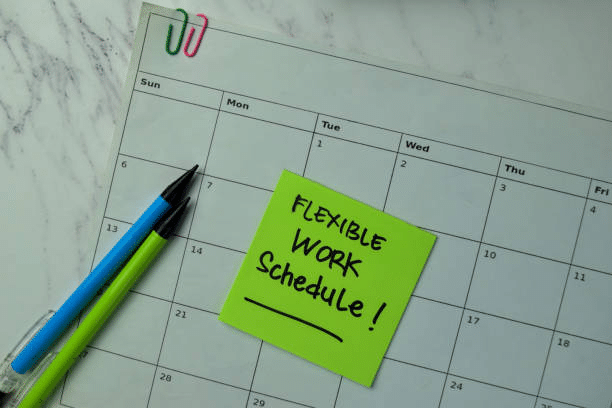 1. Give Schedules Out in Advance
It is reported that half of shift workers receive their weekly schedules two weeks in advance. The other half have a week or less notice of what their schedule will be. Shockingly, 7% of shift workers receive their schedules less than twenty-four hours before their upcoming shift.
Shift workers need to have advance notice of what their schedule will be to plan their time. Give your employees their schedules as early as you are able – at least two weeks in advance. This gives them time to plan their personal and social lives to achieve a better work-life balance. It has been shown that team members with high employee morale take ten times fewer sick days than unhappy ones.
So send out those Microsoft Excel and Google Docs spreadsheets early. Not only do advance schedule notices help employees in their personal lives, but it also helps minimize "no-shows" or late arrivals, as employees have time to plan. For example, even if night shift workers generally know they're going to be working late, knowing which days of the week they can sleep in will help them a lot.
2. Be Fair About Scheduling Employee Shifts
There are always going to be shifts that are more sought after than others, and there are always going to be shifts that are difficult to fill. It is critical to be fair about scheduling employees for these shifts. Inevitably, someone will be disappointed or unhappy with the shifts they are given. Do your best to be fair.
The easiest way to handle assigning "good" shifts is to reward them to those with positive behavior (like no tardiness or no "no shows"). Watch for those employees that go the extra mile in their current position, those who are willing to fill last-minute or unwanted shifts or those who provide excellent customer service. If your business has "on call" shifts, try to reward those employees who are willing to cover them by giving them the more desirable shifts at other times.
3. Provide breaks
It has been scientifically proven that regular breaks during the workday make for more productive employees and better work done. More than 20% of employers do not allow for frequent breaks during long shifts. No matter what type of business you operate, a short break is still vital for your employees needs. They let them quickly take a breather and recharge, enabling them to provide the best service possible. Rested and happy employees are nearly 20% more effective than those who are not. Simple things can mean a lot.
Employee Scheduling Can Be Difficult, But It's Not Impossible
The many challenges that employers face while dealing with employee scheduling can make it seem like an impossible task, but using the tips we've outlined will help make it easier. That said, the biggest difference you can make in employee scheduling is using digital software. The hardest part about using a digital scheduling solution is figuring out which one has features that would work best for your management style.
If what you want is a streamlined tool with an easy-to-use interface, responsive customer support, and automatic features for employee scheduling, then you really can't go wrong with giving Buddy Punch a chance.
Try Buddy Punch Free
If you've decided that Buddy Punch could be the right employee scheduling tool for you to improve your workforce management, sign up for a 14-day free trial of Buddy Punch here. Pricing is flexible depending on features and number of employees. You can also book a one-on-one demo, or view a pre-recorded demo video here. Since Buddy Punch works on any device with an internet connection, you can use it as both a mobile app or a desktop app.
You May Also Like: