Overcoming Common Shift Scheduling Challenges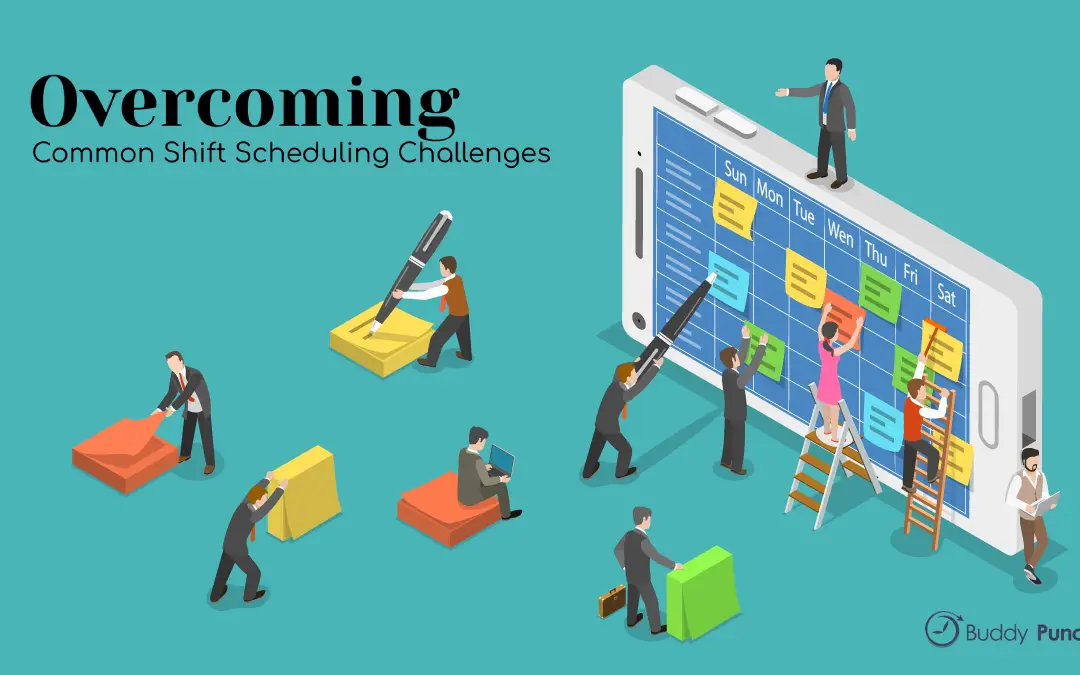 Keeping your shift work running smoothly and efficiently can be extremely challenging.  Just one missed shift can cause significant problems and throw off an entire workday. Not only can a missed shift cause problems on the work floor, but it is reported that missed shifts can also cost shift workers up to 7% of their annual income in missed wages.
Organizing and managing weekly shift schedules, addressing "no-shows," and rushing to get last-minute shifts covered can be a full-time job in itself, depending on your business's size. According to a 2017 survey, missed shifts can cost employers around $7,500 yearly.
Shift scheduling issues can also translate into personal scheduling problems for your employees as well. Unreliable schedules make daily life extremely difficult for shift workers – hobbies, time with friends or family, exercise, a proper diet, a good sleep cycle, etc.      
Healthy, happy employees are vital to a successful business. Overcoming common shift scheduling challenges can ensure the satisfaction of your employees and help them stay with you longer. 
1. Give Schedules Out in Advance
It is reported that half of the shift workers receive their schedules two weeks in advance. The other half have a week or less notice of what their schedule will be. Shockingly, 7% of shift workers receive their schedules less than twenty-four hours before their upcoming shift.
Shift workers need to have advance notice of what their schedule will be to plan their time. Give your employees their schedules as early as you are able – at least two weeks in advance. This gives them time to plan their personal and social lives. It has been shown that happy employees take ten times fewer sick days than unhappy ones.  
Not only do advance schedule notices help employees in their personal lives, but it also helps minimize "no-shows" or late arrivals, as employees have time to plan.
2. Use Electronic Employee Scheduling
One of the most significant challenges in effectively scheduling your workers is managing your employee availability. The larger your company is, the more confusing it gets. Surprisingly, 45% of employers are still using pen and paper to schedule weekly shifts. Another 40% of employers use some type of spreadsheet, email system, or whiteboard to plan their weekly schedules.  
If you are still doing your schedules this way, you are putting unnecessary stress and work on yourself or your management team and opening yourself up to avoidable missed shifts and "no-shows." Handwritten schedules are highly likely to get lost or forgotten, and last-minute changes cannot be trusted to handwritten notes.  
The solution to managing employee availability is to invest in some type of scheduling software. It tremendously simplifies the scheduling process. All you need to do is input your employees' availability, and the employee scheduling assistant software will create the base schedule for you. All you or your manager have to do afterward is review it and make a few changes as needed. Get software that can instantly share schedules and shift changes with your employees. Eliminate the "I lost my schedule" excuse or "I didn't know I was scheduled."
3. Be Fair About Scheduling Employee Shifts
There are always going to be shifts that are more sought after than others, and there are always going to be shifts that are difficult to fill.  It is critical to be fair about scheduling employees for these shifts. Inevitably, someone will be disappointed or unhappy with the shifts they are given. Do your best to be fair.
The easiest way to handle assigning "good" shifts is to reward them to those with positive behavior (like no tardiness or no "no shows").  Watch for those employees that go the extra mile in their current position, those who are willing to fill last-minute or unwanted shifts or those who provide excellent customer service.  If your business has "on call" shifts, try to reward those employees who are willing to cover them by giving them the more desirable shifts at other times.
4. Provide breaks
It has been scientifically proven that regular breaks during the workday make for more productive employees. More than 20% of employers do not allow for frequent breaks during long shifts. No matter what type of business you operate, a short break is still vital for your employees to quickly take a breather and recharge, enabling them to provide the best service or work possible. Rested and happy employees are nearly 20% more effective than those who are not. Simple things can mean a lot.