ExakTime Alternatives (5 Options)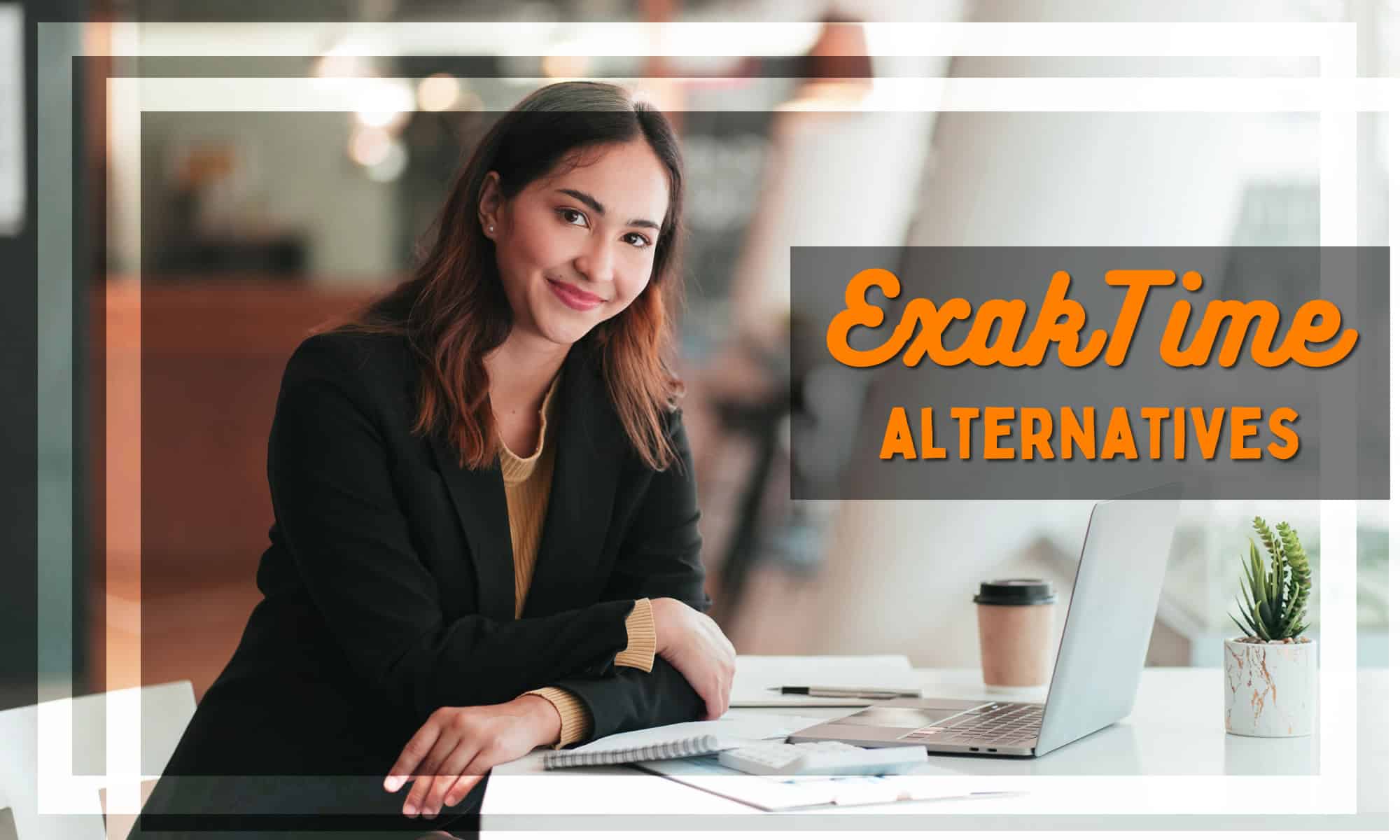 When it comes to employee time tracking, you need the right solution in your corner. What we've noticed is that sometimes business owners grow comfortable with their established systems, whether that means sticking to manual methods or using subpar time tracking apps. We know this mistake because we've been there ourselves and had to learn from it.
Bottom line: Just because you've grown accustomed to using a certain time clock app doesn't mean you shouldn't be willing to upgrade to further optimize your operations.
While ExakTime is useful for tracking attendance, it does fall short in some areas (as a look at some negative Exaktime reviews will reveal). Whether for these reasons or just because you want to ensure you're using the best tool possible, we've prepared a list of the best ExakTime alternatives for you to consider.
Specifically, we have five alternative cloud-based time & attendance tracking solutions on this list. We don't want to see you settle for average mobile time management solutions or look for Exaktime features with a new skin. If you're going to make the swap to a new management tool, there's no reason to settle for any less than the best time tracker and accounting software you can get your hands on.
Hopefully, by the end of this post you'll have the one that best fits your managerial style.
Best Alternatives to Exaktime
1. Buddy Punch
Kicking off our list of Exaktime alternatives, we have our very own Buddy Punch. Back when we used to rely on paper time cards to manually manage time records, we never thought we'd end up changing our system. But as our business grew and we began to manage 20 employees at 3 different locations, we realized if we wanted to keep accurate time for our team members, we had to make a change to our process. We had to upgrade to a digital method to monitor when employees clock in and clock out.
And so we tried. We looked at user reviews, SaaS and cloud-based programs, tools built for entire human resource teams as well as ones for small businesses. And when we didn't find a digital time tracker that seemed like a good fit for us, we set out to build our own.
Today, Buddy Punch has grown into a web-based time tracking solution for monitoring employee time, allowing business owners to seamlessly track employee hours and integrate timesheets into their payroll system. Our time tracking software connects with all your favorite payroll providers, and has its own built-in payroll processing to keep all employee information in one place.
How Buddy Punch's ExakTime Alternative Works
As an all-encompassing time management platform, Buddy Punch is well-suited to meet the needs of both small businesses and large enterprises. You can easily track and monitor employee performance and attendance using Buddy Punch's intuitive dashboard. Team members can also clock in and out at the click of a button. It's remarkably easy to use.
Enable Team Members To Clock In Using A Webcam
To promote employee transparency and accountability across your team, you can encourage employees to clock in and out using their webcams. Alongside the desktop app (which functions on Windows or Apple devices), this is available on both iOS and Android devices for mobile workforce and field service management. While using webcams for clocking in and out on-site may be unnecessary, this workforce management feature is perfect for remote-working teams.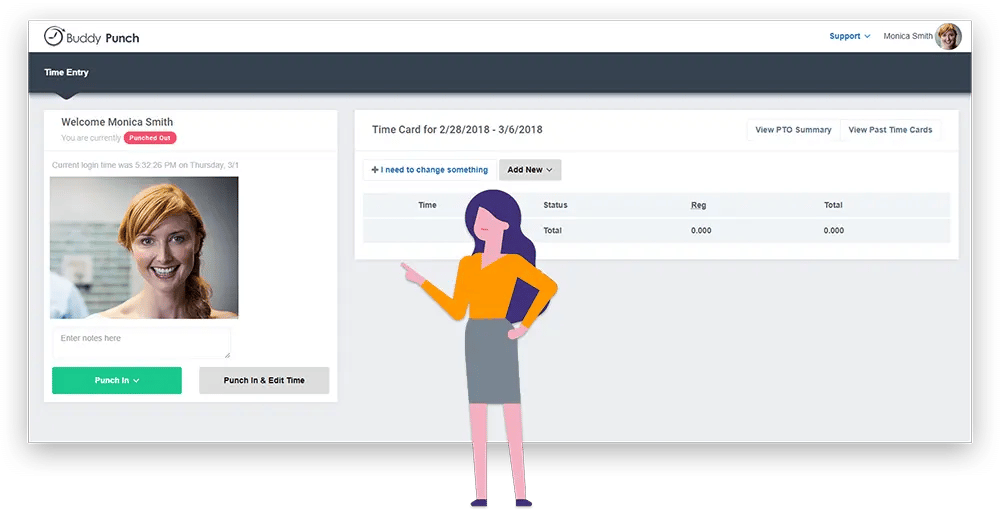 Monitor Employee Overtime With Complete Ease
Buddy Punch makes it easy for you to track working hours across your team. Performance management has never been easier. HR teams can easily see who is logging overtime and requesting PTO inside the platform. The HR department can receive notifications via email or SMS to accurately monitor the number of billable hours employees are working.
Automate The Timesheet Collection Process
From measuring profitability to job costing, Buddy Punch is far more than simply a project management solution. The central value of Buddy Punch is derived from the ability to quickly collect timesheet data for payroll processing. Our platform can radically accelerate the process of collecting timesheet data by making it easier than ever for employees to complete entries.
Enable Employees To Submit PTO Requests
With the support of Buddy Punch's tracking system, employees can quickly submit paid time off requests inside the platform. This means leaders and managers can review all PTO requests inside Buddy Punch and either approve or reject these requests. They can use either the desktop or mobile app (on iPhone and Android devices) to review these requests.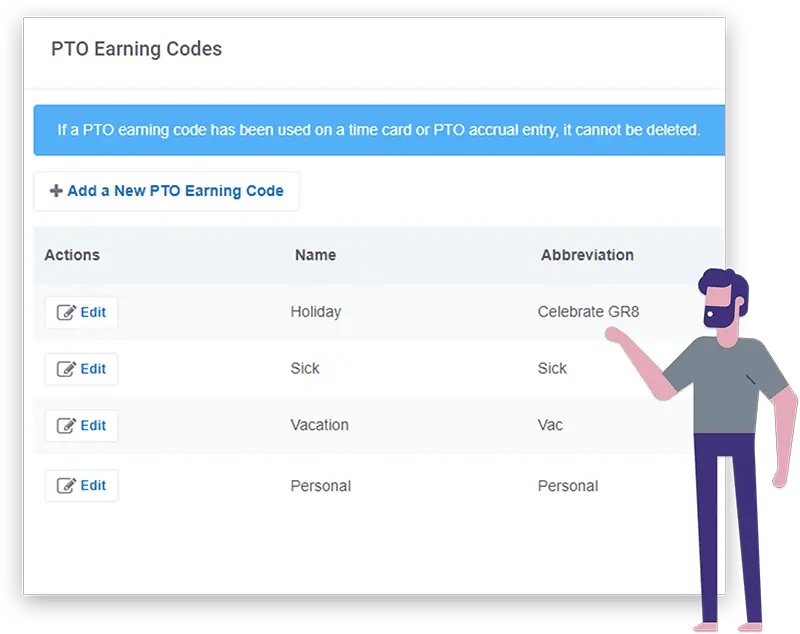 With affordable pricing and an extensive range of highly-practical features, Buddy Punch is well-equipped to support your small business or large enterprise. As you begin exploring our platform, we recommend taking a quick look through our "Knowledge Base" – which includes dozens of useful resources to help you unlock more value from Buddy Punch.
Our customer support team is always ready to answer any questions you may have.
You can book a one-on-one personalized demo here.
Buddy Punch Is The Best ExakTime Alternative
We've barely scratched the surface! Buddy Punch also comes with the following features:
You can also browse through the Buddy Punch Help Doc center to see FAQs or learn ways to use features, such as requiring field notes on punch.
Buddy Punch's Online Reviews
As of the writing date, Buddy Punch has 4.8 out of 5 stars and 837 reviews on Capterra.

Below, we'll list just a few reviews that speak to Buddy Punch's ease of use and great customer support service. (Click here to explore the full list of reviews.)
"I like the ease of use and flexibility of Buddy Punch. You can add features you want and don't have to be bogged down with what you don't want to use. Some sites have way too much. I wanted simple!"

Click here to read the full review.
"Overall, it does what we need it to do quickly and efficiently but the dashboard could use an update and have more weekly details than just the schedule."

Click here to read the full review.
"Very easy for employees and administrators alike to track time and edit if necessary. Provides accountability for our employees with the location settings such as GPS/geofence. Provides a variety of reports that are helpful. Provides our employees with mobility. We can send them to any job site, and they have the ability to punch in/out."

Click here to read the full review.
"I really like that it tracks and accrues PTO & holiday hours. I don't have to ask anyone what my PTO balance is! I think it's smart to be able to add a schedule if you happen to work the same amount of hours each day – much easier to add. I also like that I can add a comment or note of some sort, if needed."

Click here to read the full review.
Try Buddy Punch for Free
If you feel that Buddy Punch might be the right fit for your business, sign up for a free trial. You can also book a one-on-one demo, or view a pre-recorded demo video.
2. Connecteam
Connecteam can centralize your timekeeping and bring order to your operations whether you're in real estate or healthcare, all by making it easy for employees to submit time entries. Leaders and managers can instantly receive timely notifications about employee attendance and view real-time attendance data to inform their decision-making. Connecteam also comes with GPS tracking for remote-working teams.
As of the writing date, Connecteam has 4.8 out of 5 stars and 190 reviews on Capterra. Connecteam offers various features, some of which include:
"Connecteam is one of the best apps for team communication, especially when working remotely. Its interface is intuitive and easy to navigate. It helps in productivity and organizing my work, and tracking tasks more efficiently. I can recommend it to anyone."

Click here to read the full review.
3. OnTheClock
With the support of OnTheClock, HR teams can collect employee timesheets, view team timecards, and begin payroll processing in a streamlined manner that reduces labor costs. OnTheClock comes with a range of intuitive features, including geofencing to encourage accountability across remote-working teams. Regardless of where your employees are located, you can gain an up-to-date, accurate picture of progress.
As of the writing date, OnTheClock has 4.7 out of 5 stars and 514 reviews on Capterra. OnTheClock offers a range of features, some of which include:
"I love the ease of clocking in using my mobile device. As someone who has always had to punch in on a computer, I know first-hand that computers sometimes take their time opening and connecting to the internet for you to do anything. That's never fun, especially when you need to clock in. This has been a great product to use instead."

Click here to read the full review.
4. TimeCamp
Much like the other time tracking tools on the market such as BuddyPunch or Clockshark, TimeCamp comes with a QuickBooks and ADP integration. All the best time tracking applications connect with your go-to payroll software. Alongside processing time entries and monitoring employee attendance, TimeCamp also enables you to keep track of PTO requests and approve or reject these inside the platform.
At the time of writing, TimeCamp has a total of 561 reviews on Capterra, with an average of 4.7 out of 5 stars. TimeCamp offers a full range of practical features for teams:
"Being able to simply track time worked on different projects by different business analysts was always tricky, often analysts would be guesstimating at the end of the week. TimeCamp has solved this issue and we can now accurately track and invoice hours spent on each project."

Click here to read the full review.
5. Insightful
Much like QuickBooks Time and ExakTime, Insightful comes with a variety of useful data points for leaders and managers. When it comes to monitoring employee performance, you need as much data as you can get your hands on. Insightful will provide you with the functionality to lead teams with confidence and promote employee accountability across your workforce.
At the time of writing, Insightful has a total of 66 reviews on Capterra, with an average of 4.7 out of 5 stars. Insightful offers a broad range of useful features:
"The ability to easily set up the software and bring the team online using a very user-friendly interface has greatly impacted the ability to roll out the software throughout the organization The ability to have a live dashboard and to select screenshots to be taken every hour or the like is great. The ability to choose productivity models to best determine team success is outstanding."

Click here to read the full review.
Runner up apps for tracking employees and freelancers include Clockify, Oracle HCM, and Paymo.
Try Buddy Punch for Free
If you feel that Buddy Punch could be the right fit for your business, sign up for a free trial. You can also book a one-on-one demo, or view a pre-recorded demo video.
You May Also Like…