8 Easy Time Clock Software For Small Businesses to Use (In-Depth Post)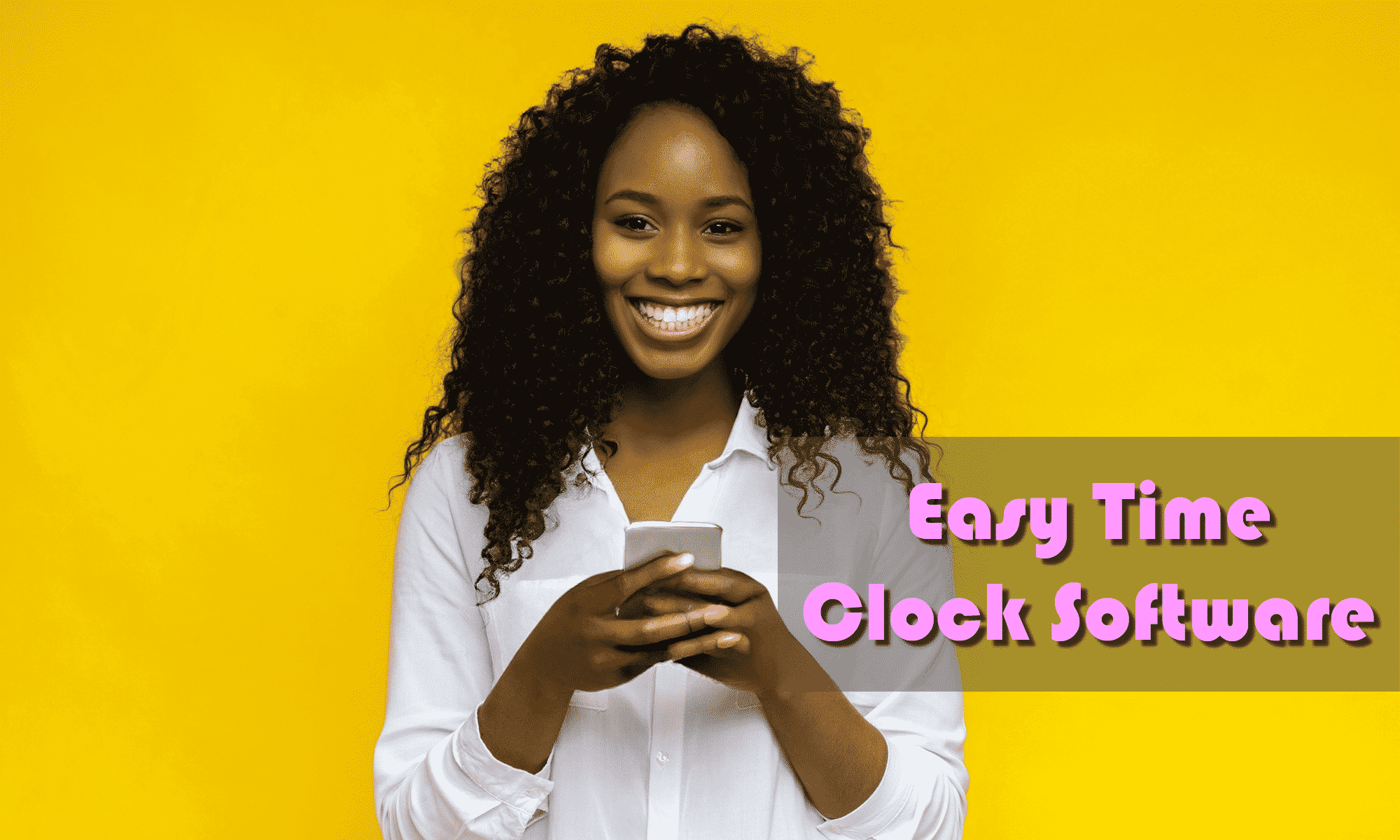 Let's start simple – make a quick mental list of the type of features you're looking for in an easy time clock software that caters to your small business. Based on what we've seen from our clients, we wouldn't be surprised if your concerns included:
Flexibility
Smoothness
Geotracking
Responsive Customer Support
Detailed Reports
And more, all while being as affordable as possible.
These are the sort of core functions that some time clock software developers just can't deliver on – especially in regards to responsive customer support. When it comes to bugs, issues, or just general queries; there's a good chance that they'll prioritize the concerns of larger enterprise clients over the "smaller" fish.
That's why choosing a proper time clock software is more than just selecting features – it's about discerning between teams behind the tool that's key to optimizing your business, workflow, and profits.
Below, we're going to get into some of the easiest employee time clock software for small businesses to use.
When we say "easy," we're not just talking about how simply or intuitively the program is designed. We're also talking about how quickly you would be able to implement it into your workflow, how simple it would be for your team members to adopt it as an end-to-end solution, and how effective the team that created the time clocks are at addressing customer concerns, so that small business owners know they're choosing a program with reliability as a core tenant.
8 Easy Time Clock Software
Kicking off the list of some of the easiest time clock software for small businesses to save time and free up stress, we have our software, Buddy Punch. There's a very specific reason we're including this: we created it with businesses of all sizes in mind.
Think about it: what does a mechanic's shop have in common with a restaurant? A rental business and a hair salon? Their day-to-day operations are as varied from each other as can be, and so are their individual team members – with different phones, phone types, and levels of computer literacy. And yet, all of these individuals are expected to rely on a single time clock software to solve their needs.
This is what Buddy Punch achieves, primarily through a mix of flexibility, reliability, and modernity. Flexibility, in that even though there are a variety of features offered, you can keep Buddy Punch as simple as possible if you wish. Team members can easily clock in and out with just a single click, maximizing productivity.
Reliability, in that Buddy Punch is kept updated to avoid bugs or incompatibilities with web browser and iOS or Android changes, and that we have a responsive customer support team ready to assist you via email or live chat.
And modernity, from Buddy Punch's intuitive user interface, to integrations with various popular software, and cross-platform compatibility (whether you're on Windows PC, Mac, Tablet, or even Apple iPhone or Android devices, you can turn any device into an employee time clock with Buddy Punch).
Next, to demonstrate our point, we're going to detail a select few of the features Buddy Punch has that small business owners have come to particularly value.
Note: If you're the type of small business owner that prefers to learn things first-hand, you can try out our attendance software via a 14-day trial by clicking here. Alternatively, you can schedule a one-on-one demo with our support team, or watch our pre-recorded video demo to get a closer look at Buddy Punch's time clock system.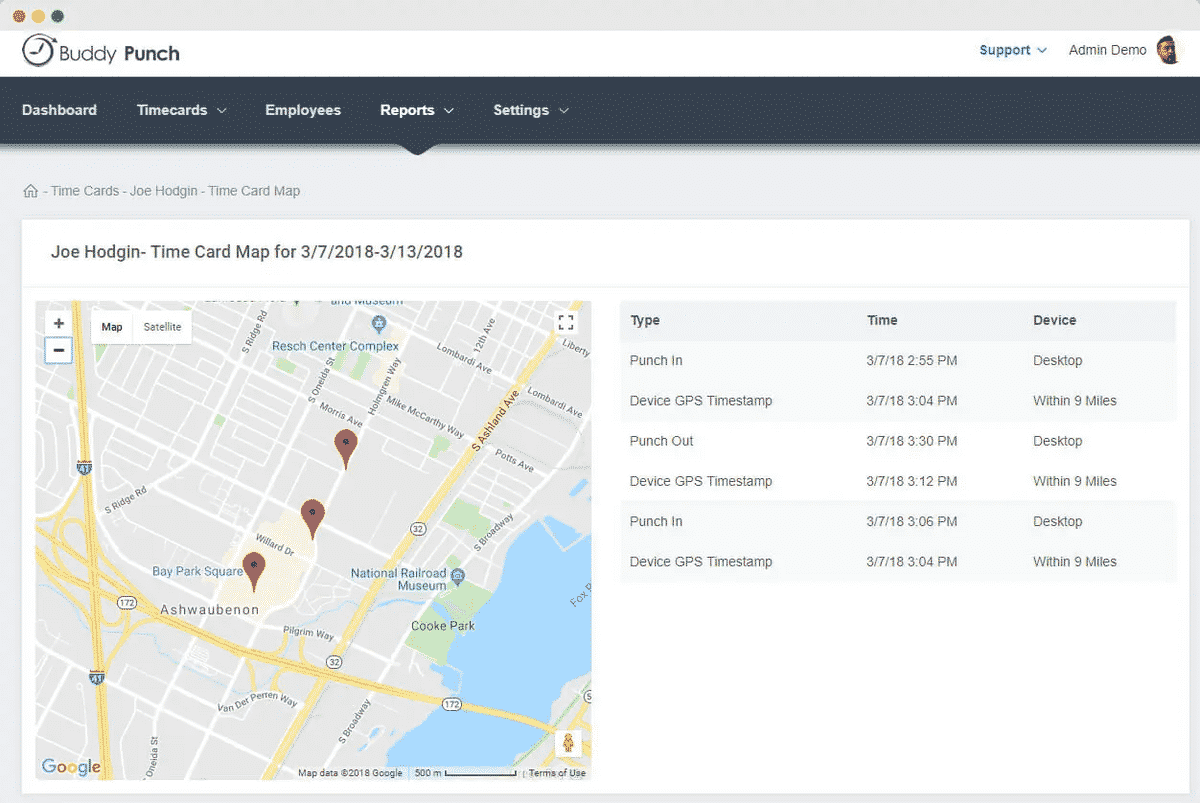 Dealing with remote or mobile team members? Want to ensure that clock ins and clock outs are at the properly reported locations? Buddy Punch comes equipped with a GPS tracking feature that gives managers control over where and when employees are able to log their time. This becomes even more powerful when you pair this with our Geofences feature.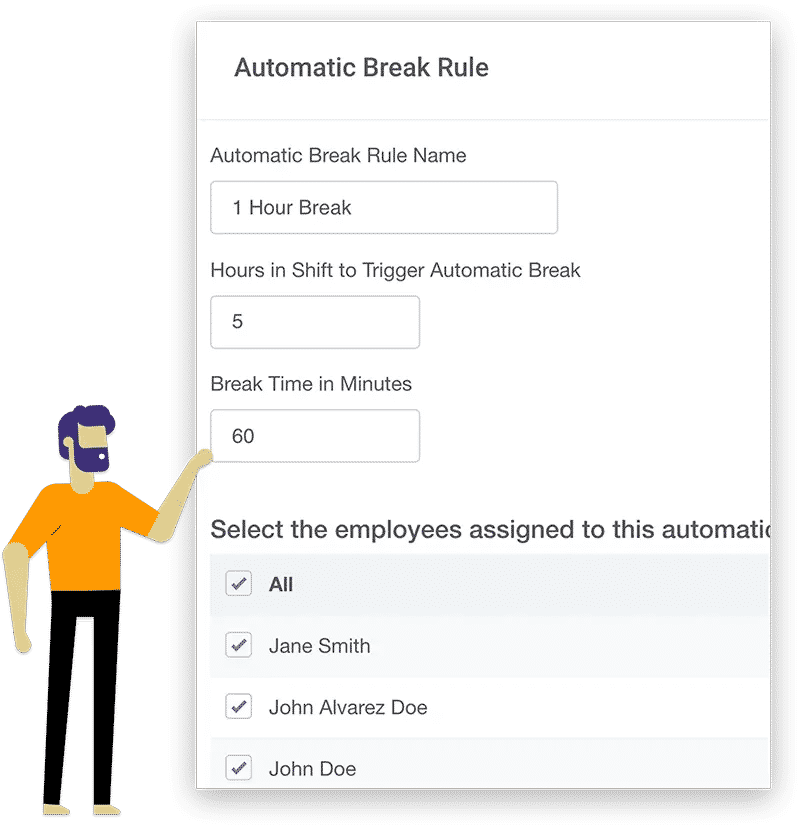 Never lose track of employee breaks again and ensure that time reported is accurate by the end of the pay period. This feature allows managers to automatically deduct time from a time card, depending on the specifications that you set up. This feature also lets savvy employers grant their employees time to mentally and physically recharge, and still save time and money overall.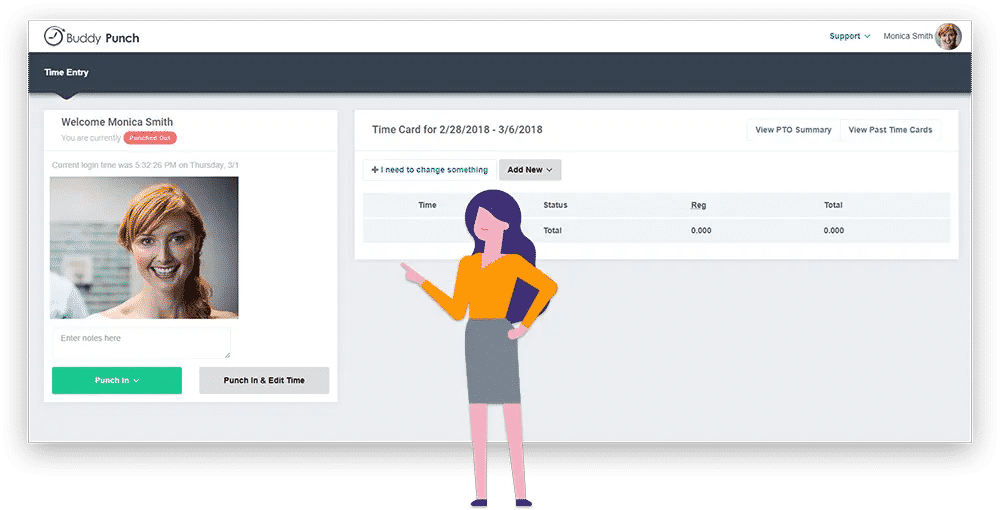 Just in case you're worried about buddy punching or time theft at your small business, you can enable our webcam photo on punch feature. This will take a quick picture of an employee when they punch in or punch out, enabling you to verify their identity. This simple feature can help provide a level of security and ensure that no one on your team is taking advantage of your systems.

How about delegation options? Buddy Punch has a managers feature that allows you to elevate an existing employee to Manager status. Whether or not that's reflected in their actual job title, in our app, it enables them to view and edit time cards of the employees assigned under them. Beyond the freedom from micromanaging timekeeping this grants you, it also allows you to build a stronger rapport with the employee you're granting more responsibility, which helps your business overall.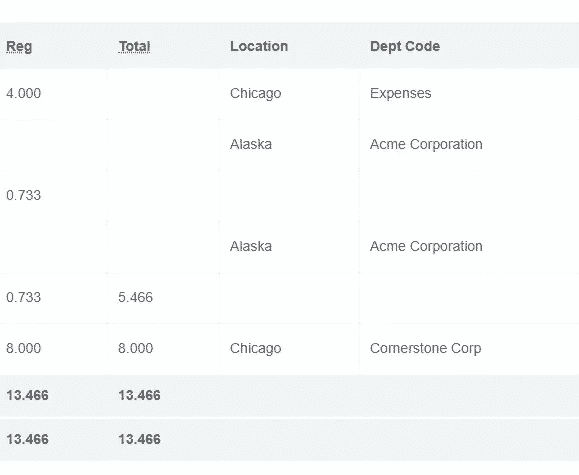 Most modern time clock solutions come with overtime calculation, and Buddy Punch is no exception. You can choose from a dozen different overtime types, depending on your state and business, to streamline the payroll process.
Set and forget. Both Administrators and Managers can set up built-in notifications to get an instant update when something happens to a time card, when employees clock in and clock out, or where employees currently are. This is all done without being too invasive or overwhelming for small business operations.

Likewise, your employees can configure the notification system to alert them when they're approaching overtime, get a change on their timecard approvals, or receive a PTO update. This means your team members can focus fully on work while secure in the knowledge that they'll be alerted if something important happens.

Buddy Punch integrates seamlessly with many popular Payroll providers, such as ADP, Quickbooks, Paychex, and more. This allows us to become an end-to-end time clock software, free of additional charge. Generating accurate payroll reports and staying compliant with labor laws has never been so simple and easy.

One more asset that makes Buddy Punch stand out to small business owners is its support. Not only do we have an extremely accessible Help & Support team, we also have an entire hub of helpful information to help you make use of our time clock, free of charge.
Lastly, there are resources like our consistently updated blog posts that can help you increase productivity and efficiency across your workforce, whether or not you choose us as a time clock solution.

What Small Businesses Love About Buddy Punch
We've only just scratched the surface of what brings small business owners to our employee time tracking software. Consider features and benefits such as:
Buddy Punch's Online Reviews
We highly encourage small business owners to research what other people have to say about tools. Just look at what some of our existing customers have to say on Capterra, where Buddy Punch has a rating of 4.8 out of 5 stars, based on 669 reviews (as of this post's writing).

Let's do a quick dive into what small business owners (with less than 50 employees) had to say about Buddy Punch's ease of use and impact on their close-knit workforce:
"Buddy Punch is easy to use and to train employees' use. There are features we don't even use that larger companies or ones that do their own payroll processing will find invaluable. We love the accuracy of employee time and PTO tracking."

Click here to read the full review.
"It's really easy to use. My employees seem to use it just fine. There's also an app that can be downloaded onto an employee's phone for ease of use for punching in/out and has an option for their location to be recorded so you can see on a map where they punched in and out. I love that I can easily send an online message to the company with any question as they promptly respond and guide me to the knowledge base material so I can read up on how to do certain things. It seems like a great company."

Click here to read the full review.
"This software is incredibly easy to use both by the administrator and by the employees. They make it easy to be compliant with federal and state laws for tracking hourly employee time and breaks. It is easy to control which employees can change their own check ins/check outs, and it is incredibly easy to make changes when needed. I also love that employees can choose to fill in their own PTO and mark it appropriately for what type they have used."

Click here to read the full review.
"I am very satisfied with Buddy Punch. The software is very user friendly. If you contact customer service with an issue, they fix it immediately. They'll even take your suggestions into consideration. I've never had an issue with this company. I highly recommend them."

Click here to read the full review.
Try Buddy Punch for Free
Even with all this said, we understand that it's impossible for Buddy Punch to be the answer to every small business. There is no universal "best time clock." We highly encourage curious business owners to sign up for a free trial to see how well you and your team will take to our software. You can also feel free to book a one-on-one demo or view a pre-recorded demo video.
Homebase is another attendance software that has some popularity with small business owners. That is largely due to features such as:
Health & Safety Screening
Homebase has a total of 823 reviews on Capterra (see here), with an average of 4.6 out of 5 stars (at the time of this post's writing). Here's an example review left by one of its users:
"We are utilizing the HR function. It is nice to be able to send in questions and get responses from HR professionals. The help desk is responsive and usually helpful"

Click here to read the full review.
3. QuickBooks Time
QuickBooks Time (formerly known as TSheets) is another popular time clock app, featuring key functions such as:
At the time of this post's writing, QuickBooks Time has 4.7 stars out of 5 on Capterra, based on 5542 reviews. This is a powerful, well-liked timesheet app that most small businesses can easily get the hang of.
"QuickBooks TIme makes my payrolls, job costing, and reports so much more accurate, efficient, and expedient. The time I save pays for the software over and over again. Not to mention, the customer service is stellar!!! Each and every time I have had to contact a representative for any reason, they have been some of the most friendly, helpful, and knowledgeable customer service reps I have ever encountered with any company or product, ever. I cannot say enough good things about QuickBooks Time!"

Click here to read the full review.
4. Clockify
Clockify has a total of 4019 reviews on Capterra, with an average rating of 4.7 out of 5 stars as of this post's writing.
"Clockify has helped my team get our projects organized for quite some time. We enjoyed the free version for a little over a year before we started opting for the paid version since we want to take advantage of some of the paid features such as automation, API integration, templates, and other productivity features to further improve our operations."

Click here to read the full review.
Some of its key time management features for small businesses include:
5. 7shifts
As of this post's writing, 7Shifts has garnered a total of
876 reviews and rating of 4.7 out of 5 stars on Capterra
. It's worth noting that 7Shifts was created with scheduling for small restaurants in mind specifically. Here are some of the core functions that they cooked up:
And here's a review taken directly from one of its users that provides some insight into why it's considered such a powerful restaurant scheduling app:

" I absolutely adore 7Shifts. To start off with a HUGE bonus, they have a free app for employees, so that already helps get this software in the pockets of those you're reaching. I only have 10 employees, but they are all being pulled in different directions/departments, so we're able to keep up with time off requests, coordinate with other managers and see what shifts covered where all in one place. It's incredibly easy to use once you get used to it!"

Click here to read the full review.
OnTheClock is a versatile time clock software, thanks to it being web-based. Some of its popular features include:
As of this post's writing, OnTheClock has 4.7 out of 5 stars and 503 reviews on Capterra.
"I have tried other time card apps, and they seem a little clunky. This app is easy for administrators and employees to manage time cards. Especially the function that allows employees to adjust hours if needed."

Click here to read the full review.
7. DeskTime
Calling itself "the ultimate all-in-one automatic time tracker," DeskTime seeks to be an end-to-end solution for small business workforce management. They have plenty of unique features including:
DeskTime has a rating of 4.4 out of 5 stars on Capterra, out of 238 reviews (as of this post's writing).
" I think I'm one of the early adopters and I've seen it evolve over the years. I always liked how they added new features and constantly improved the product. It's very easy to use, intuitive, and it gives me everything I need from a time tracking app."

Click here to read the full review.
8. Findmyshift
Last but not least, Findmyshift is an easy to use time tracking app that offers features such as:
As of this post's writing, Findmyshift has 675 reviews and a rating of 4.6 out of 5 stars on Capterra.
Even though it had paid plans, you can use Find My Shift as a free time clock if you wish. Click here to learn more on their pricing page.
Here's one review indicating why FMS is a solid free employee scheduling app for small businesses:

"This softwware has really streamlined the rostering of staff. The app features being able for staff to see their shifts, get weekly emails, on deamand instant updates, messaging service to all staff are all key features. The unavailbility feature is useful for zero hour staff to put in and for admins to see what staff are avaible to work, all in one place. Saves thetime for messaging across many different social media platforms, messages and emails which often caused confusion."

(Click here to read the full review).
Try Buddy Punch for Free
As you can see, there are plenty of options when it comes to simple and easy time clock software for small businesses to adopt. While we think Buddy Punch is one of the strongest tools you could use for tracking employee hours, we're well aware that it's not the best option for everyone.
If you're in the restaurant industry, something like 7Shift was built with you in mind, and comes with specific features that should help you cut down on labor costs and time waste. If your team clocks in at a physical location, you might not want an web-based or online time clock at all, and would be better served using something like a biometric fingerprint clock.
That said, if you do think that Buddy Punch could be right for your business, we encourage you to check out our flexible and affordable pricing plans, all of which come with a free trial. Alternatively, you can view our pre-recorded demo video or even book a one-on-one demo to get a better feel for our software and our support team.
Regardless of what you choose, we hope we've made it easier for you to find an effective and easy employee time clock that's right for your team.

You May Also Like…