The Best Vacation Tracker (5 Options)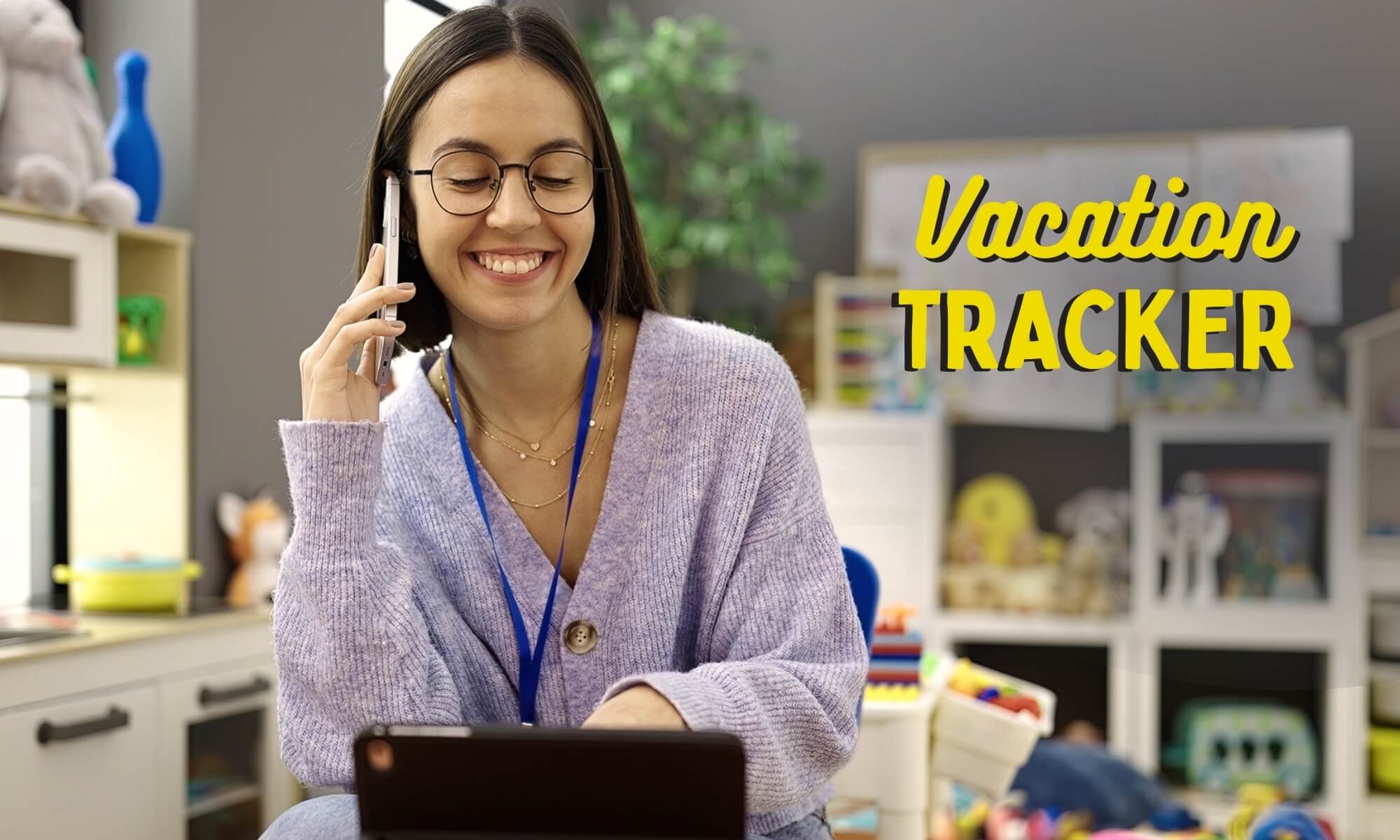 When you're looking for a vacation tracker for your team, you want, at the minimum, software that helps you:
Keep track of your team's PTO balances throughout the year.
Set up a team vacation calendar so everyone can see when someone is taking time off.
Make it easy for your employees to submit a new vacation request (and easy for you to approve those requests).
Customize your team's work calendar, such as adding blackout dates when you can't have certain staff members taking a holiday.
Again, that's the minimum you should expect from a vacation tracker.
You can also get vacation trackers that offer more time tracking and scheduling features, like Buddy Punch.
Buddy Punch is a vacation tracker that does all of the above, plus it's a time-tracking software that makes it easy for employees to punch in and punch out each day and track their time worked. This is an essential feature if you plan to let employees accrue vacation time based on hours worked.
Buddy Punch is also scheduling software and a payroll system so you can make sure your employees get paid accurately for paid time off and that you're not paying extra for unpaid vacation days.
To see how Buddy Punch can help your business track vacation time:
Then, there are vacation trackers that are part of larger, enterprise-level HR solutions, such as Factorial HR and BambooHR (both of which we cover in detail below).
In this post, we look at all three options, starting with our own tool, Buddy Punch. We also look at two simple vacation tracker options.
The Best Vacation Tracker and Overall Time Tracking System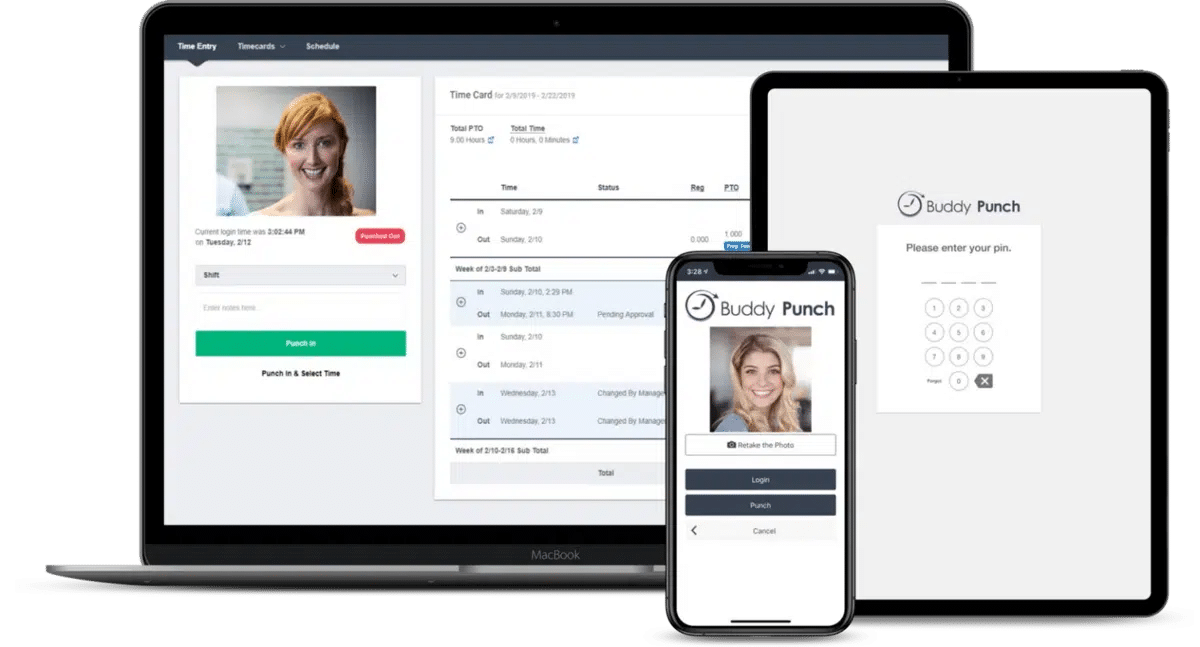 Buddy Punch is vacation tracking software that also lets you write schedules, track employee time worked, and manage payroll. We cover all those features further down in the post, but first, let's look at how Buddy Punch makes it easy for you to manage your team's vacation and PTO balances.
Specifically, we look at:
How to set up PTO balances.
How to set up blackout dates.
How your team can request vacation days.
How to customize your vacation approval process.
How to view and analyze PTO reports.
Setting Up PTO Balances/ PTO Accrual Rules
Accurate vacation tracking starts with setting up vacation balances for your employees. How you distribute those balances is completely up to you. You can allocate vacation balances all at once or let them accrue throughout the year.
Buddy Punch gives you the flexibility to set up custom rules for each employee, making leave management easy. For example, you may decide to give more vacation days to senior staff members vs. part-time employees or exclude contractors from billing for vacation time.
With Buddy Punch, you can set up leave policies and PTO accrual based on the following:
Hours worked
Completed pay periods
Work anniversaries
You can also set up rules allowing unused vacation time to roll over to the next year or pay period.
Setting Up Different Types of Time Off

Our platform is set up with several default leave types you can choose from, including:
Holiday
Personal
Sick leave
You can modify or delete these types of leave whenever you want. In addition, you can specify if leave requests are paid or unpaid. We even have the options for you to designate work-from-home days on your PTO calendar, which is great for remote workers and hybrid workers
Setting Up Blackout Dates
When managing employee vacation time, you'll need to make sure that PTO doesn't leave major gaps in shift coverage. For example, if you work in retail, you'll need a full staff to deal with demand around the holidays.
In this case, you can set up blackout dates that won't allow employees to request PTO on and around key sales days. Here's a quick look at how to set that up on Buddy Punch:
1. In the Buddy Punch dashboard, go to the settings and click "Time Off."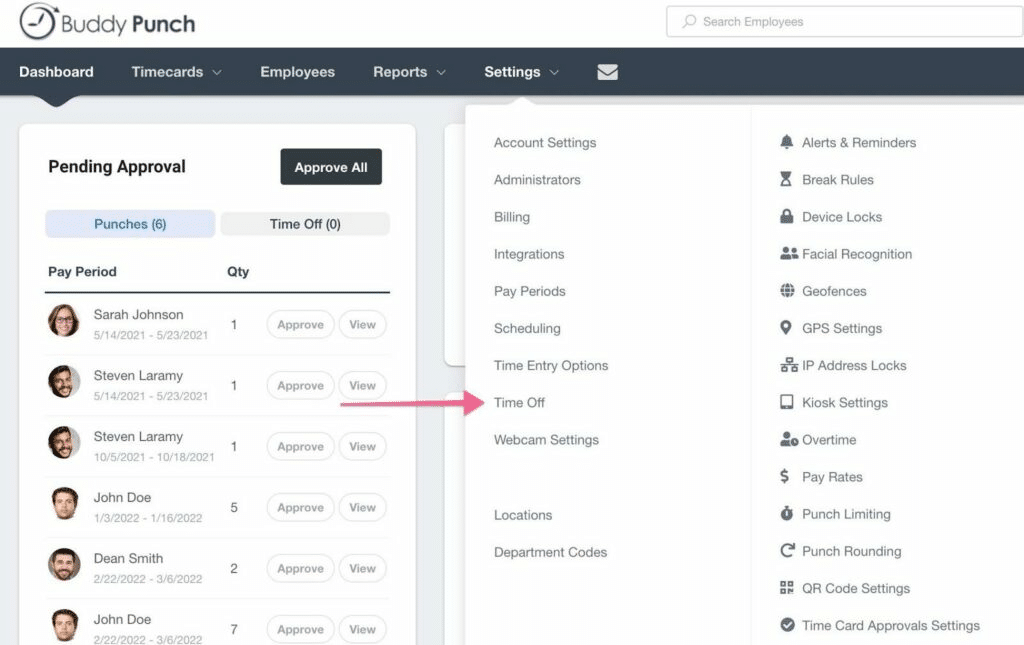 2. Next, scroll down to "Blackout Dates" and click "Add a New Blackout Date." Any existing blackout dates will also show up here and can be edited.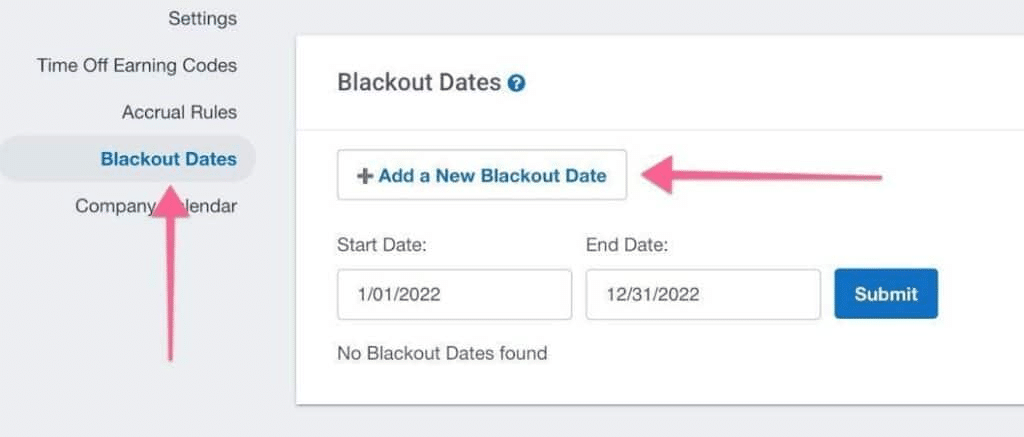 3. Finally, select the dates you wish to restrict. These can also be assigned to specific employees.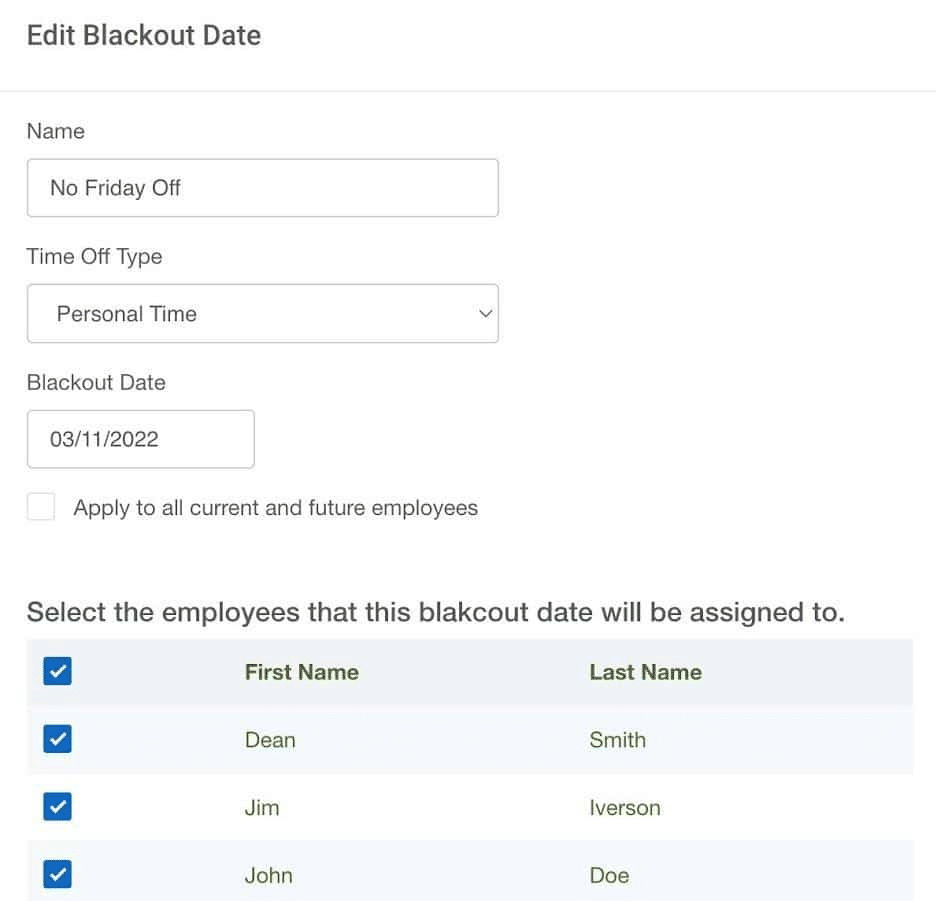 Requesting Vacation Time
Buddy Punch makes it quick and easy for your team to request their PTO and for managers to approve the leave requests. With just a few clicks, a manager can approve or deny the PTO, and it's automatically synced with the company calendar. In addition, the employee's time off balance will automatically be updated.
Here's how employees can request vacation on Buddy Punch:
1. Employees log on to the Buddy Punch website or app and click "Time Off Calendar."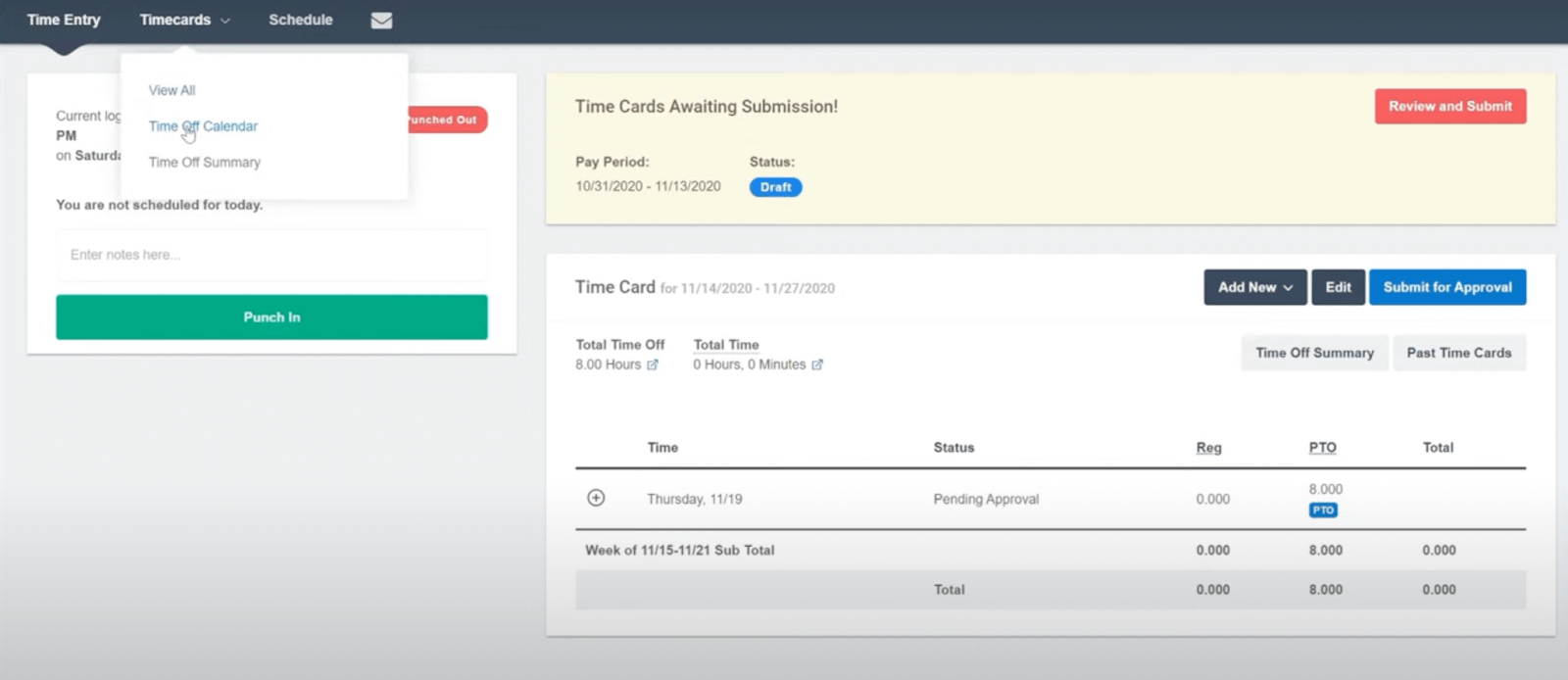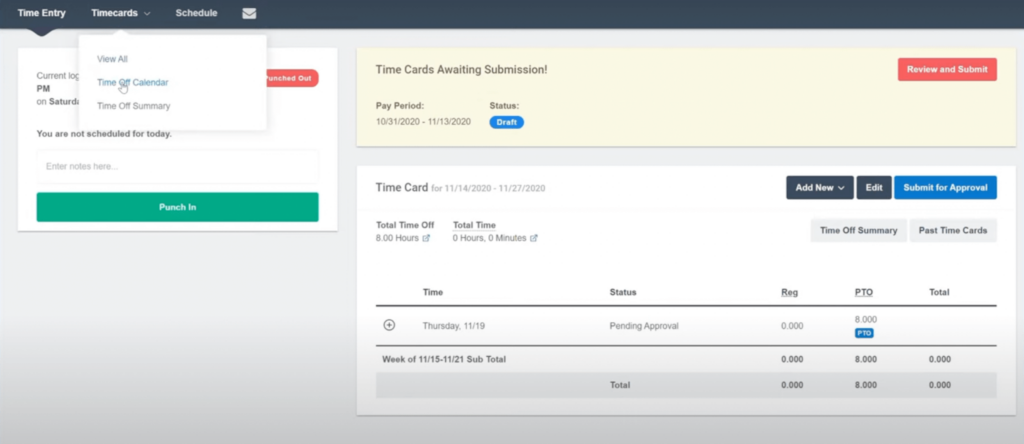 Keep in mind, depending on your preferences, not all employees will be able to see who has requested time off. To avoid miscommunication or confusion, we recommend sharing approved vacation time company-wide.
2. Next, staff need to select "Add Time Off."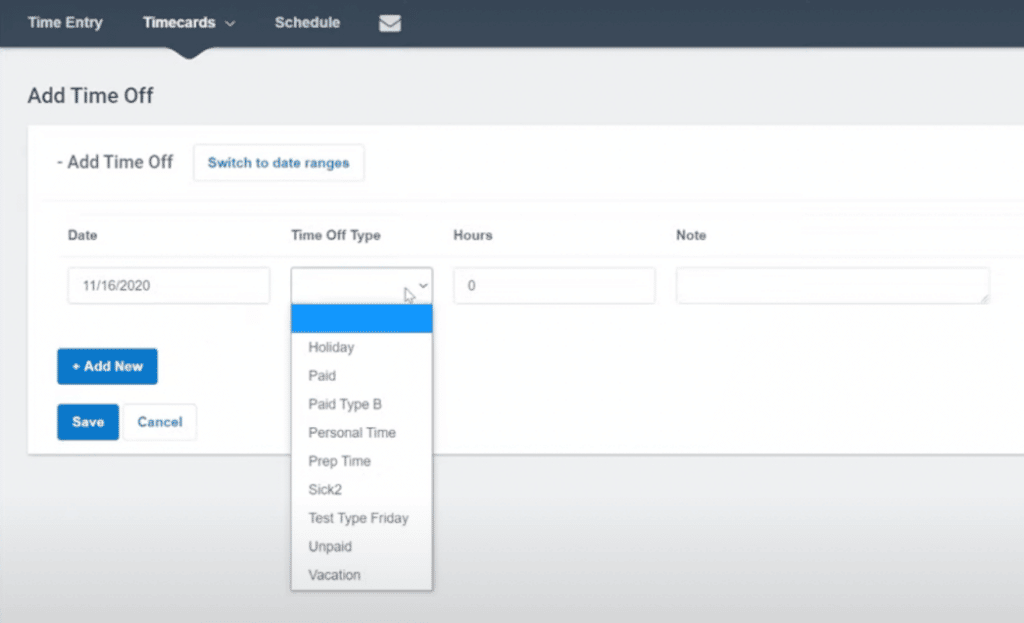 Employees then have the option to specify the following:
The type of time off such as holiday, vacation, personal time, or any other form of leave your business offers.
The number of hours they wish to take off if you choose to set up accrual rules by hours.
Add any additional notes, such as where they will be going on holiday, if/how they will be reachable, etc.
After making their selections, they just need to hit the "save" button. If the request needs to be approved, the right person will get a notification (more on that process below). If the PTO does not need approval, it will automatically show up on the calendar.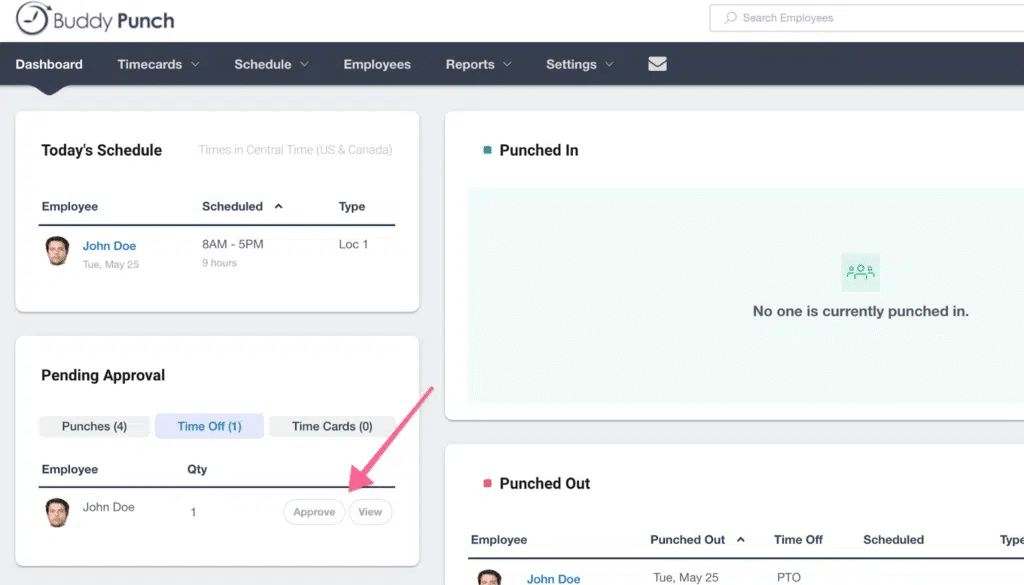 Customizing Your PTO Request and Approval Process
You can set it up so vacation requests do or don't need your approval.
Here's a look at how you can set custom rules around PTO approval for specific employees.
1. Select an employee's profile once in the dashboard and click "Edit."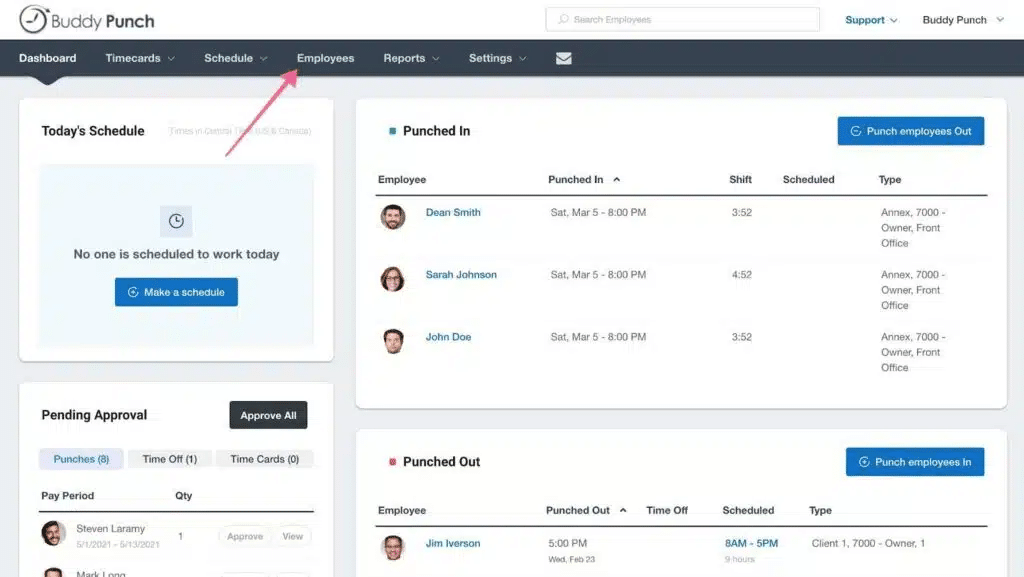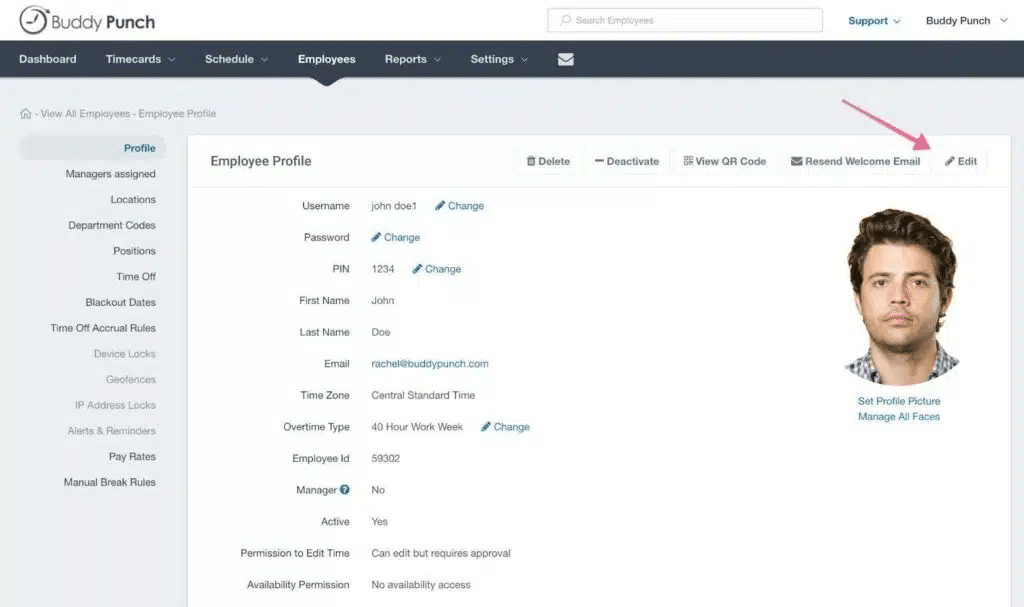 2. Next, check off the box that says "Requires approval for Time Off requests."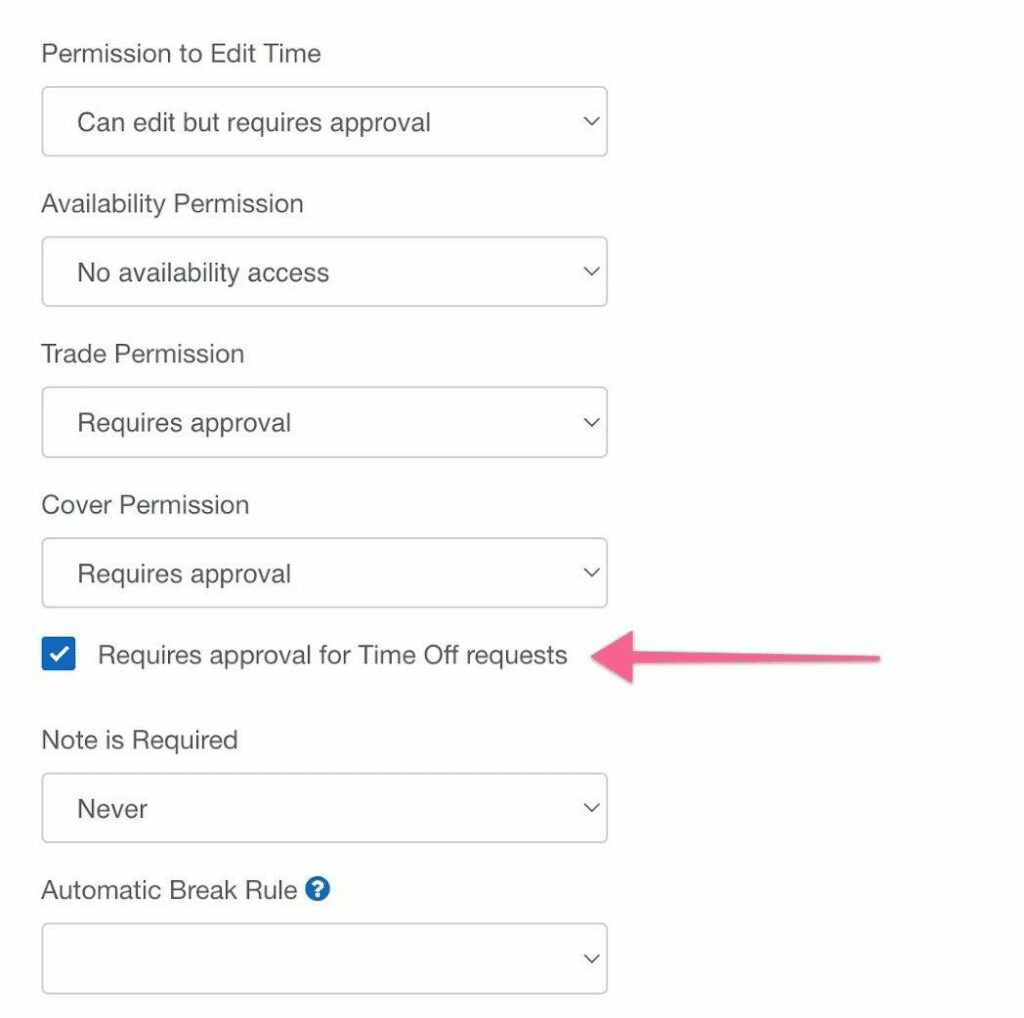 Once these settings are saved, approvers can receive email notifications when a new vacation request is entered. This can help you and your team to respond to requests quickly, so employees aren't waiting too long to hear back about their requests.
Viewing and Analyzing PTO Reports
Buddy Punch's vacation tracker allows you to generate reports to analyze how much time is being taken, how much time will roll over (if you allow this), and how much time employees have left.
You can view PTO Summaries under the "Reports" tab.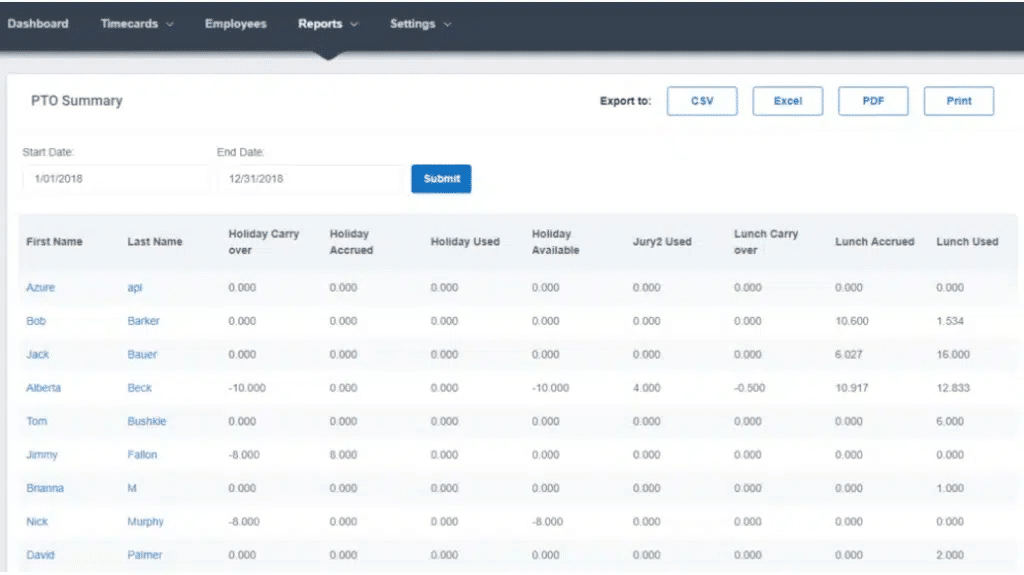 You can filter information by date, such as a specific payroll period, and it can be exported as a downloadable report via Excel or PDF at any time.
We've covered a lot of information for far, so to recap with Buddy Punch, you can:
Edit vacation balances and accrual rules.


Make it easy for your staff to see how much vacation time they have left to use, check the time off calendar, and put in a new vacation request.


Manage time off requests and have them approved automatically or with approval.


Create blackout dates on your time off calendar.
Plus, Track Time Worked and Run Payroll with Buddy Punch
As we mentioned at the beginning of the post, Buddy Punch offers more features than a simple vacation tracker.
You can also use Buddy Punch to:
Track time worked
Issue payroll
And much more
Time Tracking
Our time-tracking options make it easy for your team to log the hours they're working, and to make sure those records are accurate and honest.
This also saves you time, as you don't have to worry about manually reviewing, verifying, inputting, and analyzing employee timesheets.
Your team can track their time worked directly from their computers, tablets, or smartphones.
Plus, Buddy Punch as several accountability features to make sure your records are accurate, such as:
4-digit pin clock in: Employees can get a custom 4-digit pin that they use to clock in and out.


Facial recognition clock in: You can set it up so employees will take a photo and upload it every time they clock in and out. This is great for preventing buddy punching (when someone clocks in for someone else).


IP address locking: You can require that employees clock in and out from a specific IP address.


Geofencing: You can set up a geofence area where employees have to be within in order to clock in or out.
Payroll
When you use Buddy Punch as your vacation tracker, you can also set up your payroll through Buddy Punch.
You can run payroll in four simple steps:
Review your employees' work hours and time off from your dashboard.
Sync employee time with a few simple clicks.
Review important data.
Click submit and your team's pay is on the way.
In addition, you get access to features like:
Employee self-service options to make setup easy.
Paperless paydays with direct deposits.
Automated payroll requests.
Buddy Punch can also keep track of various business expenses besides employee wages, such as:
Group Life Term
Reimbursements
Paycheck Tips
Bonuses
Commissions
Cash Tips
Severance
Note: If you already have a payroll system in place, you can integrate Buddy Punch with your current software or export payroll reports as an Excel file.
Other Key Buddy Punch Features
While we focused on Buddy Punch's vacation tracker, there is so much more the platform has to offer, including:
Employee Scheduling: You can create and distribute schedules in minutes with Buddy Punch. Our platform makes it easy to ensure all shifts are covered and staff is always updated about schedule changes.
Overtime Calculations: Select from more than a dozen overtime types to determine how your overtime pay is calculated. We support many types of overtime compensation that you can customize for each employee.
Project Tracking / Job Codes: Every Buddy Punch account comes with this workforce management tool. Save time and resources by quickly viewing employee information on your dashboard or through the app.
Multiple Punch and Login Options: With Buddy Punch, employees can physically punch in from a tablet or remotely with a 4-digit pin, QR Codes, facial recognition, or a username and password.
Time Card Approvals: Our Time Card Approvals feature lets your employees easily submit their time cards at the end of each pay period. Managers and administrators can accept or reject it with comments.
If it sounds like Buddy Punch is the right vacation tracker for your business, start a free trial, or schedule a one-on-one demo.
Why Customers Love Buddy Punch

We think Buddy Punch is the most comprehensive vacation tracker and time tracking system for your business. But don't just take our word for it. We have nearly 900 reviews on Capterra, with an average of 4.8 out of 5 stars. Here's a sample of why our customers love our vacation tracker.
"It's a great resource/product to keep track of time punches and requests, as well as payroll. A great solution for smaller businesses. Easy to use and intuitive for making PTO requests."

Read the full review here.
"We spent three months trying to get a time clock system launched with a system from a really big company. The customer service was terrible, responses took days, and in the end, they could not handle our somewhat complex PTO requirements. We switched to Buddy Punch and were up and running almost immediately. Buddy Punch gives you all the control and flexibility you could ever want."

Read the full review here.
"The best time management system. A huge time saver and overall better organization for employee schedules. Buddy Punch was super easy to set up once the employees were added to the system. Week-to-week operations are a breeze."

Read the full review here.
You can view all of our reviews here.
The Best Vacation Trackers (without Time Tracking or Other Extra Features)
Vacation Tracker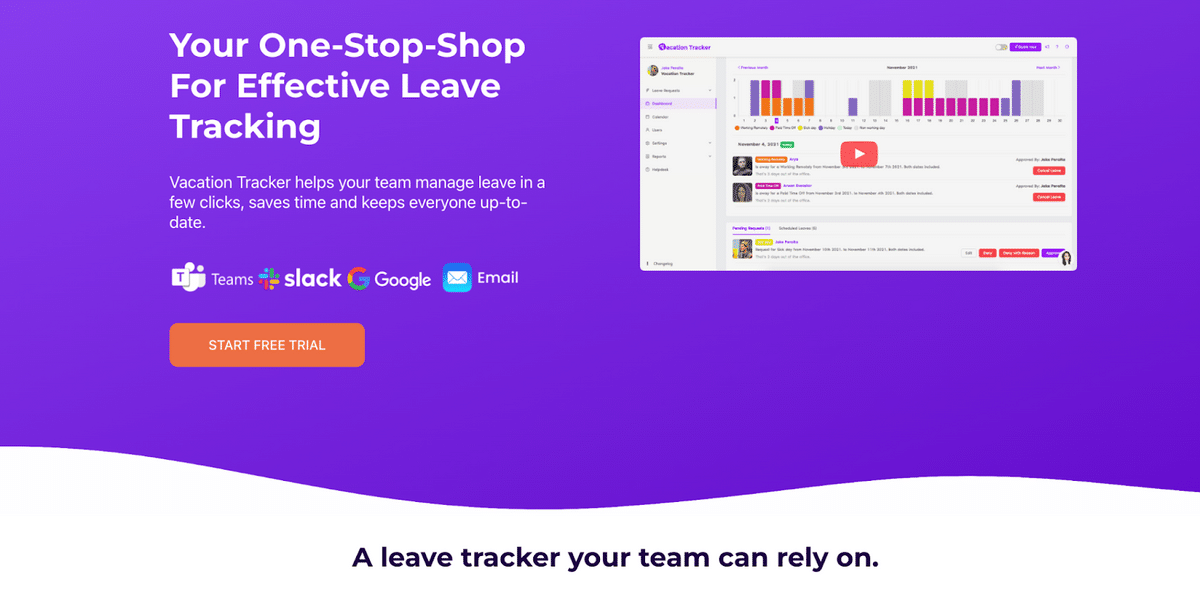 Vacation Tracker is a good option for time off tracking that does not include any other time management or payroll features. With Vacation Tracker, you can:
Set up a dashboard with transparent time off data.
Let employees request time off within the app.
Integrate the platform with Slack, Microsoft Teams, Google Workspace, and Email.
Keep in mind that while it offers these features for a low cost, if you want to set up vacation accrual, look at reports, or make custom requests, you may need to upgrade to another plan.
At the time of writing, Vacation Tracker has 4.7 out of 5 stars on Capterra with 30+ reviews.
Day Off

Day Off is another option if you're looking for a simple vacation tracking app. The app lets you:
Easily add employees with an email invitation.
Add leave balances and types of leave.
Notify employees of vacation approval.
While Day Off offers a free basic package, if you want to set up two-factor approval, assign a team approver, or create a sub-team you'll need to pay for those extra features.
As of writing, Day Off has 5.0 out of 5 stars on Capterra with 15+ reviews.
The Best Vacation Trackers (That Are Part of Larger HR Systems)
BamboorHR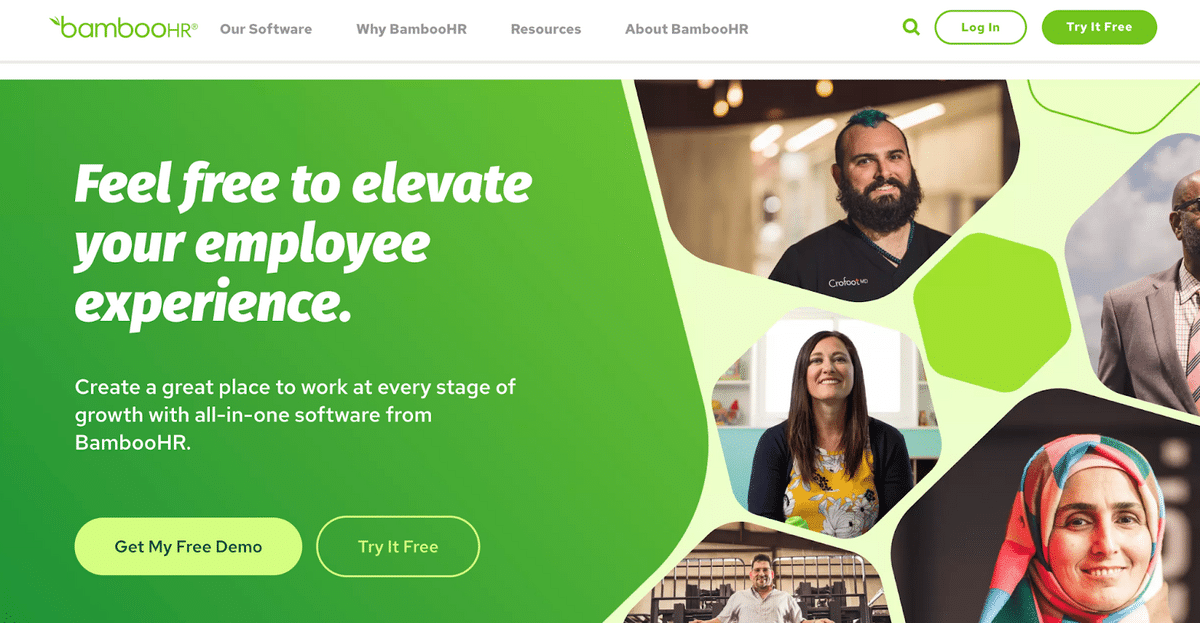 BambooHR is HR management software that offers vacation time tracking, along with recruiting, onboarding, and performance reviews.
BambooHR's features include:
Managing employee records
Creating HR workflows
Onboarding new applicants
A mobile hiring app
Time off management
Performance management
Payroll
At the time of writing, BambooHR has 4.6 out of 5 stars on Capterra with 2,400+ reviews.
Factorial HR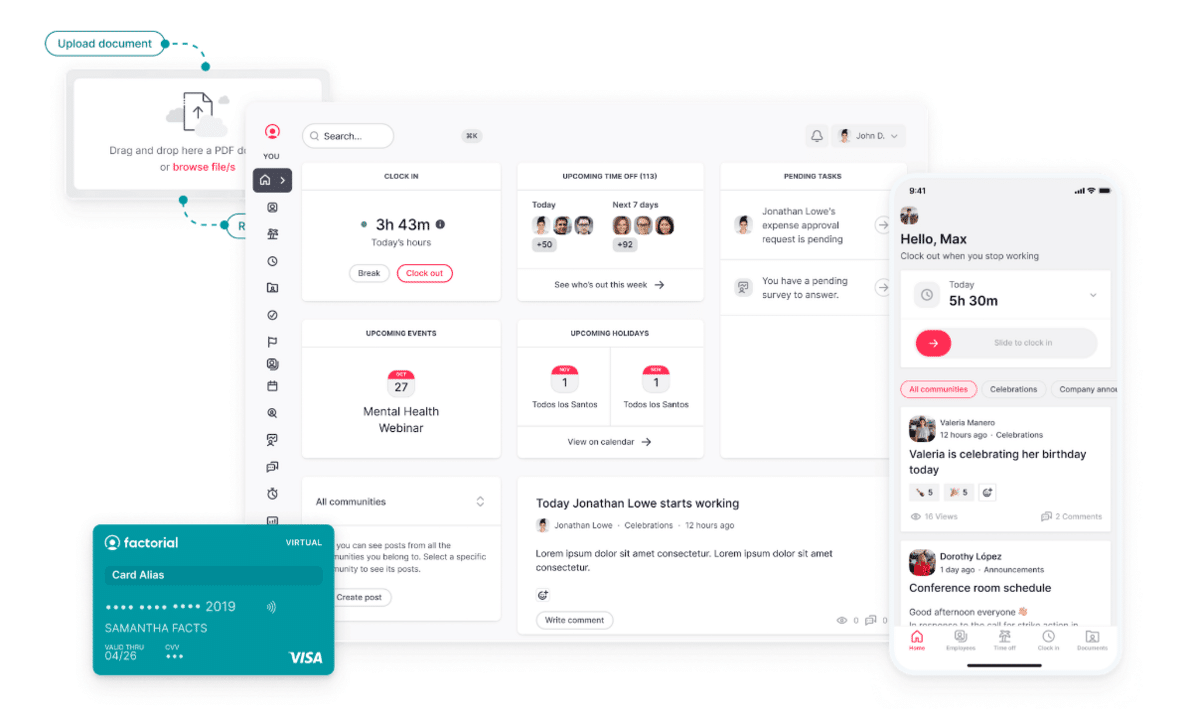 Factorial HR is another resource that includes time management, talent management, and payroll features.
Here's a look at what the Factorial HR platform offers:
Shift management and time off requests
Onboarding and offboarding employees
Performance evaluations
Talent recruitment
Payroll prep, including e-signatures
Expense management, including Factorial corporate credit cards
As of writing, Factorial HR has 4.5 out of 5 stars on Capterra with 200+ reviews.
Learn More about Buddy Punch and Start a Free Trial
To learn more about Buddy Punch: