5 Time Off Trackers for Small Business Owners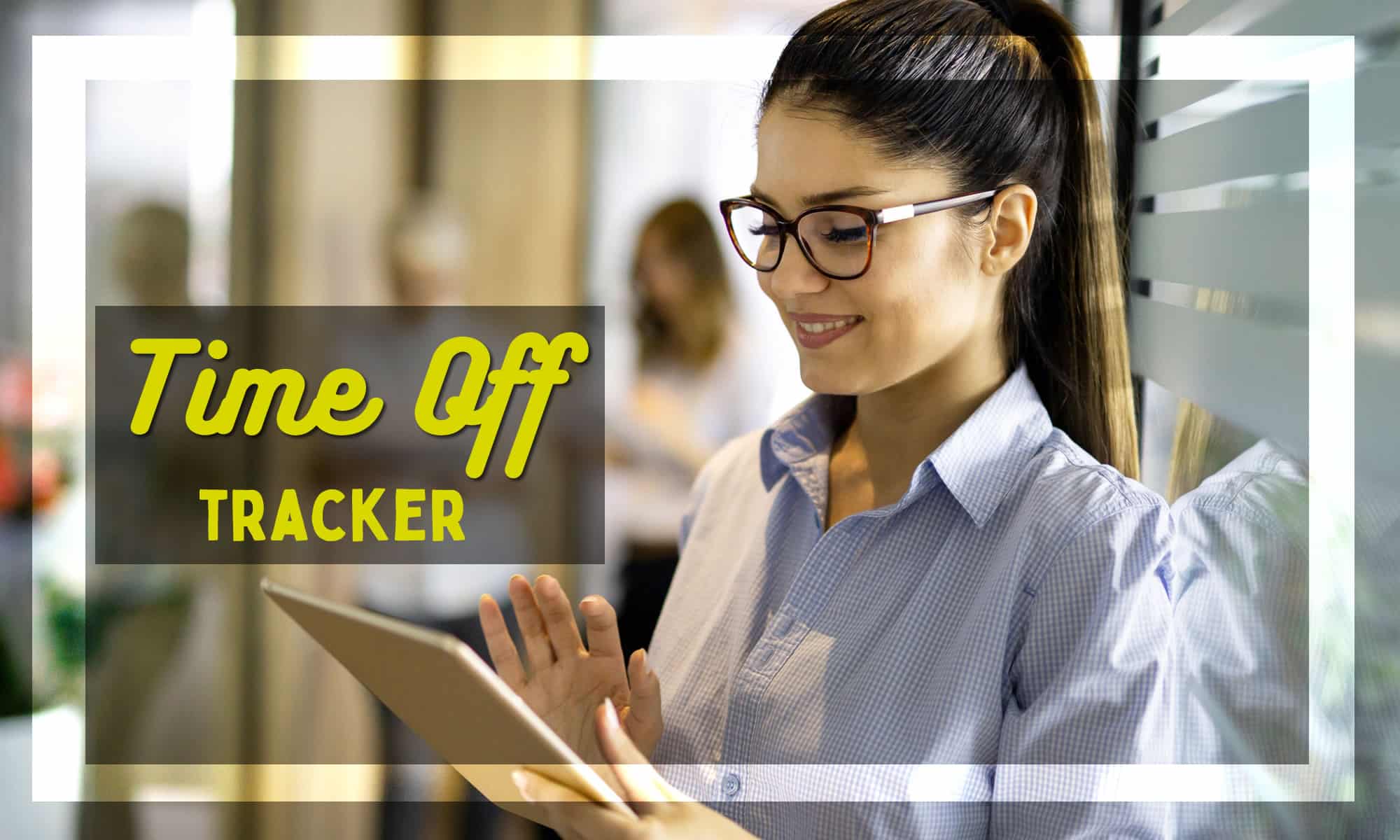 An effective Paid Time Off Tracker does more for a small business than simply making it easier to keep up with employee leave or adhere to your time off policy. PTO Tracking is a transformative aspect of business: meaning it's something that can completely overhaul and improve your operations depending on your approach.
Effective time off tracking can be the key to (1) fostering high productivity and job satisfaction within your team members, (2) streamlining one of the more costly processes for business owners and HR managers, and (3) attracting high-quality talent to your workplace.
That said, there is a potential downside to consider: adopting the wrong PTO Tracking Software could mean not getting the full benefits above, or even seeing setbacks in your operations overall.
To help small business owners avoid this trap, we've curated a list of the Top 5 Paid Time & Vacation Trackers on the market. Our criteria for judging these time off tracking apps is based on their functions, how versatile they are, and what users have to say in testimonials. Hopefully by the end of this post, one of these tools will transform your business for the better.
Time Off Tracker Options
When we first set off to create Buddy Punch (back in 2013), we were expanding our small operations to include a bigger workforce and more locations. At the time we had relied on manual methods of collecting timesheet data and managing time off requests, but we quickly realized that we needed to turn to digital leave management methods if we wanted to spend less time combing over data.
At the time we thought we'd find our answer by looking through employee vacation trackers on the market, but many of the software didn't fit our needs. So we decided to create our own.
Flash forward to today, with Buddy Punch helping thousands of business owners manage Employee PTO through features such as Comprehensive PTO Management, PTO Accruals, Overtime Calculations, PTO Summary Reports on Demand, and Payroll Integrations.
Let's take a closer look at each of these features to help clarify the impact they have on managing employee absences in the workplace.
Note: If you'd rather get a hands-on feel for Buddy Punch's vacation tracking features, you can activate a 14-day free trial by clicking here.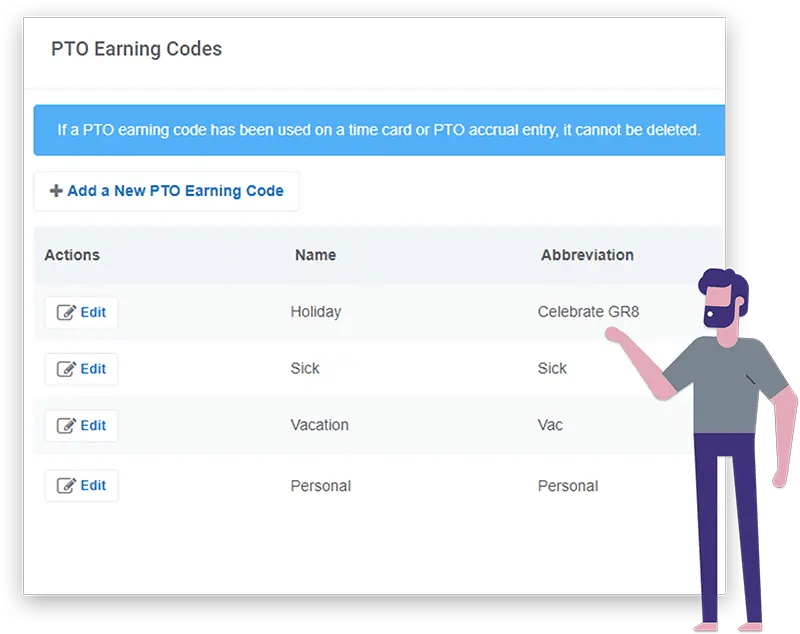 Buddy Punch's approach to PTO completely empowers business owners. In addition to already including common types of PTO (sick days, vacation time, personal days off, etc.) business owners can also create custom PTO types at their leisure. But it gets better. Instead of the typical method of dealing with leave requests (managers and administrators are notified through Buddy Punch when a team member puts in sick time), you can employ a self-service approach.
Have your staff members automatically approved when they request time off, spend less time managing their sick leave, and use that extra time to streamline your business elsewhere.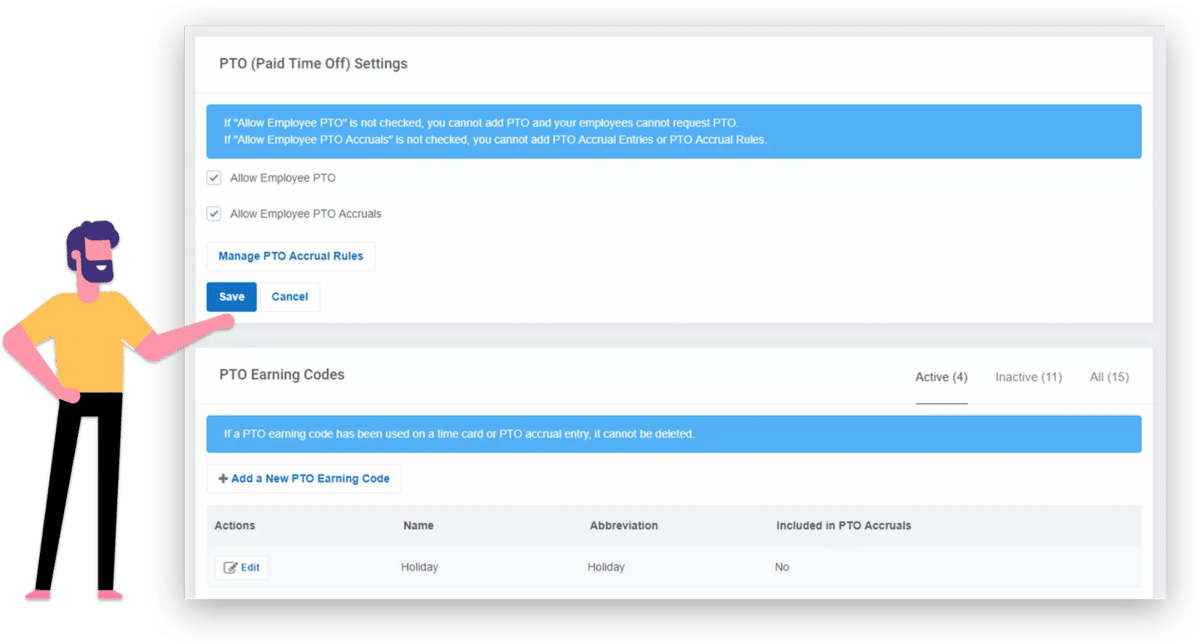 As a PTO Tracker, Buddy Punch also automates the process of accumulating banked vacation days for your staff members. This overview lets you see how much paid time off your employees have stored and at what rates it's being expended. Manage the types of PTO you offer or create rules for how it's accumulating in accordance with your PTO Policy.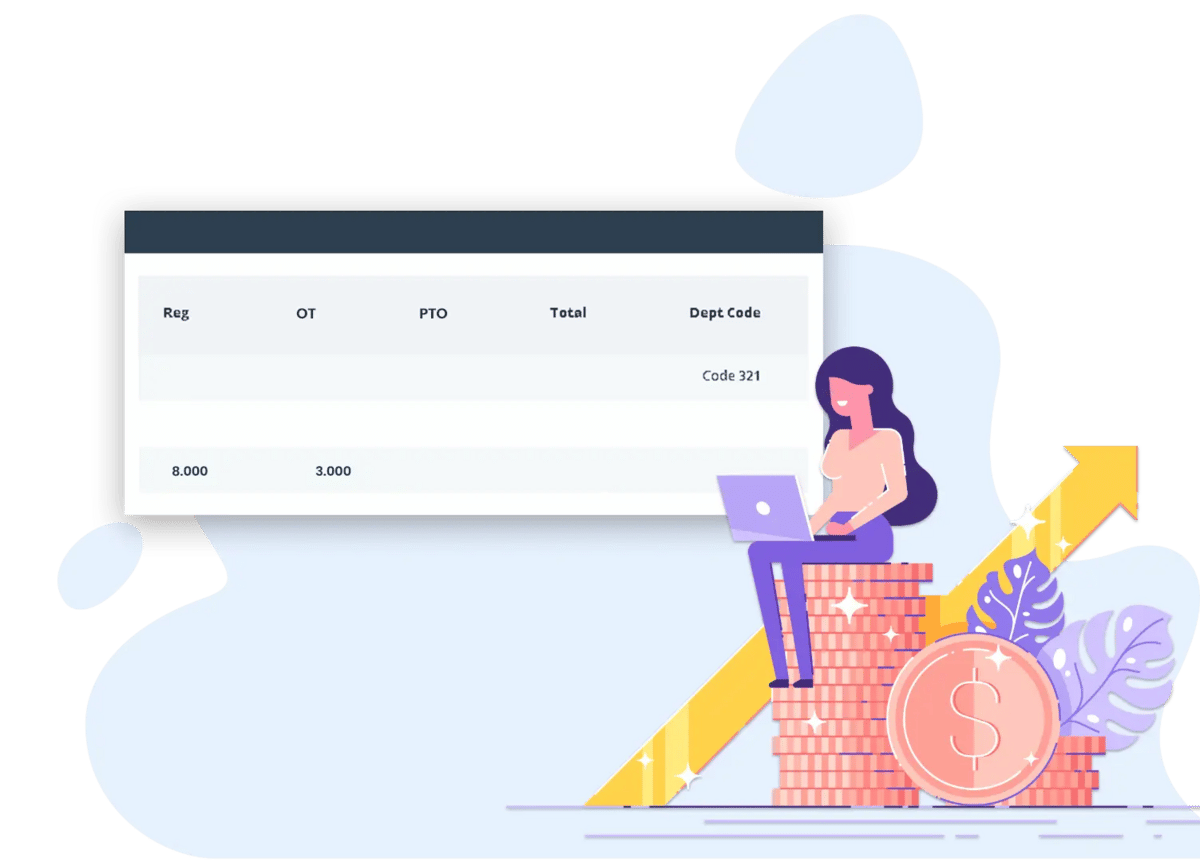 Overtime is more than just an enormous time and money sink for business owners – it can also be the cause of mounting stress for employees. More time on the clock is less time spent recovering. Less time spent recovering means team members are more likely to need to request time off, either for a mental health break or to recover physically, as stress weakens the immune system and overall productivity.
In short, it pays to minimize overtime in more ways than one.
Buddy Punch lets you sort through many different types of overtime in order to ensure its calculated accurately (and we can add a different type if needed, just let us know). With this increased transparency, small business owners are well equipped to take the steps they need to cut down on overtime.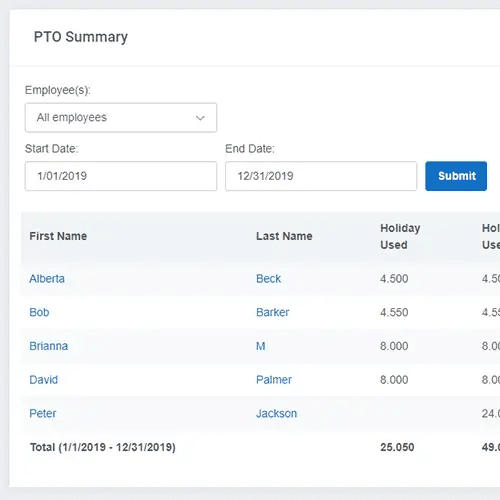 Buddy Punch allows business owners to generate and export many customizable reports in the format of their choosing (PDF or Excel CSV). This includes the PTO Summary Report, which will return information on all employee days off taken (Sick, Vacation, Personal, Holiday, etc.) per employee in a given date range based on your configuration.

One more feature we want to highlight is Buddy Punch's integration with Payroll Software, which makes it easy to transfer that employee data (which will have any paid time off data accurately subtracted) over to your favorite software to manage billing, invoicing, and payroll. Popular names we work with include Zapier, Gusto, Paychex, and more (Click here to view the full list).

Buddy Punch Isn't Just a PTO Tracker
Though we've chosen to highlight the paid time off features specifically, there's a lot more that business owners get out of buddy punch. Consider features such as:
And there are even more benefits you get when you use Buddy Punch – some of which continue outside of the app:
Using Buddy Punch means access to our Help Doc Center, which contains useful guides and videos that demonstrate how to get the most out of Buddy Punch for your time off tracking & employee staffing.
You can also make extensive use of the Blog Section, which is consistently updated with new information for business owners – best practices, new laws, and even comparisons between Buddy Punch and other software for specific functions.
Then there's the Customer Support Desk, where you'll be put in contact with us directly via live chat so that we can answer questions or clear up any concerns you may have.
Buddy Punch works across all devices (including android and iOS smartphones). One of the best ways to get a feel for it, besides the free trial, is to book a one-on-one personalized demo, which you can do here.
Buddy Punch's Online Reviews
We've spent a lot of time talking about our own software – now let's see what our software's users have to say. As of this post's writing date, Buddy Punch has 4.8 out of 5 stars and 706 reviews on Capterra.

Below, we'll list just a few reviews that speak to Buddy Punch fits as an employee vacation and sick time tracking software. (Click here to explore the full list of reviews.)
"This software is incredibly easy to use both by the administrator and by the employees. It is easy to control which employees can change their own check ins/check outs, and it is incredibly easy to make changes when needed. I also love that employees can choose to fill in their own PTO and mark it appropriately for what type they have used."

Click here to read the full review.
"the clock in and out is very easy and straight forward. I can also add in the PTO hours I want to use. The ability to review the 2 week period before submitting for the pay period is perfect and it seems as though the administrator has ease in making necessary adjustments if I forgot to punch in or out."

Click here to read the full review.
"Buddy Punch is easy to use and to train employees' use. There are features we don't even use that larger companies or ones that do their own payroll processing will find invaluable. We love the accuracy of employee time and PTO tracking."

Click here to read the full review.
"Buddy Punch is easy to use and user friendly for all ages, I clock in and out using buddy punch daily. I can go back and change my time if need, it shows when you have PTO, the exact time you clock in and out down to the second. I can clock in from my phone, laptop or desktop! Very convenient"

Click here to read the full review.
As these reviewers noted, Buddy Punch is easy to use and straightforward for both employers and employees.
Try Buddy Punch Free (14-Day Trial)
If you feel that Buddy Punch might be the right time off tracking program for your business, you can sign up for a 14-day free trial by clicking here. You can also book a one-on-one demo, or view a pre-recorded demo video.
As they describe on their website, Time Off Cloud is a tracker that simplifies responsibilities for business owners and HR teams, letting them focus on other tasks (such as the onboarding process). It achieves this through features such as:
At the time of writing, Timely has a total of 4 reviews on Capterra (see here), with an average of 4.8 out of 5 stars.
"I had looked for a long time to find the right product to manage our PTO and eliminate the Excel spreadsheets we were currently using. I stumbled upon Time Off Cloud after doing a google search and I am so glad I did. They have been great to work with. "

Click here to read the full review.
Day Off is a PTO Tracker that helps you manage your team vacations through features including (but not limited to):
Day Off has a stellar 5 out of 5 stars on Capterra (as of this post's writing) with 15 reviews.
"Overall, this is an amazingly well thought out tool that helps our HR department and our employees stay on the same page with PTO requests and approvals. This is a feature rich program with low costs and great benefits. The dashboard helps to track both time used and time remaining, while the approval process is streamlined and easy for everyone to use."

(Click here to read the full review).
LeaveBoard is a cloud-based HR software that comes with a host of employee management features such as:
Like Buddy Punch, you can try LeaveBoard 14-days free, no credit card required. As of this post's writing, LeaveBoard has 5 reviews and 4.4 out of 5 stars on Capterra.
"This is an imperative software for a company who want to operate their business without compromising staff satisfaction and objectives of the organizations. Besides, if you are more concerned about investment in HR software, I can proudly guarantee that this is the ideal software, which can match your organization's ROI."

(Click here to read the full review).
QuickBooks Time offers a full suite of employee management features, including options pertaining to paid time off. Some of those features include:
As of this post's writing, QuickBooks has a rating of 4.7 out of 5 possible stars, based on 5706 total reviews.
" Everyone can easily clock in and out, whether in the office or remote. They can easily put in PTO, and see how much they have left. As management, the reports are visual and comprehensive which makes them incredibly helpful, and time-sheet approval is a breeze."

(Click here to read the full review).
Choosing The Best Time Off Tracker for Your Business
Though we've managed to narrow down to total options, finding the best employee time off vacation and sick day tracker for your business will depend on your preferences. A look at the features can help, however.
For example, do you want an entire approval flow with your leave requests, where you can personalize approvers per team or per employee? LeaveBoard provides that. Are you big on organization and order? Maybe Time Off Cloud's Organization and Approval feature will catch your fancy.
But, if what you're ultimately looking for is a time off tracker that makes it easy to manage (or even auto-approve) time off requests, an intuitive design that means that any employee or manager can make use of helpful features, and a helpful customer support team, you really can't go wrong with Buddy Punch.
Try Buddy Punch for Free
If you feel that Buddy Punch could be the right fit for your business, sign up for a free trial. You can also book a one-on-one demo, or view a pre-recorded demo video.

You May Also Like…