Best Time Tracking Software for Accountants | Top 5 Picks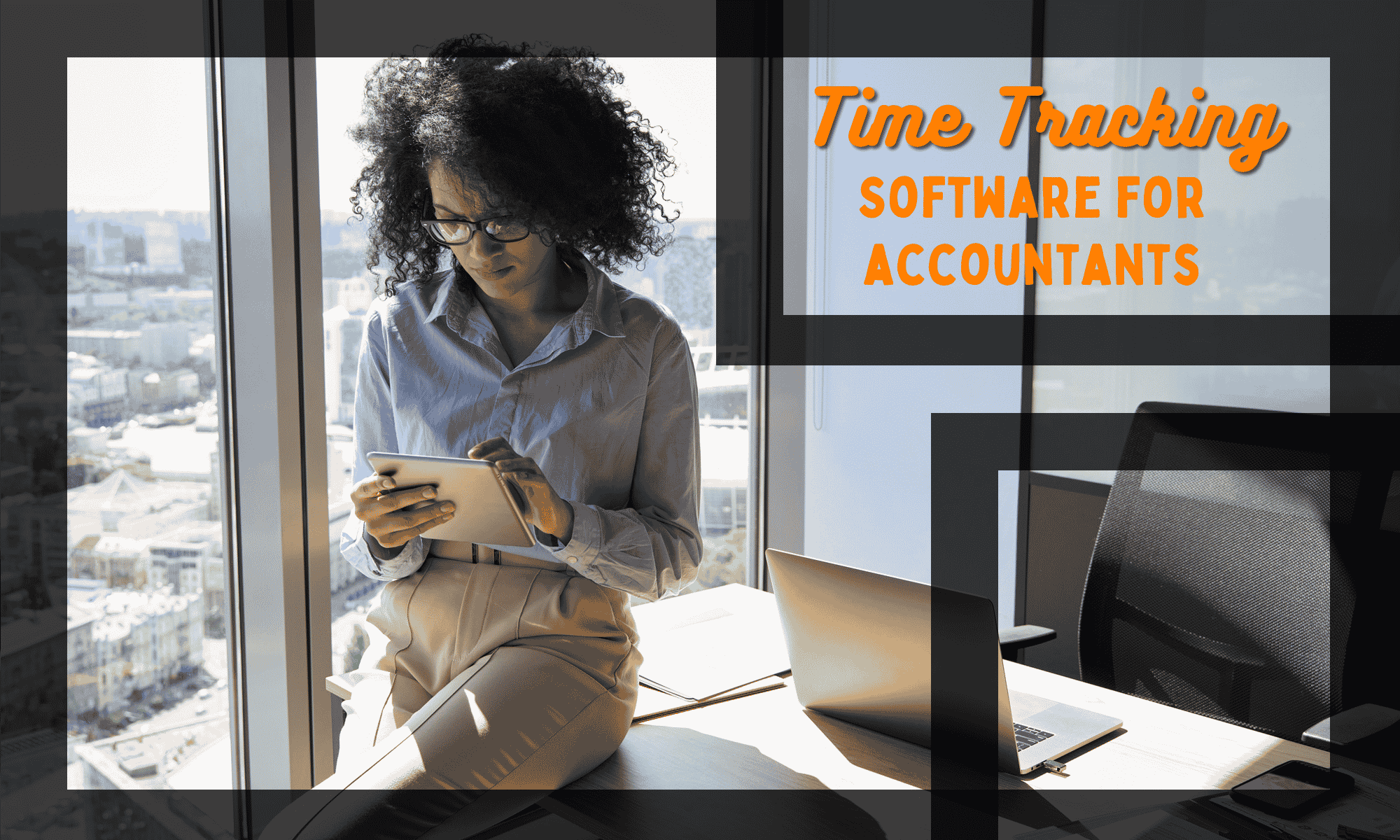 As an accountant, keeping track of time is essential to accurately billing clients and managing multiple projects.
Modern timesheets have migrated to the online realm and are typically stored in live documents.
However, manually tracking time on spreadsheets or paper can be time-consuming and prone to errors.
That is where businesses of all sizes widely utilize timekeeping software to promote accuracy and efficiency in tracking time.
Here are the benefits of using timekeeping software for accountants:
Real-time Visibility
Excellent Customer Communication
There are numerous time tracking software options available in the market, and with so many options, selecting the best time tracking software for accountants can be overwhelming.
The top five accountant time tracking tools on the market are:
Now, which one to select or go for?
To help you out, we have compiled this ultimate guide on the best time tracking software for accountants; we aim to help accountants make valuable decisions regarding the best time tracking software for their needs.
Why Is Time Tracking Important for Accountants?
Here are some reasons why time tracking is important for accountants:
1. Accurate Billing
Time tracking enables accountants to bill clients for the time spent on their projects accurately. This can help ensure that clients are charged correctly only for the billable time and non-billable hours (better bookkeeping), increasing client satisfaction and preventing payment disputes.
2. Project Management
Accountants often juggle multiple projects at once, making it challenging to keep track of the time spent on each one. Timekeeping software can provide real-time visibility into time allocation, helping accountants prioritize their workload and meet deadlines.
3. Employee Productivity
Time tracking software can also help managers track employee productivity and identify areas for improvement. By analyzing how much time is spent on each task, managers can optimize workflows and allocate resources more efficiently.
4. Streamlined Workflow
Time tracking software can automate the time entry and billing process, saving accountants time and reducing the risk of errors. This can help increase efficiency and productivity, leading to better client service and profitability.
How does Outdated Time Tracking Software Affect Accountants?
Outdated time tracking software can have negative consequences on an accountant's productivity, operational efficiency, and inefficiency.
It can significantly impact accountants in several ways:
1. Inefficient Time Tracking
Outdated tools may not have the latest features and functionalities required for efficient timekeeping, resulting in delays and errors in tracking time.
2. Reduced Productivity
Outdated time tracking software may require manual data entry, which can be time-consuming and prone to errors.
3. Lack of Real-time Reporting
Outdated software may not provide real-time reporting, making it difficult for accountants to make informed decisions.
4. Security Concerns
Outdated software may not have the latest security features, leaving sensitive data vulnerable to cyber threats. This can be a significant concern for accountants who deal with confidential financial information.
5. Inaccurate Billing
When time tracking is not accurate or up-to-date, it can lead to inaccurate billing for clients. For example, an accountant may spend more time than anticipated on a project but fail to track the additional time accurately in the time tracking software.
Features to Consider While Selecting a Timekeeping Software For Accountants | Buying Guide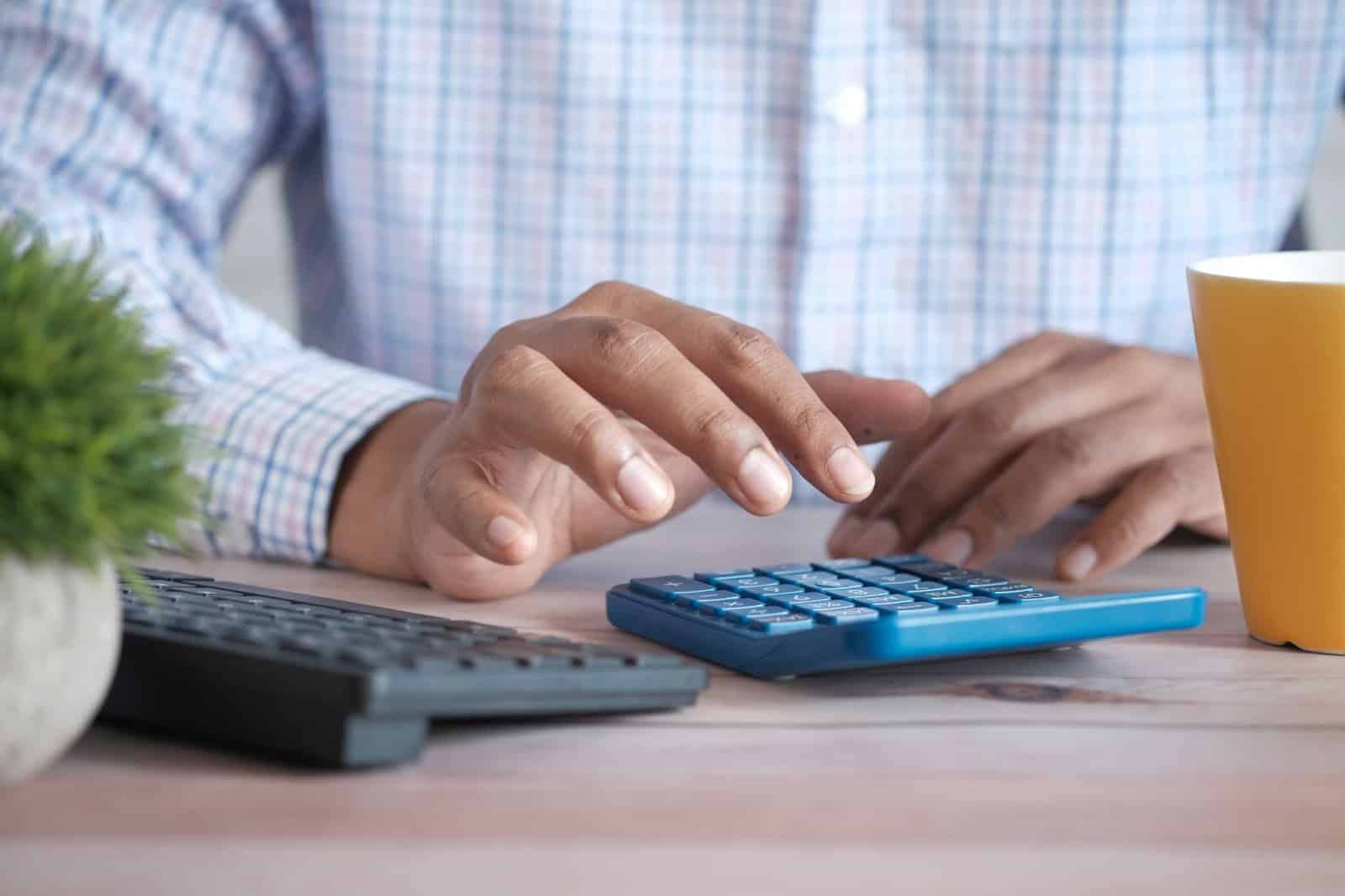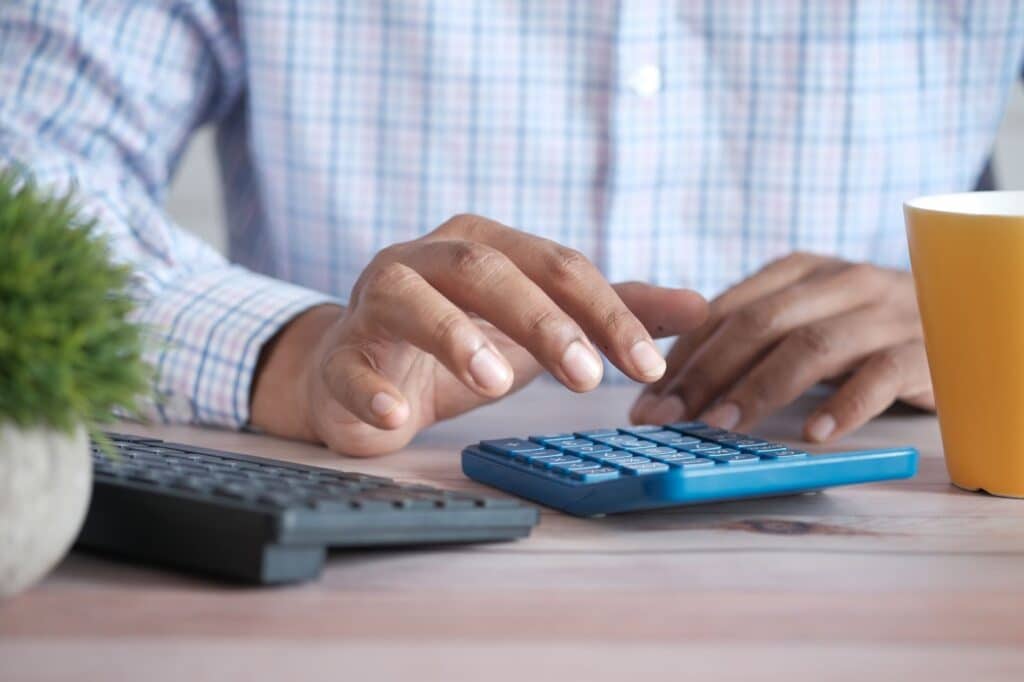 When selecting time tracking software, there are several features that you should consider to ensure that you are getting the most value from your investment.
Here are some important features to consider:
1. Features
Look for time tracking software that offers the features you need, such as mobile time tracking by project or client, overtime, built-in notifications, automatic tracking of billable hours & non-billable hours, and the ability to track time from multiple devices.
2. Data Security
Ensure that the software has robust data security measures, including encryption of sensitive data, secure login protocols, and regular backups to prevent data loss.
3. User-Friendly Interface
Choose software with an easy-to-use interface to ensure that your team can quickly adapt to using it and that it won't require extensive training.
4. Compatibility
Make sure that the software is compatible with the devices and operating systems that your team uses to ensure that everyone can access it seamlessly.
5. Integration
Look for software that can integrate with your existing tools, such as your project management software, to ensure seamless data transfer and avoid data duplication.
6. Reporting
Ensure that the software provides detailed reporting features, such as customizable reports, export options, and real-time reporting so that you can analyze data easily.
7. Customization
Choose software that offers customization options, such as custom fields or workflows and invoicing templates, to ensure that it fits your business needs and is tailored to your unique requirements.
8. Scalability
Look for software that can scale with your business as you grow to ensure that you won't need to switch to a new system in the future.
9. Cost
Finally, consider the cost of the software, including any upfront costs, ongoing subscription fees, or additional costs for additional features or upgrades, to ensure that it fits within your budget.
Timekeeping Software For Accountants | Top 5
Here are the top five timekeeping software options for accountants that offer a range of capabilities and features.
1. Buddy Punch | Best for Workforce Analytics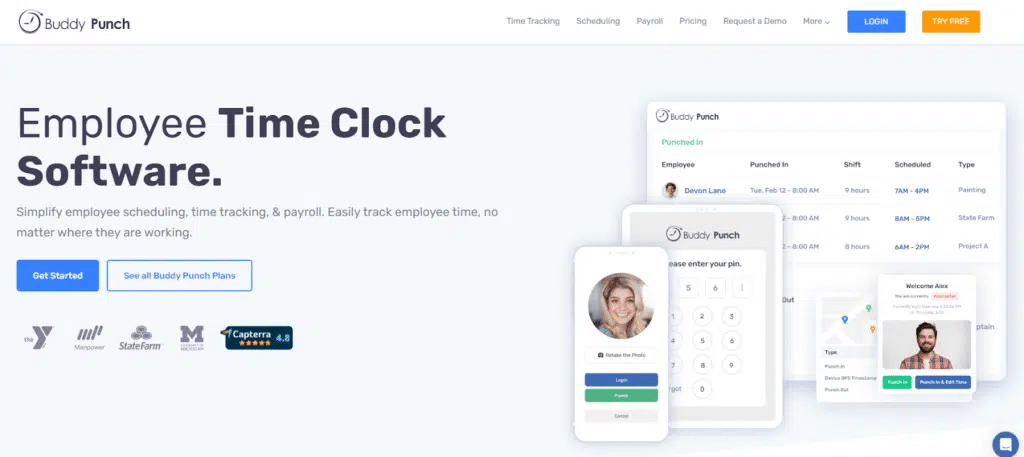 Buddy Punch is a time tracking software that provides a comprehensive solution for businesses who professional services and helps them manage their employee time and attendance in addition to client time management.
As a time tracking solution, Buddy Punch enables accountants to use GPS tracking to support employee accountability and engagement.
In addition, it offers a range of features that can help accounting teams streamline their time entry processes, rapidly collect time reports, keep track of employee performance, and improve employee productivity.
Buddy Punch
Technical Details
Customer Type
Small Business
Medium Business
Large Enterprises
Deployment
Cloud-based
Support
Email
Phone
Chat
FAQ
Devices Supported
Windows
Android
iPhone/iPad
Mac
Web-based
How Buddy Punch's Time Tracking Software Works?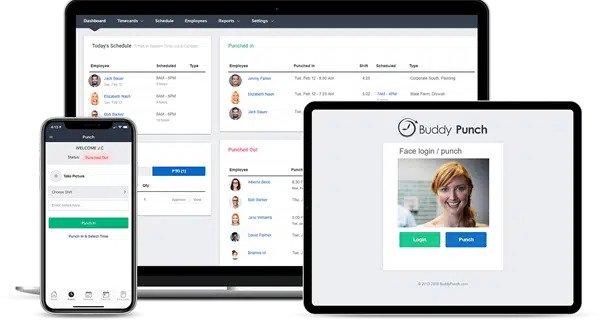 Buddy Punch offers various options for accountants to track their time, including a web-based time clock, mobile apps, and facial recognition. This is ideal for remote accounting teams in need of greater oversight.
It allows accounting firms to increase employee oversight and track team progress, regardless of where the accountants are working.
The time tracking app accurately calculates employee work hours, including regular hours, breaks, and overtime. Also, it seamlessly integrates with popular accounting software, ensuring the payroll process remains streamlined and accurate.
What Problems Will Buddy Punch Solve for Accountants?
Buddy Punch can help accountants save time, reduce errors, and gain better visibility into employee time and attendance.
Additionally, this timekeeping software can solve the following listed problems for accountants:
1. Time-consuming Manual Processes
Buddy Punch eliminates the need for manual time entry and calculations, saving accountants time and reducing the risk of errors.
2. Inaccurate Time Tracking
With its automatic time tracking and real-time updates, Buddy Punch ensures that employee work hours are accurately recorded (both billable and non-billable hours and free time), reducing the risk of discrepancies and ensuring compliance with labor laws.
3. Payroll Errors
Buddy Punch's seamless integration with popular payroll and accounting software helps to prevent errors in the payroll process, reducing the need for manual data entry and ensuring that employees are paid accurately and on time.
4. Lack of Visibility
Buddy Punch provides real-time visibility into employee time and attendance, allowing accountants to monitor employee hours and make informed decisions about staffing and overtime.
5. Lack of Customization
Buddy Punch offers customizable settings that allow businesses to tailor the software to their specific needs. This includes custom time entry fields, notifications and alerts, and job and department tracking.
While you can also use Buddy Punch on other devices, including smartphones (iOS or Android) and tablets, the desktop app is best for using all features.
Buddy Punch also offers a Chrome Extension. You can download Buddy Punch for Google Chrome directly from the Chrome Web Store.
Features of Buddy Punch
Buddy Punch offers a variety of features that simplify time tracking and attendance management for accounting businesses of all sizes.
Some of the key features of Buddy Punch include:
1. Promote Accountability With Webcams And GPS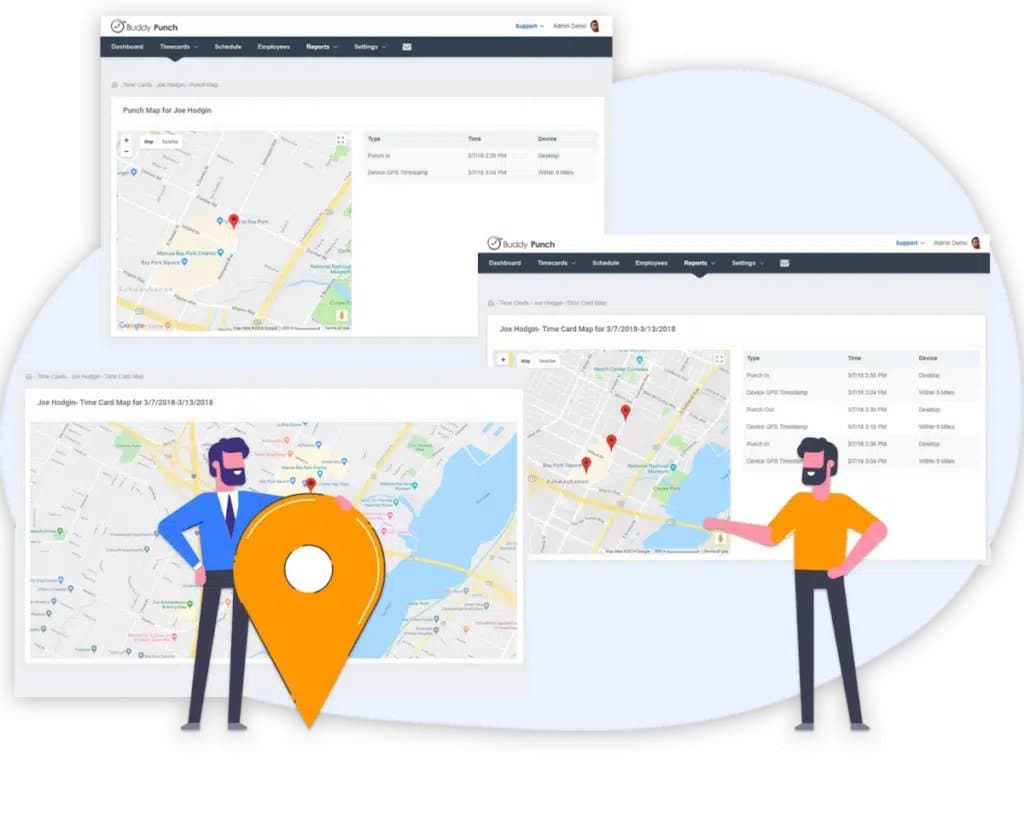 You can keep track of employee locations with GPS and webcam images. Employees can take a picture of themselves to confirm their identity when clocking in and out with the webcam feature. This helps in promoting accountability across the workforce and creates a clear sense of transparency while making sure that employees are only getting paid for the time they actually worked.
Once the GPS coordinates are captured, leaders can instantly review these on the platform's dashboard. It provides real-time updates on employee locations, letting accountants monitor their staff movements accurately.
2. Dramatically Simplify Payroll, And Budgeting
Buddy Punch can easily integrate with all your favorite payroll platforms, such as QuickBooks (Bookkeeping Software) and ADP (Automatic Data Processing), allowing for seamless data transfer and reducing the need for manual data entry. It also helps to accelerate your workflows and transform your payroll processes.
If you are currently trying to navigate complex workflows to complete basic tasks, Buddy Punch will radically transform your operations and allow you to embrace simplicity.
It uses automation to run payroll and do the heavy lifting for you. This can save accounting firms a significant amount of time and reduce the likelihood of errors in payroll calculations.
3. Assign Job Codes For Accountants To Punch Into
Buddy Punch allows businesses to assign job codes or project codes to employees for tracking time spent on specific tasks or projects.
By assigning job codes to specific tasks or projects, businesses can track employee hours and practice expense tracking in real time, allowing them to manage project timelines and budgets better.
Once you assign an employee to a job code, you can see exactly how much time they are spending on the job. This data is then reflected in the employee's time card and your reports.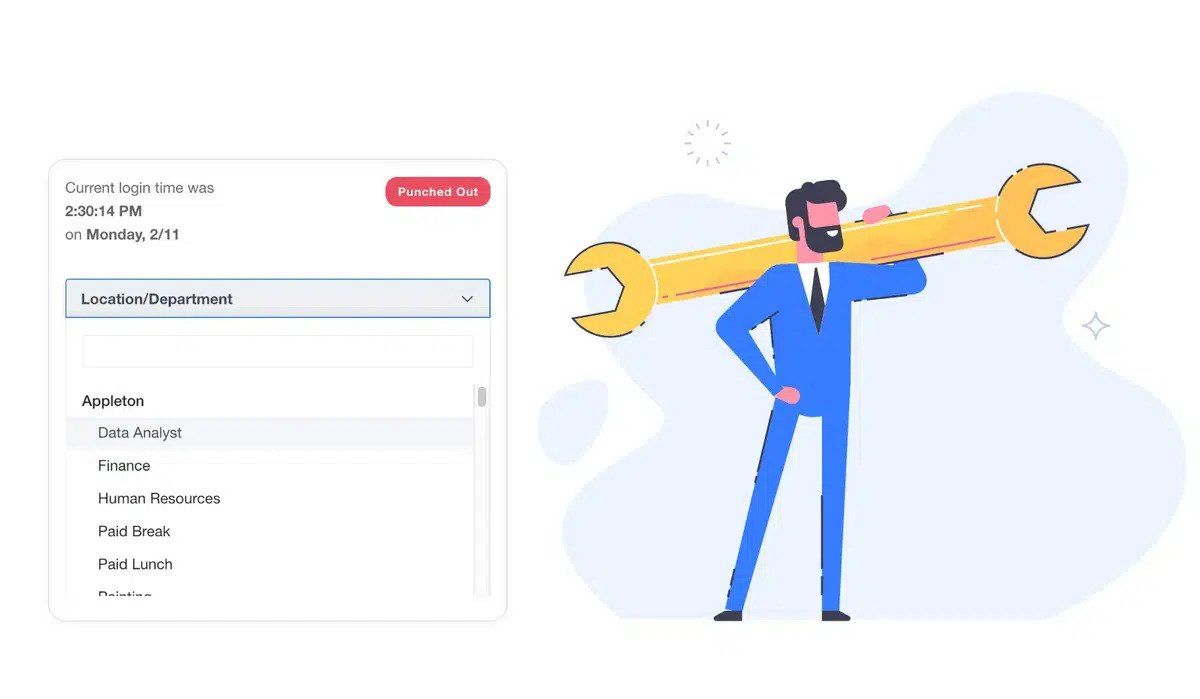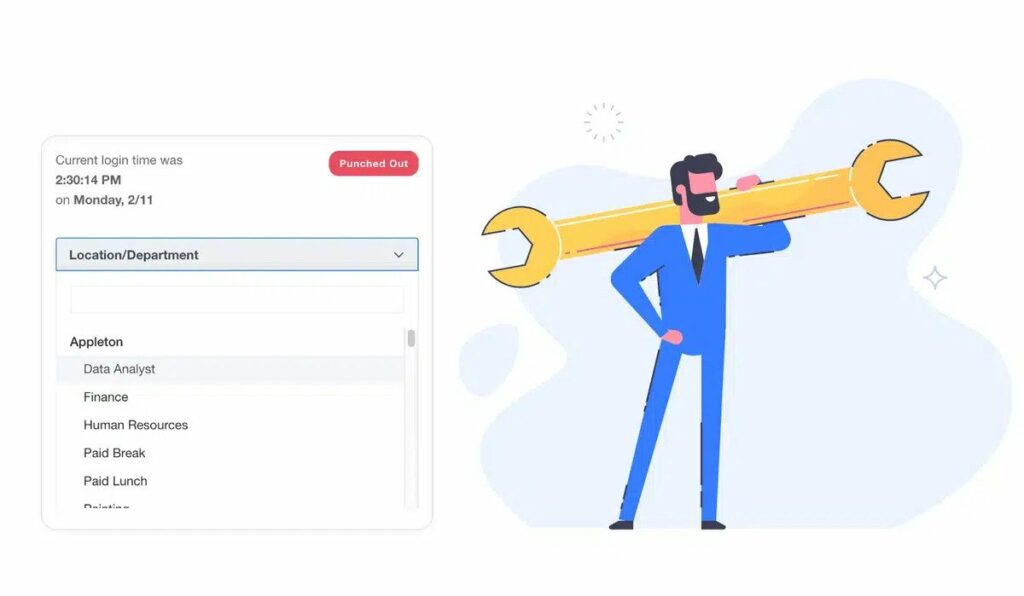 Once you start to explore the potential of Buddy Punch for your accounting firm, you should take a look through the wide-ranging documentation available on our "Knowledge Base" – which is home to an abundance of helpful resources. While it's easy to get started with Buddy Punch, these resources can come in handy. Also, the support team is always on hand to assist you.
You can book a one-on-one personalized demo here.
4. Built-In Notifications Specifically For Accountants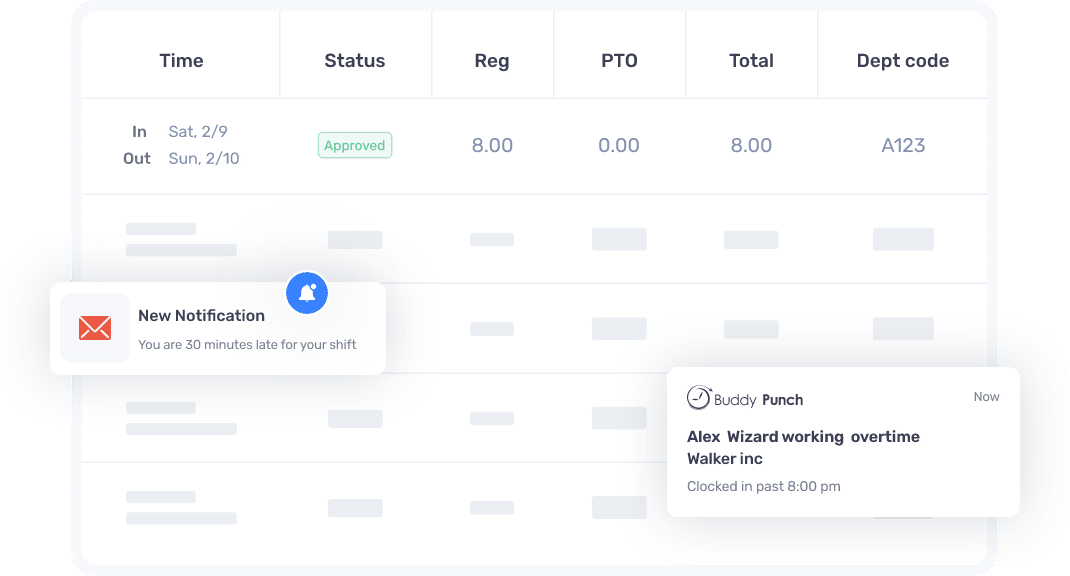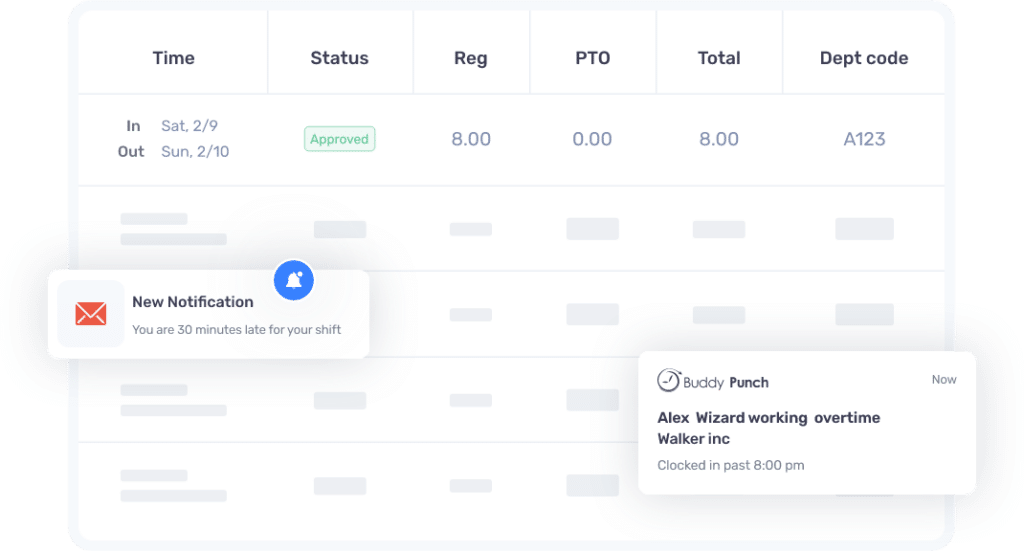 Buddy Punch offers built-in notifications for all users, including accountants. These notifications can be configured to alert users of various events, such as time-off requests, missed punches, and approvals.
For accountants, notifications can be set up to alert them of any changes or updates to employee time data.
For example, if an employee submits a timesheet with a correction or a new time entry, the accountant can be notified immediately to review and approve the changes.
Notifications can also be set up for reminders related to payroll deadlines, upcoming audits, or other important accounting events.
This can help accountants to stay on top of important tasks and ensure that payroll and other accounting processes are completed on time.
5. Multiple Punch and Login Options
Buddy Punch offers a range of punch and login options for accountants and accounting firms, providing greater flexibility and convenience for their workforce.
For accountants who work remotely or are frequently on the go, Buddy Punch offers GPS tracking capabilities, enabling them to punch in and out from their current location.
To cater to the unique needs of accounting professionals, Buddy Punch offers a variety of clock-in and clock-out options, including web-based punching, mobile punching via the Buddy Punch app, a unique PIN, biometric fingerprint, facial recognition, and physical time clocks that integrate seamlessly with the software.
The range of options ensures that accountants can choose the method that best suits their needs and preferences, while also providing accurate and reliable time tracking data for the business.
6. Adding, Editing, and Deleting Punches
Buddy Punch gives accountants greater control over their time tracking by allowing them to add, edit, or delete their own time punches and provide notes or reasons for any changes made.
This feature proves especially useful in situations where an accountant forgets to clock in or out or if there are discrepancies in their recorded time.
By allowing accountants to manage their own time punches, Buddy Punch helps to reduce the workload of supervisors and payroll administrators.
Accounting firms can set permissions and restrictions on who can edit or approve punches, ensuring the accuracy and integrity of the timekeeping process.
7. Reports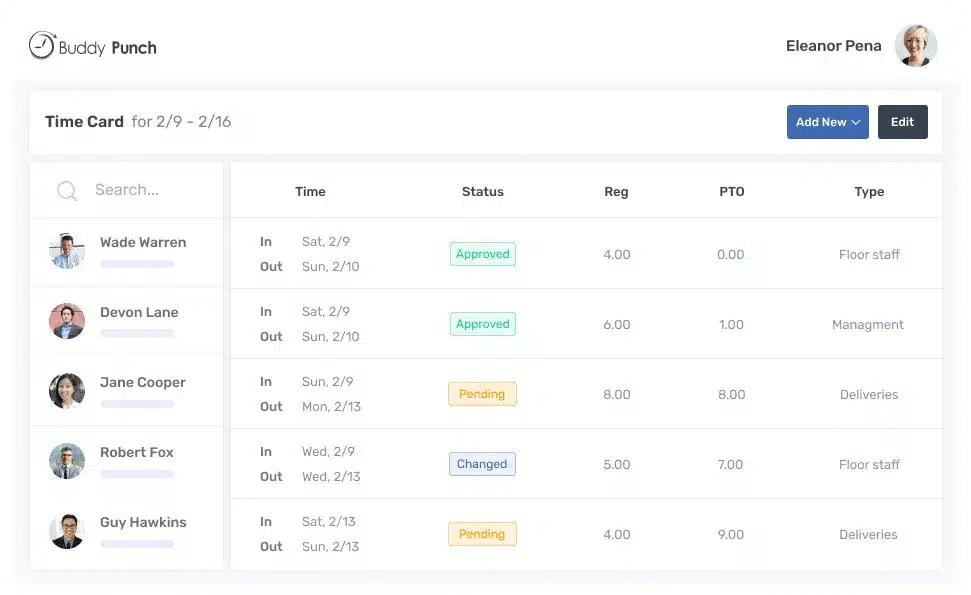 Buddy Punch's report feature provides access to a range of useful reports related to employee attendance, which can be beneficial for accounting firms.
These reports offer valuable insights into the firm's operations, allowing accountants to make data-driven decisions and ensure compliance with labor laws and regulations.
By using these reports, accountants can better understand their workforce and optimize their operations to improve productivity, efficiency, and resource management.
8. IP Lock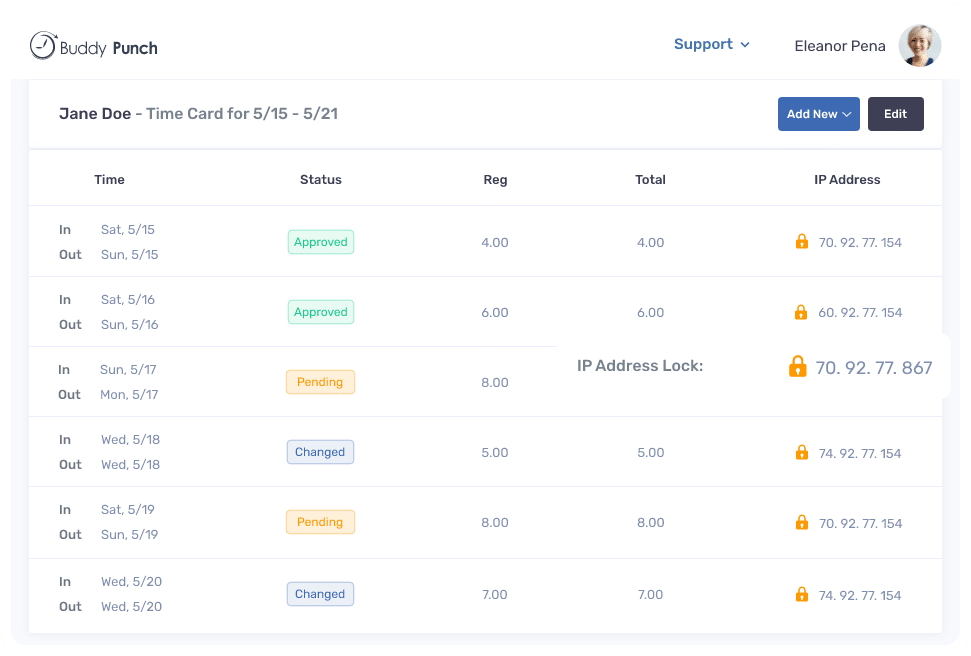 The IP lock feature of Buddy Punch allows accounting firms to restrict employee access to their time tracking software based on their IPs.
This is particularly useful for businesses that need employees to record their attendance from a specific location.
Accountants can create a list of approved IPs from which employees can clock in and out to prevent time theft or fraudulent time entries by making sure that employees are physically present at the authorized location.
Pros
Cons
● Accurate time tracking
● Customization
● Easy to use interface
● Useful Reports
● Efficient integration
● Didn't find any yet
Free Trial
Ready to give Buddy Punch a try?
For free trial, no credit card required.
If you feel that Buddy Punch might be the right fit for your business, sign up for a free trial. You can also book a one-on-one demo, or view a pre-recorded demo video.
2. Timely | Best for Scheduling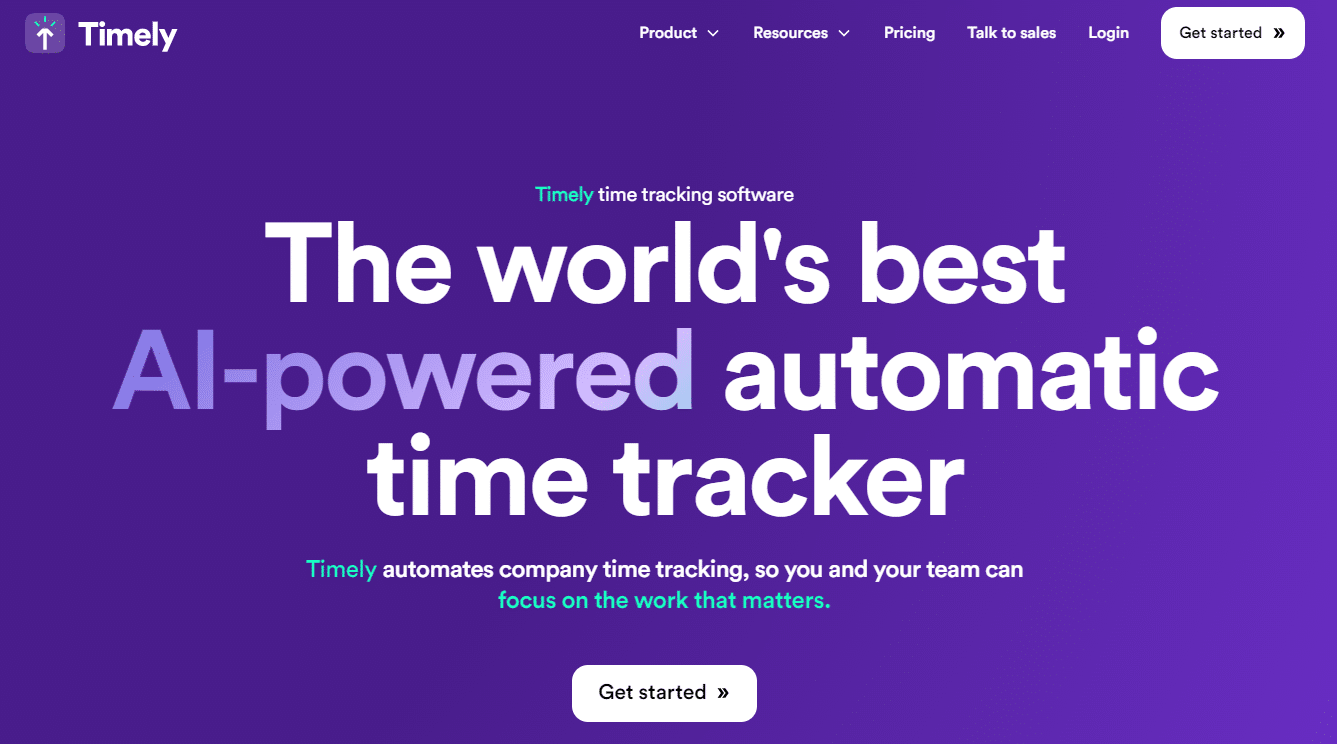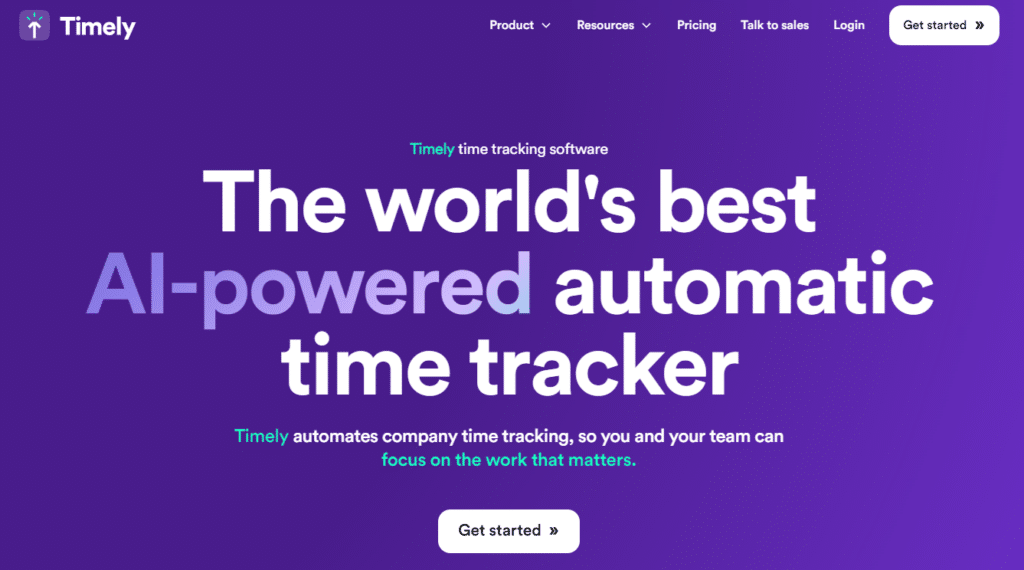 If you are looking for a simple time tracking platform for your agency, Timely might work for you. CPA firms can use this solution to reduce the burden of administrative payroll tasks and streamline employee tracking.
Using Timely, team leaders can carefully monitor project workflows and hold each worker accountable for their tasks. In turn, this increases project visibility and transparency.
Timely
Technical Details
Customer Type
Small Business
Medium Business
Large Enterprise
Deployment
Cloud-based
Support
Phone Online
Chat
Knowledge Base
Forum
Devices Supported
Android
iPhone/iPad
Mac
Web-based
Linux
Using Timely, team leaders can carefully monitor project workflows and hold each worker accountable for their tasks. In turn, this improves project visibility and transparency.
It can help users identify areas where time can be better spent and provide insights into how to optimize work processes.
Timely is loaded with a range of high-impact features. Some of these include:
Project And Team Planning
Automatic Time Tracking
Team Time Management
Project Time Management
App Integration
Pros
Cons
● Clean user interface
● Add team member
● Compatible with popular device
● Task scheduling
● No POMODORO support
● Slow customer support
Free Trial
Timely offers a 14-day free trial for new users to try out the software before making a commitment to purchase.
3. TimeCamp | Best for Freelancers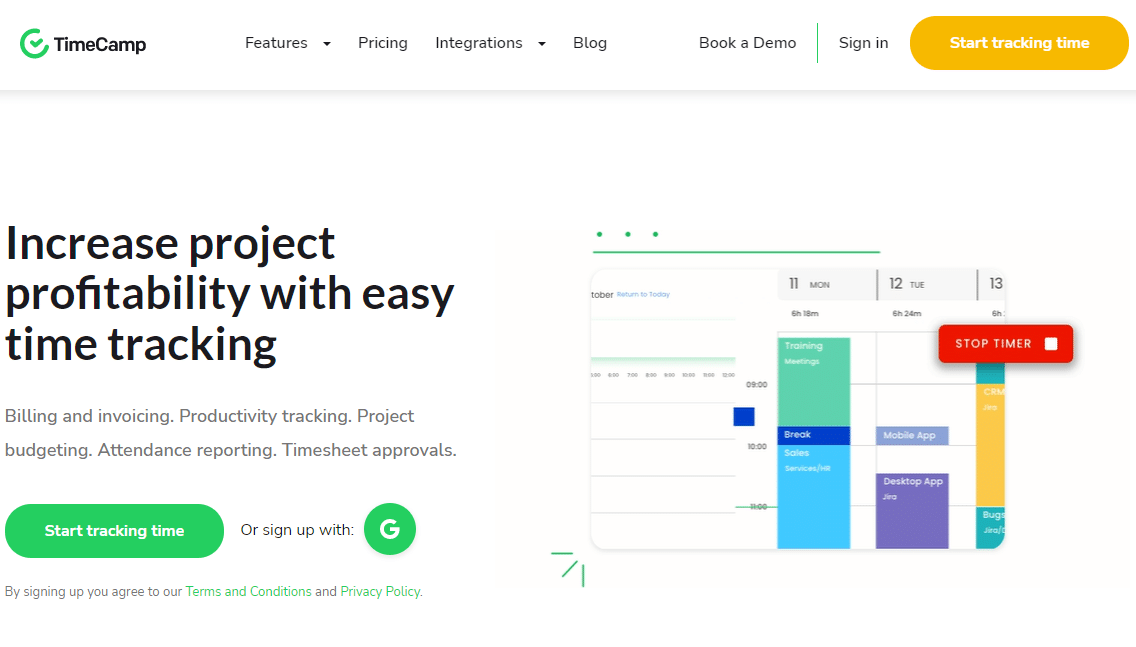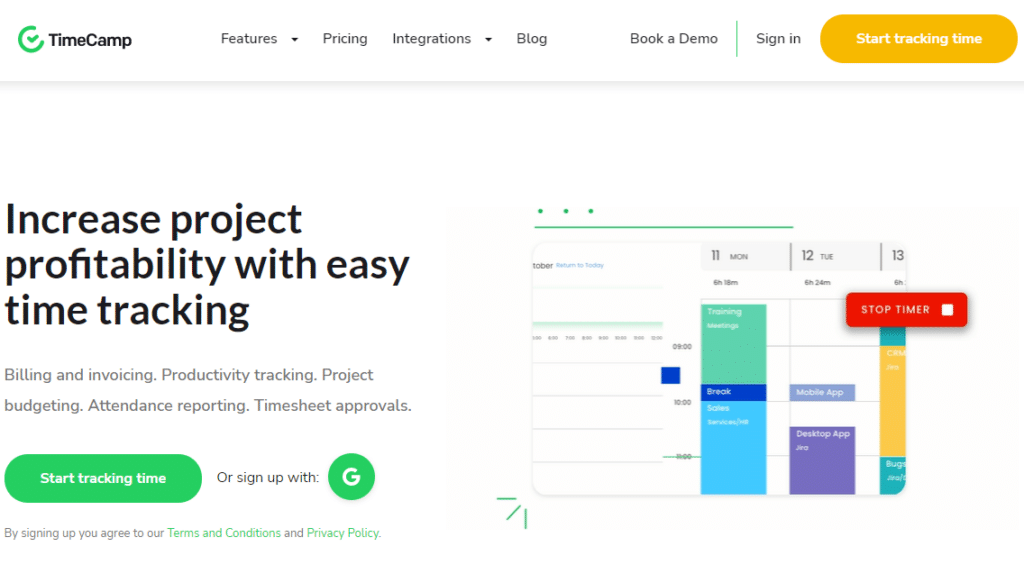 TimeCamp is best described as a one-click time tracker. With a single click, accountants on your team can punch in and begin their working day.
Once team members punch in, leaders can use TimeCamp's dashboard to monitor individual employee performance.
For instance, you can see how long accountants spend inside certain applications to assess their performance.
TimeCamp
Technical Details
Customer Type
Small Business
Medium Business
Large Enterprises
Deployment
Cloud-based
Support
Phone Online
Devices Supported
Android
iPhone/iPad
Mac
Web-based
Linux
TimeCamp integrates with a variety of other tools and platforms, such as Trello, Asana, Slack, and Jira, to provide a seamless user experience.
In addition to its one-click time tracking feature, TimeCamp also offers a range of other features to help users manage their time and productivity.
Some of the key features include:
Automatic Time Tracking
Timesheet Approvals
Attendance Tracking
Time Tracking Reports
Productivity Tracking
Custom Billing Rates
Easy Invoicing
Pros
Cons
● Effective integrations with other productivity tools
● Invoicing tools to streamline tracking billable hours
● Detailed reports
● Free plan does not include any integration
● Mobile app is hard to use
● Manual time tracker has glitches
Free Trial
TimeCamp offers a 14-day free trial with the need of a credit card, so you can check if it's the right tool for your business.
It allows you to fully test the software and determine if it meets your needs before investing in a subscription. However, the tool is a bit pricey on the pricing side.
4. Insightful | Best for Productivity Insights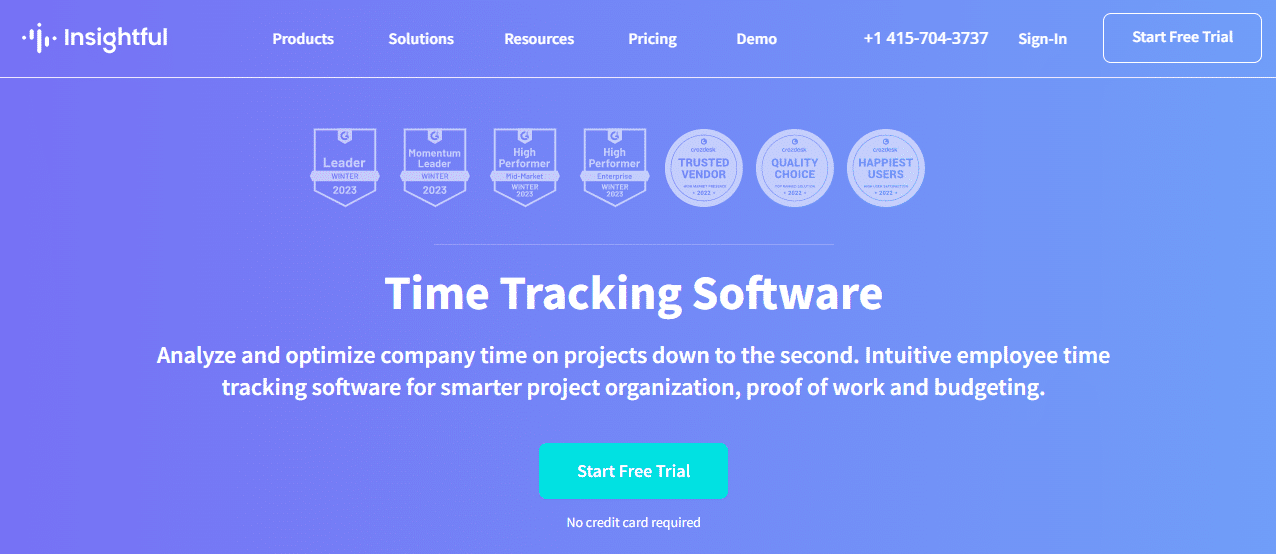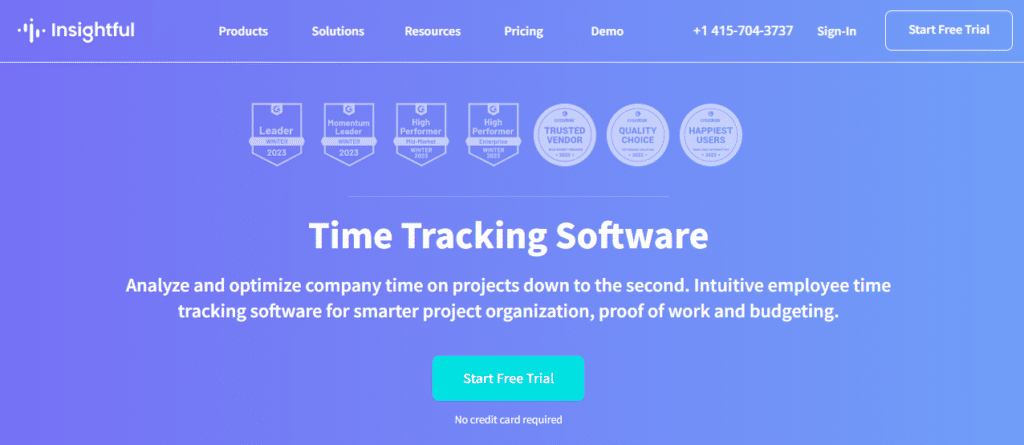 Insightful is, well, insightful! The platform truly lives up to its name – providing leaders with real-time data on how accountants are spending their time during the working day. When it comes to pushing projects forward and hitting key objectives, leaders can leverage this data to make informed decisions.
Insightful
Technical Details
Customer Type
Small Business
Medium Business
Large Enterprises
Deployment
Cloud-based
On-Premise
Web-based
Devices Supported
Mac
Web-based
Operating Systems
Windows
Linux
Mac
Insightful offers numerous features and some of which include:
Employee Monitoring
Time Tracking
Automatic Time Mapping
Screenshots
Pros
Cons
● Easy to use interface
● Flexible scheduling
● Easy time-off management
● Robust reporting capabilities
● Do not offer mobile apps
● Limited customization options
Free Trial
Insightful provides a 7-day trial period that allows users to test out the platform's diverse range of features, such as time tracking, employee monitoring, reporting, and communication tools.
If satisfied, you can jump onto their pricing section and subscribe to the tool to access further features.
5. When I Work | Best For Building Work Schedules


To gain a complete understanding of where employees are and when they are working, you can use a platform like When I Work to increase employee oversight.
It enables accounting firms to leverage GPS technology to track employee locations. When I Work also helps to centralize many important aspects of team communication and collaboration.
When I Work
Technical Details
Customer Type
Small Business
Medium Business
Large Enterprises
Deployment
Cloud-based
Support
Phone Online
Chat
FAQ
Forum
Devices Supported
Android
iPhone/iPad
Mac
Web-based
When I Work also offers a mobile app for employees, allowing them to easily check their schedules, swap shifts, and communicate with managers and colleagues from their mobile devices.
The platform offers a range of integrations with other popular business tools, such as payroll software, point-of-sale systems, and accounting software, allowing businesses to streamline their operations and reduce manual data entry.
When using When I Work, managers have the ability to create and oversee employee schedules, authorize requests for time off, and generate detailed reports to streamline payroll processes.
When I Work offers a range of useful features for CPA firms:
Employee Time Clock
EMployee Scheduling
Timesheets
Team Messaging
Pros
Cons
● User-friendly interface
● Allows employees to communicate with managers easily
● Affordable
● Limited reporting
● Limited customer support
Free Trial
When I Work provides a 14-day trial period for accountants to test out all of its features, including shift scheduling, time clock functionality, and task management.
FAQs
Why Do Accountants Use Billing Software?
Accountants use billing software to streamline and automate their billing, and invoicing processes, improve accuracy and efficiency, and gain better insights into their billing activity. 
Are Timesheets Important?
Accurate timesheets are essential for providing proper estimates based on past project performance. The reliability and precision of these timesheets rely on how simple it is for your team to track their time and the consistency of the reporting nomenclature.
To make accurate estimations, it is crucial to review timesheet data and use it as a reference to determine how much to charge for the next project.
Try Buddy Punch for Free
Ready to start a free trial?
No credit card required, all features included.
If you feel that Buddy Punch could be the right fit for your business, sign up for a free trial. You can also book a one-on-one demo, or view a pre-recorded demo video.
You May Also Like…