Employee Keeps Working Off The Clock (Best Prevention Tools)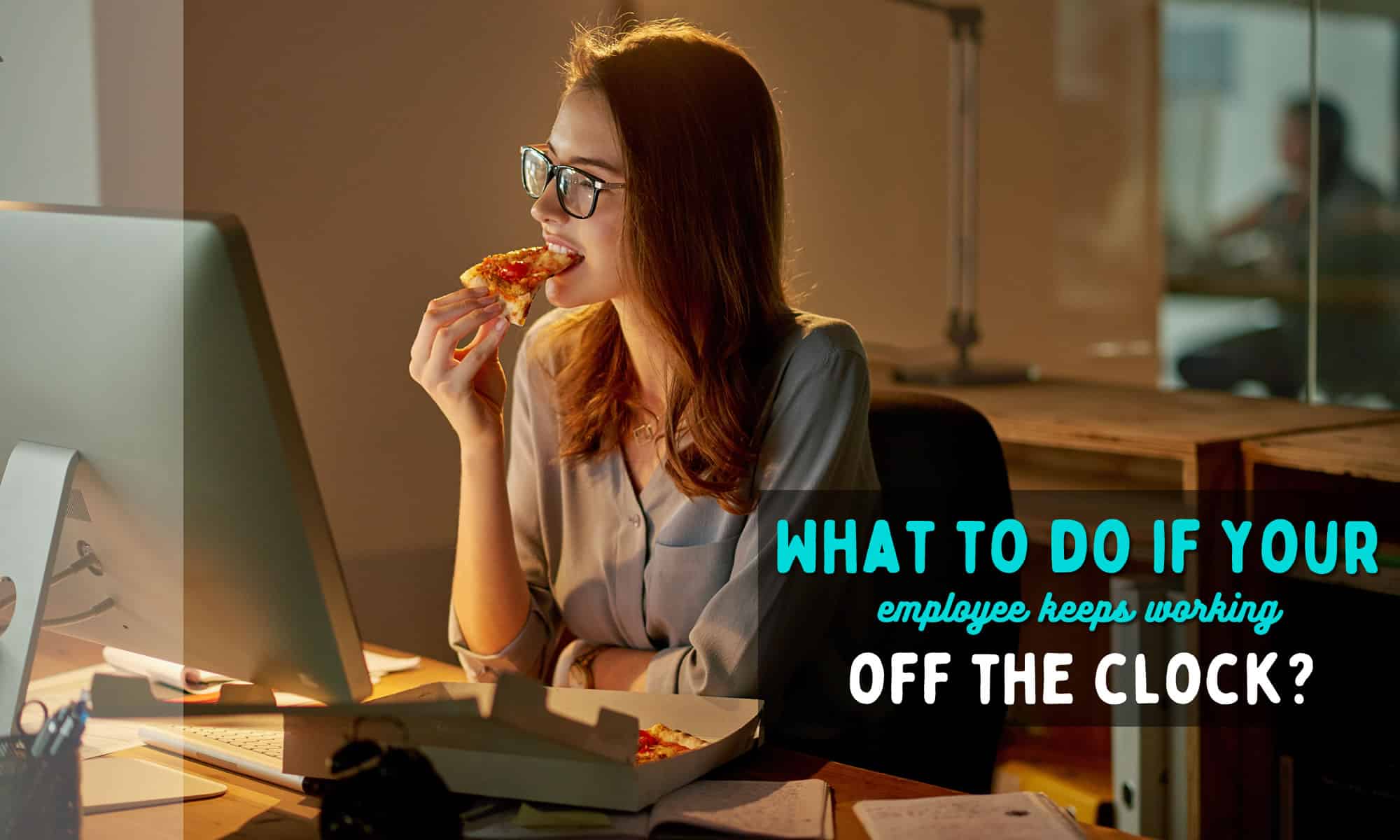 If you are in a situation where an employee keeps working off the clock, consider the following:
Seek legal advice from an employment lawyer at a law firm.
Follow a disciplinary procedure if they fail to clock out.
Refamiliarize yourself with employment law and federal law.
Study labor laws to establish the best path forward.
Leverage a time tracking system to accurately track work time.
Use a time tracking system to prevent unpaid overtime.
Establish clear protections against post-shift work.
Ensure salaried employees are aware of timekeeping policies.
How can you ensure employees clock their work hours?
An effective time tracking platform will ensure all employee clock work hours without delay. This can ensure compliance with the Department of Labor's Fair Labor Standards Act (FLSA) and prevent situations where you have unpaid wages from employees working after hours. Using a time tracking system, you can accurately track overtime pay for each workweek.
How can you make sure all employee hours are logged?
Whether you are dealing with hourly employees and non-exempt employees or salaried employees, you can ensure that all extra hours are correctly logged on your system. This will ensure all unpaid hours are accounted for and all leaders have a clear understanding of what each employee's workday looks like.
What are the best tools to prevent working off the clock?
If you want to prevent pre-shift work and post-shift work, a time tracking tool is essential. The right solution will take an employee's lunch break each day into account. Some time tracking solutions come with GPS location tracking. When an employee is on a worksite or at an employer's premises, they are given the ability to clock in and out.
Best Employee Time Tracking System (3 Options)
1. Buddy Punch
Buddy Punch is a comprehensive time tracking platform that's suitable for both small and large businesses. Whether you are managing non-exempt workers on minimum wage or exempt workers, you can use Buddy Punch to track employee attendance and performance across the board. With a straightforward process for clocking in and out, timesheet collection is simple.
Buddy Punch's Online Reviews
Buddy Punch's user reviews highlight the potential benefits of this platform. As of the writing date, Buddy Punch has 4.8 out of 5 stars and 788 reviews on Capterra.

Below, we'll list just a few reviews that speak to Buddy Punch's ease of use and great customer support service. (Click here to explore the full list of reviews.)
As reviewers have noted, Buddy Punch provides team leaders and project managers with the necessary tools for accurate time tracking and employee location tracking:
"I love how quickly you can log in to the Buddy Punch site and just simply hit the "Clock In" button. The program is incredibly easy to use and required no training at all, which I really appreciated especially since I'm just a very part-time employee who only uses it once a week."

Click here to read the full review.
"Easy and convenient to use. I enjoy being able to clock in or out from my desk."

Click here to read the full review.
"We mainly use Buddy Punch for the time clock feature and use the GPS feature to track where our employees clock in and out since they do so at a remote site. The feature is accurate and is easy to use on our employees' phones. If there are any issues it is easy for the administrator to log in and correct them."

Click here to read the full review.
Try Buddy Punch for Free
If you feel that Buddy Punch might be the right fit for your business, sign up for a free trial. You can also book a one-on-one demo, or view a pre-recorded demo video.
2. Hubstaff
Hubstaff makes online time reporting and payroll processing easy. With this platform, team members can quickly clock in and out at the click of a button. You can also leverage GPS location tracking to see exactly where employees are clocking in and out from. Hubstaff comes with employee productivity monitoring tools to support employee oversight.
As of the writing date, Hubstaff has 4.6 out of 5 stars and 1,359 reviews on Capterra. Hubstaff offers a range of functionalities, some of which include:

"Hubstaff is simple to use and implement in companies and organizations, I like the software since am able to automate payroll for employees and billing for services, it has made my job so easy and save a lot of time."

Click here to read the full review.
3. QuickBooks Time
QuickBooks Time brings plenty to the table as a time tracking platform. You can use this time management tool to ensure employees are accurately logging their work hours. The platform also comes with a full range of useful payroll and human resources integrations. This is perfect for teams searching for a tracking system that can neatly fit into an existing technology stack.
It's a great timesheet app for Android and iPhone, and at the time of writing, QuickBooks Time has 4.7 out of 5 stars and 6,190 reviews on Capterra.
QuickBooks Time (formerly TSheets) has features that include but are not limited to:
"Quickbooks Time was easy to install and use for the organization to monitor and measure the time entries/attendance of the employees. The tool served a huge purpose when distributing bonuses for overtime. The tool also provides the ability to round time in 15 mins intervals and generate a report accordingly. The days of absence could be highlighted in red."

Click here to read the full review.
Try Buddy Punch for Free
If you feel that Buddy Punch could be the right fit for your business, sign up for a free trial. You can also book a one-on-one demo, or view a pre-recorded demo video.
You May Also Like…