4 PTO Tracking Sheet Options (+1 Superior Alternative)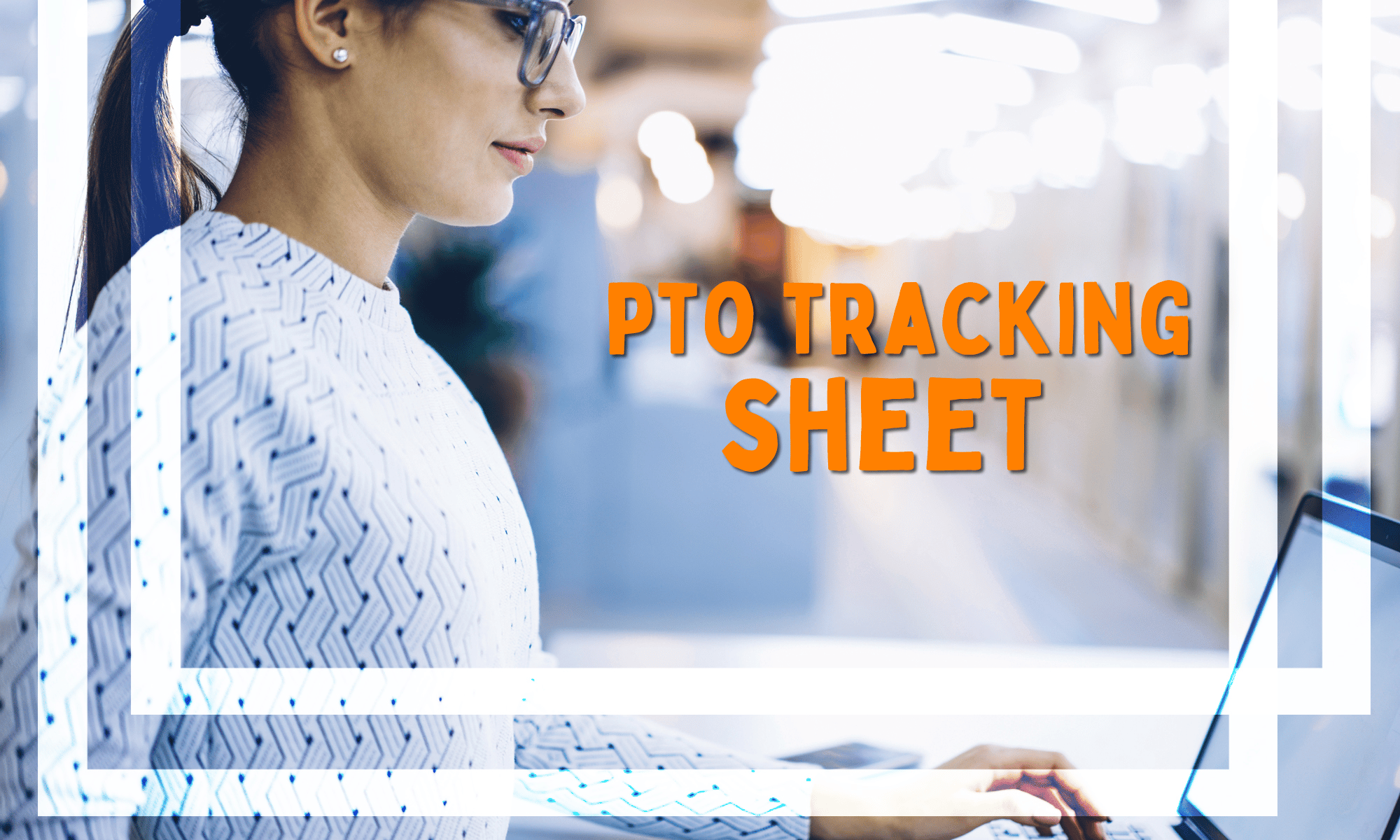 It's important to note that there are no laws stipulating the number of days of PTO you have to grant employees. You are not legally obligated to provide employee PTO beyond sick days – and even this only applies in some states. And yet, business owners opt to go through the trouble for a few key reasons:
Paid Time Off is critical for attracting high-quality talent. These are employees that have a noticeable impact on your overall productivity and profitability, but they know their worth and they want to be taken care of. Their work-life balance is important to them, and they want to be able to recharge mentally with vacation time, or know they have a buffer to take care of sickness or personal leave.
Once you agree on an employee leave policy, you are legally obligated to adhere to it. During onboarding, whatever parameters you set to handle PTO must be followed.
PTO policies allow maximum transparency for everyone working in your business. There's never any question about what's allowed and what's not, which can be conducive to an optimal work environment.
It's important that you track PTO in an effective manner. Even though most business owners understand this on some level, they opt to use PTO Tracking Spreadsheets because of the misconception that it's the easiest way to handle calculating sick days and vacation time.
In this post, we're going to detail a PTO Tracker that we think blows any tracking templates out of the water due to its wide range of features and considerations for both employers and employees. Then, if you're still set on using tracker templates, we'll detail some popular PTO Tracking Spreadsheets.
PTO Tracking Sheet Options
You may be wondering why we're recommending a digital employee vacation tracker over vacation tracking templates. After all, isn't it easier to open a spreadsheet and simply mark down the vacation time saved or used?
Maybe it would be, if managing spreadsheets didn't come with a host of its own perils: Human errors, forgetfulness, data standardization (does an employee's spreadsheet reflect the same data as yours) and more – there are all sorts of issues that can come up with spreadsheets because of the manual nature of them. Even a simple typo could cause an issue when it comes to long-term accountability.
Digital PTO trackers like Buddy Punch don't have this issue. They're not as time-consuming to learn and use as some business owners believe either, especially since Buddy Punch was created with simplicity in mind.
In fact, Buddy Punch's intuitive design makes using it as simple as possible, even when you take into account its many features such as PTO Management, PTO Accruals, Punch Rounding, OT Calculations, Notifications, Customizable Reports, and Payroll Integrations.
Next, we're going to dive into each of these features – starting with PTO Management itself – to show how they all work together to help business owners exercise total control over vacation days and sick leave.
Note: If you'd rather try out this leave tracker yourself to get a hands-on experience, Buddy Punch offers a 14-day free trial on all of its pricing plans.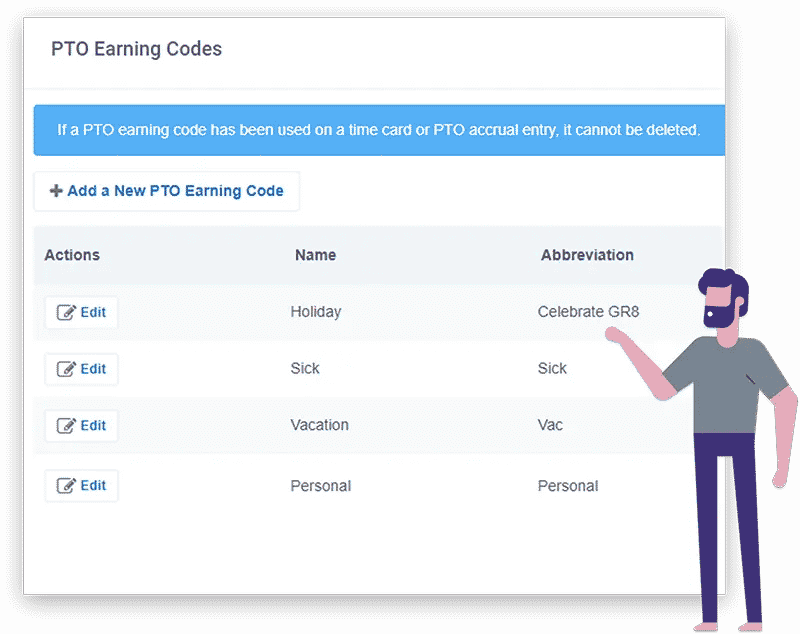 Buddy Punch's PTO Management starts off simply enough, allowing you to keep track of Holiday time, Sick Time, Vacation Time, and Personal time. But then your options begin to open up when you start creating custom types of leave to better monitor your employees. The flexibility only continues from there, with Buddy Punch letting business owners use a self-service approach to PTO in their business.
What this means is: instead of the typical method of handling PTO through Buddy Punch (an employee puts in a PTO request, you receive a notification and can approve or deny the request, they receive a notification back with news of your decision), you can let employees be automatically approved for their request.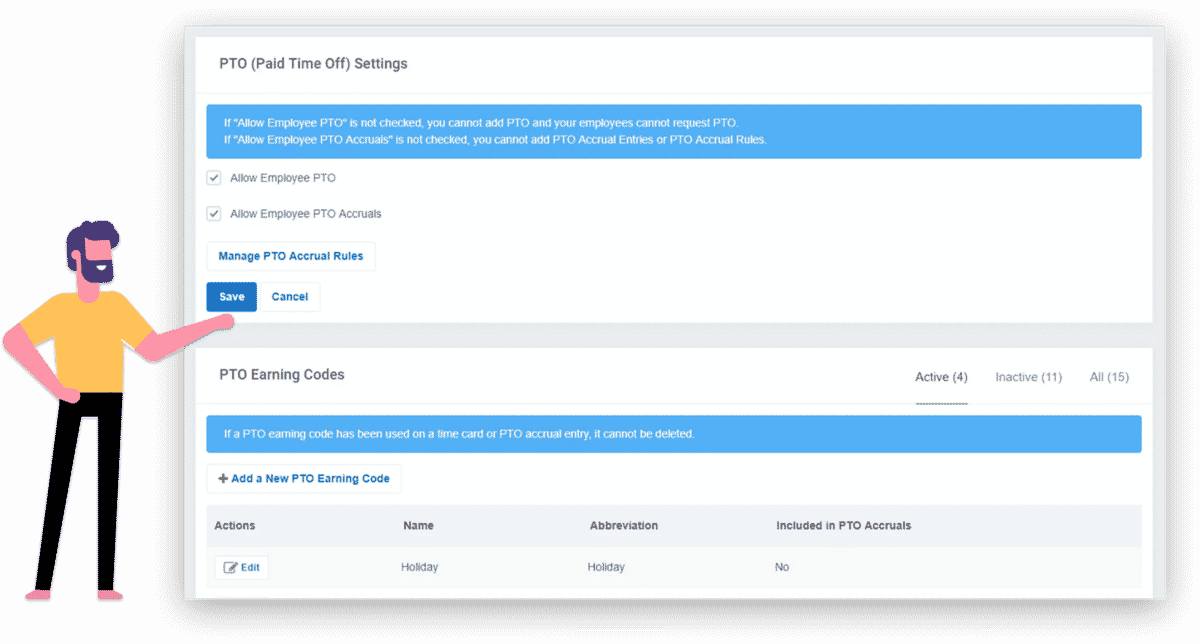 How do you handle the accrual of your PTO? The larger your department, the tougher it can be to accurately track your employees' PTO banks – unless you let Buddy Punch handle it for you. With the PTO accruals feature, you can turn PTO on and off, manage the types you offer, and create rules for when PTO Accrues.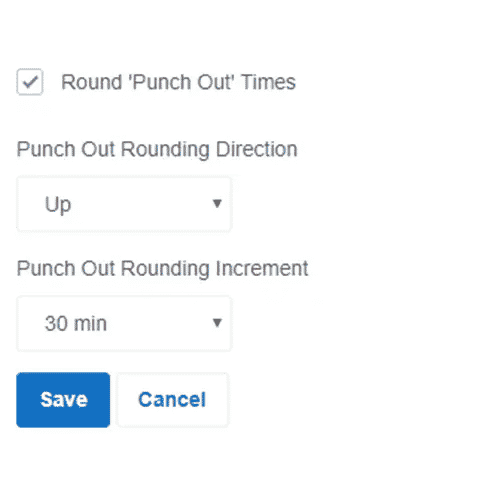 To make sure your salaried employee hours are accurate down to the minute, you can use the punch rounding feature to round clock ins up, down, or to the nearest predetermined interval, based on your preferences. You can choose from 2 to 30 minutes.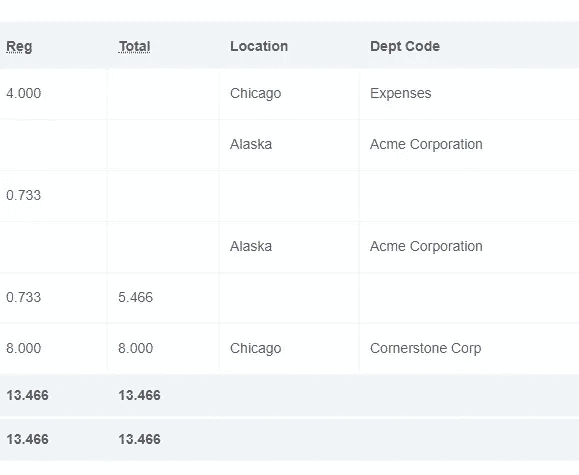 You can select from a dozen different overtime types to determine how overtime pay is calculated for your employees. If Buddy Punch happens to lack an overtime type you require, you can reach out to let us know. Otherwise, regular, overtime, and double overtime hours can be calculated automatically.

The Notifications feature is something we lightly touched on above. This feature allows administrators and employees to improve communication on various operations throughout the workday, such as clock in and clock out times, leave requests, overtime warnings, and more.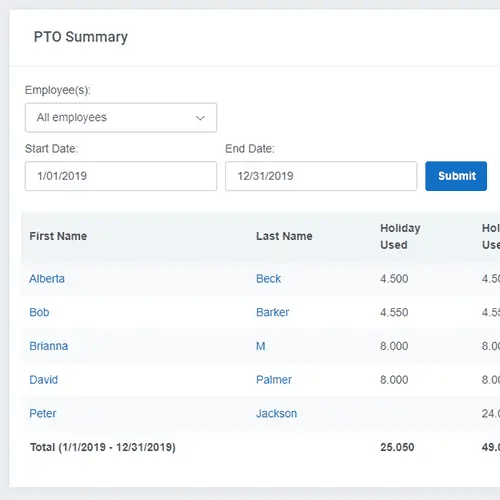 Buddy Punch's customizable reports feature allows you to turn collected data into actionable insights. An average payroll report includes employee names, hours, overtime, locations, and more. You can also get an hours summary, or a PTO bank summary. Export these reports into PDF or Excel format.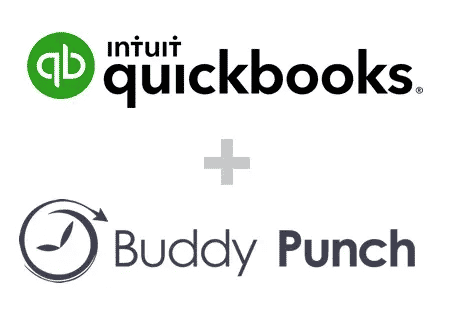 Lastly, Buddy Punch streamlines the handling of pay period data by integrating directly with popular accounting software. Some big names include Zapier, QuickBooks, ADP, and more. Click here to view the complete list of Buddy Punch's integrations.

Buddy Punch Empowers Business Owners
Buddy Punch brings more to the table than PTO Tracking features. Consider also:
And everything we've mentioned so far only covers the in-app benefits. There are plenty of out of app benefits such as:
A Help Doc Center with useful articles on optimal usage of our software.
A Blog Section that contains constantly updated information for business owners looking to improve their workplace management.
A customer support team that's always available to help you via live chat.
But hearing about us describe all of these is one thing. Experiencing it yourself is another thing entirely. You can book a one-on-one personalized demo right here.
Buddy Punch's Online Reviews
As of this post's writing date, Buddy Punch has 4.8 out of 5 stars and 688 reviews on Capterra.

Below, we'll list just a few reviews that speak to Buddy Punch's ease of use and effectiveness in PTO tracking. (Click here to explore the full list of reviews.)
"Buddy Punch is easy to use and user friendly for all ages, I clock in and out using buddy punch daily. I can go back and change my time if need, it shows when you have PTO, the exact time you clock in and out down to the second. I can clock in from my phone, laptop or desktop! Very convenient"

Click here to read the full review.
"I really like that it tracks and accrues PTO & holiday hours. I don't have to ask anyone what my PTO balance is! I think its smart to be able to add a schedule if you happen to work the same amount of hours each day – much easier to add. I also like that I can add a comment or note of some sort, if needed."

Click here to read the full review.
"We have been using Buddy Punch since 2015. Prior to Buddy Punch we were using an excel spreadsheet for time keeping. We use Buddy Punch as a time clock for daily in/out and breaks. We use the PTO accrual system and PTO tracker."

Click here to read the full review.
"I had used other more expensive systems at previous employers and Buddy Punch has be more than sufficient for our size of business. It is easy to run the reports- PTO, location of services, and the geofence."

Click here to read the full review.
As several reviewers have noted, Buddy Punch is easy to use for employees and managers, and keeps track of all things Paid Time Off.
Try Buddy Punch for Free
If you feel that Buddy Punch might be the right PTO tracker for your business, sign up for a free trial. You can also book a one-on-one demo, or view a pre-recorded demo video.
Alternatives in PTO Tracking
If you haven't been convinced that digital paid time off management is the future, then the least we can do is provide you with the best Microsoft Excel or Google Sheets templates for PTO Tracking. Even though we believe most business owners will find these suboptimal, the picks we've selected below at least make the most of the situation.
2. Leaveboard's PTO Tracker Template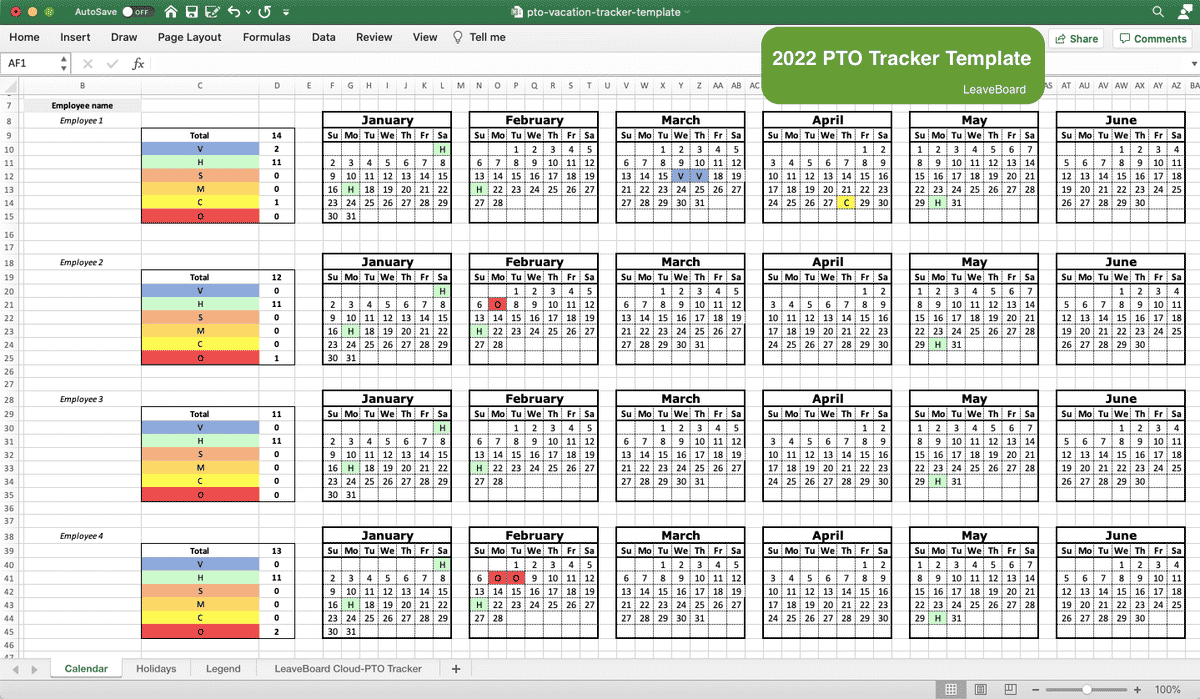 Leaveboard's PTO tracker includes a Holiday tracker worksheet, a legend, a calendar formula and more – such as absence types that you can easily add to team members via using specific codes.
Download this Calendar Template here.
3. Trump Excel's Leave Tracker Spreadsheet Template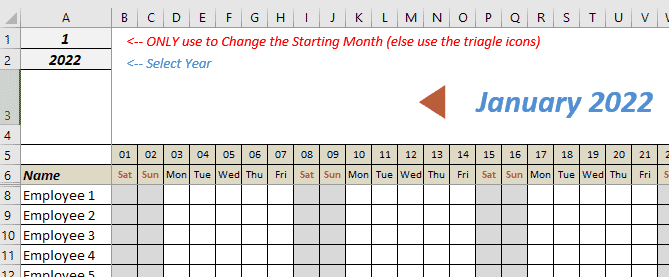 This PTO spreadsheet was specifically designed to be used in Excel. This Excel template includes tracking for up to 20 employees and has 10 different leave codes (vacation, sick, maternity/paternity leave, etc.)
Download this Timesheet Template here.
4. Indzara's PTO Tracking Template

Indzara has a free, time-saving template designed for HR teams to handle paid time off with a built-in PTO Calculator.
Download this PTO Calculator + Tracking Template here.
5. Template Lab's PTO Template Collection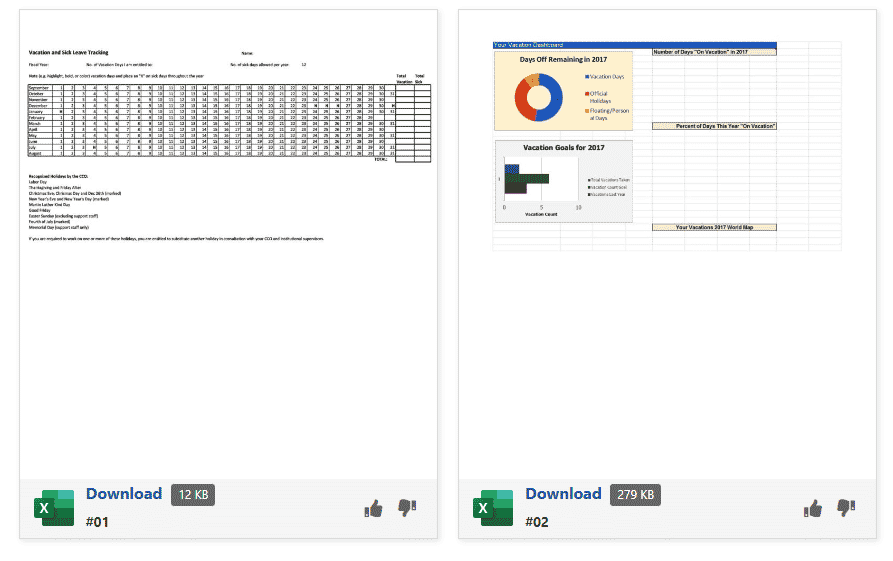 If you aren't quite seeing what you're looking for, you might want to check out TemplateLab's collection of Vacation trackers. With 49 different templates to choose from, you're bound to find something usable within their collection.
Download the Vacation Tracker Templates here.
If you're still not satisfied with these well-liked options, it's possible that what you're really looking for is the power and flexibility that comes with using a full-fledged PTO tracking tool like Buddy Punch. At that point, it might be time to actually take the time to see if Buddy Punch feels right for you.
Try Buddy Punch for Free
If you feel that Buddy Punch could be the solution to PTO tracking that your business needs, sign up for a free trial. You can also book a one-on-one demo, or view a pre-recorded demo video.

You May Also Like…