7 Best Employee Time Clock Software for iPad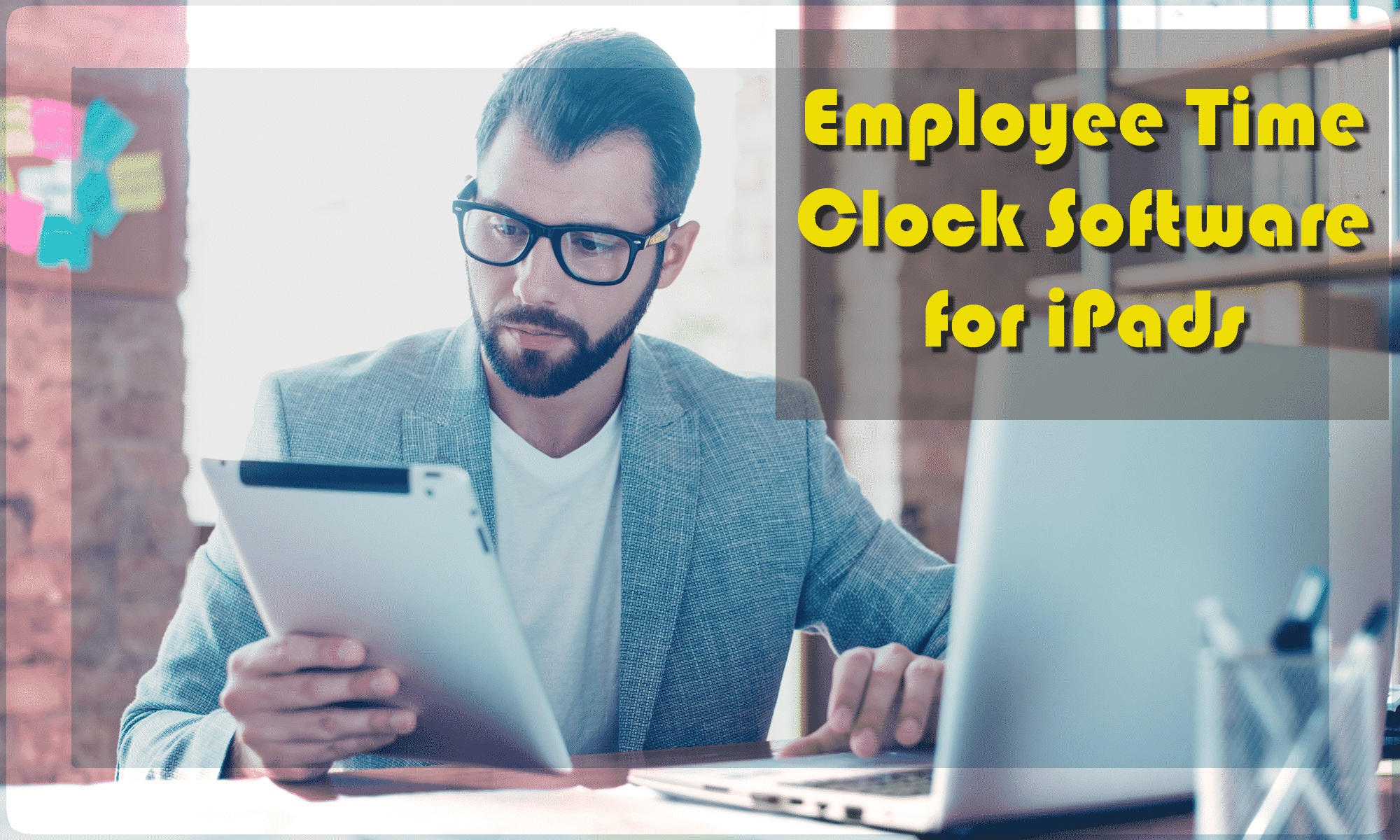 There are two big reasons why companies use an iPad for employee time clock software:
To employee accountability, ensuring that they clock in at the time required by their contract or terms of employment
To save time on payroll processing, by using features that automatically calculate how long an employee worked, their overtime pay, annual leave, and so on
In this post, we explore how our employee time clock software designed for iPad – Buddy Punch – helps your organization thrive by reducing labor costs, providing you with real-time reporting, and improving shift scheduling. We then introduce you to a range of other employee time and attendance apps that help you manage attendance and employee hours, so you can get a more rounded picture of what the market offers.
Best Employee Time Clock Software for iPad
A Quick High-Level Summary Of How Our Employee Time Clock Software For iPad Works
Before going into Buddy Punch's features in detail, let's summarize the main way it adds value.
Employees can clock in and out wherever they have an internet connection, using a publicly accessible iPad located at your business or one they carry with them in the field.
Software automatically calculates hours worked, time off earned, and overtime pay, and then formats data so that you can easily export it for accurate payroll reports
Improve Accountability via Geofencing, Shift Start Reminders, And Time Off Tracking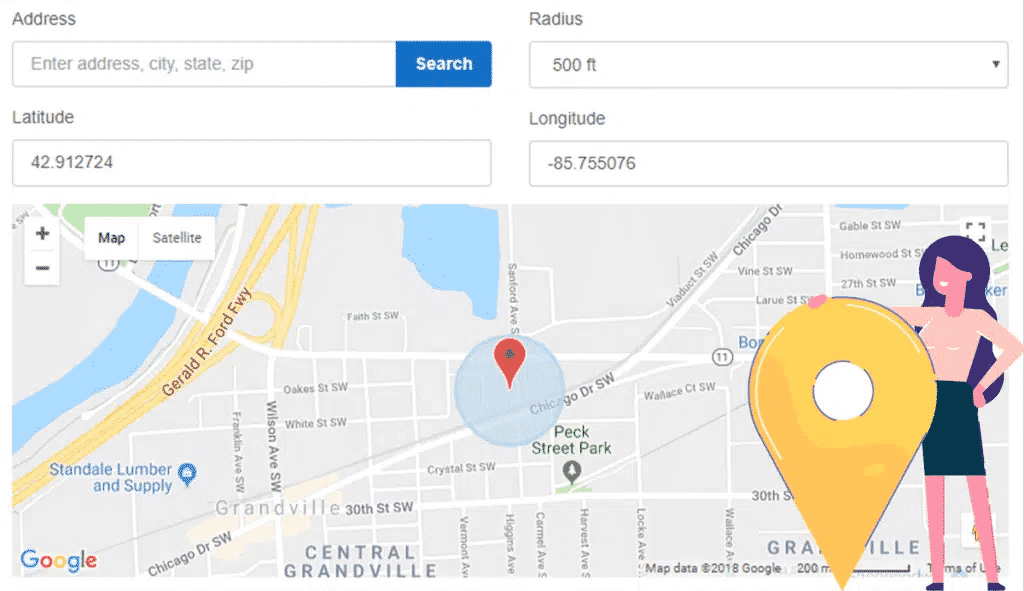 The way geofencing works is remarkably simple. First, type in the address where the employee is due to start work. Then specify a radius around it where they can clock in.
If employees attempt to clock in outside the specified radius, they will receive an error message asking them to try again once they reach the desired area.
Note: Click here to discover more about this feature.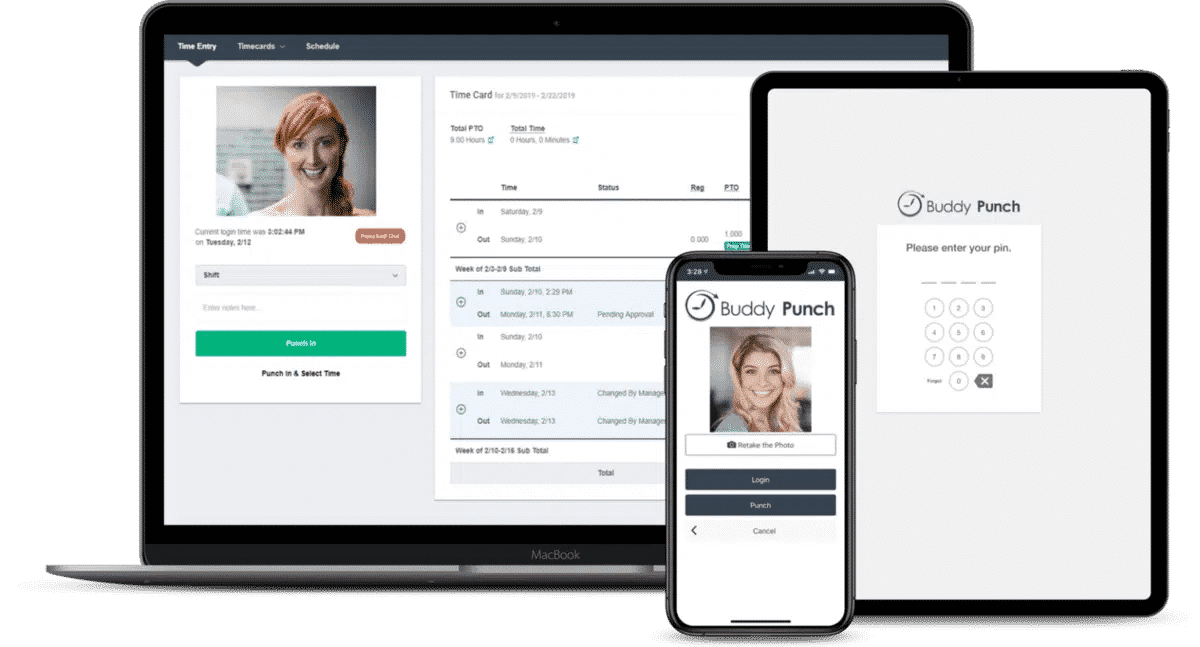 Employees often require reminders from managers, telling them that their shift is about to start. This lets you send an optional reminder to employees within a certain number of minutes of their shift start time.
You can also send other scheduling notifications to their account, including punch-out reminders, submit time card reminders, overtime alerts, and time off changes.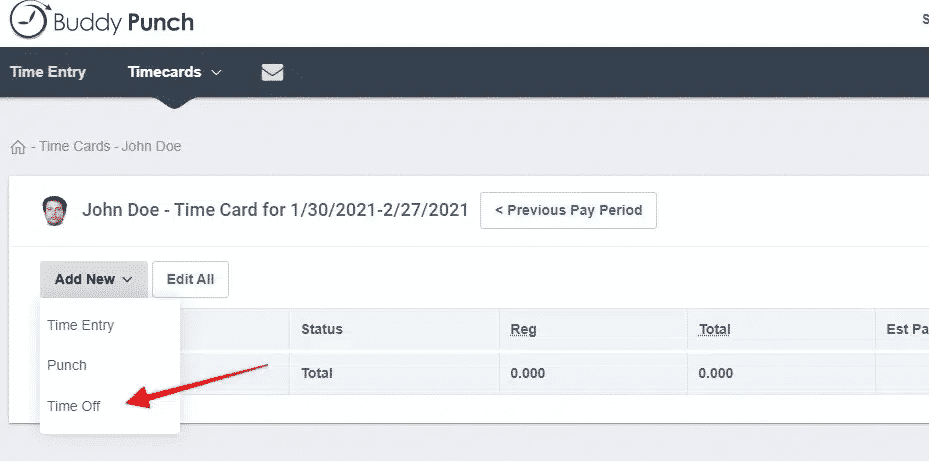 Administering HR can be time-consuming, but with Buddy Punch's time-off tracking, you can handle all of it within the software. For instance, you can accept or deny time-off requests, provide employees with information on their remaining time off, and track time spent on individual tasks for an unlimited number of employees.
Want to learn more about our employee scheduling and expansive tracking solution? Click here to discover how setting maximum time off balances and creating paid/unpaid time off schedules could help you.
Buddy Punch's Additional Features
Of course, there's much more to Buddy Punch's time clock app than the features we've described above.
The full list of features includes:
Buddy Punch's help documentation provides useful articles on how to best use the software. Team members are also always available for live chat to answer questions and troubleshoot queries. Our expense tracking solution puts you in control.
Buddy Punch's Online Reviews
At the time of writing, Buddy Punch is proud to have a 4.8 out of 5-star rating across more than 669 reviews.

Below, we list some of the reviews that reflect Buddy Punch's utility as employee time clock software.
Overall: We were able to solve the punch in time and location of the employees, as a Construction company, the employees get directly to the job site.
Pros: Easy to use and very helpful to run payroll at the end of the week.
Cons: I love everything about this software, help us to know exactly the location where the employee punch in and out.

Read the full review here
Overall: My experience has been very positive! I initially started using this because I was questioning some times regarding a few jobs and once I implemented it, the time issues seemed to disappear.
Pros: This product was easy to use from day one and entering the employees took no time at all. Everything is easily accessible and you can check on employees to be sure they have arrived on time to their jobs.
Cons: I do not have anything negative to say about Buddy Punch.
Reasons for Choosing Buddy Punch: Buddy Punch offered a full 30 day free trial which to me, was very important. You cannot always make a decision after seven or 10 days which is what most competitors were offering. I was able to add employees quickly and started to monitor times immediately.

See the full review here
Overall: has been very good to me for the last couple years
Pros: really appreciate the comfortability of having complete access to your information about payroll and attendance so that you can keep track yourself your hours and when to approval of time cards is neccesary
Cons: nothing about this feature do i not appreciate

Check out the full review here
Try Buddy Punch For Free
If you feel that Buddy Punch might be the right fit for your business, sign up for a free trial. You can also book a one-on-one demo, or view a pre-recorded demo video.
Hubstaff is a team and time management solution. It offers various features and functionality, some of which include:
It's a high-quality piece of time clock software that is compatible with Mac OS and Microsoft Windows and is designed for compatibility with tablet devices, including iPad.
Hubstaff has a star rating of 4.6 out of 5.0 on Capterra across 1,238 reviews. Here's a recent review:

Overall: Really just fine. What more should I look for as a freelancer who just need to track time for a project. Then send a a simple invoice at the end. As far as I'm concerned, I have a good experience with the app. If I have to suggest, maybe as a UX/UI Designer, they can enhance the looks an feel of the software to make it more professional and appealing to users.
Pros: Straightforward. Just the thing you need, you'll find it. Pretty much like any other time tracking software – as freelancer it has screen capture, invoicing, offline tracking and all…
Cons: It's just straight forward. Maybe they can add quick chat for client. Instead of additional login to browser when you need to quick communicate with your client.

See the full review here
Click here to see all Hubstaff's Capterra reviews.
Hubstaff is well-maintained and highly stable and good for visualizations. However, some product features are not fully customizable.
Paymo is a module-based time and project management tool.
At the time of writing, Paymo has a total of 416 reviews on Capterra, with an average of 4.7 out of 5 stars. Some of its key features include:
Here is a review that speaks to Paymo's time tracking performance:

Overall: It's overall been quite a useful product. I really like that we can upload images and files to each specific task, making for a simplified workflow.
Pros: Assigning tasks with due dates is extremely easy – the comment flow on each task makes it easy to provide feedback or ask for edits. Easy to find tasks assigned to me, and to track how much time I spend on each client.
Cons: When they implemented the new filter system it was a little irritating to see all of the closed tasks pop up on my feed again. With the help of their helpful customer service I was able to set my filters to remove the issue (but I still think the removal of finished tasks should be an automatic filter)

See the full review here
Click here to see the full list of Paymo's Capterra reviews.
Paymo's intuitive layout makes it easy to learn, despite the fact that it offers a lot of features. It is available on iPad and iPhone, though integration can sometimes be lacking.
Desktime is automatic time tracking software that notes and records staff productivity while at work. The tool is popular among individual freelancers and large enterprises alike.
At the time of writing, DeskTime has more than 238 reviews on Capterra, with an average of 4.4 out of 5 stars. The software's key features include:
Here is a review that indicates how useful Desktime is for employee time clocking:
Overall: I was specifically seeking a way to do a personal time study, and audit my time spent on specific tasks. This has been helpful in tracking use of apps and time spent on specific sites, but would not use it for project / task management.
Pros: It is interesting to see the amount of time spent working in each app and webpage. That is something unique to this software that I have not found with the other software I have used for time study purposes.
Cons: Functionality of tracking reoccurring and specific tasks/ projects isn't what I had hoped. The reporting on each project isn't clear. This software works well for tracking things in an automated way, not for manual data entry.

View the full review here
Click here to see the complete list of Deaktime's Capterra reviews.
The fully automatic time tracking software is proven to increase employee productivity by 30 percent within the first few weeks of using it.
Coast is a desktop- and mobile-native scheduling app that lets users create new work schedules in minutes, and update their itineraries accordingly, both in the office and the field.
At the time of writing, Coast has an average Capterra score of 5.0 out of 5.0 stars across four reviews.
Here's a review that highlights Coast's scheduling functionality:
Pros: All in one tool that help me manage my team. It has replaced all the back and forth emails and text. Favorite feature is the tasks where I can track exactly what the progress of each task is.
Cons: Sometimes photos don't load properly and would have to ask customer support to fix issue.

Read the full review here
Click here to see the full list of Coast's Capterra reviews.
Coast markets itself as the premier all-in-one workspace for teams and businesses of all sizes and industries who want to achieve better internal communication and task management. Employees can clock in and out from any device or location.
Findmyshift offers both premium and free plans which you can explore on its pricing page here. The tool allows employees to create and share schedules from any location, at any time, on any platform. Drag-and-drop scheduling simplifies shift allocation.
Findmyshift currently has 682 Capterra reviews, with an average score of 4.6 out of 5 stars.
Findmyshift offers the following features:
Here's a review explaining why it is a suitable choice for employee time clocking:

Overall: I find this roster system very user friendly, for both completing the roster and for our employees. The flexibility of being able to create multiple roles and locations works perfectly for our employees.
Pros: It's very easy to use. Creating a roster is easy to do with multiple layout options and roles. The app is very simple to use.
Cons: We would like to be able to improve the unavailability option to be able to be split to times rather than juts a full.

Read the full review here
Click here to see the full list of Findmyshift's Capterra reviews.
Findmyshift makes it easier to create timetabling spreadsheets for your employees and track the actual hours they work. You can then generate reports for easy payroll tracking.
Homebase is a timesheet, time clock, team communication, and hiring tool designed to help small businesses spend less time on HR and administration.
The software offers the following features:
As of the time of writing, Homebase has 824 Capterra reviews with an average score of 4.6 out of 5.
Here is a review that showcases how the software helps to prevent hours theft through better time clocking:

Overall: It is great at keeping up with employees schedules from an administrators perspective, and it helps the staff to keep up with time off.
Pros: Organizes employee schedules by role and keeps up with time off requests.
Cons: The only time I have had to call the helpdesk is when I couldn't switch the administrator. The virtual assistant was very slow in getting that processed so I had to actually call someone.

See the full review here
Click here to view the full list of Homebase reviews on Capterra.
Homebase is suitable for use on iPad. However, users will need to make sure that it offers them all the staggered shift pattern options they require.
Try Buddy Punch For Free
If you feel like you could benefit from Buddy Punch, then why not sign up for a free trial. There's no risk involved, and you could increase your employees' productivity tremendously.
You can also view a pre-recorded demo video of how to use our software, or book a one-on-one demo to learn more about how it could transform your operations.
You May Also Like…