A Review of 2 Free Timesheet Templates (+ A More Efficient Solution)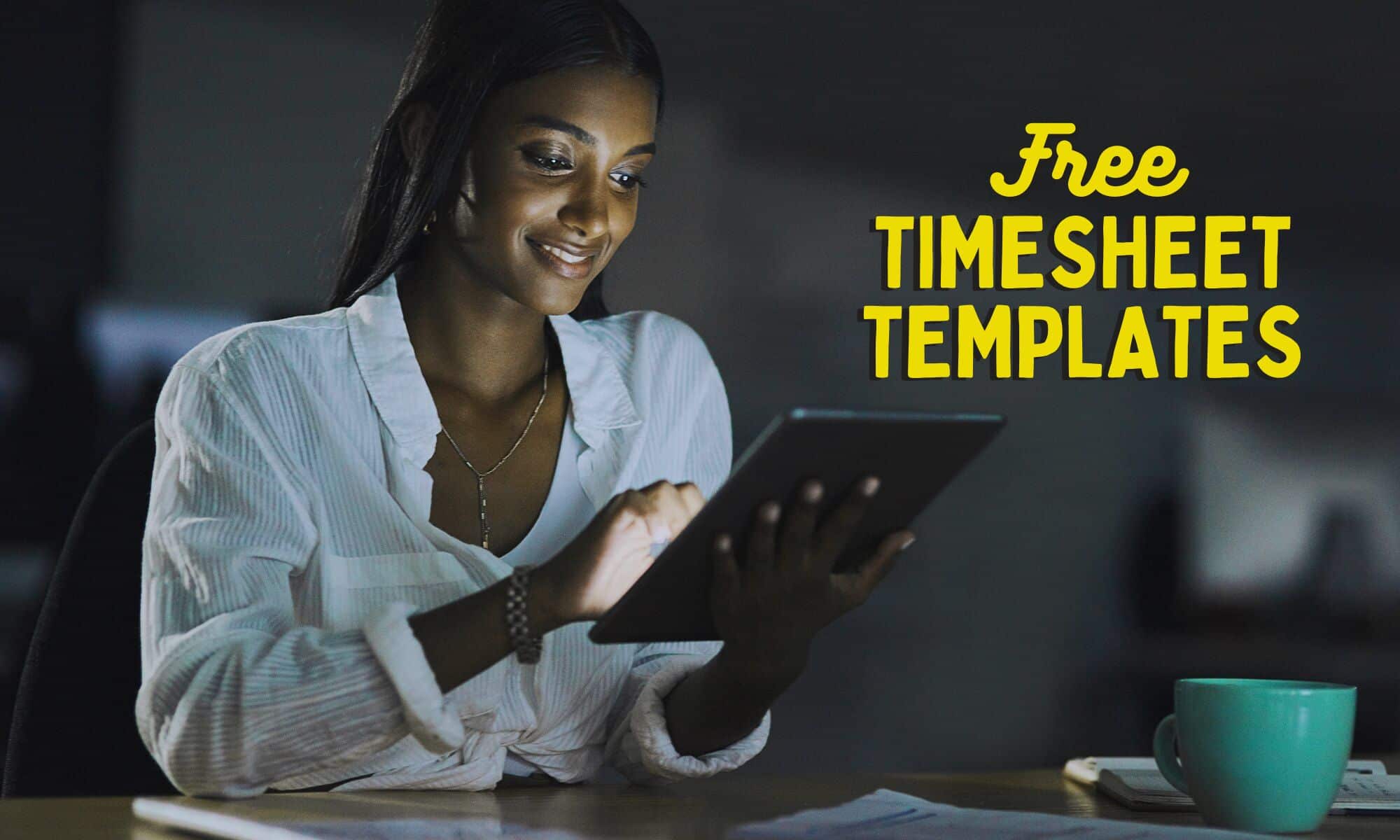 There are several free timesheet templates (available for both Microsoft Excel and Google Sheets) that you can find online and download. These templates are designed to help you centralize and streamline your time-tracking information.
But while these templates may be "free," because they don't cost money to download and use, downloadable timesheet templates can cost you time and headaches. It depends on your specific business, use case, and needs.
To help you see if a template is right for your business, we review 2 free timesheet templates you can download and use. Then, we will look at how timesheet software solves the inherent problems with using a template.
Note: For this post, we look at our timesheet software, Buddy Punch, as an alternative to templates. Buddy Punch is a web-based time clock and time-tracking system. Your team can track their time worked from the Buddy Punch app, and you can use Buddy Punch to create work schedules, track time worked, make time card edits, manage time off, and issue payroll.
As of this writing, Buddy Punch has over 800 reviews on Capterra, with an average rating of 4.8 out of 5. If you want to learn more about using Buddy Punch as an alternative to limited timesheet templates, you can sign up for a free 14-day trial, schedule a demo, or keep reading.
2 Free Timesheet Templates Reviewed
When searching for a good timesheet template, you might look for a free or downloadable one, like these examples from Microsoft, that will help you track employee hours.
But remember that a template is simply a way to organize data — that means you (or someone on your team) are still responsible for inputting data into the timesheet.
Let's look at two different timesheet templates to show you how they'd work as a time tracker for your team.
Daily Timesheet Template (Worksheet)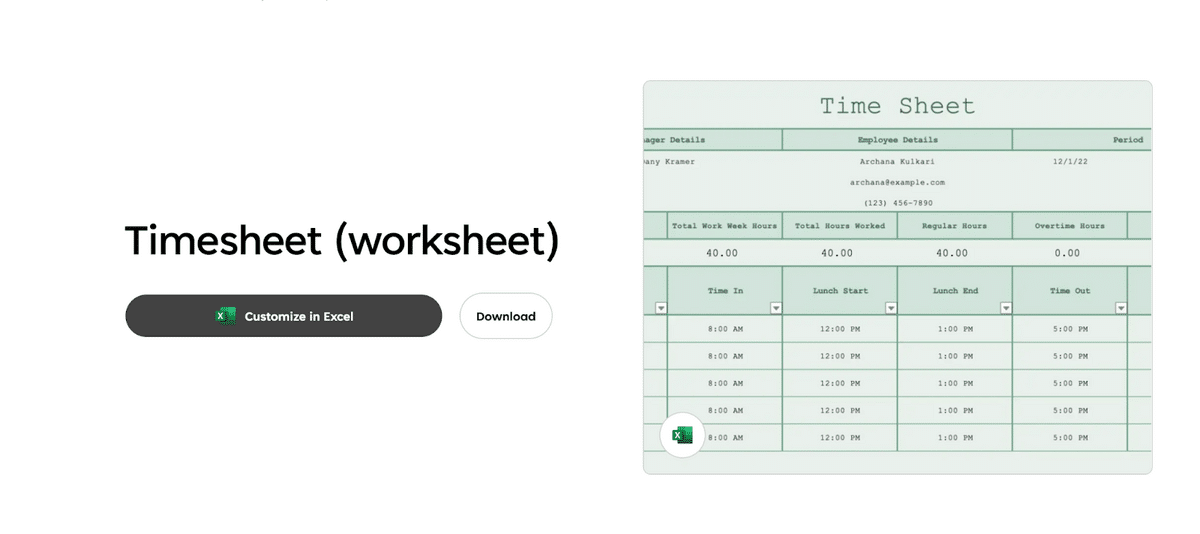 In this daily timesheet template, you can add your team's work hours (or have them add their own hours). This template has designated spots for time in, time out, and lunch breaks for each day of the workweek. It has formulas that tell it to calculate your total, regular hourly rate, and overtime hours.
Let's look at another option.
Employee Timecard (Daily, Weekly, Monthly, Yearly)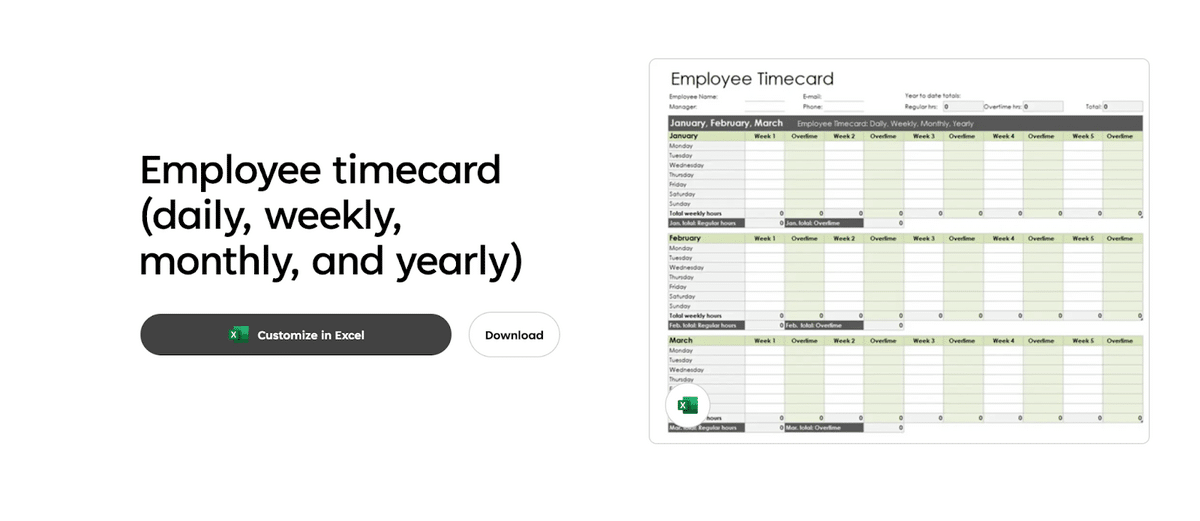 This employee timesheet template allows you to monitor and compute an employee's total regular and overtime hours. You can use this as a weekly or biweekly timesheet template, and you can look at billable hours on an annual or monthly basis — separated by different tabs.
The big change here is you can keep using one sheet for the entire year. This helps you keep a more high-level overview and record of an employee's time off. Plus, you have to fuss with fewer tabs than if you went with the daily timesheet above.
But regardless of which free timesheet template you pick, you're going to run into the same core issues:
Manually updating the timesheet. You or your employee will have to manually update the timesheet. This can be time-consuming and tedious.
Inaccurate tracking. Plus, there can be a lot of human errors that can lead to inaccurate time tracking and inaccurate payroll. There can be honest mistakes like writing down the wrong time, or there can be straight time theft such as marking down a time when you weren't at work to avoid losing wages.
Managing several tabs. You'll need to create a separate tab for each employee/print one out for each employee. The larger your team gets, the more frustrating it gets.
Timesheet templates aren't easy to distribute/access: Templates may work fine for printing and hanging up in the office, but they're a real headache if your team is working remotely (or at various job sites). Plus, in order to run payroll, you need to physically collect everyone's timesheet.
Privacy and accountability concerns. If you have everyone's timesheet stored in the same Excel file, then there are privacy concerns. You can set custom permissions for specific tabs, but this quickly becomes inefficient.
Timesheet templates don't integrate with the rest of your time management process. Putting info in a template is valuable, but only because you use it to update PTO balances, keep accurate records, and issue payroll. But doing this with a template means a lot of manual work on your end.
In short, a template is just a way to organize data into columns and rows. It doesn't do much else.
So, if a template doesn't give you the features you need, software will be the better option. While there's a price associated with using software, you'll save more money when you factor in time saved and headaches avoided.
To show you how timesheet software makes everyone's life easier, we closely examine how companies can use Buddy Punch — our timesheet software.
Use Timesheet Software to Efficiently Keep Accurate Records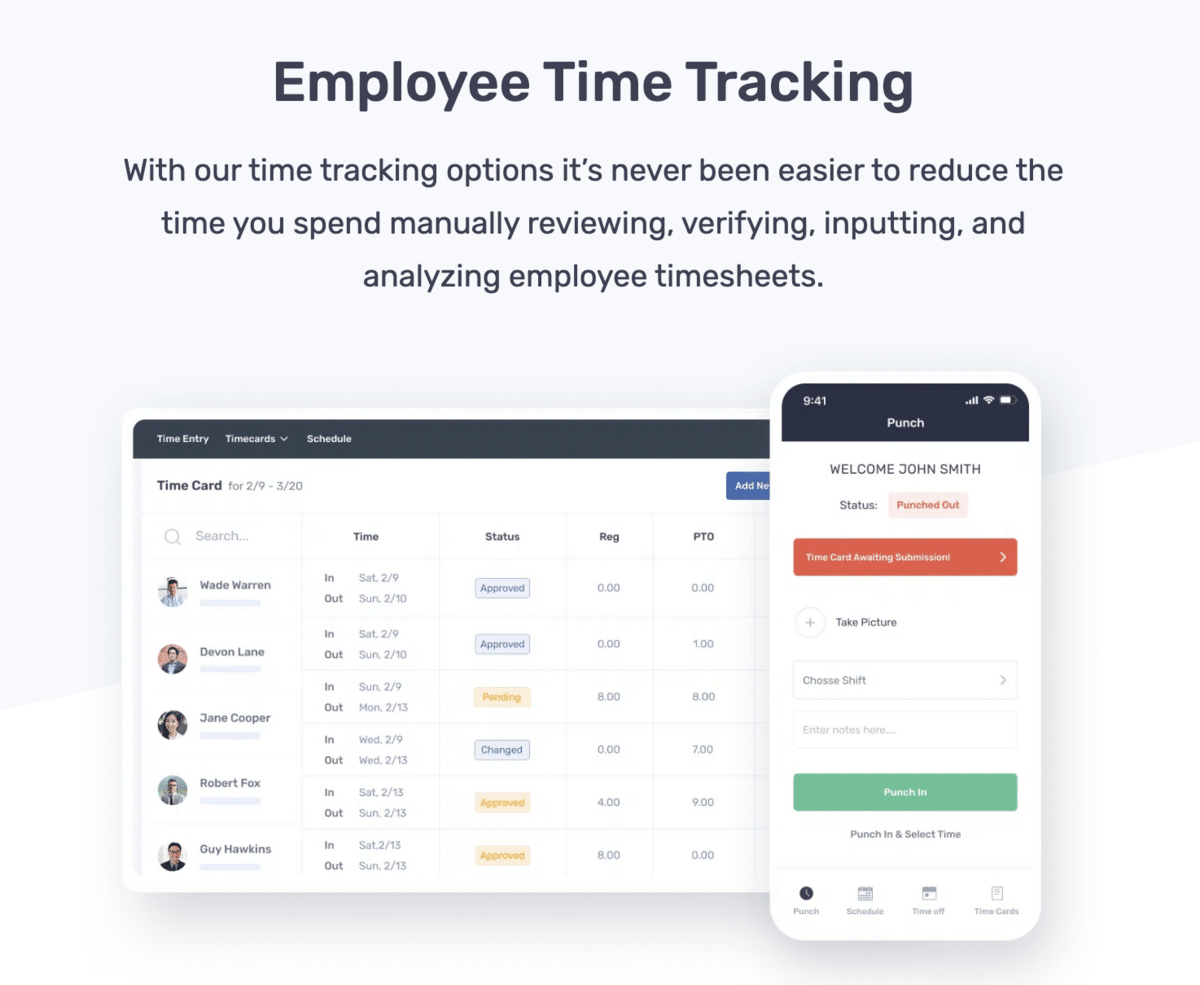 Buddy Punch is a web-based software solution for scheduling, time clock management, PTO tracking, and payroll processing. It offers the convenience of creating schedules, calculating hours worked, and efficiently paying your team.
In five simple steps, Buddy Punch's time card app makes it easy to stay on top of employee attendance, time off requests, and overtime in real-time.
Easily track employee work hours and time entry data. Your team punches in and out via the Buddy Punch app. Below, we go over this in more detail, including how to set up advanced features that help ensure employee accountability.


Review your employees' work hours and time off in the intuitive payroll dashboard. Unlike using a template, you don't need to hunt down individual employee timesheets or wait for someone to fill them out. Everything is updated automatically in Buddy Punch; for example, you'll see it immediately if someone forgets to clock in or out.


Sync employee time (including paid time off) with a few simple clicks. Your team can see their PTO balance in Buddy Punch, and make any time off requests (which you then can approve or decline) from the app.


Review timesheet data with ease. When it's time to run payroll, you can review your team's timecards. You can fix any issues, add any additional earnings, or last-minute approved PTO days.


Submit & your team's pay is on the way! Once your data is finalized, you can run payroll. You can use Buddy Punch as your payroll provider (we issue pay via direct deposit and checks) or sync Buddy Punch with your current payroll processing system.
Here, we'll look at the benefits of using Buddy Punch's online timesheet for time tracking.
Track and Verify Employee Time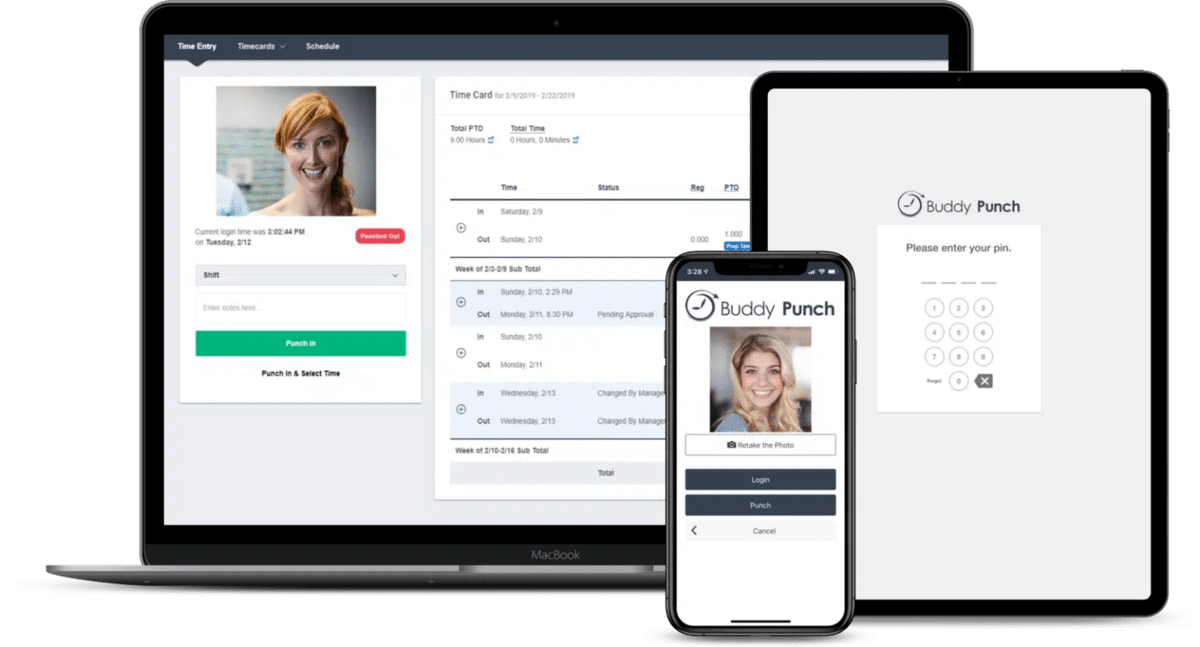 Here's how it works: Your employees can conveniently clock in for work using the Buddy Punch app, compatible with computers, smartphones, or tablets (including iOS and Android devices) — making it accessible to everyone on your team.
Compare this to a clunky spreadsheet template that can't be properly viewed/edited on your phone, or having to print out timesheets that your team may lose.
Unlike timesheet templates, the Buddy Punch app helps promote accurate time tracking from your team members.
Here are some of our advanced clock in and clock out features designed to promote honest time tracking:
Geofencing: By establishing a designated radius, such as 300 feet around your office, Buddy Punch restricts clock ins and clock outs within that boundary. It ensures that employees can't punch in or out if they're outside the specified area.


IP Address Lock: You can configure Buddy Punch to require employees to be connected to a specific IP address to clock in or out, adding an extra layer of security.


Photos on Punch: With this feature, team members are prompted to upload a photo of themselves during clock in and clock out. It's an effective deterrent against buddy punching (when an employee clocks in for another co-worker).


Punch Rounding: This feature optimizes your payroll expenses. You can set up punch rounding to the nearest hour, saving money by rounding punches to the closest hour. For example, if someone clocks in at 6:54 am for a shift starting at 7 am, punch rounding ensures their entry is logged at 7 am.
Plus, you can easily remind your team to clock in for their shifts.
Buddy Punch offers various scheduling alerts and reminders to prevent any slip-ups. For instance, you can set up a reminder/alert to be sent via email or text if team members haven't punched in within 'X' minutes of their shift start. This ensures that all team members clock in, even if they get sidetracked after arriving.
Compare that to timesheet templates, whether printed or stored online, which are by definition passive documents that can be easily forgotten.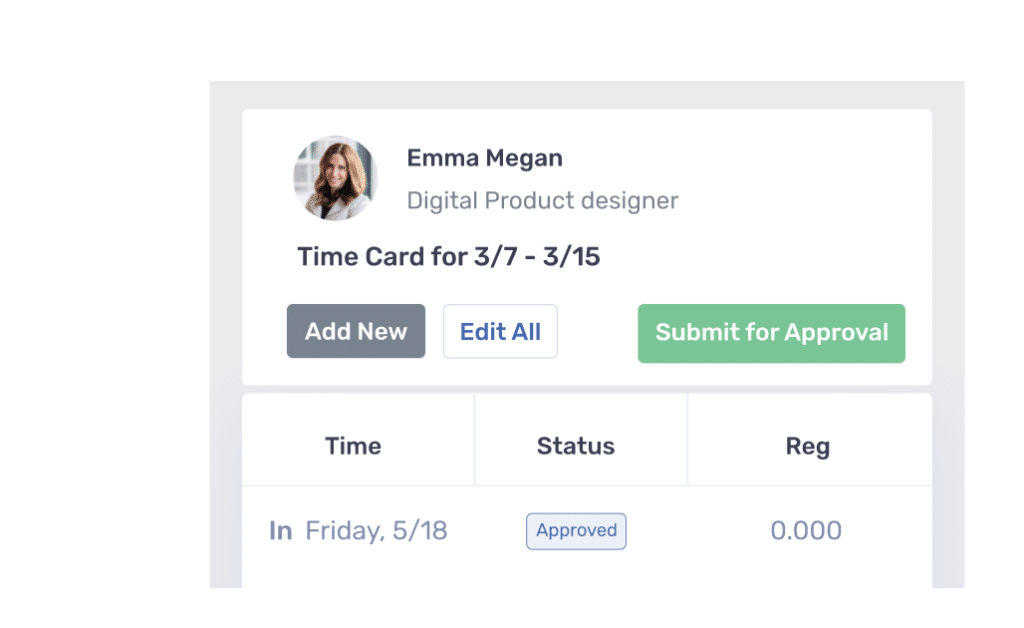 Our Time Card Approvals feature offers a streamlined process for employee time card submission at the end of each pay period. Project managers and administrators can review, approve, or reject time cards with comments. This feature is optional and can be easily enabled or disabled according to your preference.
Employees benefit from this feature, as well. Employees can submit their digital time cards for review as a pay period approaches or has closed. They can even include notes for their managers or administrators, providing additional context or relevant information.
Moreover, our Time Card Approvals feature ensures compliance with labor regulations. You can easily verify if your employees have taken a mandatory 60-minute break after working more than 7 hours. It also allows you to determine if your state requires overtime pay for working over 8 hours per day.
Reviewing each employee's time card for accuracy, labor compliance, and policy adherence becomes a breeze. Additionally, you can add notes to time cards that require further review, guaranteeing that everything is recorded accurately.
Remember, no spreadsheet template can automatically let you know if you are in compliance with labor regulations. If you make an error with payroll or time card tracking, your business could face heft regulatory fines or lawsuits.
And even if you don't want your team to submit time cards for approval, you can still log into Buddy Punch at any time and access an individual's time card.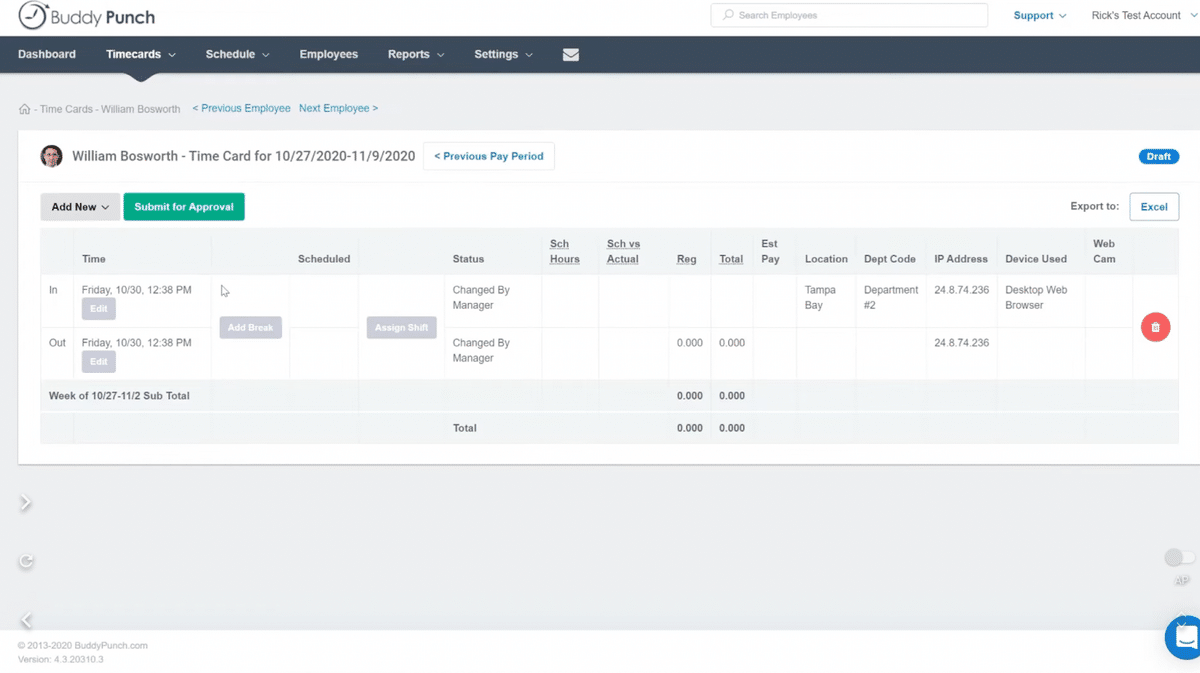 This is great for quickly fixing honest time-tracking mistakes (like if someone forgot to take their lunch or clock back in for work).
Keep Track of Sick Time and PTO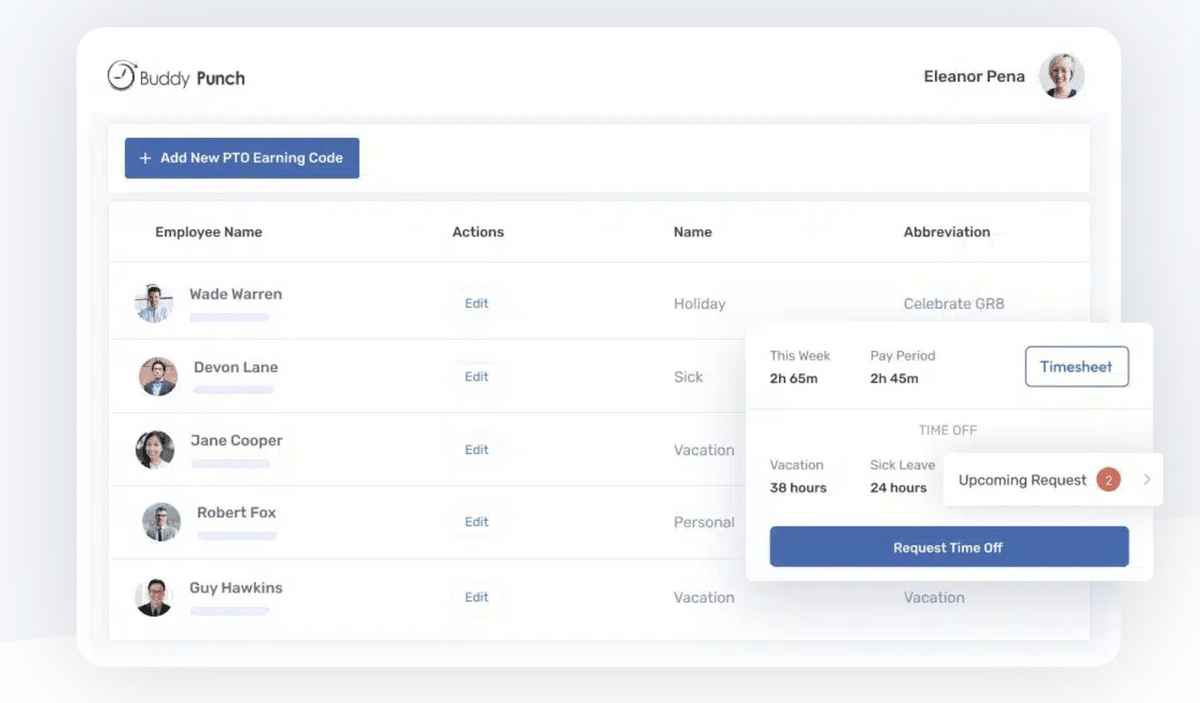 Administrators and managers can add PTO for their employees or allow them to enter PTO on their time cards. You have the flexibility to approve PTO as employees request it, or you can allow them to add PTO, sick time, or vacation time without needing any approval. Employees can also easily view how much PTO they have available.
(You can customize how PTO is accrued, which is great if you have more senior employees under older PTO policies.)
While you might be able to add notes or comments on a free Excel spreadsheet or Google spreadsheet about PTO, that can easily get messy and lead to errors.
Calculate Overtime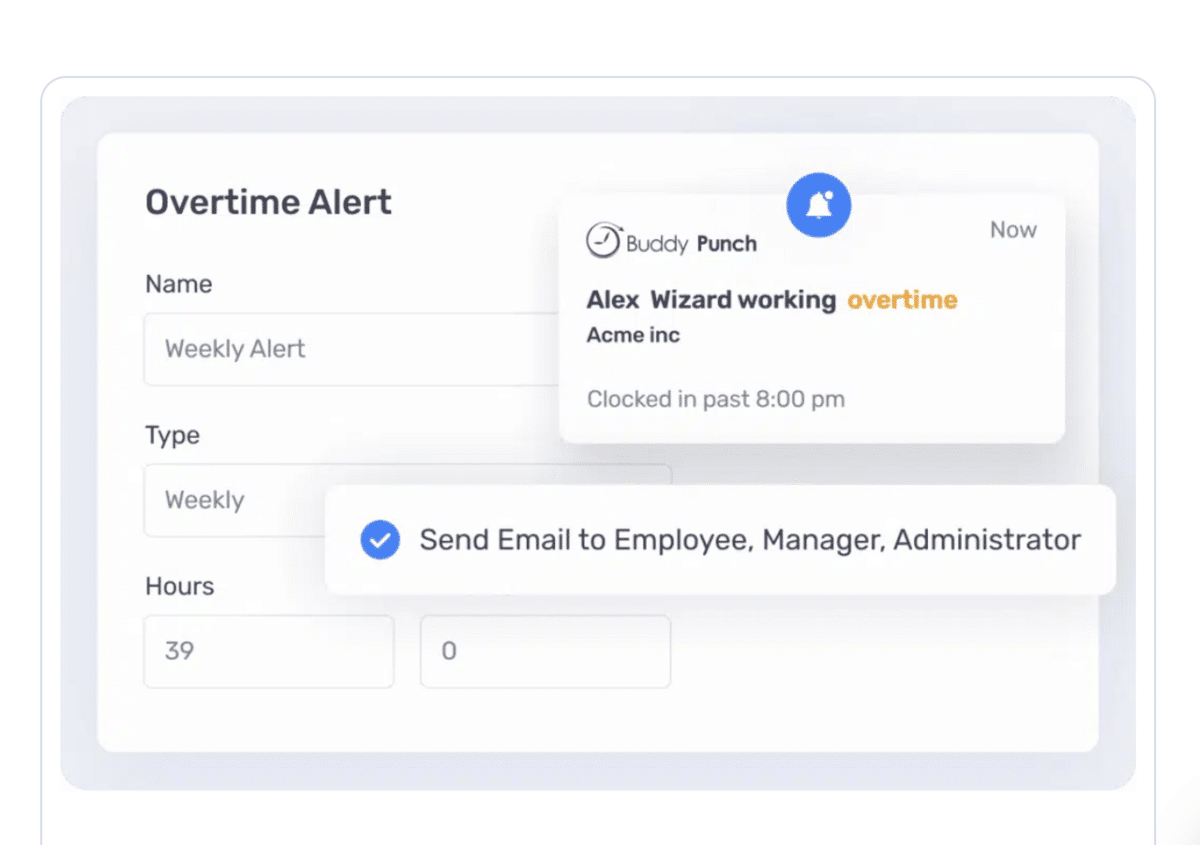 If you're factoring in overtime hours for payroll, you need to know exactly how much overtime an employee has earned and what their overtime pay rate is. This can be easily simplified with Buddy Punch.
Buddy Punch does all the heavy lifting for you so that you can focus on more important business aspects. Simply specify when your workweek starts and what overtime wages type you would like for each employee, and let Buddy Punch handle the rest.
Choose from over a dozen Overtime Types to ensure your OT calculations are done correctly. These types include:
40-hour work weeks
California overtime
No overtime
44-hour work weeks
38-hour work weeks
You can also create custom rules, as needed.
This feature reduces expensive payroll errors and eliminates tedious payroll adjustments by letting us do all your complex overtime calculations — making the payroll process as painless as possible.
Employee Flexibility and Self-Service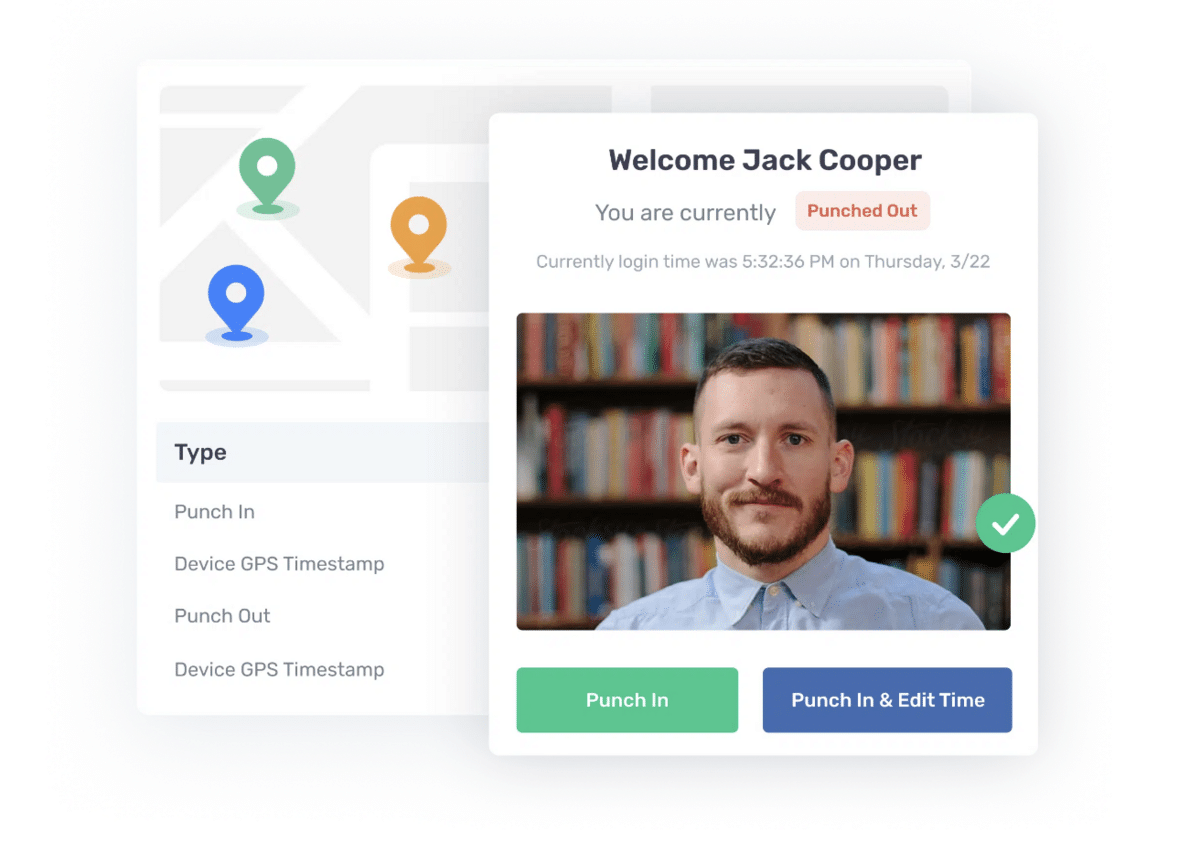 With Buddy Punch, you can improve your employees' experience and reduce HR admin emails with our self-service feature. Employees can enter their own details and access pay stubs, W2s, or 1099 forms at any time.
Buddy Punch also offers paperless paydays through direct deposit — which means that your employees will have access to their money come payday.
In addition, you can empower your team and give them autonomy with more control over hours and access to payroll documents. Employees and contractors don't have to rely on management anymore to have payroll requests completed.
Easily Track Payroll Expenses (Plus Free Tax Filings)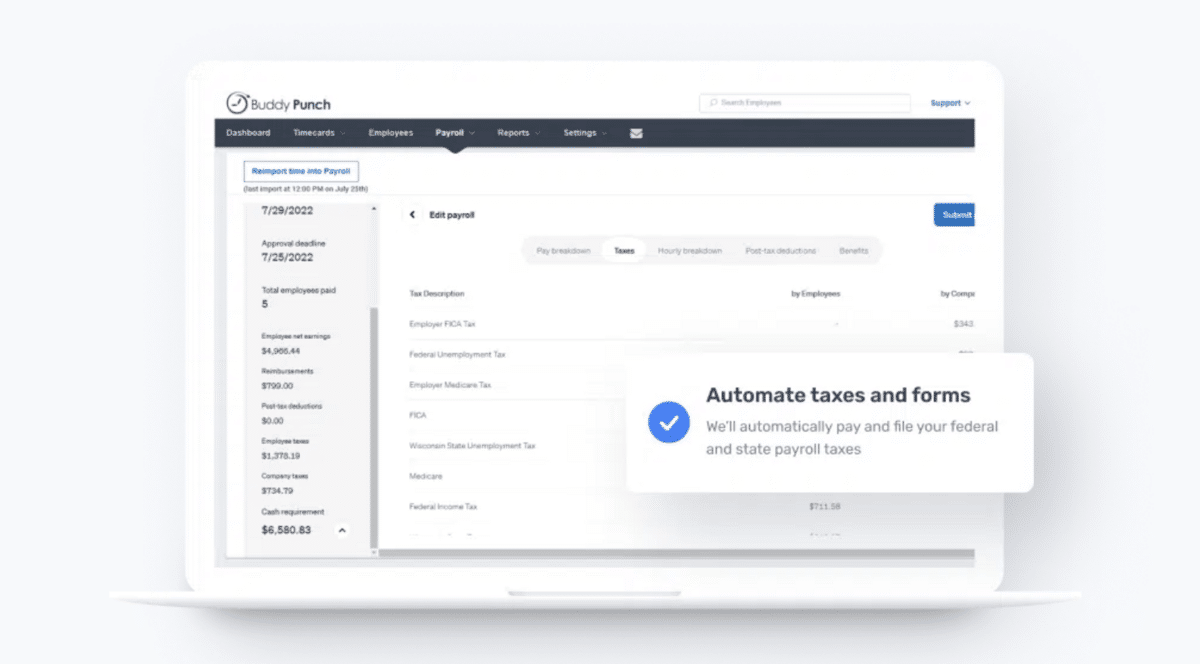 With Buddy Punch, you get much more than a timesheet. With our payroll software, you can pay your team and get a clear breakdown of where your money is going. In addition to tracking time, you can track the following:
Group life term
Reimbursements
Non-hourly regular
Paycheck tips
Bonuses
Commissions
Cash tips
Severance
When you use Buddy Punch Payroll, your payroll taxes are filed automatically:
Multi-state tax registration: We'll handle the tax registration process despite which state you're based in. We file taxes with the proper government agencies in all 50 states.
Local, state & federal: We keep track of changing local, state, and federal tax laws to give you total peace of mind over your finances.
Your employees can log into Buddy Punch, and set up their account so they receive their pay via direct deposit. They can also get paid via check.
To recap, with Buddy Punch, you get:
Unlimited payroll runs
Integrated timesheets
Digital W-2s and 1099s for easy employee access
Automated payroll payments
Automatic tax filings
Direct deposit
Employee self-onboarding
Other Key Buddy Punch Features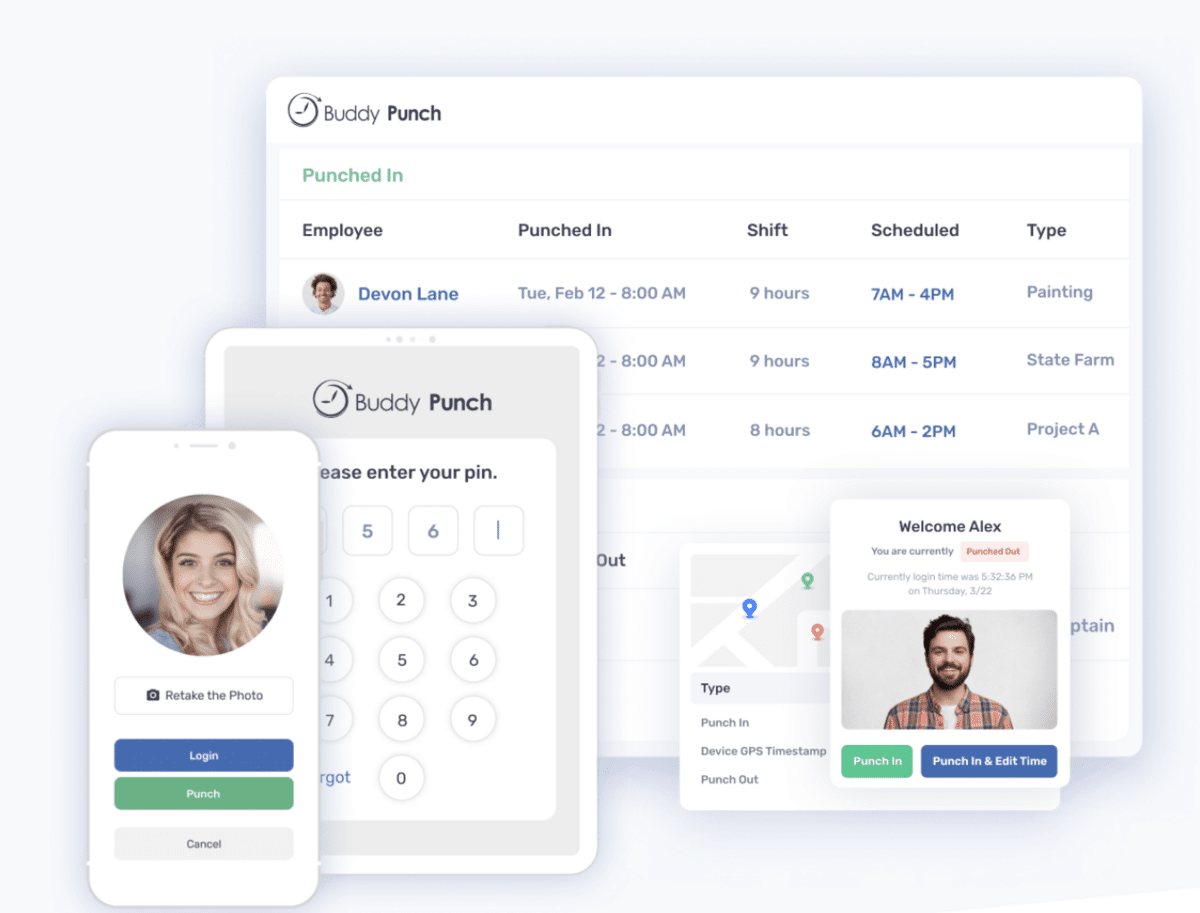 Above, we looked at how Buddy Punch's time tracking software simplifies the timesheet and payroll process. But there's a lot more that Buddy Punch offers.
You can use Buddy Punch to:
Create and manage team schedules in minutes: Ensure your business is adequately covered, and your staff knows exactly when to work. Unlock streamlined employee shift scheduling, and add and save as many templates as you like, such as a monthly timesheet template, biweekly timesheet template, or a daily timesheet template.
View custom reports: Use our attendance tracking system to monitor where your employees work, their overtime, hours, and pay. See how many hours your team works by day, week, or customizable time period. You can even view separate reports for your freelancers vs. your salaried employees.
Integrate your payroll software: You can integrate Buddy Punch with your current payroll provider. We have ready-to-go integrations with popular providers like ADP, Gusto, and Paychex.
What Customers Love about Buddy Punch

You can take a look at Capterra — a third-party review site — to see what customers have been saying about Buddy Punch. Buddy Punch currently has 800+ reviews, with a rating of 4.8 out of 5 stars.
Here are some of our reviews:
"Buddy Punch has made it easy for our practice since we expanded and now have staff in remote locations, including staff that works from home. It's user-friendly and makes the supervisors'/managers' jobs easy when it comes to approving timecards! Payroll report is easy, and it works with SurePayroll, which is our payroll company."

Click here to read the full review.
"Buddy Punch is incredibly user-friendly, easy to navigate, and has all the right tools and more for everyday on-site or remote operations. Their customer support is second to NONE — always super responsive and knowledgeable while providing BEYOND this world stellar customer service. Regardless of industry — Buddy Punch is a great and reliable tool to improve efficiency and productivity."

Click here to read the full review.
"This is an easy product to use for management and employees. All aspects of payroll are at your fingertips. We handle many different projects, and Buddy Punch makes it easy to track the hours we're using. Awesome product."

Click here to read the full review.
For more information on how Buddy Punch can help your business, check out our: