Online Time Clock for Supermarket Management (In-Depth Post)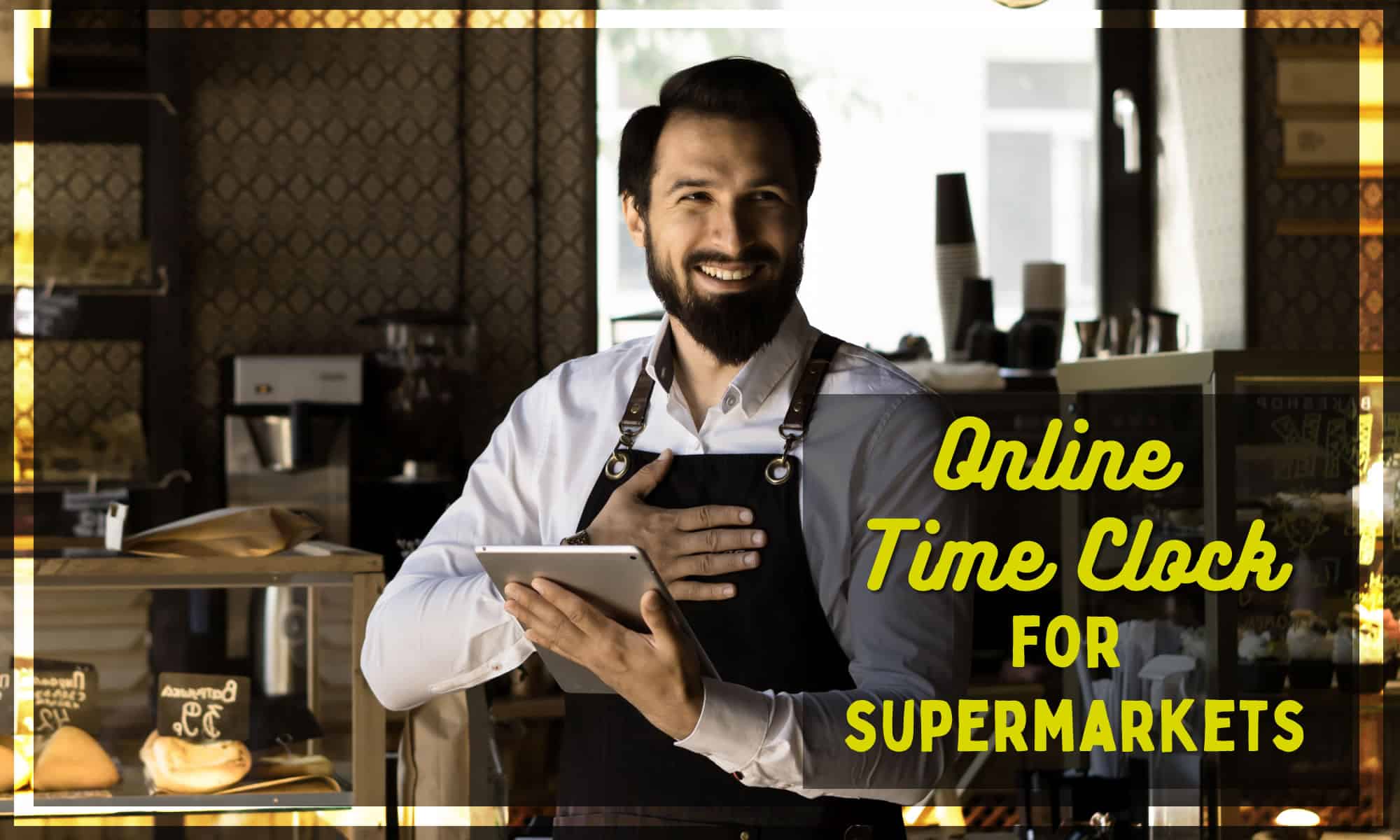 From maintaining food supplies and delivery services to the challenges of monitoring team members, managing a supermarket is no easy task. However, just like any other business, time management can be the key to unlocking greater productivity and profitability – which is why more and more supermarket owners are turning to using time tracking software to manage their employees.
But there's a catch. Making the wrong choice of online time clock might impede your workforce rather than improving it. If a software is difficult or complicated to use, you might lose time training your employees on how to use it, and their issues with the software can cause frustration that bleeds into their performance in other ways.
In this post, we're going to outline some of the best online time clocks for monitoring supermarket employees in a store of any size, whether you're managing a bustling store in New York or a smaller mom-and-pop grocery store where people rent the shopping carts.
Online Time Clock for Supermarket Options
Topping our list of time clocks for supermarkets, we have our very own Buddy Punch.
Back in 2013, we were working on expanding our business, both in size and scope. Once we had to track time & attendance data for more than 20 employees, we quickly realized that manual methods of timekeeping just weren't going to cut it. The risk of data discrepancies and time theft on timesheets were too high, and the hassle of completing payroll on a regular basis took a lot of time out of our schedule.
Sound familiar?
Initially we turned to digital timekeeping tools to help us overcome these challenges, but many of the options on the market weren't quite what we wanted; they were difficult to learn and would have required training our team, or otherwise missed some features that we felt we needed. So we set out to make our own, and Buddy Punch was created.
Fast forward to today–when Buddy Punch has managed to make a splash on the market with features such as Automatic Breaks, Job Codes, Notifications, Punch Rounding, PTO Management, Overtime Calculations, Customizable Reports, Payroll Integrations, and more.
Next, let's dive into these features to get a deeper understanding of how they can improve your in-store management.
Note: If you'd rather skip the explanations and try Buddy Punch out yourself, you can start a 14-day free trial by clicking here.

Between collecting supermarket trolleys, helping customers locate items, and their other responsibilities as grocers, it's no surprise that supermarket employees can sometimes lose track of their time on the clock. However, it becomes a problem when that bleeds into Overtime. Buddy Punch is an attendance software that keeps this in mind, with the automatic breaks feature deducting time from employees' timecards depending on your specifications (for example, subtracting an hour after 4 hours). You can add and edit breaks at any time.

The Job Codes feature is an excellent way to track the time your employees spend on the clock, as well as to figure out which tasks are more profitable for your supermarket (which will help with later scheduling & forecasting). With this, employees can clock into jobs they're working or swap between different jobs at whim. When you go back to view timecards, you'll see all the tasks they worked on their timecards.

The notifications feature makes it easy for your employees and managers alike to focus on tasks without getting distracted by administration (or social media). With this, employees remain secure in the knowledge that they'll be notified for things such as Punch change emails, time card approval status changes, PTO alerts, or when they're approaching overtime. Both Managers and Employees have multiple things they can be notified of, and each one can be enabled or disabled at will.
The Punch Rounding feature lets you determine if your employees' punches will be rounded up, down, or to the nearest interval (anywhere from 2 minutes to 30 minutes). This feature is especially useful if all of your employees are using one device to sign in, such as if you've set up Buddy Punch in the breakroom as a kiosk.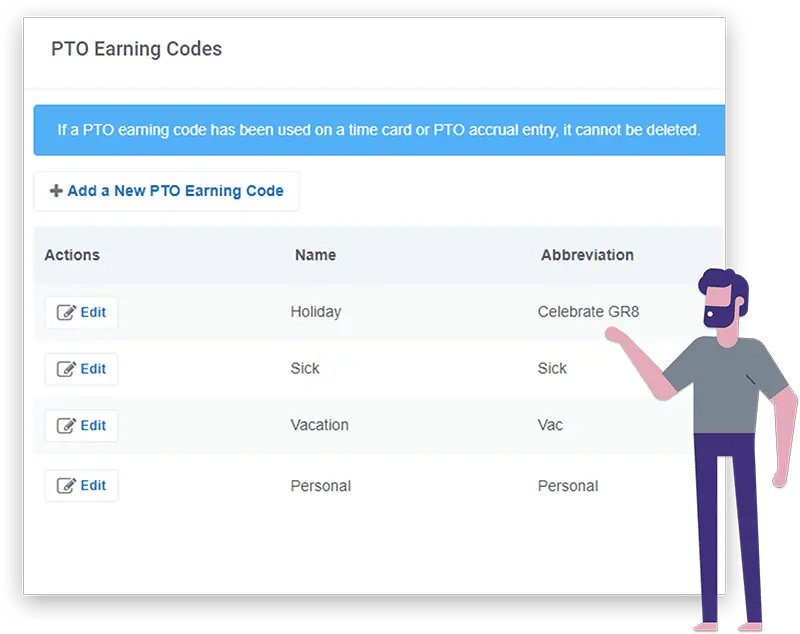 Buddy Punch helps business owners revolutionize how they handle PTO. First off, you can make use of the built-in PTO types (the more common varieties such as Holiday time, Sick Leave, Vacations days, and more) or create your own custom PTO. But it gets even better – Buddy Punch allows you to enable a self-service approach to PTO. Once your employees put in a leave request, you can configure it so that it's approved automatically. This means you can spend less time managing sick leave and more time clearing checkout and managing online grocery software.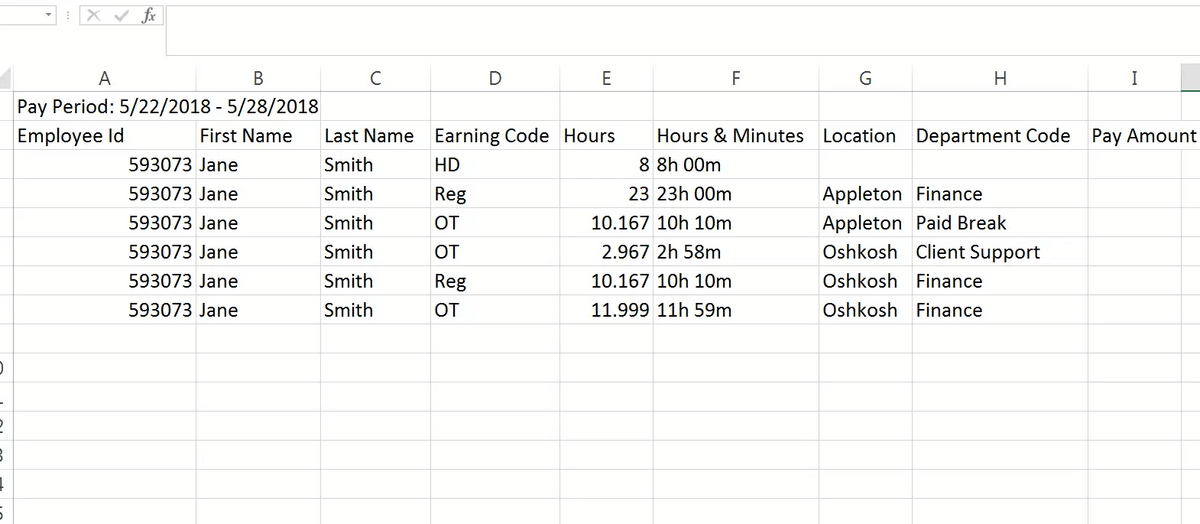 With Buddy Punch, you can select from more than a dozen different overtime types to determine how overtime pay is calculated for your supermarket employees. You can calculate regular, overtime, and double overtime automatically through this feature.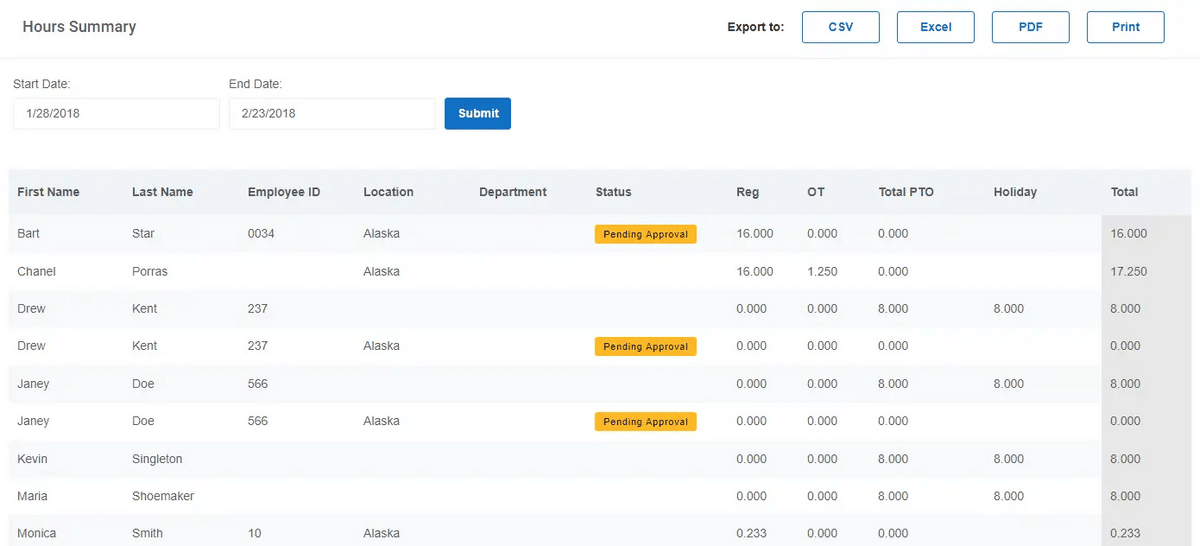 Buddy Punch has several customizable reports that can be exported at will to get a better understanding of how things are running in your supermarket. Payroll Exports, Hours Summaries, Daily Hours and more can be generated and exported as CSVs or PDFs (click here to view the full list of custom reports you can create with Buddy Punch). Use these to understand the hard data on how you're operating (and how you can improve in the future).

Buddy Punch integrates seamlessly with many popular Payroll Software choices, making it easy to handle billing, invoicing, and payroll. Some of the names we work with include Zapier, QuickBooks, ADP, and more – Click here to view the comprehensive list.

Buddy Punch Further Empowers Supermarket Managers
So far, we've only highlighted a select few features that Buddy Punch comes with. There's more that you can use to manage your employees, such as:
Furthermore, you also get access to our Help Doc Center for useful articles on how subscribers can make the most of Buddy Punch, our Blog Section is consistently updated with new strategies for workforce management, and our Customer Support Desk puts you in touch with our team, always available via live chat to answer your questions.
If you want a closer, guided look at Buddy Punch, you can book a one-on-one personalized demo here.
Buddy Punch's Online Reviews
As of this post's writing date, Buddy Punch has 4.8 out of 5 stars and 708 reviews on Capterra.

Below, we'll list just a few reviews that speak to Buddy Punch's impact as a time clock. (Click here to explore the full list of reviews.)
"Buddy Punch is easy to use and user friendly for all ages, I clock in and out using buddy punch daily. I can go back and change my time if need, it shows when you have PTO, the exact time you clock in and out down to the second. I can clock in from my phone, laptop or desktop! Very convenient"

Click here to read the full review.
"We used to add up time sheets manually each week. When you have over 20 employees and they all have different pay scales, it can be very time consuming. This has helped us with the general punch and and out time."

Click here to read the full review.
"It's really easy to use. My employees seem to use it just fine. There's also an app that can be downloaded onto an employee's phone for ease of use for punching in/out and has an option for their location to be recorded so you can see on a map where they punched in and out. I love that I can easily send an online message to the company with any question as they promptly respond and guide me to the knowledge base material so I can read up on how to do certain things."

Click here to read the full review.
"They are like the Amazon of time keeping systems. They're live chat is with real people who quickly solve any issues that arise. The system is really simple and easy to use and best suited for those individuals that are at a computer and for smaller companies in general"

Click here to read the full review.
As these reviewers noted, Buddy Punch is intuitive and easy to use for both employers and employees.

Try Buddy Punch for Free
If you feel that Buddy Punch might help you manage your supermarket operations, sign up for a 14-day free trial. You can also book a one-on-one demo, or view a pre-recorded demo video here.
Connecteam is a powerful online time clock software that offers features including:
As of this post's writing date, Connecteam has 4.8 out of 5 stars and 194 reviews on Capterra.
"Terrific Software. Only spoke to support once, they responded within a few hours (and bear in mind we are the other side of the globe form them) so very happy. We were purchased a high tier of the product but not the top tier, about a month ago they stopped billing us as they announced it was to be free for under ten employees. "

Click here to read the full review.
At the time of this post's writing, SocialSchedules has a total of 552 reviews on Capterra (see here), with an average of 4.5 out of 5 stars. Some of its key features include:
Like Buddy Punch, you can try this software for free, no credit card required.
"It was easy to set up. The staff had no issues getting used to using it. It has reduced hour scheduling hours significantly as we no longer need to contact staff or go through individual text messages, everything is all in one place where we can see who is available and at what times. Makes booking in shifts very easy."

Click here to read the full review.
Insightful (formerly known as Workpuls) is a time tracking software that has a total of 69 reviews on Capterra at the time of this post's writing, with an average of 4.7 out of 5 stars. Some of its features include but are not limited to:
"The best thing about this software is that it's extremely easy to use. Just 1 click setup. Neat and clean dashboard and gives all the required tools which are essential. We use it to track our employee's check-in, checkout, time tracking, project tracking, idle time and productive time."

Click here to read the full review.
At the time of this post's writing, TimeCamp has 562 reviews on Capterra with an average of 4.7 out of 5 stars. Some of its features include:
"Being able to simply track time worked on different projects by different business analysts was always tricky, often analysts would be guessinmating at the end of the week. TimeCamp have solved this issue and we can now accurately track and invoice hours spent on each project."

Click here to read the full review.
Try Buddy Punch for Free
Now that we've listed out some of the best time tracking software on the market, you may have noticed that Buddy Punch happens to stand above the rest when it comes to number of users, ratings on Capterra, and features offered. We're not saying that the others don't have their uses, or that they might not end up being the right fit for you. All we're saying is that because of how we built Buddy Punch–with business owners of all sizes and all industries in mind–it's one of the easiest time tracking software options to get the most out of, with the least time and money invested.
If you feel that Buddy Punch could be the right fit for managing your supermarket team, sign up for a 14-day free trial. You can also book a one-on-one demo, or view a pre-recorded demo video.

You May Also Like…