Online Time Clock for Psychiatric Providers (In-Depth Post)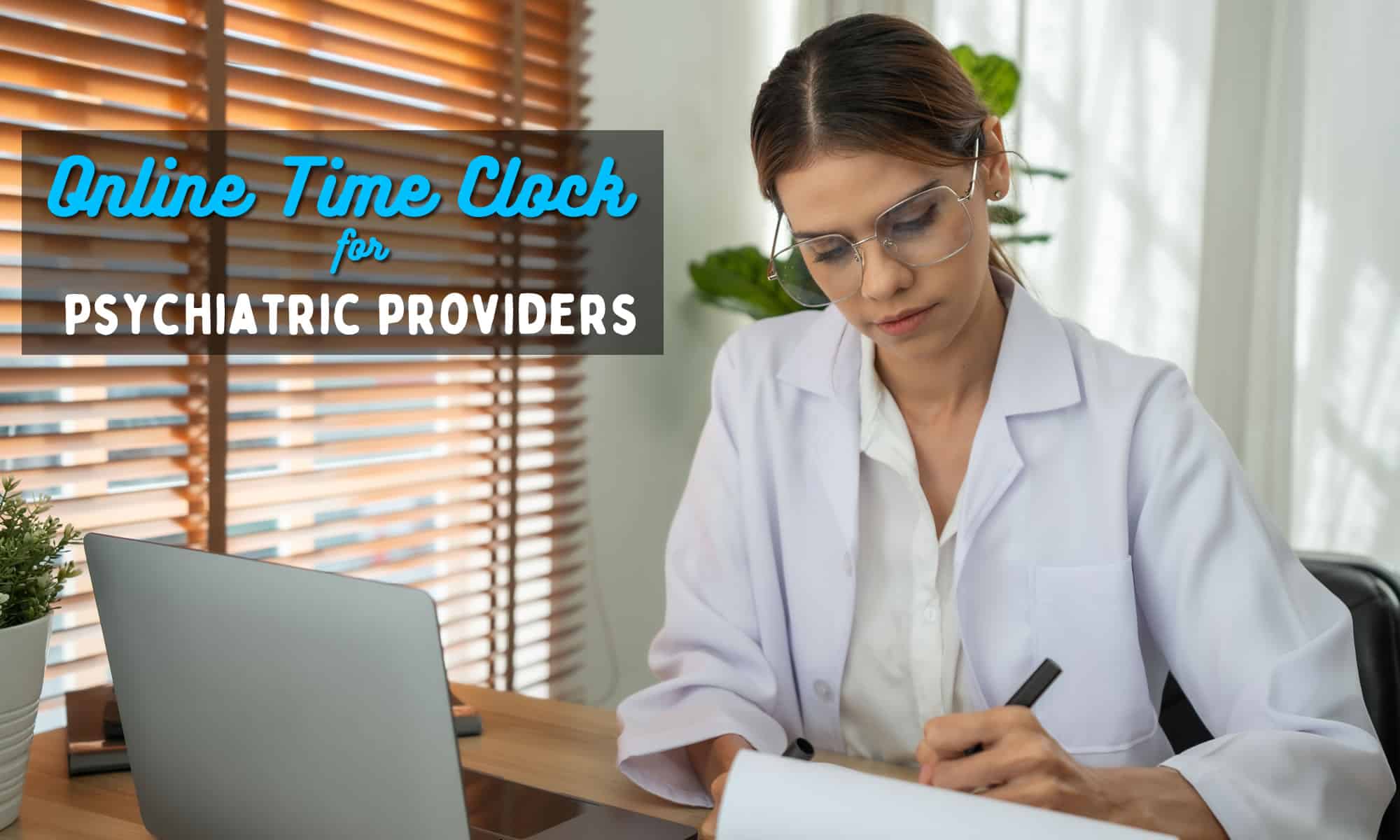 Psychiatric professionals play a vital role in protecting the wellbeing of clients–but they also have to pay mind to their own mental health. Forming treatment plans, seeing to sudden referrals, meeting patients and their families face-to-face to discuss substance abuse and therapy sessions; mental health professionals have a demanding job with a lot of moving parts. It's understandable, then, that they would sometimes lose track of time and tasks. Understandable, yet extremely detrimental.
This is where the importance of time tracking software for psychiatric healthcare providers becomes clear. It's a lot easier for clinicians to manage the mental health care of their clients if they're kept on task throughout the workday, gently nudged towards researching mental health treatment, concocting evidence-based health plans, and seeing inpatients and outpatients on time. With improved time management, your facility will be better equipped to provide the quality mental health services your clients rely on.
In this post we're going to outline our top 6 picks of time tracking software for mental & behavioral health care, based on their features offered, ease of use, and user reviews. Hopefully one of these will prove a great fit for your psychiatric care facility.

Online Time Clock for Psychiatric Providers (6 Options)
When we began development on Buddy Punch, we had three specific attributes of time management we wanted to focus on:
Employee Accountability. Perhaps coming as no surprise, we wanted to make sure that our features encourage employees to make the most of their time on the clock without making them feel overly pressured (after all, if stress from being monitored led to burnout, it would only make it more difficult for patients to get wellness checks.)
Design Simplicity. Perhaps working in tangent with the above, we didn't want to overload on features to the point where it was difficult for a worker to make use of Buddy Punch. We wanted to be as user-friendly as possible to avoid scenarios where your clinicians are struggling to provide online therapy via telehealth or missing some information about a client's substance use disorder because they're trying to figure out how to use our time tracker.
Payroll Streamlining. We wanted to make sure we had features that would help streamline the payroll process, since it's such a tedious aspect of workforce management and can detract huge amounts of time from your schedule to handle appropriately.
With features like Job Codes, Managers Delegation, Shift Trades & Covers, Notifications, Overtime Calculations, PTO Management, Customizable Reports, Built-In Payroll and more, Buddy Punch empowers you to handle all aspects of managing your primary care service.
Next, let's dive into each of these features to make it clear how they're useful when it comes to delivering physical or online psychiatry.
Note: If you'd rather skip the explanations and try out Buddy Punch for yourself, you can start a 14-day free trial by clicking here.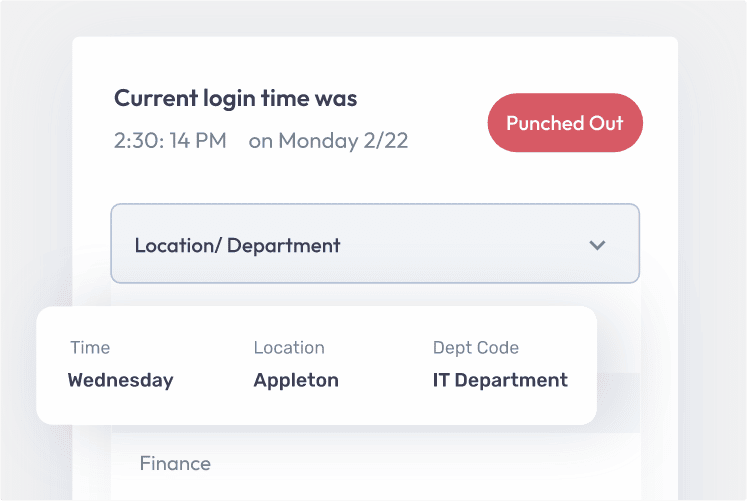 The Job Codes feature is perfect for psychiatric facility owners that want to get a greater degree of transparency for what occurs in the workplace. This feature lets you create codes for specific tasks (medication management, psychotherapy sessions, telepsychiatry, etc.) that your staff members will be able to clock in to and swap between as they work their shifts. Then, when you check their timecards, you'll see a complete breakdown of how their time was spent.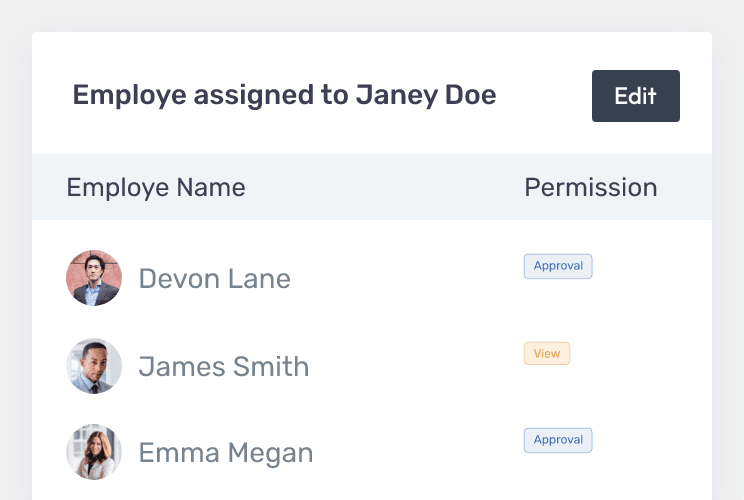 The Managers Delegation feature is a useful way to spread out team management responsibilities instead of handling oversight yourself. This option lets you promote an employee to "manager" status within Buddy Punch's user interface, which will then grant them either "View" or "Approval" status over the employees you assign to them.
With View Status, they'll be able to see what employees claimed to have done during the hours they say they worked–for example, doing in-person follow ups with family members for an hour. With Approval status, they'll not only be able to see this information–they'll be able to edit it. If Jane didn't really spend 30 minutes looking up the proper licensure to provide the specialty mental illness care a client is seeking, your manager can edit that information to be more accurate.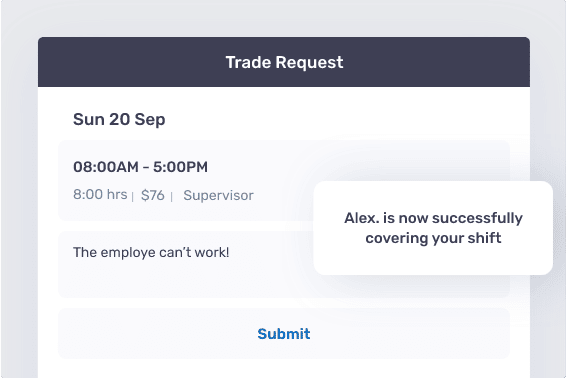 Buddy Punch offers a variety of shift scheduling features, but one of the most useful ones is the Shift Trades & Covers option. The Shift trades feature allows administrators or employees (with appropriate permissions) to initiate a trade of a shift. The covers feature lets team members be a little more proactive, allowing them to swoop in and take over shifts that are suddenly unable to be worked by other nurse practitioners or social workers. This means that an absence will be less likely to result in your patients being left without care for their mental health conditions.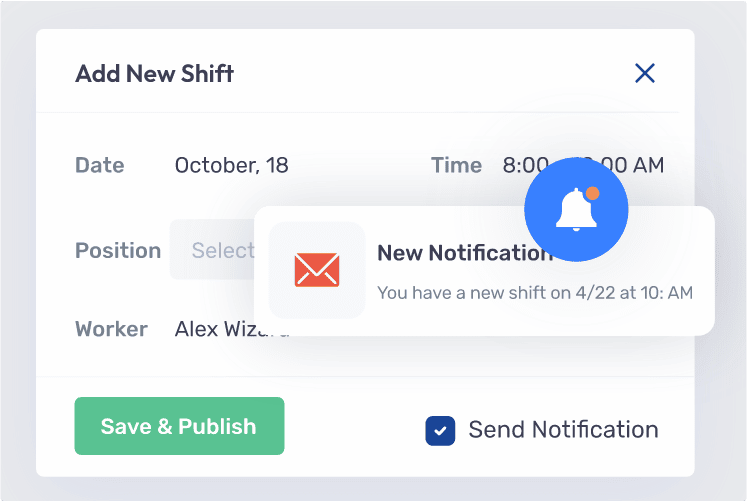 The Notifications feature helps keep employees focused and on task, albeit in a roundabout way. Administrators, Managers, and Staff Members alike will receive alerts for things such as punch change emails, timecard approval status changes, PTO changes, and more. Whenever they're not being notified, they'll understand that they can focus entirely on their work and making sure they're delivering the best psychiatric services they can.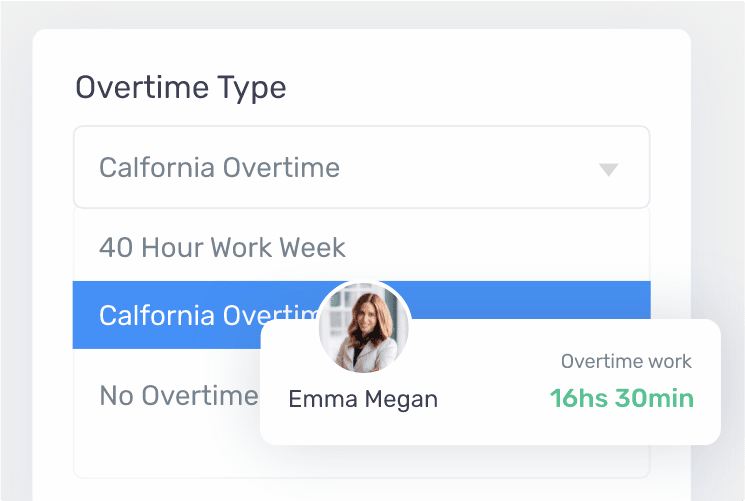 The Overtime Calculations feature automatically calculates regular, overtime, and double overtime for you, making it a lot easier to handle one-and-a-half times pay. Buddy Punch has more than a dozen different overtime types built into the software, and we can always add more on request. Just reach out to us!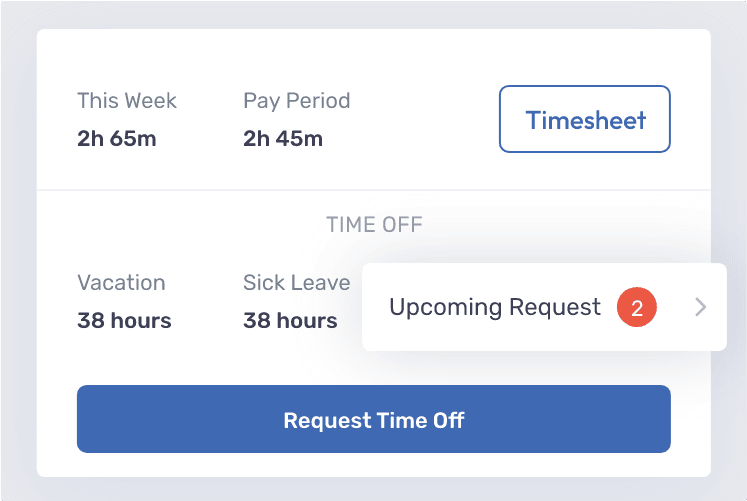 Buddy Punch drastically revamps that usually tedious process that is paid time off management for psychiatric facilities. In addition to having the most common types of paid leave already built in (Holiday, Sick, Vacation, etc.) buddy punch lets you create your own custom paid time off types at will.

Additionally, Buddy Punch lets you enable a self-service approach to PTO. With this option active, your staff members will be automatically approved for any leave requests they put in. You can spend less time managing paid time off, more time answering phone calls and making sure your psychiatrists are all board-certified.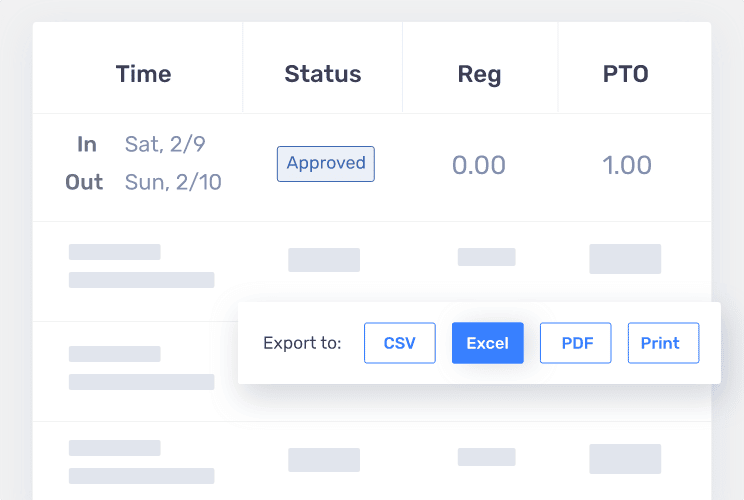 Buddy Punch also offers a wide variety of customizable reports that provide a detailed breakdown of the inner workings of your facility. With reports such as Payroll Exports, Daily Hours Summaries, Employee Detail Breakdowns and more, you can use these to truly understand how your busy operates and make informed decisions in the future. These reports can be exported as Adobe PDFs or Excel CSVs, depending on your preference.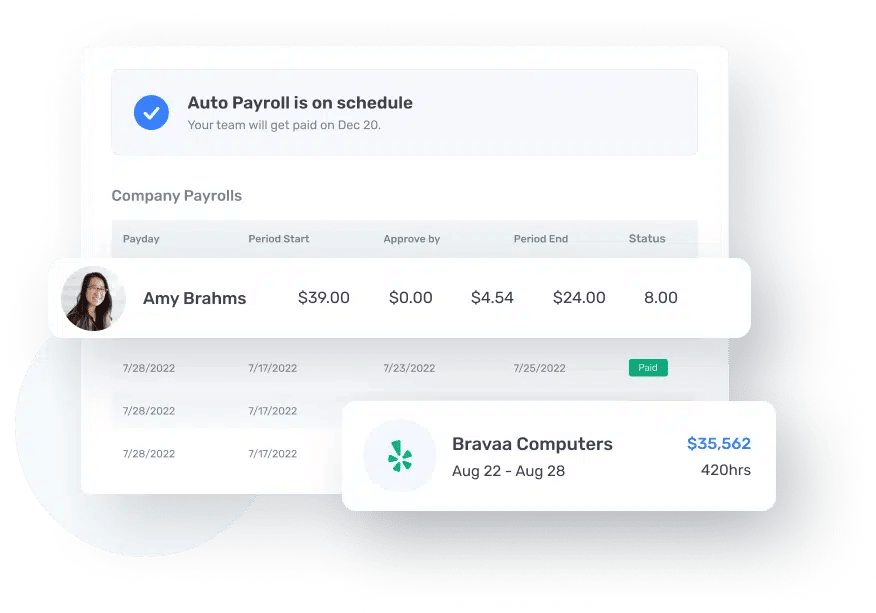 In addition to the features mentioned above, Buddy Punch has one option that you can purchase in addition to any paid plan that will drastically improve how you manage your teams. Buddy Punch's Payroll is an automated system that makes it easy to manage payroll with features such as unlimited payroll runs, integrated timesheets, employee self-onboarding, and more. Click here to read on and learn why this feature is worth every cent.

Buddy Punch Offers More to Psychiatric Providers
We have yet to exhaust the complete list of functions that come with Buddy Punch, but it really comes down to what will be most useful for your style of management. During the pandemic, we saw a big boost in our remote features (GPS Tracking and Geofencing). But perhaps you'd like making use of:
Additionally, there are some out-of-app benefits to consider:
Our Blog Section is consistently updated with new gov laws and helpful strategies pertaining to workforce management.
Our Customer Support Desk will put you in direct contact with our team via live chat to answer any questions you may have.
Our Help Doc Center contains useful articles and videos on how to best utilize Buddy Punch.
Buddy Punch works on any device with an internet connection, including mobile devices such as smartphones and tablets. You can book a one-on-one personalized demo here.
Buddy Punch's Online Reviews
Don't just take our word for it, let's look at what our subscribers have to say about our time management service. As of this post's writing date, Buddy Punch has 4.8 out of 5 stars and 740 reviews on Capterra.

Below, we'll list just a few reviews that speak to Buddy Punch's impact on workforce management. (Click here to explore the full list of reviews.)
"I love how easy it is to access help on any aspect of using the software. You can do their chat and they respond almost immediately. They will even help fix anything from their end if you need the help. I love the facial recognition feature and other features that are offered to ensure that your staff is on the job site in order to sign in."

Click here to read the full review.
"Buddy Punch has been a super efficient business solution for our office. It is very user friendly. The integration with Quickbooks has streamlined our payroll which has been a huge plus. Most importantly to me as the administrator who's been responsible for the complete set up and training of all staff- the Buddy Punch customer service team has been absolutely outstanding!"

Click here to read the full review.
"This program does exactly what i want it do. I needed a simple time keeping app where i could customize things to suit each employee and I found it. They haven't had any issues minus forgetting to clock in or out but those are easy fixes. If i have any questions i just use the messaging center and someone is always quick to respond and they have always been able to solve the problem or clarify something i may not Have understood."

Click here to read the full review.
"I like that you can require a photo and location for your employees when clocking in, and can monitor them pretty easily. It is really easy to set up, and you can put extra data in your employee files to have it all in one place. I also like that I can assign managers over certain employees, so they can monitor their own departments and approve accordingly. "

Click here to read the full review.
As several reviewers have noted, Buddy Punch is easy to use and paired with a helpful customer team.
Try Buddy Punch for Free
If you feel that Buddy Punch might be the right fit for your psychiatric facility, sign up for a 14-day free trial. You can also book a one-on-one demo, or view a pre-recorded demo video.
As of this post's writing, Findmyshift has 749 reviews and 4.6 out of 5 stars on Capterra. Some of Findmyshift's features include:
"It's simple. It achieves what I was trying to do in a very clunky spreadsheet or database. It gives us reports that help us make sure we are meeting minimum and maximum shift durations, and our total weekly hours. No other scheduling software addressed our needs in this way. "

(Click here to read the full review).
Connecteam is a powerful time tracking app with features such as:
Connecteam has 4.8 out of 5 stars and 206 reviews on Capterra as of this post's writing date.
"We have used a number of different document management systems over the years. I've personally tried a number of them, from the very expensive to the very inexpensive. When we recently decided to get a new document management system, we decided to try Connecteam. We've been very happy with the product so far. It's very easy to set up and use, and it's simple to navigate."

Click here to read the full review.
TimeCamp is another strong option for time tracking ,
At the time of writing, TimeCamp has a total of 566 reviews on Capterra (see here), with an average of 4.7 out of 5 stars.
"A simple program exactly what I was searching for to keep track of the number of hours I work each day. I didn't use the complete version of Timecamp because I didn't require it. I'm satisfied with the free version, which has a limited set of functions but is straightforward to use."

Click here to read the full review.
Sling had a wide list of features to explore, including (but not limited to):
Sling has 115 reviews and 4.6/5 stars on Capterra (as of this post's writing date).
"I looked through several scheduling tools before settling on Sling. This included simple Excel sheets, Homebase, and When I Work. I settled on Sling because of the wide array of features for no cost and mobile app access. The mobile app experience, per my team, was easy and extremely convenient. I personally was impressed with the ease of the drag-and-drop scheduler."

(See the full review here.)
OnTheClock offers various features and functionality, some of which include:
As of the writing date, OnTheClock has 4.7 out of 5 stars and 520 reviews on Capterra.
"My team works remote, The time card page is what I use most to see how my team is doing. Easy to see who's working and what their hours are for the pay period. It is also easy to see hours for payroll."

Click here to read the full review.
Choosing The Best Online Time Clock for Psychiatric Providers
There is no size fits all "best", but looking at the features offered by each tool can help you pick the one that would work with your style the most. For example, if you like
Being able to send out surveys to your clinicians, you might like OnTheClock. If you manage multiple locations, maybe Sling's multiple work location capabilities will fit your needs.
Otherwise, if all you're looking for is a versatile time tracker that's easy to use, comes with powerful features, and is accompanied by a helpful and responsive customer support team, then you really can't go wrong with Buddy Punch.

Try Buddy Punch for Free
If you feel that Buddy Punch could be the right fit for your psychiatric facility, sign up for a free trial. You can also book a one-on-one demo, or view a pre-recorded demo video.

You May Also Like…