Online Time Clock for Church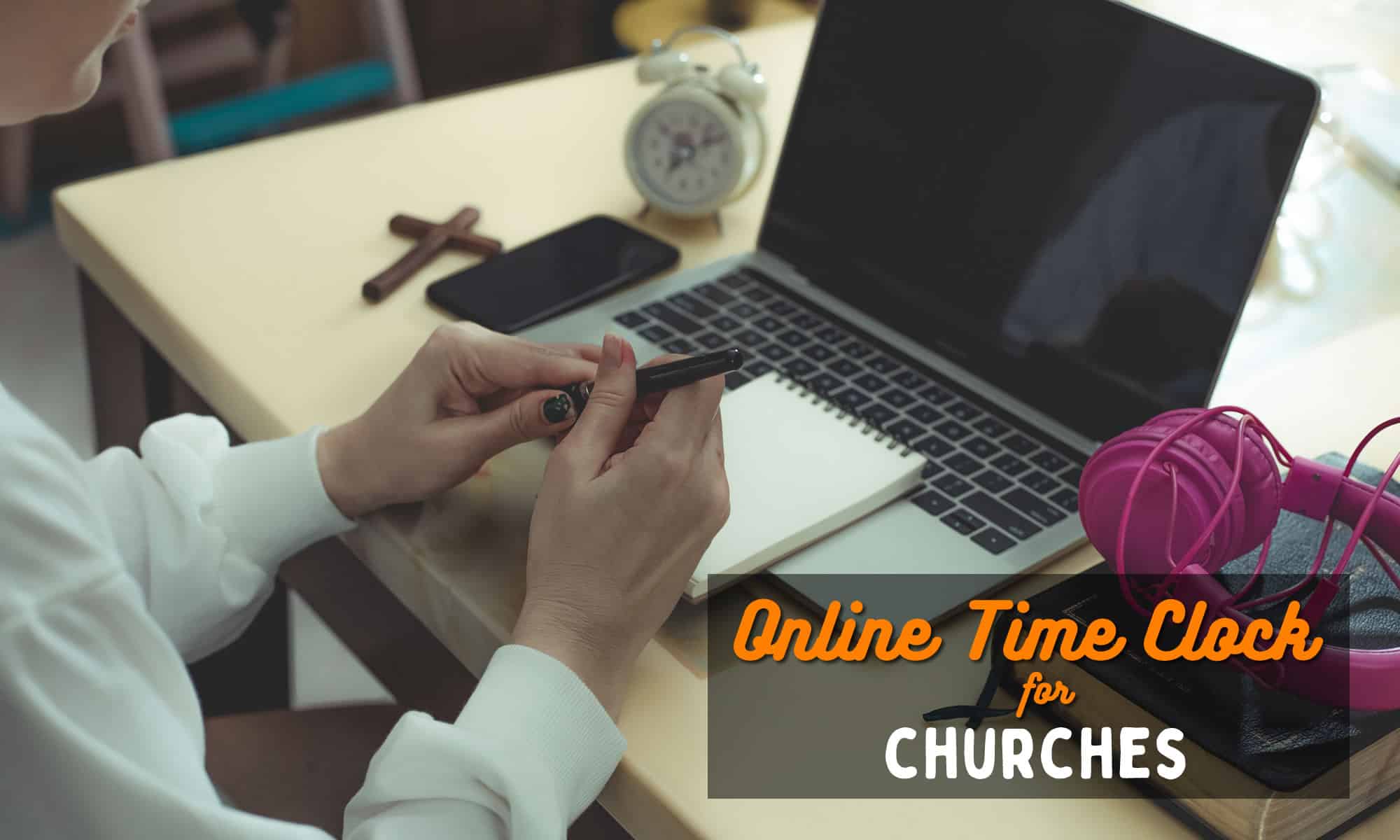 All organizations are required by law to keep track of the hours their employees work, and that includes churches. However, it's no big surprise that many churches are hesitant to turn towards enforcing time management practices on their employees. Churches (and nonprofits) pretty much embody trust–it feels like a violation of that aspect to force your team members to work with a countdown timer… doesn't it?
In our opinion, this is actually an outdated way of looking at time clock systems. Most modern time clock software options are far less invasive than their reputation may make it seem, offering ways to monitor employee hours without your church staff feeling like they have someone breathing down their necks. Furthermore, tracking systems are actually vital to the success of your organization. A look at accurate timesheets can illuminate aspects of your church to optimize or de-emphasize, which can be critical to improve your operations and better serve your community.
In this post, we're going to outline our top 5 picks of time tracking software for church organizations, based on their features offered, ease of use, and customer reviews. Hopefully, by the end of this post you'll have connected with a time tracking software you and your bookkeepers will love implementing.
Kicking off our list of time clock software to use in your church, we have our very own Buddy Punch. When we were designing this software, we wanted to emphasize improving Employee Accountability and Payroll Streamlining while at the same time making sure our software was user-friendly–so we put an emphasis on Design Simplicity as well. The final result was an employee time clock software with useful features such as Job Codes, Shift Trades & Covers, Managers Delegation, Overtime Calculations, Notifications, PTO Management, Built-In Payroll, and more.
Next, we're going to dive into each of these features to help demonstrate how they're helpful for church organizations.
Note: If you'd rather skip the explanation and try them out yourself, you can start a 14-day trial of Buddy Punch by clicking here.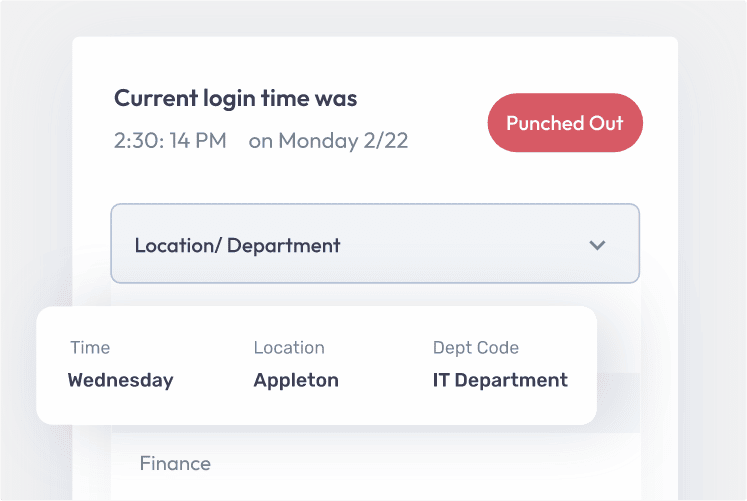 The Job Codes feature is an excellent tool to use in your church in order to get a greater degree of transparency when it comes to how your church employees spend their time on the clock. With this, you can create a code for a job (such as posting on social media or performing clerical functions for the pastor) that your employees will be able to clock in to or swap between as they work. Then, when you check their timecards, you'll see the complete breakdown of what each employee did during the workday.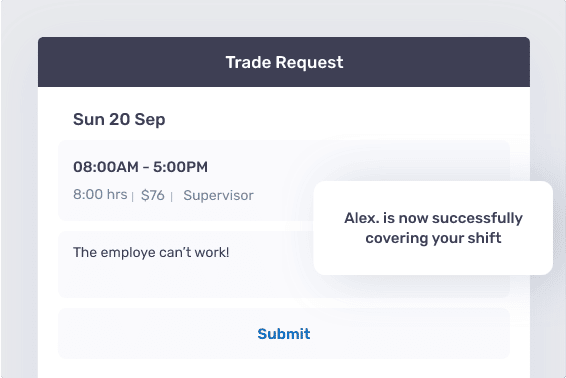 The Shift Trades & Covers feature is a great option for managing your team scheduling. The Trades option lets your managers, administrators, and employees (with appropriate permissions) initiate a shift trade with another employee. Meanwhile, the covers option lets team members and administrators swoop in to take over a shift that one of your employees is unable to work.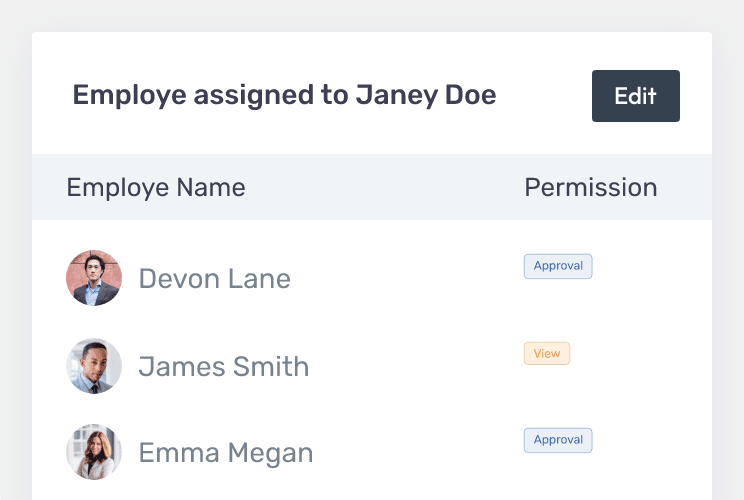 Buddy Punch allows you to promote an employee to manager status within the app, giving them "View" or "Approval" status over any employees that you assign to them. With View status, they'll be able to see other workers' timecards, while Approval status will let them also edit them. This is an excellent tool to make use of if you want help keeping your employee records accurate.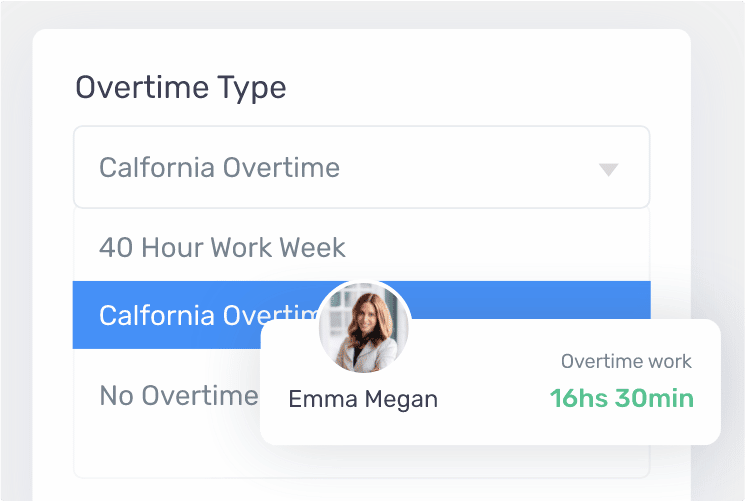 The Overtime calculations feature makes it easy to handle regular, overtime, and double overtime hours. We offer more than a dozen different overtime types by default, but can also add additional ones upon request to fit your needs.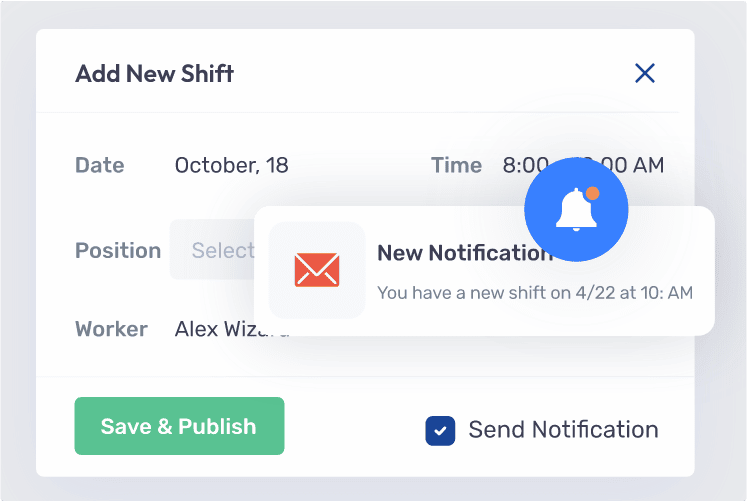 Buddy Punch's notifications feature keeps both your team members and your administrators apprised of everything that goes on in your workplace. Through both emails and SMS text messages, your team will be notified of punch changes, time card approval status changes, PTO changes, and more.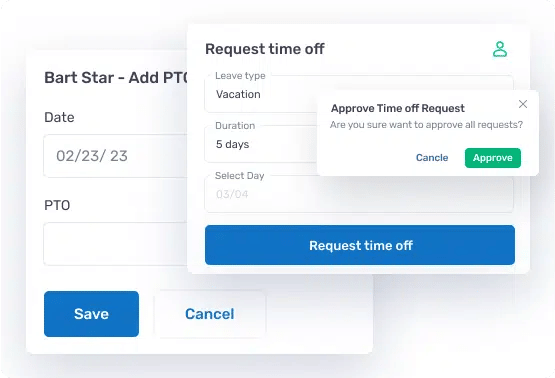 Buddy Punch makes it simple to handle paid time off tracking. In addition to having the most common types of paid leave already built into the software (Holiday, Sick, Vacation, etc.) Additionally, you can create custom PTO types at will.
However, the real power of this feature comes from enabling the self-service option. With that enabled, your employees will be automatically approved for any time off requests they put in, allowing you to focus on other aspects of church management without having to micromanage your team.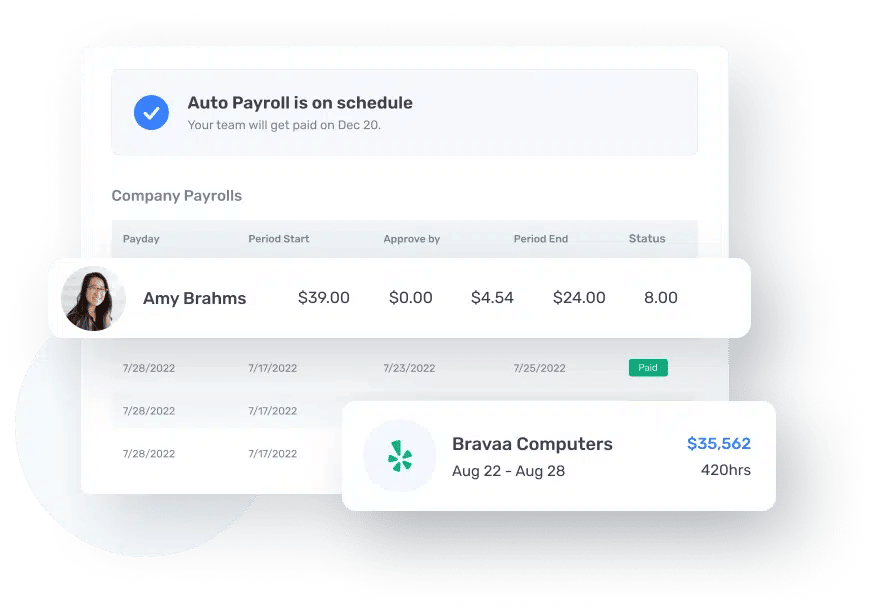 Buddy Punch offers a built-in payroll system that you can add on to any paid plan in order to drastically improve how you handle the end of each pay period. Buddy Punch's system comes with unlimited payroll runs, integrated timesheets, employee self-onboarding, and more. Learn more about this system here.

Buddy Punch Offers More to Manage Church Workers
It's important to note that so far we've only highlighted a select few features that Buddy Punch comes with.
Please also note – our help doc center contains other useful articles on how to best utilize Buddy Punch, our blog section is consistently updated with workforce management strategies, and we're always available via live chat to answer questions.
Buddy Punch works on any device with an internet connection, including smartphones (iOS or Android), tablets, laptops, and desktops. You can book a one-on-one personalized demo here.
Buddy Punch's Online Reviews
As of this post's writing date, Buddy Punch has 4.8 out of 5 stars and 740 reviews on Capterra.

Below, we'll list just a few reviews that speak to Buddy Punch's impact on workforce management. (Click here to explore the full list of reviews.)
"My staff loves that the software works seamlessly and I love the easy payroll reporting process. BEST of all, when I have a question, Buddy Punch really LISTENS and always walks me through the answer or offers to help themselves."

Click here to read the full review.
"I like that the employees can clock in and out on their phones since we have construction sites where there isn't a mobile office. It also lets them select the job they are working for so we can have accurate billing. It is helpful for our laborers who are often on multiple projects throughout the day."

Click here to read the full review.
"Cannot say enough about their support. Even if the product was not as amazing as it is, I would highly recommend Buddy Punch due to the unbelievable support!"

Click here to read the full review.
"Very easy for employees and administrators alike to track time and edit if necessary. Provides accountability for our employees with the location settings such as GPS/Geofence. Provides a variety of reports that are helpful. Provides our employees with mobility–we can send them to any job site, and they have the ability to punch in/out."

Click here to read the full review.
As these reviewers noted, Buddy Punch is easy to use and comes with a helpful customer support team.

Try Buddy Punch for Free
If you feel that Buddy Punch might be the right fit for your church, sign up for a free trial. You can also book a one-on-one demo, or view a pre-recorded demo video.
Findmyshift is another effective time tracking tool, and it can work a free time tracker if you're on a tight budget. Some of its features include:
As of this post's writing, Findmyshift has 749 reviews and 4.6 out of 5 stars on Capterra.
"FindMyShift is very straightforward and easy to use. Uploading your employee roster is simple. You can add multiple positions for the same emplyee on the same day, if need be. And the FindMyShift app is very easy to download and read. Our employees know what days they work and what time we expect them to be there."

(Click here to read the full review).
When I Work is a work scheduling app that comes with features such as:
When I Work has 4.5 out of 5 stars and 972 reviews on Capterra as of this post's writing date.
"When I Work is very simple to use and easy to navigate. My current or upcoming schedule always shows up as soon as I log into the app, and I can easily view my upcoming shifts and approve them. Putting in requests and setting my availability is also very straightforward. Finally, I enjoy the messaging feature, which is helpful for communicating with a whole team or with individuals whom I haven't shared contact information with yet."

Click here to read the full review.
Insightful (formerly known was Workpuls) is a time tracker with features including:
At the time of this post's writing, Insightful has a total of 74 reviews on Capterra (see here), with an average of 4.8 out of 5 stars.
"The easy set up and web based application gives instant start up and it allows a gradual use of the sophisticated functionality which is built into the software. Software insight give a real view of how users are using the software assets and has enabled us to re-evaluate software product usage and license management of expensive softwares. "

Click here to read the full review.
Some of its key time management features include:
Like Buddy Punch, you can trial Clockify without a credit card. It has a rating of 4.7 out of 5 stars based on 4316 reviews on Capterra (as of this post's writing).
"I most love how easy this app is able to integrate into my workflow. It literally only takes me a few clicks to switch gears to a different project. So when a customer calls up and I need to start tracking my time differently, I can switch my time to a new task (before I even know what the task is) and once the customer fills me in on the needs of the call, I can start to detail the clock that is still running, without interrupting anything."

Click here to read the full review.
Choosing The Best Online Time Clock for Church
In our opinion, finding which time clock will work best depends on what features you're looking for. For example, if you're on a tight budget and don't mind having limited access to features, you might like Clockify. If you want to use in-app team messaging, maybe When I Work will be more up your alley.
Otherwise, if all you're looking for is a robust time tracking tool that is easy to use, comes with a wide variety of features, and has a helpful customer support team, you really can't go wrong with Buddy Punch.

Try Buddy Punch for Free
If you feel that Buddy Punch could be the right fit for your church, sign up for a 14-day trial. You can also book a one-on-one demo, or view a pre-recorded demo video.

You May Also Like…