Online Time Clock For Bars (3 Options)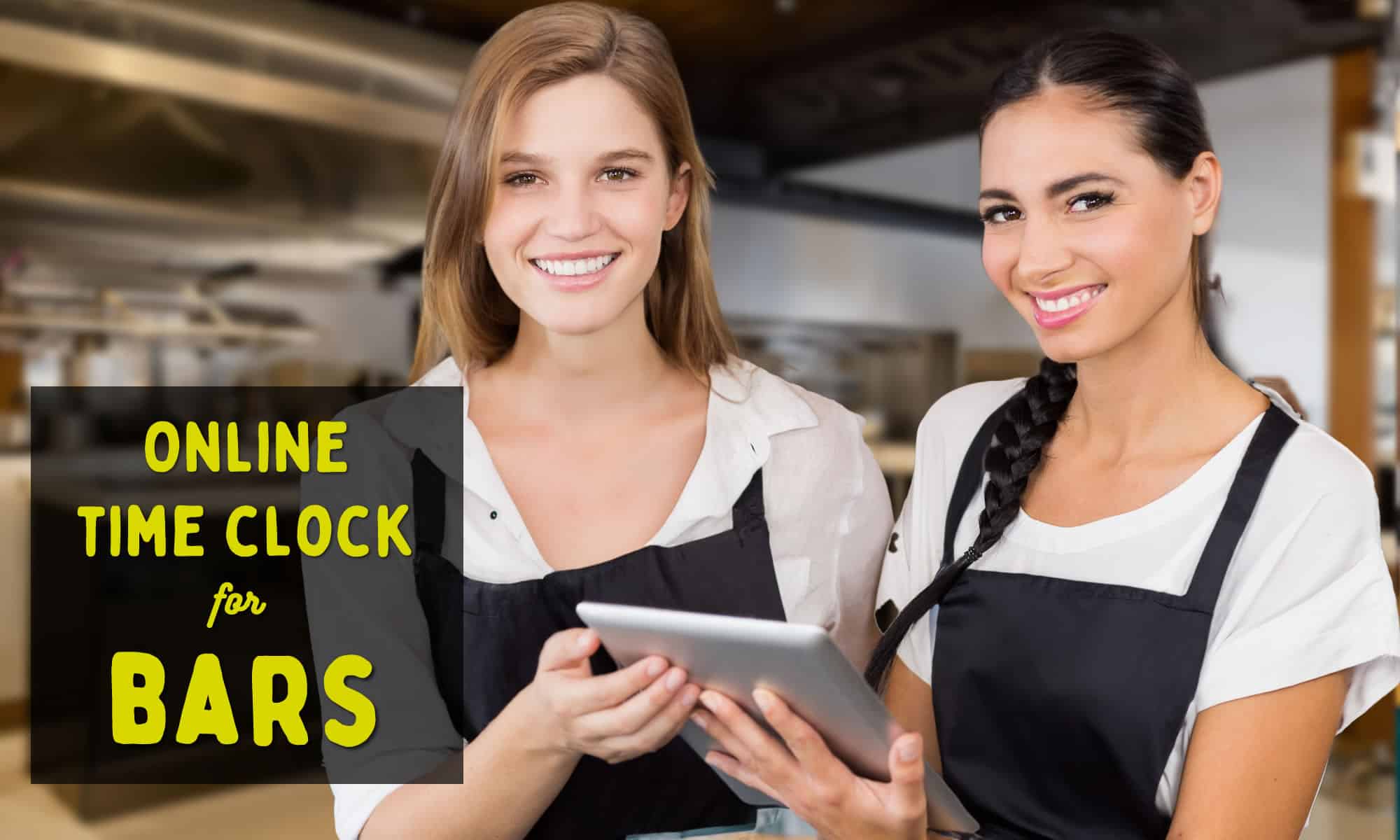 Are you looking for the best online time clock for bars?
If you are running a restaurant or bar, a time clock solution can offer the following benefits:
Enable staff members to clock in and out with ease.
Allow employees to clock in and out from a mobile device.
Complete and track time entries from your smartphones.
Utilize task management features to monitor team progress.
Use GPS tracking to ensure the accuracy of timesheet data.
Streamline payroll processing with automated payroll reports.
Leverage a range of payroll integrations to accelerate accounting.
As you can see, the right time clock system can present no shortage of potential benefits for bars.
When it comes to accelerating workflows and complying with labor laws, a solution like Buddy Punch is a major win.
Upon arriving on-site, bar staff can seamlessly clock in using a biometric employee time clock solution (like Buddy Punch) via a mobile app that's available on both iOS and Android.
With an effective time clock app in your corner, your bar managers can say "goodbye" to Excel spreadsheets and automate the process of collecting employee timesheets.
Onboarding bar team members and getting them to embrace is often remarkably straightforward.
All the best "clock in/clock out" platforms come with easy-to-navigate interfaces that ensure your bar team can hit the ground running.
Time Punch Clock For Bars
1. Buddy Punch
As a comprehensive time tracking solution, Buddy Punch empowers businesses with enhanced monitoring capabilities.
Through Buddy Punch, employers can effortlessly oversee employee progress and reliably track employee hours across the workforce.
The platform's features, like GPS location tracking and face recognition, further bolster the accuracy of attendance data and prevent time theft.
Using QR Codes & Facial Recognition For Authentic Clock-Ins
Ensuring accuracy in employee attendance data and preventing timesheet fraud demands advanced systems.
Time clock software solutions, like Buddy Punch, offer a myriad of tools to validate the authenticity of data for business owners.
Specifically, Buddy Punch enables employees to clock in and out using both QR codes and facial recognition.
Prevent Timesheet Fraud From Bar Staff
Ensuring employees clock in and out from the bar is crucial.
Buddy Punch's geofencing feature allows employers to specify a geographical boundary within which employees can clock in and out.
Buddy Punch's GPS location tracking capability lets employers monitor team members' real-time locations.
If bar staff are not physically present at the bar, you will soon find out.
Stay Updated With Instant Notifications
With Buddy Punch, supervisors and bar managers are never left out of the loop.
Regardless of their location, the platform allows them to receive real-time notifications regarding various platform activities.
For example, notifications for every punch in/out and alerts when employees are nearing overtime can be promptly received.
Our "Knowledge Base" provides plenty of useful information on how bar teams can unlock the full possibilities of this time card machine and get Buddy Punch's time systems working to meet the specific needs of your business.
Also, if you have any specific questions, you can reach out directly to our support team.
You can book a one-on-one personalized demo here.
Buddy Punch Makes Time Punches Simple
Here are just some of the features available with this time tracking software for monitoring employee work hours:
Buddy Punch's Online Reviews
Have you seen Buddy Punch's user reviews? As of the writing date, Buddy Punch has 4.8 out of 5 stars and 870 reviews on Capterra.
Below, we'll list just a few reviews that speak to Buddy Punch's ease of use and great customer support service. (Click here to explore the full list of reviews.)
As reviewers have noted, Buddy Punch provides team leaders and project managers with the necessary tools to streamline timekeeping and monitor labor costs:
"Customer service is exceptional and quick. Admin is very easy and user friendly."
Click here to read the full review.
"Buddy punch was super easy to set up, once the employees are added to the system. Week to week operations are a breeze."
Click here to read the full review.
"It is user-friendly. I am new to the company and new to using Buddy Punch and it was easy to use as a beginner. I have never encountered any problems with it as well."
Click here to read the full review.
"Cannot say enough about their support. Even if the product was not as amazing as it is, I would highly recommend Buddy Punch due to the unbelievable support!"
Click here to read the full review.
Try Buddy Punch for Free
If you feel that Buddy Punch might be the right fit for your business, sign up for a free trial. You can also book a one-on-one demo, or view a pre-recorded demo video.
2. QuickBooks Time
For those accustomed to the QuickBooks accounting platform, QuickBooks Time offers a familiar and intuitive interface.
This efficient time tracking system facilitates the rapid generation of time card reports for team leaders and project managers.
You can seamlessly integrate data from the platform into your payroll system.
It's a great timesheet app for Android and iPhone, and at the time of writing, QuickBooks Time has 4.7 out of 5 stars and 6,508 reviews on Capterra.
QuickBooks Time (formerly TSheets) has features that include but are not limited to:
"QuickBooks is an efficient and user-friendly tool for automating accounting tasks. It is especially useful for small businesses, as it helps them track hours, bill clients, and generate reports."
Click here to read the full review.
3. TimeCamp
While TimeCamp aligns with other time tracking platforms in its core functions, it distinguishes itself as more than just a time management tool.
Offering a range of functionalities from productivity tracking to effortless invoicing, TimeCamp proves to be a versatile asset.
For those aiming to enhance employee monitoring and simultaneously boost team productivity, TimeCamp stands as a valuable solution.
At the time of writing, TimeCamp has a total of 588 reviews on Capterra, with an average of 4.7 out of 5 stars. TimeCamp offers a full range of practical features for teams:
"It's the automatic time tracking that I like the best. Finding the crucial phrases that will correctly monitor time took some time, but now that I've got it functioning it's fantastic. Compared to rivals, Timecamp's high bandwidth is the second most popular aspect of the service."
Click here to read the full review.
Try Buddy Punch for Free
If you feel that Buddy Punch could be the right fit for your business, sign up for a free trial. You can also book a one-on-one demo, or view a pre-recorded demo video.
You May Also Like…