Top 6 Online Time Clock for Appliance Repair Companies (Comparison Post)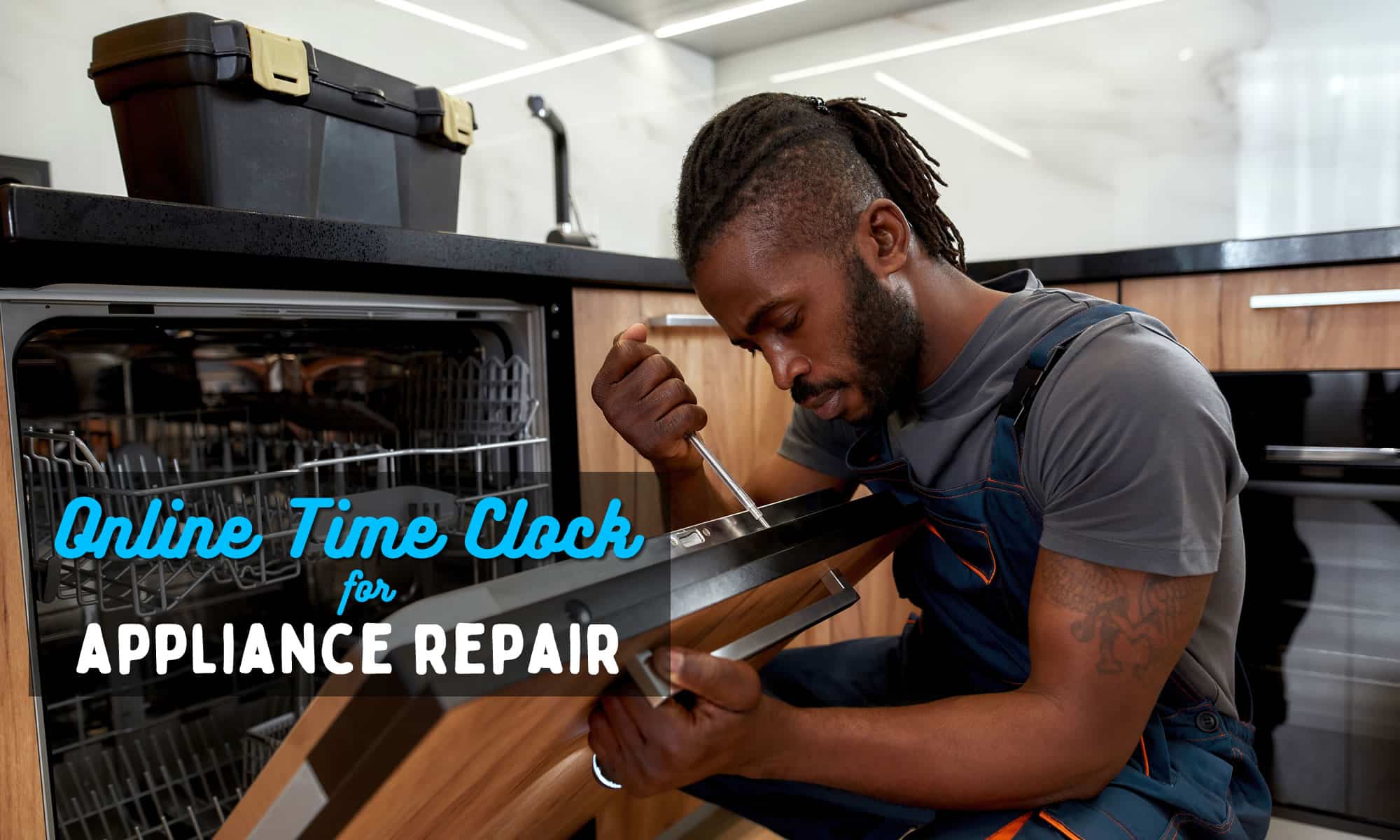 Most field service businesses sending their employees out around town have a serious issue when it comes to employee time management. It's not that you can't cultivate trust with your technicians to believe that they're making their most of the time while on the clock–it's that for the most part, you'll never know. For appliance repair services, this presents a huge problem when it comes to optimizing your operations for maximum profit and business longevity.
Luckily, there's a known solution to this issue: time tracking software. From online scheduling to remote employee monitoring features, timekeeping software empowers business owners to monitor their team members and repair technicians regardless of where they are. These tools are so outright useful that we'd argue the only difficulty arises when it comes to choosing one out of the many options available.
And once again, we've got the solution to the issue.
In this post, we're going to outline our top 6 picks of time clock software that you can use to monitor your technicians out on remote jobs, whether they're fixing garbage disposals, replacing washing machines, or performing dryer repair. The tools we'll mention were all selected based on their customer reviews, ease of use, and features included, making them likely to be a great fit for your business.
Online Time Clock for Appliance Repair Companies
Kicking off our list of employee hour tracking software for appliance repair businesses, we have our very own Buddy Punch. There's a reason we recommend our own software when it comes to tracking employees at remote locations–we designed it with that specific function in mind.
Back in 2013, we were managing 3 different locations and relying purely on manual methods of timekeeping to ensure our employees were making the most of their time on the clock. Like most appliance repair companies, we operated on a trust-system–and while we were able to float by with it, we couldn't exactly fly.
We made a conscious decision then: no more manual methods. It was time to invest in the digital timekeeping tools we'd heard so much about.
Only… we were disappointed by the options we found. We had three specific criteria we wanted met by any tool we'd choose to use:
Employee Accountability. We didn't care for any features that would get in the way of our overall goal of ensuring that our staff were working to the best of their ability, whether or not we were present with them onsite.
Design Simplicity. Sort of working in tandem with the above, we thought it critical that any tool we picked wouldn't be too difficult to understand or overloaded with unhelpful features. The last thing we wanted was to go through a lengthy training period to get a handle on the software, or to have employees making a hassle of using the software while on the clock.
Payroll Streamlining. This one was a little more personal, but after years of struggling to calculate employee hour data at the end of each pay period (a vital but time-consuming process), we knew that any time card app we picked would have to have features that made the process a snap.
It wasn't until we were let down by the options on the market that we turned towards creating our own software, and Buddy Punch began development.
Fast forward to today, with our software giving home appliance repair companies the power of features such as Job Codes, GPS Tracking, Geofencing, Notifications, Drag & Drop Scheduling, Customizable Reports, PTO Management, Built-In Payroll, and more. It's time to throw out those timesheets and evolve your business with digital timekeeping.
And we'll show you just how to achieve this, as we delve into a breakdown of each of the aforementioned features to show just how useful they are when you're sending out your technicians to repair washers and check warranties.
Note: If you'd rather skip the breakdown and get right into Buddy Punch, you can start a 14-day trial by clicking here.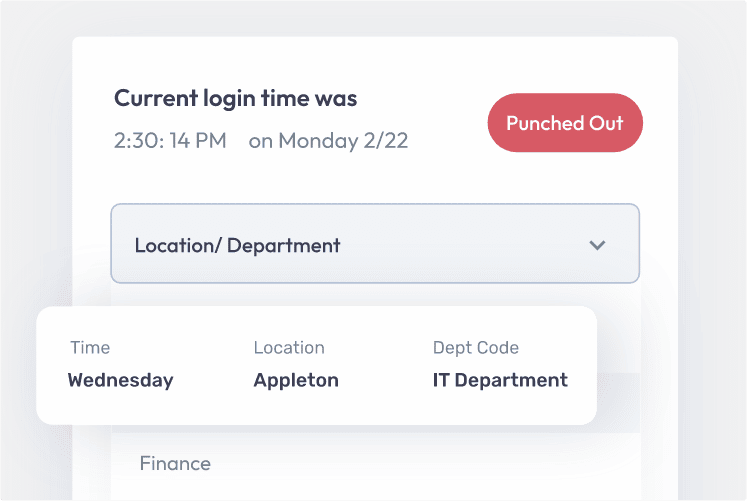 Buddy Punch's job codes feature is an excellent tool to use if you want a greater degree of transparency for what's happening at remote job sites. With this, you can create a job code for various tasks (performing a service call, researching Samsung warranty certifications, consulting clients, etc.) that your employees will be able to clock in to, and swap between as they work their shift. Then, when you go back over their timecards, you'll see a complete breakdown of the tasks they worked and for how long. This feature is critical for calculating labor costs and helps business owners make decisions about training and optimization.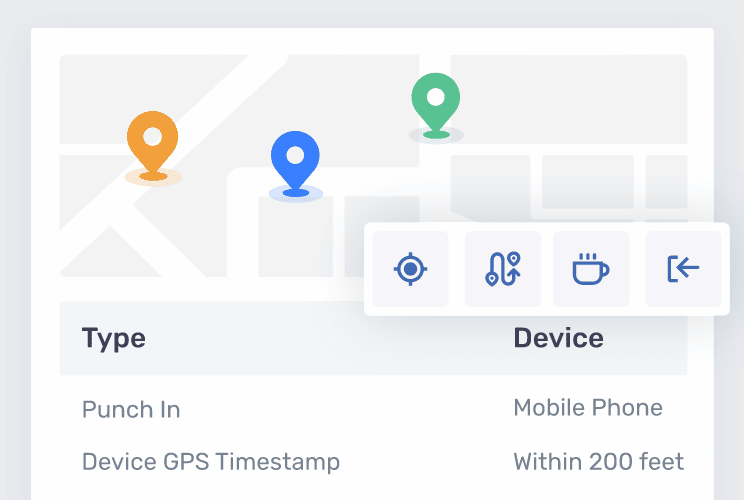 Buddy Punch has GPS Tracking features that make it easy to ensure that your technicians are doing what they're meant to be while they're out on service calls. When a team member clocks into Buddy Punch, this feature drops a pin on an interactive map to display their location. When you check that map, you'll see where all of your team members are, ensuring they're where they're supposed to be.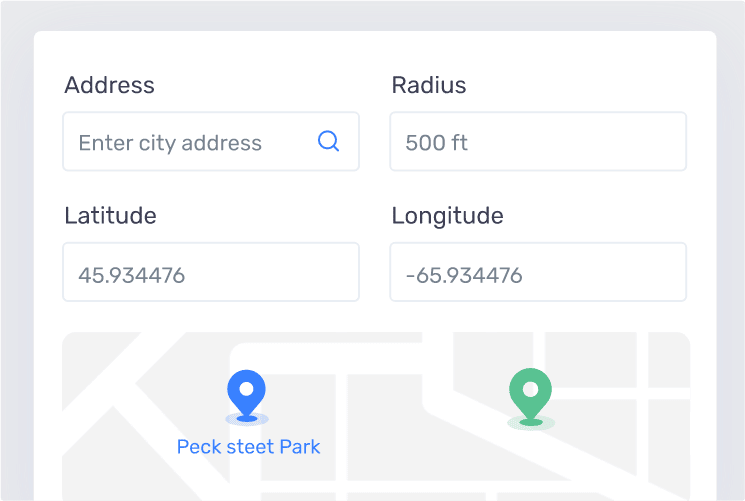 The Geofencing feature is similar to Buddy Punch's GPS Tracking, except it's hands-off for your technicians and a set-and-forget option for administrators. With this, you can create a radius (called a Geofence) on an interactive map. There's no limit to how many of these radii you can create. When your employees try to clock in outside of one of the zones, they'll be denied.
Buddy Punch's notification feature can help improve your employees' productivity in an indirect way. With alerts being sent to both your team members and your administrators for things such as punch change emails, time card approval status changes, PTO changes, email alerts for approaching overtime, and more–your team members will know that when they're not receiving alerts, they can focus on their work.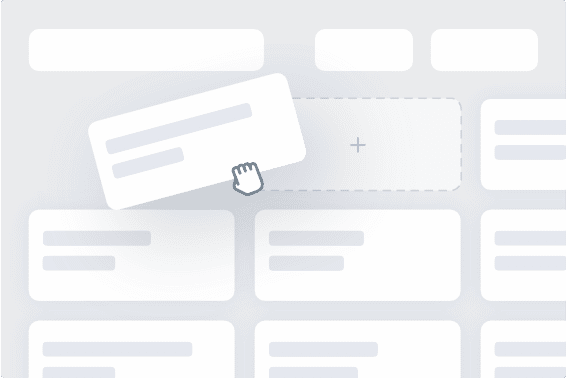 Buddy Punch makes it easy for you to set up your scheduling for the week. Simply click on an empty space in Buddy Punch's interface to create a new shift, then drag and drop it where needed until you're happy with your schedule. When you're happy with the schedule, simply click publish and all scheduled employees will be notified.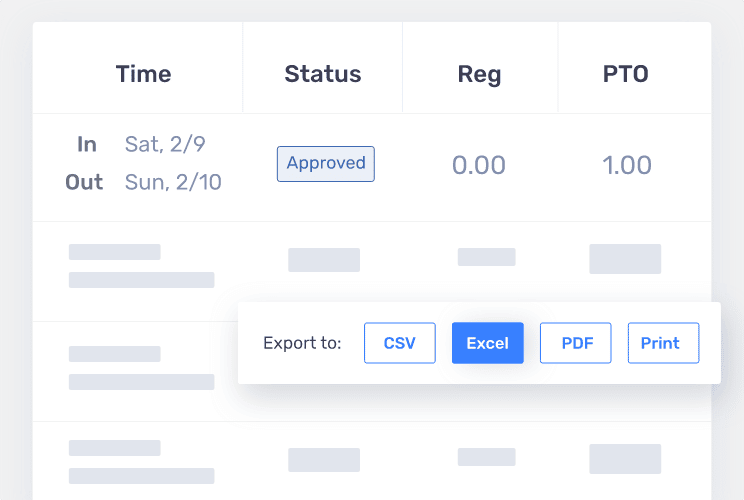 Buddy Punch offers a wide variety of reports that business owners can generate to help parse through the accurate employee time & attendance data we'll be gathering. Some of these reports include Payroll Exports, Employee Detail Breakdowns, In/Out Activity Trackers, and more. You can generate any of these reports (detailed here) on demand, and in either Excel CSV or Adobe PDF format, depending on your preferences.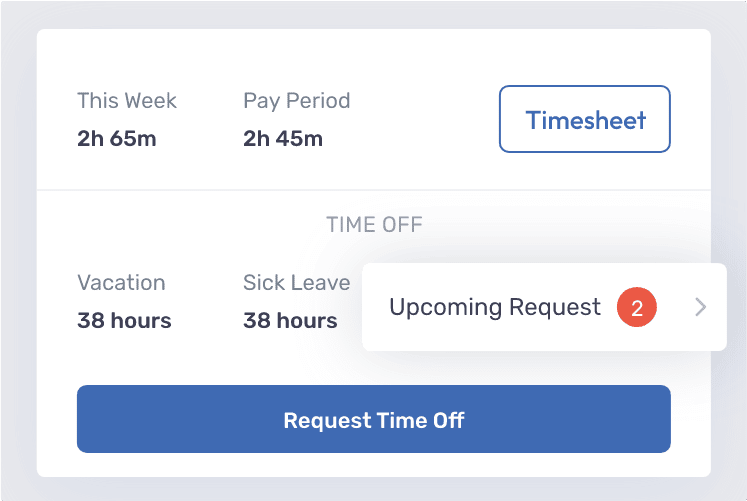 Buddy Punch completes overhauls how appliance repair shop owners handle paid time off management. In addition to containing the most common types of paid leave (Holiday, Sick, Vacation, etc.) you can create custom PTO types at will.
But it gets even better. Buddy Punch also lets you establish a self-service approach to PTO, allowing your team members to enter their requested PTO and get approved automatically. No oversight required on your part, no having to draw attention from other critical aspects of your business.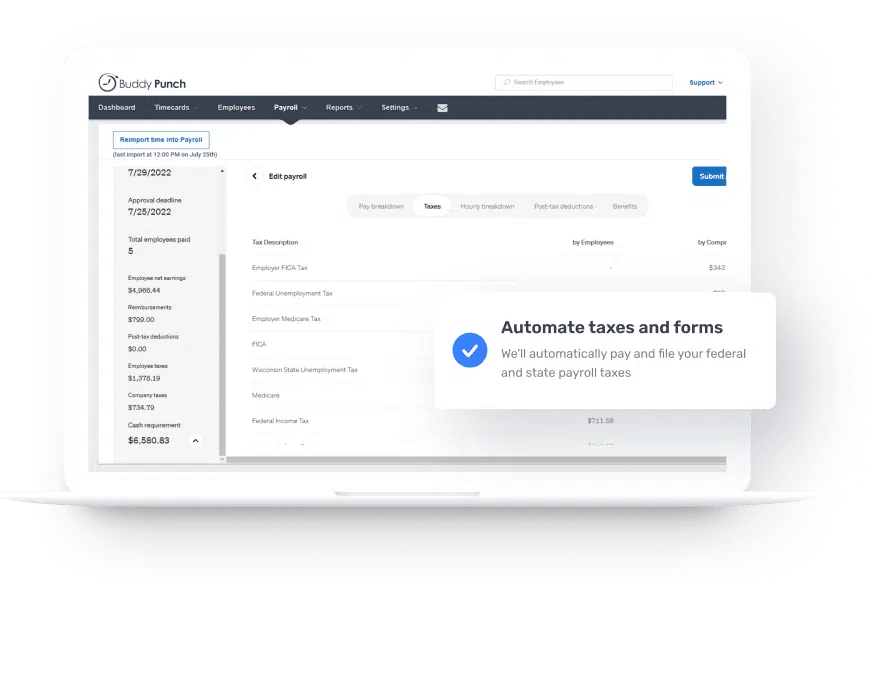 One other feature we want to make sure to highlight is Buddy Punch's built-in payroll, which dramatically streamlines the entire payroll process for appliance repair shops. This system, which you can get as an add-on to any paid plan, lets you manage payroll from anywhere at any time, making use of Buddy Punch's accurate and in-depth data with features such as unlimited payroll runs, integrated timesheets, employee self-onboarding, and more. Click here to learn more about why this feature is worth the price.

Buddy Punch Offers More to Appliance Repair Businesses
It's worth clarifying–we've only highlighted a select few features Buddy Punch has so far. We designed this to be a robust and flexible tool, which different users could make use of depending on their managerial style. Perhaps you'd get more use out of features such as:
Buddy Punch also comes with out-of-app features to consider:
The Blog Section is consistently updated with strategies and breakdowns that help improve and modernize workforce management across industries.
Our Help Doc Center contains articles and videos that'll show you exactly how to get the most out of our app in your workplace.
The Customer Support Desk will put you in direct contact with our team via live chat to answer any questions you may have.
Buddy Punch works on any device with an internet connection, including mobile devices (iOS and Android smartphones), Tablets, and Desktop. You can book a one-on-one personalized demo here.
Buddy Punch's Online Reviews
Don't just take our word for our software's performance, listen to what users have to say. Buddy Punch has a rating of 4.8 out of 5 stars and 739 reviews on Capterra (as of this post's writing).

Below, we'll list just a few reviews that speak to Buddy Punch's positive impact on workforce management. (Click here to explore the full list of reviews.)
"The thing I like most about the software is the geographical location requirement. Every time you punch in/out it shows your employer your location. Making time clock fraud one less worry as a business owner and the employee more responsible about time maintenance because you cannot get paid if you are not physically at work."

Click here to read the full review.
"Buddy Punch has streamlined the clock-in/clock-out system for the firm I work for. Previous employers used different systems for timekeeping and they always seemed to cause more of an issue at the end of the month when billing and payroll would hit."

Click here to read the full review.
"The functions are straight-forward and self -explanatory for what you need to accomplish. I use it exclusively with the iPhone app, so I can punch in or out if I'm out of the plant on company business."

Click here to read the full review.
"There are several things I really enjoy about this software. It is incredibly intuitive and easy to learn. Hours are logged by IP address and makes use of integrated cameras. Review of past pay periods is simple. Requesting time off is easy."

Click here to read the full review.
As these users noted, Buddy Punch is straightforward and streamlines timekeeping across multiple platforms for both employers and employees.

Try Buddy Punch for Free
If you feel that Buddy Punch might be the right fit for your appliance repair business, sign up for a 14-day free trial. You can also book a one-on-one demo, or view a pre-recorded demo video.
Coast App is a growing time clock software that has 47 reviews and 4.5 stars on Capterra as of this post's writing. Some of its features include:
"We used to use multiple apps for scheduling, team communications, work orders, and tasks. It was cumbersome because our team constantly had to switch back and forth. With Coast, now we have everything in one place. Our work order process is streamlined, and we no longer text and email people to get status updates. Because the team communication is integrated directly into the work, we can talk about work orders as well."

(Click here to read the full review.)
Connecteam is a time management app designed to let you manage your employees with one solution. Its features include (but are not limited to):
As of the writing date, Connecteam has 4.8 out of 5 stars and 206 reviews on Capterra.
"Our entire business is based around scheduling, we send workers out into the field and their tasks and shift times are liable to change with no warning. I sit at the desktop app in the middle of all the action and my team use their mobile phones to update me constantly. Lots of software does that, such as Deputy etc, but I liked the ease of scheduling."

Click here to read the full review.
CrewTracks was designed to help track field service workers and has 12 reviews and 4.8 stars on Capterra, earned through offering users features such as:
"Crewtracks helped us make the switch from paper timecards to digital. We originally purchased the software to track employee time, however we've started using Crewtracks for so much more. Our foremen have become accustomed to uploading pictures and notes in the app, which allows management to track project costs/production without stepping foot on a job site."

See the full review here.
QuickBooks Time (formerly known as TSheets) has features that include but are not limited to:
QuickBooks Time has a rating of 4.7 out of 5 stars and 5,796 reviews on Capterra as of this post's writing.

"To be able to seamlessly transition between clients and projects without stopping my timer and opening up window upon window or tab upon tab makes life easier. Reporting is also easy and allows me to identify how much time I've spent on a client and/or project, what's billable, and how staff spent their time. It also allows my company to be in compliance with overtime based on company settings and breaks by just having a separate button for that. Love it."

Click here to read the full review.
At the time of writing, DeskTime has a total of 345 reviews on Capterra (see here), with an average of 4.4 out of 5 stars. Some of its key features include:
"So, it's been almost two years having "Desktime" monitoring/tracking us, and we found it is very impressive and easy solution. The kind of reports and support they provides; we don't think any contenders would be offering in this arena currently. We are just planning to offer this product with our all international clients as well. Thanks "Desktime"

Click here to read the full review.
Choosing The Best Time Clock for Remote Appliance Repair Services
Now that we've helped narrow down your options, you have a choice to make. Our advice is to take a close look at each feature offered to single out which time tracking tool will likely be the most useful for your appliance repair business.
For example, if you like the focus on field service work that comes with CrewTracks, it might be the choice for you. If you're a fan of in-app team communication, maybe Connecteam will be a better fit.
Otherwise, if all you're looking for is a comprehensive and flexible tool that with a wide range of features that can be enabled or disabled at will, an intuitive design, and a customer support team that will help you through any issue–then you really can't go wrong with Buddy Punch.
Try Buddy Punch for Free
If you feel that Buddy Punch could be the right fit for your appliance repair company, sign up for a 14-day free trial. You can also book a one-on-one demo, or view a pre-recorded demo video.

You May Also Like…