The 5 Best Field Service Time Tracking Apps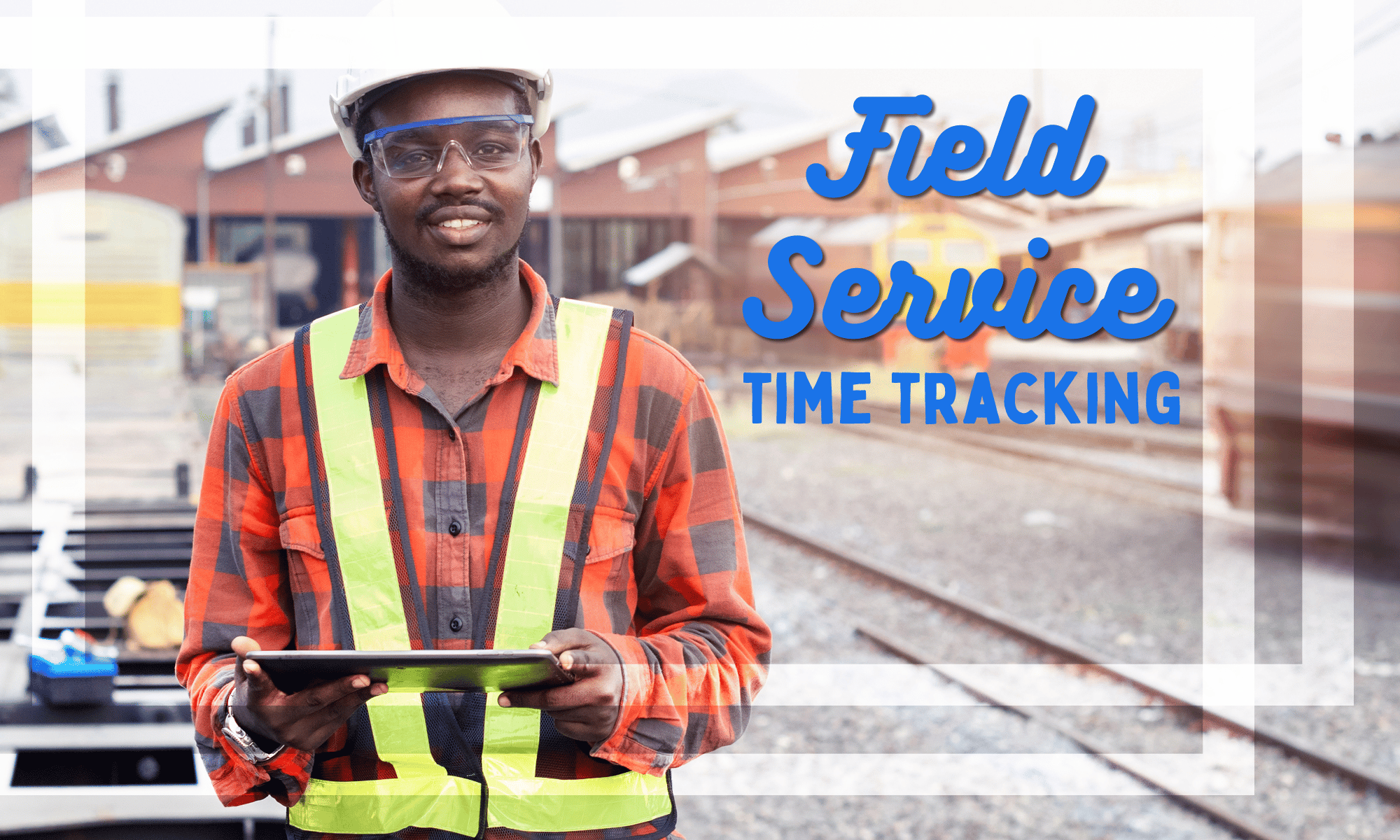 Proper field service management is critical to reduce the potentially disastrous costs involved with off-site field service operations. Improper time management, day-to-day miscommunications, and scheduling conflicts can result in setbacks, poor customer service, and a hit to your service organization's profitability and reputation. Worst of all, since employees are off-site, you'll have a very minimal amount of control you can exert over what your field technicians are doing.
Or at least, you would, unless you were using an effective field service management software.
In this post, we're going to outline our top 5 favorite picks of software designed for field service businesses. Our priority in ranking these is going to be measuring how much control they give business owners when it comes to managing field workers, monitoring work time, and optimizing operations via work order & project cost management.
Field Service Time Tracking Software
Buddy Punch is an all-in-one management tool that was created with a specific focus on three aspects of time management: employee accountability, design simplicity, and operation streamlining. The idea was that once you implemented our software solution into your strategy, you would notice immediate benefits. With features such as GPS Tracking, Job Codes, Drag and Drop Job Scheduling, Notifications, PTO Management, Customizable Reports, Payroll Integrations, and Mobile Device & Tablet Compatibility, field service companies are able to overhaul their workforce management by using Buddy Punch.
Next, let's take a deeper dive into each of these job management features so it's clearer how they can have a positive impact on your business.
Note: If you'd rather get a feel for these features on your own, you can sign up for Buddy Punch's free 14-day trial here.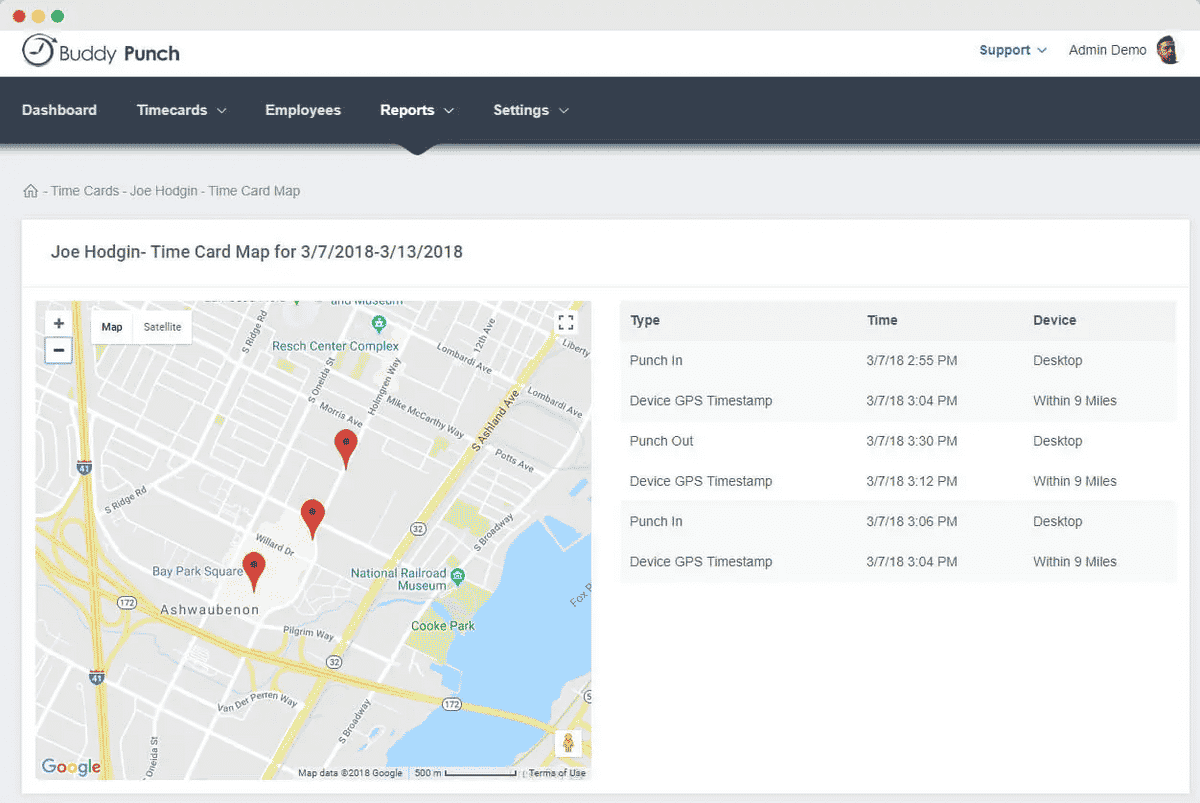 In our opinion, a quality field technician time tracking software should include GPS capabilities at the bare minimum. On a real-time basis, Business owners need to be able to keep up with their service professionals' locations, what jobs they're currently working on, and whether they're in a position to respond to new service requests as they come in. Buddy Punch's GPS Tracking (which marks punch-ins on an interactive map) empowers business owners to make snap decisions based on service technician locations.
Meanwhile, a later look at this GPS data in your work history can help with pre-emptive route planning and later route optimization depending on the frequency of certain service calls. If you're sending the right technicians and getting repeat business thanks to their skill sets, there's no reason to not optimize dispatch scheduling based on what you know about your repeat business (while still preparing for new jobs).

Bottom line: field time tracking is the key to achieving operational efficiency for your business. With Buddy Punch's Job Codes feature allowing you mobile access to locations, you can monitor how much time your field service teams spend offsite or onsite throughout the workday. If a technician works on multiple jobs in the same day, they can easily swap to the right job codes as they finish a task and change what they're working on. Then, you can view all the jobs an employee worked on their time card to focus optimizing business operations based on which service industry tasks provide the greatest profit for the least time.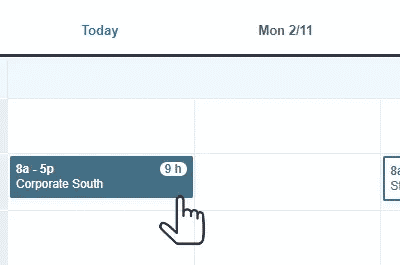 How do you handle field service scheduling for your techs? With Buddy Punch as your service dispatch software, you can use a Drag & Drop scheduling method to streamline the whole process. You can create shifts in Buddy Punch's interface by clicking on empty cells, then move them around while using the visualizer to see how well you've scheduled your team. Once you publish the schedule, a notification will be sent out to your technicians automatically.

Speaking of notifications, Buddy Punch lets you automate various communications through our built-in alert system. For example, administrators receive a notification when team members clock in or request a change to their time card (such as putting in a leave request). Administrators can then approve or deny this leave request, which sends a notification back to techs informing them of the decision. This means that everyone can focus more on work and remain secure in the knowledge that if something important happens, they'll receive a heads up.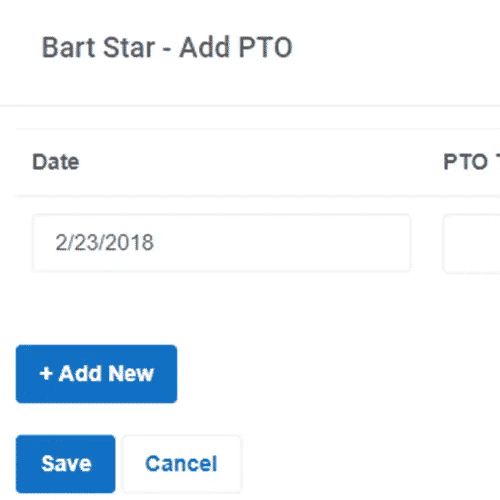 Sick time, vacation days, personal leave and more – Buddy Punch's user-friendly PTO Management system gives you complete control over your team members' absences. You can even create custom PTO types as you want.
Additionally, you can implement a self-service approach to PTO. If you enable this feature, your techs will be able to put in a leave request and get it approved automatically. Otherwise, you can approve or reject as you require. There's also an Accruals feature for businesses using that method of accumulating PTO.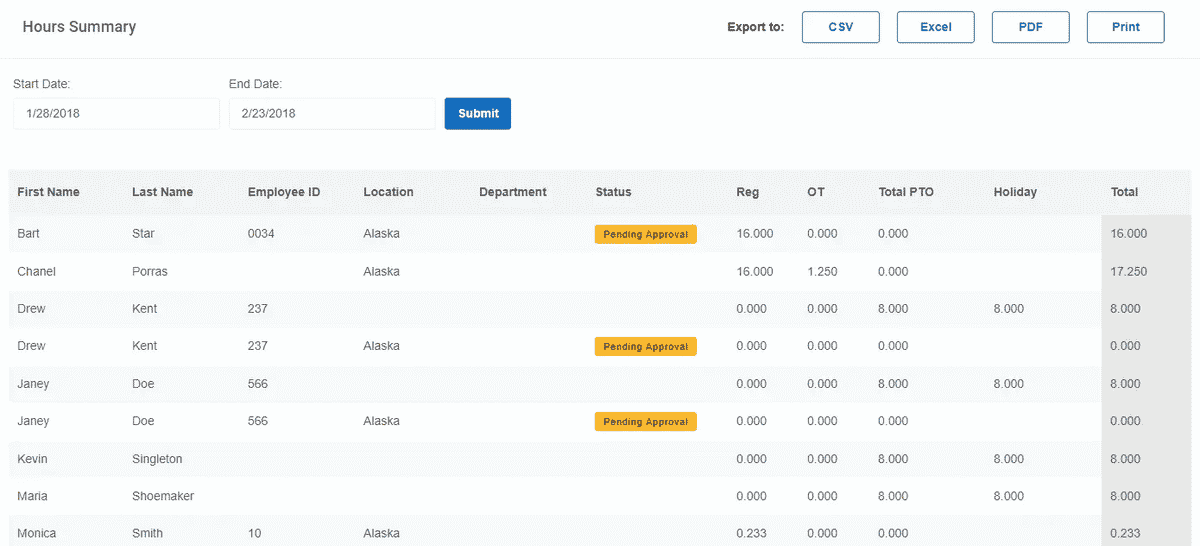 Buddy Punch's customizable reports feature gives you the power to make meaningful decisions with all the data collected during your techs' work days. With this, you get a detailed overview of your employees, their hours, overtime, locations and more – all of which can be exported to PDF or Excel formats depending on your preference.

Another aspect of workforce management that Buddy Punch streamlines is how the end of each pay period is handled. Rather than having to sort through and transfer all your employee data to ensure that payments are accurate, Buddy Punch makes it easy to send that data directly to your favorite Payroll software. Some popular names include QuickBooks, ADP, Paychex, and more – click here to view the comprehensive list of payroll processing tools Buddy Punch integrates with.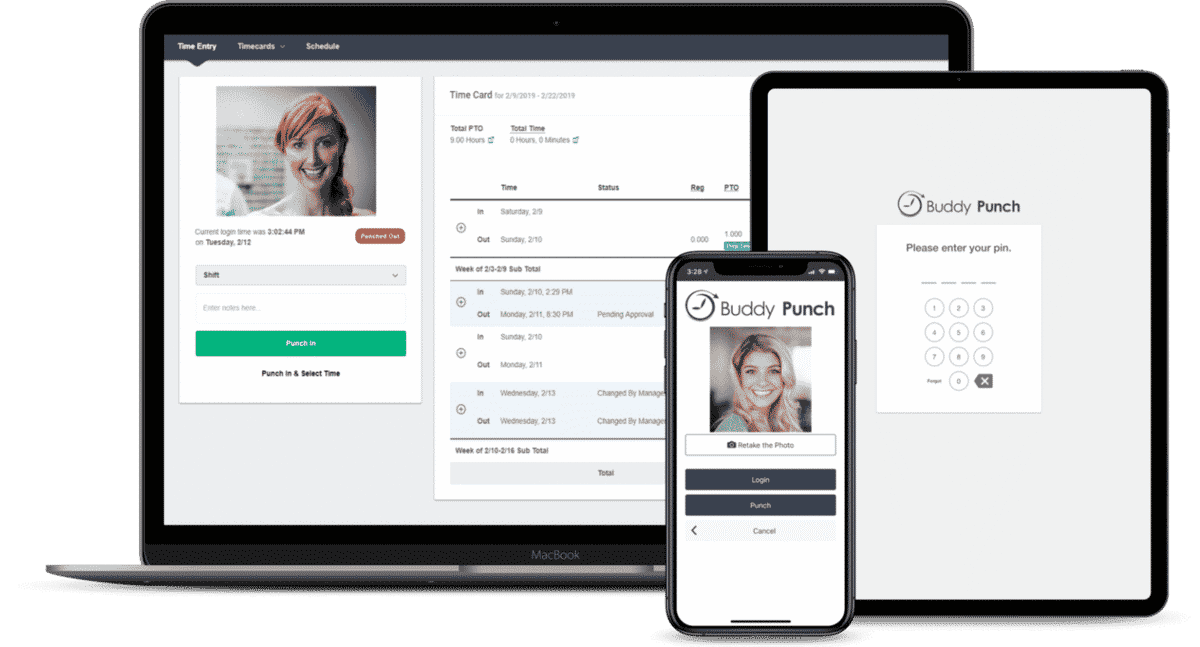 Mobile functionality is mandatory for field technician time tracking at remote job sites. Buddy Punch provides this, but also takes it a step further by including tablet compatibility as well. You can be sure that you can monitor time entries from anywhere, any time, as long as you have an internet connection.

Buddy Punch Brings More to Field Service Businesses
We've only just scratched the surface of everything a cloud-based field management software like Buddy Punch offers. Consider other features you can mark off your checklist such as:
There's more that you get with Buddy Punch beyond what comes in our software. We have a constantly updated blog section on our website for business owners seeking methods to improve their management, our help doc center contains articles on utilizing our program, and our customer support team is always available to answer questions via live chat.
Don't just take our word for it. You can book a one-on-one personalized demo here.
Buddy Punch's Online Reviews
As of this post's writing date, Buddy Punch has 4.8 out of 5 stars and 688 reviews on Capterra.

Below, we'll list just a few reviews that speak to Buddy Punch's ease of use and ability to monitor remote employees. (Click here to explore the full list of reviews.)
"Very inclusive of everything admin needs to address different scenarios "in the field". Mutiple customer reps were available via "Chat" to help with set up and answer questions. Rep was very knowledgeable and helped me with every single question and scenario I had trouble with. Now I am familiar with the site and can easily use all its functions. Using Buddy Punch has been fabulous thus far."

Click here to read the full review.
" Buddy Punch is easy to use for managing our remote team members. It's easy to set them up in they system, establish their locations, and manage how they can punch in and punch out."

Click here to read the full review.
"Managing remote personal assistants can be time-consuming and sometimes a worry. This has helped me tremendously keep track of my assistant's pay and ensuring a clean and smooth process."

Click here to read the full review.
"Buddy Punch saves my team of managers time when trying to collect time-sheets and by being able to approve time-sheets remotely. It's also easier to log in on a daily basis via the app so staff stay more current on their hours. This makes it easier not having to recall 2 weeks of time worked like when they were using a paper time-sheet."

Click here to read the full review.
As these reviewers noted, Buddy Punch was easy to use and effective at managing team members.

Try Buddy Punch for Free
If you feel that Buddy Punch might be the time tracking for field workers you've been looking for, sign up for a free trial. You can also book a one-on-one free demo, or view a pre-recorded demo video. Buddy Punch works on any device with an internet connection, including both Microsoft and Apple devices.
FieldAware is a Field Service Management Solution (FSM) with a wide variety of features that will improve your performance on premises and boost customer satisfaction, such as:
As of this post's writing, FieldAware has a rating of 3.3 out of 5 stars, based on 62 reviews (see on Capterra).
"Overall we now easily dispatch field techs, export/import time sheets into our time payroll system, and can locate associates for a more efficient mid-day dispatch."

Click here to read the full review.
WorkWave is a field service software that tailors itself towards cleaning, HVAC, and landscape professionals. Its features include:
This is a strong mix of features for your field service team to complete their tasks, your back office staff to perform resource routing, and for you to optimize customer management. As of this post's writing, WorkWave has 3.2 out of 5 stars and 45 reviews on Capterra.

"The ease of set up, Work Wave setup team migrated our database for us. They set up multiple sessions for training and was so helpful and professional in teaching us the working of this program. They even set up additional sessions of basic training when we lost the employee that was first trained on the system. "

Click here to read the full review.
Whether your business is pest control, lawn care, construction or anything else field related, Synchroteam can help you manage your team. At the time of writing, Synchroteam has a total of 56 reviews on Capterra (see here), with an average of 4.5 out of 5 stars. Some of its key features include:
"We helped Future Connections select, implement & migrate to ST from an outdated FMS. It was an easy switch, because FC's processes are well supported by ST. The planning is now more efficient and the efficiency of the field team has also increased significantly. The capability to monitor progress has improved, as has the ability to support last minute changes"

Click here to read the full review.
Field Promax is a work order management software that Improves operations for both remote technicians and office staff. At the time of this post's writing, Field Promax has 1 review on Capterra (see here) and a 5 star rating. Some of its features include:
"FieldPromax is the best value for money. It has all the necessary functionalities to organize my work and keep in touch with my technicians. At the same time it very intuitive and I don't get flooded with too many features."

Click here to read the full review.
Honorary mention goes to Jobber, which is known for a strong customer experience and smooth payment processing). Housecall Pro and Service Fusion, especially because the latter can be connected to AWS IOT (Internet of Things) which is rapidly changing the field service industry.
Choosing The Best Field Service Time Tracking Solution
Even though these are some of the most popular field service monitoring systems on the market, not all of them are going to be a fit for your business. Ultimately, it still comes down to a matter of trial-and-error, analyzing features, and doing your research to determine which one will be the best fit for you and your techs.
If it's important for you to be able to track business development through software, WorkWave might be the solution for you. If you value having Inventory Management as an option during field service management, Synchroteam has you covered.
But, if what you're looking for is a flexible tool that allows you to enable or disable features depending on what your techs respond to, a simple user interface that makes it easy for anyone to understand, and a responsive customer support team to swiftly solve any issues that arise, then you can't go wrong with Buddy Punch.
Try Buddy Punch for Free
If you feel that Buddy Punch could be the field service tracking tool your business needs, sign up for a 14-day free trial (no credit card required). You can also book a one-on-one demo, or view a pre-recorded demo video.

You May Also Like…