Mobile App Scheduling
Available for Android and iOS.
Employees can submit time sheets, punch in & out, and view time off all from the mobile app. You can review, make adjustments, and approve time sheets.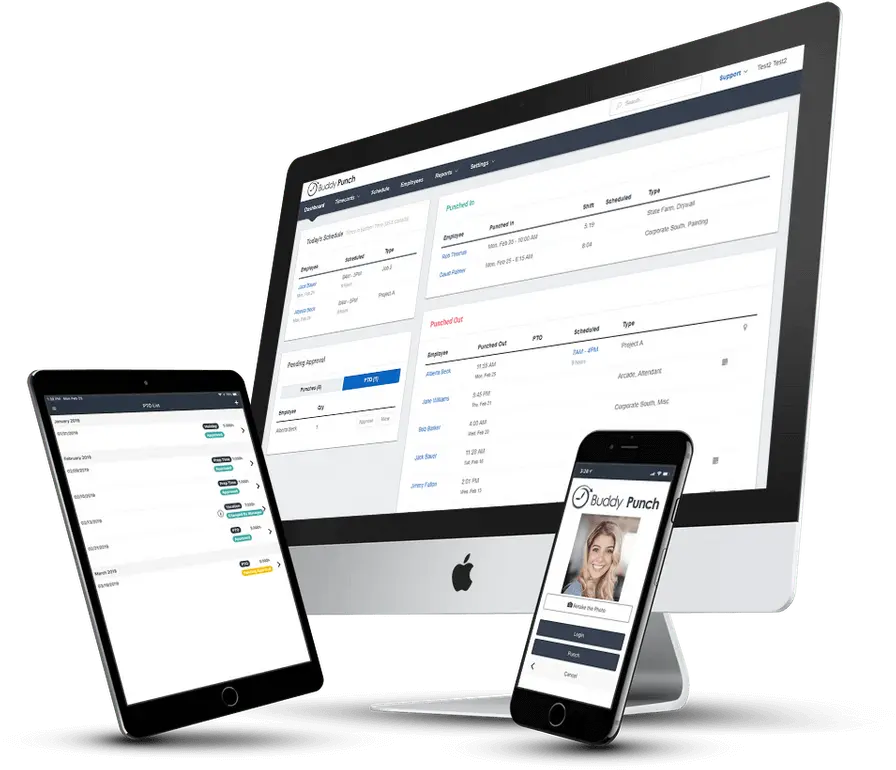 Our site looks great everywhere
Buddy Punch is web based, so any device with a browser can use Buddy Punch. The only thing required is an internet connection.
Employee scheduling app for iPhone, Android and Windows devices
With Buddy Punch mobile app scheduling, you no longer have to worry about no-shows, late arrivals or missed shifts. You can quickly adjust employee schedules or add new job assignments all with the few clicks. Buddy Punch mobile app scheduling is efficient and seamless – making it a great option for businesses of any size.

Shift notifications
Receive notifications if an employee misses their shift, punches in late, or punches out early. Notifications can be sent by email, push notification or both.

See who's punched in
See who is punched into their shift for the day directly from the mobile app. Review schedules for the following day to ensure everything is accurate.

Automatic shift updates
When you publish a shift or new schedule or make changes to an existing schedule, you can notify your employees immediately by email, push notification or both.
SHARE SHIFT UPDATES IMMEDIATELY
An important aspect of running a succesful business is communication. With Buddy Punch, you can notify employees immediately if new schedules are published or if any changes are made.
Employees can view their updated schedule directly within the mobile app or through their mobile devices web browser.
Take the guesswork out of scheduling with Buddy Punch!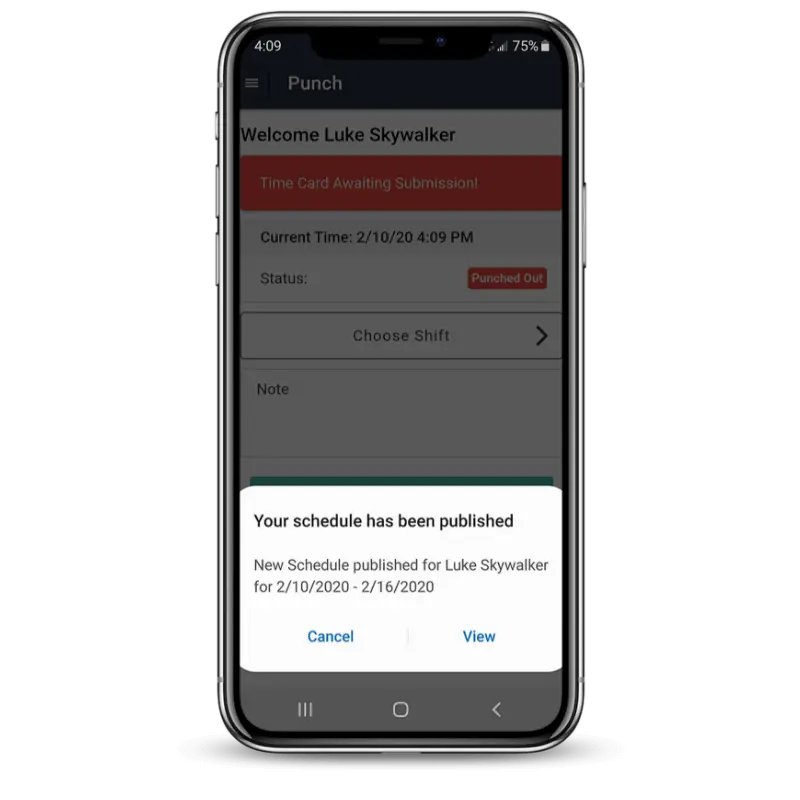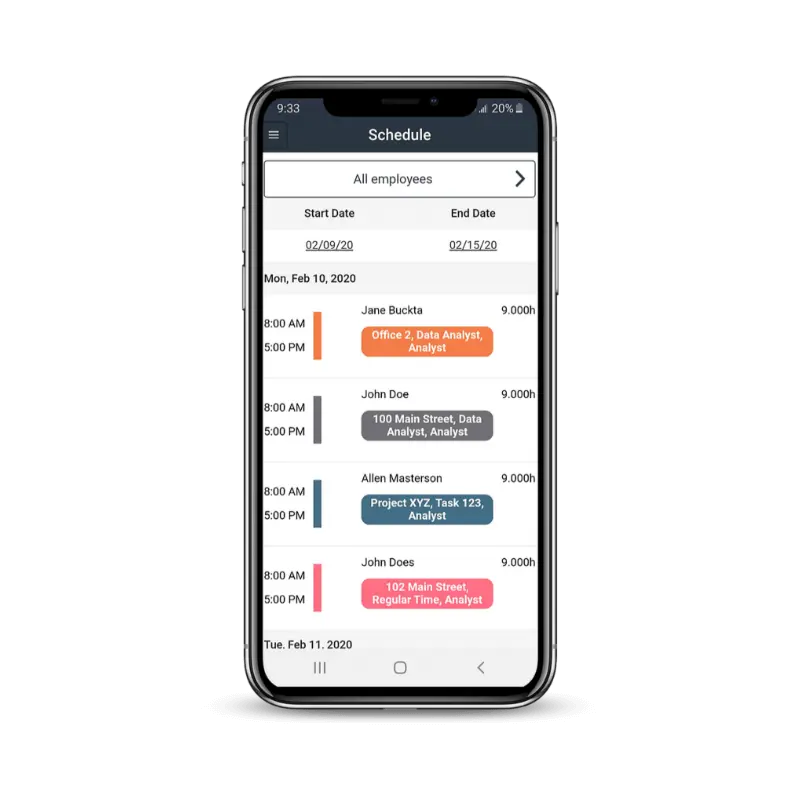 ELIMINATE SCHEDULING GAPS
Staff shortages and out of control labor costs are just a few of the issues that arise with inefficient scheduling. Fortunately, Buddy Punch time clock software is the perfection solution to these issues and more.
With our easy to use scheduling software, you can prevent problems you never thought you would be able to resolve.
Our scheduling software can help to create a work environment where everyone is where they're supposed to be. Easily update schedules to meet your ever-changing needs.
BUDDY PUNCH SUPPORTS MULTIPLE DEVICES FOR EASY ACCESS
Buddy Punch will work on iPhones, iPads, and Apple computers. Please note that the webcam feature will only work on Apple computers.
Android phones and tablets are also supported, and the webcam will work on them too as long as you're using the Chrome Web Browser.
Lastly, we support all Windows devices, including tablets and phones. In fact, all features will work on Windows devices as long as you are using the Chrome Web Browser (Firefox is also supported for most features).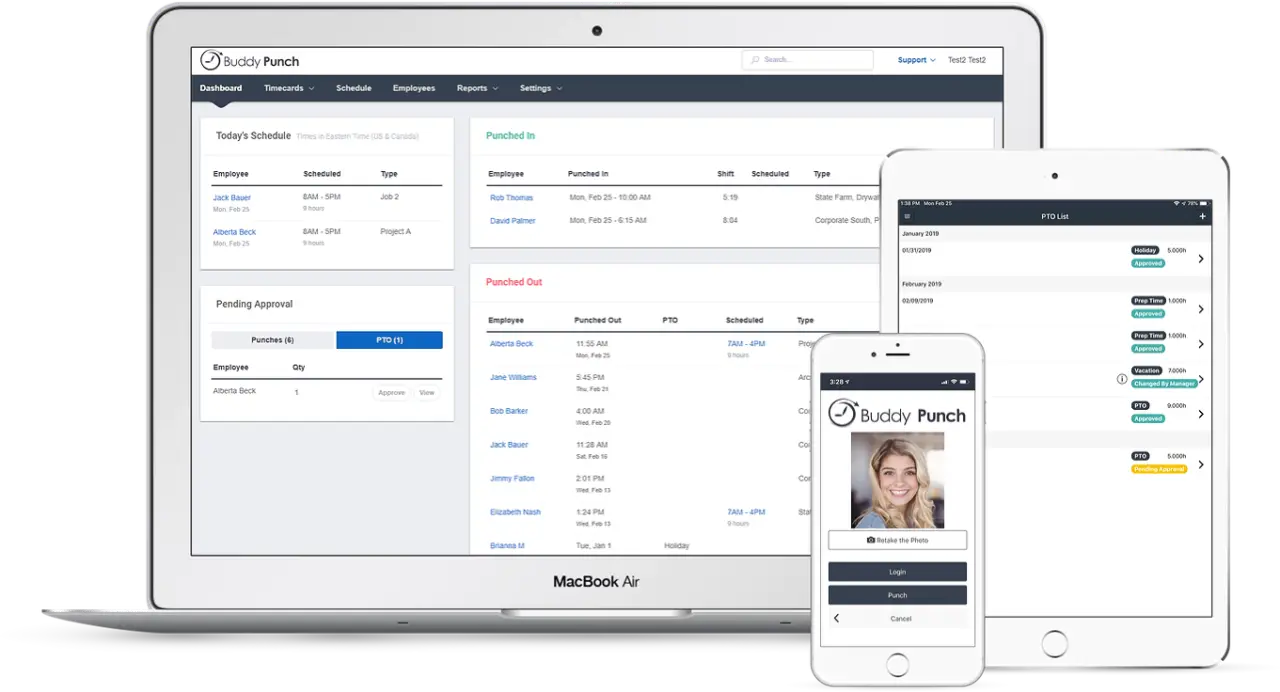 What Our Customers Say:
4.8/5 (491 Reviews)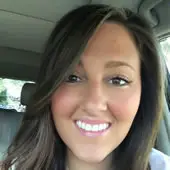 "Not only is the software easy to use, but the customer service is excellent! If I have an issue it is always taken care of within 24 hours if not within a lesser amount of time."
AK Dale
Hiring Manager at AXPM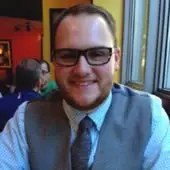 "Buddy Punch is very helpful in tracking employee hours and setting up multiple worksites that can be tracked by location and individual."
SEAN
DIRECTOR OF OPERATIONS, STREET BEAN COFFEE ROASTERS

Other Operating Systems are supported too – we just ask that you use the Chrome Web Browser for the best experience.