5 Best Time Clock Software for Students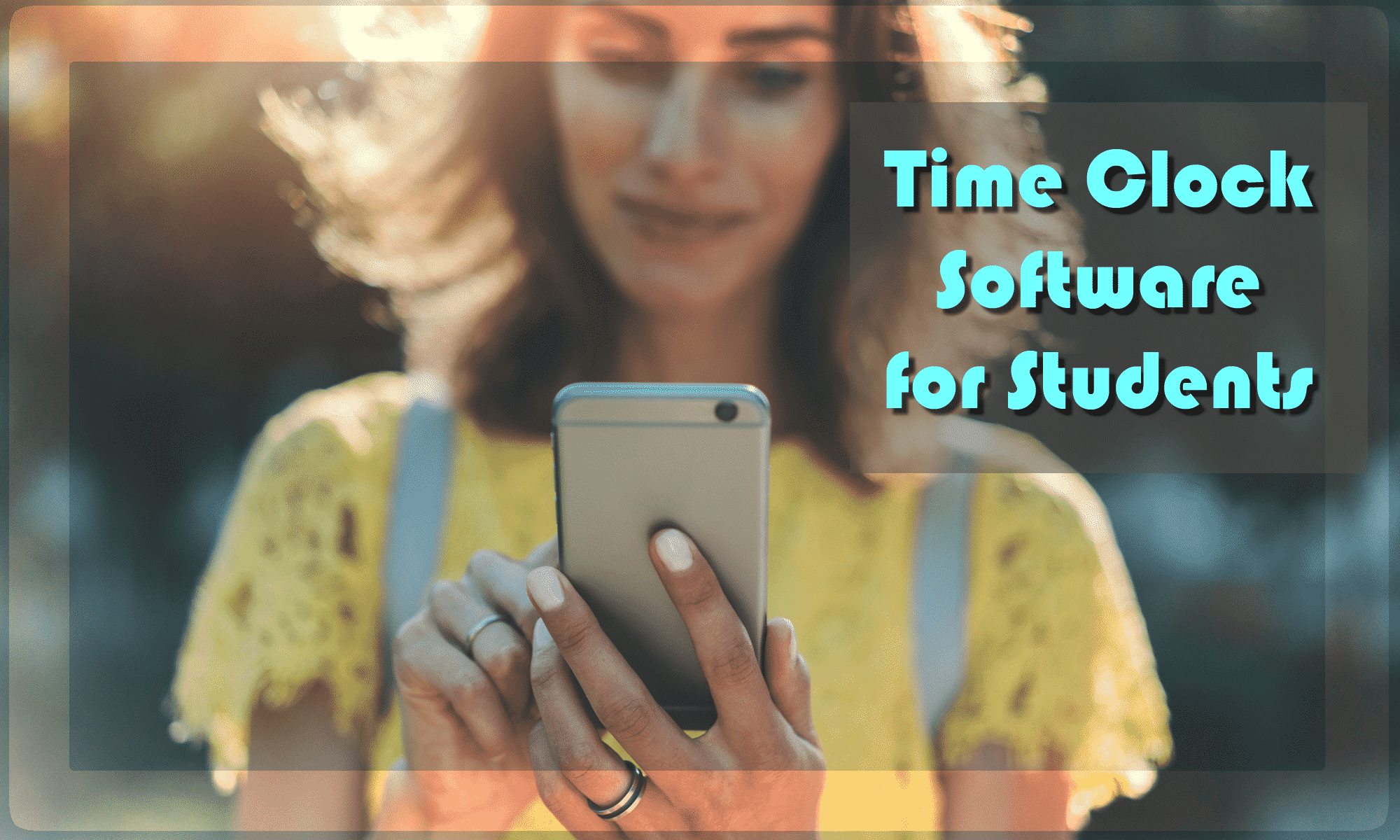 Keeping track of whether students attend lectures is time-consuming and administratively burdensome. Conventional paper registers take time to fill out and process and are vulnerable to fraud.
Time clock software for students aims to correct this. Here, students punch in and out of lectures and seminars in the same way that employees might when starting or finishing a shift. This way, administrators can track who is showing up for courses and see whether they are fulfilling their obligations. Furthermore, the best time management apps also help individual students better manage their time through customizable features, emergency notifications & reminders, synchronized time, and options such as to-do lists.
Cloud-based online time clock systems for students offer three fundamental benefits:
They increase student accountability (i.e. accurate LCD time displays ensure that they show up for lectures, seminars, and other educational activities) which makes them effectively double as productivity apps
They save on processing time (i.e. electronic attendance records are updating automatically, negating the need for manual input other systems have which drastically reduces the amount of time spent tinkering with time sources)
They provide a more personalized experience than a typical master clock or bell system (i.e. instead of relying on a school clock system that notifies everyone of class changes, these time clocks go on student devices and can tell them specifically what their next classes or tasks are.)
In this article, we'll take a look at Buddy Punch's time clock software for students and how automation can help ensure that they receive the proper education, exploring how it can track hours through the school day, work across multiple locations or school buildings, and accept unlimited users.
After that, we'll look at some of the alternative time clock systems available on the market and some of the advanced accurate time tracking features they offer to give you a more complete picture of what's out there.
Best Time Clock Software For Students
How Buddy Punch's Time Clock Software Boosts Student Accountability And Encourages Attendance
Back when we were intent on increasing time management skills among our team, we stuck to manual methods and spreadsheet templates. But in the digital age, we've learned to appeal to learners that are used to software and apps such as Google Calendar. When we decided to make an app, we wanted to make an all-in-one tool that could serve as a focus booster to make users hit milestones.
While Buddy Punch offers a host of time tracker features to ensure student accountability, it is worth going into detail first about some of the ways that it improves educational establishments' operations:
Students can clock in and out using software that automatically tracks their location whenever they have an internet connection
Universities and colleges can use mobile app clock ins to see how many hours students are accumulating
Students can better organize and manage complex schedules using timesheet software and time management tools
There's no need to worry about clunky wired clock systems and FCC-approved atomic clocks (or even wireless clock systems) since Buddy Punch works directly on Desktop devices (Mac and Desktop) as well as smartphones (iOS and Android) and tablets. No cabling required.
Increase Attendance With Photos On Punch, Geofencing, And Facial Recognition Punching
Buddy Punch comes with a host of features that ensure that the students who should be in attendance are present and doing work, not just staring at the wall clock or checking social media.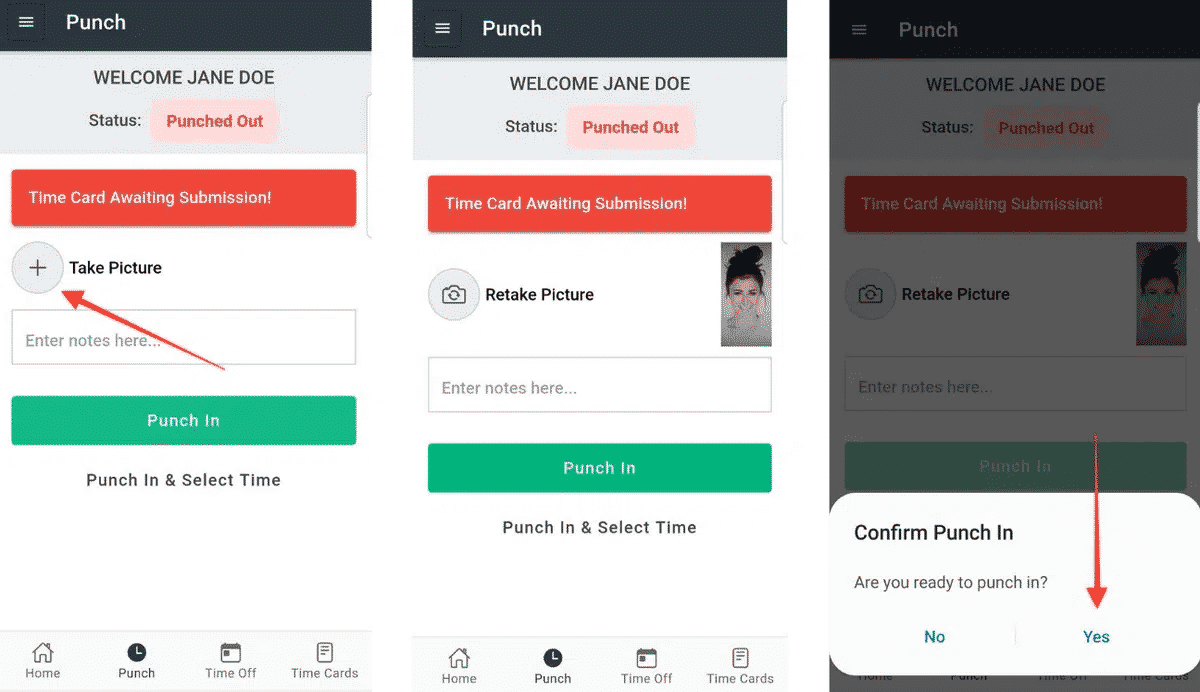 Photos on punch require students to take a photo of themselves while punching in on their various devices (Buddy Punch works on Desktop – Microsoft Windows or MacOS, as well as smartphones such as Android or iPhone) . The goal of this feature is to avoid other students punching on their behalf, similar to how companies keep track of employee hours. It also helps attendance tracking and ensures that students are punching into the correct lecture or seminar.
Note: Click here to learn how this feature could assist your institution.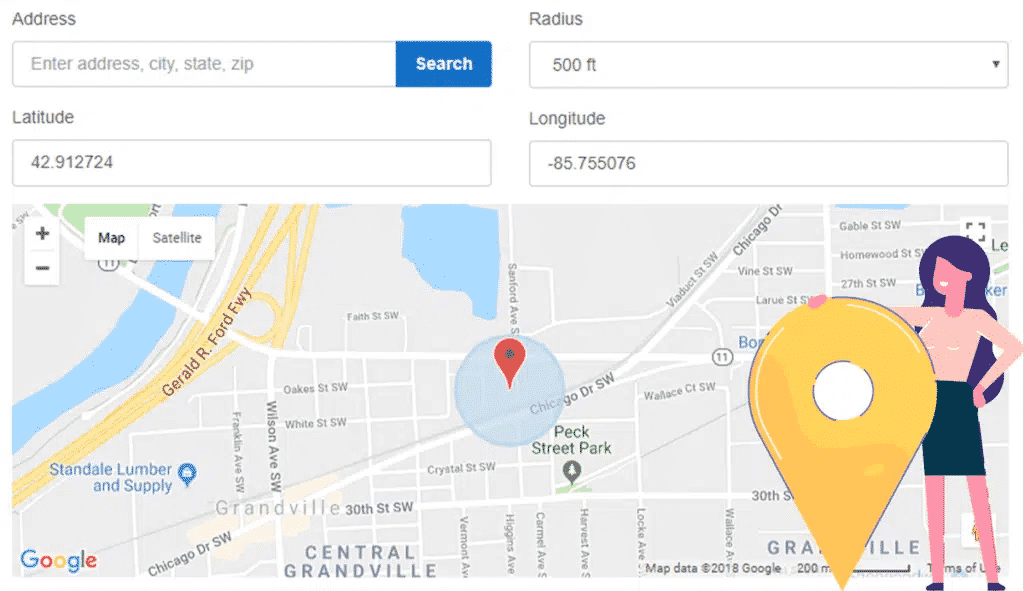 Students may sometimes attempt to clock in when not present at the relevant high school or college. Fortunately, our time clock wizard uses geofencing to prevent this. Time tracking software ensures that k-12 or college students can only clock in when within a certain number of feet of a specific location. If they try to save time and sign in outside of the radius you specify, they will receive an error message telling them to move closer to the desired location. With this enabled, school administrators can shift gears and focus on prioritizing other aspects of their school system.
You can streamline the punching-in process using Buddy Punch's facial recognition technology. Students simply point their device's camera at their face when at the venue, making logging in a breeze and preventing other students from posing as them to fake being on the bell schedule.

Time-Saving Features That Reduce Administrative Costs
Buddy Punch brings a host of time-saving features that enable you to process student attendance data more rapidly than free time clock apps.
With sick and vacation features, you can easily see which students are taking legitimate time off. You can also use this widget to block out weeks during which attendance is not expected, such as between semesters.
Buddy Punch's report generation tool also makes it easy to see who is clocking in and out, similar to how employee hours tracking works. With our solution, there is no need to manually transfer registration data to spreadsheets. You'll always have the correct time data on your students, which you can even use to create case studies based on student attendance.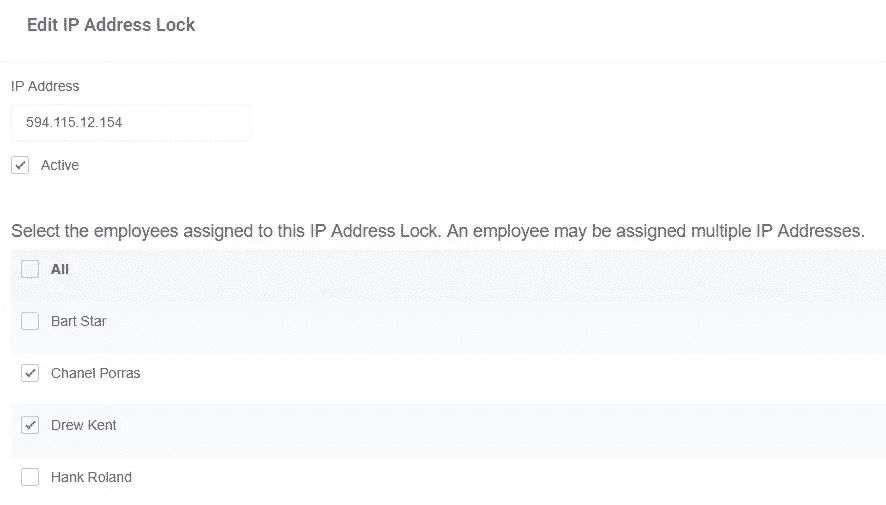 You can also prevent students from time clocking from unregistered devices. Only allow them to use IP addresses that you assign, such as a punch-in station at the entrance to a lecture theater. (Also known as setting up Buddy Punch as a kiosk, something that not all analog clock or digital clock systems allow.)
Buddy Punch's Additional Features
As you might expect, there's more that makes Buddy Punch a master clock system than just the features we've described above. If you're considering implementing it at k-12 schools, you should know what else you'll be able to make use of.
The full list includes:
System wide power outages won't affect Buddy Punch like it might affect a synchronized clock system. All Buddy Punch needs to operate is a working internet, wifi, or ethernet connection, so students can easily swap to their mobile devices if something happens (such as a storm that knocks out the lighting, taking down the PA system, school bells, and resetting clocks, but still leaving internet connectivity).
Buddy Punch's supplies help documentation that educational institutions can use to make the best possible use of our software and correct errors. Members of our team are always available for live chat and troubleshooting issues that you may face.
Buddy Punch's Online Reviews
Buddy Punch has a 4.8 out of 5-star rating across more than 789 reviews at the time of writing, ranking it as one of the top time clock software solutions for students on the market.

As several customers have already noted, Buddy Punch's time clock software for students is extremely useful and helps with time tracking, late clock-ins, and payroll process where applicable. In fact, universities can actually use it for employee scheduling as well, beating out wireless school clocks, hand-held timers, or paging systems.
Students sometimes use it to track their hours, too, particularly mature students used to using employee time clock software. Time tracking helps with time management.
Overall: It is very convenient and easy to use
Pros: I can control my hours and see the changes that my supervisor does regarding my hours
Cons: Not at this moment, at the beginning was kind of unfamiliar with the product I was able to manage my hours and others resourses

See the full review here
Overall: BP has been extremely accessible for customer service and have been open to suggestions for improvements/additional services. They have steadily grown over the last several years, offering more and more helpful services and integration with other programs. BP was also extremely accommodating during Covid shutdowns, allowing us to freeze our account in good faith that we would pick up where we left off as soon as we were able.
Pros: Very easy for employees and administrators alike to track time and edit if necessary. Provides accountability for our employees with the location settings such as GPS/Geofence. Provides a variety of reports that are helpful. Provides our employees with mobility–we can send them to any job site, and they have the ability to punch in/out.
Cons: Would like a report that provides a daily snapshot, chronologically, of who punched in/out and at what time. If this exact report exists, I have not been able to find it.
Alternatives Considered: Quickbooks Online
Reasons for Choosing Buddy Punch: It was more cost effective and much easier to contact for help.

Check out the full review here
Overall: I had used other more expensive systems at previous employers and Buddy Punch has be more than sufficient for our size of business. It is easy to run the reports- PTO, location of services, and the geofence. My favorite time in option was the facial recognition- the main problem with it was if someone had a beard and then shaved it or got a major change in hair styles we had to take their picture again.
Pros: Buddy Punch is easy to set up and use. Once staff is set up in Buddy Punch they are able to manage their time cards with min assistance. We have used the facial recognition and the scan code- The facial recognition works the most consistently. It is pretty self explanatory for staff to be able to put in PTO for approval and add notes if they need a time adjustment because they forgot to time in or out. There are several reports we use including the location worked, pto, and the location of timing in or out. We had staff that would time in or out from their car on their phone when they were to time in and out on the computer. We were able to monitor that and reinstruct the staff.
Cons: When an employee needs to be removed from the active payroll it takes a few weeks for the persons name to be moved to the inactive list. We tried using the QR codes for timing in and out but the staff would forget their card, the computer would not recognize the card or if their was a poor light, it would be difficult to get it read.
Reasons for Choosing Buddy Punch: We have not considered other products because Buddy Punch has met our needs and they are frequently sending out emails with improvements to the program.
Reasons for Switching to Buddy Punch: We wanted more features and a better cost.

Read the full review here
Try Buddy Punch For Free
If you feel that Buddy Punch could be the time tracking software for you or your educational institution, sign up for a free trial. You can also book a one-on-one demo, or view a pre-recorded demo video.
Connecteam was originally designed for commercial settings, but it is easily adapted to the college or university environment. It offers some transferable features that educational institutions can use to improve student tracking and students can use for time-keeping, but it is not a free time clock solution.
Here's a list of what the time tracking software lets you do:
Connecteam is rated 4.8 across 143 reviews on Capterra. Here is a review that highlights how it improves task management:
Overall: Connecteam application gives you the power to do more anywhere and anytime, and it allows for the real-time exchange of information and multimedia files.
Pros: Connecteam is an all-in-one application that gives staff the power to access and do so much at once on their mobile be it clocking in, checking directories or sending messages and so much more. The setup process is so easy and flexible supporting not just a mobile smartphone but also quick to use on laptops and other devices.
Cons: One of the cons of connecteam for me is the fact that you get charged when sending a text message through the number on the directory list.

Read the full review here
Click here to see all Connecteam's Capterra reviews.
Connecteam is an advanced time tracking tool that easily finds utility in the educational space. While you might not use all the features a business would, things like the student GPS tracking feature and automatic punching save both time and money
OnTheClock might be one of the best time management apps for students because it makes it easy for educational institutions to keep tabs on students, and for students to manage their time but, like Connecteam, it is not a free time clock app.
As of the time of writing, the software has a total of 504 reviews on Capterra, with an average of 4.7 out of 5 stars. OnTheClock is appealing to colleges and universities because of its stellar features, which include:
Here is a review that speaks to OnTheClock's utility for students::
Pros: It's easy to use. Can navigate through the software easily. Needed something functional every other software is complicated or cost too much money. We are a very small business on a budget and this software is exactly what we needed.
Cons: I don't use everything on the clock offers so I cannot be more helpful in this part of the questionnaire.

Read the full review here
Click here to see the full list of OnTheClock's Capterra reviews.
OnTheClock is currently trusted by more than 15,000 organizations, including colleges and universities. Biometric and fingerprint options make it particularly attractive for educational institutions that want to register student attendance seamlessly.
Insightful not only provides easy clocking in and out but also offers deep behavioral insights, too, designed to give educational institutions more information about students and their attendance profiles. You can track time, make notes of paid time if you have working students, and make time clocks available.
Currently, Insightful has 46 Capterra reviews, with an average score of 4.8 out of 5 stars.
For educational establishments, the attendance software offers key features including:
This review shows how helpful Insightful helps improve time management:
Overall: Very good. It lacks a few features but they price they advertise is the price you pay. No hidden cost written in size 2 font. Support was quick to reply. This is the service I decided to use.
Pros: It's easy to use, offers lots of information. You can have projects and put in the cost of the project so this tracks the hours and what the bill needs to be. It has both admin and user control panels and I got great support for my questions.
Cons: It's lacking a few features. I'd like to be able to attach website urls to projects. It needs sortable reports which you can export.

Read the entire review here
Click here to see the full list of Workpuls Capterra reviews.
Insightful offers in-depth information on time and attendance. It shows the total time that students spend in lectures, seminars, and even the library – the difference between Clock In and Clock Out time.
TimeCamp is completely free software that thousands of organizations use to keep detailed information about users' activities and locations.
Figures from Capterra show that TimeCamp has an average score of 4.7 out of 5.0 stars across 551 reviews.
This review shows how TimeCamp can be helpful for students:
Pros: I use TimeCamp for my daily time tracking. It's really easy to use and flexible. I can start, amend and delete projects anytime and get precise time tracking in real-time. As we bill most of our clients monthly, TimeCamp has become a vital tool to prepare accurate invoices.
Cons: The overview of time entries for one project are a bit confusing, I find. Would like it more if it was partitioned by years, for example.

Read the full review here
Click here to see the full list of TimeCamp's Capterra reviews.
TimeCamp is popular among students and educational institutions alike for the simple fact that it is an easy-to-use tool that avoids overwhelming complexities. Synchronization with some third-party tools can be problematic, but this is rare. Being a commercial tool, you can use it for employee time tracking, too. As free time clock software, though, it might not provide all the features you need.
Alternative Ways to Encourage Time Management in Students
While using the above software will likely help out in a huge way, it's important to note how diverse and flexible students are. There's no harm in your team members multitasking their approach to encouraging greater accountability among students. Why not enforce mentalities that will work whether or not your students have access to apps to get them through their task lists?
Here are some other top time management tips and strategies you can use to fight off procrastination in your student body, helping them master due dates and better prepare for the sort of subtasks they'll be facing in the "real world."
Encourage note-taking. While a lot of apps specifically make manually taking notes seem obsolete (thanks to their ability to set reminders) the act of taking notes itself helps create an attachment to those details. Tools like Evernote and Notion are great for this.
Embrace to-do lists. Writing down what you need to get done, and checking that list repeatedly through the day, week, or month, provides structure and order that can make even herculean tasks seem practical. Though there are also to-do list apps such as Todoist, Remember the Milk, or Trello that can be great for this.
Talk techniques. There are all sorts of specialized studying and time tracking methods out there, and all of them have their fans. The Pomodoro technique is fairly popular, using a hyper-focus and then break approach to studying that's really easy to develop a cadence for. There are also tricks such as color-coding your notes based on subjects or difficulty.
Combine tools. Gmail, Chrome, Slack, Google Drive, Dropbox, Outlook – these are all services that many students use to various degrees, but they aren't aware how many of them integrate with other software they use for easier use and access. The more they recognize and embrace these links, the more capable they will be of tackling and finishing assignments.
When you take these ideas and combine them with a powerful student time management tool like Buddy Punch, you're truly setting up your students for success.
Try Buddy Punch For Free
Ultimately, when it comes to student time clock software, Buddy Punch is your best bet. What's more, you can try it risk-free when you sign up for a free trial.
If you just want to learn more, feel free to view a pre-recorded demo video of how to use our software, or book a one-on-one demo to learn more about how it could transform your operations.
You May Also Like…