Online Time Clock For Veterinary Clinic (5 Options)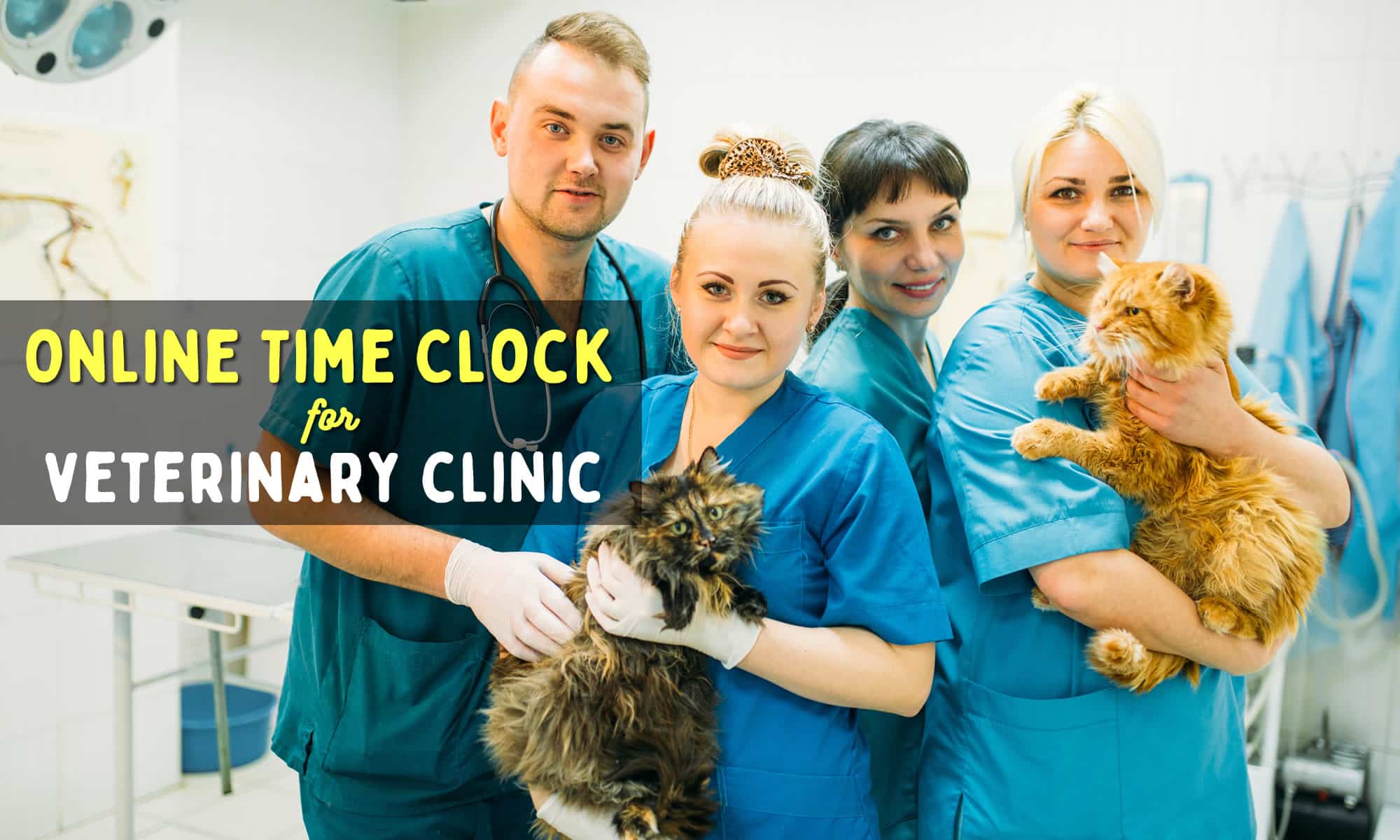 Whether you run a veterinary clinic or an animal hospital, an online time clock will enable you to keep track of timesheets and seamlessly feed these into your existing payroll system. No matter the size of your veterinary care organization, an effective time tracking system can play a pivotal role in keeping track of your employees and keeping everything running smoothly.
Here are just a few key advantages of using online time clocks for your veterinary clinic:
Gain a real-time picture of team hours worked at your veterinary practice.
Feed timesheet data into your go-to payroll processing system.
Leverage powerful reporting tools to break down team data.
Online Time Clock For Veterinary Clinic
1. Buddy Punch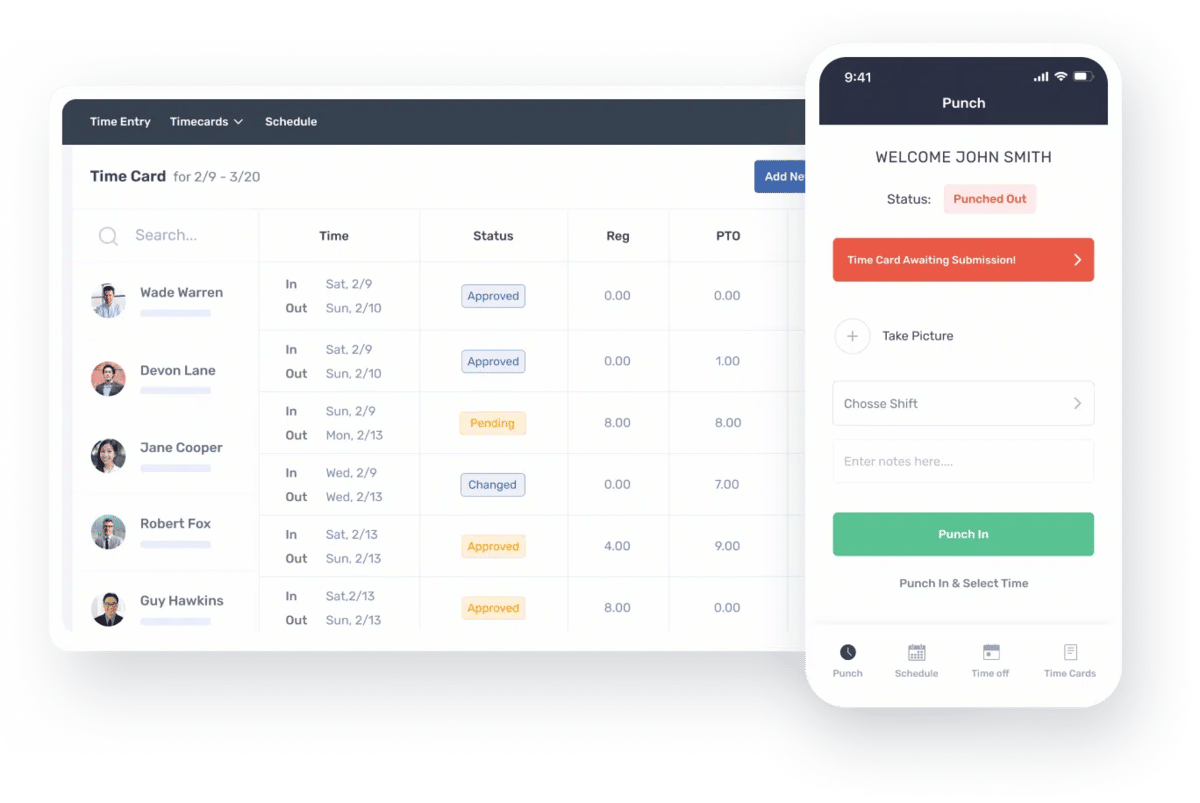 Buddy Punch is an excellent choice for online time tracking. It offers accurate record-keeping and easy calculation of payroll expenses. You can use its detailed reports to track employee performance and identify areas for cost savings. Buddy Punch allows team leaders to quickly approve PTO requests. Overall, it's a great tool for managing your veterinary team.
How Buddy Punch's Time Tracking Platform Works
With our time tracking platform, you can easily track your team's hours worked using a punch clock system. Employees can log in from any device and access their own time cards, which show the hours they've worked, along with start and end times. The platform also has a built-in payroll feature that automatically calculates employee wages based on their hourly rate.
In this section, we will take a closer look at some of Buddy Punch's key features.
Streamline Practice Management
Buddy Punch is well-equipped to streamline practice management at your clinic. All employee hours are accurately accounted for and their wages are calculated without delay. You do not need to worry about manually transferring the data, freeing up your time to focus on other tasks. You can say a firm "goodbye" to time-consuming payroll processing.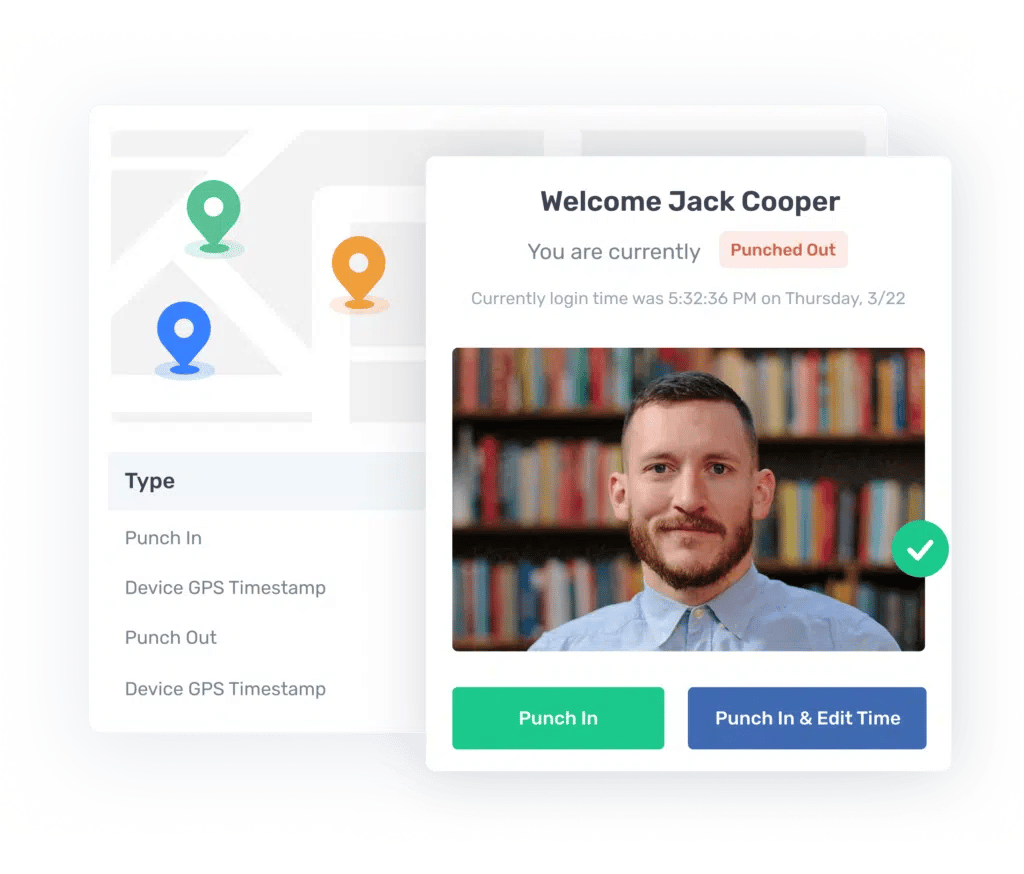 Get Your Veterinary Team Operating Effectively
Buddy Punch can help you improve the productivity and effectiveness of your veterinary clinic. This comprehensive platform offers in-depth analytics – enabling you to quickly identify potential areas for improvement and drive efficiency across your workforce. By using Buddy Punch as your time tracking solution, you can take your veterinary practice to new heights.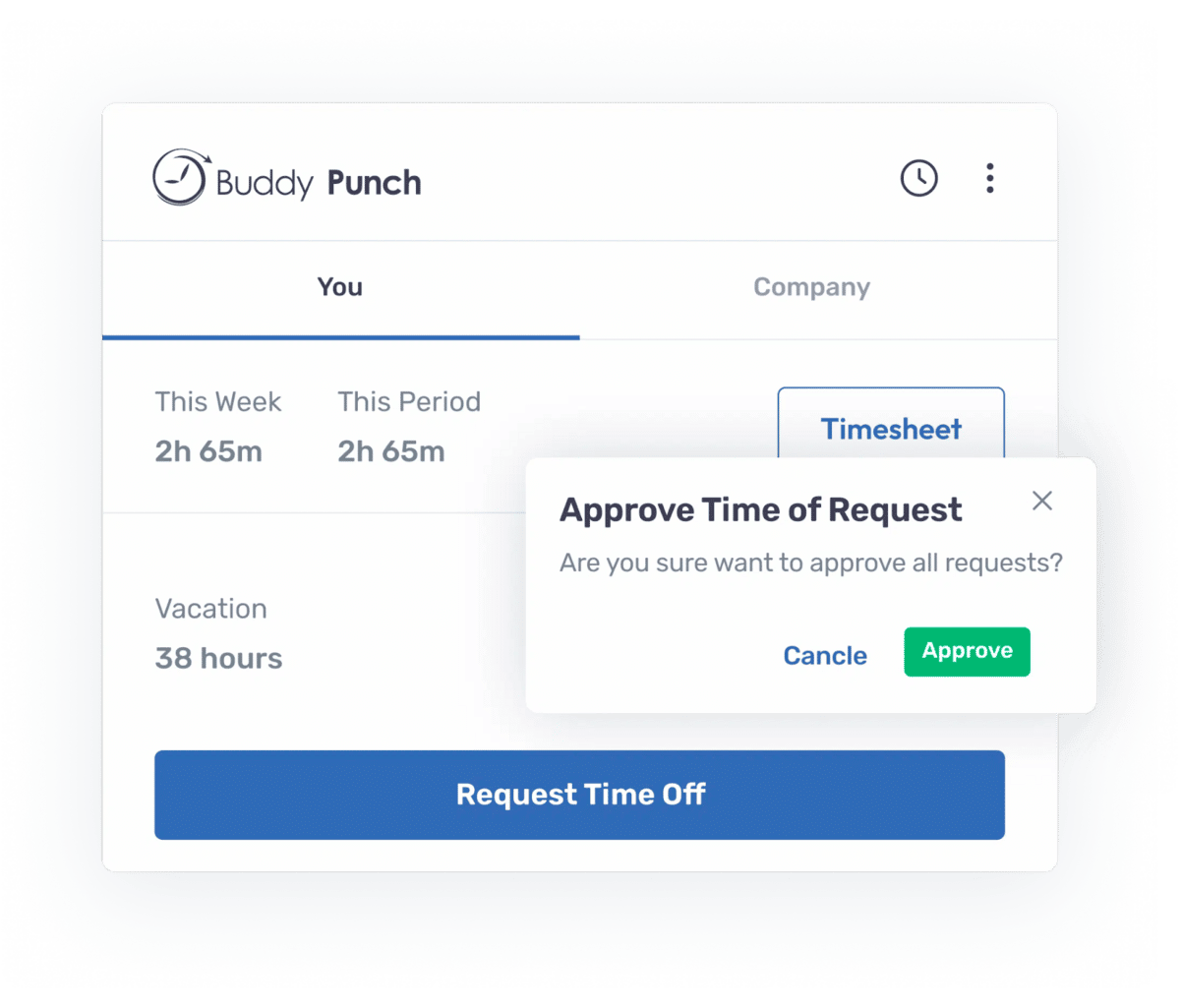 Address Timesheet Fraud At Your Vet Clinic
This timekeeping platform eliminates the risk of timesheet fraud. Team leaders at your vet clinic can monitor their team members' hours in real-time and use GPS location tracking to verify that they are checking in from the correct location, reducing the chances of any malicious activity. This will help ensure you have highly-accurate attendance records for all team members.
Buddy Punch is firmly committed to helping veterinary clinics unlock maximum value from this time tracking platform. If you want to learn how to use it effectively and take advantage of its powerful features, be sure to check out the "Knowledge Base" on our website.
If you cannot find the answers you're looking for, do not hesitate to reach out to us directly.
You can book a one-on-one personalized demo here.
Buddy Punch Is Perfect For Veterinary Teams
Here are just some of the features available across the desktop and mobile app:
Buddy Punch's Online Reviews
The user reviews are overwhelmingly positive! As of the writing date, Buddy Punch has 4.8 out of 5 stars and 759 reviews on Capterra.

Below, we'll list just a few reviews that speak to Buddy Punch's ease of use and great customer support service. (Click here to explore the full list of reviews.)
As reviewers have noted, Buddy Punch provides team leaders and project managers with the necessary tools to promote team accountability:
"I like the ease of use and flexibility of Buddy Punch. You can add features you want and don't have to be bogged down with what you don't want to use. Some sites have way too much. I wanted simple!"

Click here to read the full review.
"Cannot say enough about their support. Even if the product was not as amazing as it is, I would highly recommend Buddy Punch due to the unbelievable support!"

Click here to read the full review.
"This is a vast improvement over our antiquated system of having employees punch a time clock and then have someone send me a scan of each time card. I would then have to download all of them, look at them individually, tally the hours and then enter them into the payroll system! I do payroll each week in less than half the time now!"

Click here to read the full review.
Try Buddy Punch for Free
If you feel that Buddy Punch might be the right fit for your business, sign up for a free trial. You can also book a one-on-one demo, or view a pre-recorded demo video.
2. TimeCamp
TimeCamp is a time tracking system that simplifies the approval process for timesheets. It automates payroll and integrates with various payroll services to make the process more efficient. Its self-service solution allows team members to easily clock in and out, and employees can even use a mobile device to log their hours and complete time entries.
At the time of writing, TimeCamp has a total of 571 reviews on Capterra, with an average of 4.7 out of 5 stars. TimeCamp comes packed with a range of useful features:
"Amazing experience, I've tried several other apps and this is my go-to choice, the UI is simple and elegant."

Click here to read the full review.
3. Insightful
Veterinary clinic team members can use Insightful to track employee hours across their workforce and gain a real-time view of team progress. If you need access to a broad range of employee performance data, Insightful can provide you with all you need to make informed managerial decisions and enable you to lead your team of vets with a level of confidence.
At the time of writing, Insightful has a total of 79 reviews on Capterra, with an average of 4.7 out of 5 stars. Insightful lives up to its name by offering several useful features:
"It's easy to use, offers lots of information. You can have projects and put in the cost of the project so this tracks the hours and what the bill needs to be. It has both admin and user control panels and I got great support for my questions."

Click here to read the full review.
4. When I Work
Veterinary clinics and pet care businesses can use When I Work's time tracking solution to monitor employee performance and ensure everyone is logging the correct hours. With all you need in a centralized digital location, When I Work can elevate team productivity and enable those in leadership positions to consistently make data-backed decisions.
At the time of writing, When I Work has a total of 985 reviews on Capterra, with an average of 4.5 out of 5 stars. When I Work comes with a range of useful functionalities:
"When I Work is very simple to use and easy to navigate. My current or upcoming schedule always shows up as soon as I log into the app, and I can easily view my upcoming shifts and approve them. Putting in requests and setting my availability is also very straightforward. Finally, I enjoy the messaging feature, which is helpful for communicating with a whole team or with individuals whom I haven't shared contact information with yet."

Click here to read the full review.
5. Timely
Timely enables those working at veterinary clinics to clock in and out without delay. All data is then presented in the platform for team leaders to view in real-time. With no shortage of app integrations available to choose from, you can connect Timely to all the other applications powering clinic management to accelerate workflows.
At the time of writing, Timely has a total of 208 reviews on Capterra, with an average of 4.7 out of 5 stars. Timely is loaded with a broad range of high-impact features:
"As a business owner, it is fantastic to get accurate and 'timely' submitted time sheets from staff each and every week. For the user, once you find your preferred method of capture, it is a breeze from there in."

Click here to read the full review.
Try Buddy Punch for Free
If you feel that Buddy Punch could be the right fit for your business, sign up for a free trial. You can also book a one-on-one demo, or view a pre-recorded demo video.
You May Also Like…