Online Time Clock For Private Schools (3 Options)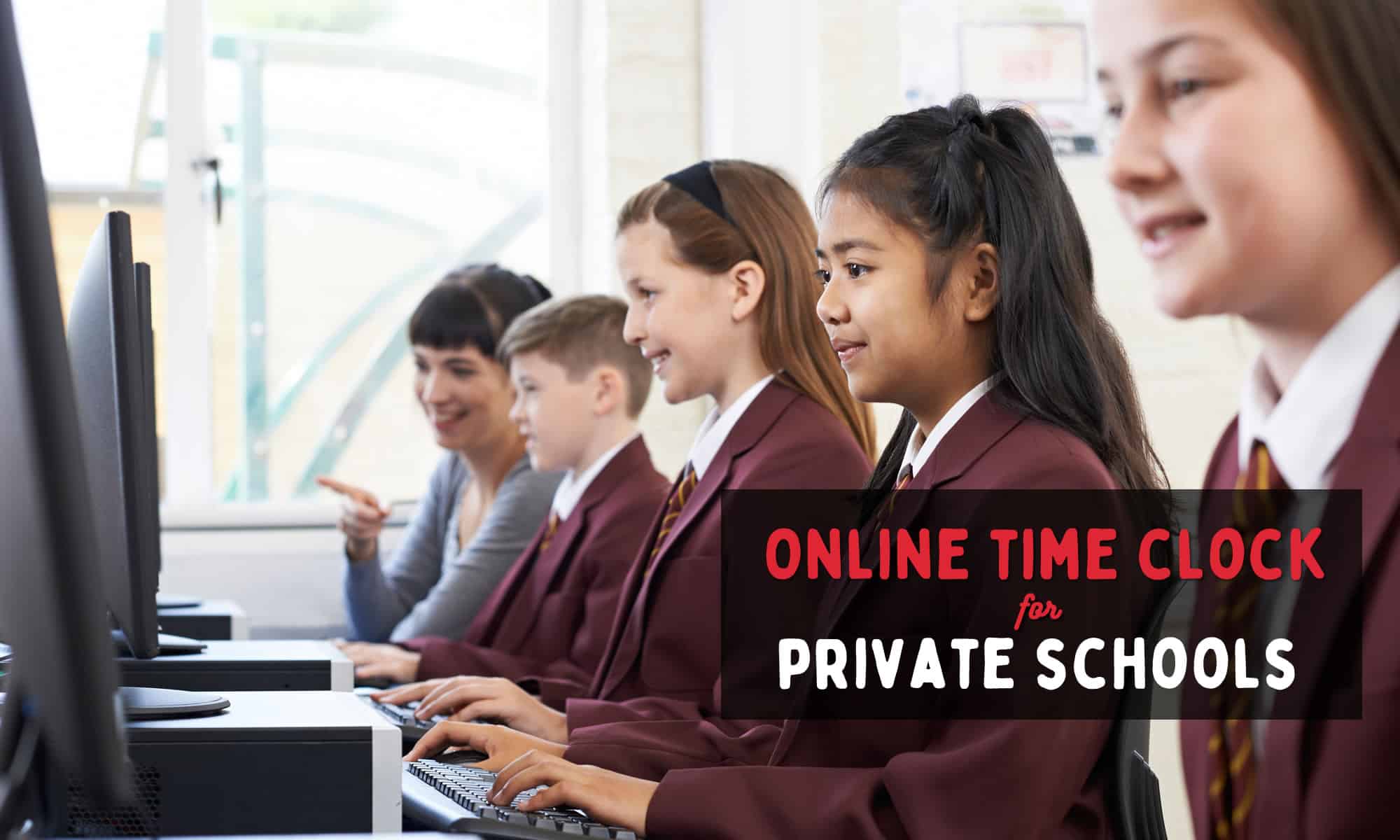 In search of an integrated solution for monitoring the working hours of your school staff?
In this article, we will introduce three cloud-based time clock systems that are designed to meet the unique needs of educational institutions, such as private schools.
The optimal employee time tracking software solutions offer comprehensive features, such as:
Real-time tracking and geofencing capabilities on a range of mobile devices.
Secure time in/time out features via biometric facial recognition.
Streamlined handling of time off requests and accrual.
Instant notifications for school management.
Compatibility with various payroll processing systems.
No matter the size of your enrollment or the scale of your institution, these systems provide you with real-time analytics, promoting informed decision-making. Each one offers a free plan for evaluation, enabling you to fully understand the software before making a commitment.
These cloud-based platforms will automate your manual data entry and spreadsheet tasks, offering powerful time tracking and job-costing capabilities. Proven to enhance productivity, streamline operations, and prevent time theft, these are some of the best time clock apps to track hours worked.
Online Time Clock For Private Schools
These online time tracking systems can revolutionize your school's timekeeping and scheduling process. The platforms offer handy features like:
Easy-to-use templates for different tasks and roles.
Integrated scheduling software for optimal staff organization.
An easy-to-use kiosk mode for convenient clock-ins and clock-outs.
Let's explore these options in more depth.
1. Buddy Punch
For modern private schools looking to optimize their workforce management, Buddy Punch is an all-inclusive time clock software solution that can significantly enhance team coordination and streamline operational processes.
Whether you're managing in-person teaching staff or coordinating remote administrative personnel, the logistics can be complex. Buddy Punch steps in to simplify these challenges, ensuring your team is always primed for maximum efficiency.
Designed to merge effortlessly with your existing payroll systems, Buddy Punch aims to elevate productivity across your institution. School administrators can use this platform to focus on critical tasks such as curriculum planning and parent-teacher communication.
Using Buddy Punch's Time Clock Platform In Your School
With its intuitive design, Buddy Punch simplifies the time tracking process. It enables staff members to clock in and out quickly with a single click, encouraging timely entries. The user-friendly platform allows school administrators to access real-time timesheet data.
Track Time & Staff Attendance Data In One Place
As a busy executive in an educational institution, swift access to staff attendance and performance data is essential while managing your bustling schedule. The task of combing through volumes of data just to gauge staff performance can be daunting. Buddy Punch's dashboard provides a concise overview of all staff attendance data, ensuring you have the insights you need in an easily digestible format.
Monitor Employees With GPS Location Tracking
With the inbuilt GPS tracking feature, Buddy Punch enables administrators to monitor where and when staff members clock in and out. This feature is especially beneficial when managing remote or hybrid work arrangements, fostering an atmosphere of transparency and accountability.
Stay Connected With Instant Notifications & Alerts
Buddy Punch provides a range of customizable notifications that staff members can receive via email or mobile. From alerts about approved time off to updates on time card approval statuses, these notifications keep everyone at your educational institution informed and connected.
Interested in how Buddy Punch can bolster your private school operations? Browse our "Knowledge Base" to learn about all the ways Buddy Punch can benefit your team.
For any specific inquiries, our support team stands ready to assist you.
You can book a one-on-one personalized demo here.
Track Employee Hours Easily With Buddy Punch
Here are just some of the features available to Buddy Punch users:
Buddy Punch's Online Reviews
Buddy Punch's user reviews highlight the immense benefits of this platform. As of the writing date, Buddy Punch has 4.8 out of 5 stars and 852 reviews on Capterra.
Below, we'll list just a few reviews that speak to Buddy Punch's ease of use and great customer support service. (Click here to explore the full list of reviews.)
As reviewers have noted, Buddy Punch provides team leaders and project managers with the necessary tools to streamline timekeeping and monitor labor costs:
"Great app, check in and out with accuracy, keep in contact with supervisors and can submit photos for proof of visit if not using GPS."

Click here to read the full review.
"Buddy Punch is very user-friendly. My company has been using Buddy Punch for about 8 months and have not had any issues. Great Service. Great Price."

Click here to read the full review.
"Cannot say enough about their support. Even if the product was not as amazing as it is, I would highly recommend Buddy Punch due to the unbelievable support!"

Click here to read the full review.
"The monthly scheduling feature and web/app time clock are both very easy to use, organized, and reliable."

Click here to read the full review.
Try Buddy Punch for Free
If you feel that Buddy Punch might be the right fit for your business, sign up for a free trial. You can also book a one-on-one demo, or view a pre-recorded demo video.
2. TimeCamp
TimeCamp is designed to simplify time-tracking. Its user-friendly features facilitate effortless generation of time tracking reports and streamlined monitoring of staff progress. Providing school administrators and team leaders with critical tools to oversee work hours without difficulty, TimeCamp promotes management efficiency and stimulates productivity.
At the time of writing, TimeCamp has a total of 591 reviews on Capterra, with an average of 4.7 out of 5 stars. TimeCamp offers a full range of practical features for teams:
"Being able to simply track time worked on different projects by different business analysts was always tricky, often analysts would be guesstimating at the end of the week. TimeCamp have solved this issue and we can now accurately track and invoice hours spent on each project."

Click here to read the full review.
3. Hubstaff
If your private school requires a straightforward solution for staff to log their working hours, consider Hubstaff. This platform, loaded with features like staff scheduling tools and automated payroll and invoicing systems, provides you with the resources needed to enhance workflows and increase efficiency. Hubstaff could be the time tracking solution you've been seeking.
As of the writing date, Hubstaff has 4.6 out of 5 stars and 1,415 reviews on Capterra. Hubstaff's attendance software offers a range of functionalities, some of which include:

"Hubstaff has provided us with an efficient solution for time tracking and productivity management. The time tracking feature is user-friendly, and the online timesheets and reporting capabilities have simplified our processes. Integration with other tools has enhanced our workflow. While there are minor limitations, the overall experience has been positive, contributing to increased accountability and productivity. Recommended for businesses in need of a comprehensive time tracking solution."

Click here to read the full review.
Try Buddy Punch for Free
If you feel that Buddy Punch could be the right fit for your business, sign up for a free trial.
With a mobile app and no shortage of third-party integrations, Buddy Punch is well-equipped to meet the needs of insurance companies.
You can also book a one-on-one demo, or view a pre-recorded demo video.
You May Also Like…