Online Time Clock for Pharmacy Management (In-Depth Post)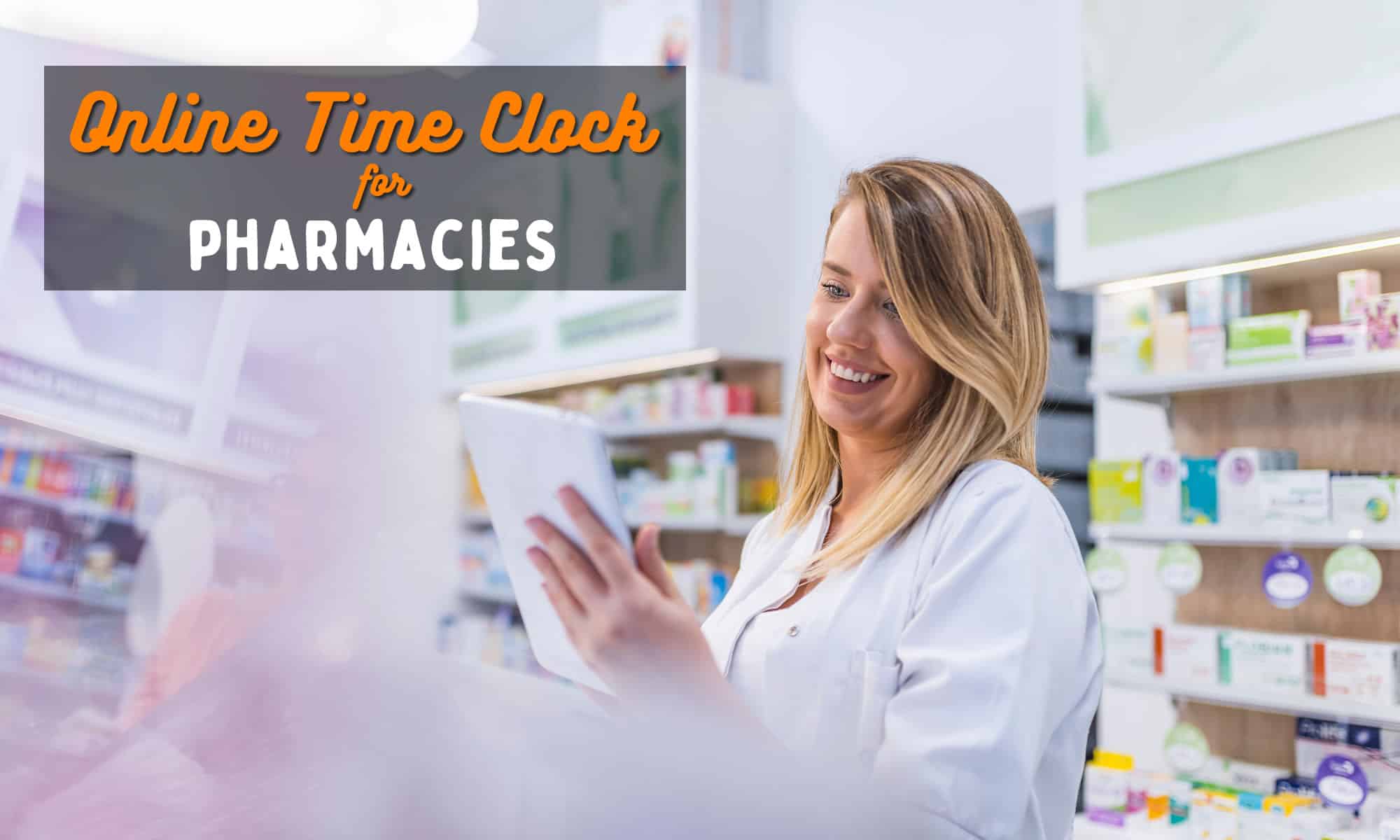 For most businesses in the healthcare industry, staying on task and making use of your time can be a serious matter that your patients depend on. Pharmacists understand this importance, juggling between receiving and filling prescriptions, acquiring and distributing drugs to clinics, and providing guidance to students and pharmacy interns. It's not hard to see how this can get overwhelming, but pharmacy owners that don't guide their staff members through this difficulty may face a hit in profits and productivity.
Thankfully, remedying this can be as simple as enforcing employee accountability and task management in your business, something that's easily handled once you implement time tracking software into your workforce management. Time and attendance software is designed to help keep employees on task and the best options also come with a variety of features while still being user-friendly and easy to understand. All you have to do is find them.
In this post, we're going to outline our top 6 picks of time clock software for pharmacy management. Though we're ranking this software in no particular order, each one that we've selected has, in our opinion, managed to do three critical things: (1) improve employee accountability, (2) maintain a simple design, (3) streamline payroll.
Hopefully one of these scheduling software options will prove useful for your business as well.
Online Time Clock for Pharmacy
Kicking off our list of time clock software for a pharmacy, specialty pharmacy, or online pharmacy, we have our very own Buddy Punch. When we first began to warm up to the idea of using digital time clock software, we initially looked through the market options to see which tool seemed to be a good fit for our business. We had about 20 employees and were tired of using manual methods like timesheets to track employee hours, but at the same time, we weren't so enamored with employee time clocks that we would force one on our team if we thought it would be difficult for them to learn or add additional stress to their workdays.
Unfortunately, none of the time clocks we looked at met this level for us. So we set off to develop our own.
Today, Buddy Punch offers business owners features like One Button Clock In, Job Codes, Managers Delegation, Notifications, Automatic Breaks, Overtime Calculations, Customizable Reports, Built-In Payroll, and more.
Next, let's dive into each of these features to show how they're useful for your pharmacy technicians and clerks to stay on task while working.
Note: If you'd rather try out Buddy Punch yourself, you can start a 14-day trial here.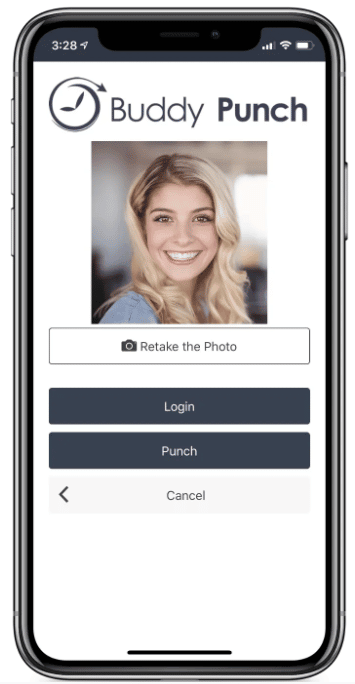 Part of our design philosophy was making sure Buddy Punch was easy to use for everyone regardless of what features we would later add. That's why we like to emphasize that Buddy Punch can be as simple as a single button press for your employees if that's what you wish. Just a few seconds of their time is all they'll have to spare to start tracking their hours if that's what you require.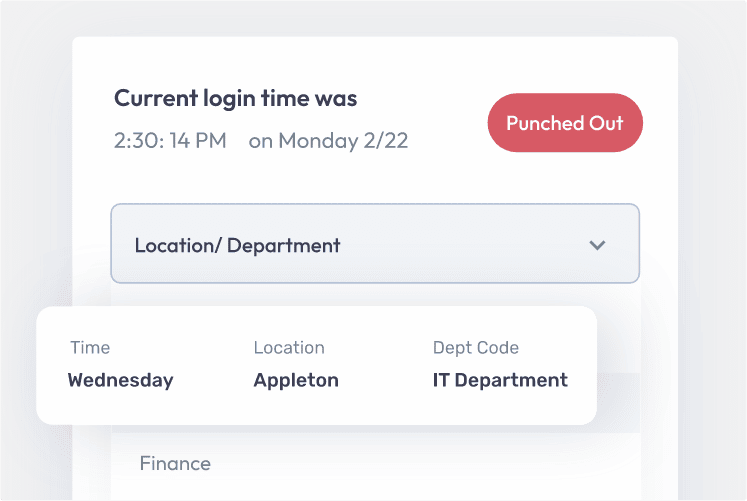 The Job Codes feature is great for getting greater transparency of what's going on in your workplace. With this, you can create a custom code for jobs (such as filling refills or performing quality control) that employees can clock in to and swap between while on the clock. Then, when you go back and check their timecards, you'll see a detailed breakdown of everything they did, which can help you calculate labor costs for your business.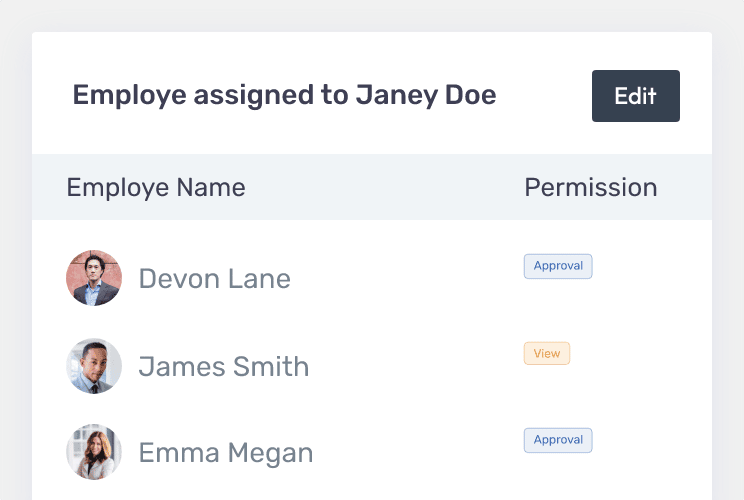 Worried about what happens when you're not onsite? Want to try increasing the responsibilities of some of your team members? The Managers Delegation feature lets you promote a team member to a position of power over the others, with either "View" or "Approval" powers, depending on which you pick.
How it works: With View status, the manager will be able to see what your other employees have put on their timecards. With Approval status, they'll not only be able to see it – they'll be able to edit it as well.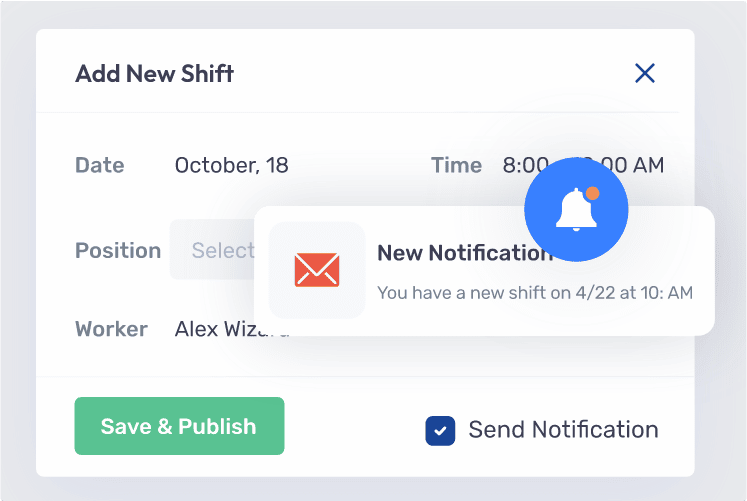 The Notifications feature can have an indirect but still-positive impact on your team's productivity. Both employees and managers receive notifications for things such as punch change emails, time card approval status changes, PTO changes, and more. When your team isn't being alerted, they'll know they can fully focus on keeping your pharmacy running.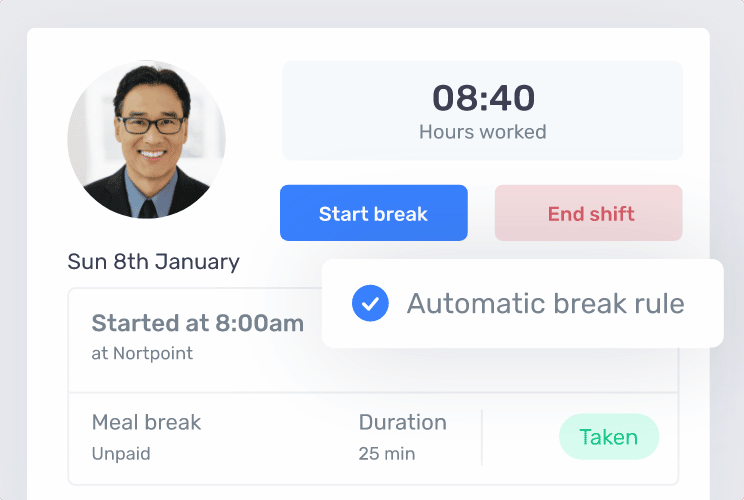 The Automatic Breaks feature is the sort of set-and-forget option that makes Buddy Punch incredibly useful even when you and your pharmacy staff are preoccupied. This feature will automatically deduct time from your employees' timecards based on your preset rules (for example, subtracting an hour after 4 hours worked to ensure lunch breaks are accounted for).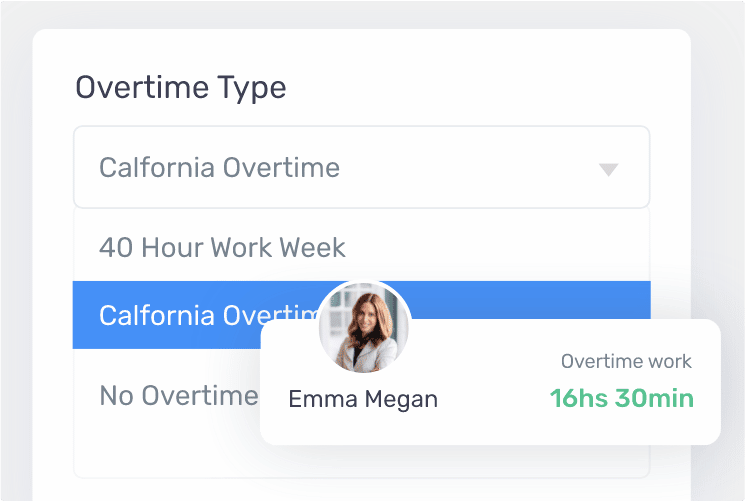 The overtime calculations feature lets you choose from over a dozen different overtime types to determine how pay will be calculated, all on a per-employee basis. Handling regular, overtime, and double overtime has never been easier, and you can always reach out to us to get a new type of overtime added to our system.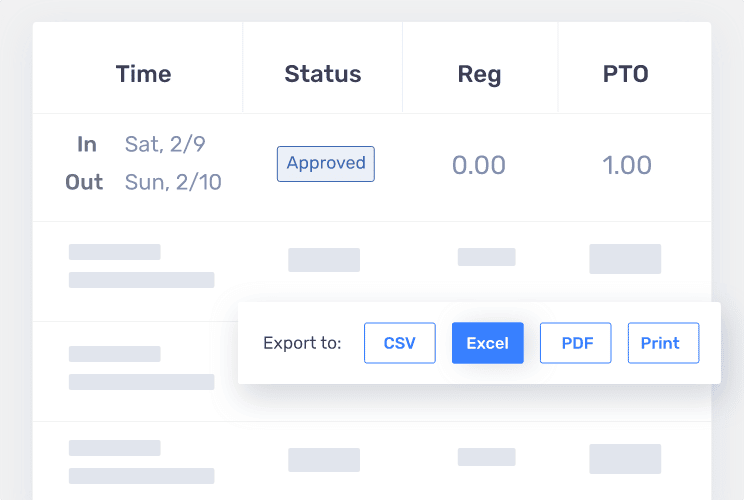 Buddy Punch offers several customizable reports for business owners to use to parse through gathered time and employee data. Buddy Punch's customizable reports include Payroll Exports, Daily Hours summaries, In/Out Activity, and more. You can export these as Excel CSVs or Adobe PDFs at will, and use them to analyze your staff members, make informed decisions about your business, and improve your operations.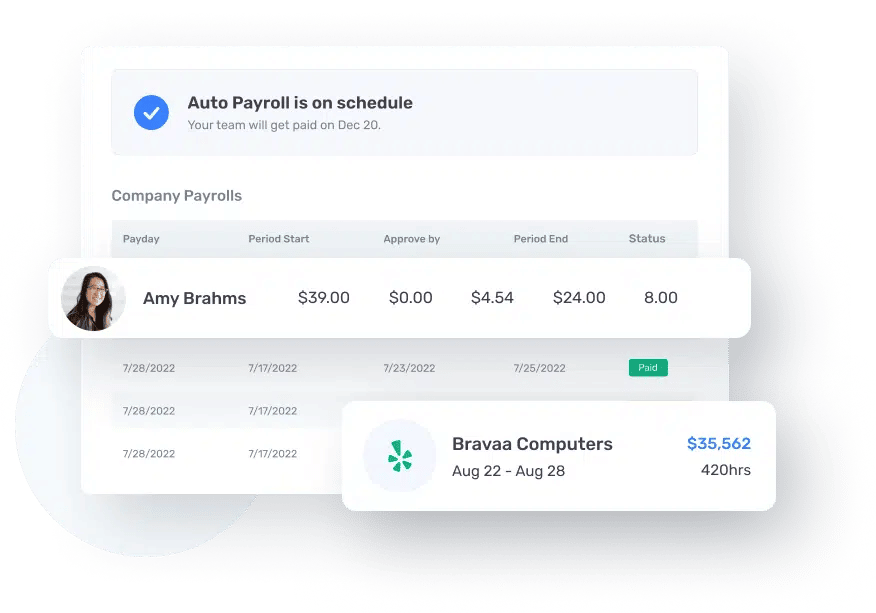 One last feature we want to highlight is Buddy Punch's Built-In Payroll Processing, which is a feature you can add on to any paid plan. This completely overhauls the normally painful process of handling billing, invoicing, and payments. Review employee data, make use of self-service aspects, and track additional expenses with features such as unlimited payroll runs, automated payroll payments, printable checks, and more.

Buddy Punch Offers More to Pharmacy Owners
It's important to note that we've only scratched the surface of what Buddy Punch has to offer as a time tracking software. Consider the use you'd get out of other functions such as:
Additionally, there are out-of-app benefits to using Buddy Punch:
Buddy Punch works on any device with an internet connection, including Desktops, Mobile Devices (iOS and Android Smartphones) and Tablets. You can book a one-on-one personalized demo here.
Buddy Punch's Online Reviews
As of this post's writing date, Buddy Punch has 4.8 out of 5 stars and 731 reviews on Capterra.

Let's see what some of those reviewers had to say about Buddy Punch's impact on their business. (Click here to explore the full list of reviews.)
"We started using Buddy Punch almost 3 years ago at our Pharmacy and we will continue to stick with it. The ease of use was fantastic. We have clerks that were used to signing in on a clipboard for the last couple decades, and they picked up on the program in no time. Reports are simple, the interface is great, and they are constantly updating features."

Click here to read the full review.
"What I love most about Buddy Punch is how simple it is for employees to clock in and out, add their lunch breaks, and write notes about their shifts. I also love how easy it is for me to import it into QuickBooks and pay payroll with it! Before I used Buddy Punch I was keeping time manually with 3 employees and it drove me crazy. Now I have over a dozen employees and I do not know what I would do without this software."

Click here to read the full review.
"Its a great tool. Until the company started using this technology we would simply log our time on paper and scan it to the office every fortnight. This was introduced making things more streamlined. The latest feature is using the camera. It was a tiny bit of a learning curve for me, personally but I really like it now."

Click here to read the full review.
"There are several things I really enjoy about this software. It is incredibly intuitive and easy to learn. Hours are logged by IP address and makes use of integrated cameras. Review of past pay periods is simple. Requesting time off is easy."

Click here to read the full review.
As these reviewers mentioned, Buddy Punch is intuitive and easy to use for both employers and employees.

Try Buddy Punch for Free
If you feel that Buddy Punch might be the right fit for your pharmacy, sign up for a free trial. You can also book a one-on-one demo, or view a pre-recorded demo video.
Coast App is a time tracking software with useful features such as:
As of this post's writing, Coast has a rating of 4.5 out of 5 stars on Capterra, with 47 reviews. Here's what one of its users had to say:
"The notifications and reminders are the best part of this software. We have our preventive maintenance schedules all set up for our equipment here and we get notified when things are supposed to need pm work done and inspected."

(Click here to read the full review.)
OnTheClock offers a wide range of functions, such as:
As of this post's writing date, OnTheClock has 4.7 out of 5 stars and 519 reviews on Capterra.
"I switched to this software about a year ago for many reasons. First there were some integrations with QuickBooks to help us make our payroll process more efficient. I love that we can create "jobs" for employees; it's really helped us to see how we're going with staffing. I also LOVE their customer service! Anytime I've ever had a question or needed help, they do so right away!"

Click here to read the full review.
Some of its key features include:
At the time of writing, Timely has a total of 641 reviews on Capterra with an average of 4.7 out of 5 stars.
"Managing customer appointments is so simple and extremely effective in minimising customers no shows with Timely's reliable customer reminders. We have booked over 2000 appointments in the past 12 months without a single hitch."

Click here to read the full review.

Insightful (formerly known as Workpuls) is a time tracking software with features including:
At the time of this post's writing, Insightful has a total of 73 reviews on Capterra (see here), with an average of 4.8 out of 5 stars.
"Automated time tracking is great tool – guys adjusted it to our needs Remote employee monitoring – great but I solely used it to see what types of apps and websites our employees use Screenshots – we do not use this since ethically it is not accepted in our organisation, but could be a great tool for those who need it. They have projects and tasks – this has added significant value for us. "

Click here to read the full review.
QuickBooks Time (formerly known as TSheets) has features that include but are not limited to:
QuickBooks Time has 4.7 out of 5 stars and 5,785 reviews on Capterra as of this post's writing.

"I loved the scheduling features and how i am able to keep track of my finances being that I am a freelancer and I have my own small business. It helped me keep track of my prices and also my clients. I feel like my own accountant. I am able to set monthly goals because i can see exactly how much I make monthly, and the reminders keep me on track."

Click here to read the full review.
Choosing The Best Online Time Clock for Pharmacy Management
Even though we've managed to narrow down the total options time clock software to just our favorite 6, you'll still have some filtering to do to figure out your top 1. Luckily, taking a close look at the features offered can help.
For example, if your business has several recurring tasks and you have forgetful team members, you might like Coast – which has a Recurring Tasks feature that keeps your staff kept abreast. If you're a fan of plans and team coordination, you might like Timely, with its Project and Team Planning feature.
Otherwise, if all you're looking for is an effective time management solution with features that are easy to enable or disable, a design that anybody can quickly get used to, and a customer support that can guide you through troubleshooting, then you really can't go wrong with Buddy Punch.
Try Buddy Punch for Free
If you feel that Buddy Punch could be the right fit for your pharmacy, sign up for a free trial. You can also book a one-on-one demo, or view a pre-recorded demo video.

You May Also Like…