7 Best: Online Time Clock for HVAC Companies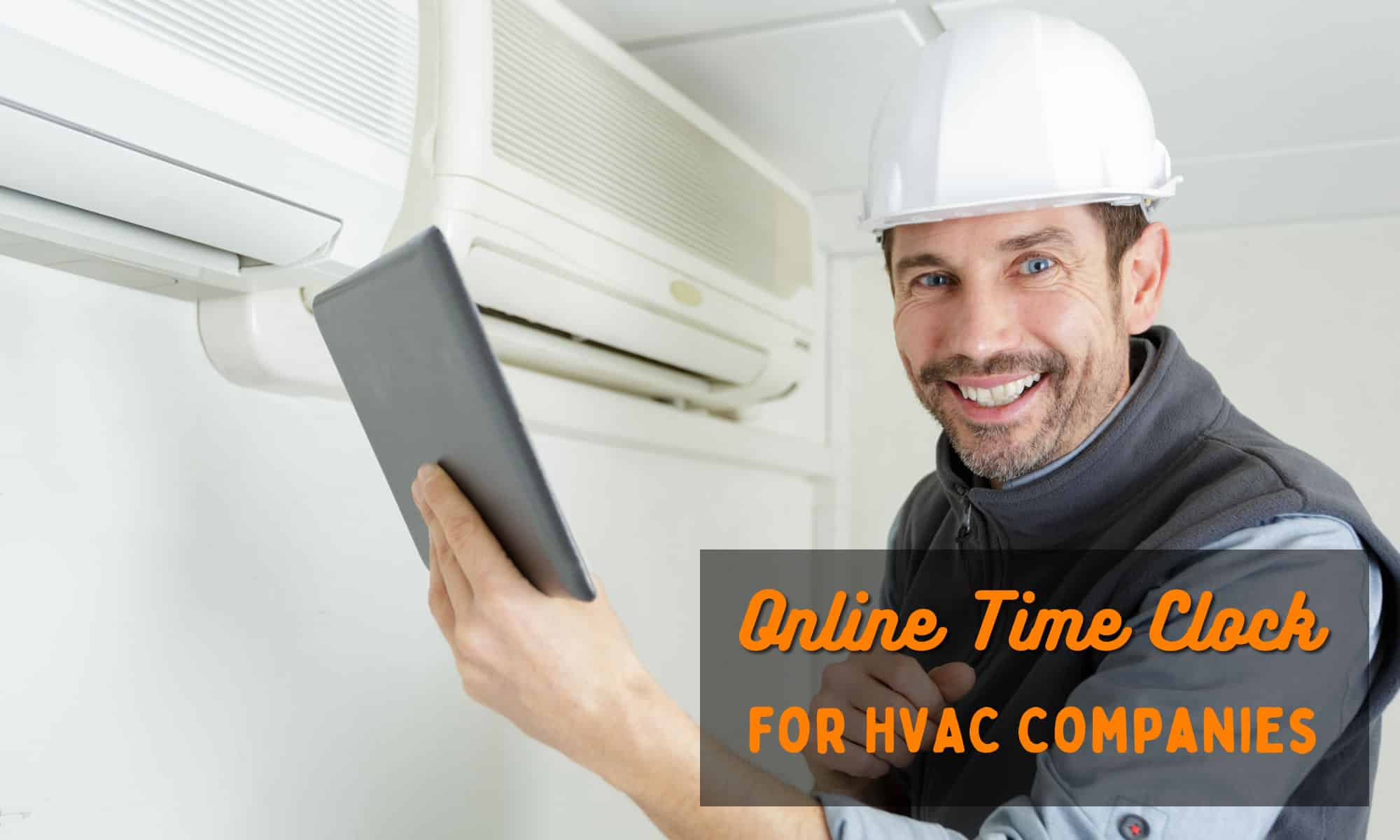 Without making use of scheduling software, Heating, Ventilation, and AC (HVAC) companies are severely impeding their own success. This isn't to say that you can't survive in the HVAC industry with manual timesheets–it's just to say that any competitor that takes the time to automate their time tracking is far more likely to outdo you both in service and profitability.
Most HVAC businesses eventually come to reckon with this and start to look into a software solution that can help them. But even this action has potential consequences–there are a lot of different HVAC software out there for time tracking, and if you invest in the "wrong" one you might actually lose out on time and money. Even worse, it's possible that the tool you choose could impede your technicians' productivity as they struggle to learn and use the tech.
Hence why in this post we're going to list out the top 7 software options that will help HVAC companies (and other service businesses) drastically improve their workforce management through time tracking. Specifically, we're going to look at how well they handle three specific things:
Employee Accountability. We're going to single out tools with features that are targeted towards encouraging your employees to make the most of their time on the clock. The goal isn't to force them, it's to empower them.
Design Simplicity. We've seen examples of some software that become overly complicated in order to add as many features as possible. In our opinion, the ideal time entry software should be intuitive to use, and function across as many devices (Smartphones, Desktop, Tablets, etc.) as possible.
Payroll Streamlining. Lastly, we want to make sure that any time tracking tool we highlight not only does a good job when it comes to tracking data, but also is effective at transferring it over to Payroll software quickly and seamlessly for invoicing, billing, and payment.
Now let's dive into the list and see if any of these tools are the right fit for you and your HVAC technicians.
Online Time Clock for HVAC Companies Options
When we first began to develop Buddy Punch, we knew two things: we were tired of having to deal with the drawbacks of manual time tracking, and weren't going to settle for a subpar software if we couldn't find one that fit our specifications.
We didn't think we were asking for so much. All we wanted was a focus on those three attributes we mentioned above (employee accountability, design simplicity, payroll streamlining). But we weren't able to find a tool that seemed to hit all those marks effectively.
So, we decided to build our own.
Buddy Punch is a time tracking software designed to help business across multiple industries (including the service industry like HVAC companies), and it achieves this through powerful features such as GPS Tracking, Geofencing, Drag & Drop Scheduling, Notifications, Job Codes, PTO Management, Customizable Reports, Payroll Integrations, and more.
Next, we're going to breakdown these functions to show how they can be helpful in improving your HVAC services.
Note, if you'd rather skip the explanations and try out the software yourself, you can start a 14-day free trial of Buddy Punch by clicking here.
Buddy Punch's GPS tracking is a near-mandatory feature for any job including field service, such as working in the HVAC industry. With this, when technicians clock in their GPS location is marked on an interactive map with a pin. For Buddy Punch specifically, you can view that interactive map at any time to see where your entire team is located.
The Geofencing feature is another great feature to use, especially if you're managing multiple job sites. With this, you can place a radius (called a Geofence) anywhere on an interactive map. If a technician attempts to begin logging time while outside one of these zones, they'll be denied. Use this to control when and where your team members are while out on remote jobs without having to engage in the hassle of more involved location tracking.
Buddy Punch helps you streamline shift management through an effective Drag & Drop system. Simply create a shift by clicking on an empty cell. Then drag and drop the shift around as needed. Once you've finished setting up the schedule, you can publish it and Buddy Punch will send an automatic notification to all technicians that were scheduled.
Buddy Punch offers several built-in notifications for both technicians and their managers. These include alerts on things like punch change emails, time card approval status changes, PTO changes, alerts for approaching overtime, and more. YOu can enable or disable all of these notifications at will.
Buddy Punch's Job Code feature can help you get more transparency on how your business operates. This feature allows employees to select the specific jobs they're working on when employees clock in. They can also easily swap between different custom codes throughout their shifts. Then, when you check their timecards, you'll see exactly how much time was spent on each work order or job, which will help you figure out which tasks and clients are most (and least) profitable to pursue.
Buddy Punch is an all-in-one solution to all of your paid time off management woes. In addition to having built-in many of the more common types of PTO (Holiday, Sick, Vacation, etc.) You can also create your own custom PTO types at will.
It gets better. This feature allows you to enable a self-service option for PTO. Rather than you having to oversee every leave request that comes in, employees can be auto-approved for the time they request. Save time and optimize other aspects of your business and leave this to your trustworthy team members.
Buddy Punch's Customizable Reports make it easy for you to analyze the accurate data we're drawing from your technicians in order to make smart, informed business decisions. We offer a wide variety of reports that can be exported into Adobe PDF or Excel CSV formats, such as Payroll Exports, Hours Summaries, PTO Summaries, and more (view the full list here).
Another feature we want to highlight is how Buddy Punch makes it easy to transfer over your data for billing, invoicing, and payments. Buddy Punch integrates directly with some of the most popular payroll software on the market, such as QuickBooks, ADP, Paychex, and more (click here to view the comprehensive list).

Buddy Punch Offers More to HVAC Business Owners
Buddy Punch has more useful features to offer HVAC businesses than what we've touched on so far. Consider other useful tools such as:
It's also worth noting that we have a Blog Section that's consistently updated with useful articles on workforce management, our help doc center contains articles and videos that teach you how to utilize Buddy Punch, and our team is always available to answer any questions via live chat.
Buddy Punch works on both Desktop and Mobile Devices (iOS or Android). You can book a one-on-one personalized demo here.
Buddy Punch's Online Reviews
As of this post's writing date, Buddy Punch has 4.8 out of 5 stars and 717 reviews on Capterra.
Below, we'll list just a few reviews that speak to Buddy Punch's functionalities and value. (Click here to explore the full list of reviews.)
"I've enjoyed using Buddy Punch! I've had to deal with several other timeclock solutions at other businesses, ranging from different software to old-fashioned punch clocks to just simple sheets you filled your hours out on. Far and away, BP is the best I've seen yet."

Click here to read the full review.
"We started using Buddy Punch almost 3 years ago at our Pharmacy and we will continue to stick with it. The ease of use was fantastic. We have clerks that were used to signing in on a clipboard for the last couple decades, and they picked up on the program in no time. Reports are simple, the interface is great, and they are constantly updating features."

Click here to read the full review.
"What I love most about Buddy Punch is how simple it is for employees to clock in and out, add their lunch breaks, and write notes about their shifts. I also love how easy it is for me to import it into QuickBooks and pay payroll with it! Before I used Buddy Punch I was keeping time manually with 3 employees and it drove me crazy. Now I have over a dozen employees and I do not know what I would do without this software."

Click here to read the full review.
"I LOVE that I can clock in from a remote location via the app on my phone. Soooo convenient!!! Such a game changer for sure, especially with my sporadic work schedule and location."

Click here to read the full review.
As these customers all noted, Buddy Punch is easy and intuitive to make use of, even for beginners.

Try Buddy Punch for Free
If you feel that Buddy Punch might work well with for your HVAC company, sign up for a 14-day free trial. You can also book a one-on-one demo, or view a pre-recorded demo video.
QuickBooks Time (formerly known as TSheets) has features including:
As of this post's writing, QuickBooks Time has 5736 reviews and 4.7 out of 5 stars on Capterra.

" In the construction industry, you don't always have employees reporting to the office each day, they report directly to the job site. This makes it difficult at times, to know that they are actually reporting on time, this program eliminates any question of employee integrity regarding stolen time. It is also difficult to keep track of how much time is spent on each job, making the accuracy of job costing a problem. This software solves ALL of those issues. "

Click here to read the full review.
Hubstaff is a popular time clock software for both remote and office staff. Some of its features include:
Hubstaff stores employee data on a globally hosted service (so powerful, but not exactly cloud-based). As of this post's writing date, Hubstaff has 4.6 out of 5 stars and 1284 reviews on Capterra.
"I recently started a new position at my job that requires taking note of how much time we spend doing each task. I was looking for an easy way to do that and this software was recommended to me by a friend. After trying it out I am happy to say I really love this product. It makes keeping track of time spent on each task super easy and overall it's really user friendly. I use this daily to track my time."

Click here to read the full review.
Connecteam is a popular time clock software with some powerful features including (but not limited to):
As of this post's writing date, Connecteam has 4.8 out of 5 stars and 198 reviews on Capterra.
"Terrific Software. Only spoke to support once, they responded within a few hours (and bear in mind we are the other side of the globe form them) so very happy. We were purchased a high tier of the product but not the top tier, about a month ago they stopped billing us as they announced it was to be free for under ten employees. However, this software is a great contributor to why we won't be under them employees for much longer."

Click here to read the full review.
Timely is a time clock software with a rating of X/5 based on Y reviews (see here on Capterra). Its features include:
Like Buddy Punch, you can sign up for a free trial of this software, no credit card required.
"Hours and productivity are tracked easily day to day and the platform provides useful feedback. I have recommended it to other business leaders also."

Click here to read the full review.
ZoomShift has a total of 94 reviews and 4.5 out of 5 stars on Capterra as of this post's writing. It includes features such as:
"It's taken a manual practice and digitalize it in a very fun and easy way. My staff loves it. And I love how quick it allows me to do that very monotonous part of my job. I also frequently use the message feature to send out updates, memos, and individual messages to my staff."

Click here to read the full review.
Some of Findmyshift's features include:
As of this post's writing, Findmyshift has 732 reviews and 4.6 out of 5 stars on Capterra. It has a free plan that's useful on a budget, though many of its stronger features are locked behind a paid plan.
"Findmyshift has been great right from the start of a long free trial period. This gave us the opportunity to really test the product. Customer service even during free trial was prompt. All the training videos and faq made the learning process easy. Since then, everything has run very smoothly. We don't use all of the features but the ones we do make a big difference."

Click here to read the full review.
Choosing The Best Time Clock Software for Your HVAC Company
Even though we've managed to narrow down the total options of online time clocks to the ones we think are some of the best, it's up to you to do further filtering to figure out which one is going to serve you and your technicians best. Luckily, taking a close look at the features can help narrow it down.
For example, if you're on a tight budget and don't care about features, maybe ZoomShift's free plan will be right for you. If you're a fan of checklists and forms, you might find yourself gravitating towards Connecteam.
Otherwise, if all you want is an easy-to-use software with a wide variety of features and a helpful customer support team that'll respond to your every query, then you really can't go wrong with Buddy Punch.
Try Buddy Punch for Free
Give Buddy Punch a try to see if it would work for your HVAC business through the 14-day free trial. You can also book a one-on-one demo, or view a pre-recorded demo video.

You May Also Like…