Online Time Clock For Home Care Providers (3 Options)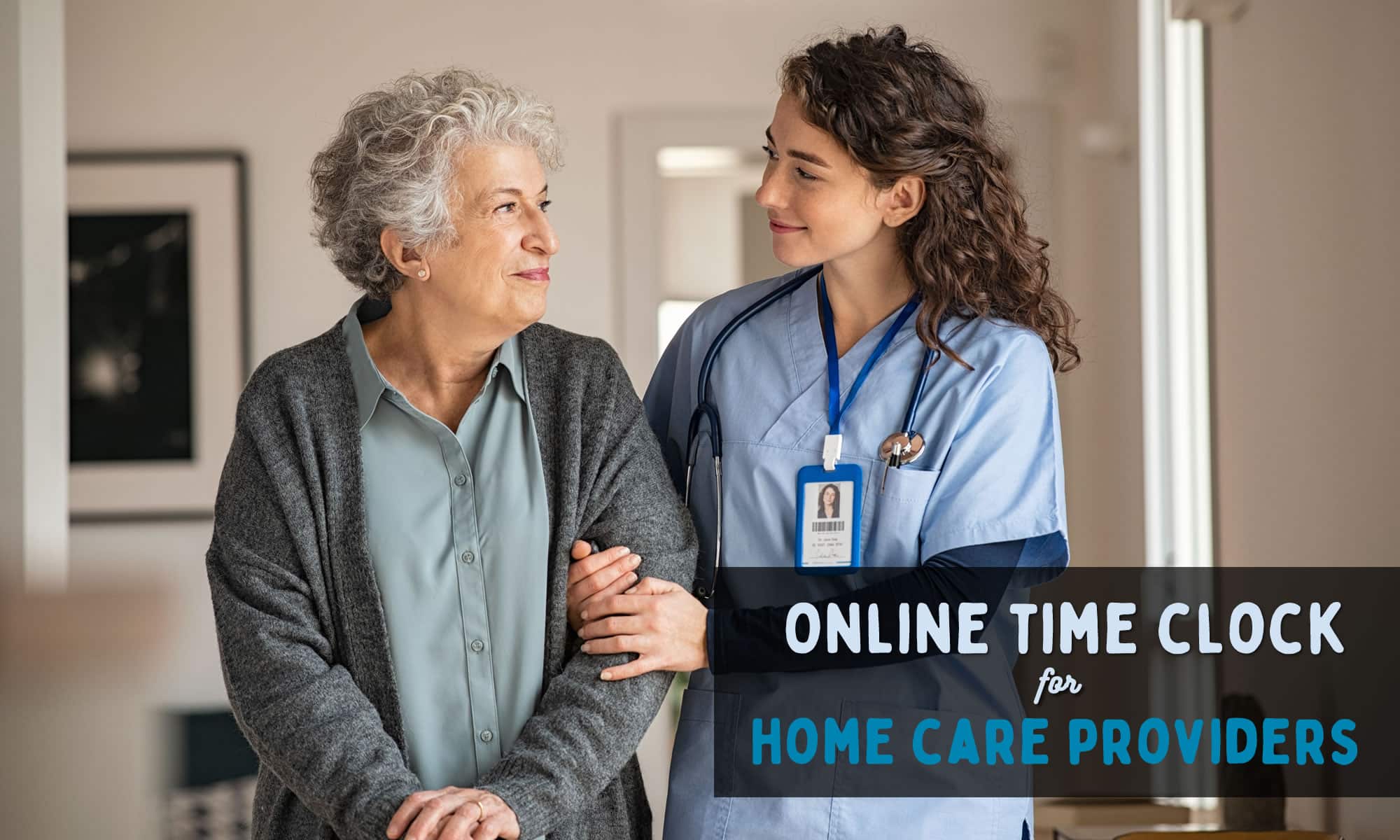 What is the best time tracking software for home care providers?
If you are a home health care provider looking for a mobile app solution to accurately track time for your team of caregivers, your search ends here.
Three top-tier cloud-based time clock software platforms have been earmarked for home care providers, particularly suitable for small businesses:
These time tracking apps for caregivers offer numerous benefits:
On-the-go time tracking
Secure biometric clock-ins/outs
Simplified PTO management
Instant notifications
Seamless payroll integration
By leveraging these web-based solutions, caregivers can wave goodbye to manual time recording and paper timesheets.
These digital time clock solutions, available on iOS, are designed to help home care providers save time, streamline workflows, and prevent time theft on the job site.
With competitive pricing, these apps provide a significant return on investment by boosting productivity for small businesses in the home healthcare sector.
Even in areas with limited internet connection, these time clock app solutions function smoothly, with some providing a kiosk mode for on-site clock-ins.
Online Time Clock For Home Care Providers
Let's examine more closely how these time clock software options can augment your home healthcare services.
1. Buddy Punch
Buddy Punch is an effective time tracking software solution for home care providers, aiming to enhance team management and coordination. Whether you're overseeing a small home healthcare practice or a larger facility, Buddy Punch ensures meticulous time tracking, leading to superior patient care and operational efficiency.
Buddy Punch Is The Best Employee Time Clock For Home Care Providers
Buddy Punch smoothly integrates with your existing payroll processing systems, eliminating the need for cumbersome spreadsheets and amplifying productivity across your team of caregivers. This allows healthcare professionals to focus on primary tasks such as patient care, medical evaluations, and continuous learning.
Buddy Punch makes time management a breeze for home care providers with its user-friendly interface. From any mobile device, team members can effortlessly clock in and clock out, ensuring accurate time tracking. The real-time timesheet data is readily available for managers, aiding efficient scheduling and precise job costing.
Track Caregiver Hours With GPS Location Tracking & Geofencing
Buddy Punch comes with GPS tracking and geofencing capabilities, which are extremely beneficial for home care providers managing remote or hybrid teams. Managers can keep an eye on where and when caregivers are on the clock, promoting transparency and accountability across various locations while ensuring optimal patient coverage.
Enhance Workforce Management With Instant Alerts
Buddy Punch delivers customizable notifications that caregivers can receive via email or mobile. From updates on time-off requests to approval statuses, these alerts keep everyone in your organization informed and connected, fostering efficient communication and workflow management.
With Buddy Punch, home care providers can streamline their employee time clock management, bolster security, and foster collaboration among team members. This complete software solution aims to optimize patient care and assist home care providers in delivering top-tier home health care services.
If you wish to learn more about our employee time tracking solution for monitoring employee hours, visit our "Knowledge Base" to discover the range of benefits available.
Our support team is always ready to answer any specific queries you may have.
You can book a one-on-one personalized demo here.
Track Hours With Ease Using Our Mobile Time Tracking Solution
Here are just some of the features available to Buddy Punch users:
Buddy Punch's Online Reviews
Buddy Punch's user reviews highlight the immense benefits of this platform. As of the writing date, Buddy Punch has 4.8 out of 5 stars and 858 reviews on Capterra.
Below, we'll list just a few reviews that speak to Buddy Punch's ease of use and great customer support service. (Click here to explore the full list of reviews.)
As reviewers have noted, Buddy Punch provides team leaders and project managers with the necessary tools to streamline timekeeping and monitor labor costs:
"Buddy Punch is the best online time card out there. I have used a few, and it's the easiest most effective one I've seen."
Click here to read the full review.
"The monthly scheduling feature and web/app time clock are both very easy to use, organized, and reliable."
Click here to read the full review.
"Cannot say enough about their support. Even if the product was not as amazing as it is, I would highly recommend Buddy Punch due to the unbelievable support!"
Click here to read the full review.
"Overall, great! When I've encountered any issues or corrections to be made, it is usually handled in a few minutes not days or weeks, and the help features are detailed yet easy to follow."
Click here to read the full review.
Try Buddy Punch for Free
If you feel that Buddy Punch might be the right fit for your business, sign up for a free trial. You can also book a one-on-one demo, or view a pre-recorded demo video.
2. QuickBooks Time
QuickBooks Time provides a holistic clock punching solution, effortlessly syncing with your chosen payroll provider. It's compatible not just with QuickBooks' own accounting software, QuickBooks Online, but also integrates seamlessly with a variety of other third-party solutions. For those already using QuickBooks for their accounting needs, incorporating QuickBooks Time into your system would be an exceedingly effective decision.
It's a great timesheet app for Android and iPhone, and at the time of writing, QuickBooks Time has 4.7 out of 5 stars and 6,541 reviews on Capterra.
QuickBooks Time (formerly TSheets) has features that include but are not limited to:
"Everything you need is conveniently located in Quickbooks Online, which is incredibly simple to use. It maintains the seamless operation of the firm finances. The invoicing, asset and cost management, report generation, and other functions are all very straightforward to use, locate, and link."
Click here to read the full review.
3. TimeCamp
TimeCamp streamlines time tracking for physical therapists, making it straightforward to generate time tracking reports and observe employee progress. As a business owner or team leader, TimeCamp offers you crucial tools to supervise work hours effectively. This leads to improved management efficiency and an increase in productivity within your practice.
At the time of writing, TimeCamp has a total of 591 reviews on Capterra, with an average of 4.7 out of 5 stars. TimeCamp offers a full range of practical features for teams:
"The time tracker, the feature I'm using the most to measure my time and budget, works like a charm. Once you've set up the keywords, you don't need to worry about anything else."
Click here to read the full review.
Try Buddy Punch for Free
If you feel that Buddy Punch could be the right fit for your business, sign up for a free trial.
You can also book a one-on-one demo, or view a pre-recorded demo video.
You May Also Like…