Buddy Punch Named Time Clock Software Category Leader in Gartner Digital Market's Report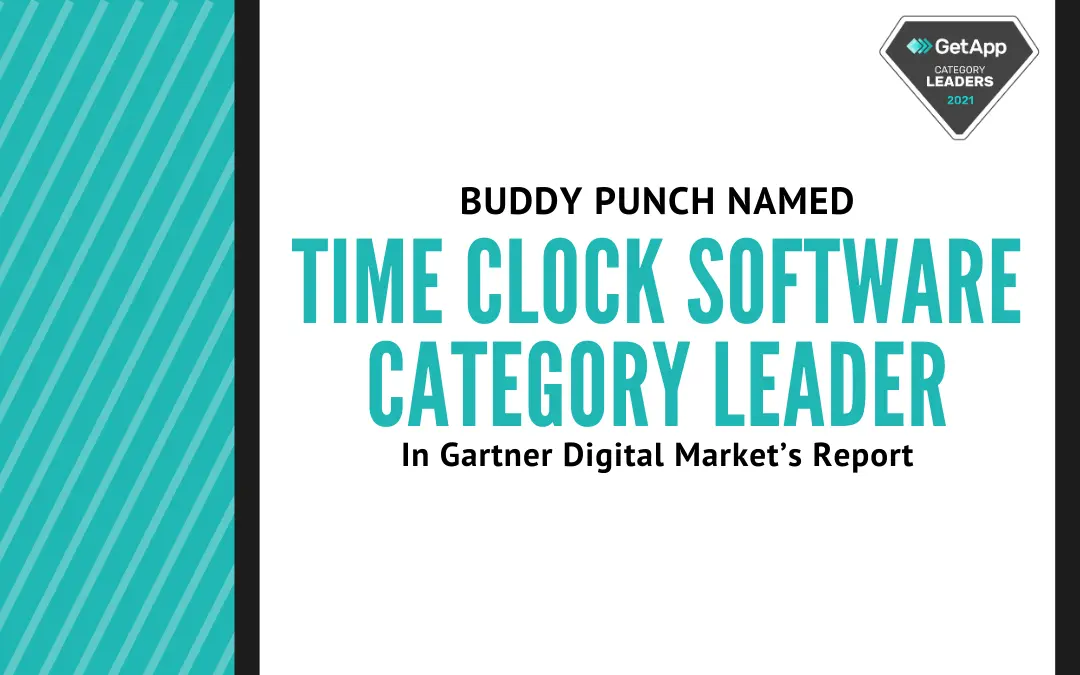 GRANDVILLE, Mich., March 8, 2021 — Buddy Punch, a leading time tracking solution for small and medium-sized businesses, has been named the time clock software Category Leader by GetApp, a Gartner company. Category Leaders highlight top-ranked North American software products based on end-users ratings in five key areas: ease of use, value for money, functionality, customer support, and likelihood to recommend.
"This past year, our team has been dedicated to creating features that customers not only require but that could improve their workflow and employee management process. One of those features has been based around employee availability. Employers can now see their teams preferred working hours, allowing them to craft schedules that meet business needs while also considering employee preferences," says Eric Czerwonka, Co-Founder of Buddy Punch. "Our main focus has always been creating a time management solution that is easy to use yet robust to ensure all time tracking needs are met. We are pleased that our software and employees have risen to our customers' expectations and earned such high marks on the Category Leaders list. It's truly a testament to the quality of services we're offering."
In 2021, Buddy Punch will be focusing on improving employee self-service options to allow employers to turn their attention to more important business operations. One of these self-service features includes enabling employees to request covers and trades for their shifts. Traditionally, this process would require a great deal of involvement by all parties, but with Buddy Punch, every step of the process is handled from one easy to access area.
Every year, Getpp ranks the leading business apps to help businesses gather impartial experiences from current or past customers to assist in their software selection. App scores are determined by 5 factors, worth 20 points each, for a possible total of 100. Buddy Punch scored 92 points out of 100. The list of Category Leaders for time clock software is available at https://www.getapp.com/hr-employee-management-software/time-clock-attendance/category-leaders/
GetApp Category Leaders constitute the subjective opinions of individual end-user reviews, ratings, and data applied against a documented methodology; they neither represent the views of, nor constitute an endorsement by, GetApp or its affiliates.
About Buddy Punch
Buddy Punch is a time and attendance tracking solution whose goal is to make time tracking as easy and seamless as possible. Buddy Punch offers a vast amount of features, including more advanced functions such as facial recognition, geofencing, and PTO tracking. Being a web-based solution allows users to access Buddy Punch from any device with an internet connection allowing for further flexibility when it comes to tracking time.
Buddy Punch offers seamless integration with major payroll providers, including QuickBooks Desktop and QuickBooks Online, and can save business owners thousands per year by eliminating the manual and cumbersome payroll process. Most importantly, Buddy Punch is built for the people who have to use it: employees.
Contact:
Eric Czerwonka, Co-Founder of Buddy Punch
1-773-309-1624
[email protected]