19 Employee Appreciation Ideas Your Staff Will Love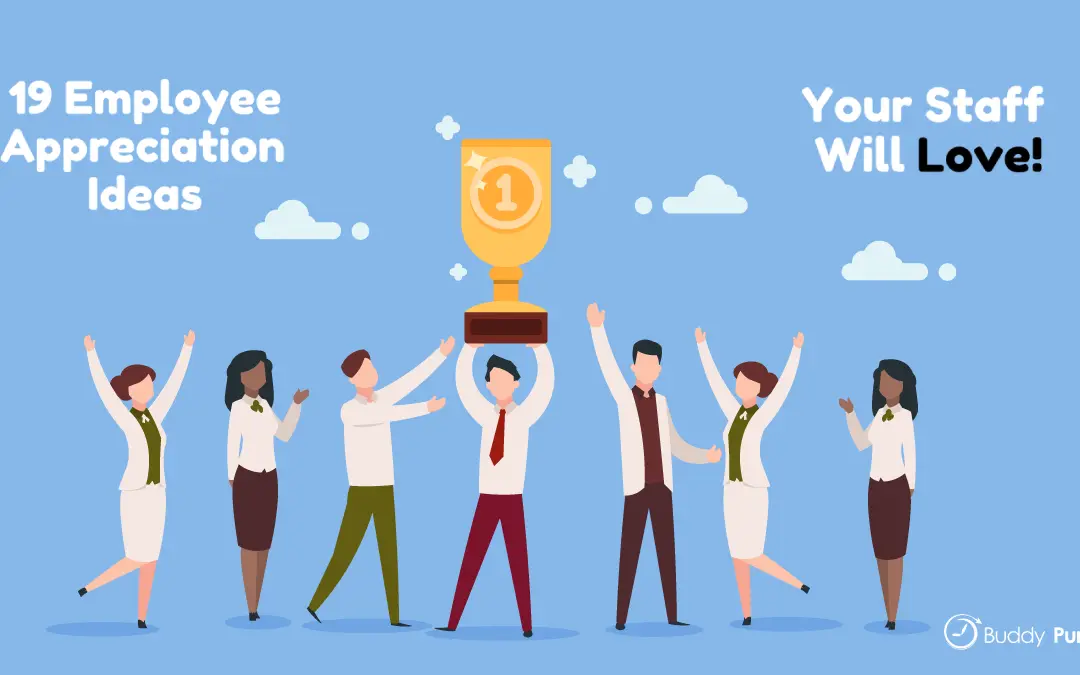 There is one concept that will drastically reduce your employee turnover rate. What is this great business secret? It is actually a very simple thing – employee appreciation. A recent study conducted by CareerBuilder showed that 50% of employees reported that they would stay at a company if they were regularly and tangibly rewarded or shown appreciation. This shows that appreciation is vital for employee engagement and staff retention.
Employee recognition should not just be saved for one special day a year. Businesses need to promote and encourage a positive culture within their offices, and one in which an employee feels integral to the company's goals and operations. Even though team members are a business's most valuable asset, some businesses care more about maintaining their equipment than ensuring that their workers feel appreciated and valued.
Employee recognition programs vary from business to business and should be as unique as your staff are. However, there are some basic concepts that work in most settings.
1. Celebrate Birthdays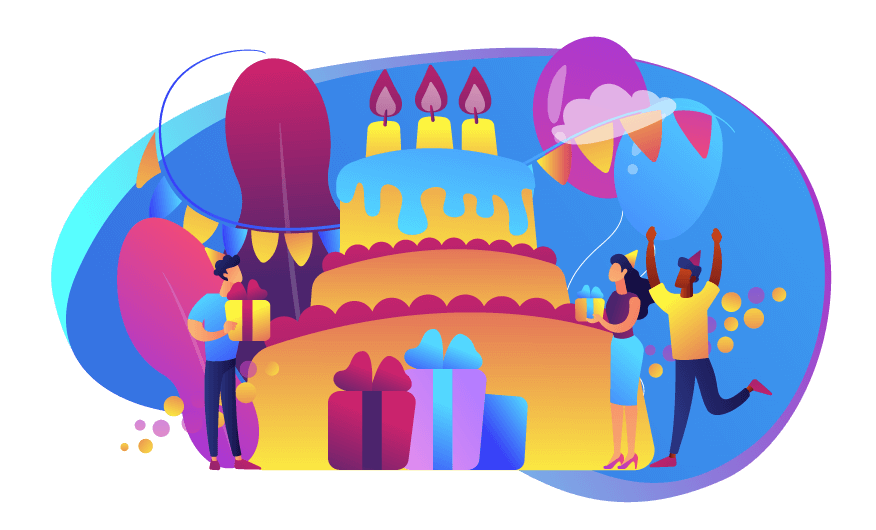 Celebrating team members' birthdays is a great way to show your team that you appreciate them both on a personal and professional level.
A simple way to show appreciation is to celebrate staff birthdays. Based on your staff and work environment, there are different way to do this. Something as simple as a card signed by fellow employees means a lot. If it is possible, get lunch or ice cream, or let everyone leave early to go to happy hour. Another great idea is a gift – while gift cards are great, it does not have to be monetary. A thank-you note signed by your entire organization could have a much more substantial impact than some cash. Imagine if you paired this shout out with giving a member a break from some mundane task, or even offered them a whole workday off.
These perks are great for health and wellness, and they're the least you could do to reward employees for sticking around and delivering great work, even on their birthdays.
2. Promote Peer-to-Peer Recognition

It's not just on the business owner to set up a recognition platform – try to make your company culture conducive to having employees show appreciation for each other. Peer appreciation or recognition can have a significant positive impact on a coworker, causing them to go the extra mile because they feel the other staff members have really noticed their contributions.
This would help with onboarding as well – as new employees would see how much emphasis on team building your environment has and feel more comfortable with their staff members, which could lead to improved productivity and a better employee experience for all involved.
It's important to keep in mind what's appropriate for your business here. For example, things like employee of the month would work against this goal, but a business based around commission might prefer that.
3. Give Them What They Like

Be sure to ask your staff how they would like to be recognized or appreciated. To maximize the benefits of employee appreciation, you must give them something they value. What better way is there to find out than to just ask them directly? What are their best employee recognition ideas? Make it into a game, and figure out which incentives they would most like for good work. Then turn around and add that to some sort of employee appreciation gift bag.
4. Show Appreciation Publicly

A great way to boost employee morale is to publicly show employees appreciation in front of other staff members. Share significant employee achievements or outstanding work with your customers through signage or online. Even if you're mostly using remote employees due to the pandemic, you can use a break during a zoom call or send a message in Slack or other social media to call out an employee milestone or show your appreciation.
5. Track Team Goals

A bit of friendly competition is always good. Use some type of visual approach if it is conducive, like a leader or scoreboard. Noting team achievements in regular meetings is always an easy way to do that as well. Keep your staff focused on some type of goal or accomplishment.

Come up with goals for your team to achieve and be sure to show recognition and appreciation when they reach them.
6. Use Paper

In a digital world, a hand-written note on a physical piece of paper can mean a lot. It can be as simple as a post-it note showing your appreciation for a job well done or an actual thank you card. Based on the situation, even a simple printed certificate of appreciation can be meaningful.
7. Create a Wall of Fame

Even if it is just in your breakroom, a wall of staff photos can do a lot to boost employee morale as well as help them get to know fellow employees. Highlight staff who have done an exceptional job or reached a specific goal.
8. Do Unexpected Things

Treat your staff to something unexpected, like pizza for lunch or donuts or muffins in the breakroom. While it is great to be recognized for reaching a specific goal, the unexpected small display of gratitude goes a long way as well.
9. Be Creative

Make your staff rewards personal. While the typical rewards are great (e.g., time off, a promotion, food), try to be creative. Some businesses have portraits painted of employees who reach a certain number or years, or even a caricaturist to have fun with the portraits. Try to think outside the box.
10. Give Career-Based Rewards

Giving rewards that are career-based not only benefits the employee, but also your business in the long run. Let the employee choose an online class or seminar they would like to attend. People are more invested in learning when they feel they have a choice.
11. Celebrate Hire Dates

A very large percentage of workers today do not even make it past a year at their place of employment. Workers tend to move from job to job more than in previous years. For this reason, make a big deal out of employee anniversaries (hire dates). Recognize them in front of their peers and celebrate this event. Reward them for staying.
12. Go Out as a Group

Based on the size of your business, take your staff out to lunch with you. If you have a larger business, you may have to split them up into smaller groups. Get to know them on an individual level. This is also a great informal setting for workers to feel more comfortable bringing up concerns or ideas for increased productivity.
13. Set a Specific Date

Set aside a specific date on your business's calendar as Employee Appreciation Day. If you are able, even choose to close shop for the day and advertise that you and your staff are away on their special day. Yes, people always enjoy a day off, but doing something together as a group is a great way to build team morale. Whether your staff enjoys something active like whitewater rafting or something more inactive like a barbeque, choose something that they can look forward to throughout the year.
14. Note Non-Work Achievements

Believe it or not, your staff have a life outside of work. A great way to show interest in their personal lives is to recognize them for something they are doing outside of work. For example, some people may volunteer at an animal rescue or soup kitchen. Recognize positive achievements in your employees' personal lives.
15. Allow Pets

If your business industry allows (i.e., nonfood-related industries), consider allowing your employees to bring their pet to work for the day. There are many pet lovers who would be thrilled to be able to do this.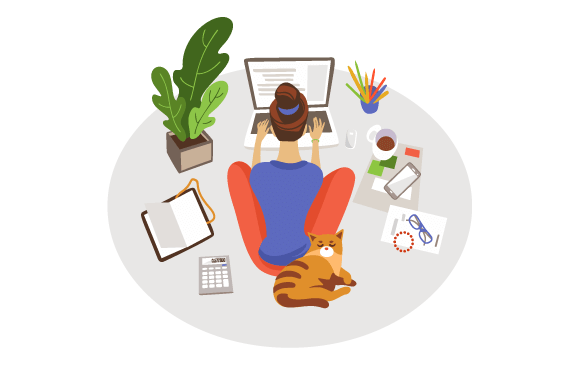 The presence of pets in the workplace has proven to increase employee happiness and productivity levels.
16. Provide Lots of Company Swag

Giving your employees customized business apparel and goods is not only a great reward but also a bit of additional free advertising. There is a huge variety of options for promotional materials – company apparel, notepads, cups, bags, etc. When doing so, be sure to choose high-quality items. Choosing the cheapest item out there can show that you do not value quality. It can be a negative subliminal message to your employees and customers. Also, ensure that the items are stylish and trendy. No one will want to wear something that looks like it came out of a closet from thirty years ago. Make your employees proud to advertise your company.
17. Make a Great Breakroom

Nothing brings down employee morale and makes them feel undervalued quite like a poorly-kept breakroom. Show your employees that you value them by providing a clean, well-lit, comfortable breakroom. No one wants to heat their lunch up in an old microwave that has peeling paint and food splattered all over it.
This space should be somewhere away from the customer's view. It should be a safe space for them. Make it more than just a place to eat a snack or their lunch. Perhaps provide games or books for them to relax with while they are on their break.
18. Decorate Your Windows

If your business has windows, decorate them with cheery seasonal items or even staff accomplishments. Not only does it provide a more cheerful atmosphere for your employees, it can also draw potential customers' attention to your location.
19. Say "Thank You"!

This concept could make or break your business. Quite often, business owners take their employees for granted or do not feel a need to thank them because they are merely doing what they were paid to do.
Whether or not the work was required, a simple "thank you" can go a very long way to showing appreciation for your employees. While some people may not need a "thank you" in order to do their job well, these two simple words may make all the difference to others. There are so many fun and creative ways to show staff appreciation, but do not overlook the power of a simple "thank you."