The 10 Best Time Tracking Software Legal Apps for Timekeeping (In-Depth Post)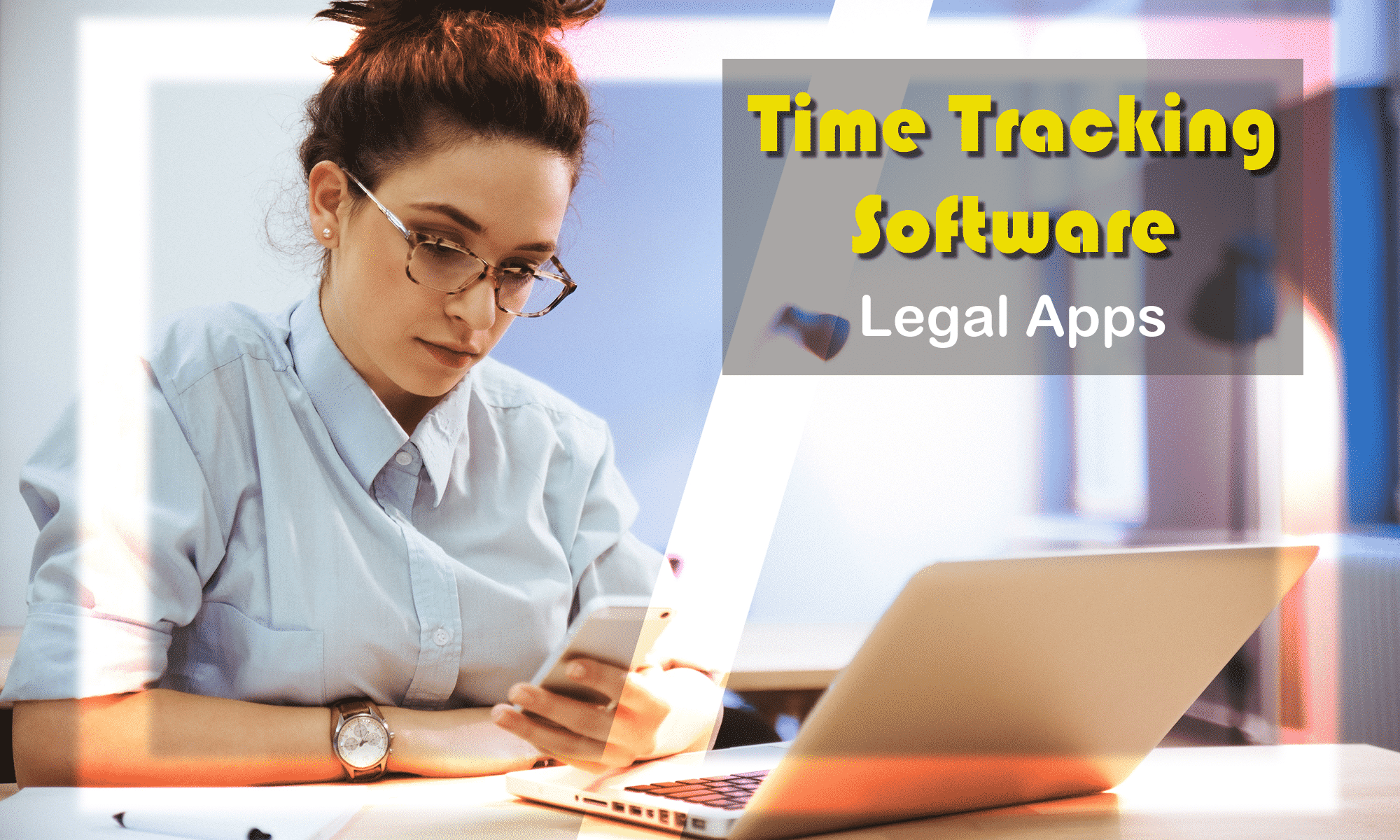 A decent amount of legal timekeeping software created specifically for attorneys tends to get lost in the weeds. Their goal is to be a one-stop-solution, so they end up offering too many functions to reasonably manage. Unless a software comes equipped with intuitive functions and a curated selection of features, it might actually overwhelm users, resulting in setbacks rather than maximized efficiency.
Don't fall into the trap of trying to make a popular time entry software work even if it doesn't feel right. The goal is to find something that feels natural, simple, and easy to automate timekeeping, so you can enjoy benefits such as:
Properly identifying billable time spent on tasks, clients, and cases, as well as their profitability. Identify the 10% of clients generating 90% of your revenue.
Recapturing time lost trying to use manual timekeeping. The age of Excel and physical timesheets is over.
Establishing benchmarks for how long work does and should take – which will allow you to adjust rates and optimize your priorities.
Below, we're going to list out the 10 best options for legal time recording we've found, based on their ability to balance the above benefits with simplicity and customization in their features and design. Because again, it doesn't matter what they claim to do – what matters most is how easily legal professionals can adopt them into a daily routine. If it's a struggle to use certain time tracking software legal apps, the cons are going to detract from any would-be benefits.
Time Tracking Software Legal Apps
Simplicity is one of the most common complaints that comes up with lawyer time tracking software. Your hands are full enough with law practice management; juggling clients and cases, and the fact that any and every new detail is "urgent." You really don't have time to spend fumbling around with some software that's supposed to streamline your workday and is achieving the opposite.
Luckily, that's the exact sort of scenario Buddy Punch was designed for. Even with a wide array of features offered, the usage and integration of those functionalities was designed to be as simple and intuitive as possible. Consider features such as:
Accountability (Simple clock ins and clock outs, Job codes, Locations)
Reminders (Notifications, Automatic Breaks)
Adaptability (Integrations with some of your favorite software, such as SurePayroll and Quickbooks, and an app and website that work on most mobile and desktop devices)
Keep Legal Timekeeping Simple with Buddy Punch
Taken together, you can make use of these features to tailor your experience with our time tracking tool. If you often find yourself getting lost in intimate case details and losing track of billable hours, you can make use of notifications and automatic breaks to boost your productivity. If you're worried about how this tool works with your existing software, the vast amount of integrations should have you covered.
And above all else, you can use it to keep track of time alone if that's all you desire. Clock in, clock out, and don't think too hard about it. Essentially, Buddy Punch is what you want to make of it. Let's go further into detail below, so you can understand how these features can help your legal practice overall.
Note: You're more than welcome to try these – and more – features on your own, as every Buddy Punch plan comes with a 14-day free trial. You can also make use of our help doc center and responsive customer support to answer any questions that may arise.
Simple Clock In and Clock Out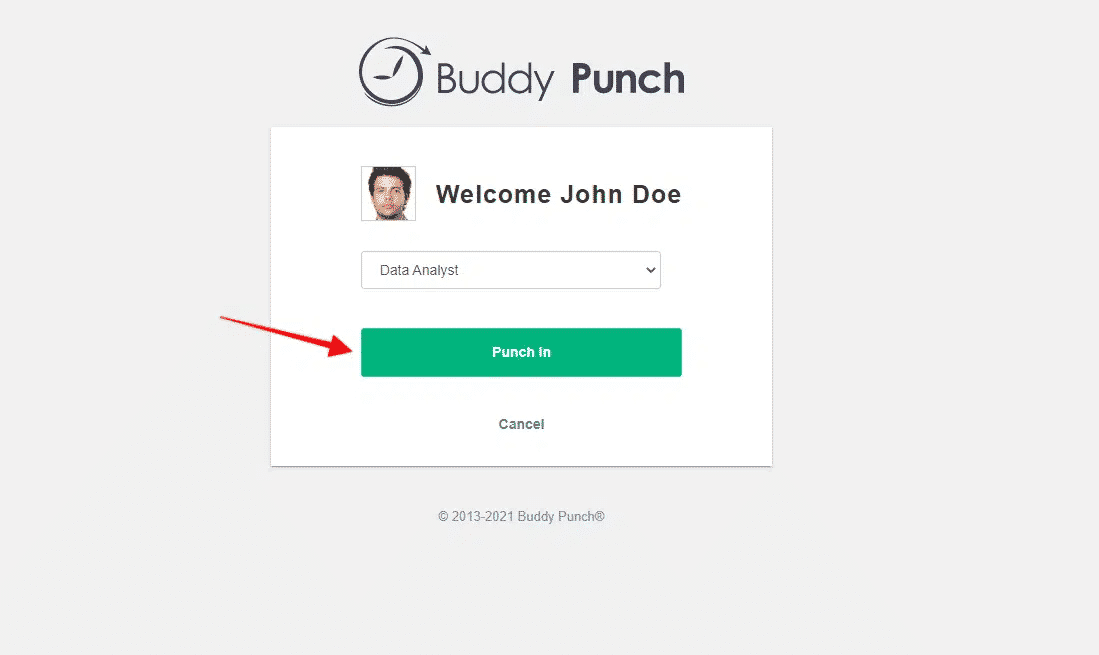 We know that law firms are busy, and that sometimes the simplest answer is the best. With Buddy Punch's streamlined client portal, we make it easy to clock in and out of assignments in just one single click. Our goal with providing such an easy to manage feature is to enable passive time tracking for lawyers. Punch in, get to work, and forget about it until you're done with your assignment or shifting to non-billable time.

Here's an example of Buddy Punch's ability to dive deeper as a law practice management software. You can use the job codes feature and assign your hours per client, which gives you greater insight into how much work you're putting into a case. From there, you can begin to calculate your revenue based on hours worked, and start to optimize your time and billing systems.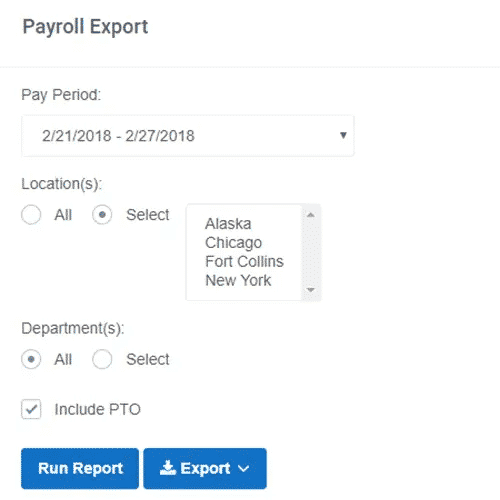 Similar to the Job Codes feature, you can make use of the Locations feature in your case management to track where you're spending your time. Whenever you go out to meet clients, you'll be able to refer back to the data and see how much time you spend remote, and decide from there whether or not it's worth the time, money, and effort to visit certain locations or take on certain jobs.
Whether you're at a big or small law firm, we understand that getting overwhelmed can happen. That said, we also understand that there's little point in a time tracking software if you forget to clock in or clock out. Our notifications feature enables you to set alerts that help keep you on track ahead of time. You can even set yourself to be "punched out" after a certain amount of time, just to really keep yourself on target. Make sure to enable Push Notifications!


Similar to the notifications feature, you can make use of the automatic breaks option if you want to make sure you don't get too sucked into a case.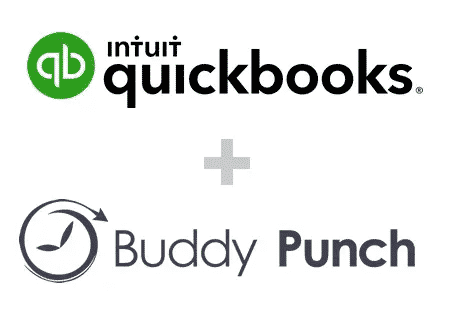 Buddy Punch has integrations with a wide variety of legal billing software such as Quickbooks and SurePayroll. This should make it easier for you to work in usage of our time tracking tool without having to overhaul your entire workflow. Learn more about the software BuddyPunch integrates with by visiting this page.
Adaptability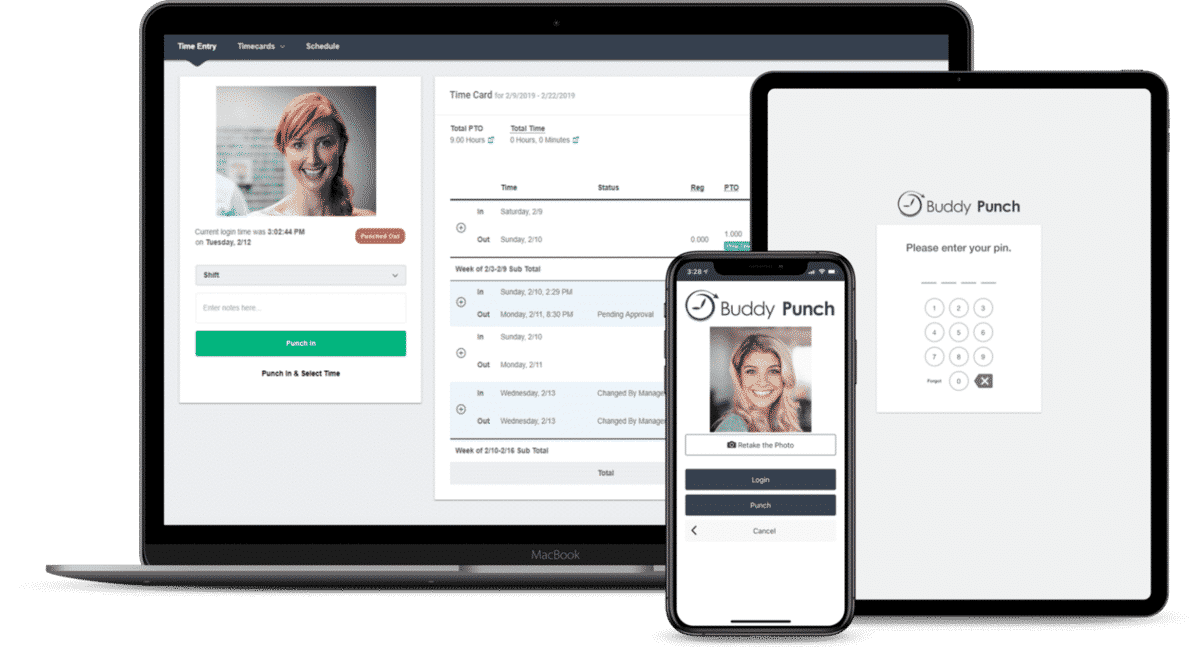 One more tenant of BuddyPunch is its adaptability. You can make use of our website or our app on most mobile devices, including iOS and Android. That means you'll be able to keep track of your billable hours even when you're out of the office and out to meet with a client. Buddy Punch can also be used on Windows, Mac, and tablets.
And the helpfulness doesn't end there. Our blog and knowledge base are constantly updated with the best methods and practices to make use of our time tracking software, as well as other productivity and profitability best practices. You can also reach out to us via live chat to answer any direct questions you may have. Alternatively, you can book a one-on-one demo to get hands-on experience with Buddy Punch's timekeeping.

Buddy Punch Offers Many Other Features
There's plenty more that Buddy Punch can bring to the table when it comes to optimizing your legal timekeeping, including features such as:
Buddy Punch's Online Reviews
Buddy Punch's unique combination of simplicity and customization has helped us find our niche in the market. Don't just take our word for it, look at what our other clients have to say. As of this post's writing, Buddy Punch has 4.8 out of 5 stars and 669 reviews on Capterra.

Let's do a deeper dive into what other people have to say about Buddy Punch's ease of use and effective timekeeping options. (Click here to explore the full list of reviews.)
As several reviewers working in legal fields have noted, Buddy Punch is user-friendly, responsive, and flexible whether you're in the office at your law firm or out on the road.

Click here to read the full review.
"Flexible where you are in the Office or Out of the Office
Pros: Love the flexibility- whether I'm in the office- or working from home or on the road." – Sandra C. Executive Legal Assistant

Click here to read the full review.
"It has been very effective on tracking my time. Previously I was having to keep track of my hours, and adding and subtracting all the hours and minutes was a waste of time. Now all I have to worry about is clocking in and out." – Katrina A. Legal Assistant

Click here to read the full review.
"I love that when you sign in from the computer you see your time on the right and the option to clock in/ out on the left. Basically everything you need right away. I don't have admin access but I know they are able to easily fix your time if you miss a punch along with other features to keep it simple." – Kenia G. Paralegal

Click here to read the full review.
"It saves me a lot of time. We used to use time cards that had to be processed, which was very time consuming. Buddy Punch is simple." – Manuel B. Managing Attorney

Click here to read the full review.
Try Buddy Punch for Free
Ultimately, there's only one way to know for sure if Buddy Punch is going to be right for you. Give it a test run by signing up for a free trial. Alternatively, you can book a one-on-one demo if you want to be run through its uses and applications, or view our pre-recorded intro video before you dive in.

Another good option for simple time management would be On The Clock. Similarly to Buddy Punch, busy law firms can get a lot of use out of its simple user design and functions, such as:
Legal professionals have a lot to gain out of using employee time tracking software that makes staying on top of billable hours easy, even across Windows, Mac, and mobile devices. As of this post's writing, OnTheClock has 4.7 out of 5 stars and 503 reviews on Capterra.
"In the 8 years of using On The Clock it has only got better as improvements are made. Price is the best for its money. The ease of using the system saves time. Tracking employees time has never been better. Thank you On The Clock from the staff at Pierce Properties in Fayetteville Arkansas."

Click here to read the full review.


Here's another popular attorney time tracking app. When I Work offers some valuable features such as:
This flexible timekeeping tool can be used on PC, Mac, or mobile devices like smartphones or tablets, so you can keep up with your clients whether or not you're in the office. As of this post's writing, When I Work has 4.5 out of 5 stars and 918 reviews on Capterra.
"I enjoy the ease of being able to track employee time sheets. When I Work is very user friendly for both the administrator and users. I also am very impressed with the customer service department when I reached out to them regarding upgrading ny services and they were very helpful with recommending what would best suit the needs of both the employer and staff."

Click here to read the full review.
LawBillity, formerly known as Time Tracker +Legal, is a legal time management and billing software specifically geared for law firms and attorneys. Some of its features include:
What attracts most people is that this goes beyond being a simplified clock in and clock out software for anyone to use. This attorney time tracking app was made for legal professionals specifically, with personalized twists for every feature. There's even integrations with some popular law practice management software, such as InvoiceTracker and LawPay.
As of this post's writing, LawBility does not have any reviews on Capterra, which is slightly off putting despite its strong features and general popularity.
TimeSolv is considered one of the best legal timekeeping software out, mainly because it was created specifically as a time tracking and billing solution for attorneys.

At the time of this post's writing, TimeSolv has a total of 578 reviews on Capterra (see here), with an average rating of 4.7 out of 5 stars. Some of its key features include:

Here's what one of its users had to say about the tool:
"Very satisfied and impressed overall. It is very easy to send out invoices in formats that are customized for each client. Customization options are far more powerful than in other products I considered. We did not want (or want to pay for) a full-scope practice management product that incidentally offered timekeeping and invoicing functions. As a dedicated timekeeping, invoicing, and payments platform, TimeSolv is far more robust. The impetus for our firm's switching from Timeslips to TimeSolv was that our paralegal who acted as our billing clerk left. TimeSolv has been so easy to use that we decided not to replace him."

Click here to read the full review on Capterra.
At the time of writing, Homebase has a total of 823 reviews on Capterra (see here), with an average of 4.6 out of 5 stars. Some of its key features include:
Health & Safety Screening
"Homebase is extremely easy to set up employee time clock which happens to be free if your business has a single location and with a single location you may set it up for unlimited employees. For a small business owner where every dollar and cent matters, it's a no brainer."

Click here to read the full review.
Clio is another popular legal software, offering more than just legal timekeeping, but also Law Practice Management features, Client Intake & CRM, and Expense Tracking. If you're looking for something powerful for all things law, you can't go wrong here, but if you just want something simple for timekeeping, it could get a little overwhelming.
As of this post's writing, Clio has a total of 1182 reviews on Capterra, with an average of 4.7 out of 5 stars. Some of its key features include:
"Clio's intuitive design is easy to use for anyone from the tech savy to the "how do I turn this thing on" person. They are constantly adding features and functionality to the software solution making the administrative side of practicing law much easier and less time consuming. Clio's support team is always quick to respond and is always friendly and helpful. The growing list of integrations is definite plus and gives us the ability to extend the already great functionality to the next level. And if you are into coding, you can always create a custom integration to suit your needs."

Click here to read the full review.
QuickBooks Time (formerly known as TSheets) has features that lawyers will find useful for managing and optimizing their billing rates, such as:
This is a versatile app that works on Microsoft Windows, Macs, Androids and iPhones. At the time of this post's writing, QuickBooks Time has earned a rating of 4.7 out of 5 stars on Capterra, based on 5,542 reviews.

"[QuickBooks Time] makes it simple for the employee, project manager and accounting team to record hours, gather information and track projects. Glitches eventually work themselves out but I've grown to expect some issues when enrolling new employees, even though they have the same setup. I appreciate that it integrates with Quickbooks as well."

Click here to read the full review.
At the time of this post's writing, Timely has a total of 207 reviews on Capterra (see here), with an average of 4.7 out of 5 stars. Some of its key features that might entice legal professionals include:
"I use Timely across 3 platforms – iPhone, iPad, Mac – and all work seamlessly to keep track of my billable (and unbillable) hours. The interfaces are simple to understand and to use, and I'm much more confident in my recorded time than with other methods I've used. I appreciate how hard the Timely team works to add features to the product, and the company is responsive to my questions."

Click here to read the full review.
At the time of this post's writing, Clockify has a whopping 4018 reviews on Capterra, and an average score of 4.7 out of 5 stars. Some of its key time management features include:
"I've been using Clockify for more than two years now. I tried other software before but this one was the best at that and still is. If you, like me have simple needs, this is the best piece of software for you. Remark to company: please don't grow. If we're using your product we are not interested in ERP. If you want to grow make a separate product containing project planning etc."

Click here to read the full review.
Try Buddy Punch for Free
As you can see, there are plenty of powerful options to choose from when it comes to legal timekeeping. However, Buddy Punch had a goal of creating a time tracker that was comprehensive, not complicated. If you're looking for something simple to take your efficiency, productivity, and client management to the next level – Buddy Punch could be the right fit for you. Don't hesitate to sign up for a free trial or view our pre-recorded demo video to get a more detailed overview of the software. Otherwise, you can book a one-on-one demo with our team to be shown the ropes.
That said, we're more than willing to make concessions. There is no universal "best" legal timekeeping software, after all. If you need to export something in LEDES format, you'd be better off using something like LawBillity. BuddyPunch integrates with invoicing software such as Quickbooks, but if you're using Xero Accounting or LexCharge, you might find that TimeSolv is closer to what you're looking for in a software.
Either way, we hope this rundown of the 10 best legal time tracking software has helped you come to the right decision for optimizing your personal legal workflow.

You May Also Like…