Buddy Punch Wins FinancesOnline 2016 Time Tracking Awards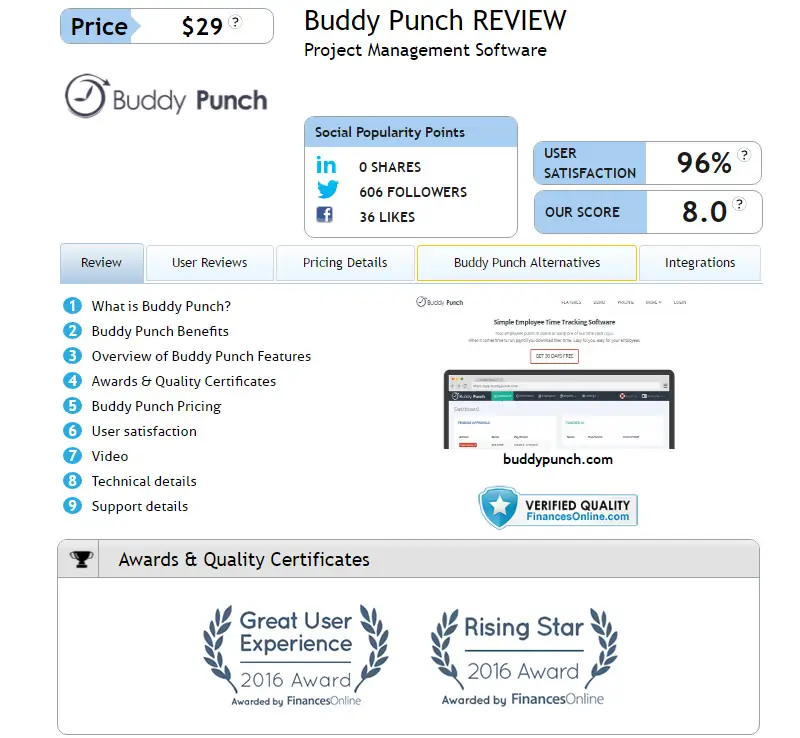 Ever since Buddy Punch was first released on the B2B market, we've been working to keep our customers excited and stay in line with technology and time, and that's something FinancesOnline, one of the most popular business review directories, find particularly impressing in their detailed review of Buddy Punch.
We are happy to inform you that Buddy Punch was awarded with not one, but two of the prestigious FinancesOnline awards. We won their Great User Experience Award for 2016 and the 2016 Rising Star Award for their time tracking software category. As you can probably guess, our app's ease of use was recognized by software experts and we couldn't be happier about it!
In their Buddy Punch review the platform's SaaS and B2B experts keep a close eye on time tracking systems, and award the ones that do a great job satisfying user expectations. The Great User Experience Award is usually given to products contributing significantly to the quality of user experience, while the Rising Star Award is based on the experts' perception of how fast a particular program meets the current needs of the B2B market, and meets those with rock-solid solutions. FinancesOnline experts were really impressed by Buddy Punch's power to offer a vast set of functionalities and tools for both administrators and employees, all at an affordable price. According to them "Buddy Punch is a simple and very straightforward time monitoring and tracking platform ideal for small to medium-sized businesses."
We accepted the news about both awards with utmost pride and satisfaction, and promise to commit ourselves to continued great user experience in the future. We invite all current and prospective clients to expect outstanding service, and even more advanced feature suite from us in the future!