Should You Increase Employee Compensation?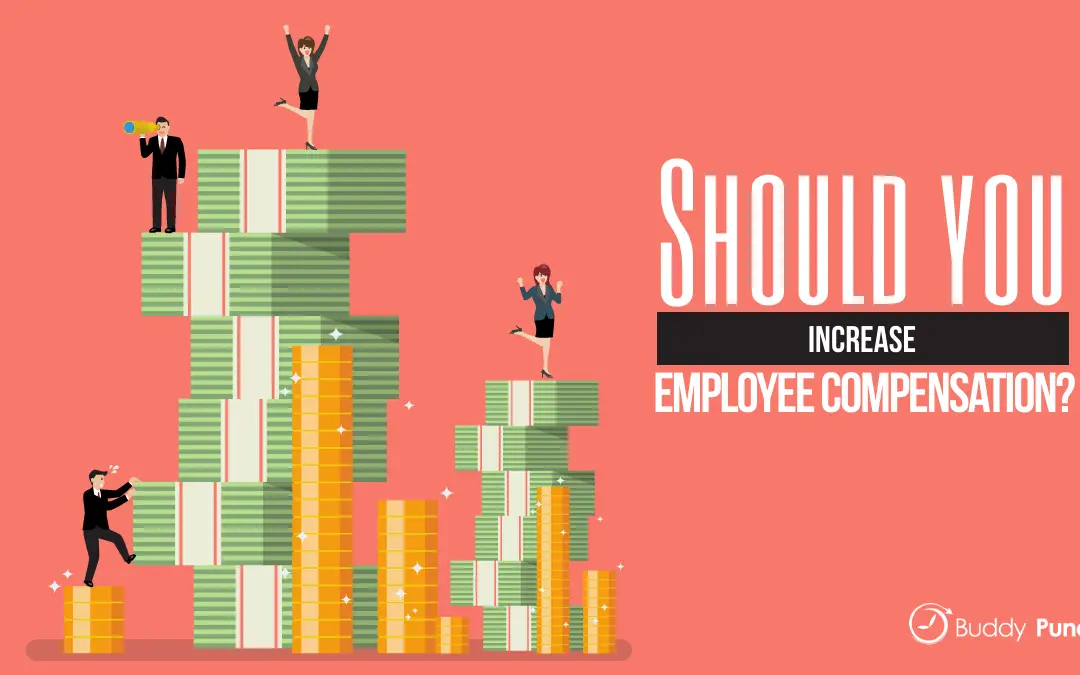 The good news is that unemployment has recently reached a historic low. Additionally, U.S. workers received the most substantial pay increases in nearly ten years. This is a sign of a strong labor market since employers are increasing wages to compete for or retain more qualified workers in a smaller pool of candidates.
Approximately 70% of employment costs arise from wages and salaries. With other companies increasing their worker compensation, the question comes around: Should you increase your staff compensation as well? This is something that each company must decide for themselves, based on their own statistics and internal processes. However, there is some useful information available to help you make that decision.
Statistics and Information
2018 Wage Growth
First of all, we must look at the facts. According to the Labor Department, wage compensation grew from 2.6% in 2017 to 2.8% in 2018. As a matter of fact, the ADP Research Institute's Workforce Vitality Report (WVR) reported that the fourth quarter of 2018 showed a wage growth of 3.4% by the end of the year. This has been the largest growth since September 2008.
Small businesses have been forced to compete with the higher salaries, benefits, and incentives that larger business offer. This has forced small business owners to increase their own wage and benefit options while they simultaneously struggle to find qualified candidates.
Since there is currently a tight job market, workers are not moving around as much as in previous years. Ahu Yildirmax, co-head of the ADP Research Institute, recently submitted a press release regarding this, "As the labor market sits at full employment, we continue to see an overall slowdown in job switching across the majority of industries." The only industry that seems exempt from this is the finance industry.
Workforce Vitality Report
As referred to above, the Workplace Vitality Report (WVR) is a quarterly publication that supplies monthly analysis of the vitality of the U.S. labor market. These reports provide valuable insight into the labor market performance, as well as current trends impacting specific industries. A few of the topics covered are employment growth statistics, a potential change in hours worked by employed workers, wage levels and growth, job turnover rate, as well as many other things.
Results for Fourth Quarter 2018
According to the WVR, the fourth quarter of 2018 experienced a wage increase of $.93 per hour. Representing 19% of the U.S. workforce, the education and health services sectors were primarily responsible for this wage increase. They saw a 4.1% increase, resulting in an average hourly wage of $27.05 per hour. The trade sector was another significant group to note, comprising of approximately 22% of the U.S. workforce. They experienced a 4.4% wage growth increase, resulting in the average hourly wage of $24.56. The most significant wage growth increases were seen in the Northeastern parts of the U.S., even though the Western region experienced the largest employment growth – 2.7%.
Why Increase Staff Compensation?
While the majority of the U.S. saw a slight wage increase, small businesses (those with 1-49 employees) saw a decrease of 2.1% in worker compensation growth in comparison to the last quarter of 2017. It was also noted that they experienced turnover rates as high as 69.9%.
These results could indicate that workers are leaving small businesses to seek employment in larger companies that offer a high compensation wage. Losing highly-qualified candidates, especially to a competing business, is something few companies can afford to risk. Years of experience, training, and perhaps education is challenging to replace. Additionally, there is substantial time and expense required to recruit, interview, and train new employees, even if they do happen to be qualified.
It is quite common for most companies to give annual raises with rate increases dependent on a worker's annual review. Some other companies may be more stringent on their qualifications for raises. However you decide to do it, raises are an excellent way to show your workers that you value them and their contributions.
Who Should Receive Increased Compensation?
Not every worker deserves a significant raise. Here are a few areas of worker performance to monitor:
Does the worker take on responsibilities outside his job description?

Does the worker show an initiative to strive for improvement?

Does the worker contribute to the team's success by providing specialized skills?

Does the worker deliver measurable results to help the company become more profitable?
Keep these points in mind when trying to decide whether an employee deserves a raise or not. There are a lot of factors that come into play when deciding whether your staff deserves higher compensation. It would be a good idea to get in touch with a finance professional who can help you decide whether
increasing your employees pay
is feasible based on your business's current financial status.