Tsheets vs Buddy Punch
Buddy Punch is a simple Tsheets alternative.
Here's why you should consider switching…
Hi there.
Thinking of making the switch to Buddy Punch?
We want to make the decision as easy as possible, so we've put together some info that'll help you decide which option is best for you.
Below, you'll find information to help you compare Buddy Punch and Tsheets, including features, customer experiences, pricing and thoughts about making the switch.
We hope this helps…
1

Buddy Punch is easier than Tsheets

Tired of having to struggle your way through clunky and complex dashboards, drop downs, checkboxes and all sorts of features you never use?

With Buddy Punch, you won't have to. All you see when you log in is your simple dashboard: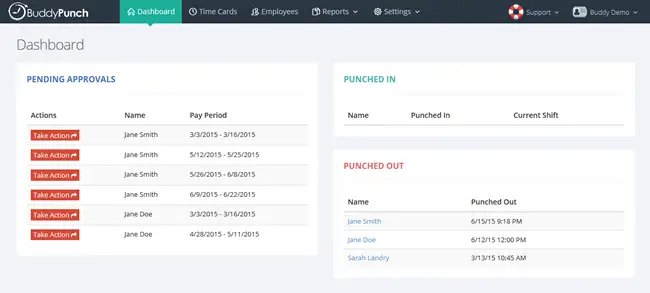 Your Buddy Punch dashboard updates with any change requests from your employees and shows you who is punched in and punched out.
You'll get awesome core features like simple reporting and adding & managing employees all without having to navigate a maze of features you don't need.
And if you ever want to use more advanced features – they're all located in the settings section.
It's been great and really easy. I'm the office manager for a small web design company and we'll be signing up for the full subscription in the next week or so. We all recently went from salary to hourly and need a good way to track hours without using paper. Buddy Punch has done it!
TRUDY, STUDIOX
2

Buddy Punch is more intuitive for your employees.

You rely on your employees – you want them to be productive and not have to worry about navigating to find something.

Buddy Punch lets you show that you do care about their experience.

Buddy Punch shows your employees exactly what they need to see and do. No hard-to-find options.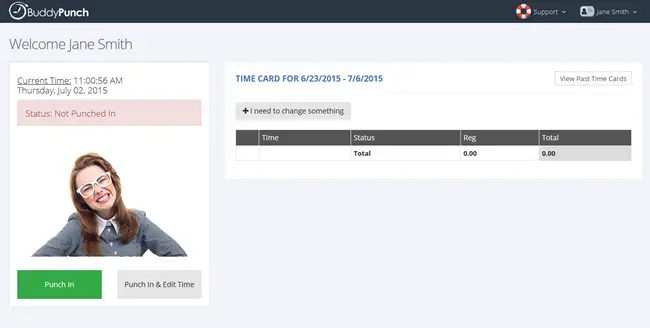 No corporate-looking dashboards, and no dated "I can't find what I need" experience.
Just the simple, personal experience of an intuitive system.
3

Buddy Punch is built for small business.

When tracking time gets complicated, it can add hours of wasted time to a business owner or manager's month. It can lead to a loss of productivity and a lot of frustration.

As a small business, we understand how devastating that can be.

That's why we stripped out the more complicated edge-case features of Tsheets, and kept only the most important time-saving options. Not only that, we make them easy to find and understand.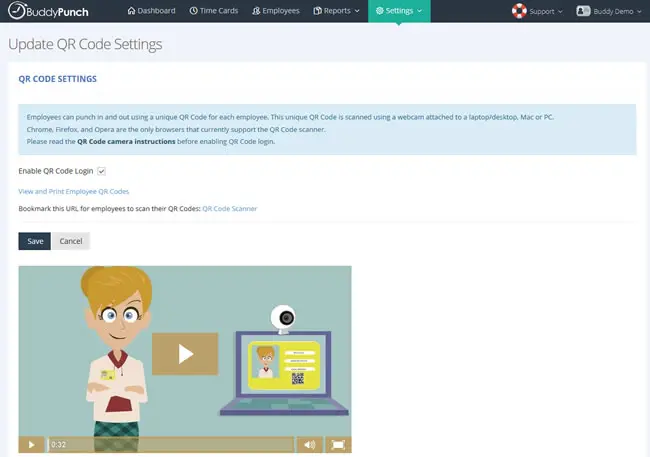 4

Buddy Punch is more affordable.

We believe that small business software should be affordable for small businesses.
Ready to give Buddy Punch a try?
We hope this comparison guide was useful to you. Making the switch is easy; you can get your whole team set up on Buddy Punch in just a few minutes.
To sign up for your free, no-risk trial (no credit card required), just click here.
Still have questions? Just click that "More –> Support" link in the top right corner of this screen. We hope to see you in Buddy Punch.
Ready to give Buddy Punch a try?
For free trial, no credit card required.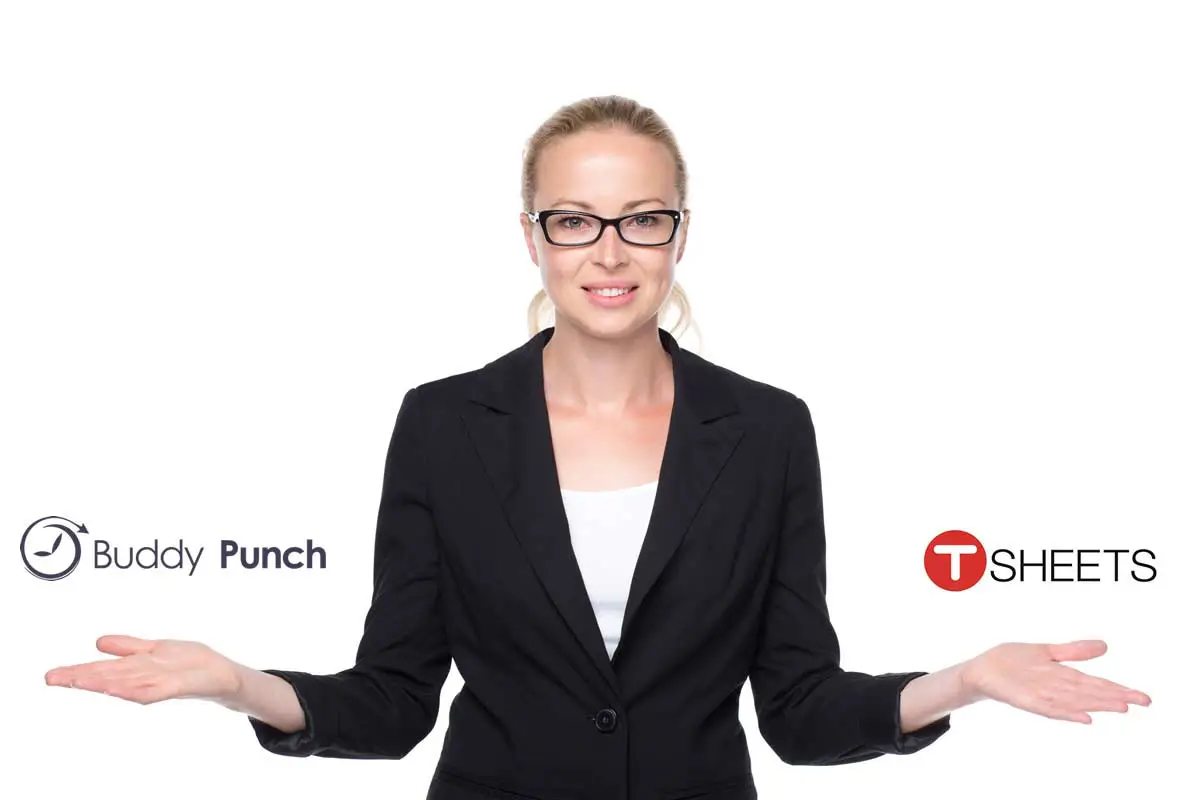 Business owners are in constant need of help with tracking employee time. The days of employees accurately punching in their hours is long gone, causing time theft and other tracking issues. More and more people are using time tracking software for time tracking, payment, and invoicing processes. In the past decade, project management software for time tracking has become crucial for business owners.
That's not a surprise – as such software is inexpensive and can simplify the already complicated life of a business owner.
But, how do you choose which product to buy for time tracking and organizing the payroll?
Choosing the Right Time Tracking Software
When it comes to software for time management, the two most popular options are Buddy Punch and Tsheets, followed by Clockshark, Zapier, and Asana. For a while, Tsheets was without an equally recognized competitor in the market. As you can see if you look at Tsheets reviews, the software has plenty to offer. However, since Buddy Punch came into the market, users have been placing the software on the same level.
So, how do you decide which software to use?
As with anything else, the best way to decide between two popular products is to check out what they offer and compare features, price, and other factors. Here's our comparison between these two time tracking software products.
Buddy Punch vs. TSheets Features
The reason why Buddy Punch recently became popular is the wide range of features offered by the company. Not only does the company enjoy one of the strongest reputations in the time tracking software market, but they also offer a wider range of services than any other online product for time tracking, including TSheets.
Here are some of the most popular features for time tracking software, to see how the two stack up.
Facial Recognition
To avoid time theft that is common with traditional cards for punching in time, Buddy Punch has introduced a facial recognition system. Employees can now punch in by using the webcam on a computer, smartphone, or tablet.
This option is not available with TSheets, and it is one of the reasons why some businesses prefer the Buddy Punch time tracking software.
Job Codes
Business owners can create and assign codes that will show on each employee's time card, known as job codes. This option is available with both software products and comes in variations. TSheets and Buddy Punch offer multi-level job codes, online punch time cards, etc. so in this area, they are similar.
Locations and GPS
One new feature to several time tracking software programs is GPS and location functionality. Not only can you create locations and assign these locations to employees, but you can track where they are working, and confirm whether they are in the right location. You will find this feature with both time tracking tools.
Management
Handling the management hierarchy in your workplace is now easier than ever. Buddy Punch lets you create managers and assign employees to each within the software. TSheets also has an employee scheduling option, but they haven't introduced a similar feature for managers thus far.
Notifications
Buddy Punch and TSheets offer a notifications feature for administrators when something happens with an employee, or they need to communicate with the owner. With Buddy Punch, employees and managers can also receive notifications, which offers added functionality.
Overtime, PTO, Sick, Vacation, Breaks
The tools let you calculate overtime options, as well as PTO, sick, vacation, and breaks. You can also set restrictions and approvals for employee requests. Both programs offer this feature.
Reports
Both Buddy Punch and TSheets provide in-depth reports on all of the information their systems gather, making them great reporting tools.
Apps
Buddy Punch and TSheets can be used on all computers, mobile devices, and tablets. The apps are very useful and available to all users and give you access even when you're on the go.
IP Address Locks
Tracking the employees with the help of IP addresses makes everything easier. You can use Buddy Punch to assign an IP address to an employee, which restricts an employee to only being able to punch in or out from a device with the associated IP address ensuring they are punching in or out where they are supposed to be. This is not an option available with TSheets.
Overtime
Daily and weekly alerts can be setup so whenever an employee works overtime a notification will be sent. This feature is available for both programs.
Affordability of Buddy Punch and TSheets
Pricing is calculated differently with TSheets and Buddy Punch. With TSheets, you'll be asked to pay a base price and a rate per user, while Buddy Punch has set rates based on the number of users, without a base fee payment.
The pricing is average for both when compared with similar software, but Buddy Punch remains somewhat cheaper. TSheets has a free plan for one self-employed user who wants to track his/her work, but their paid plans are a bit steeper than those of Buddy Punch.
For smaller businesses with less than 100 users, you'll pay a $16 base fee and $4 for each user with TSheets. For over 100 users, the base fee is $80 while the user fee is the same – $4 per user. With Buddy Punch, you have set rates based on the number of users. For example, if you have 9 users, you'll pay $29 monthly. For 99 users, the rate is $199 monthly.
Buddy Punch vs. Tsheets, Clockshark, Zapier, and Asana
Finding the right timesheet software is not to be taken lightly. You should make a comparison between all reputable products and see which one best fits your needs. You should base this decision on your budget, business needs, and the number of users. Products that offer more features you need, the higher it should move on your list.
Aside from Buddy Punch and Tsheets, other popular time tracking tools are Clockshark, Zapier, and Asana. These have slightly fewer features, but the pricing is similar to that of Buddy Punch and TSheets. Clockshark has a base fee of $15 and a fee of $3 per user, making it a higher price point than the other two. Asana has a free basic version that is rather limited and applies to 15 users. To enjoy even more features, you can use the Enterprise plan but will need to consult with the company for a quote.
Choose the best software to track time and manage employees in your workplace!