Integrating Buddy Punch with Zapier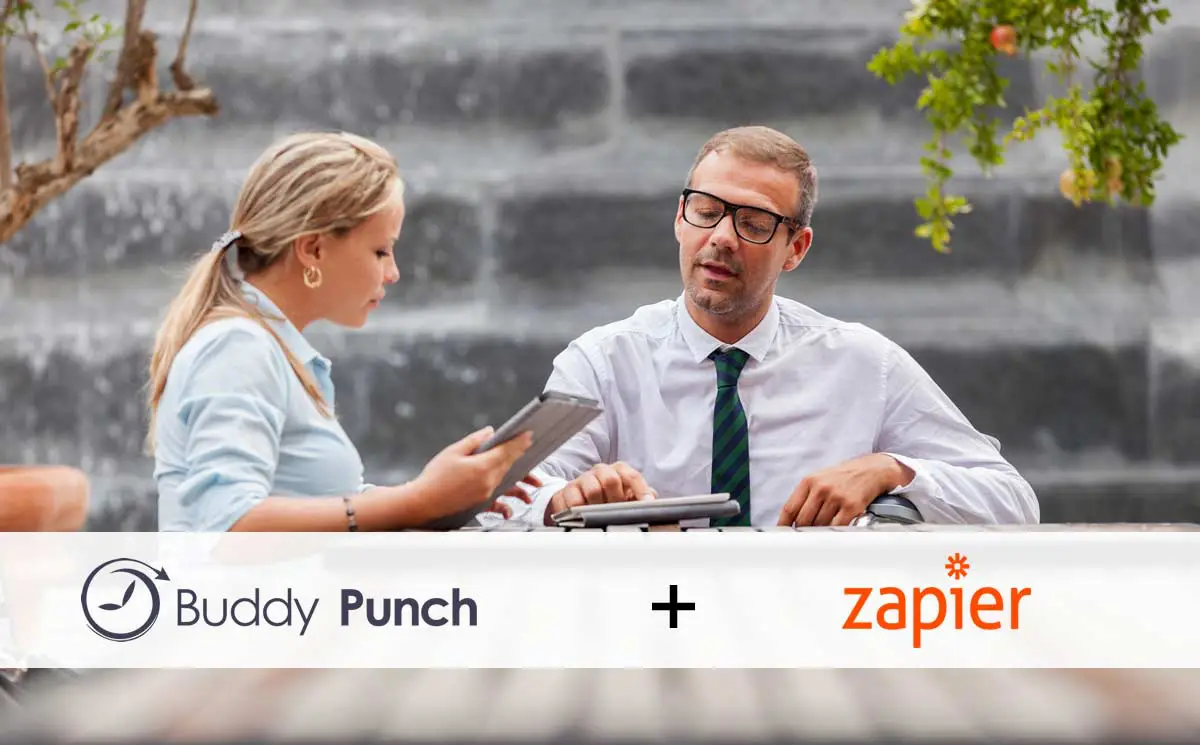 It can be difficult to connect all of your business and productivity apps so that they're working together, but Zapier is the perfect tool for helping make that process as smooth and straightforward as possible.
Zapier's robust platform allows you to quickly move information between numerous web apps automatically, which enables users to focus on actually getting the most out of the apps instead of having to worry about making them work together.
Moreover, Zapier can be the perfect platform to get the most out of Buddy Punch – the flexible and versatile Buddy Punch has built-in support for many popular payroll vendors, an API, and can also be configured to seamlessly integrate with thousands of websites and apps using Zapier's platform.
Connect to Zapier
When operating multiple apps and software, it's essential to have an efficient and reliable system for tracking time on your actions and the work done by your employees.
Also, with Zapier, integrating Buddy Punch with other apps becomes easier than ever – you can simply connect two running apps or software solutions and integrate them with each other, setting up the specific actions that you want to happen when the two apps interact with each other.
When using Zapier, these connections are called Zaps. A Zap works perfectly for a task that you plan on doing over and over again – you simply put in your desired action on both apps and set the rules for how they should interact with each other.
So, for instance, if a certain action is completed on app number one, then app number two can be set up to perform an action based on what app number one did without the need for manual interaction.
That means with Zapier, there are endless possibilities regarding app combinations and triggers between different apps, so you can mix and match Buddy Punch with thousands of apps according to your individual needs.
What Exactly Can Be Done with Zapier?

While there are countless possibilities of how you could use Zapier to connect Buddy Punch with other apps, there are some particularly effective ways to make use of the Zapier platform.
Send an SMS to Punch In or Out

Although Buddy Punch usually relies on an internet connection for most of its functionality, with the help of Zapier it is possible to perform some functions such as punching in or out with the help of SMS messages.
This can be especially useful when you have employees that are working out in the field and can't access the system using an internet connection.
The best part is, using text messages for punching in or out doesn't cost extra and can be easily set up using Zapier – the platform allows to allocate a phone number for each employee so that they are recognized by the system when they send a message.
You can also customize the specific message commands for each function and even set up confirmation messages that the system would send back to employees if the process were successful.
Making your life easier is important, obviously, but making your employees' lives easier by making it possible for them to punch in or out on the go is the mark of a great – and in tune – employer.
Use a Google Sheet for Punching

With the help of Zapier, your employees can punch in or out by using Google Sheets, without the need to manually enter each employee's data multiple times.
With the help of Google Sheets to Buddy Punch automation, each time a new row is added to a predefined Google Sheets spreadsheet, Zapier will automatically create a new corresponding employee ID number in Buddy Punch.
This process helps to greatly speed up the onboarding process and helps to quickly and effortlessly add new members of the team straight from the spreadsheet. This capability is particularly helpful since onboarding can be time-consuming and taxing for all parties involved, but this automated process allows everyone to get back to doing his or her jobs.
Text Notification about Employee Time Punching

As mentioned before, text messages can be a convenient way for employees to check in on the go, when there's no access to an internet connection.
However, you can set up Zapier integration to receive automated text messages whenever an employee punches in or punches out, so you know exactly when they're working and make sure they're on time.
The only thing you need to make this work is to set up your designated mobile phone to receive automated message alerts, and the system will work on autopilot without interruption.
Why Is Zapier Important for Your Business

Today's businesses use a wide range of tools for various daily operations, and keeping up with all of them can be a challenge, so we strive to make this process as easy as possible.
Moreover, with Zapier, you can make the most out of Buddy Punch and integrate it with more than 750 apps that make the most out of our software and help you run your business more efficiently.
Zapier can help you harness the powerful features of Buddy Punch and combine them with countless other apps without the need for a complicated integration process.
How to Connect Zapier with Buddy Punch
Here are the five simple steps for connecting Zapier with Buddy Punch:
Follow our link and signup for a Zapier account, or sign in if you already have one.
Connect Buddy Punch and another app of your choosing to Zapier.
Follow the steps to set up the Zapier automation, which is also known as a Zap.
Test out your newly created Zap.
That's it! From now on, the automation will run automatically in the background, helping you get the most out of your time every day.
More about Buddy Punch Time Clock Software

Buddy Punch is an online time clock system that can completely change how a business collects its time data. It allows companies to manage their employee time better and also provides employees with a much more convenient way of punching in and punching out, entering PTO days and reasons, and much more.
With Buddy Punch, you can always know what your employees are doing and how they are spending their time, which allows you to maximize productivity and make sure that your staff is always focused on the most important tasks.
The software also eliminates a lot of the manual work that goes into time tracking, automatically calculating time worked and splitting it into regular time, overtime, and double time according to the pre-set parameters.
With Buddy Punch, you can even set up your own overtime rules on different groups of employees or each employee individually, allowing for a much more flexible, reliable, and easy way to manage your team.
You can also take complete control of time off, which includes setting up banks of time that help employees manage the PTO available and make decisions accordingly. Our intuitive calendar makes it easy to schedule time off, allowing the employees to request time off through the system and even having their requests approved automatically if it meets predetermined parameters.
Buddy Punch can be accessed from any device that's connected to the internet, and, with the help of Zapier, can even be used with the help of text messages if there's no internet access.
Integration with QuickBooks, Asana & Zapier

Buddy Punch is a time clock software that seamlessly integrates with many of the most popular software platforms such as QuickBooks, Asana & Zapier.