QuickBooks Online Integration
Sync your time from Buddy Punch to QuickBooks Online.
How do you use QuickBooks with Buddy Punch?
QuickBooks Online
1 Setup
2 Transfer time from Buddy Punch to QuickBooks with the click of a button.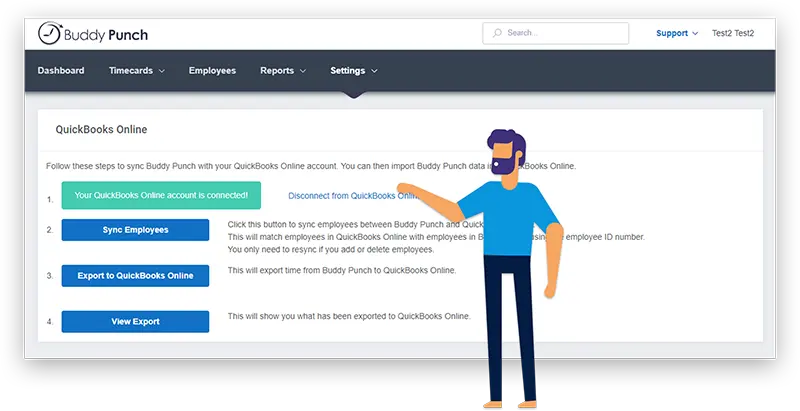 You can now connect QuickBooks Online with your Buddy Punch account. You are able to sync employees and time on demand, and select which time you want to push to QuickBooks Online.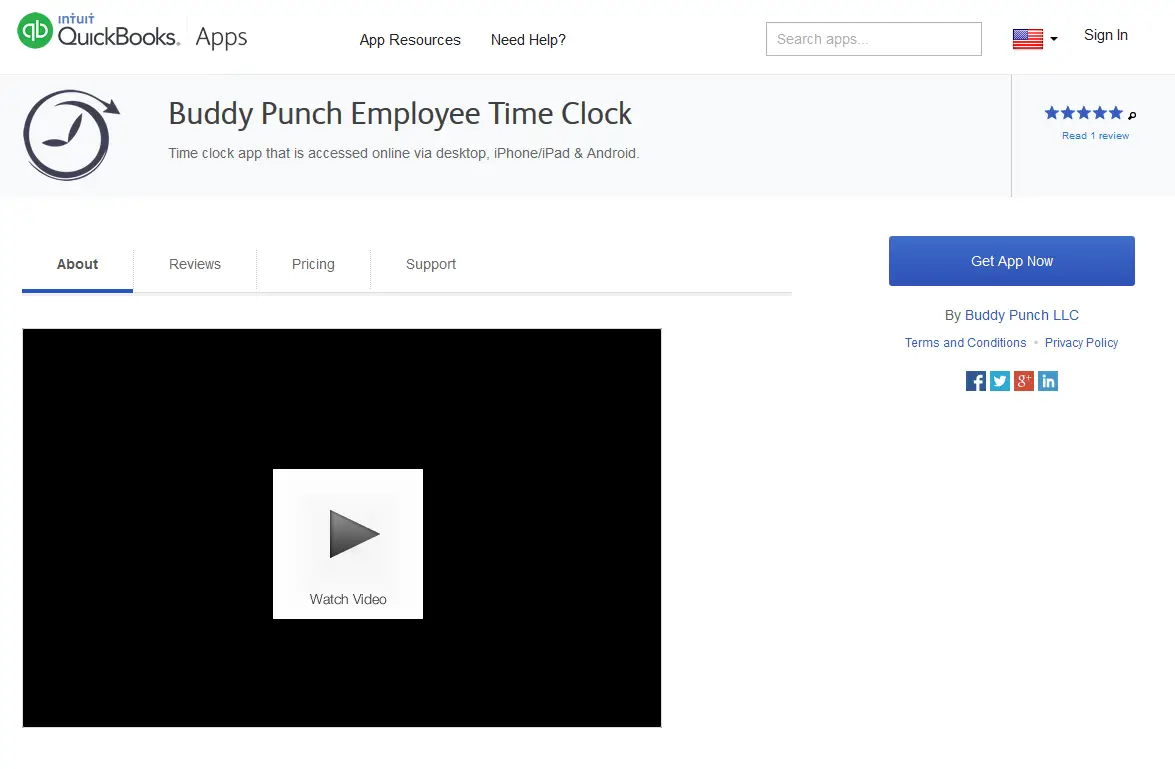 How it works
You can visit the Intuit apps store directly by clicking on the image or navigating to apps.com.
Highlights
Sync your employees
Export time to QuickBooks Online on-demand
View Exports
Easy to Follow Setup
Follow the numbered setup steps to integrate your QuickBooks Desktop with Buddy Punch.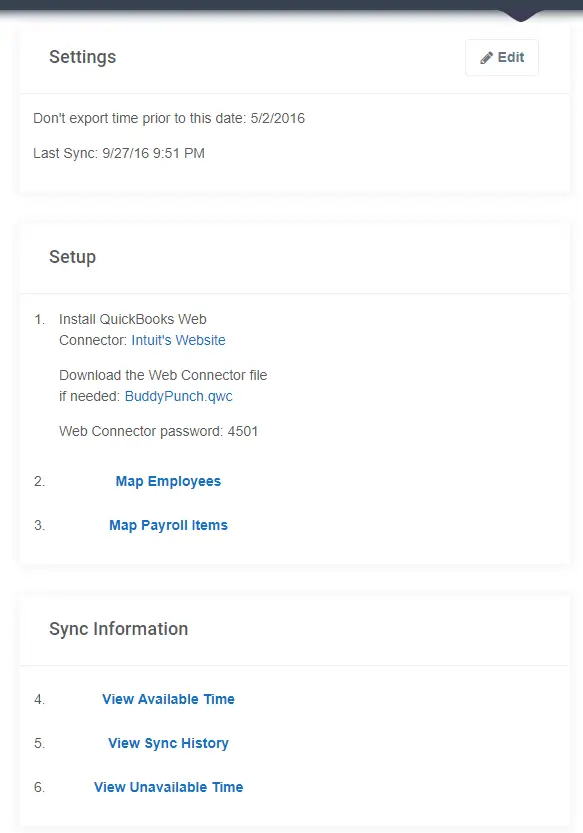 Sync when you want to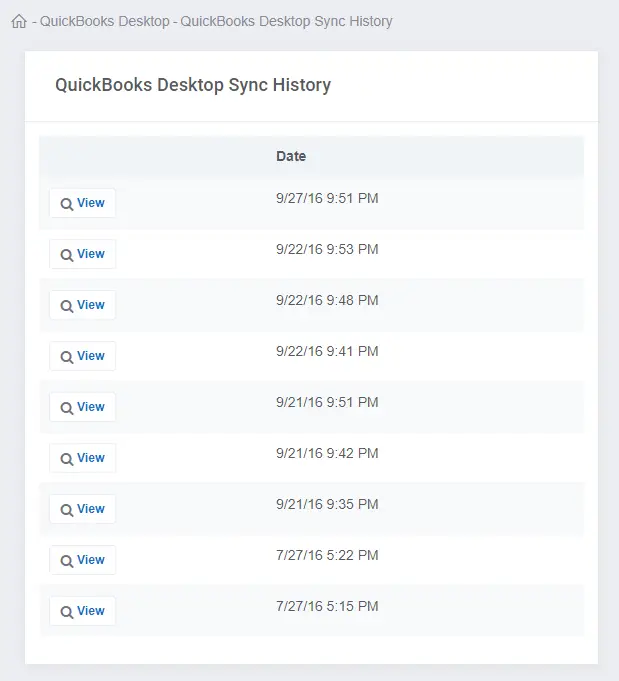 Other Integrations
Other than QuickBooks Desktop and QuickBooks Online, Buddy Punch can be easily integrated with other third-party software. Examples are Zapier, ADP, Gusto, PayChex, Paylocity, PayPlus, SurePayroll and WorkDay. Contact us to find out if other integrations are possible with any other software not on this list.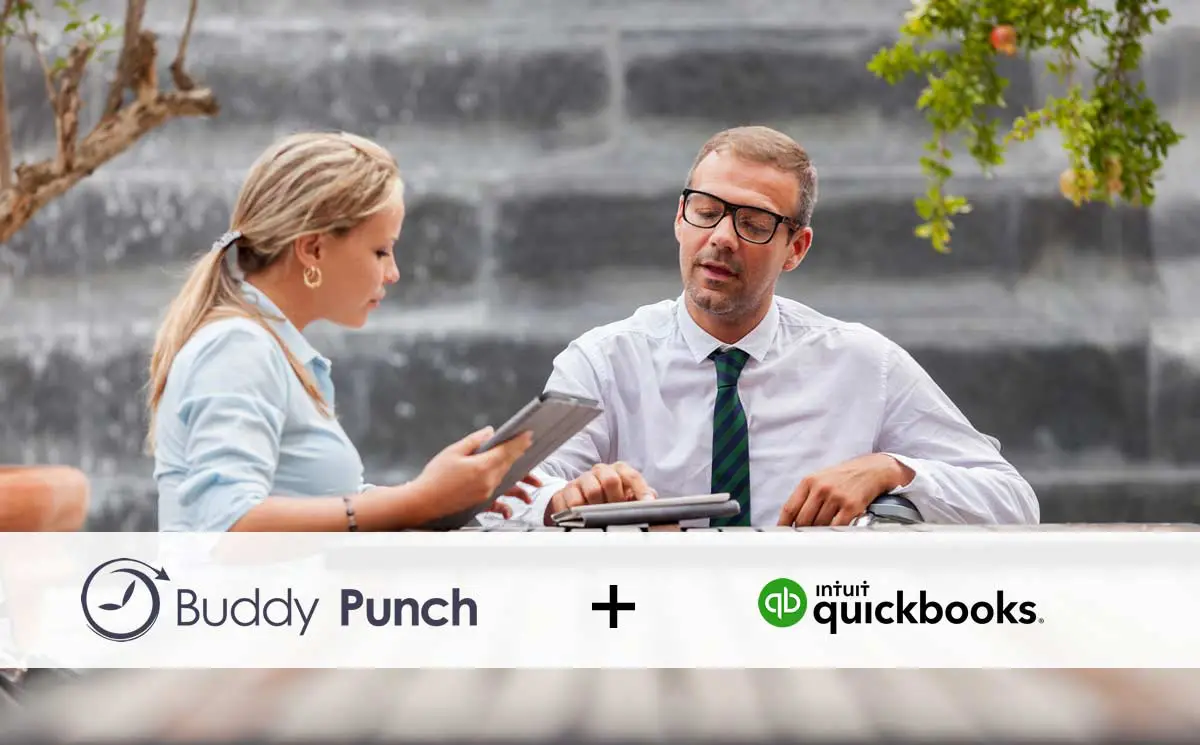 Integrating Buddy Punch with QuickBooks
QuickBooks is the go-to software choice for countless small businesses all around the world – it can provide all the essential tools for running a business more smoothly and efficiently.
The software has become an integral part of running a successful small business by providing affordable and simple ways to handle invoicing, bookkeeping and billing quickly and effectively.
The ability to generate invoices and do other basic tasks with a push of a button can have a huge effect for a small business – with limited resources and staff, every minute saved when doing mundane tasks can mean an improved quality of services, better customer service, and new possibilities for business growth.
QuickBooks extensive accounting functionality takes the burden off small business owners by providing efficient tools for expense tracking, payment processing, receipt creation, and much more, while at the same time greatly improving consistency and reducing the chance of errors to a minimum.
But to make the most out of QuickBooks, you need a time tracking software solution that seamlessly integrates with QuickBooks and allows to streamline the time entry process and free up time for more important tasks.
That's where Buddy Punch can be the perfect option.
Connect to QuickBooks
Even though time tracking is supposed to increase productivity, if the process is not efficient, it can waste more time than it saves.
With Buddy Punch Time Tracking Software, you can always keep track of all the work that's being done and know how your employees spend their time.
This can provide valuable insights into how to better manage the time of your employees and make sure that you maximize the results you can achieve in a given amount of time.
Buddy Punch, integrated with QuickBooks, can help to provide the complete picture of how your money is spent and allow to allocate resources to the most important and productive activities while figuring out where you need to spend less time.
You Won't Have to Manually Enter Time Ever Again
When you integrate Buddy Punch with QuickBooks, you will never have to manually enter your employees hours again – the software provides a simple and intuitive way to track time with a push of a button, reducing the time it takes to a minimum.
Buddy Punch also makes the process much easier for employees – they can make use of the online time clock to punch in and out out from their preferred device or from any location that's authorized by the employer.
After time has been tracked in Buddy Punch, the data is automatically transferred to QuickBooks where the time tracking information can be used for payroll management, saving an enormous amount of time in the process.
Know When Your Employees Go on Vacation or Have Sick Days
With the help of Buddy Punch, you can take complete control over your employee time management and create a number of custom PTO types for vacations, holidays, personal days, sick days, and even allow employees to enter PTO on their time card.
As an employer, you will also have the opportunity to approve each PTO as the request is being made, or to have it approved automatically if you want.
This is a much more efficient and flexible process that allows you to maintain as much control as possible, while also allowing your employees to enter information on their own, which saves times for everyone.
In case you don't need PTO, Buddy Punch allows you to disable the function altogether, not allowing employees to request or enter in PTO. In this case, it can still be entered by the system admin if necessary.
Easy Integration
It couldn't be easier to integrate QuickBooks and Buddy Punch, whether you want to integrate with QuickBooks Online, QuickBooks Desktop, or both.
It only takes a few easy steps to sync your data between the two platforms, and then your employee IDs in QuickBooks will be matched with employee IDs in Buddy Punch, making sure that information is shared in seconds.
More about Buddy Punch Time Clock software
Buddy Punch is an online time clock system that allows streamlining all time collecting processes in your company.
It can help you track your employee hours, automatically calculating time worked and splitting it into regular time, overtime, and double time. The app allows you to set up unique overtime rules for each employee or employee group, providing a much more efficient and flexible way to manage employee time.
Buddy Punch can be accessed from any desktop or laptop computer with an internet connection, and even has an app that's available for download on both Android and iOS devices.

Integration with QuickBooks, Asana & Zapier
Buddy Punch is a work hours tracking app that helps businesses track their employees time more effectively and easily integrates with leading business software vendors such as QuickBooks, Asana, and Zapier.
Other Features
We know how important it is to have a robust set of features and functionalities to help you better manage your employees and their time. We pride ourselves on offering many features that are not provided by several other time tracking systems. Whether you are looking for simple yet powerful features such as PTO Accruals and Overtime Calculations or more advanced features such as Geofences and QR Codes – we have got you covered! Make sure to check out all of the Other features we offer.
Job Costing
If you are a business that needs to track time by job, then our Job Costing feature can help you achieve that. You can create as many jobs, companies, or labels as needed. When your employees go to punch in, they will be able to select the job they are working on. Employees can easily switch between jobs as needed throughout their shift. Not only will the time spent on each job be reflected on the employees time card, but also on your reports. With our Job Costing feature, you can easily determine how much time and manpower was spent on a particular job to help you budget for the future.