Buddy Punch vs. Zapier & Asana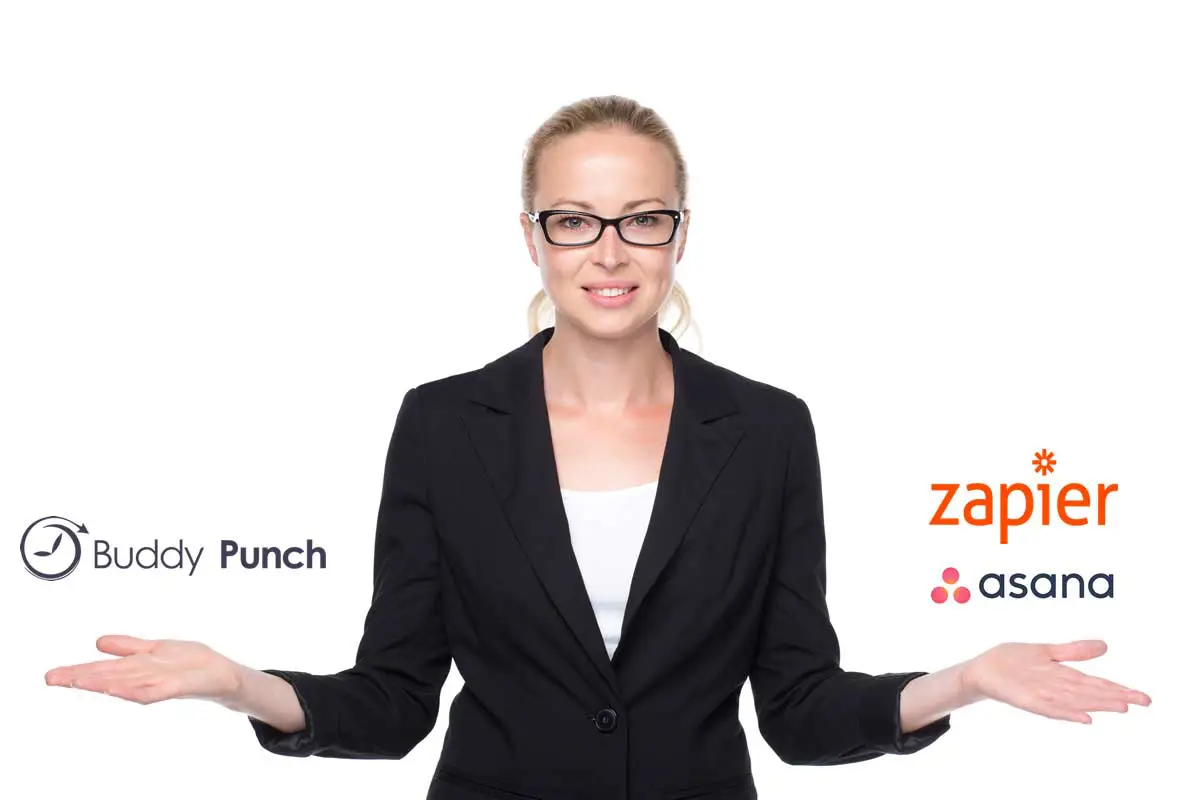 Selecting a time tracking software for your business is easier if you narrow down your comparison to software that's in the top tier for customer reviews. Those reviews say a lot about the software and if you should use it for your own business.
The most popular software for time tracking is Buddy Punch, followed by Tsheets, then Clockshark and Zapier & Asana. Asana is an information manager for your business, which can be integrated with Zapier. Before looking at pricing, you should consider the features offered, as well as how effective the software is with tracking and calculating various pieces of data.
Fortunately, both tools offer some variation of free plans or at least a free trial, as is the case with Buddy Punch. Asana doesn't have a free trial for their paid versions but is one of the very few tools that will allow you to utilize their basic features with up to 15 users for an unlimited period. You will, however, have to pay a higher price than the rates offered by Buddy Punch if you want to enjoy more features with the paid version. With Buddy Punch, you get a free trial that you should use before you choose the paid plan, to see if you like the functionality of the software.
Let's take a look at the features and make a closer comparison:
Buddy Punch vs. Zapier & Asana
Asana is rather basic on its own, but Zapier allows its users to connect to a variety of other apps, including Google Calendar, Evernote, and Gmail. The connections you make can significantly improve and increase the number of features typically offered by the actual software.
Buddy Punch, on the other hand, has more features and functionality already embedded in the software. This is the software with most features offered, coming up higher on the list than even TSheets and Clockshark. When it comes to Buddy Punch and Asana, here is what you need to know about their features:
Facial Recognition
The Buddy Punch system is more advanced than the basic version of Asana, even when looking at the paid version of Asana. Buddy Punch offers features like facial recognition, making it impossible for the employees to punch in hours for their colleagues, minimizing time theft.
By enabling facial recognition as part of the time tracking process, employees will need to punch in or out by using their camera. The Buddy Punch software offers this feature on desktop, tablet, and mobile versions. Asana does not have this feature.
Locations and GPS
Buddy Punch, as well as TSheets and Clockshark, have this feature, making it possible for users to track their employees during work hours. This feature allows for the elimination of time theft of employees and enables the employer to keep track of the work being done and where it is being done. As of now, Asana has no GPS feature available.
Management
Management functionality is available with all top time tracking software tools. Asana gives its users the ability to assign, manage, and organize tracks for everyone on the team, across teams, including in shared projects, and for the administrator. Buddy Punch has an additional option in this area; it allows users to set managers and assign employees to those managers while overseeing the work by using an organized system within the software.
Notifications
Notifications for issues or time logged are available with both Buddy Punch and Asana.
Overtime, PTO, Sick, Vacation, Breaks
Both tools allows users to keep track of overtime, PTO, vacation, and sick time requests. With Buddy Punch, users also have the opportunity to track automated breaks, which is something most time tracking software products do not have.
Reports
Reporting across the organization and different projects is available with both tools. As the administrator and employer who tracks the employees in your business, you will find the reports from both tools to be accurate and effective in generating collected data.
Apps
Buddy Punch and Asana have iOS and Android apps available to their users.
IP Address Locks
Another feature available with Buddy Punch is the IP address lock feature. So far, we haven't found another software option that includes this feature for the time tracking of employees.
The IP address locks feature works by assigning IP addresses to the employees. Employees are then only able to punch in or out on devices associated with the assigned IP address, ensuring they are punching in our out where they're supposed to be.
Affordability of Buddy Punch and Asana
Using Asana on its own is very affordable. In fact, this is one of the very few software products that give a free version for up to 15 users and doesn't limit you in terms of projects and tasks. However, you might find this free version too basic, which is why most business owners decide to opt for the paid plans.
The paid plan for Asana costs $11.99 per user per month, no base fee required. The pricing system is different than that of Buddy Punch, which charges a set fee based on the number of users. With Buddy Punch, for example, you will pay $29 for 9 users per month. When you have more than 100 users, Buddy Punch's pricing shifts to a couple hundred dollars.
The small-team paid plans for Asana are more affordable but do come close to the pricing plan of Buddy Punch. For this option, you pay $7.50 per user per month, but only if you have up to 15 users. Enterprise plans are, of course, the highest priced plans, and the quoted price is only available when you contact the company.
Of course, these prices aren't final if you want to integrate Asana with other paid tools by using Zapier. Depending on what you will choose, you might be adding extra costs to the already higher-priced software, so that's something to keep in mind.
Buddy Punch is by far a more affordable option than Asana when looking at all costs. The pricing difference is probably the biggest reason why most choose Buddy Punch in the first place, in addition to the difference in the number of features Buddy Punch offers.
Buddy Punch vs. Tsheets, Clockshark, Zapier & Asana
Still searching for the perfect timesheet software for your business? Of all the tools in the market, Buddy Punch is still considered to be one of the most popular. Buddy Punch is cheaper when comparing to the full options with Asana, and more popular than the rest. One of the main reasons Buddy Punch is considered to be the best is the number of features that promote anti-time-theft in payroll and time tracking.
When you compare the tools used for time tracking, you should base your decision on the budget you have, the features important to you as well as your company's needs, the number of users you are planning to integrate into the system, and the efficacy of the software shared by other users. This will allow you to choose the best software that will make the time tracking process much easier for you as a business owner.
Don't let time tracking be a barrier to finding the time to handle important business matters. The age when employee time was tracked manually is far-gone, and time tracking has advanced greatly since the first punch cards were invented. To avoid mistakes and losses, as well as time theft, choose Buddy Punch software to make the time tracking process easier.