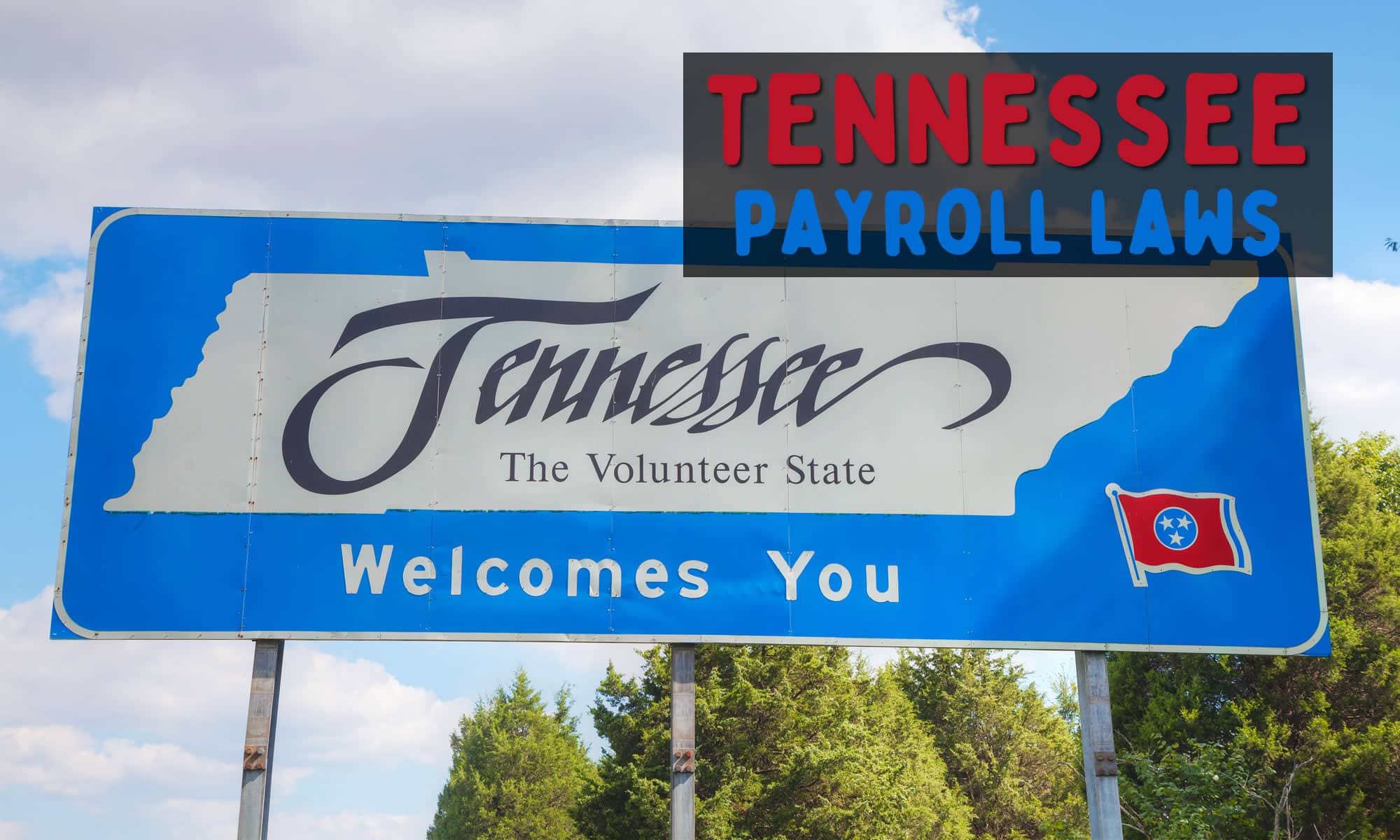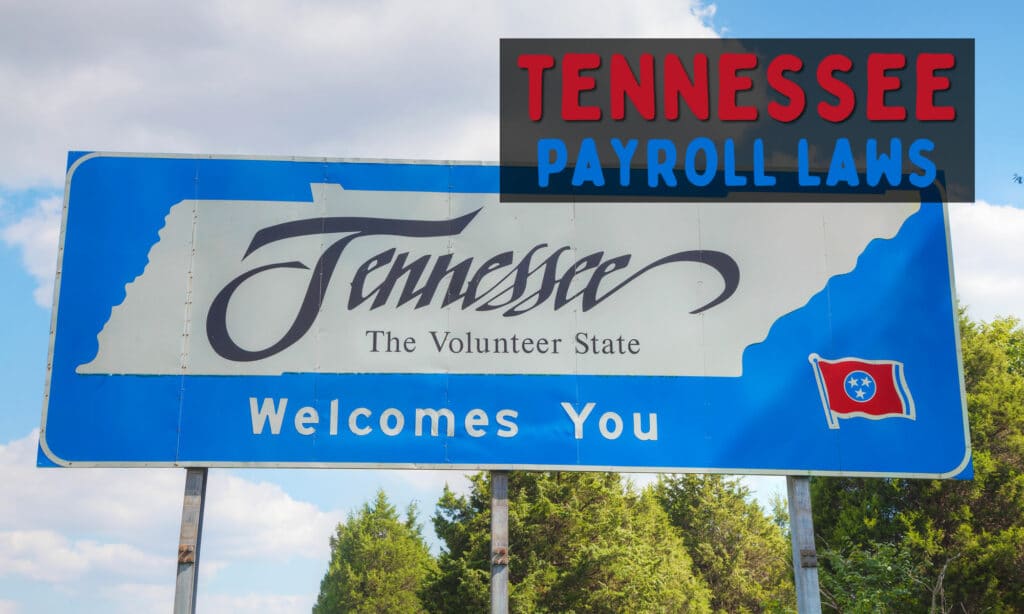 Tennessee Payroll Laws (2023 Guide For Employers)
What do you know about Tennessee payroll laws?
Straight off the bat, here are a few key points:
Let's take a look at these key points and more in greater detail.
Disclaimer: Despite our best efforts to provide you with accurate information on this topic at the time of writing, we cannot guarantee the accuracy of the content at the time of reading. This blog post is for informational purposes only and should not be considered legal advice. Consult an attorney for specific guidance on Tennessee payroll laws.
Tennessee Employment Laws (Key Areas)
Tennessee Wage Regulations & Overtime Laws
Tennessee follows the federal minimum wage, currently set at $7.25 per hour, as outlined by the FLSA.
Employers must adhere to federal law and state law to ensure they are compliant with wage regulations.
Overtime pay is another crucial aspect of Tennessee payroll laws. In accordance with the FLSA, overtime laws require employers to pay eligible employees at least 1.5 times their regular wage rate for hours worked beyond 40 hours in a workweek.
It is illegal for private employers not to pay overtime after 40 hours in Tennessee.
Pay Periods, Regular Payday, & Final Paychecks in Tennessee
Tennessee employers must establish a regular payday and inform their employees of their pay schedule.
The law stipulates that employers must pay wages no later than the next regular payday following the end of the pay period.
When an employee quits, is terminated, or laid off, Tennessee law requires employers to issue final paychecks no later than the next regular payday or within 21 days, whichever occurs later.
Employers are not allowed to withhold an employee's last paycheck in Tennessee, regardless of the reason for separation.
Direct Deposit & Wage Payment in Tennessee
Employers can offer direct deposit as a condition of employment in Tennessee.
Employees must provide written notice to opt-out of direct deposit, and employers must honor the request.
Break Time, Meal Breaks, & Rest Breaks in Tennessee
Tennessee labor laws require employers to provide appropriate break times for employees, including meal breaks and rest breaks.
Employees who work a six-hour shift are entitled to a 30-minute unpaid meal break, which must occur after the first hour of work but before the last hour.
Minors aged 14 to 17 must receive a 30-minute meal break for every five consecutive hours worked.
Paid Time Off, Sick Leave, & Medical Leave in Tennessee
Tennessee state law does not require private employers to provide paid time off, sick leave, or medical leave to employees.
However, if an employer chooses to offer these benefits, they must follow their established policies and employment contract.
Under the Family and Medical Leave Act (FMLA), eligible employees working for covered employers can take up to 12 weeks of unpaid, job-protected leave for specific family and medical reasons.
Tennessee employers must comply with FMLA regulations, which apply to private employers with 50 or more employees.
Jury Duty in Tennessee
Tennessee employers are required to provide employees with unpaid leave for jury duty.
Employers cannot terminate, discipline, or threaten employees for attending jury duty.
Child Labor Laws in Tennessee
Tennessee child labor laws regulate the employment of minors to ensure their safety, well-being, and ample opportunity for education.
Minors aged 14 and 16 can work no more than 18 hours during a school week and no more than 40 hours during non-school weeks.
They are also prohibited from working before 7 a.m. and after 7 p.m. during the school year, with the exception of working until 9 p.m. from June 1 through Labor Day.
Health Insurance, Workers' Compensation, & Fringe Benefits
Tennessee does not have specific laws requiring private employers to offer health insurance or fringe benefits to their employees.
However, employers with 50 or more full-time employees may be subject to the Affordable Care Act's employer mandate, which requires them to provide health insurance.
Workers' compensation insurance is mandatory for most employers in Tennessee, providing benefits and medical care to employees who suffer work-related injuries or illnesses.
Protections & Exemptions in Tennessee
Tennessee labor laws provide protections for employees, including wage payment, workplace safety, and anti-discrimination regulations.
However, there are exemptions in the law, such as for certain types of employees or industries.
To ensure compliance with Tennessee wage laws and other employment law matters, employers and employees should consult with legal counsel for advice tailored to their specific circumstances.
Meal Periods & Rest Breaks in the State of Tennessee
The state of Tennessee has specific laws regarding meal periods and rest breaks for employees.
As previously mentioned, Tennessee labor laws require employers to provide a 30-minute unpaid meal break for employees who work a six-hour shift.
This meal break should occur after the first hour of work but before the last hour.
While Tennessee law does not mandate rest breaks, it is recommended that employers provide short rest breaks of approximately 10 minutes for every four hours of work.
These breaks promote employee well-being and can contribute to increased productivity.
Tennessee Payroll Laws (Closing Thoughts)
We hope this article has provided you with a good understanding of payroll and labor laws in Tennessee.
When you have knowledge of how these laws and regulations work, you can navigate the workplace effectively and focus on staying productive.
Whether you are an employee or employer, it's critical to know about Tennessee payroll and employment laws.
Disclaimer: Not Legal Advice
This blog post provides a general overview of Tennessee labor laws but does not constitute legal advice.
Laws and regulations are subject to change, and there may be additional requirements or exemptions that apply to specific situations.
Employers and employees should consult a qualified labor law attorney for advice on their specific circumstances.
If you have any questions about your rights or obligations as an employer or employee in Tennessee, it is essential to consult with a labor law attorney to receive accurate information and guidance tailored to your situation.
By seeking professional legal advice, you can ensure that you are taking the appropriate steps to comply with labor laws and protect your rights.
US States