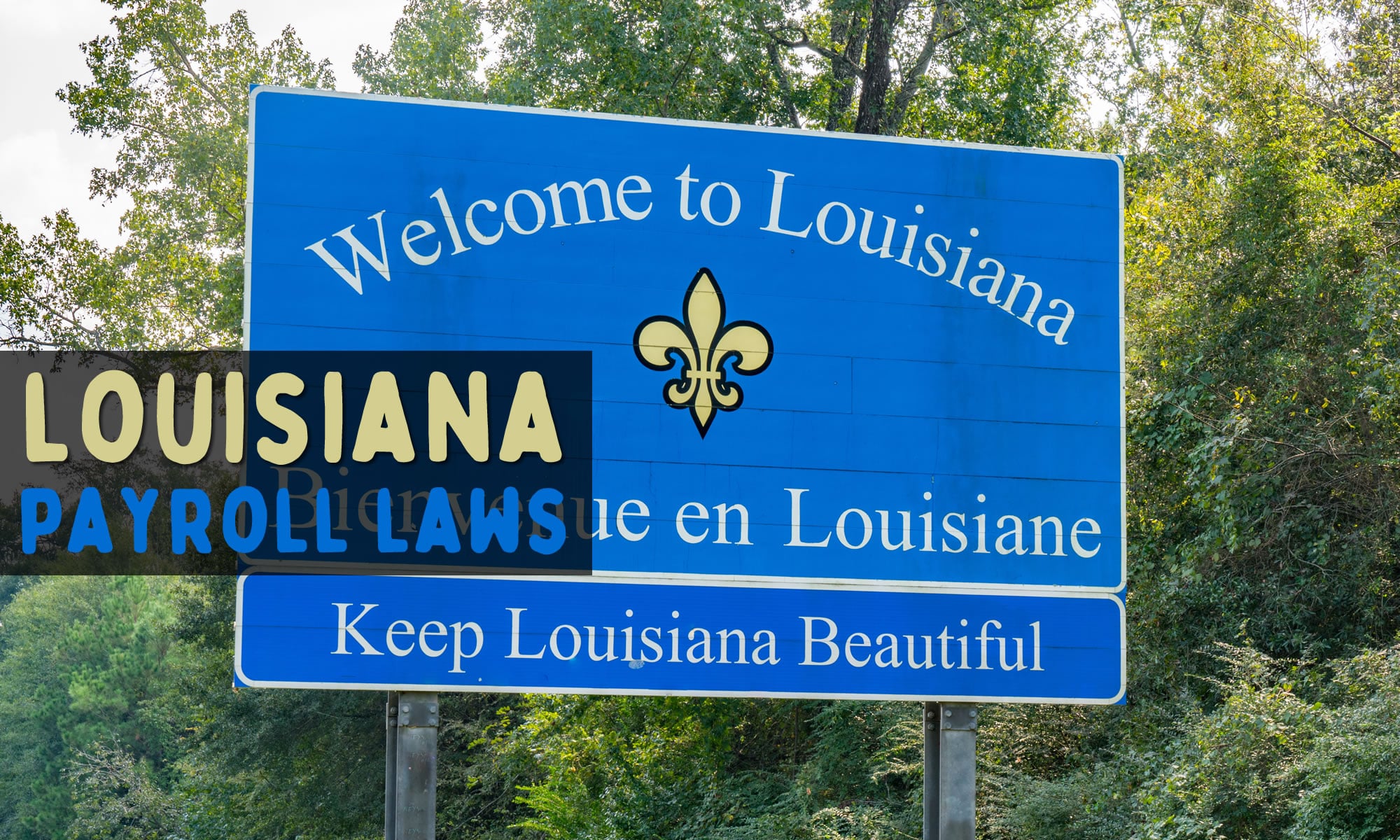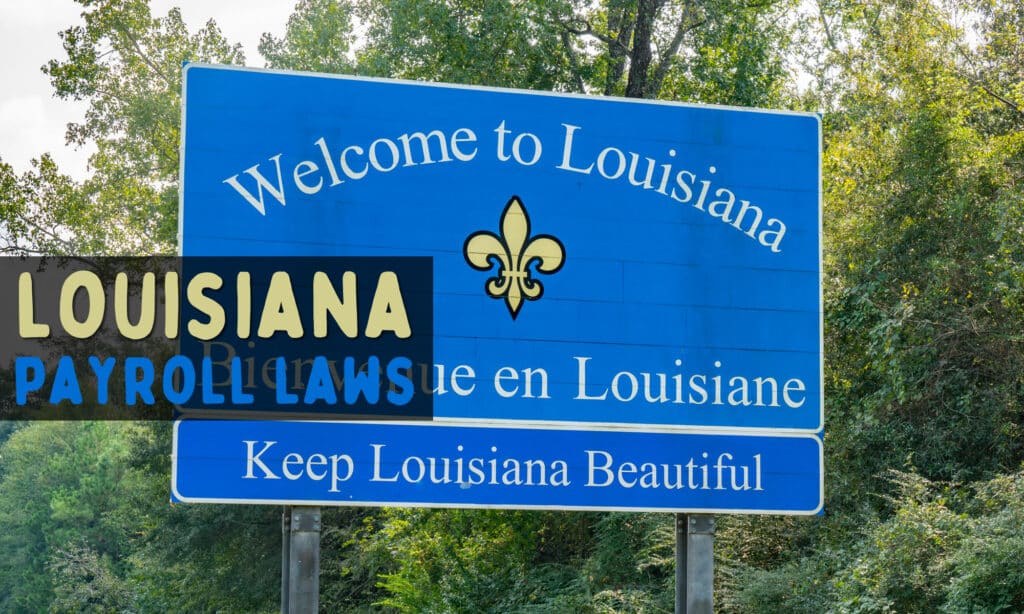 Louisiana Payroll Laws (2023 Guide For Employers)
What do you know about Louisiana payroll laws?
Straight off the bat, here are a few key points:
Let's explore these key points and more in greater detail.
Disclaimer: Despite our best efforts to provide you with accurate information on this topic at the time of writing, we cannot guarantee the accuracy of the content at the time of reading. This blog post is for informational purposes only and should not be considered legal advice. Consult an attorney for specific guidance on Louisiana payroll laws.
Minimum Wage in Louisiana
Louisiana does not have a state-specific minimum wage, which means that the federal minimum wage of $7.25 per hour applies to all non-exempt employees in the state.
The Fair Labor Standards Act (FLSA) governs federal minimum wage regulations, and Louisiana employers must adhere to the federal law in this regard.
Louisiana Labor Laws: Overtime Pay, Work Hours, & Breaks
The FLSA also regulates overtime laws and work hours in Louisiana.
Non-exempt employees must receive overtime pay of 1.5 times their regular wage rate for any hours worked beyond 40 in a single workweek.
Louisiana law does not mandate meal breaks or rest breaks, but employers must follow the FLSA rules for any breaks provided.
For example, an employer must pay an employee for any break lasting less than 20 minutes.
Paydays & Final Paychecks
According to Louisiana labor laws, employers must designate paydays for their employees, with at least two paydays per month.
Paydays must be no more than 16 days apart, and employees must be paid within ten days of the end of the pay period.
If an employee quits or is terminated, the employer must issue the final paycheck on the next regular payday or within 15 days, whichever comes first.
Medical, Military, & Other Leave
Louisiana law does not require private employers to offer paid leave, such as vacation time or sick leave.
However, employers must adhere to federal law, including the Family and Medical Leave Act (FMLA), which provides eligible employees with up to 12 weeks of unpaid, job-protected leave for certain medical and family reasons, including the birth or adoption of a child, caring for a spouse or parent with a serious health condition, or a normal pregnancy.
Military leave is also governed by federal law, specifically the Uniformed Services Employment and Reemployment Rights Act (USERRA).
This law provides job protection and reinstatement rights to employees who take time off to serve in the military.
Louisiana Wage & Hour Laws: Penalties for Late or Unpaid Wages
Employers who fail to pay their employees on time or do not pay the required minimum wage or overtime pay can face significant penalties under Louisiana labor laws.
The Louisiana Workforce Commission enforces these laws and can initiate an investigation if an employee files a complaint.
Employers found to be in violation of wage and hour laws can be ordered to pay back wages, attorney's fees, and, in some cases, additional penalties.
Federal Fair Labor Standards Act & Louisiana Wage Laws
The Federal Fair Labor Standards Act (FLSA) establishes minimum wage, overtime pay, recordkeeping, and youth employment standards for employees in both the private and public sectors.
In Louisiana, employers must adhere to the federal law in the absence of specific state wage laws.
The FLSA is enforced by the Department of Labor, which ensures compliance with the federal wage law provisions.
Employee's Wages & Work Hours
Louisiana employers are required to maintain accurate records of each employee's wages, hours worked, and other relevant information as outlined by the FLSA.
This information helps to protect employees and ensure they are paid fairly for their work.
Employers must adhere to the FLSA provisions related to work hours, including the maximum number of hours an employee can work in a single workday without receiving overtime pay.
Louisiana Child Labor Laws
The FLSA also contains specific provisions regarding the employment of minors.
In Louisiana, individuals under 18 years of age are subject to certain restrictions on the type of work they can perform, the hours they can work, and the conditions in which they can work.
Employers must ensure that they are in compliance with both federal and state laws related to youth employment.
Vacation Pay In Louisiana
While the FLSA does not require employers to provide paid vacation time, it does set forth rules that must be followed if an employer chooses to offer vacation pay.
In Louisiana, employers are not required to provide paid vacation time, but if they do, they must follow the FLSA guidelines.
Louisiana Payroll Laws (Closing Thoughts)
We hope this article has provided you with a good understanding of payroll and labor laws in Louisiana.
When equipped with an understanding of how Louisiana laws and regulations work, you can confidently navigate the workplace effectively and focus on staying productive.
Whether you are an employee or employer, it's critical to know about Louisiana payroll and employment laws.
Disclaimer: Not Legal Advice
This blog post provides a general overview of Louisiana labor laws but does not constitute legal advice.
Laws and regulations are subject to change, and there may be additional requirements or exemptions that apply to specific situations.
Employers and employees should consult a qualified labor law attorney for advice on their specific circumstances.
If you have any questions about your rights or obligations as an employer or employee in Louisiana, it is essential to consult with a labor law attorney to receive accurate information and guidance tailored to your situation.
By seeking professional legal advice, you can ensure that you are taking the appropriate steps to comply with labor laws and protect your rights.
US States