Wrike Alternatives (5 Options)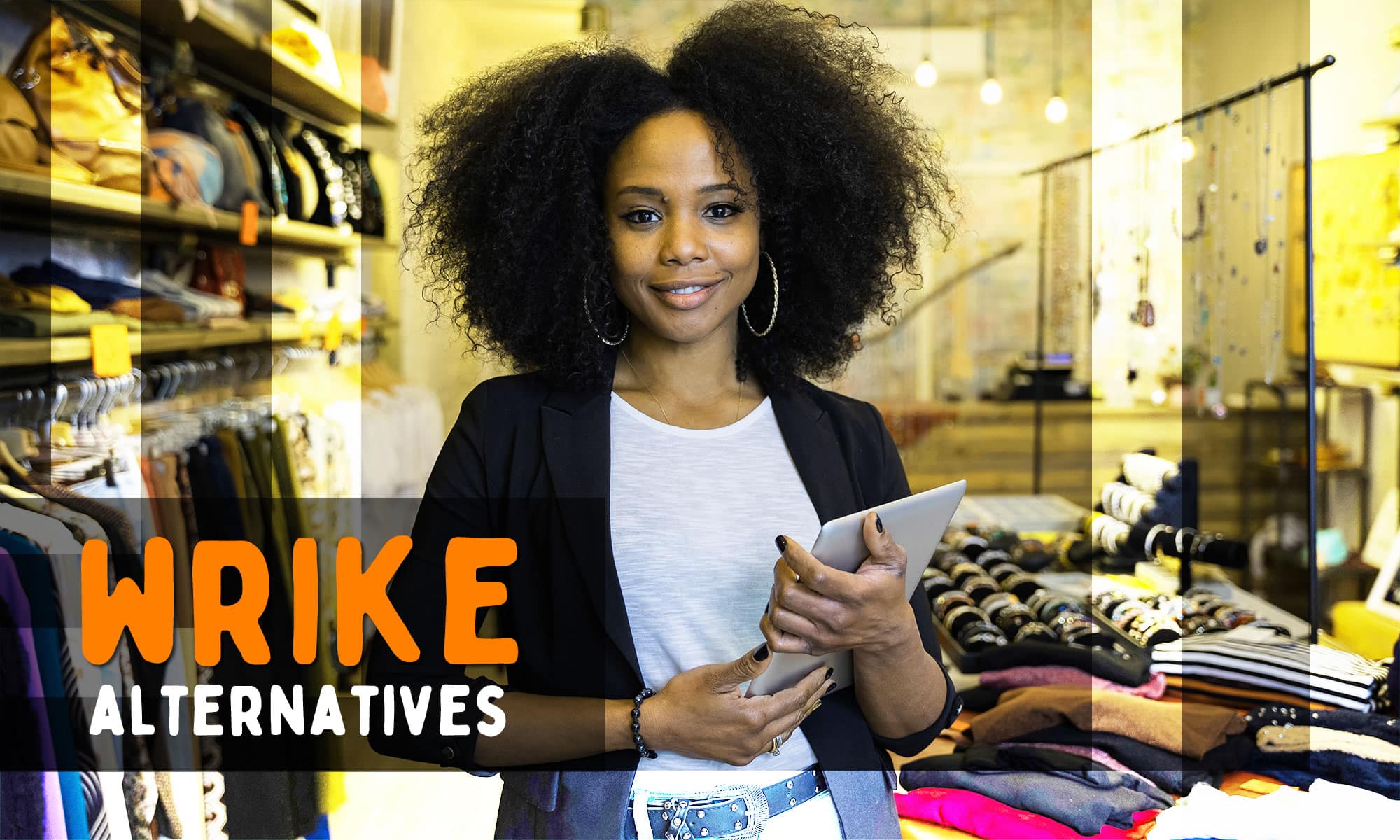 Are you looking for the best Wrike alternatives? If you're not happy with Wrike or simply want to explore other options, there are several effective time management alternatives available on the market. In this article, we'll take a look at five of the best Wrike alternatives. We'll compare and contrast each option to help you find the right fit for your needs.
Project management software is important for any team that wants to be organized and efficient. Wrike is a popular option, but it's not the only one. Task management, customizable templates, intuitive Gantt charts, and kanban boards are all important project management features to consider when choosing the best alternative work management software.
If you want to streamline workspace time tracking, you need access to the right tools. From completing time entries to requesting time off, the best project management software will make time management a breeze. Team leaders and project managers need to be able to see how much time is being spent on tasks, identify issues, and track progress.
Best Wrike Alternatives
1. Buddy Punch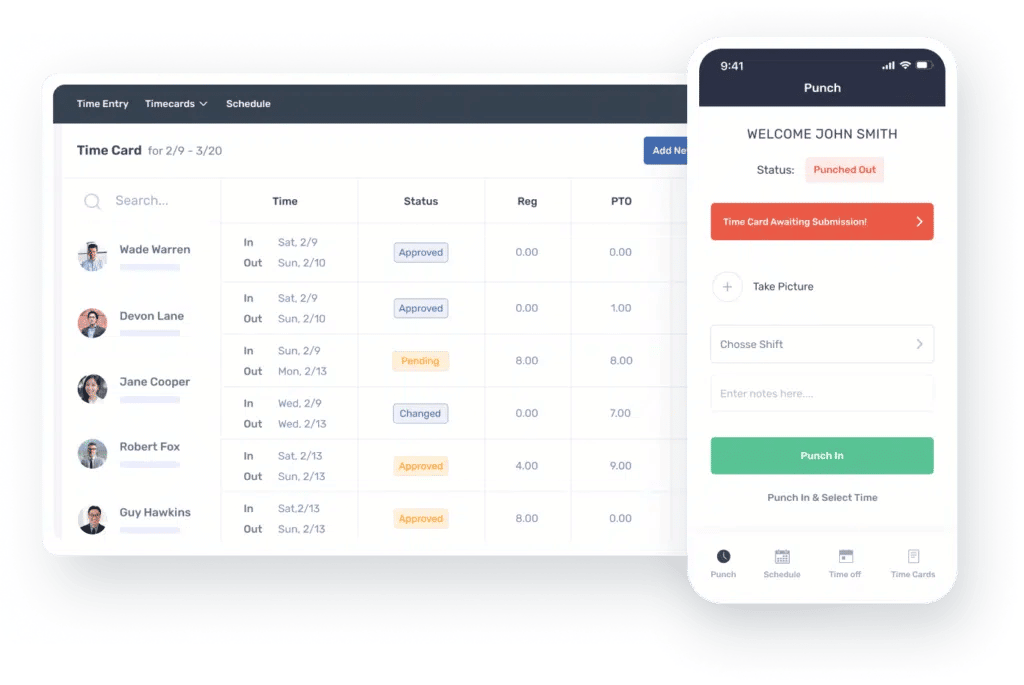 A project management platform like Buddy Punch can work well as a Wrike alternative for companies that want to track employee time and attendance. With this software, you can see who is working on what tasks and how much time they are spending on each task. This information can be used to optimize workflows and ensure that everyone is productive.
How Buddy Punch's Cloud-Based Platform Works
Buddy Punch is a cloud-based platform that offers time tracking, scheduling, and payroll features. The platform integrates with QuickBooks and other payroll providers. To use Buddy Punch, employees clock in and out of the system via desktop or mobile app. GPS location tracking ensures that managers and leaders know where employees are clocking in from.
With no real learning curve, you can begin using Buddy Punch's key features immediately. This web-based platform makes team collaboration easy. As one of the top Wrike alternatives, Buddy Punch is an excellent choice for any business. Buddy Punch's platform is suitable for both small businesses and large enterprises that are looking for human resource management solutions.
Collect Timesheets For Payroll Processing
Buddy Punch's time tracking software makes it easy to collect timesheets. The platform offers a web-based interface and mobile app that employees can use to clock in and out. With GPS location tracking, you can track where employees clock in and out from. The platform integrates with QuickBooks and other payroll systems to streamline timesheet processing.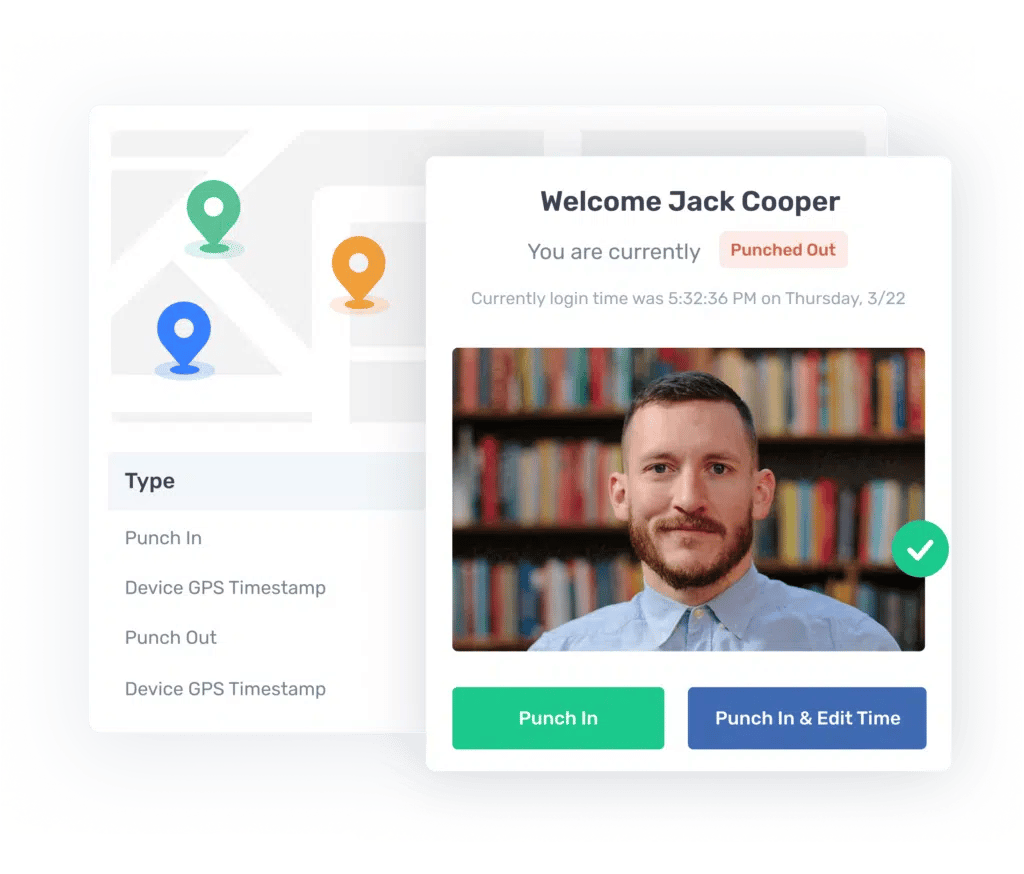 Assign Job Codes To Team Members
Buddy Punch's job codes feature allows you to assign task-related codes to team members. This way, everyone is clear on what needs to be done and how much time they have. You can also use the platform to generate reports and monitor employee productivity. This is an excellent way of monitoring employee performance in detail.

Unify All Employee Performance Data
If you're struggling to manage different employee data sets, then Buddy Punch is the platform for you. With this application, you can have all of your employees' information in one dashboard. This makes it easy to access everything that you need quickly and conveniently – whether it's hours worked or employee performance reviews.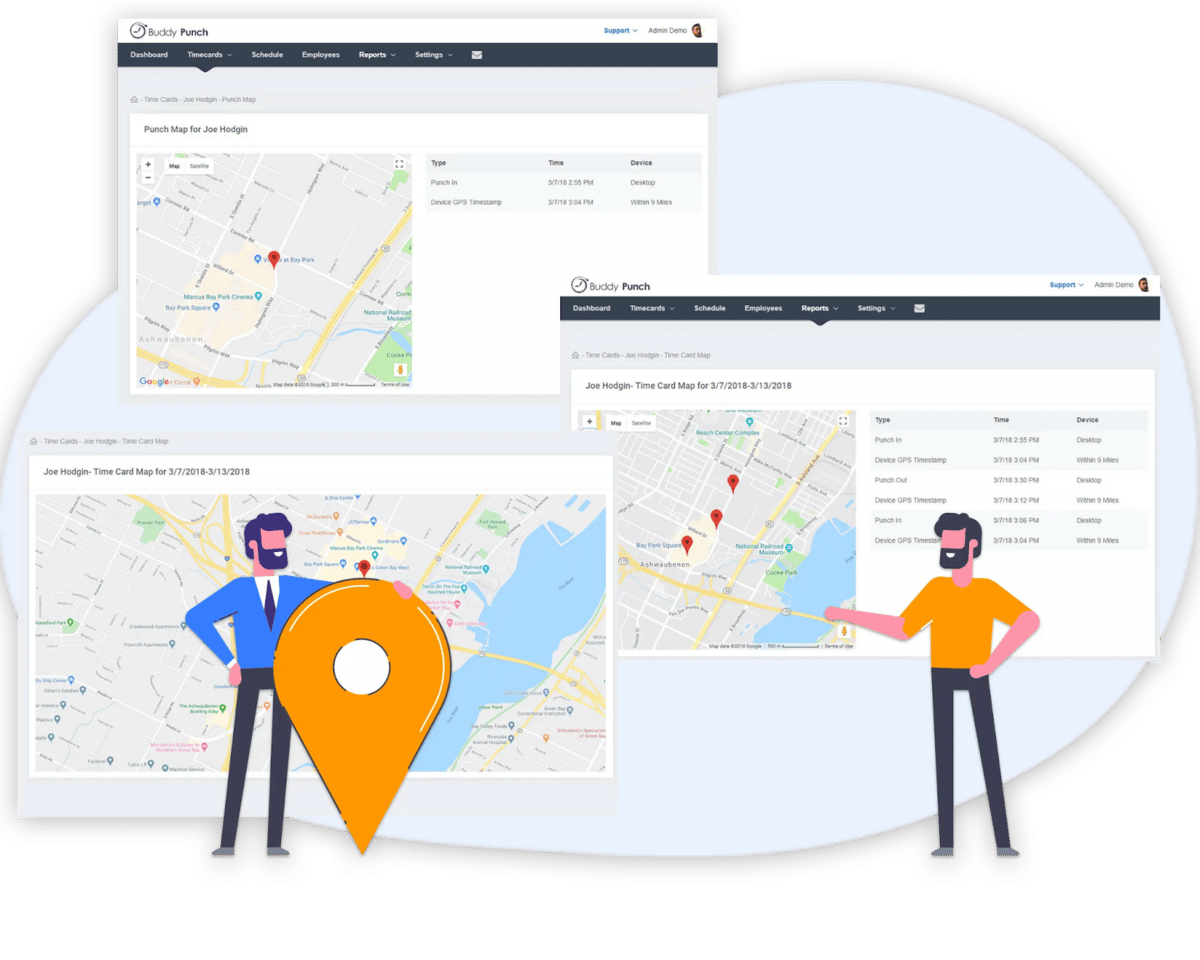 Fully Customizable To Match Your Ambitions
Buddy Punch is a scalable solution that can be tailored to match your business ambitions. The platform offers free and paid plans. With the paid plans, you get access to features such as GPS location tracking, timesheet management, and payroll integrations. Regardless of the plan you choose, Buddy Punch offers excellent value for money and can scale to match your ambitions.
Instant Notifications For Team Leaders And Managers
With Buddy Punch, team leaders can enable instant notifications to stay in the loop. This way, you can get real-time alerts whenever an employee clocks in or out of the system. The notifications come in handy when trying to track employee productivity. If an employee is slacking off, you can address the issue immediately and take action.

No matter the size of your team, Buddy Punch can help you manage your staff more efficiently. You'll find many helpful resources on our website so that you can take advantage of all that our platform has to offer and attain incredible results for your organization. If you have any questions during this process, please reach out to our support team.
You can book a one-on-one personalized demo here.
Buddy Punch Is The Best Wrike Alternative
Say "goodbye" to Asana, Slack, and Trello. As a collaboration tool, buddy Punch is well-equipped to help your team establish clear roadmaps for complex projects. Project managers and team leaders have the necessary permissions to oversee project planning for small teams and monitor workforce performance using an easy-to-navigate dashboard.
The right project management solution will do more than simply support teamwork and enable you to create basic to-do lists with due dates. Using Buddy Punch, you can onboard unlimited users and leverage a range of add-ons to streamline workflows such as payroll processing.
Here are just some of the features available across the desktop and mobile app:
Buddy Punch's Online Reviews
The user reviews are glowing! As of the writing date, Buddy Punch has 4.8 out of 5 stars and 724 reviews on Capterra.

Below, we'll list just a few reviews that speak to Buddy Punch's ease of use and great customer support service. (Click here to explore the full list of reviews.)
As reviewers have noted, Buddy Punch provides team leaders and project managers with the necessary tools to promote team accountability:
"I like that you can clock in and out from your mobile device. Perfect when you are not at the office but working from another location. I also like that you can identify different departments since I have to clock hours for two separate programs."

Click here to read the full review.
"Customer service is exceptional and quick. Admin is very easy and user friendly."

Click here to read the full review.
"I like the ease of use and flexibility of Buddy Punch. You can add features you want and don't have to be bogged down with what you don't want to use. Some sites have way too much. I wanted simple!"

Click here to read the full review.
"Cannot say enough about their support. Even if the product was not as amazing as it is, I would highly recommend Buddy Punch due to the unbelievable support!"

Click here to read the full review.
Try Buddy Punch for Free
If you feel that Buddy Punch might be the right fit for your business, sign up for a free trial. You can also book a one-on-one demo, or view a pre-recorded demo video.
2. Timely
If you find that keeping track of your team's workload is proving difficult, Timely may be the project management tool for you. The platform allows users to see who is working on what tasks and when they are due with ease. In addition, Timely offers a great visual interface that makes progress clear at a glance. This makes the platforms useful for leaders and project managers.
At the time of writing, Timely has a total of 208 reviews on Capterra, with an average of 4.7 out of 5 stars. Timely is loaded with a broad range of high-impact features:
"Timely allows for effortless management regarding your appointments with clients and staff. The software is very simple and easy to understand. You can also access it on both mobile and desktop."

Click here to read the full review.
3. Insightful
With Insightful, you'll always have accurate employee data that lets you keep tabs on your team's progress. The automatic time mapping means it's a breeze to stay current with all employee info. When dealing with a big staff, using the most appropriate software solution is paramount to addressing both worker satisfaction and productivity issues.
At the time of writing, Insightful has a total of 73 reviews on Capterra, with an average of 4.7 out of 5 stars. Insightful lives up to its name by offering several useful features:
"The best thing about this software is that it's extremely easy to use. Just a one-click setup. Neat and clean dashboard and gives all the required tools which are essential. We use it to track our employee's check-in, checkout, time tracking, project tracking, idle time, and productive time."

Click here to read the full review.
4. When I Work
If you need a platform to manage your workforce, When I Work is an excellent option. It allows project managers and team leaders to track employee time, schedule shifts, and handle payroll all in one place. In addition, it's packed with features that radically simplify communication between employees and managers alike.
At the time of writing, When I Work has a total of 965 reviews on Capterra, with an average of 4.5 out of 5 stars. When I Work comes with a range of useful functionalities:
"I've been using this software for 5 years, first as an employee and then as an employer. Ease of use for both parties is fantastic and it's well worth paying for to save the time. When I change places of business, if I have a choice, I will choose When I Work again and again."

Click here to read the full review.
5. TimeCamp
TimeCamp is an online time tracking tool with a wealth of features to help you drive employee productivity and manage your team with ease. If you are looking for an alternative to Wrike, TimeCamp could be a great option. The automatic time tracking functionality is a game-changer for HR teams that often find themselves chasing up employees for their latest timesheets.

At the time of writing, TimeCamp has a total of 562 reviews on Capterra, with an average of 4.7 out of 5 stars. TimeCamp comes packed with a range of useful features:
"A simple program exactly what I was searching for to keep track of the number of hours I work each day. I didn't use the complete version of Timecamp because I didn't require it. I'm satisfied with the free version, which has a limited set of functions but is straightforward to use."

Click here to read the full review.
Try Buddy Punch for Free
If you feel that Buddy Punch could be the right fit for your business, sign up for a free trial. You can also book a one-on-one demo, or view a pre-recorded demo video.
You May Also Like…