5 Timesheet Tracking Templates for Small Business Owners (and 1 Superior Option)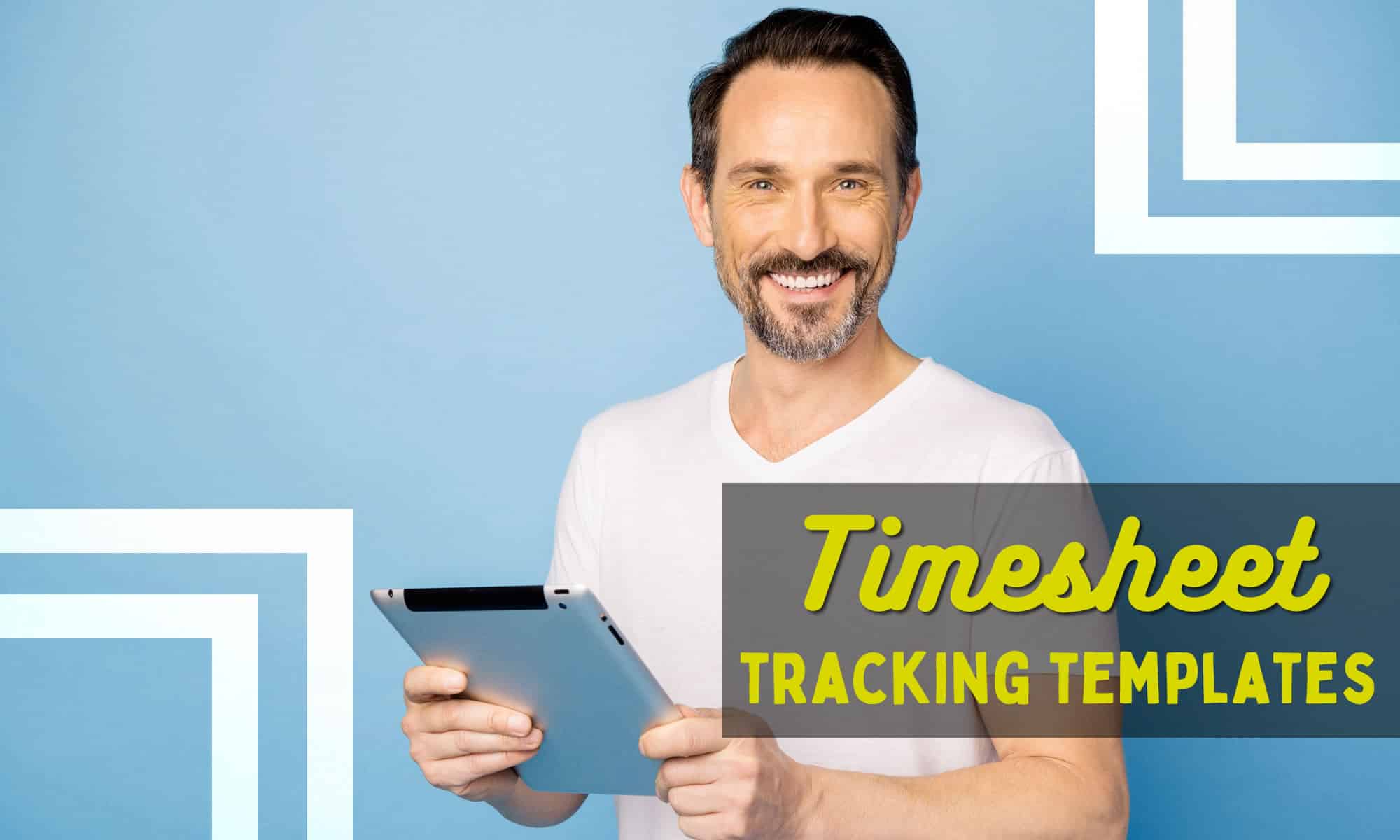 For small business owners and freelancers alike, timesheet tracking templates remove the guesswork when it comes to billable hours and total hours spent on projects. For entrepreneurs with their eyes set on growth, the use of a timesheet template can be the first step to improve time management, streamline operations, and (especially in the case of freelancing) calibrate hourly rates or pricing to maximize profitability.
And yet, even when considering the benefits that come with using employee timesheets to track time, our problem with them is that they're not effective enough.
Tracking employee hours is absolutely a vital step in improving your workforce management, but too often we see small business owners look up free timesheet templates, pick one that seems to function well for Google Sheets or Microsoft Excel, and then stop there. If they took a step further, they could unlock even stronger results when it comes to getting the most out of their business.
In this post, we're going to start by touching on the solution we think beats out any timesheet tracker template you could find. Then, if you're still unconvinced about the benefits of making the switch, we've managed to look through many of the available project timesheets available online to find what we consider to be the top 5 options.
Either way, by the end of this post you should be able to drastically improve how your operations run.
Timesheet Tracking Template Table of Contents
Timesheet Templates vs Time Trackers
We understand the initial resistance that some business owners have to trying out digital time trackers. Finding a simple timesheet template is relatively simple (as long as you filter out the subpar results), and from there it's easy to get into a process where you distribute that template to your employees, have them track hours for every day of the week, and then input that data during the payroll process.
But consider – how many chances for human error or manipulation did you just open yourself up to?
When you distribute the template to your team members, can you be sure they're inputting accurate data every day, every week, every time? What about when they accidentally put in a typo? Or worse, when one of them commits time theft by lying about their time entries? Maybe they pad their time, lengthening their clock out time to try and earn a little more this pay period.
Or, assuming they were honest and accurate, how long is it still going to take you to calculate each employee's total pay? Transferring the number of hours your team members worked into payroll software is a time-consuming process, and again, the issue of human error comes up while you're entering the data.
Digital time tracking software bypasses many of these issues. Time tracking how many hours your employees work becomes automatic. Many of these tools have built-in functions that reduce time theft or discrepancies. And, even better, many of these tracking tools feature integrations with payroll software, allowing you to transfer all your employee data accurately and efficiently.
There is no Google Sheets or Microsoft Excel timesheet template that can replicate these sorts of results, which is why we always recommend that small business owners at least try out digital time tracking before they settle. When it comes to the highly competitive task of running a business, "settling" can often lead to backsliding or stalling.
Now, if we've got you convinced and you're now thinking about looking for a digital time tracking tool, we've got one we think you'll like.
Our strong feelings about upgrading from time card templates to time tracking software didn't come from thin air. Back in 2013, we struggled to manage 20 employees at 3 different locations. We initially thought that our printable timesheet templates would be enough to get the job done, but we quickly learned that wasn't the case.
We tried daily timesheet templates, encouraging our team members to be as accurate with their start and end times as possible, and even went through and added our own tweaks to the templates (such as automatically accounting for lunch breaks). Still, we found that we were exhausted by the process of dealing with the information on a monthly basis. Even when we started looking into digital timekeeping, we found that many of the functions and dashboards left much to be desired.
That's when we decided to begin development on our own tool, and Buddy Punch was born. With features like GPS Tracking, Webcam Photos on Punch, Overtime Calculations, Job Codes, Drag & Drop Scheduling, PTO Management, Customizable Reports, and Payroll Integrations, most business owners using our program see a complete overhaul in how they handle time tracking, for the better. Additionally, Buddy Punch was designed with ease-of-use in mind: regardless of device or comfortability with technology, any team member can make use of this software.
Next, we're going to dive into these features to further demonstrate how they can help small business owners juggle different projects and keep track of the regular hours their team members are working.
Note: If you'd rather get a feel for Buddy Punch on your own, you're welcome to sign up for a 14-day free trial by clicking here.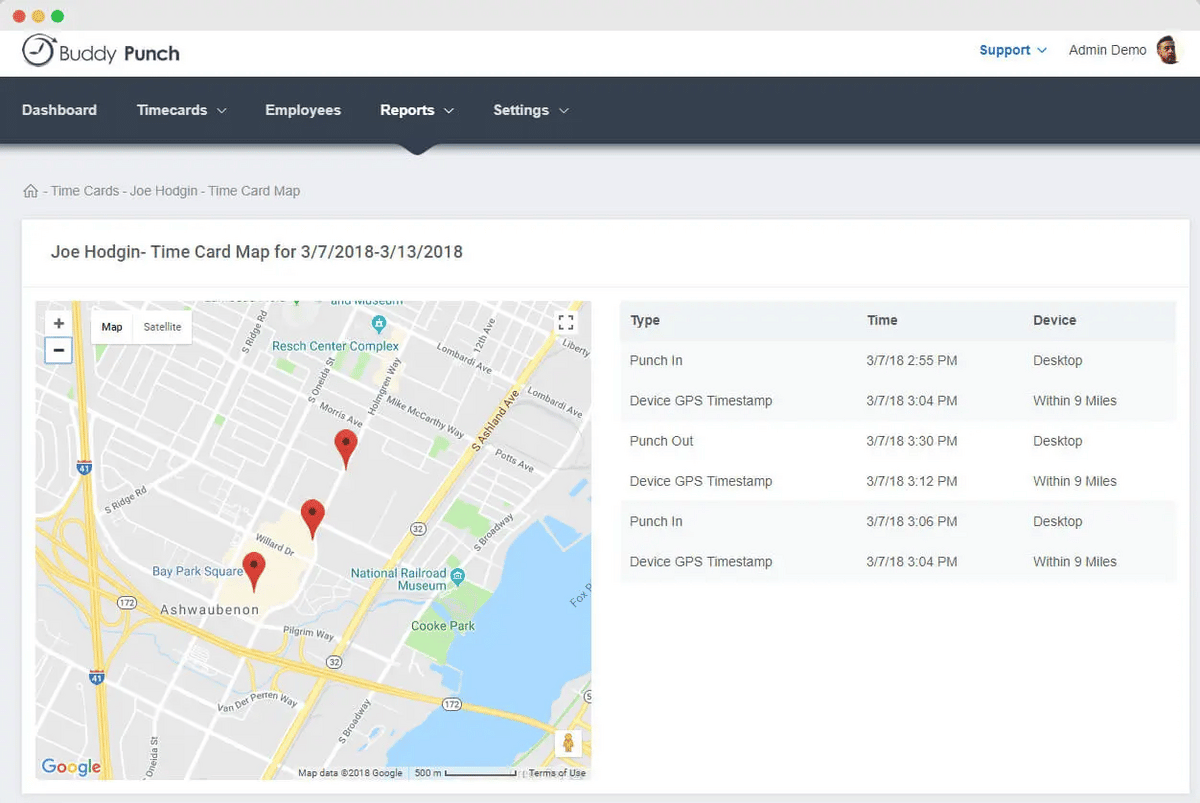 For some small business owners, having to adapt to remote or hybrid work came with a genuine fear that they would be unable to keep employees accountable for the work they were meant to be completing on the clock. Buddy Punch's GPS Tracking feature completely alleviates this concern. With this, whenever an employee clocks in at a remote site, their location is marked on an interactive map. This allows you to see where your team members are working from to ensure they're in an environment to get work done as required.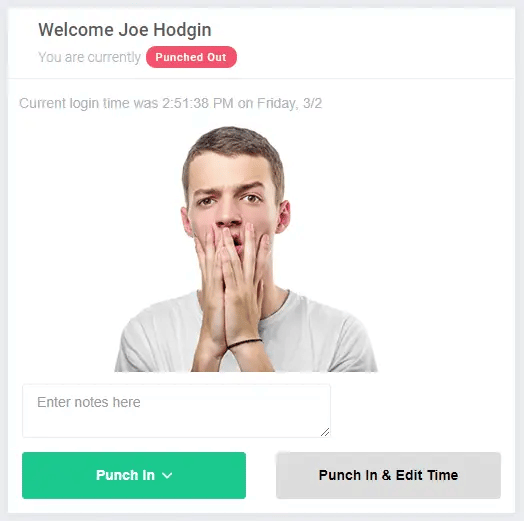 If cutting down on time theft is a primary concern of yours, look no further than the webcam photos on punch feature. This function will take a picture of your employees when they go to clock in, allowing you to see exactly who is attempting to clock time. It's a lot harder for one employee to lie for another when you can see their faces.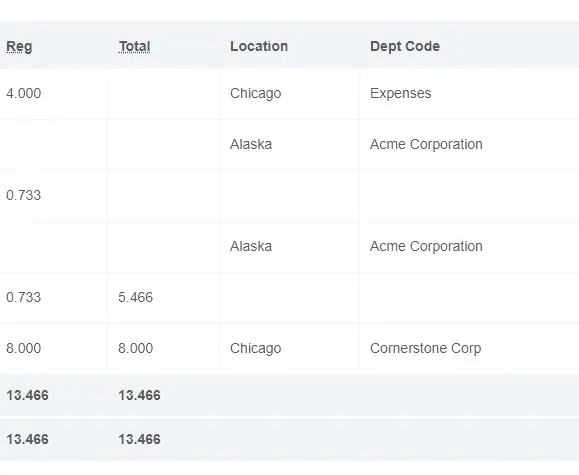 Keeping up with overtime hours can be a hassle, but the alternative is risking your employees creating a habit that eats into your budget and bottom line. Time and a half times pay is too much money to leave up to chance. Buddy Punch lets you select from more than a dozen different overtime types to calculate overtime pay per employee. Additionally, if you need a type of overtime added, you can always reach out to us and we'll get it included.

The Job Codes feature lets you track exactly how much time you or your employees are spending on specific tasks throughout the day. If your employees have to swap to a different job/task/company for logging purposes, they can easily punch into a different code while they're working. By the end of the day, all time spent on a job can be viewed in each employee's time card.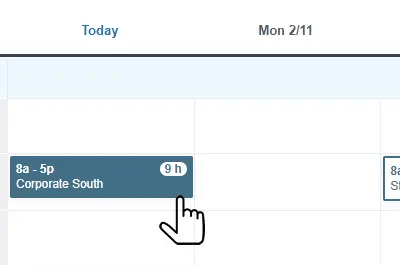 Streamline your shift management with Buddy Punch's Drag & Drop scheduling option. Create shifts by clicking on an empty cell then drag and drop as needed. This feature makes it easy to visualize how well you've filled in gaps in your scheduling, and once you're done you can publish the shifts – which will send automatic notifications to every relevant employee.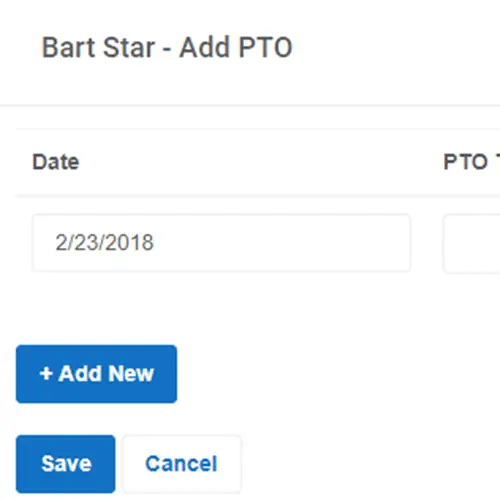 Sick leave, vacation days, personal time and more – managing paid time off can be a hassle the larger your team is. Luckily, Buddy Punch has a PTO Management system that makes it simple and easy to deal with your team members' attendance. You can cycle through the more common PTO types to categorize your employee absences or create a custom one at will. Additionally, Buddy Punch has a self-service option for leave requests. If enabled, your employees will be automatically approved for their requested time off without your oversight, allowing you to focus on other aspects of your business.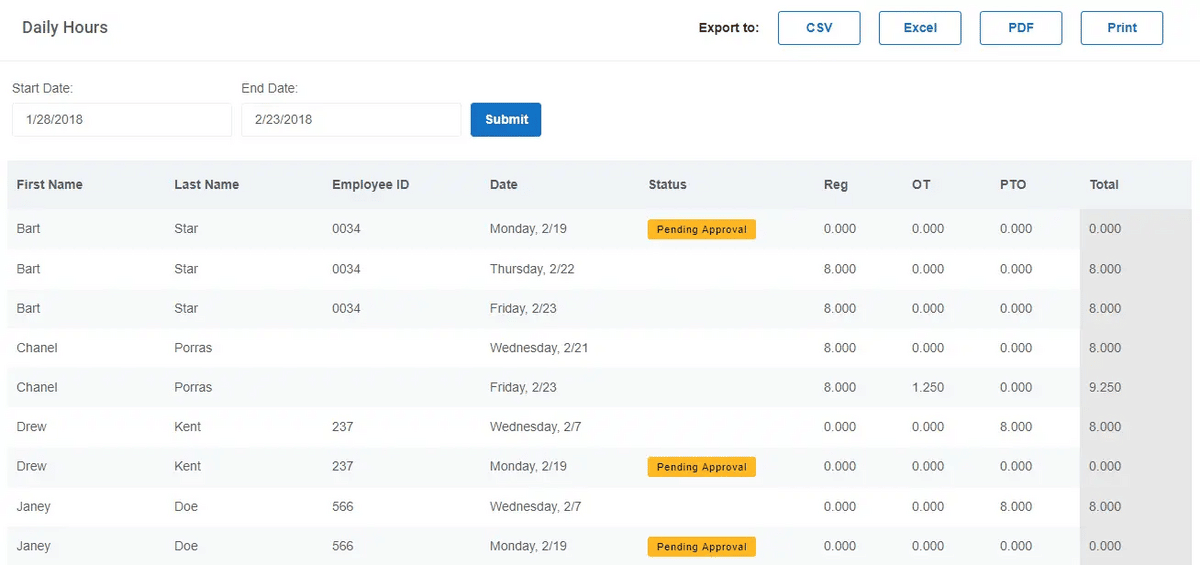 What good is collecting accurate employee data if you have no way to use it? Buddy Punch's Customizable Reports give business owners a way to sift through employee data to make decisions that will take their workforce management to the next level. Payroll Exports, Hours Summaries, Daily Hours and more (click here to view the full list of reports you can generate with Buddy Punch) will guide you through your business decisions. You can export these reports as Excel CSVs or Adobe PDFs.

At the end of each pay period, rather than having to sort through data yourself, you can use Buddy Punch's built-in integrations with some of the most popular payroll software to handle paying out your employees or billing your clients. Some of the popular names our software works with include QuickBooks, Zapier, ADP, and more. Click here to view the full list of Buddy Punch's integrations.
There's More You Get with Buddy Punch
So far we've only touched on a few of the features Buddy Punch has to offer. Consider how much use you could get out of the rest of them such as:
Additionally, there are out-of-app benefits to consider when you partner with us.
Our Help Doc Center exists to guide business owners through the best utilization of Buddy Punch, depending on their goals and functions required.
Our Blog Section contains up-to-date information on business management tips, strategies, and new laws to ensure that you're on top of new developments (such as when the pandemic drastically shifted almost every industry)
Lastly, our Customer Support Page puts you in touch with a responsive team ready to answer any question or concern you may have via live chat.
And you don't have to just take our word on any of this. You can book a one-on-one personalized demo by clicking here.
Buddy Punch's Online Reviews
We've said enough about our software – it's time to let our software's users chime in. As of this post's writing date, Buddy Punch has 4.8 out of 5 stars and 701 reviews on Capterra.

"Very easy for employees and administrators alike to track time and edit if necessary. Provides accountability for our employees with the location settings such as GPS/Geofence. Provides a variety of reports that are helpful. Provides our employees with mobility–we can send them to any job site, and they have the ability to punch in/out."

– Katie B. (Click here to read the full review.)
"The ability to control what employees are able todo like adding time that was forgotten some employees require an approval so i am able to confirm they're where bouts prior to approval. Its very easy for me to go in and add or fix employees time. I also like that i can turn the gps tracker on and off. I like the ability to track where employees are Because prior to this app we had an employee who was being dishonest about where they were and it cost is money when it came to billing customer."

-Mia G. (Click here to read the full review.)
"Best solution to time tracking for our hourly employees, and it keeps me updated when someone forgets to clock out. Also, it allows my employees to make changes if needed, which I can review and approve."

-Tohi A. (Click here to read the full review.)
"We needed a time keeping system that traveling employees could use, but also management could track their locations. Buddypunch has given us the ability to add all of our locations and all of our different types of work that can be performed (admin, accounting, HR, meeting etc.). As time has gone on, and employees are fully on the BP system"

– Jessica K. (Click here to read the full review.)
As these reviewers noted, Buddy Punch is easy to use for staff members and empowering for staff managers.

Try Buddy Punch for Free
If you feel that Buddy Punch might be the right time tracker for your business, sign up for a free trial. You can also book a one-on-one demo, or view a pre-recorded demo video.
But, if you still aren't sold on all the benefits that come with digital time tracking, here are some timesheet templates you can use with Google Docs, Microsoft Excel, or more.
SmartSheet's Monthly Timesheet Template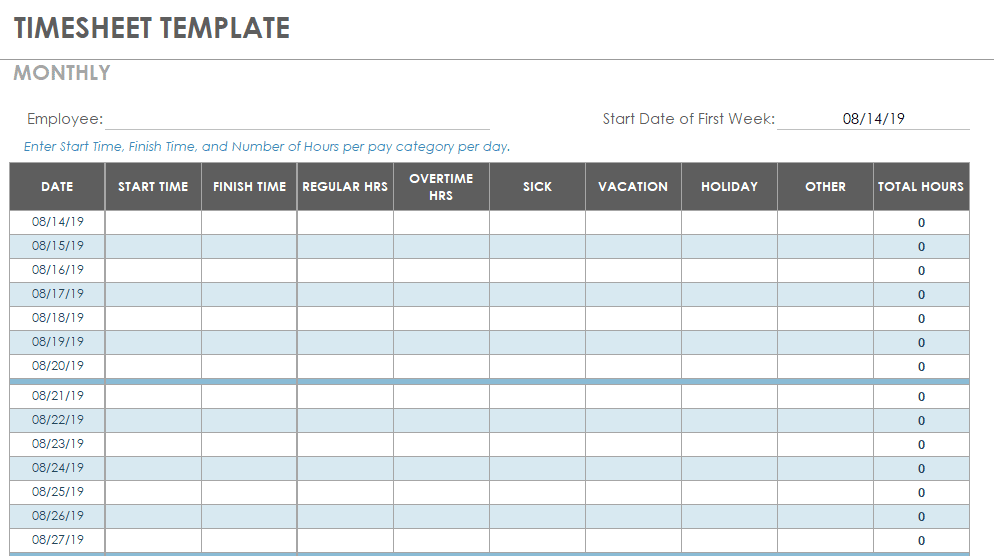 This timesheet was created to help business owners manage regular time, overtime, sick leave, and more, all on a monthly basis. It operates in a fairly standard manner, allowing you to enter the starting and end time of each employee. This template automatically calculates the total hours completed and pay due for each day, week, and month.
Download Here
QuickBooks Biweekly Timesheet Template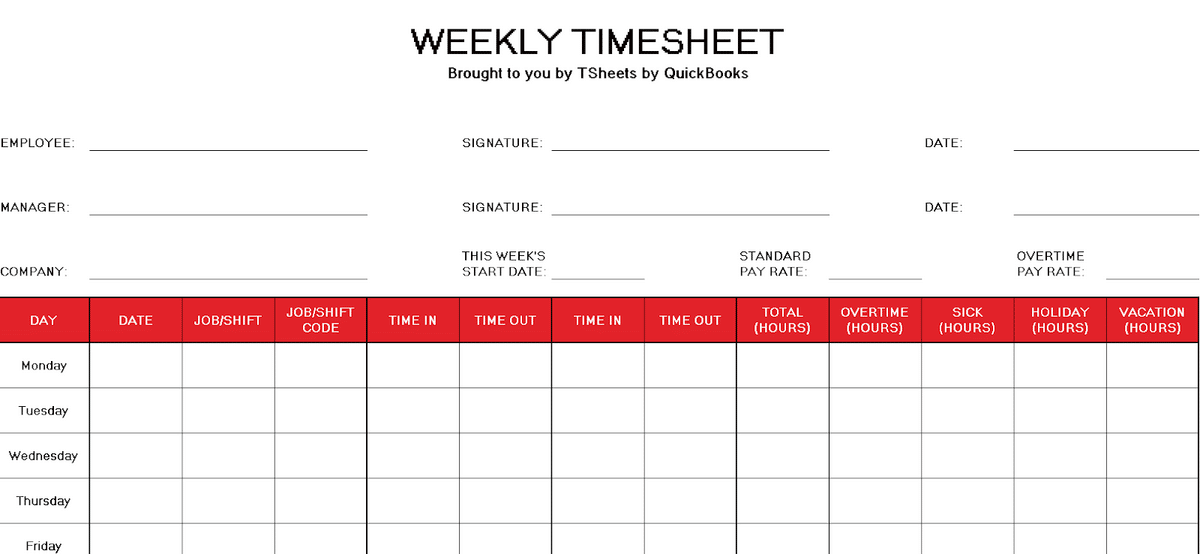 QuickBooks created a biweekly timesheet template that you can use for Google Sheets, Microsoft Word, Adobe Reader, and Microsoft Excel. This factors in employee breaks, lunches, and clock in/clock out times.
Download Here.
TimeDoctor's Weekly TImesheet Template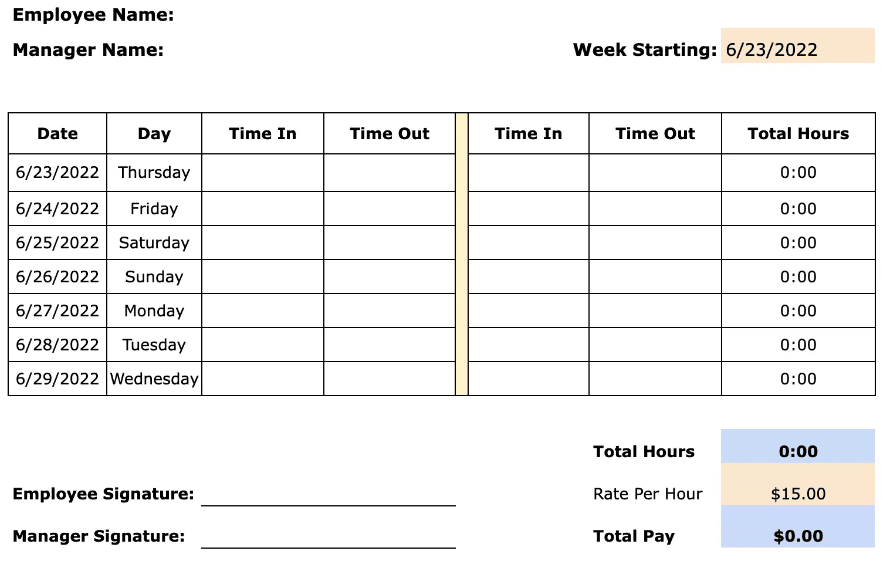 The TimeDoctor Weekly Timesheet template can be used to calculate work hours and pay periods on a weekly basis. They've included versions for Google, Excel, and Adobe formats.
Download Here.
Toggl Track's Daily Timesheet Template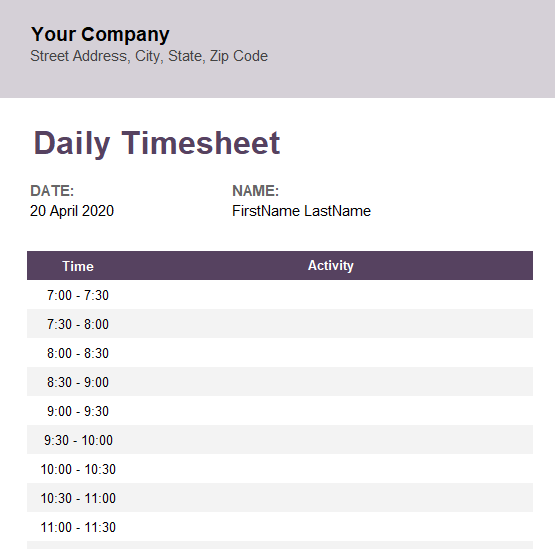 If you're a small business owner that likes to exercise more control over their employee workdays, the daily timesheet templates created by Toggl Track might be more up your alley. This timesheet really gives you an overview of how your salaried employees, freelancers, and contractors spend their time while on the clock.
Download Here.
TrackingTime's Monthly Timesheet Template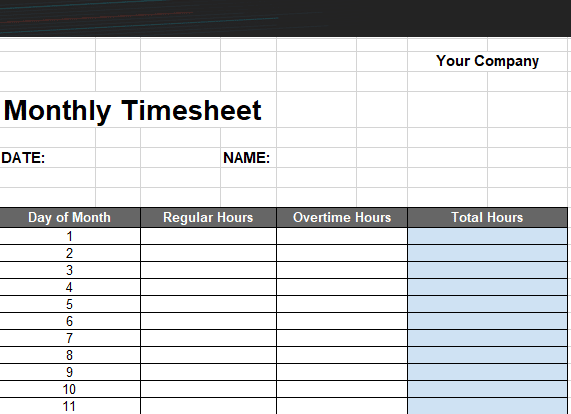 This template has space for 31 time entries total (one for each day of the month) and will help you track overtime, vacation time, lunch breaks, and more.
Download Here.
With our top 5 picks of time tracking templates laid out, just a quick glance at the screenshots themselves should make it clear why we ultimately recommend time tracking software. There's far too many upsides to using a strong digital time tracking software like Buddy Punch for us to not recommend them. And, even if you're wary about the price tag, you can always take advantage of the free trial period to see for yourself what works better: timesheets or time trackers.

Try Buddy Punch's Time Tracking for Free
If you feel that Buddy Punch could replace the need for timesheet templates in your business, sign up for a free 14-day trial. You can also book a one-on-one demo, or view a pre-recorded demo video.

You May Also Like…