Top 5 Timesheet Tracking Software Options of 2023 (In-Depth Post)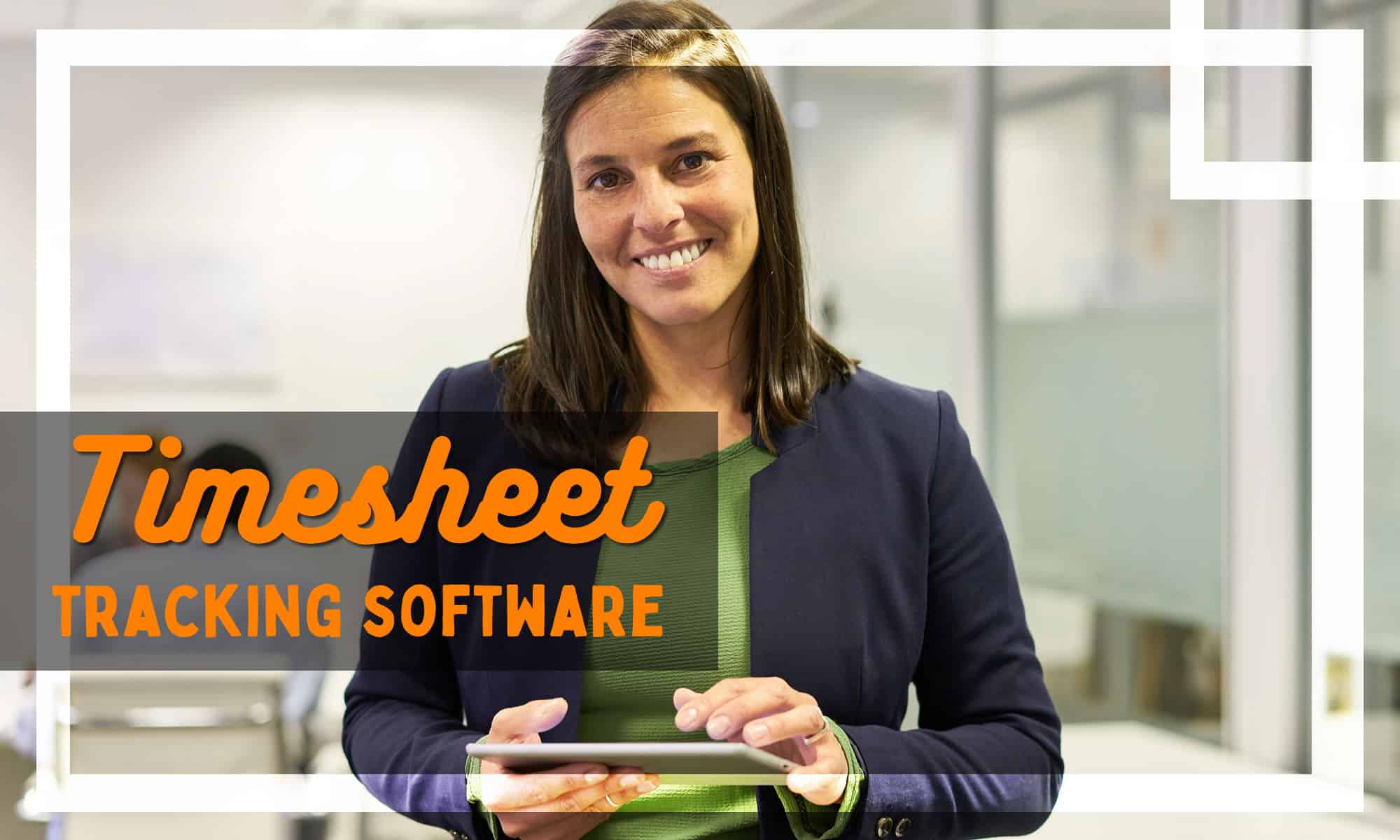 Timesheet tracking software is both the key and the barrier to unlocking greater productivity and profitability for any business owner. While a proper time tracking software (one that fits well with your managerial style and workforce) is critical to reduce time theft, ensure that timesheet data is accurate by the end of each pay period, and provide a transparency to tasks that will enable business owners to optimize their operations, making the wrong choice of management tool can have the exact opposite result.
Put more directly, using the wrong electronic time tracking system will set your business back in the long run. The harder it is for you and your employees to make use of, the more time you'll lose trying to learn the program. Additionally, the less effective a timesheet software's accounting tools are, the more you'll lose out – not only because of gaps in the software you've chosen, but by lacking the potential you could be harnessing if you were using more effective tools.
But we're here to completely eliminate this possibility. Today, we're going to highlight our top 5 picks of timesheet tracking software. We're going to specifically look at how well each time tracking tool contributes to three specific attributes of workforce management:
Employee Accountability. The features included in any high-quality time management software should ensure that team members are deliberate with the time they spend on the clock.
Design Simplicity. Balancing with the above, features should not be so complicated or overwhelming that they detract from their own usage. Simplicity must remain a primary focus, especially when it comes to performance across a wide range of devices and operating systems.
Payroll Streamlining. Lastly, we believe the best timesheet tracking software must come with options and settings that greatly streamline the Payroll process – an aspect where inaccuracies can hurt profitability and reputation.
With this all in mind, let's dive into the list of what we consider to be some of the best options on the market.
Timesheet Tracking Software Options
Kicking off our list of time & accounting software to improve your tracking of employee timesheets is our very own Buddy Punch. Our reason for ranking our software so highly when it comes to employee accountability, design simplicity, and payroll streamlining is simple: we designed it specifically with those traits in mind.
Back in 2013, we were dealing with managing 20 different employees at three different locations. We quickly learned that our manual methods of time entry tracking simply weren't going to cut it as we continued to expand. We turned to looking through digital time trackers to find a solution to our problems but were ultimately disappointed by the options.
So we set off to create our own.
Using our own experiences as well as the experiences of our clients, we were able to focus in on management features that later became essential to Buddy Punch's design. Functions such as GPS Tracking, Geofencing, Job Codes, Customizable Reports, Notifications, PTO Management, and Payroll Integrations proved vital to our users – and we'll demonstrate just how below.
Note: If you'd rather get a hands-on feel for Buddy Punch, you can try out our software for free for 14-days.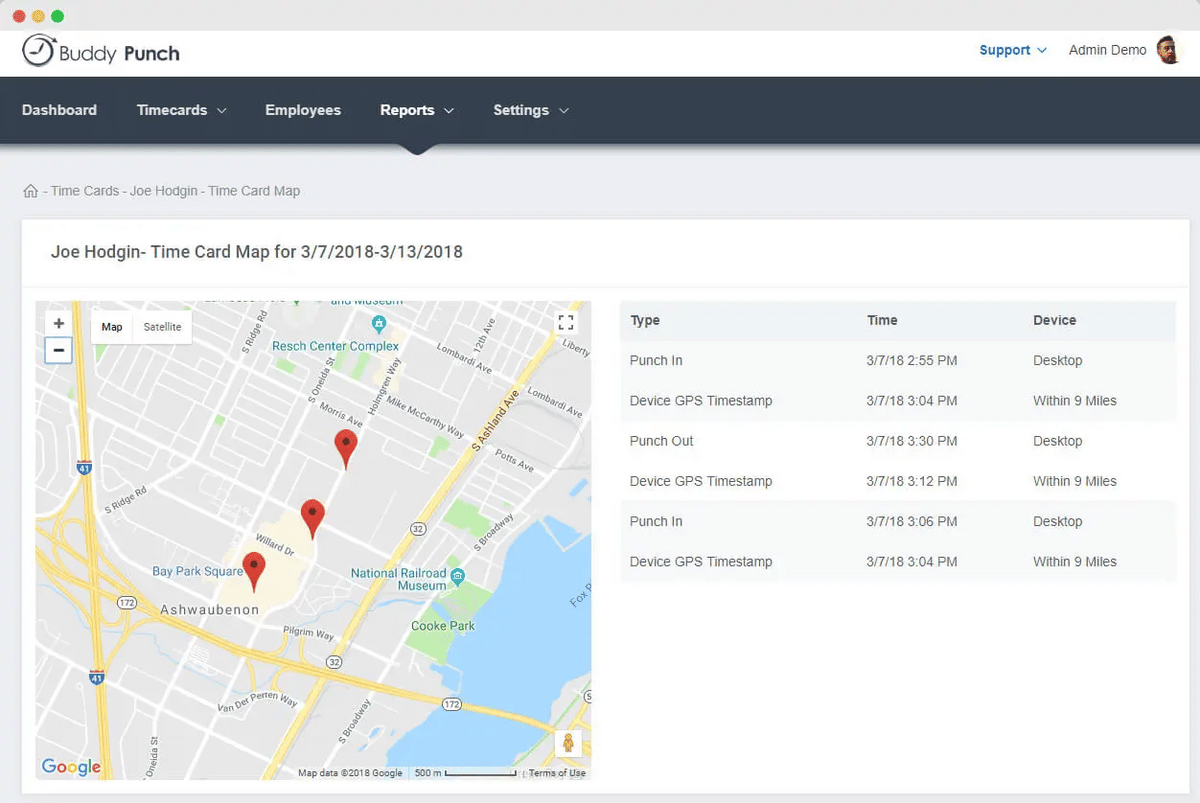 With the recent rise of remote work, business owners have shown an increased interest in keeping accurate timesheets while employees are off-site. With Buddy Punch's GPS tracking, employee locations are marked on an interactive map when team members clock in. This helps you see clearly where they are, and helps you track projects being completed by team members outside of the office.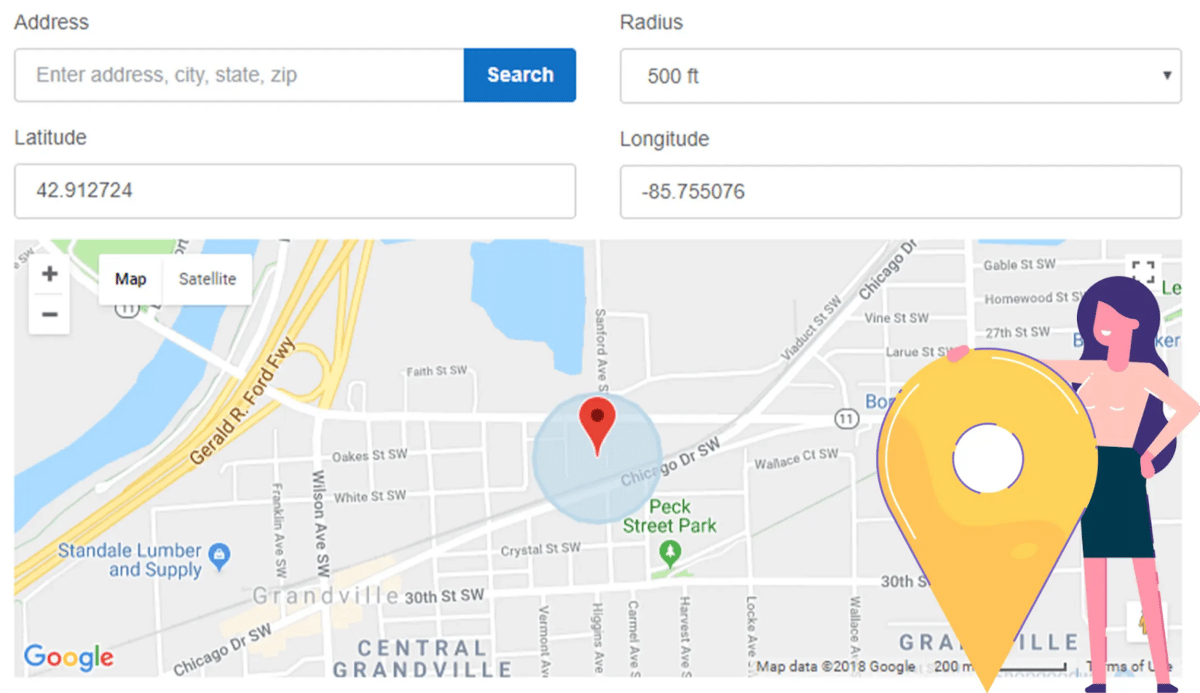 Another feature that helps you monitor employees at remote sites (or multiple sites) is Buddy Punch's geofencing. With this, you can create a radius on an interactive map (called a Geofence) around any location you choose. If an employee attempts to clock into their online timesheet while outside of one of those Geofences, they'll be denied. This means that employees can only start logging billable hours while at one of the areas you designate.

The Job Codes features (also known as Department Codes) is another function that can help with long-term expense tracking and project time management. Employees are given the ability to specify what jobs or tasks they're working on while clocked in and can easily swap between different job codes while working. Then, business owners can see the total time logged for tasks on each employees' time reports. This level of transparency is a huge help in determining what tasks are most profitable for your business.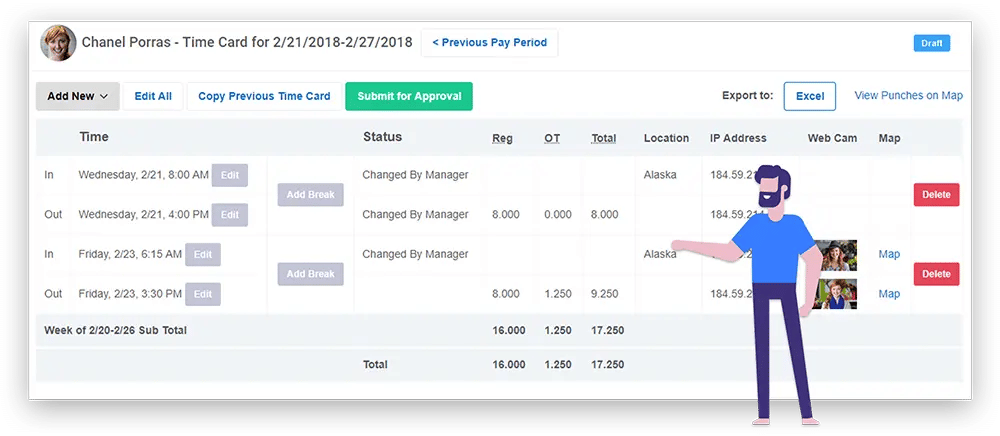 Buddy Punch offers a wide variety of customizable reports to help you sort through the accurate data you'll be able to capture. From Payroll Exports to Hours Summaries (for billable time), In/Out Activity trackers and more, business owners can understand every detail of how their business operates thanks to Buddy Punch.

Buddy Punch offers several built-in notifications that will help improve productivity – as both employees and managers can focus on their work and rest assured they'll be notified of important events.
Employees are notified about punch change emails, time card approval status changes, PTO changes, and when they're approaching overtime. Managers and Administrators are notified about punch change emails, punch ins and out, time card approval status changes, PTO requests, and when employees are approaching overtime.
In all cases, notifications can be enabled or disabled at will.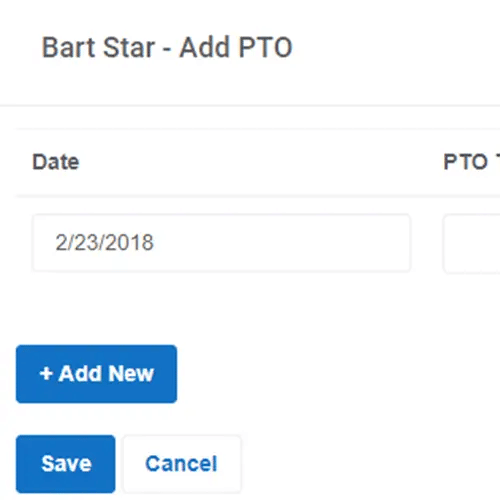 Buddy Punch's PTO Management helps you revolutionize how you handle paid time off.
Beyond the built-in PTO types, you can create your own custom PTO categories at will. Additionally, you can enable a self-service approach for your employees. Instead of having to approve or deny a leave request as you're notified, you can set up Buddy Punch so that your employees are automatically approved for any leave request they put in. This helps you keep things running in a style similar to automation, without having to micromanage your team.
Payroll Integrations

One more thing we want to highlight is how Buddy Punch helps you transfer over all this accurate data directly to Payroll Providers such as Zapier, QuickBooks, ADP, and more. Buddy Punch's payroll integrations include some of the most popular software, which makes it easy to pay employees, manage freelancers, and bill clients. Click here to view the full list of Buddy Punch's integrations.

Buddy Punch Brings More to Business Owners
So far, we've only highlighted just a select few of the features you can use with Buddy Punch. There's still plenty that we haven't addressed, such as:
There's also the out-of-app benefits that accompany Buddy Punch to consider:

Our Help Doc Center makes it easy for newcomers to get a handle on the best ways to utilize Buddy Punch for their goals.
Our Blog Section features information that keeps business owners on top of new developments in business management. Strategies, new laws, and forecasts for how industries will change are at your fingertips.
Our Customer Support Section puts you in contact with a team that's always ready to answer your questions via live chat.
Buddy Punch works across all devices, meaning you can use it for mobile time tracking just as easily as you can rely on it as a desktop app. You can also book a one-on-one personalized demo of the software here.
Buddy Punch's Online Reviews
We've spent a lot of time talking about our software, now it's time to let our users speak as well. As of this article's writing date, Buddy Punch has 4.8 out of 5 stars and 703 reviews on Capterra.

Below, we'll list just a few reviews that speak to Buddy Punch's impact in timesheet cloud solution time tracking. (Click here to explore the full list of reviews.)
"We have been using Buddy Punch since 2015. Prior to Buddy Punch we were using an excel spreadsheet for time keeping. We use Buddy Punch as a time clock for daily in/out and breaks. We use the PTO accrual system and PTO tracker. Buddy Punch is easy to use and easy to figure out. Customer service is responsive. The few times I've needed help (very rare) they were super responsive and made sure my problem was completely solved."

Click here to read the full review.
"I really like that it tracks and accrues PTO & holiday hours. I don't have to ask anyone what my PTO balance is! I think its smart to be able to add a schedule if you happen to work the same amount of hours each day – much easier to add. I also like that I can add a comment or note of some sort, if needed."

Click here to read the full review.
"The interaction with the the different sections is seamless once a person learns all the processes that relate to time in and time off. Having the availability of the calendar option makes keeping up with personal time very simple. The features that allow changes to time and scheduling are made simple and are quick and easy to perform."

Click here to read the full review.
"So far, the Buddy Punch App has saved me time with the weekly payroll timecards. I don't have to depend on the employee turning in their timecard in person on Monday morning. It is especially helpful because they work on multiple jobsites and not in the office"

Click here to read the full review.
As these reviewers noted, Buddy Punch is easy for all team members to use and comes accompanied by a responsive customer support team.

Try Buddy Punch for Free
If you feel that Buddy Punch might be the timesheet tracking software you've been looking for, sign up for a 14-day free trial to make sure. You can also book a one-on-one demo, or view a pre-recorded demo video.
Clockify is a particularly popular option because it's a free time tracker (though it locks some of its stronger features behind paid plans). What tends to draw people towards its free plan is being able to use it for unlimited users. Its total features include:
You can also use Clockify as an addon in Google Chrome or Mozilla Firefox. As of this article's writing date, Clockify has a rating of 4.7 out of 5 stars, with 4242 total reviews.
"Clockify is intuitive and allows you to complete basic business functions. You need to know what people are spending time on, and how much it costs. So once the set up is done and everyone has their rates added, the rest is easy. Just make sure to maintain your costs and projects and its smooth sailing."

Click here to read the full review.
Harvest is a popular time tracking software with features including (but not limited to):
One Pro of Harvest is that, like most time trackers, you can use it on iOS or Android without issue. As of this article's writing date, Harvest has 502 reviews and a rating of 4.6/5 (see here)
"It is very simple to use and configure. Make it easy to track time from anywhere with a mobile or desktop device. It allows you to customize the reminders to be more precise and efficient. It integrates seamlessly with Asana and Slack. It has a very complete help center that helps to quickly start using the platform."

Click here to read the full review.
At the time of writing, Hubstaff has a total of 1279 reviews on Capterra (see here), with an average of 4.6 out of 5 stars. Some of its key features include:
Here's what one reviewer had to say about this timesheet app:
"As a company with lots of employees working remotely for us, we need strong software to monitor employees' performance and act according to the efficiency analysis. Its best feature is idle time management which helps you know if some employee is sitting idle."

Click here to read the full review.
At the time of writing, DeskTime has a total of 324 reviews on Capterra (see here), with an average of 4.5 out of 5 stars. Some of its key features include:
Like with BuddyPunch, you can try DeskTime for 14 days free of charge, no credit card required.
"The time tracking feature is something we've been looking for for quite some time, especially taking into consideration the pandemic. We needed a software that will allow us to estimate how much time an agent spends on solving a case on average, so they will be remunerated accordingly."

Click here to read the full review.
Choosing The Best Timesheet Tracking Software for Your Business
Even though we've managed to narrow down your options of timesheet tracking software, figuring out which one is best for your business is going to be a matter of trial and error as well as examining which features you need.
For example, if you're working on a budget, you might like Clockify – though your use of features will be heavily limited with the free plan. If you want to make use of an API to combine with other tools, you might be drawn towards Harvest.
Alternatively, if what you're really looking for is a versatile tool with many useful features that you can enable or disable as you see fit, a design that's simple enough that team members can fully understand it after just a few minutes, and a customer support team that's ready on standby to assist you in usage – then you really can't go wrong with Buddy Punch.
Try Buddy Punch for Free
If you feel that Buddy Punch could be the right fit for your business, sign up for a free trial. You can also book a one-on-one demo, or view a pre-recorded demo video.

You May Also Like…