Top 5 Time Tracking Software for Cleaning Companies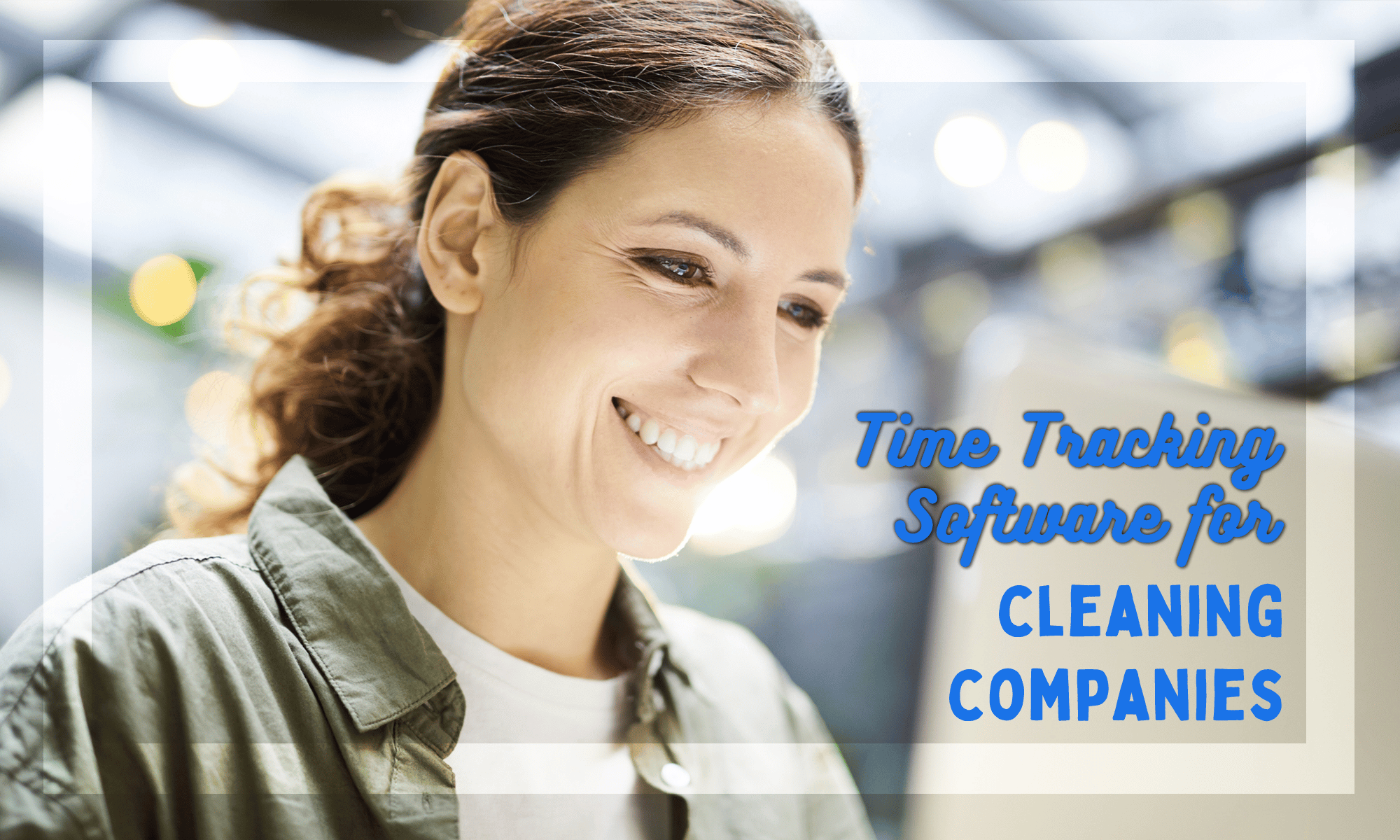 Cleaning services need to be able to track crew members at remote job sites, juggle different clients and their cleaning tasks, and manage labor costs to determine profitability. For the most part, time tracking software is the answer to all of these issues, but no two cleaning businesses are alike. The same applies to janitorial time tracking software.
We've managed to create a list of the most effective time tracking solutions for cleaning service providers, which we're basing on how they address three aspects of business management:
Employee Accountability: How well do they encourage your cleaning staff to make the most of their work hours throughout the day? How much control do they give business owners over what their team members are doing as a cleaning service app?
Ease-of-use: Which time tracking apps for cleaning companies are the easiest for any team member to make use of, regardless of how tech-savvy that individual might be, or what sort of mobile devices (iOS, Android, Tablet) they're using?
Streamlining: Which scheduling software is going to make it easier to handle your daily operations with no hassle?
Below are the top 5 answers we've found and would recommend for any business owner who wants to take their cleaning crew management to the next level.
Time Tracking Software for Cleaning Company Apps:
We mentioned earlier that employee accountability, ease-of-use, and streamlining were the main factors we used to rank commercial cleaning service software. Our cloud-based scheduling tool, Buddy Punch, makes the top of our list because we designed it with those three tenants in mind.
Buddy Punch was designed to serve a variety of different industries including janitorial services, achieving this through a wide variety of functionalities such as GPS Tracking, Geofences, Job Codes, Tablet & Mobile Time Tracking, Notifications, Customizable Reports, Payroll Integrations.
Whether you're a home cleaning service, maid service, or offer office deep cleaning, all of the handy features built in to Buddy Punch as a cleaning software solution make it easy for you to provide an on-demand service to tidy up client properties. Now, let's dive into each of these features to show how exactly they'd be useful for cleaning time tracking.
Note: If you'd rather get a hands-on feel for these cleaning business software functions yourself, you can sign up for Buddy Punch's free 14-day trial here.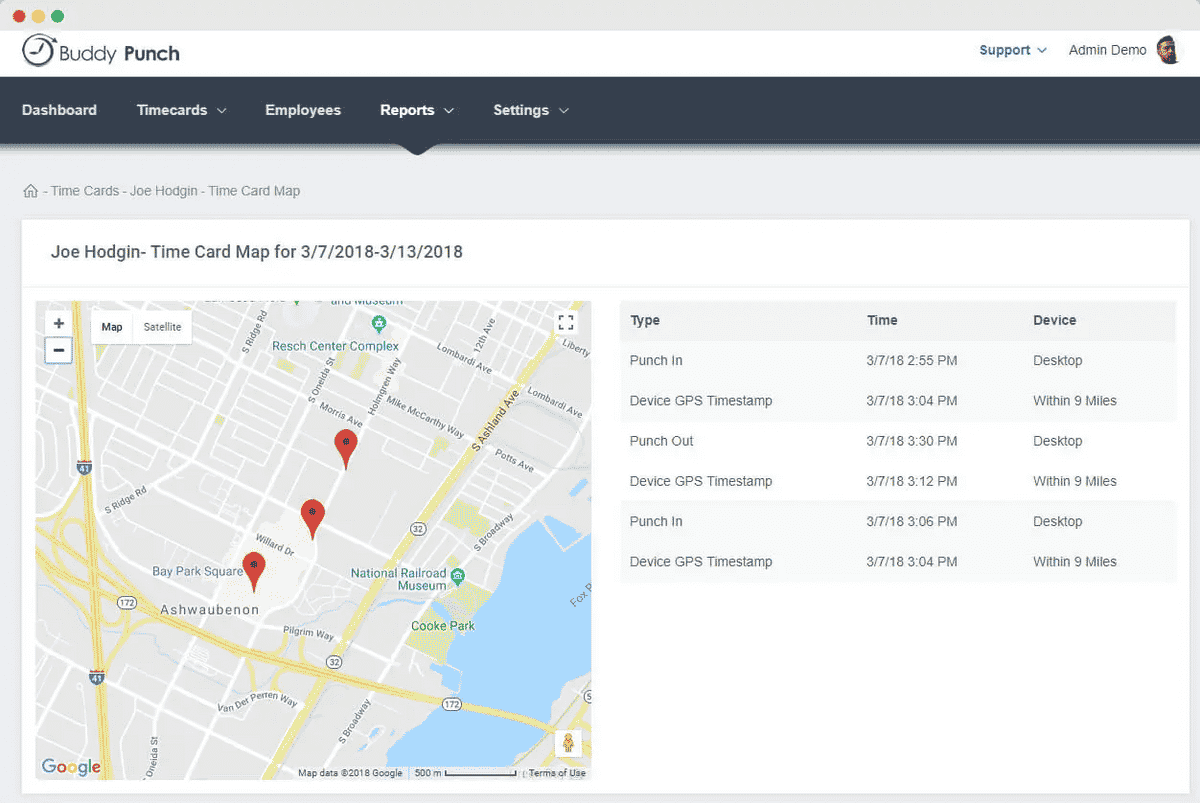 GPS Tracking is the perfect way to keep up with employees that are performing cleaning jobs around the city. With this, you can verify which employees are working at what location, as their clock-ins will be marked on an interactive map with their GPS location. From there, you can coordinate further jobs throughout the day i.e. who is close enough to handle the next house cleaning service? Is Jane really picking up cleaning supplies, is Derek at that look-around with the property manager?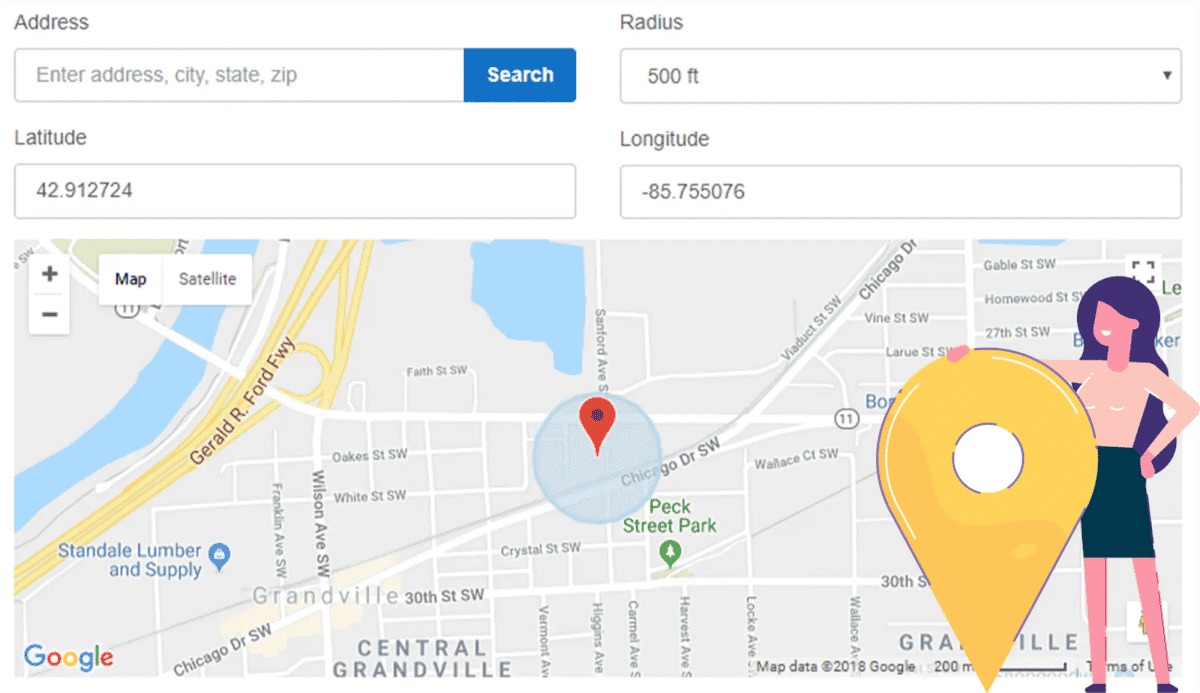 A Geofence is a radius you create on an interactive map. If an employee attempts to clock in outside of a radius, they will receive an error message and be unable to check in. This feature, when paired with advanced notice of where your employees are working, allows you to create a geofence at locations that you've scheduled to be cleaned.
Then, employees can only start tracking time when they are actually at or around those set locations. There's no workflow disruption; you don't have to continuously follow-up to watch your house cleaners locations after you set this feature. It handles everything automatically so you can turn to other tasks on your cleaning checklist, such as scheduling workers to clean homes or ensuring a potential new cleaner is background checked.

This feature was designed to make optimization easier for employers. You can create and assign these job codes to your employees yourself or let them change their assignments as they complete their various day-to-day operations (residential cleaning, housekeeping, or other janitorial services) on their own.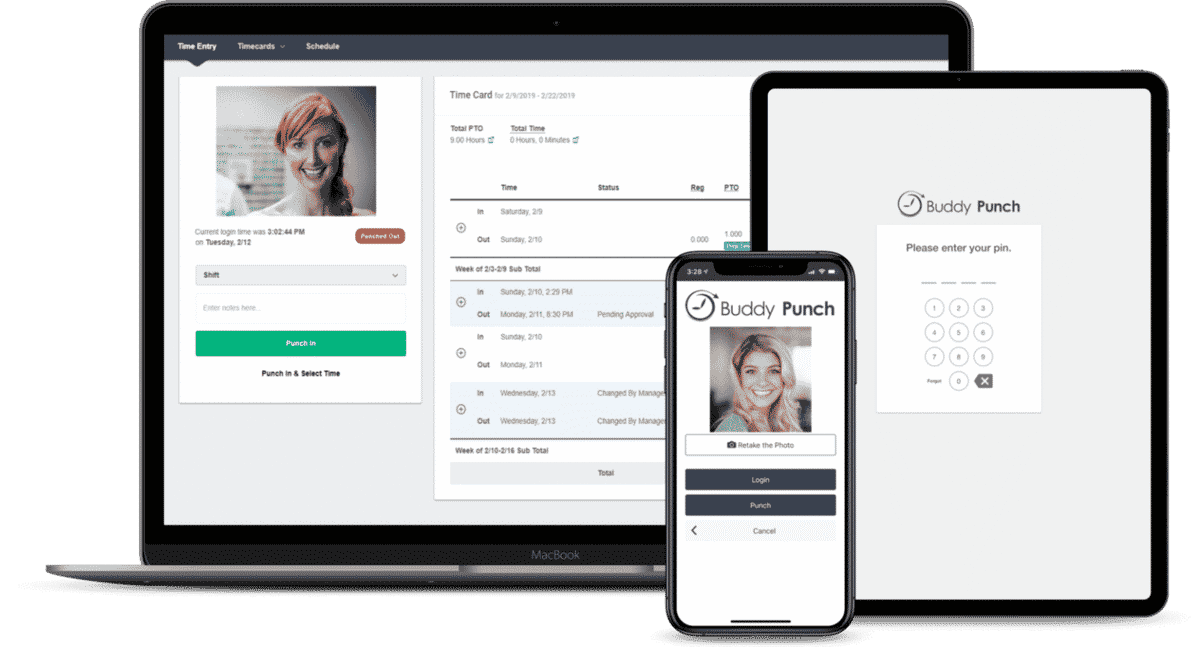 Whether your cleaning service company employees have preferences for mobile or tablet, iOS or android, or any other type of device, Buddy Punch can operate as long as they have an internet connection. This is because Buddy Punch is available both as a native app or in a web browser, which makes it one of the best apps for versatile teams. Never worry about keeping accurate time management during remote jobs again.

The Notifications feature allows service businesses to have a greater degree of transparency and communication. Managers receive alerts for various things such as paid time off requests or clock ins. In the case of a leave request, a crew member will receive a notification in turn when a manager approves or denies the request. This feature allows both sides of businesses to focus on their work and customer experiences, while remaining secure in the knowledge that they'll be notified if something important needs attention.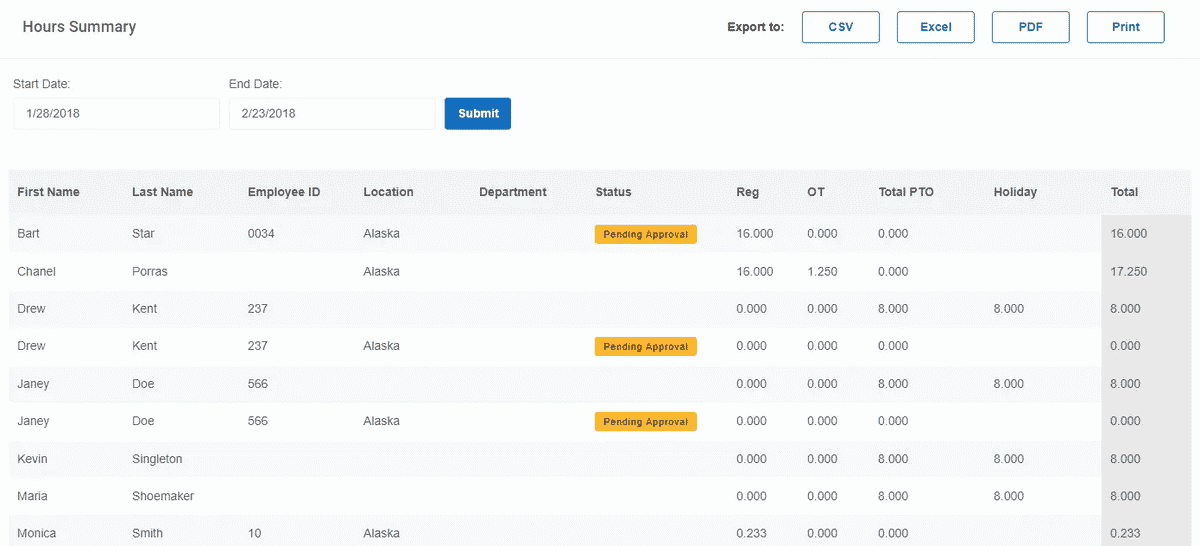 Even though Buddy Punch automates many of the ways it gathers employee data for cleaning companies, there's not much value in that unless it's easy to sort through. The customizable reports feature provides just that, with a user-friendly overview of the collected information Buddy Punch gathers on the job. This includes crew members, their hours, overtime, locations, and more, which makes it easier to handle optimization and cash flow. Export this information into Excel or PDF formats depending on your preferences.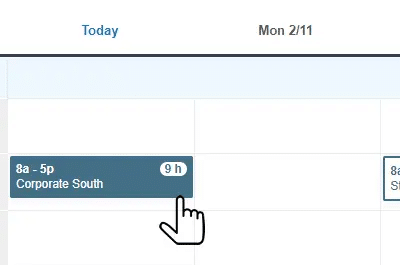 Buddy Punch lets you create shifts for your employees easily. Simply click on an empty cell in the dashboard to create a shift. You can then drag and drop these shifts as needed depending on your requirements, or click them to edit. When you're done, our software helps make dispatching easy by sending out a notification to all employees on the cleaning schedule.

At the end of each pay period, you can use Buddy Punch to streamline your billing, invoicing, and payments to employees. Our janitorial time tracking app integrates directly with some of the most popular online payment software, including names like QuickBooks, Paychex, Zapier, and more (click here to view the full list).

Buddy Punch Transforms How Cleaning Companies Operate
We haven't even fully covered all the benefits of making Buddy Punch your time tracking solution. There's even more features including (but still not limited to):
Additionally, there are three out-of-app benefits to consider:
Our blog section is constantly updated with new information for business owners looking to improve their job management. Whether we're talking about new laws and how they'll impact workforce management, or how new studies have identified improved methods for employers to manage their team, Buddy Punch keeps you in the know.
Our help doc center contains useful articles that demonstrate how to best utilize Buddy Punch, with detailed screenshots and information that can guide you.
Our customer support is always available to answer questions or provide one-on-one guidance via live chat.
And speaking of "one-on-one," you can book a one-on-one personalized demo of Buddy Punch by clicking here.
Buddy Punch's Online Reviews
As of the writing date, Buddy Punch has 4.8 out of 5 stars and 808 reviews on Capterra.

Below, we'll list just a few reviews that speak to Buddy Punch's effectiveness in time tracking for cleaning companies. (Click here to explore the full list of reviews.)
"Overall: I LOVE that I can clock in from a remote location via the app on my phone. Soooo convenient!!! Such a game changer for sure, especially with my sporadic work schedule and location.
Pros: The ability to Edit in "real time" is very useful. I can adjust my hours/PTO entry on the go. This helps me stay organized and within my weekly hourly allocation of 40 hours/week."

Click here to read the full review.
"Overall: Working with the Buddy Punch support team has been such a wonderful experience. The team is responsive, and eager to assist. Any questions we've had, whether using the free trial, or after we signed up as a customer, have been answered quickly. What a great platform.
Pros: Buddy Punch is easy to use for managing our remote team members. It's easy to set them up in they system, establish their locations, and manage how they can punch in and punch out."

Click here to read the full review.
"Overall: Buddy Punch saves my team of managers time when trying to collect time-sheets and by being able to approve time-sheets remotely. It's also easier to log in on a daily basis via the app so staff stay more current on their hours. This makes it easier not having to recall 2 weeks of time worked like when they were using a paper time-sheet.
Pros: Buddy Punch is very straight forward. It was easy for all levels of computer literate people to adopt."

Click here to read the full review.
As several reviewers have noted, Buddy Punch is easy to use, effective as a remote tool, and has a customer service team that makes users feel supported.
Try Buddy Punch for Free
If you feel that Buddy Punch might be optimal in mobile time tracking for your cleaning services, sign up for a free trial, no credit card required. You can also book a one-on-one demo, or view a pre-recorded demo video.
Hubstaff is another popular maids app that you can get on the app store or Google Play store. At the time of writing, Hubstaff has a total of 1269 reviews on Capterra (see here), with an average of 4.6 out of 5 stars. Some of its key features include:
"I like how easy is to set up Hubstaff on any OS. How easy it is to log in and forget about the time tracking process running smoothly in the background. The dashboard shows extensive reporting about timesheets and activities."

Click here to read the full review.
At the time of this post's writing, ClockShark has a total of 1714 reviews on Capterra (see here), with an average of 4.7 out of 5 stars. Some of its key time management features include:
"The software is very easy to use. The tutorial for mobile use is great and all of our employees have been able to adjust very easily. The scheduling aspect is top tier (we did a LOT of research on you and your competitors.)."

Click here to read the full review.
Swept is a janitorial time tracking app created to cut down on logistical complications. Its features include:
At the time of this post's writing, Swept has a total of 76 reviews on Capterra (see here), with an average of 4.3 out of 5 stars. Some of its key features include:
"This app allows us to perform inspections at client sites, inform cleaners of expectations we and the clients have and to let the clients know if there are issues or maintenance requests needed"

Click here to read the full review.
TimeTac was designed to let you track employee productivity down to the second with features including (but not limited to):

As an employee scheduling tool, TimeTac works across multiple devices. As of this post's writing, it has a Capterra rating of 4.6 out of 5, with 12 total reviews.
"Very good support and pricing plans make it easier to choose the perfect option for your team. Whether you're a small organization, a freelancer or a big company – it covers all."

Click here to read the full review.
Choosing The Best Cleaning Company Time Tracker
What we've highlighted are some of the best options there are for janitorial time tracking, but even the 5 software options we've listed might not be perfect fits for everyone. That's why we highly encourage prospective users to give each software a critical look, and to take advantage of any free trials that are offered.
If your business places a special emphasis on customer management, you might find that ClockShark's built-in CRM features are up your alley. If you have a forgetful team, Swept has an employee check-list option that could work to keep everybody on task throughout the workday.
But, if what you ultimately want from a cleaning company time tracking software is flexibility of features, simplicity of design, and effectiveness when it comes to boosting accountability and productivity, then you really can't go wrong with Buddy Punch.
Try Buddy Punch for Free
Don't just take our word for it. If you want to see if Buddy Punch is the right time tracker for your janitorial business, sign up for the free 14-day trial. You can also book a one-on-one demo, or view a pre-recorded demo video.

You May Also Like…