Best Time Clock for Event Planning (7 Options)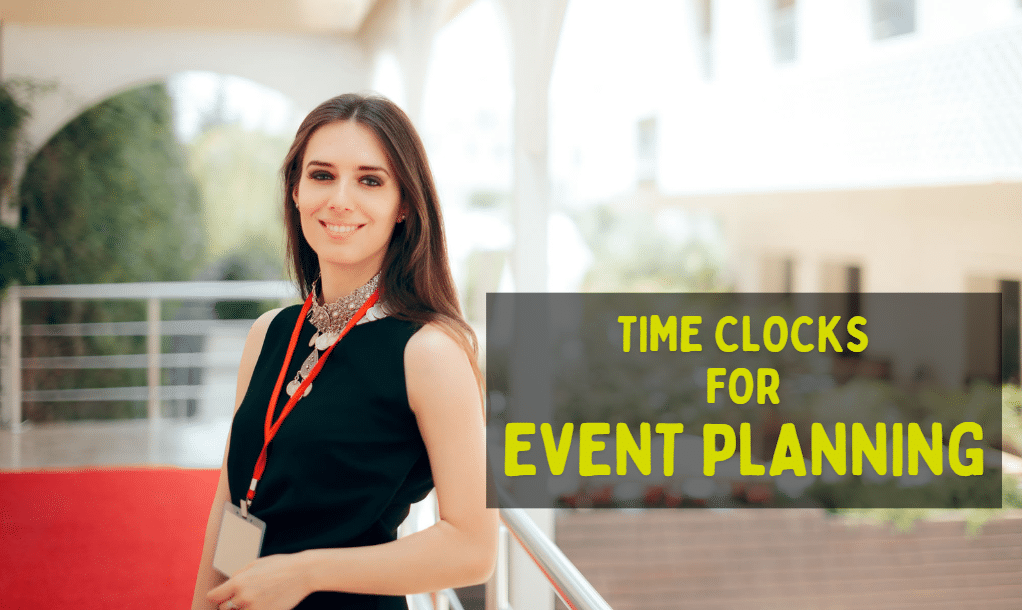 Event management is a matter of logistics to the extreme because every minute counts double. Not only are you concerned with how you and your team members are spending time, but you also have to worry about your clients and how the event details impact a significant celebration for someone.
For these reasons, many savvy event planners have taken to using time tracking software to make sure they're using their time optimally, maximizing profit on events, and understanding how timing, seasons, and logistics impact their business. The only issue with adopting this approach is that there are a lot of timekeeping options on the market, and it can be tedious figuring out which one is truly an essential tool for your business.
In this post, we're going to go over our top 7 picks of time clocks with features useful to event planners. The tools we're picking are based on a mix of their reviews, functionalities, and customer support response times. Hopefully by the end of this post, you'll have found the best time clock for event planning that fits your style.
NOTE: If you're looking for a simple, user-friendly tool with strong features that you can get started using immediately, you can't go wrong with Buddy Punch. We're proud of what we've built, with over 10,000 businesses using our tool to handle their project management, streamline their time tracking & employee scheduling, and reduce labor costs. Click here to learn more.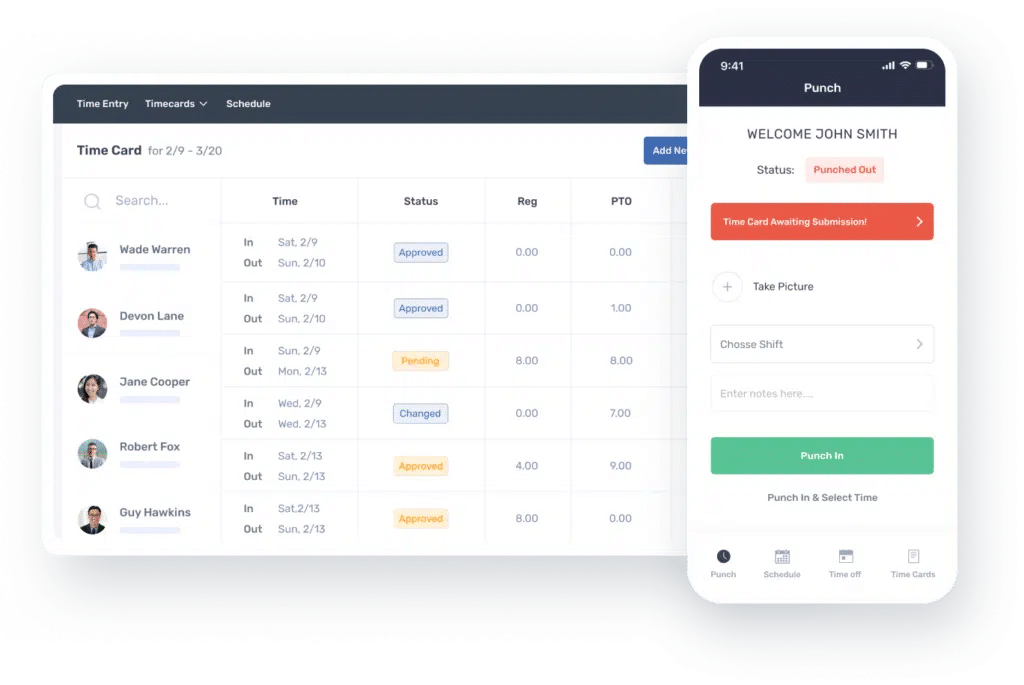 Ranking at the top of the list we have our very own Buddy Punch. There are specific reasons why we know our tool works great as a real-time timekeeping app. We first built this tool when we were expanding our business to multiple locations and realized that manual timesheets were only reducing our ability to truly optimize. We decided to seek out a simple software we could use to track time both on-site and at remote locations. Something that any of our team members could easily pick up and understand.
And when we didn't find what we needed, we set out to build our own tool.
Fast forward to today where Buddy Punch's functions have made it invaluable for small businesses and enterprises alike. Think of how much value you could get while planning events thanks to features such as: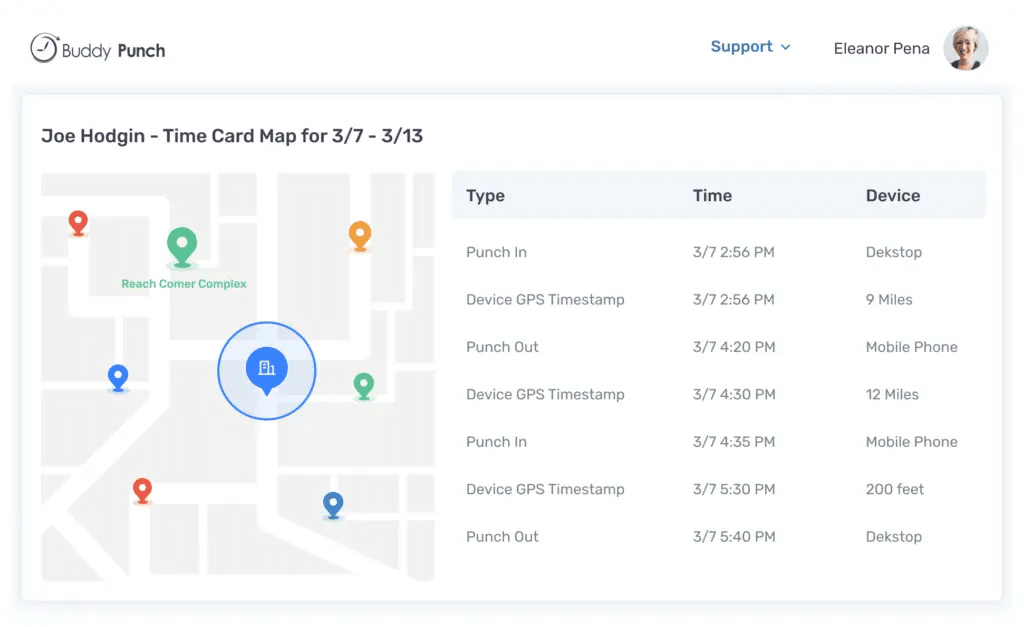 If your event business is large enough to feature multiple employees, you might like Buddy Punch's GPS tracking. With this feature enabled, when your team members clock in at remote locations, their locations will get pinged on an interactive map in-app. This helps ensure they are where they say they are, so you can get an accurate feel for who's doing what and where.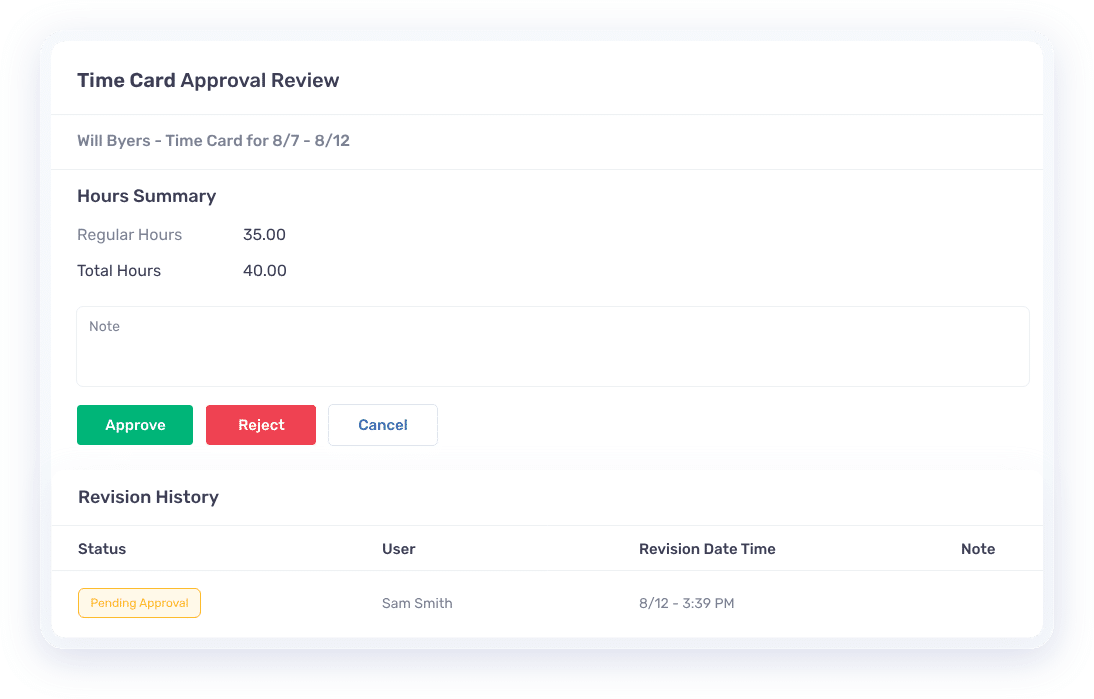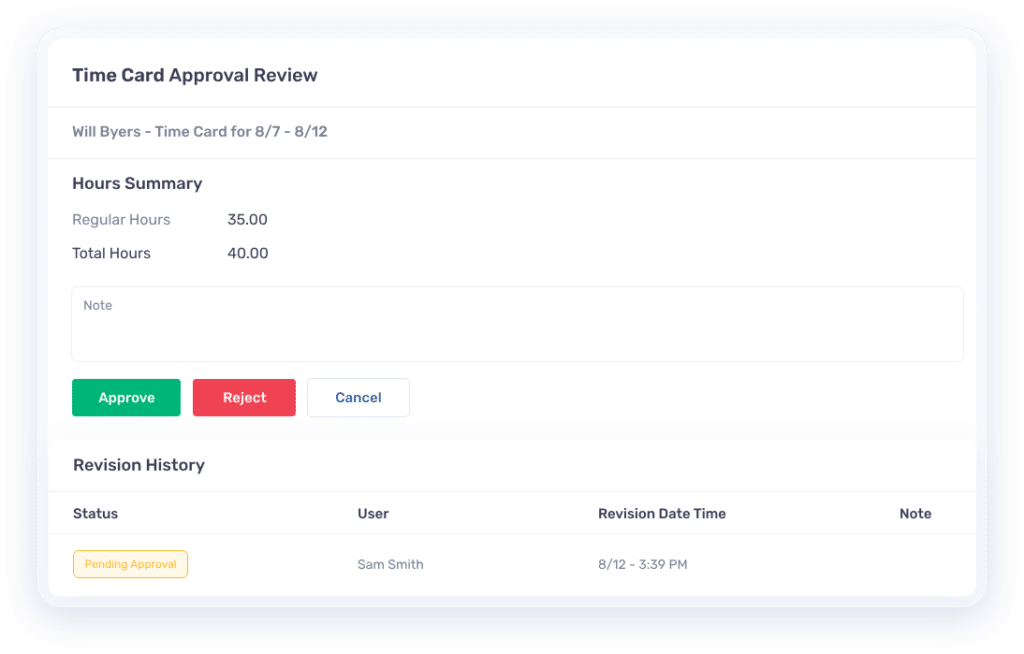 Buddy Punch also has a delegation feature with the Managers function, which allows you to give one of your employees the Manager status in Buddy Punch. This lets them view the timesheets of other employees. With one team member managing the people under them, you'll have more time to focus on the logistics of event planning.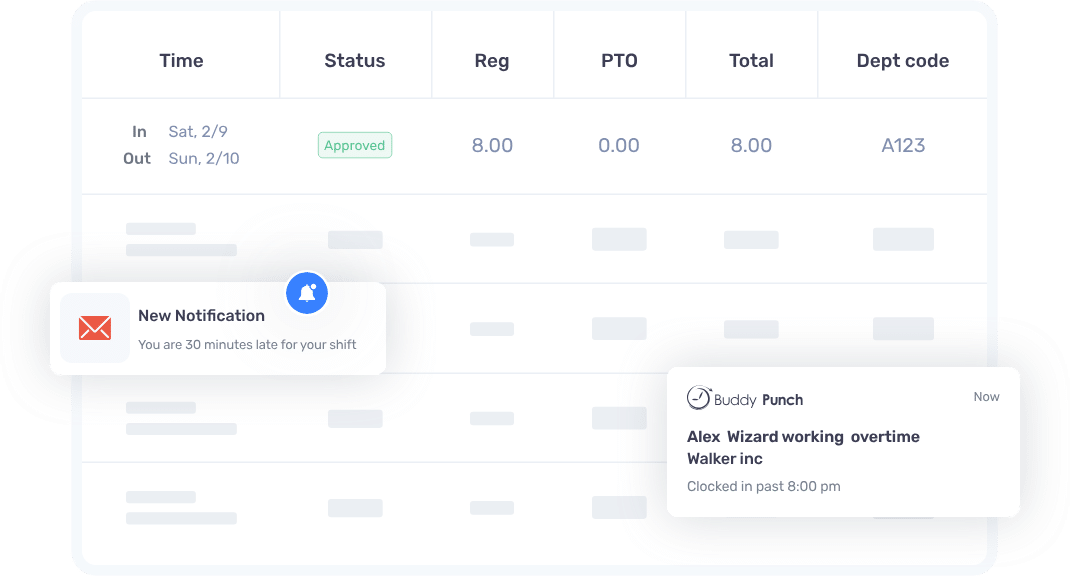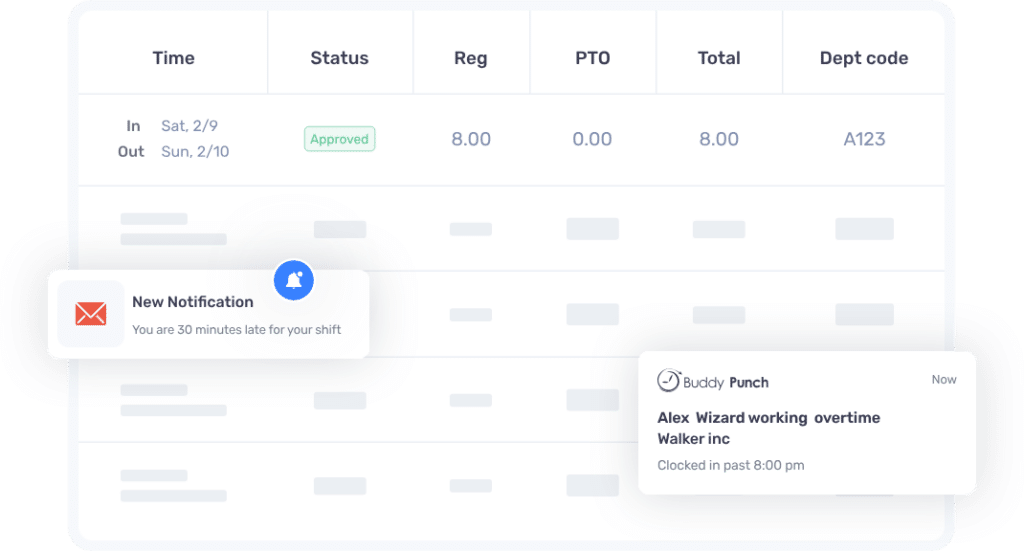 If you're making use of Buddy Punch's drag-and-drop scheduling in the dashboard, you'll love our built-in notifications. As you schedule team members to work physical or virtual events, they'll receive an automatic notification letting them know what they're scheduled for. With this, they'll always be alerted when they're expected to work without you having to check-in.
Another feature that makes Buddy Punch a strong event management software is the Job Codes option. Buddy Punch's job codes feature allows you to create a specific code for jobs that employees will then punch in to. As they work on that task, their time spent on it in total will be reflected on their timesheet and on your reports. This feature gives event planners the ability to see exactly what aspects of events are taking the most time, so they can calculate the money & time investment to decide if the returns are worth it.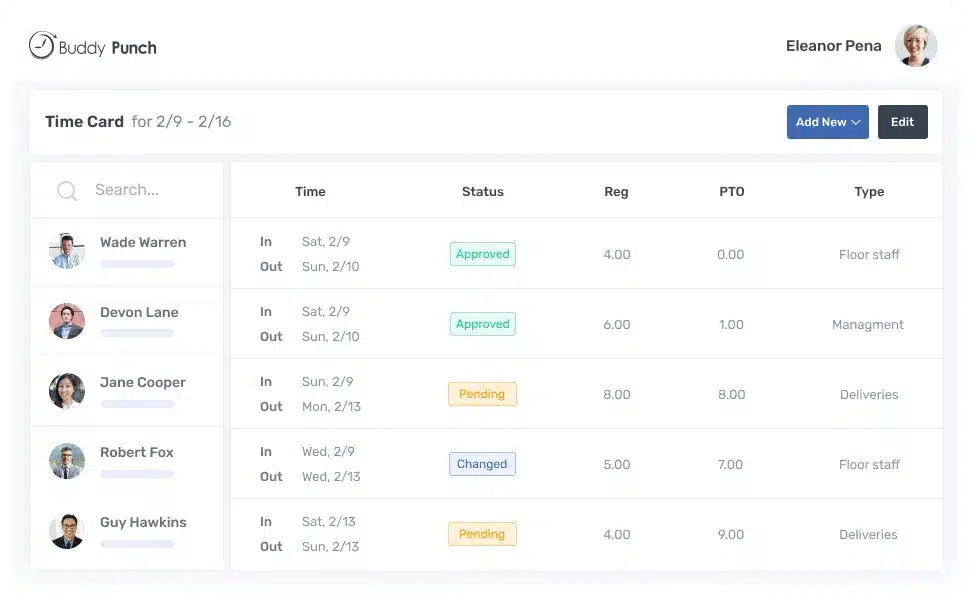 Buddy Punch's detailed reports feature allows you to get an overview of all your employee records via the Payroll Export, Hours Summary, In/Out Activity, and more. You can export these as Excel CSV or Adobe PDF files.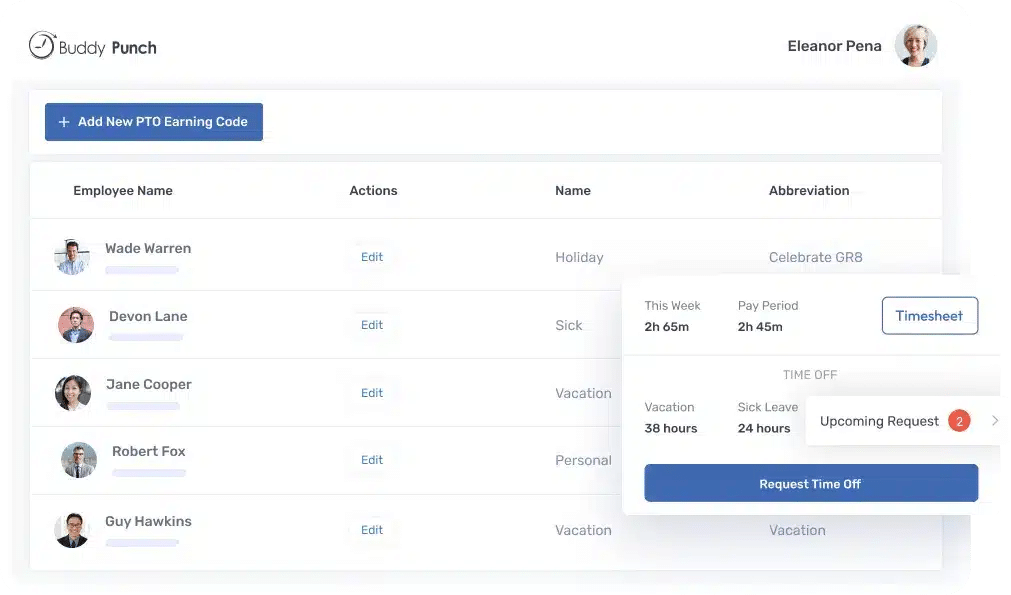 Breaks are important towards maintaining workflow in the long run. Buddy Punch's PTO suite revolutionizes how you track employee time, by allowing you to use PTO templates or create your own custom PTO types to monitor employee leave. Additionally, we have a self-service option which lets you grant employees the ability to be automatically approved for time off. Spend more time event planning, less time micromanaging people.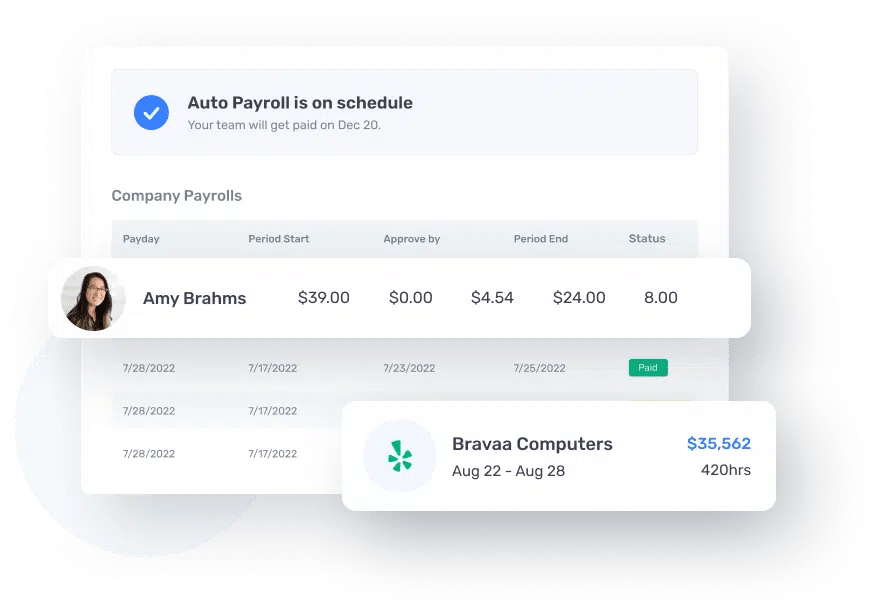 Forget relying on integrations with third-party payroll providers. Buddy Punch's built-in payroll processing is a paid addon that allows you to handle all things employee management in one central app. With features such as unlimited payroll runs, integrated timesheets, document request automation and more, this is a solution that reduces errors and saves time, completely replacing other payroll options. Click here to learn more about Buddy Punch's Built-in Payroll.
Buddy Punch Has More to Offer Event Planning Businesses
Like a gift that keeps on giving, there's even more to get out of using Buddy Punch than we've mentioned. Here are just a few of its other well-liked features:
Buddy Punch is an adaptable piece of software, functioning both as a mobile app for smartphones (iOS and Android) as well as being a web app that can be accessed on Desktop, Phones, and Tablets. We put a major focus on the design being simple and accessible on any device with an internet connection.
If you ever have any questions about using Buddy Punch, you can contact our customer support through the Help Desk. Additionally, the Buddy Punch Docs Center contains answers to many common FAQs.
Reviews Highlight Buddy Punch's Ease-of-Use and Stellar Customer Service
At the time of this post's writing, Buddy Punch has 908 reviews and 4.8 stars on software review site Capterra.

Here are a few examples of what our existing clients have to say:
Easy to use. Many of my employees are students with ever changing schedules. Buddy Punch is easy to use and change schedules weekly or even daily as things come up. BP tracks the time the employee is logged in so I don't have to.
I will say I truly do like working with Buddy Punch. Any time I have an issue, its immediately fixed and it seems like Buddy Punch is constantly taking customers issues and using those to fix the system overall. Every business is going to have issues, it's a matter of fixing them and improving . I have never dealt with a company before, not just an online time clock/scheduler, that has responded so efficiently to customers issues and wants to fix it to where it doesn't happen again in the future or fix it to where its easier to use in the future. I truly appreciate it!
From an employee perspective, Buddy Punch is an excellent product! It is FAR superior to the paper clock-in sheets we previously used. (And my supervisor has told me how much easier it is for him to keep track of his employee's hours since switching to Buddy Punch).
Try Buddy Punch Free
If you feel that Buddy Punch might work well with for your future event planning, sign up for a 14-day free trial, no credit card required. You can also book a one-on-one demo, or view a pre-recorded demo video.
Hubstaff is another effective employee scheduling app, offering a variety of features such as:
As of this post's writing date, Hubstaff has 4.6 out of 5 stars and 1436 reviews on Capterra.
"The best thing that we've found out in Hubstaff that by adding the tasks in Asana they can appear in the time-tracking app. Also after doing the tasks the work time automatically gets posted in the Asana. That's a time saviour."
Another potential option is our competitor Timely, which has key features including:

At the time of writing, Timely has a total of 212 reviews on Capterra (see here), with an average of 4.7 out of 5 stars. Here's one review excerpt:
"I was able to precisely track the time spent on various jobs and projects thanks to the software's automatic time tracking feature. I was able to study my productivity trends as a result and better manage my time. I was able to spot areas for improvement and properly prioritize chores thanks to Timely's graphic reports, which gave me insightful information about my workflow. Overall, Timely dramatically improved my ability to manage my time, allowing me to concentrate on important research and development tasks."
At the time of this post's writing, Workpuls has a total of 94 reviews on Capterra (see here), with an average of 4.7 out of 5 stars. Some of its key features include:
"It is very convenient and the reports are very comprehensive and really easy to read. Also, I love how you can see what the employees are opening and what softwares and sites they open and how much time they spend on it. Plus, you can adjust which sites, softwares, and etc. you can label as productive or not."
When I Work is a solid timekeeping option with features such as:
At the time of writing, When I Work has a total of 1052 reviews on Capterra with an average of 4.5 out of 5 stars.
"It is very easy to use and very user friendly. I have used it on the user side and have also helped my husband get employees set up on it for our business. My husband has always done the scheduling of employees on it. All and all, it has been very easy for us to figure out, as well as the employees downloading this app."
6. ZoomShift
ZoomShift is another time tracking app event planners can use. Take a look at some of its functions:
ZoomShift has garnered a total of 97 reviews and 4.5 out of 5 stars on Capterra as of this post's writing.
"This software has a lot of pros. First, it's very easy to add staff, to make schedules, and do copy schedules to following pages. The fact it has an app is a huge advantage. Also, the summary of the hours each work is really important for us because we have caps of how much we can schedule each employee. Also, the notes are great!."

OnTheClock is our final option to highlight, with various features such as:
As of this post's writing, OnTheClock has 4.7 out of 5 stars and 538 reviews on Capterra.
"This app does everything I need it to do and more! I chose this one over the others because it does a time sheet/stub I can include with my employees checks. It's the perfect app for my cleaning business!!"
Click here to read the full review.
Choosing The Best Time Clock Software for Event Planning
Even though we've managed to narrow down the total options of online time clocks for event planners to the ones we think are the best, it's up to you to do further filtering to figure out which one will help the most.
That said, if all you want is an easy-to-use software for you and any team members, all with a wide variety of features and a helpful customer support team, you really can't go wrong with Buddy Punch.
Try Buddy Punch For Free
If you feel like Buddy Punch might be the right time clock for your event planning, then sign up for a 14-day free trial, risk free.
You can also view a pre-recorded demo video of how to use our software, or book a one-on-one demo to learn more about how it could transform your business.