5 Great Time Clock Wizard Alternatives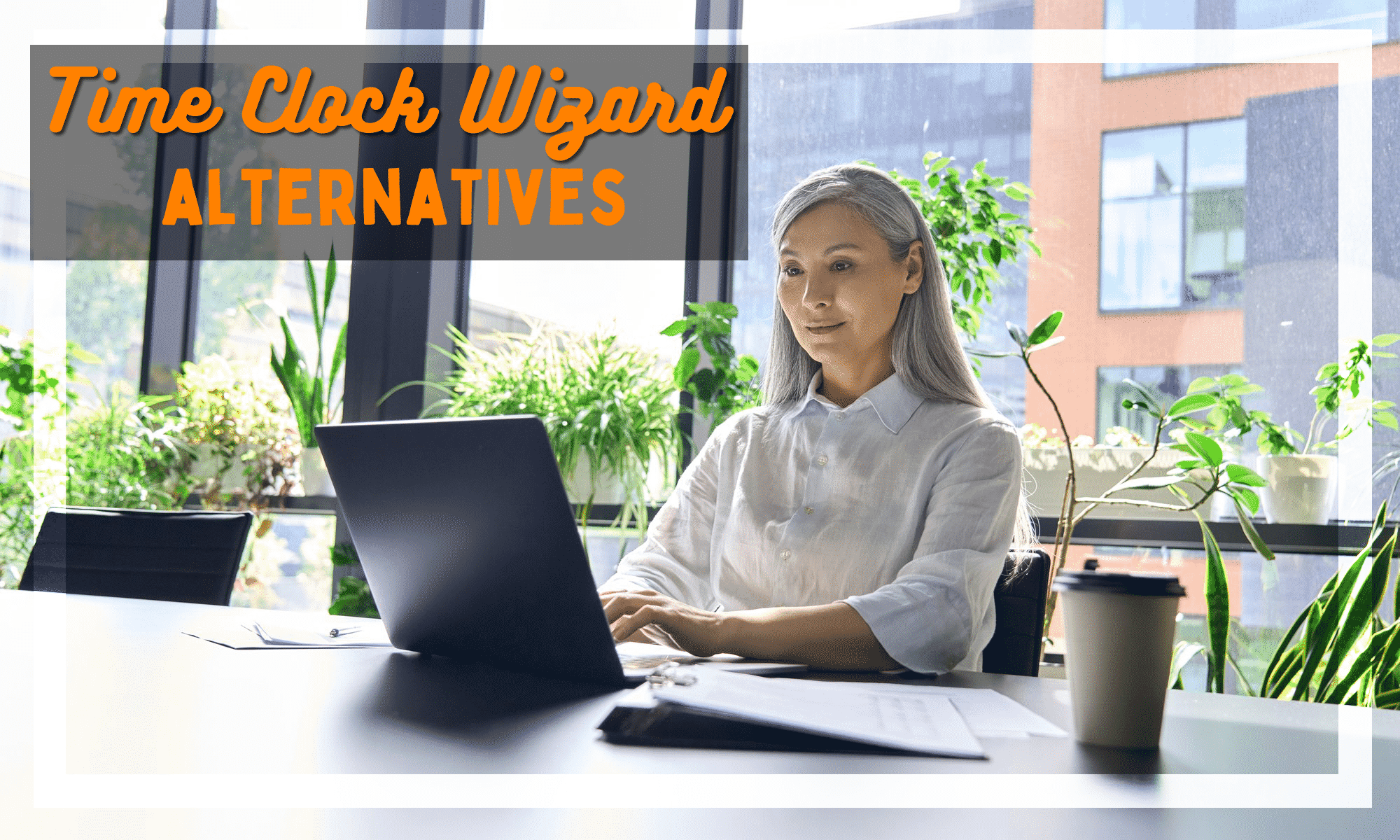 The difficulty of time tracking
When you own a business or lead an HR department in a company there is always plenty of demands on your time. Unfortunately, accurate time tracking can be time-consuming and often sucks up disproportionate amounts of your valuable time and effort.
How time clock software can help
Indeed, corralling employees' timesheets and punch cards is no easy task, and when you add it to the time you spend manually reviewing, verifying, inputting, and analyzing those sheets, it can really start to add up. The good news is that you can make the task of time tracking a breeze by using specially designed software. Read about some of the leading opinions including Time Clock and, its best alternatives in the post below.
Time Clock Wizard Alternatives
Hello, we're the team behind Buddy Punch, and we just wanted to let you know that we couldn't be prouder of our time tracking tool. The thing is we know it works because we designed it to help make time tracking, employee scheduling, absence management, and job costings easier in our own business. Once we'd tried it out and saw just how well it worked, we decided to share it with other businesses too. We even offer a free trial so you can experience how much easier running your business can be with our time tracking software. You can try it for free here!
How long do you spend tracking attendance, working out time off and making sure that overtime is accurate? A great deal no doubt, something only made worse when you have to chase your employees to fill out their timesheets right, and then having to get their supervisors to sign them off. Fortunately, you can start to regain this time and spend it on other more mission-critical tasks by using our time clock software. Keep reading to find out all about its most useful features.
Easy to use mobile app with Intuitive Interface
First of all, it's important to note that, unlike other time tracking tools, ours offers a seamless employee experience because is easy for everyone in your business to use. This is because, in addition to our web app, we offer a mobile app that runs on OS and Android so your employees can download and use it on their phones. We've made it super easy to use with seamless onboarding, so workers don't even need an email to sign up and can generate a user name and password in seconds instead.
Next, our time tracking tools can save you time and effort with our scheduling alerts and reminders feature. the great thing about this feature is that it allows you to automate a reminder to people that have forgotten to punch in. You can even set it to alert after they have missed clock-in by a specific number of minutes. The benefits of which means you don't need to stop what you are doing to go on the floor and personally remind workers to punch in.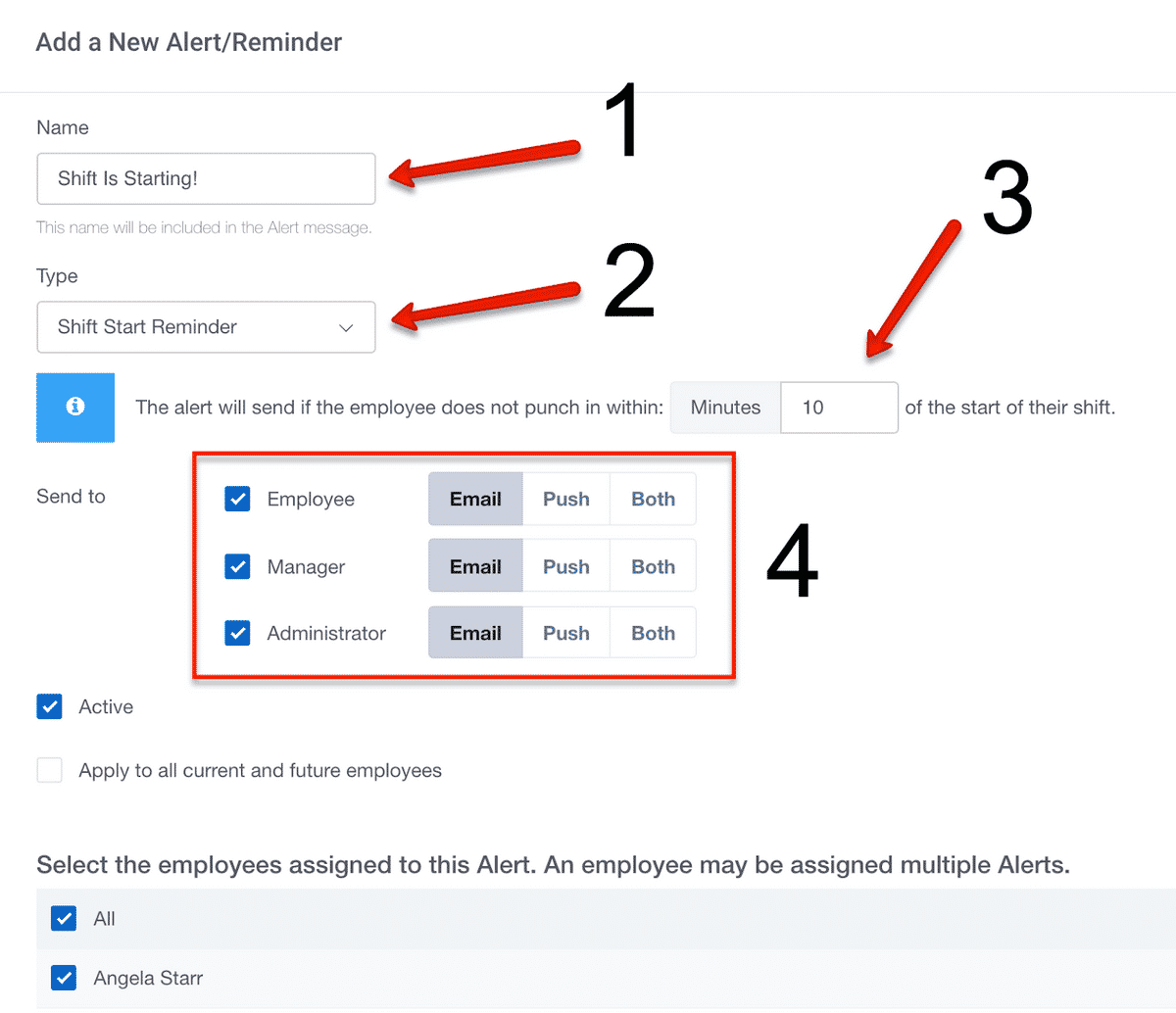 Time Off Tracking
Another great time tracking feature that we offer is time off tracking. After all, you put effort into tracking, not just the time that your employees have worked, but also how many days of vacation they have left too. Indeed, many managers, owners and HR people will spend inordinate amounts of time checking and informing employees of how much vacation they have left. The great thing about our software is that it does all this for you. Your workers can even use the employee self-service feature on our time tracking app and in just a few clicks check how much vacation allowance they have left.
Another task that can take up a great deal of time and effort is working out how many hours of vacation your employees have accrued. Of course, it's important to practice good leave management because it allows you to ensure that you can motivate and incentive your workers, as well as make sure they are always awarded what they are owed.
Happily, our tools can help you to automate accrual calculations. All you have to do is set accrual rules, and our system will connect to your payroll software and work out and assign the relevant time off. It's that easy!
Our time clock wizard alternative doesn't just make regular time tracking a breeze but can help you manage your overtime calculations as well. Set the level of overtime for each employee and let our tools do the rest.
Fast support time
In addition to our time clock software, we're also proud of how quickly we offer help to our customers. Indeed our average response time to your first chat is less than a minute, which means you can be chatting with a helpful and knowledgeable expert that can help you resolve your issue in practically no time at all.
The issue of employee time theft is one that many businesses struggle with, and it can cost them a great deal of money, which in turn can affect their profits and longevity. The good news is our time tracking software is designed to minimize this and help you with workforce management in several ways.
The first of these is via punch limiting rules which prevent any worker from logging in outside of their set shift patterns. Instead, they will just receive an error message, so you can be sure that no one is claiming for the time they have not done, or have not been genuinely assigned.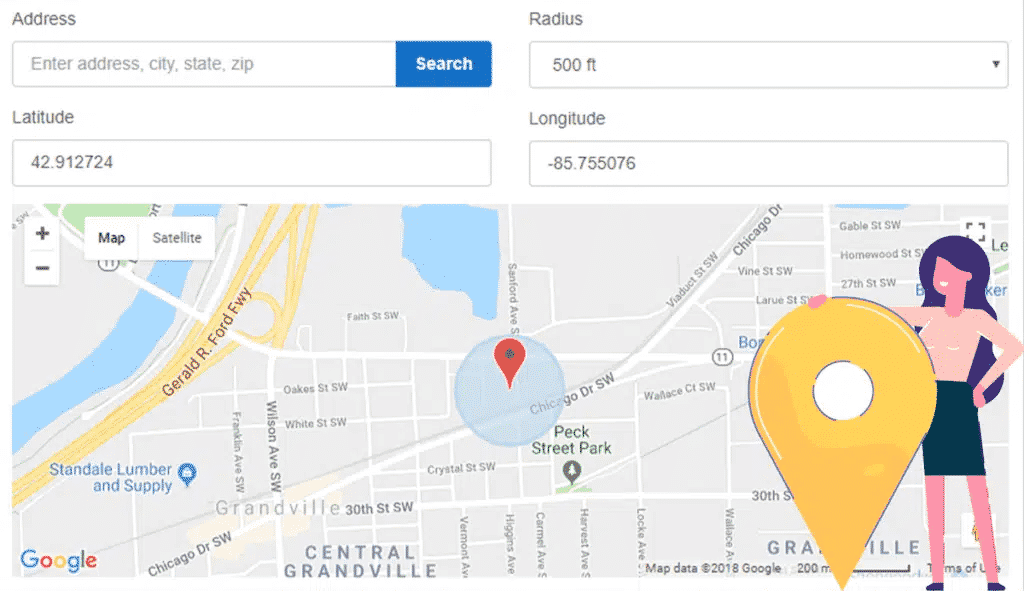 Another useful time tracking feature that our tool provides is geofencing which can help to stop the issue of time theft. It does this because your workers have to be located within a set GPS radius to be able to punch in. Thereby preventing any less than honest behaviour and making sure your business's timesheets are as accurate as possible.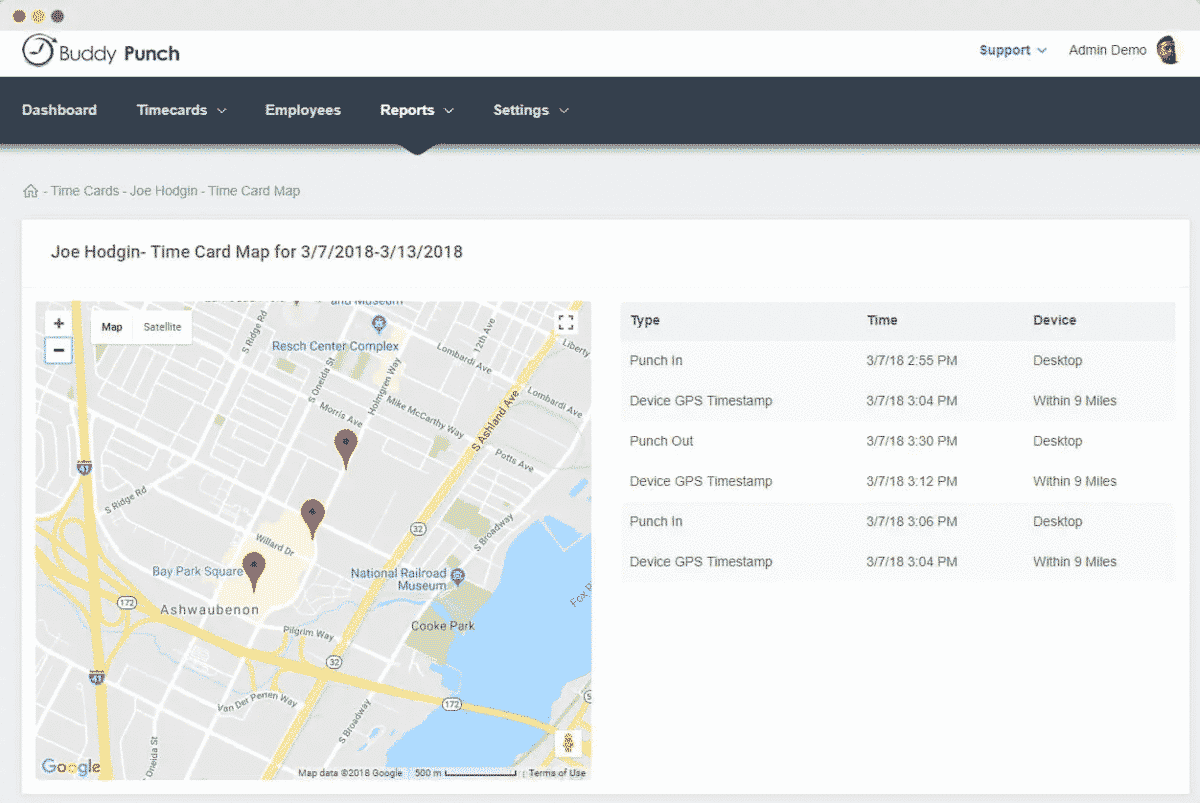 You can also use our GPS tracking features to better manage non-desk employees, and ensure your track both their time and location successfully. This is because our GPS tracking feature not only records that your worker has punched in but where about they are when they took this action. You can even use the powerful reporting function to see every worker's location in a single document, so you will always have access to the employee data that you need.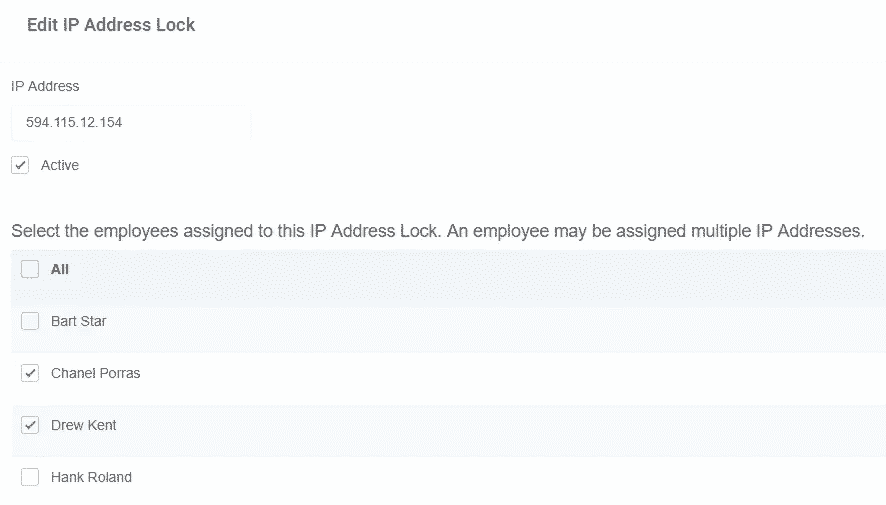 An additional benefit to our time tracking solution is that it can be locked to a specific address. This means that your employees will only be able to log in using an IP address of your choosing, something that means you can select your own business's IP address to ensure that they are onsite before they log in.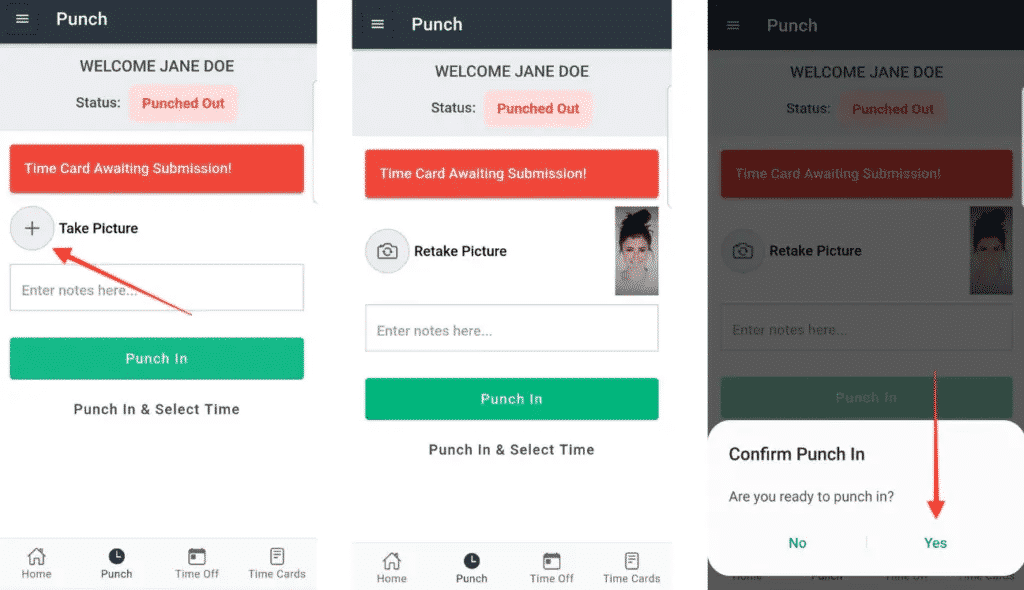 Lastly, our time clock wizard alternative offers your business the option of asking your employees to take a picture at the same time as they punch in and out. The great thing about our webcam photo option is that you can access these pictures via your dashboard to check that workers are where they claim to be, making employee time tracking more accurate and reliable.
You can book a one-on-one personalized demo here.
Buddy Punch Offers Many Other Features
Buddy Punch's Online Reviews
Currently, we have 671 reviews on Capterra and an overall rating of 4.8 out of 5 stars.

Below, we'll list just a few reviews that speak to our software's ease of use and great customer support service. (Click here to explore the full list of reviews.)
As several reviewers have noted, Buddy Punch is simple to use and helps businesses track time in a variety of ways.
"This product was easy to use from day one and entering the employees took no time at all. Everything is easily accessible and you can check on employees to be sure they have arrived on time to their jobs."

Click here to read the full review.
"The ability to control what employees are able todo like adding time that was forgotten some employees require an approval so i am able to confirm they're where bouts prior to approval. Its very easy for me to go in and add or fix employees time. I also like that i can turn the gps tracker on and off. I like the ability to track where employees are Because prior to this app we had an employee who was being dishonest about where they were and it cost is money when it came to billing customer."

Click here to read the full review.
"It has a great deal of flexibility and gives administrators/managers the ability to see who is here at any given time of the day. Managers also have the ability to approve PTO prior to it being added to the time sheet. This provides accountability for both the employee and manager. They can also schedule shift work if necessary. In running payroll, since employees will punch in, be able to track their time as well as PTO in one place; this saves me time on my end. I simply run a report at pay period end to access a summary for each employee. I still have to enter totals but will not longer have to search spreadsheet each line for notes regarding time off. The reports are very helpful and can be downloaded in multiple formats"

Click here to read the full review
"Their Customer Service is EXCELLENT! Poor service is one of the main reasons we left our last scheduling and payroll reporting software."

Click here to read the full review.
Give Buddy Punch a go for free!
If you feel that Buddy Punch might be the right fit for your business, sign up for a free trial. You can also book a one-on-one demo, or view a pre-recorded demo video.
Out of all the time clock wizard alternatives, When I Work is one of the best. This is because they offer time tracking solutions including digital timesheets that can be accessed on any device for organizations of any size, including small businesses to large businesses.
It's not just workers that can use their personal devices to access timesheets either, but supervisors and managers too, which means you can audit your employee's timesheets via desktop or on mobile while out and about.
Additionally to the ones above, When I Work offers many useful features and functions including:
It's a great timesheet software for desktop (Windows and Apple), and it also works with tablet and mobile devices.
Currently When I Work has 921 reviews on Capterra and an overall rating of 4.5 out of 5 stars.
"Their customer service team has been very friendly and are always there to answer our questions in detail. It is also a great platform for time tracking and exporting timesheets every week to send to payroll. Overall, it's the best platform we could have found to help us do what we need to do every day."

Click here to read the full review.
When it comes to time clock wizard alternatives you will also want to consider 7Shifts. This is because 7shifts offers a range of key features including a time tracker that can be used anywhere and easily edited. It even works when the wifi is down.
7Shifts time clock software also prevents false clocking in with GPS restrictions and photo options. You can even use 7shifts' time clocking software to track breaks and overtime and make sure your team stays compliant with regulations
Currently, 7shifts has 876 reviews on Capterra, and an overall rating of 4.7 out of 5 stars.
Additionally to the ones above, 7shifts offers many useful features and functions including:
Below is just one review from Capterra that demonstrates why it's a great restaurant scheduling app:
"A super all-in-one app that does pretty much everything. Scheduling, to time clocking, to event calendar, to messaging, to task assigning. Price is fair and function is easy to use."

Click here to read the full review.
When reviewing time clock wizard alternatives CrewTracks is also an option that you may wish to consider. The reason for this is that they offer some great time tracking options such as timestamping, GPS pins, and photos.
Time stamping at punch-in means you can verify the exact time, and not pay a minute more for wages than you have to. Photos mean you can check that you are logging hours for the right workers and no one has their buddies punching in for them.
GPS pins on the other hand have multiple functions, from checking that the right people are on your job site, to monitoring the location of mobile workforce like salespeople and, delivery drivers.
Currently, CrewTracks has 11 reviews on Capterra, and an overall rating of 5 out of 5 stars.
While you can visit CrewTracks' website to explore a full list of features, here are a few:
Here's 1 review which showcases why it's a great field crew scheduling software. (Click here for the full list of reviews.)
"I cannot say enough good things about this software. The Customization and the employee tracking are the best I've come across! The time savings we have encountered has been wonderful! We will be using Crew Tracks for a very long time to come!"

See the full review here.
Lastly, when it comes to choosing from all the time clock wizard alternatives Zoom Shift is also worth your consideration. One of the most convincing reasons for this is they offer both a mobile app and a web app for tracking time. Zoomshift also provides IP address and GPS limiting features for extra accuracy, which can help cut down on time tracking errors and save your business money.
Currently, ZoomShift has 93 reviews on Capterra, and an overall rating of 4.5 out of 5 stars.
Additionally to the ones above, When I Work offers many useful features and functions including:
Below is just one review from Capterra that demonstrates why it's a great restaurant scheduling software:
"I run a small business, 3 employees, so a traditional time clock is insane overkill, but I needed something for employees to clock in and out, view their schedules, and make requests. Zoomshift has work really well for us – we have had them for 3 years and I have never questioned about getting rid of the program."

Click here to read the full review.
Try Buddy Punch for Free
If you feel that Buddy Punch could be the right fit for your business, sign up for a free trial. You can also book a one-on-one demo, or view a pre-recorded demo video.
You May Also Like…