5 Best Time Clock Trackers (Review Post)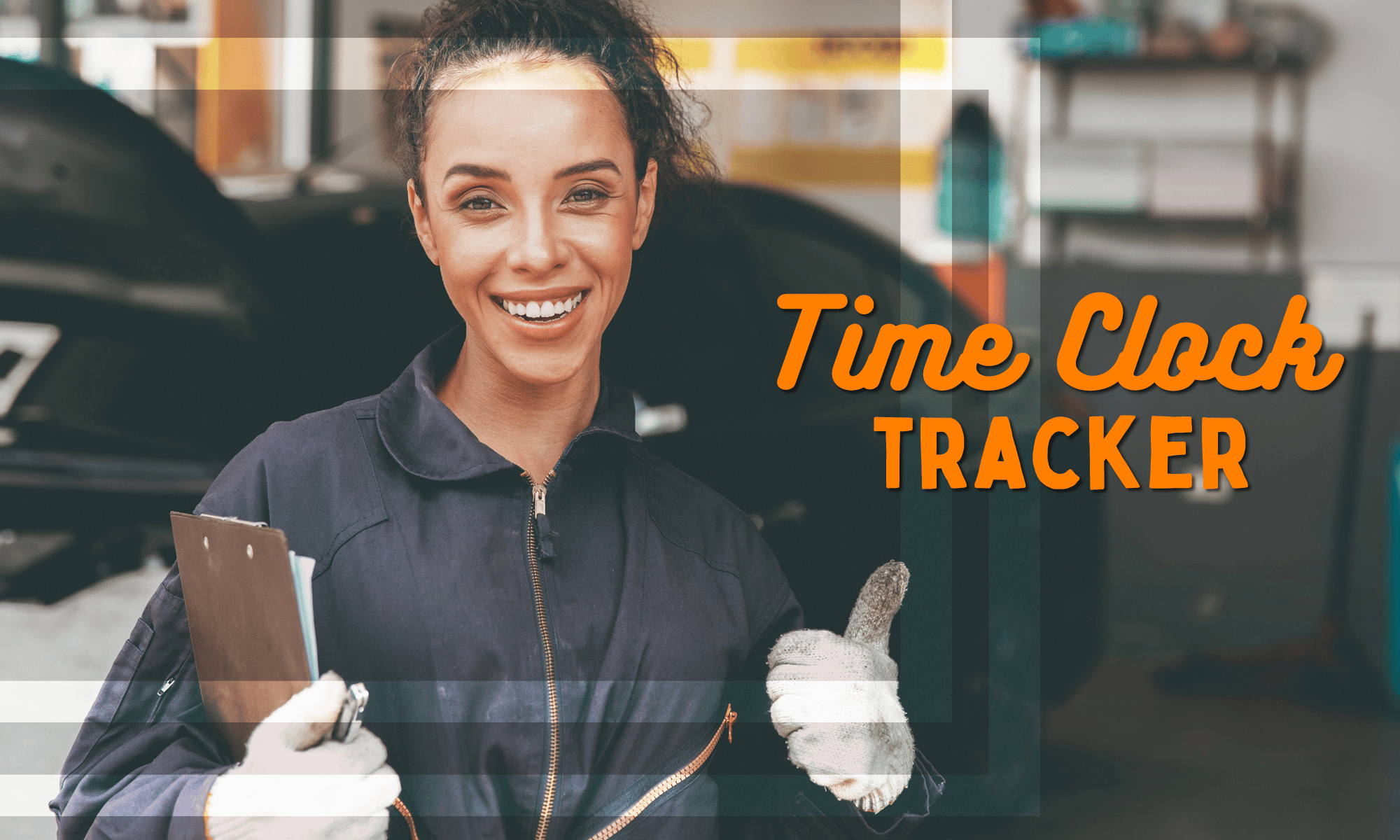 How do you keep up with your team members regardless of where they're working? Most business owners, especially with the increase of working from home, have come to realize that time tracking is the key to boosting employee accountability, productivity, and profitability. They're ditching the manual methods of tracking employee hours and turning towards online time tracking software.
However, your choice of time tracking clock is an extremely important part of the puzzle. If the software you choose isn't user-friendly, simple to implement, and effective with its features, you're going to see the opposite effect of what you intended. Your employees will get distracted, frustrated, and fall behind in performance.
In this post, we're going to outline our top 5 picks of time clock software, based on how easy they are to use, how versatile the features they offer are, and how well-liked they are by their current users. Hopefully this will give you a thorough understanding of which app will provide the biggest boost to your business.
Time Clock Trackers
Starting off the list of time clock trackers we have Buddy Punch. When we were designing this software, we recalled our own experiences to choose how we wanted this remote and office time tracking app to work. We settled on three core traits to focus on:
Employee Accountability
Design Simplicity
Operations Streamlining
Through features like GPS Tracking, Job Codes, PTO Management, and Customizable Reports, it's easy to encourage employee accountability, making staff more conscious about their time usage throughout the workday.
With Buddy Punch's intuitive design and features like Notifications, Automatic Breaks, Geofencing, and IP Address Locks, you can set-and-forget options that let you exercise control over schedules without being invasive or disruptive on the side of your team members.
Lastly, you can streamline your operations with features like PTO Accruals, or easily transfer data at the end of the workweek through Payroll Integrations.
Next, we're going to do a deeper dive into each of these features to help demonstrate how exactly they work.
Note: If you'd rather skip the walkthrough and get hands-on experience, you can always sign up for a 14-day trial of Buddy Punch by clicking here.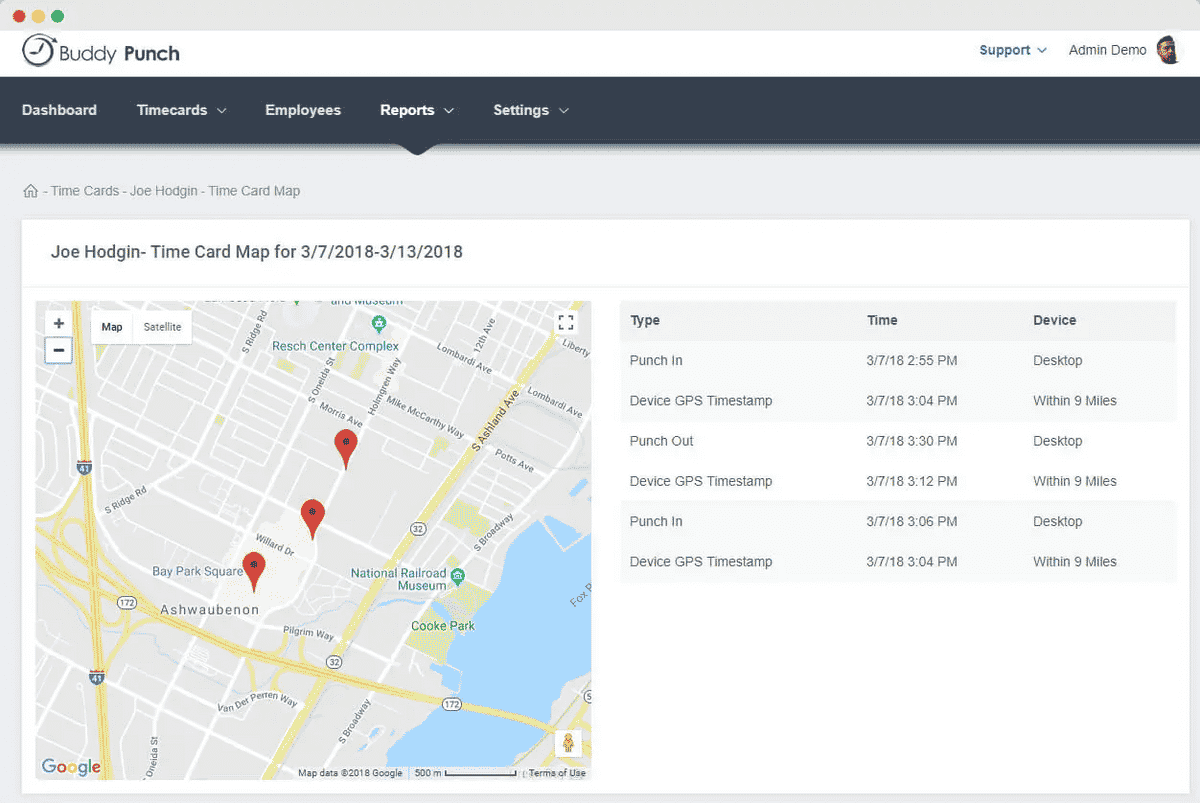 With Buddy Punch's GPS Location Tracking, business owners are able to keep track of employee locations off-site. This tool places a pin on an interactive map when employees clock in (whether on desktop or on a mobile device), allowing you to view where they're located. This helps make sure your team members are where they're supposed to be throughout the day.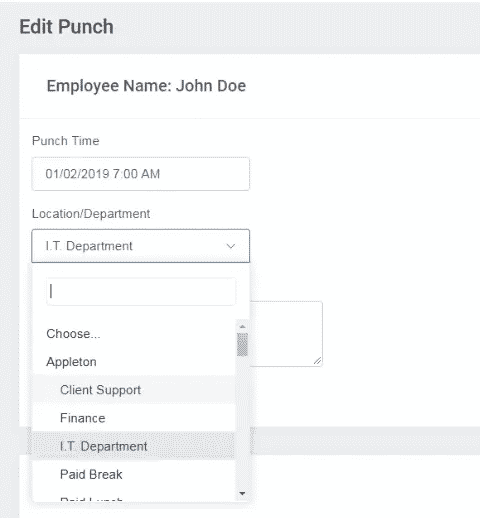 The Job Codes feature, also known as Department codes, is also great for monitoring what your employees get done throughout the workday. You can create a job code to describe each assignment currently needing to be completed. Then employees can attach themselves to certain codes as they work on tasks throughout the day. The data will then be stored on each employee's time card as well as on your reports.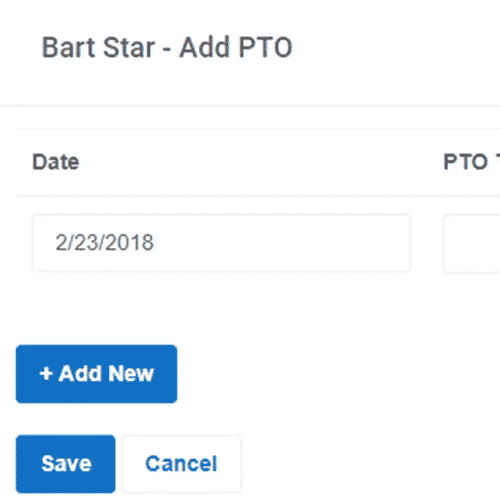 Buddy Punch's PTO Management gives you complete control over your employees' paid leave. Better yet, it lets you give them some control as well. You can create custom PTO types depending on your business needs, and then allow employees to take a self-service approach to leave requests. If you enable it, their PTO requests will be automatically approved. Otherwise, you'll receive a notification when an employee requests time off, and after you approve or deny your decision will be sent back to them as a notification in turn.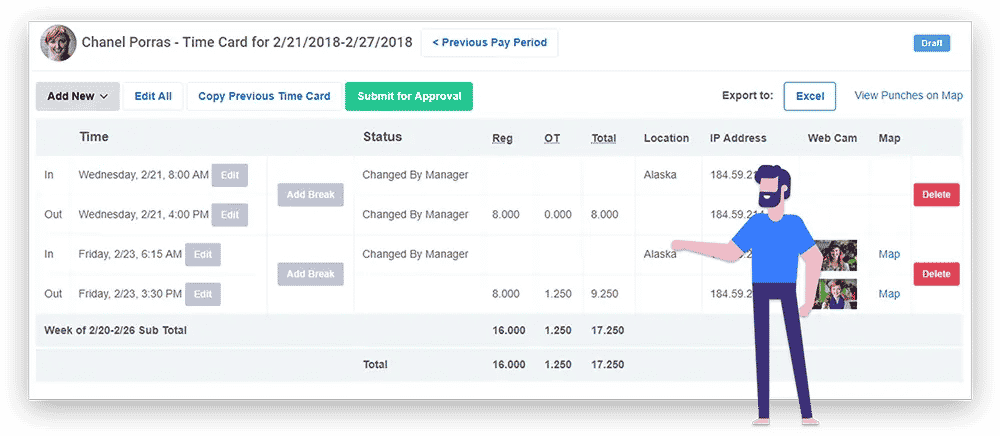 What use is collecting all this time entry data if you don't have an effective way to go through it and make informed decisions for your business? Save time with easily sortable information including staff members, their hours, overtime, locations, and more. You can export this data from employee timesheets into PDF or Excel formats depending on your preferences.

The built-in notifications feature makes it easier for both administrators and team members to stay in the know when it comes to important events. For example, administrators receive alerts when team members clock in or put in a leave request. In the event of a leave request, your decision to approve or deny will be sent back to team members as a notification in turn. This makes it so that everyone can focus on their work and know that they'll be alerted if anything important comes up.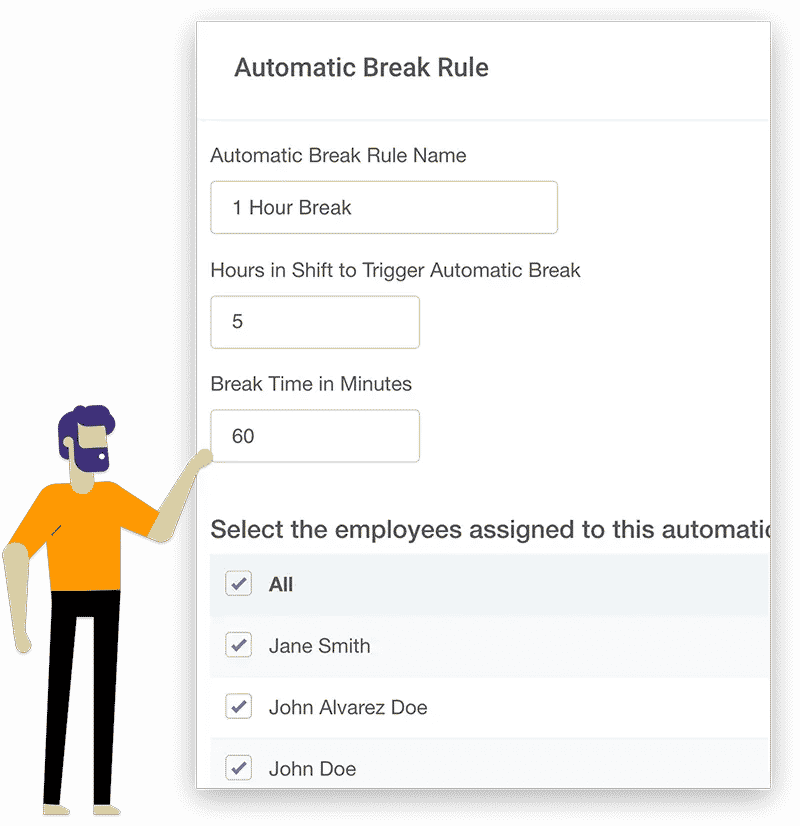 The Automatic Breaks feature is a simple option that can end up saving your business money in the long run. This feature cuts down on accidental overtime and time theft by automatically deducting allotted break times from an employee's time card. For example, you can set it up to trigger when an employee is supposed to be on their lunch break.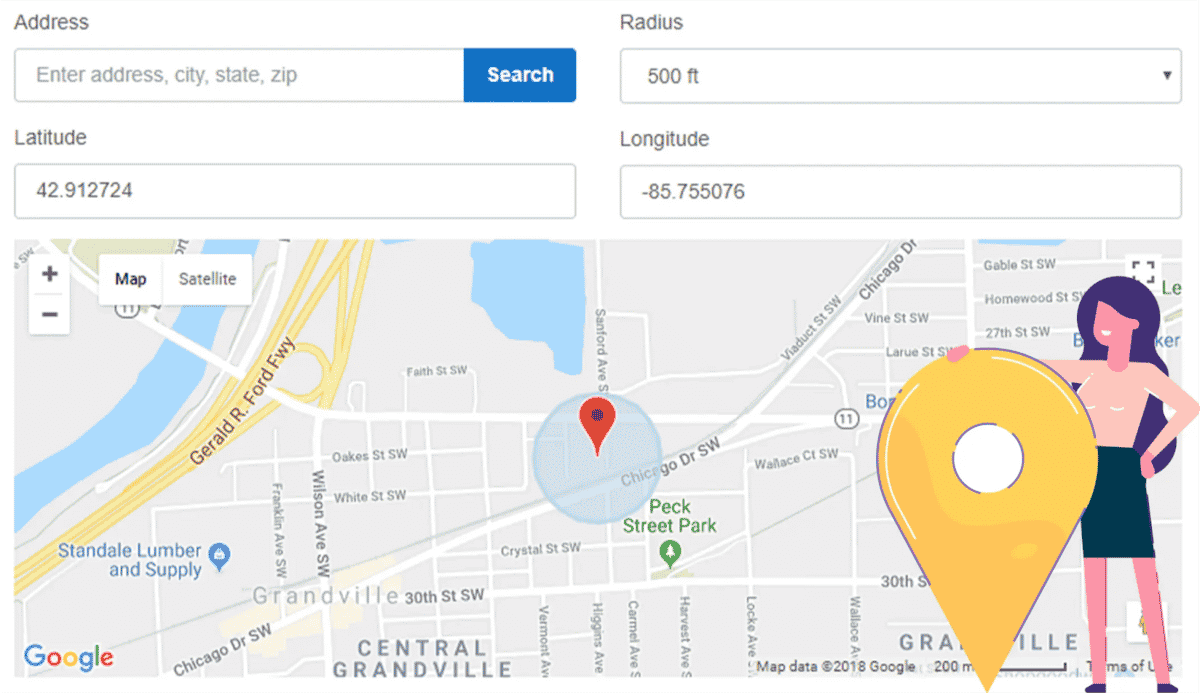 This is another set-and-forget feature, depending on how often you have a change in your remote locations. With Geofencing, you can set up a radius around an area (called a Geofence) where employees are permitted to clock in. If they attempt to start logging time while outside one of these zones, they'll be denied. This is a great feature if you manage multiple work sites.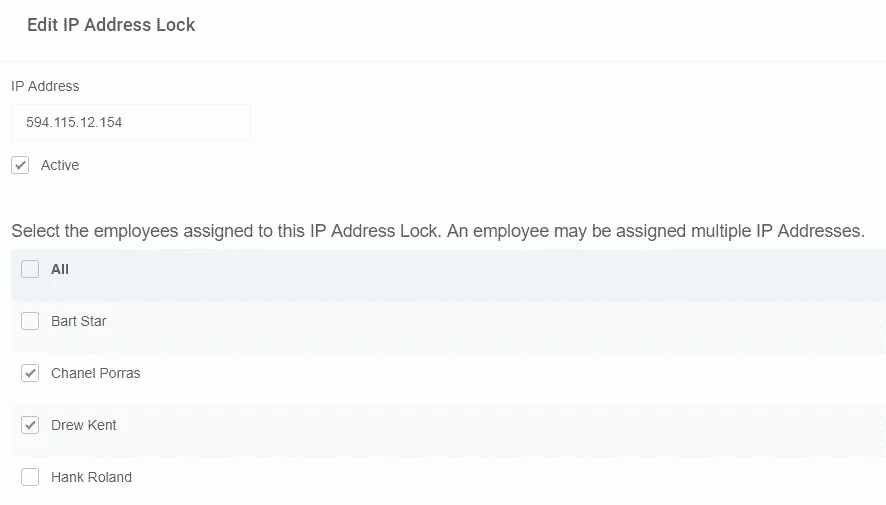 For some business owners, ensuring security is a top priority. The IP Address Locks is another set-and-forget feature that can give you that measure of control over who has access to company data. Use this feature to assign IP Addresses to employees. Whenever they try to log into Buddy Punch while outside of that allowed IP Address range, they'll be stopped.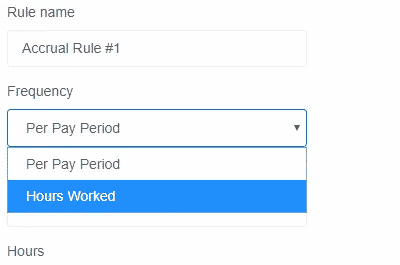 We talked about PTO management, but what about PTO Accruals? With Buddy Punch, you can detail the rules of your paid time off accrual system and relax as Buddy Punch automatically calculates the increase in employee PTO banks every week, month, quarter, or whatever specification you've outlined.

Another part of business management that Buddy Punch streamlines is transferring payroll reports over to Payroll Software for quick and accurate payments. Some popular names that Buddy Punch works with include QuickBooks, Zapier, Paychex, and more. Click here to view the full list of Payroll Integrations.
Buddy Punch Brings More to The Table
There's still more features we haven't brought up yet, including:
Not to mention the various out-of-app benefits to using this time clock time tracker:
Need help implementing Buddy Punch into your workforce? You can refer to our help doc center for useful tips and guides on usage.
Have any questions? Our customer support is always available via live chat to answer queries and provide help
Want to improve your knowledge of all things business management? We have a consistently updated blog section with important information for business owners and administrators.
But us telling you what Buddy Punch is like and you experiencing it are two very different things. You can book a one-on-one personalized demo by clicking here.
Buddy Punch's Online Reviews
As of the writing date, Buddy Punch has 4.8 out of 5 stars and 688 reviews on Capterra.

Below, we'll list just a few reviews that speak to Buddy Punch's ease of use and great customer support service. (Click here to explore the full list of reviews.)
"My staff loves that the software works seamlessly and I love the easy payroll reporting process. BEST of all, when I have a question, Buddy Punch really LISTENS and always walks me through the answer or offers to help themselves."

Click here to read the full review.
"The thing I like most about the software is the geographical location requirement. Every time you punch in/out it shows your employer your location. Making time clock fraud one less worry as a business owner and the employee more responsible about time maintenance because you cannot get paid if you are not physically at work."

Click here to read the full review.
"We used the Buddy Punch trial and within a week, we knew this was the solution we were looking for. Setting up locations, employees and punch restrictions was extremely easy. The timecard punches can easily be updated by managers from any location. The email notifications keep managers on top of missed punches, and with the variety of exportable reports we have been able to complete labor analysis quickly and accurately."

Click here to read the full review.
As these reviewers noted, Buddy Punch was intuitive and easy to use for both employers and employees – even newly onboarded ones.

Try Buddy Punch for Free
If you feel that Buddy Punch might be the time tracking time clock for your business, sign up for a free trial. You can also book a one-on-one demo, or view a pre-recorded demo video.
Clockify is a versatile time clock that's popular for its free time tracking capabilities (which work for unlimited users and unlimited projects). Some of its features include:
As of this post's writing, Clockify has a total of 4183 reviews on Capterra with an average rating of 4.7 out of 5 stars.
"Clockify is hands-down the easiest software I've ever used to track my time. I've worked part time for several companies, and I've always been confused by the layout of online time management systems. Clockify is the only software where I understand where I input my time while also being able to leave detailed notes on what I was working on at the same time. "

Click here to read the full review.
DeskTime bills itself as the "ultimate all-in-one automatic time tracker," and has features such as (but not limited to):
DeskTime is a versatile tool that, like Buddy Punch, works on Desktop, iOS, and Android devices. At the time of writing, DeskTime has a total of 241 reviews on Capterra (see here), with an average of 4.4 out of 5 stars.
"So, it's been almost two years having "Desktime" monitoring/tracking us, and we found it is very impressive and easy solution. The kind of reports and support they provides; we don't think any contenders would be offering in this arena currently."

Click here to read the full review.
As of this post's writing date, Sling has 110 reviews and 4.6/5 stars on Capterra.
"Overall experience with Sling has been great. As I said earlier, its deployment has brought our company into a new age with communication, timeclocks, and scheduling."

(See the full review here.)
When I Work is a popular desktop and mobile time tracking app. Some of its key features include:
At the time of writing, When I Work has a total of 946 reviews on Capterra (see here), with an average of 4.5 out of 5 stars.
"WIW has been a great help to me in the work I do as a supervisor in the company, especially when we carry out a group project, since this platform allows me to track and identify the availability of time for work that is and also I can establish when it is necessary to incorporate a member into the team and when not, even register their free time. The system is great when we want to hire staff outside the payroll, especially the freelancers system."

Click here to read the full review.
Choosing The Best Time Clock Tracker for Your Business
Even though we've managed to narrow down a list of potential time clock trackers from hundreds down to just a couple, there's still some filtering business owners are going to have to do to figure out which one is right for their business.
But a look at the features and reviews can help. If you're on a limited budget and don't mind having some features restricted, it's possible Clockify will be right for you. If you want a time clock tracker app with in-app communication, Sling can accommodate your needs.
If what you want is an extremely high rated app with plenty of features that can be enabled or disabled at will, a simple design that makes it easy for even the least tech-savvy employee to use, and a helpful customer support team that can guide you through any issues, then you really can't go wrong with Buddy Punch.

Try Buddy Punch for Free
If you feel that Buddy Punch could be the right time tracker clock for your business, sign up for a free trial. You can also book a one-on-one demo, or view a pre-recorded demo video.

You May Also Like…