Time Card App With GPS (5 Options)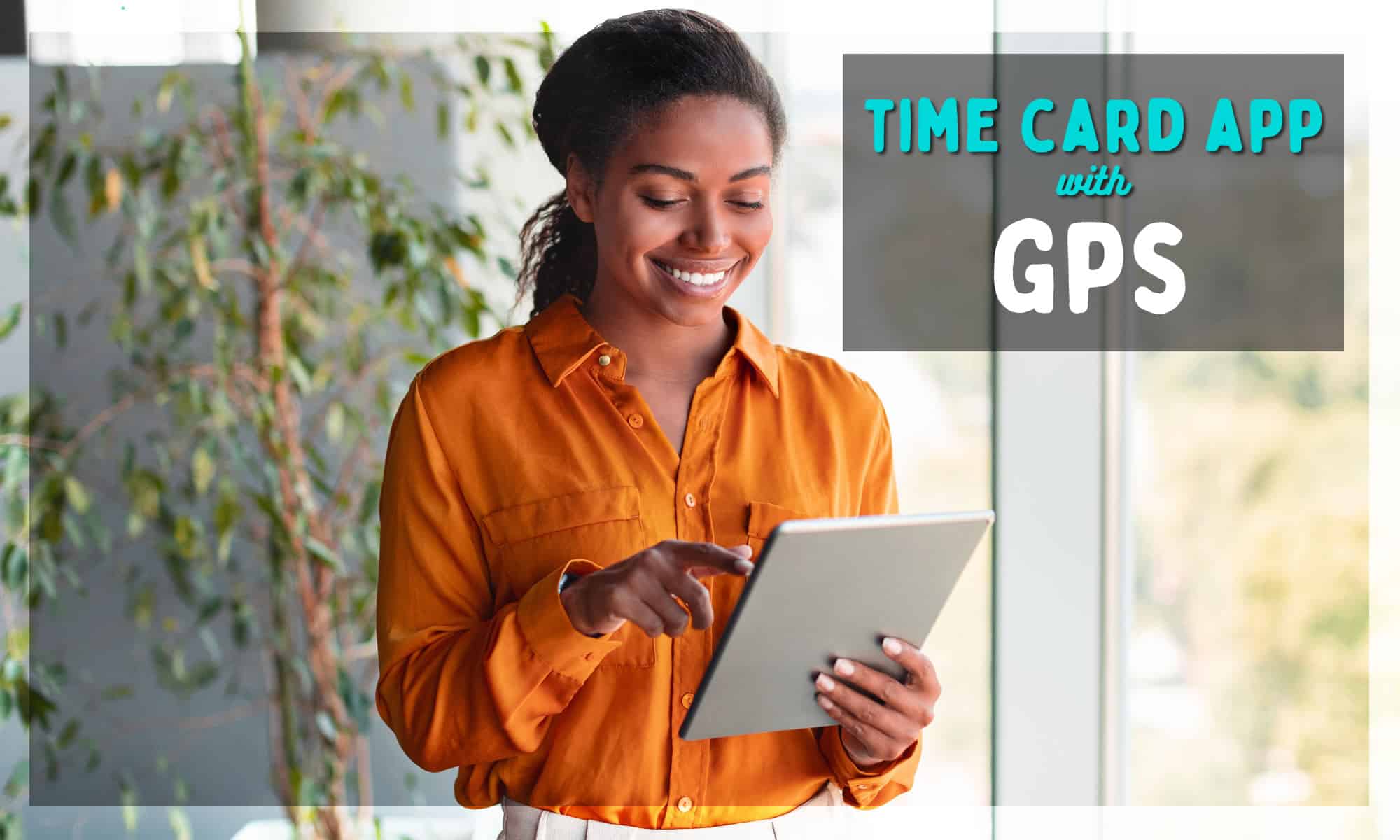 Are you searching for the best time card app with GPS? There is no shortage of options on the market for you to consider. The right time management solution can improve your ability to get more done in less time and confidently manage your employees. Whether you are leading a remote workforce or an office-based team, having an effective time card app is essential.
When it comes to finding the best time management solution for your organization, you should consider tools that support employee monitoring, GPS location tracking, and team scheduling. With a broad range of features at your disposal, you can quickly get to grips with time tracking and manage your workforce with ease. Let's break the best five options down.
Time Card App With GPS
1. Buddy Punch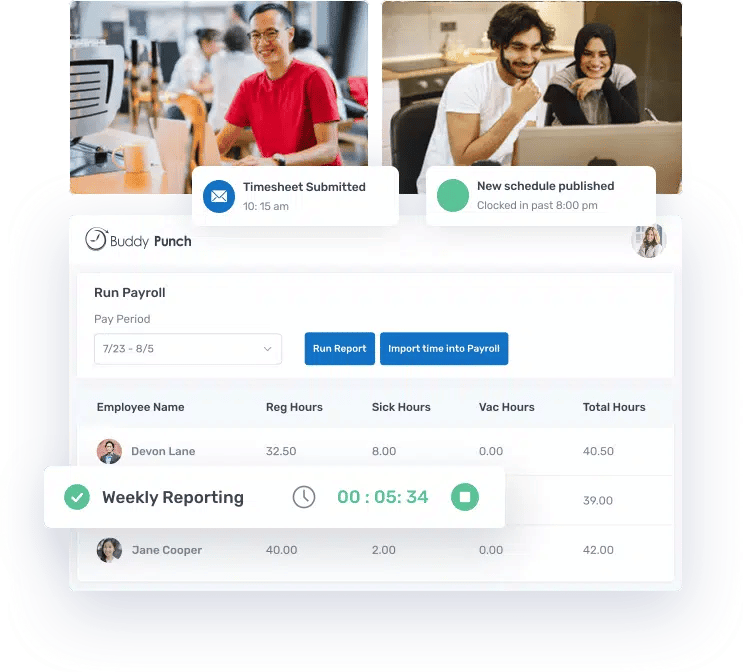 Buddy Punch is an employee time tracking platform that equips you with the necessary tools to oversee employee attendance and performance. If you want to see how your team members are spending their time, you need Buddy Punch in your corner. The platform comes with GPS location tracking – so you always have a clear sense of where employees are clocking in from.
How Buddy Punch's Time Tracking Platform Works
Buddy Punch is designed to make it easy for employees, contractors, and freelancers to complete timesheet entries. They can clock in and out using either their desktop, mobile, or tablet. This level of flexibility ensures team members are updating their time cards without any delay. If you want immediate access to the latest employee data, this tool will help collect it.
Without wasting any time, let's explore the best features offered by Buddy Punch.
Use GPS Location Tracking To Monitor Remote Workers
No matter where your team members are clocking in from, you can use GPS location tracking to keep a close eye on their attendance. Whether you have team members that are constantly on the go and moving from location to location or you lead a remote workforce, Buddy Punch can play a pivotal role in helping leaders to manage the complexities of a distributed team.
Monitor Overtime At The Click Of A Button
You can easily keep track of employee overtime using real-time notifications. Buddy Punch enables you to set these up either via email or mobile. When employees are nearing their maximum for the day, you can adjust their schedules accordingly. The entire process is remarkably straightforward with Buddy Punch in your corner.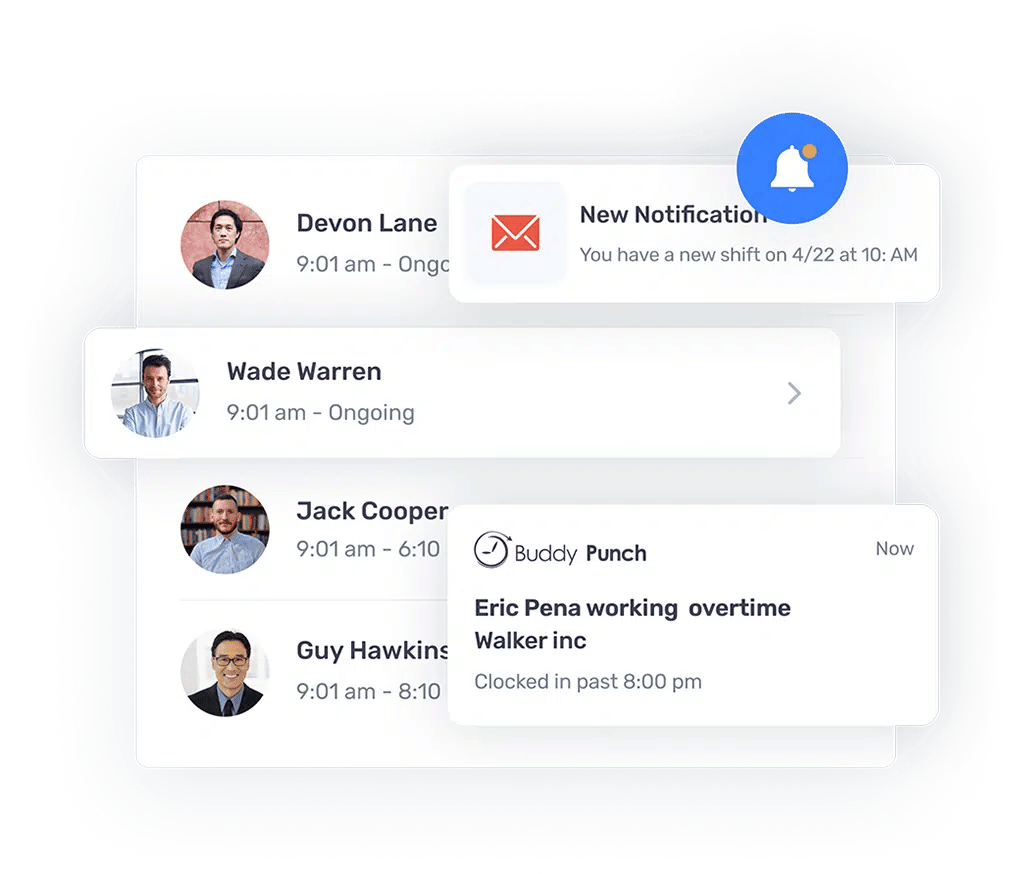 Use Webcam Images To Promote Team Accountability
You can encourage team members to clock in and out with their webcams. This means you always know who is clocking out and when. Coupled with GPS time tracking, webcam images can play an important part in promoting accountability. Using Buddy Punch as your time clock app, employees can log their work hours with a supporting image to reduce the risk of fraud.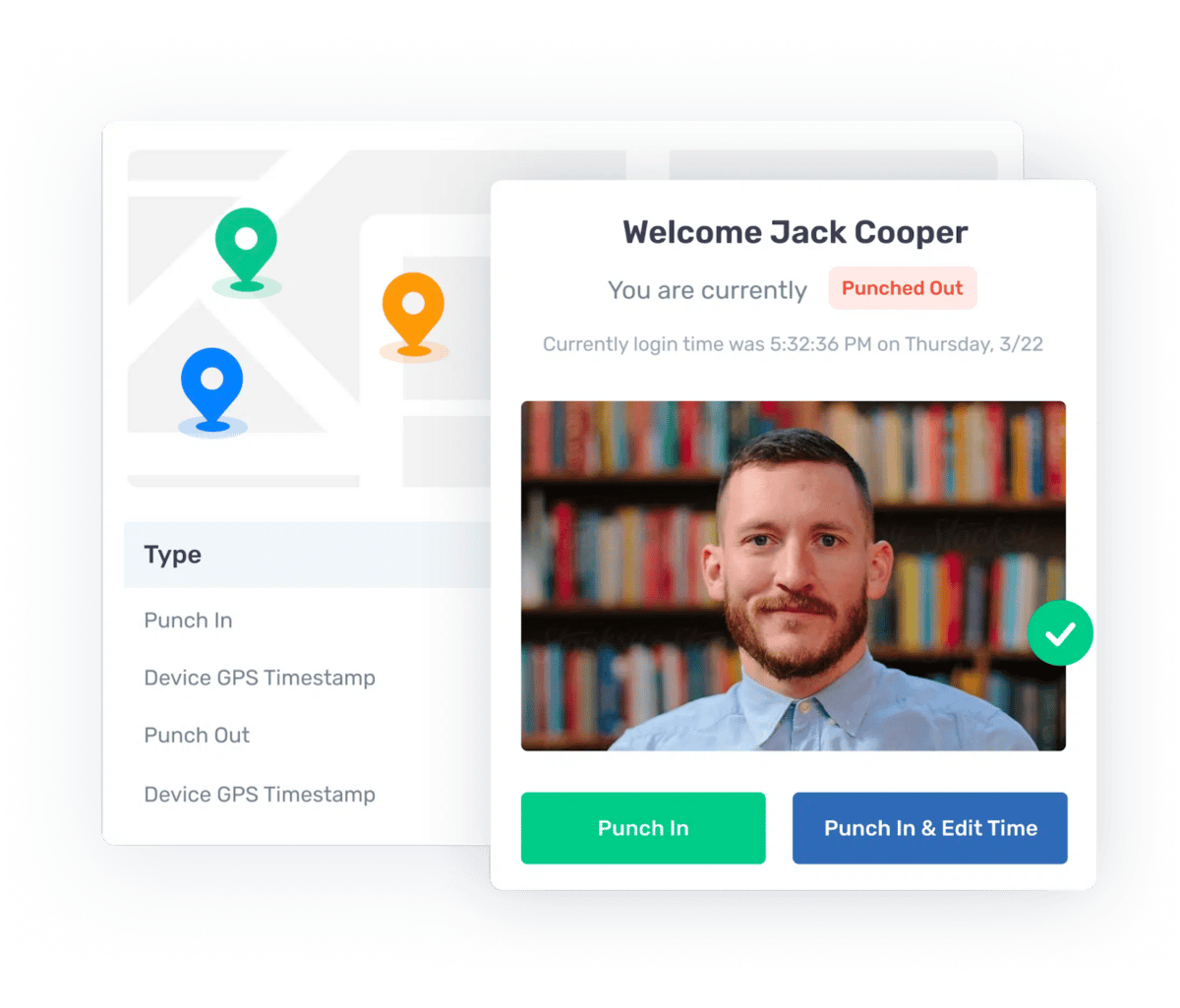 Track Mobile Employees From A Simple Dashboard
When your team members are on the move, you can monitor employee activity without any hassle and have access to a broad range of information at your fingertips. You do not need to worry about navigating across different platforms and applications to source basic information. Everything you need to know about employee attendance and performance is in one place.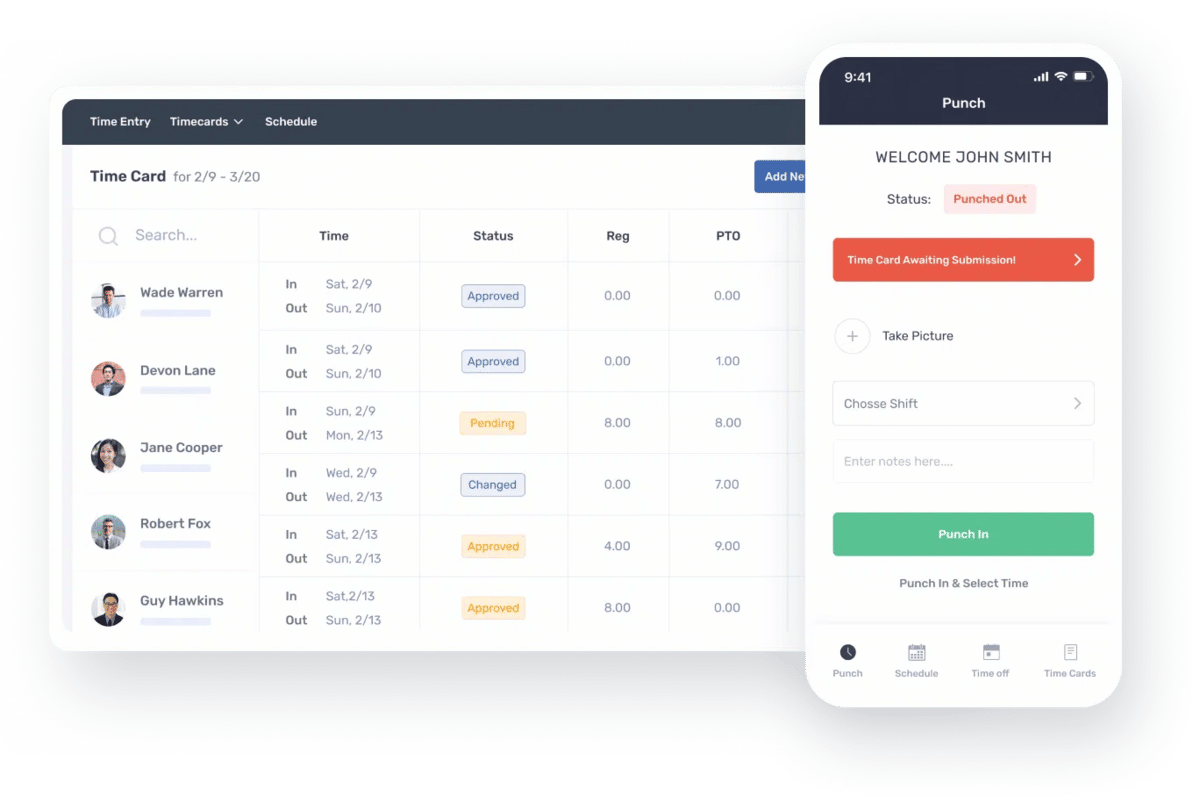 When it comes to unlocking value from this time tracker, we always recommend taking a good look through our "Knowledge Base" to find out more about how you can tap into the potential benefits of Buddy Punch and geofence time entries.
If you have any further questions, you can always reach out to our support team – who are ready to answer your questions about our time clock software and the tracking features available.
You can book a one-on-one personalized demo here.
Buddy Punch Is An Effective GPS Time Clock App
Here are just some of the features available with this time tracking software for monitoring employee work hours:
Buddy Punch's Online Reviews
Have you seen Buddy Punch's user reviews? As of the writing date, Buddy Punch has 4.8 out of 5 stars and 767 reviews on Capterra.

Below, we'll list just a few reviews that speak to Buddy Punch's ease of use and great customer support service. (Click here to explore the full list of reviews.)
As reviewers have noted, Buddy Punch provides team leaders and project managers with the necessary tools to streamline timekeeping and monitor labor costs:
"I like the ease of use and flexibility of Buddy Punch. You can add features you want and don't have to be bogged down with what you don't want to use. Some sites have way too much. I wanted simple!"

Click here to read the full review.
"Cannot say enough about their support. Even if the product was not as amazing as it is, I would highly recommend Buddy Punch due to the unbelievable support!"

Click here to read the full review.
"Buddy Punch is easy to use and even easier to understand as a user. Time track makes sense, and edits are made easy to submit."

Click here to read the full review.
"The ease of this software helps me post schedules quickly. I have three businesses and staff that float between all. The color coding system helps me see what employee or department needs attention."

Click here to read the full review.
Try Buddy Punch for Free
If you feel that Buddy Punch might be the right fit for your business, sign up for a free trial. You can also book a one-on-one demo, or view a pre-recorded demo video.
2. TimeCamp
TimeCamp enables managers to access real-time and historic data on employee locations. At the click of a button, you can easily see where your employees are located. Alongside GPS time tracking, TimeCamp supports productivity tracking and also easy invoicing. Managers have the tools to closely monitor employee attendance and take action where necessary.
At the time of writing, TimeCamp has a total of 572 reviews on Capterra, with an average of 4.7 out of 5 stars. TimeCamp offers a full range of practical features for teams:
"A simple program exactly what I was searching for to keep track of the number of hours I work each day. I didn't use the complete version of Timecamp because I didn't require it. I'm satisfied with the free version, which has a limited set of functions but is straightforward to use."

Click here to read the full review.
3. QuickBooks Time
QuickBooks Time allows managers to make it compulsory for employees to show their location upon clocking in. If you are trying to promote accountability across your organization, this is a useful feature. Both small businesses and large organizations can use this platform to track time and hold employees accountable. QuickBooks Time can work well on a mobile device.
It's a great timesheet app for Android and iPhone, and at the time of writing, QuickBooks Time has 4.7 out of 5 stars and 6,009 reviews on Capterra.
QuickBooks Time (formerly TSheets) has features that include but are not limited to:
"All along, it was excellent and productive. However, due to the significant expense we paid, we decided against continuing it. I rate it with five stars. My firm benefits greatly from their customer service, employee GPS tracking, mobile time input, and ease of use for both employees and admin personnel."

Click here to read the full review.
4. Hubstaff
From online time reporting to payroll and invoicing, Hubstaff is another all-encompassing time management platform that provides teams with the necessary tools to leverage employee data quickly. You can use Hubstaff's in-built GPS location tracking feature to hold your employees accountable and make sure that everyone is clocking in and out from the right locations.
As of the writing date, Hubstaff has 4.6 out of 5 stars and 1,320 reviews on Capterra. Hubstaff offers a range of functionalities, some of which include:
"Really just fine. What more should I look for as a freelancer who just need to track time for a project. Then send a a simple invoice at the end. As far as I'm concerned, I have a good experience with the app. If I have to suggest, maybe as a UX/UI Designer, they can enhance the looks an feel of the software to make it more professional and appealing to users."

Click here to read the full review.
5. Timely
Timely is another popular time management solution that comes with GPS location tracking. You can easily see when employees are clocking in and out. The whole process is clearly visible for you to see in real-time. With no delays, you can use real-time employee attendance and performance data (through the project and team planning features) to make informed decisions.
At the time of writing, Timely has a total of 209 reviews on Capterra, with an average of 4.7 out of 5 stars. Timely is loaded with a broad range of high-impact features:
"Timely is helpful software and I like it, it is functional and I highly recommend it."

Click here to read the full review.
Try Buddy Punch for Free
If you feel that Buddy Punch could be the right fit for your business, sign up for a free trial. You can also book a one-on-one demo, or view a pre-recorded demo video.
You May Also Like…