The Top 5 Time Clocks for Cannabis Businesses in 2023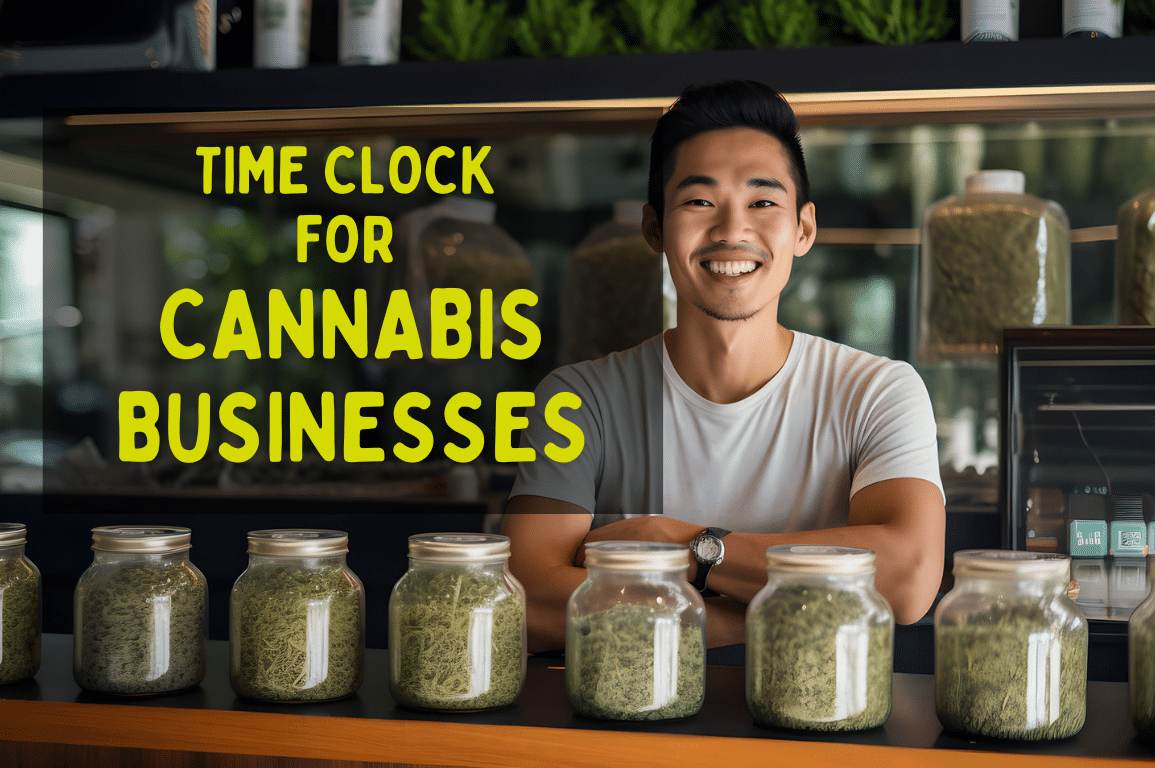 Cannabis businesses are only continuing to evolve as they pop around the U.S. – slowly expanding out of their main locations of California and Colorado as more states embrace the legalization of marijuana. With this growing opportunity comes greater competition, and more reason for cannabis companies to make sure they're running as smoothly as possible to beat out their competitors.
The simplest way to do this is to make sure your business streamlines its operations, and one of the easiest ways to achieve this is through using timekeeping software to make sure your orders, deliveries, and employees are all optimized.
In this post, we're going to outline the top 5 options of time & attendance tracking for cannabis industry companies that want to ensure their employees are as productive as possible.
Note: After reading this article, if you find that Buddy Punch sounds like the best time tracking tool for your cannabis company, you can sign up for a free trial here or request a 1-on-1 demo call.
1. Buddy Punch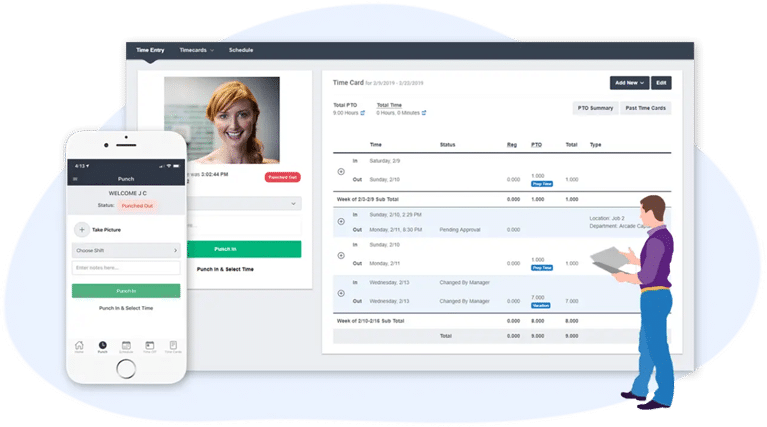 Depending on the type of cannabis business you're running, ideal workforce management is going to mean juggling multiple different tasks. Online support, in-store selling of THC and CBD products, deliveries, and consultations based on what strands and effects customers are looking for are all major considerations. The ideal time tracking app would be able to monitor employees real-time as they juggle these responsibilities.
Enter our very own Buddy Punch, which we created in order to solve a very similar issue.
When we first expanded a successful business model to encompass 20 employees at 3 different locations, we learned that manual methods of timekeeping (along with simply trusting our team members to get things done) just wasn't enough to create a sustainable environment in the long-run. We needed to embrace automation in order to help keep team members on track, and to make sure that even our side of management was in order.
At first, we looked on the market to find which timecard apps could help us manage both on-site and remote employees while being simple and non-invasive (for easy onboarding). When we didn't find one, we decided to build our own.
Buddy Punch is the perfect mix of accountability, simplicity, and streamlining for cannabis time tracking. Consider how you could monitor your dispensary with features such as: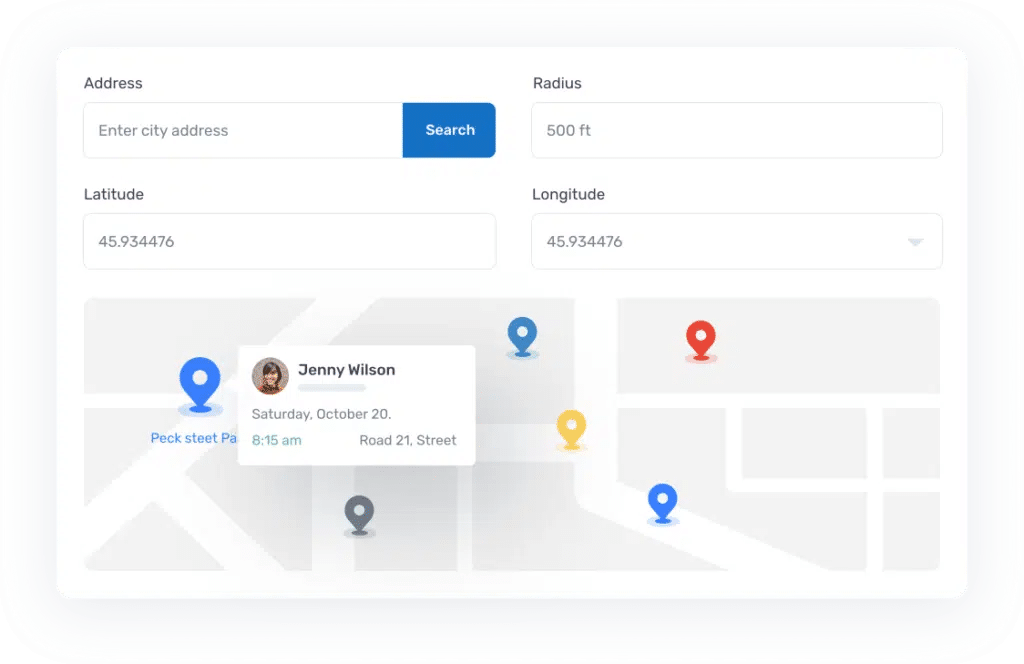 If you're managing multiple dispensaries, or allowing employees to work from remote locations, you might want to check out Buddy Punch's Geofencing feature. With this, you can create a radius (called a Geofence) on a virtual map. Whenever an employee tries to log in to Buddy Punch to start tracking time, if they're not in one of the Geofences you've created, they'll be denied. This helps ensure that your employees are where you want them to be, without you having to monitor their locations yourself.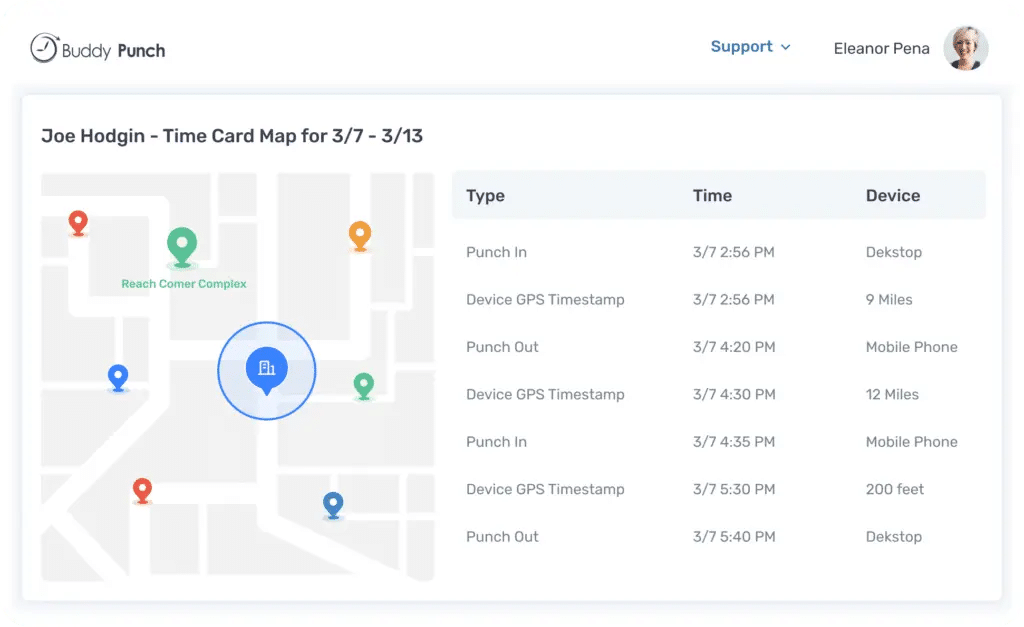 In a manner similar to Geofencing, Buddy Punch's GPS Tracking feature allows you to monitor employee work even at remote locations. However, unlike Geofencing, this feature keeps up with where employees are whenever they clock in. Perfect for monitoring your remote employees when they claim to be out delivering some cannabinoids.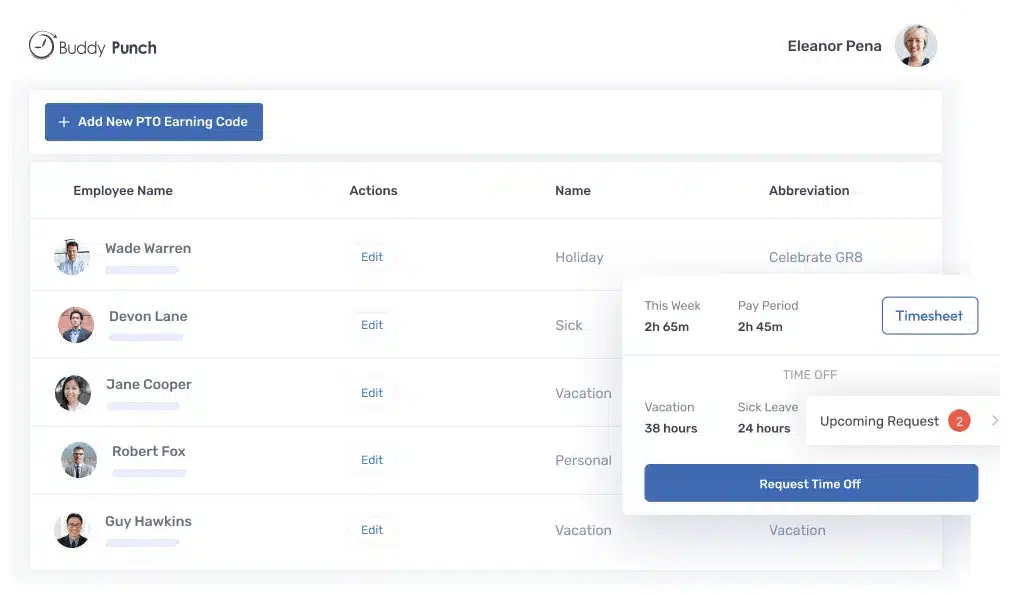 For any business owner looking to monitor the accrual of Paid Time Off, look no further than Buddy Punch's PTO Tracking. In addition to using standard PTO types or creating custom ones at will, Buddy Punch's PTO lets you enable a self-service approach to time off. With this optional feature, your team members can request time off and be automatically approved – if you so wish.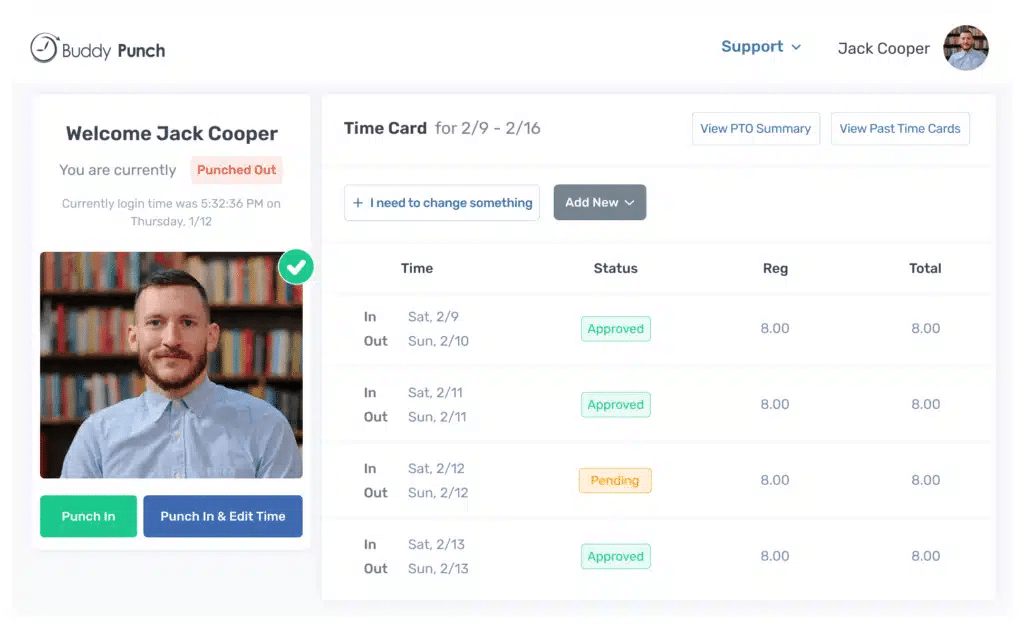 Our webcam feature automatically takes a picture of your employees when they clock in or clock out. This automatic feature helps prevent buddy punching and other forms of time theft by ensuring team members are who they claim to be (and are working when they say they are).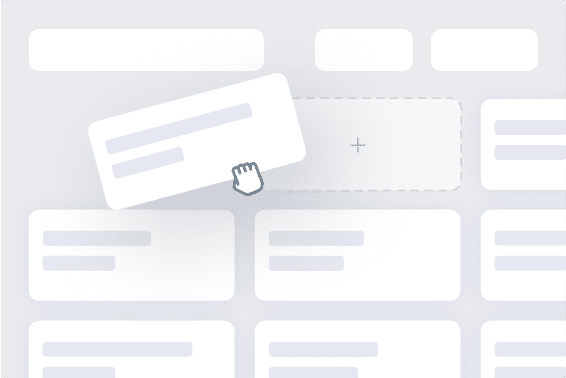 Buddy Punch isn't just a time tracking tool – it's also a powerful employee scheduling software. With our Drag-and-drop scheduling, scheduling the staff at your dispensary is a breeze. Simply drag a schedule into Buddy Punch's interface to start building a new schedule. When you're done, click publish, and an automatic notification will be sent to all relevant team members.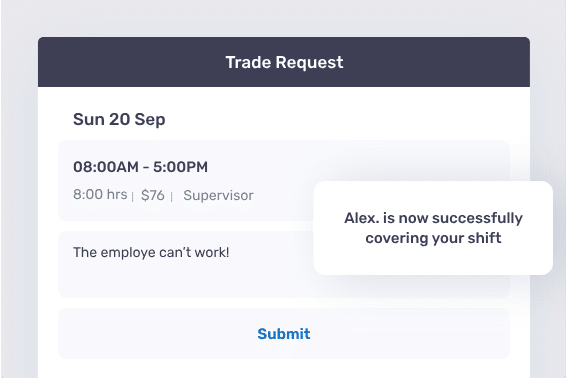 Another scheduling feature of Buddy Punch is the shift trades & covers option. With this, you can enable managers or administrators to initiate a shift swap between employees. Additionally, you can enable the Covers option and allow employees to initiate shift swaps between each other, helping to save on labor costs.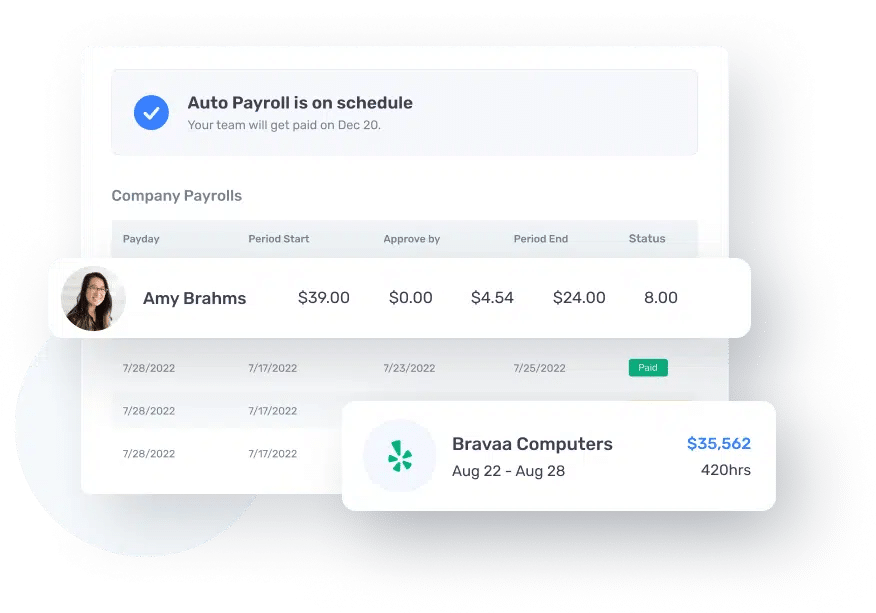 Forget about having to pay to use a time tracking app with integrations to an external payroll provider. Buddy Punch has a built-in payroll option to help you streamline the entire process, with features such as unlimited payroll runs, integrated timesheets, employee self-onboarding, and more. Learn more about adding Buddy Punch Payroll to your payment plan here.
Believe it or not, we've only just scratched the surface of everything Buddy Punch has to offer. Consider the value you'd get out of other features such as:
Reviews Highlight Buddy Punch's Ease-of-Use and Stellar Customer Service
At the time of this post's writing, Buddy Punch has 908 reviews and 4.8 stars on software review site Capterra.
We're thankful that many reviewers have taken notice of Buddy Punch's ease of use and customer support, and its impact on employee task management. Here are a few examples of what our clients have to say:
Pros: Easy to use. Many of my employees are students with ever changing schedules. Buddy Punch is easy to use and change schedules weekly or even daily as things come up. BP tracks the time the employee is logged in so I don't have to.
Buddy Punch has been a super efficient business solution for our office. It is very user friendly. The integration with Quickbooks has streamlined our payroll which has been a huge plus. Most importantly to me as the administrator who's been responsible for the complete set up and training of all staff- the Buddy Punch customer service team has been absolutely outstanding!
Staff loves the mobile app. It makes punching in/out easy so staff can punch in as they enter the building because inevitably they will be waylaid with questions before they even get to their computer. Buddy Punch is constantly upgrading and improving. There are many 'bells and whistles' that we don't even use- but it is nice to know they are there if we ever need them. I would recommend Buddy Punch to anyone.
Click here to see all of the Buddy Punch reviews on Capterra.
Interested in Learning More About Buddy Punch?
Watch the demo video of Buddy Punch above and sign up for a free 14 day trial here to test it out for yourself!
When I Work is a powerful management software that offers plenty of functions that are useful for dispensaries, including:
Like Buddy Punch, this timesheet software works on Desktops (Windows and Apple) as well as tablets and mobile devices (iOS and Android smartphones). As of the writing date, When I Work has 4.5 out of 5 stars and 1052 reviews on Capterra.
"WhenIWork is great for our workplace because it allows us to easily see our schedules, request time off, and punch in and out for shifts and breaks."
Click here to read the full review.

At the time of this post's writing, TimeCamp has a total of 589 reviews on Capterra (see here), with an average of 4.7 out of 5 stars. Cannabis businesses will enjoy making use of features such as:

Here's what one user had to say about this tool in their review:
"Everything else is great, but invoice creation is kinda limited, can't have a template specific to a clients, so have to do same thing over and over each time when creating the invoice, things like currency , vat rate and hourly rate, can be part of the invoice template which saves users tons of time.."
Click here to read the full review.
QuickBooks Time (formerly known as TSheets) has remote tracking & scheduling features such as:
This is widely regarded as one of the best American timesheet apps, and currently has a Capterra rating of 4.7 out of 5 stars, based on 6592 reviews.

"As a small business owner, I came across Quickbooks Online and learned how simple it is to create and send professional invoices, keep tabs on spending, and generate reports to help with financial decision-making.I placed a lot of weight on the software's user-friendly interface and ability to integrate with other tools, including payroll systems or payment processors. The ease of using the software from any location with an internet connection may appeal to users."
Click here to read the full review.

Hubstaff offers various features and functionalities for your timekeeping needs:
As of the writing date, Hubstaff has 4.6 out of 5 stars and 1436 reviews on Capterra.
"The app is very easy to use. The ability to take screenshot of worker's screen is great. Very customizable. I like the fact that it's free for a single user."
Click here to read the full review.
Interested in Trying Out Buddy Punch?
If you find that Buddy Punch is the right fit for your cannabis business, you can watch our pre-recorded demo above, sign up for a free trial, or request a 1-on-1 demo call.
You May Also Like…