Reasons Your Small Business May Not Be Making Enough Money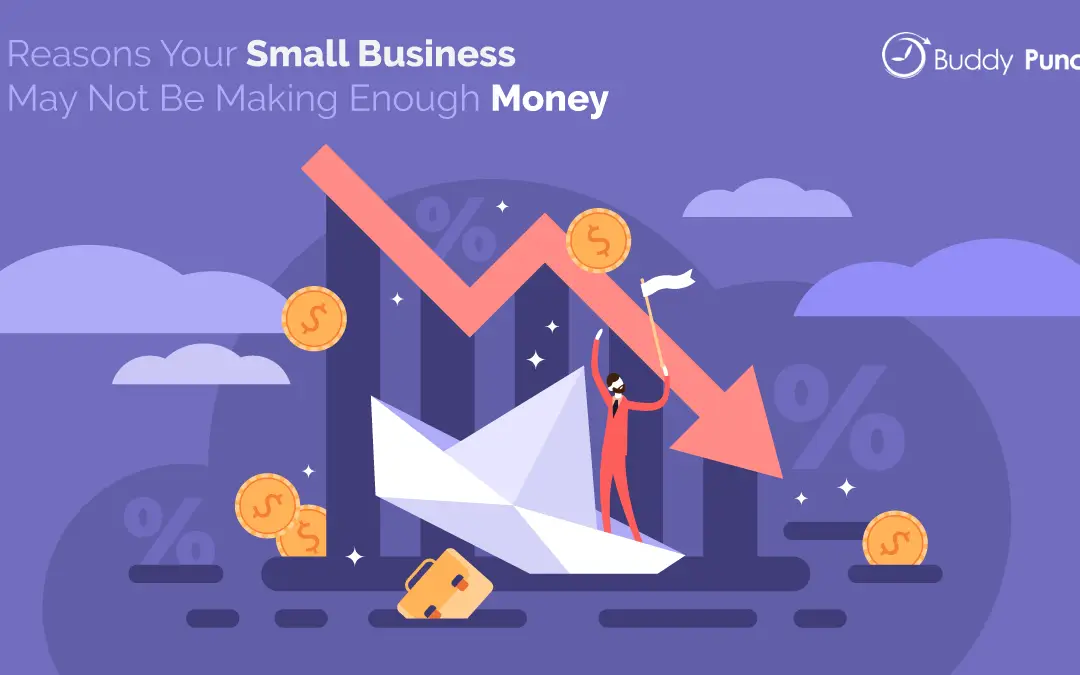 Running a small business can be very challenging at times. Fluctuations in markets, clients, and demand only add to the challenge. One of the most disheartening things for a small business owner to deal with is not generating enough income. Whether the business has plateaued or never fully reached the profit level they expected, there could be several explanations for this.
The first being that you don't have any set income goals. Going into business is not a small task. If you expect to get something accomplished, you need to set goals. It is said, "If you aim for nothing, you'll reach it every time." Set specific goals for your services or product – growth targets and income targets. Be specific. Goals challenge and push you and your staff and are also an excellent way to keep you accountable.
If you decide you have a specific income goal for the year, break it up into monthly averages. This way you have small milestones to reach for as well. Monthly benchmarks keep you aware of how well you are doing towards achieving your yearly goal.
Your Pricing Is Set Too Low
One crucial thing to look at is your pricing. You may not be charging enough. You must actively follow competitor's pricing because markets are going to fluctuate, and you must fluctuate along with it. Too often business owners attempt to charge the lowest price possible on the market. This leads to a dangerous trap, unfortunately – when the market fluctuates, or your expenses rise, you are hesitant to raise prices because you are afraid you will lose customers. Extremely low prices only send the message to customers that you do not value your services or product enough. Price your products and services at the value you think they bring to your customers.
Your Expenses Are Too High
Depending on your type of business, you may or may not have a long list of expenses. For example, a company that supplies products will have materials, storage, distribution, and manufacturing expenses to take into consideration. Whatever your business industry, you have costs. Take time to review yours in detail. Determine if your pricing is set appropriately to cover these costs, or perhaps see if you can cut certain expenses or at least lower them.
Your Volume or Turnover Is Too Slow
So, you have reviewed your pricing and your expenses, yet you still do not seem to be making enough income. Your issue may be that you are not making the volume of sales you need to be. As discussed previously, look at your milestones. Are you reaching them?
Another problem you may have perhaps is that your process to get from a sale to project completion is too slow. Are you able to speed up the process, while still providing the quality of services or product you expect? Examine the steps or processes to make them more efficient.
Your Pricing Margin Is Incorrect
Keep in mind that there will be time you must spend doing things that are unbillable, yet vital for your business: bookkeeping, invoicing, maintaining your website, etc. With this in mind, price your product or services accordingly, being sure to factor in the time spend doing these "behind the scene" processes. Quite a few small businesses do not include enough margin to cover these business operations.
You Are Targeting the Wrong Clients
As the market or your business expenses increase, many small businesses are afraid to increase prices for fear of losing clients. If you are providing a high-quality service or product, the right type of customer will not balk at incremental price increases. Build your business around customers who can afford to pay the prices you need in order to make the income goals you have set.
Your Range of Services or Product Is Wrong
Review the products or services you are offering. For example, if you offer a larger service, be careful about selling the individual steps separately. Oftentimes, it takes more time or money to complete the small steps instead of simply offering the product or service as a whole. Keep in mind that not every sale is profitable.
Another reason why some small businesses are not making enough money is that they are not offering a broad enough range of products or services. Know your industry and what clients are looking for or need. Offer your range of services accordingly.
As a business, you should be assessing your finances monthly to ensure you're on the right path. Sit down with management and check to see where you are when it comes to hitting your goals – whether weekly, monthly or annual goals. Take the time to get feedback from your customers and see if you can improve parts of your business based on that feedback. There are plenty of ways to improve your business to ensure you are meeting your financial goals.