Making the Most of Paychex: Paychex PTO Tracker Options that Integrate with The Software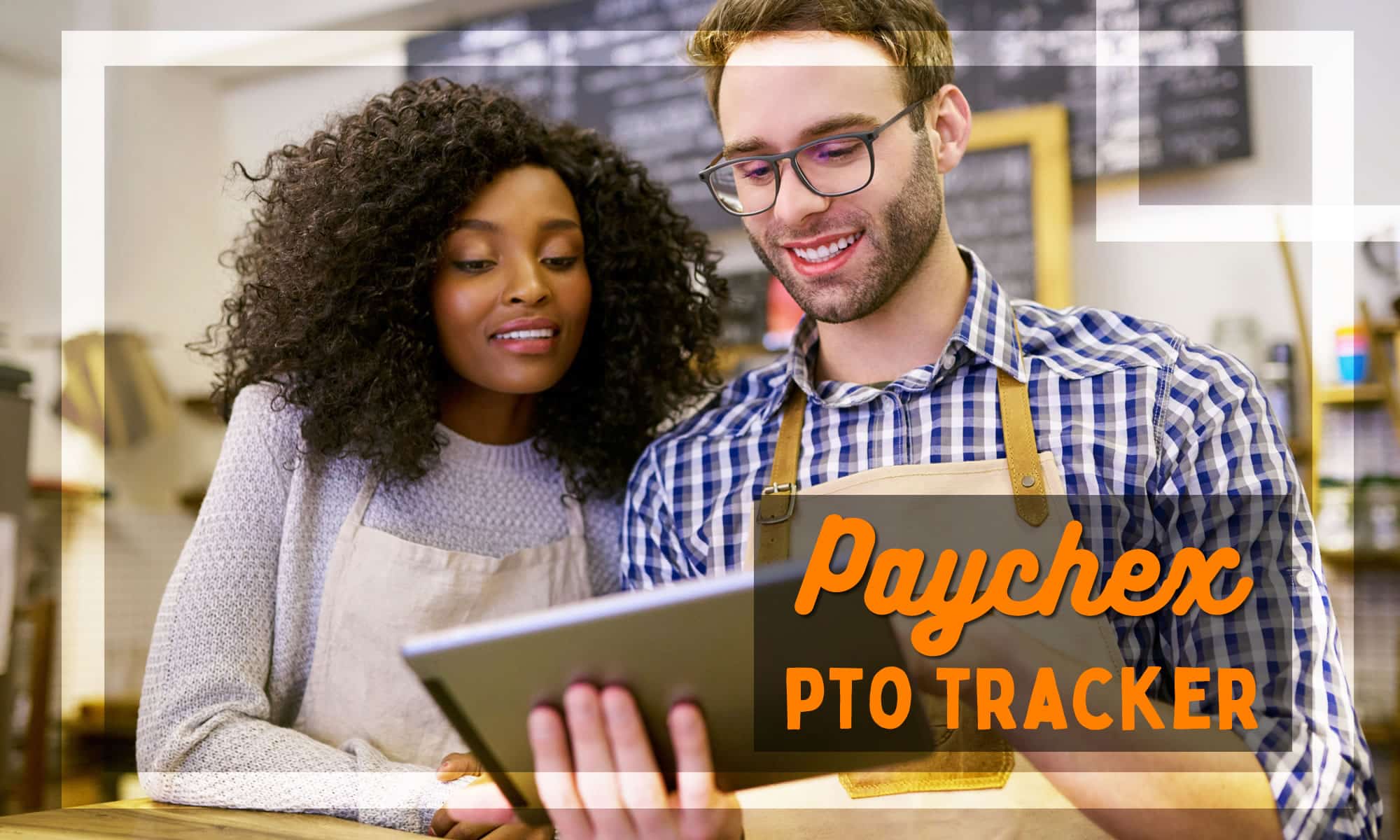 Without PTO tracking software it can be difficult to identify patterns in work scheduling that could be impacting your team members' ability to work. This can lead to reduced profitability as absences continue unchecked and high-quality talent gravitates towards other businesses with more preferable paid time off practices. In the wake of the upheaval caused by the pandemic (and its after-effects), most business owners have learned to appreciate the impact PTO tracking software can have on their workforce.
But there's a potential downside to choosing the "wrong" PTO tracker for your business. A PTO Tracker that's difficult for your employees to use, or incompatible with software that your business is built around, will ultimately hurt productivity and slow your business growth.
That's why we're going to talk specifically about time tracking systems that integrate with one of the most popular payroll software out there: Paychex.
We'll discuss options, pros and cons, and client reviews to get a good sense of which PTO & attendance tracking options are best for business owners making use of Paychex as their preferred Payroll Processing Solution. Hopefully, by the end of this post, you'll be able to make an informed decision on which tool sounds best for you.
Paychex PTO Tracker Table of Contents
Why Track PTO At All?
For some business owners, the idea of tracking paid time off immediately brings to mind images of long evenings spent pouring over spreadsheets and crunching numbers, trying to figure out how many PTO days team members have accrued, who has used it, how much they used, and more causes of headaches. And while digital methods of managing paid time off have (thankfully) helped save time on the overall process, many business owners don't fully appreciate how impactful it can be to streamline the process by switching to PTO trackers.
But PTO is one of the most important benefits a business owner can offer an employee. High-quality talent understand the value of their work, and want to make sure they're joining companies that understand it as well. Before onboarding even begins, savvy new employees will have PTO on their minds. They want to be free to take breaks to recharge, or to be able to take time away from work for their families and friends, when the time comes.
If you're not tracking PTO, you're not really keeping up with how paid time off impacts your bottom line. You're shuffling around in the dark, hoping that the values and amounts you're offering help keep you competitive and keep your business profitable. But you'll never know for sure unless you collect and examine the data with a digital attendance solution.
Manual vs Digital PTO Trackers
Some business owners turn to using spreadsheet templates designed for Excel or Google Sheets to help manage employee time off. While these are a step-up from physical methods of time tracking, they're still not as optimal as they could be. The problem with these manual time tracking methods is that they're prone to human errors, such as typos or forgetfulness. Furthermore, templates still take time to fill out and check against work schedules to ensure accuracy.
But digital time tracking solutions skip past all the hassle. Many of them automatically update time-off balances depending on your method of accrual, work on both Desktop and Mobile devices, and often come with additional features that are helpful (such as Biometric facial recognition to reduce time theft, Geofencing to control where employees clock in from, Drag & Drop Scheduling to better visualize employee hours, and more).
Why not Paychex Flex?
It's worth noting that Paychex has its own built-in PTO options for its cloud-based platform, but business owners still have good reason to use a third-party software for their needs.
For one, Paychex has limited integrations, but if you used a separate PTO tracker, you could integrate with whatever that tracker integrates with, expanding your options for workforce management.
Many PTO trackers are affordable and open up your options as far as features and integrations go. Plus, you'll be less reliant on just one system to handle your employee data. What if there's an issue at the Paychex offices, or if an update causes a major bug and makes the software inaccessible? You never know when you'll be grateful you have a backup to help manage employee data.
Another downside of Paychex Flex is that it isn't just a time tracker, it's an entire human resource management system. On the surface, this might sound like a good thing, but in practice it can be overwhelming to be swarmed with features when you just want the basics – attendance tracking, PTO management, and maybe a few options for remote monitoring. And there's also what they say about "jacks of all trades"
Lastly, Paychex Flex ® Time and Attendance charges based on the features you're using. If you were able to switch to a cheaper option for similar features, you could drop down to a cheaper pricing plan for Paychex and still keep your essentials.
Now – let's dive into the 5 Best PTO Trackers that Integrate With Paychex:
Starting off the list of Paychex-compatible PTO Trackers, we have our very own Buddy Punch.
Back in 2013, we were managing 20 employees at three different companies and struggling to stay on top of PTO and payroll data. We knew there had to be a better way than the manual methods of time tracking we were using, and we set out to create a software that would have made the process.
Consider how features such as PTO Management, Overtime Calculations, Payroll Reports on Demand, and Payroll Integrations will help you exercise complete control over paid time off (and ensuring all data on employee payments is accurate and up to date). Let's go into a little detail to further demonstrate.
Note: If you'd like to get a feel for features like these yourself, you can start a 14-day free trial of Buddy Punch by clicking here.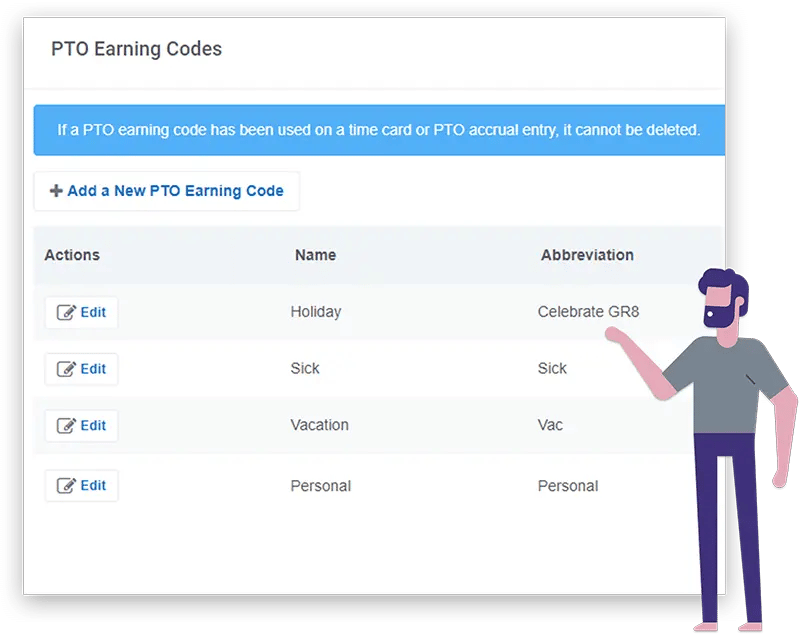 Buddy Punch's PTO Management features ensure you never lose track of employee time. Use the many PTO types integrated into Buddy Punch or create your own custom PTO Types as needed. Whenever an employee puts in a time off request, managers and administrators can receive a notification to approve or deny – and employees will receive a notification in turn with their decisions.
But it gets better. With Buddy Punch, you can use an employee self-service approach to PTO. Instead of them having to hear back from you on your decision, you can easily configure it so that their requests are automatically accepted without your oversight.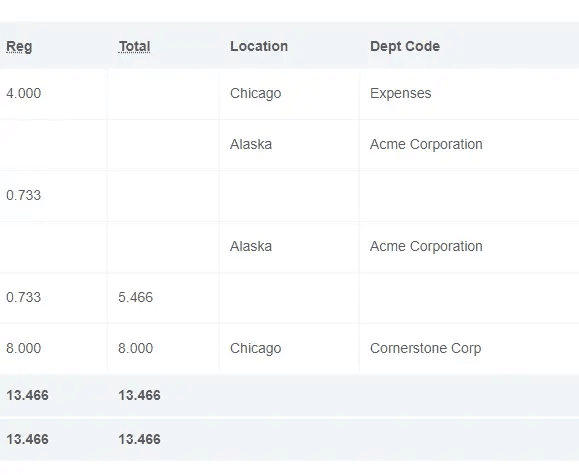 What kind of attendance system lets you lose track of time and a half times pay? Buddy Punch ensures that all data being used for pay stubs or payroll services is accurate, including overtime. You can choose from more than a dozen overtime types to determine how your overtime pay is calculated. If you ever need a different type of overtime for your specific needs, all you have to do is let us know. This feature goes hand-in-hand with our Payroll Reports on Demand function (more on that below).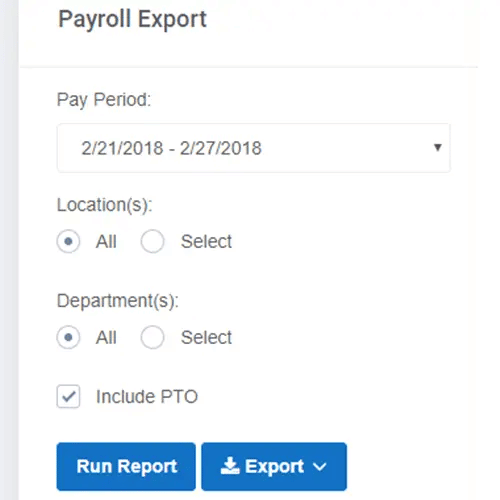 Buddy Punch offers several different powerful reporting features for business owners, including employee information like names, hours, overtime, locations, and departments. You can export this data into Excel CSV or Adobe PDF formats and can cycle through previous pay periods if you're seeking out trends or patterns.

Buddy Punch makes it easy to handle the employee data it's collecting by transferring it directly to your favorite Payroll Provider. This makes handling accurate data much easier by the end of each pay period. Buddy Punch's integrations include popular names like QuickBooks, ADP, Paychex, and more. Click here to view the comprehensive list.

Buddy Punch Offers More to Business Owners
While we only touched on the features most impactful to paid time off management, it's worth noting that Buddy Punch has many more workforce management features such as:
And even then, we're still only talking about the in-app benefits of using Buddy Punch. Consider these out-of-app bonuses:
Speaking of our customer support team, they're also around to guide you through a personalized, one-on-one demo of Buddy Punch – which you can book by clicking here. Buddy Punch is a web app and a native app, designed to work across desktop devices, mobile devices (smartphones whether iOS or Android) and tablets.
Buddy Punch's Online Reviews
As of the writing date, Buddy Punch has 4.8 out of 5 stars and 698 reviews on Capterra.

Below, we'll grab some reviews that talk about Buddy Punch's effectiveness as a PTO tracker. (Click here to explore the full list of reviews.)
"We have been using Buddy Punch since 2015. Prior to Buddy Punch we were using an excel spreadsheet for time keeping. We use Buddy Punch as a time clock for daily in/out and breaks. We use the PTO accrual system and PTO tracker. Buddy Punch is easy to use and easy to figure out. Customer service is responsive. The few times I've needed help (very rare) they were super responsive and made sure my problem was completely solved."

Click here to read the full review.
"I had used other more expensive systems at previous employers and Buddy Punch has be more than sufficient for our size of business. It is easy to run the reports- PTO, location of services, and the geofence. My favorite time in option was the facial recognition."

Click here to read the full review.
"I love how easy it is to access help on any aspect of using the software. You can do their chat and they respond almost immediately. They will even help fix anything from their end if you need the help. I love the facial recognition feature and other features that are offered to ensure that your staff is on the job site in order to sign in. I like how easy the PTO requesting is for the staff and for admin to approve."

Click here to read the full review.
"It has a great deal of flexibility and gives administrators/managers the ability to see who is here at any given time of the day. Managers also have the ability to approve PTO prior to it being added to the time sheet. This provides accountability for both the employee and manager. They can also schedule shift work if necessary. In running payroll, since employees will punch in, be able to track their time as well as PTO in one place; this saves me time on my end."

Click here to read the full review.

There's a clear consensus among these reviewers: Buddy Punch is flexible, easy to use, and great as a PTO accrual system and PTO tracker.

Try Buddy Punch for Free
If you feel that Buddy Punch could bring effective PTO Tracking to your Paychex-utilizing business, sign up for a 14-day trial. You can also book a one-on-one demo, or view a pre-recorded demo video.
When I Work is a popular time tracking & attendance software with a variety of features such as:
At the time of this post's writing, When I Work has a total of 952 reviews on Capterra (see here), with an average of 4.5 out of 5 stars.
"I am have been able to cut my paper usage and the potential mistakes of forgetting emails or losing the PTO paperwork. Any PTO requests or vacation requests are easily managed."

Click here to read the full review.
ClickTime is a time & attendance tracker that advertises itself as being built for "accurate project accounting." It achieves this through features such as:
ClickTime has 202 reviews on Capterra with an average of 4.6 out of 5 possible stars (as of this post's writing).
"Overall, I really enjoy using clicktime. It was a user friendly interface and it made tracking hours, PTO, and other time related activities very easy. I like how you could easily create a bucket for hours to fall into so reporting was easy and it made it as simple as entering numbers for the end user."

Click here to read the full review.
BambooHR is a HR solution with features such as:
As of this post's writing, BambooHR has a rating of 4.6/5 with 1831 total ratings (see here on Capterra). While this tool was designed with a focus on HR services, it has plenty to offer business owners of all kinds.
"Bamboo HR was initially secured for Vacation and PTO time tracking and intended to replace a manual system that had been in place for 20 years and was not accurate. As we know, transition can be tough but our team successfully completed the onboarding to the platform and love using the software"

Click here to read the full review.
TimeClock Plus (also known as TCP) is an attendance system designed to improve workforce management through features including (but not limited to):
TimeClock Plus has 188 reviews and a rating of 4.4 out of 5 on Capterra.
"TimeClock Plus not only tracks hours for our hourly employees, it also tracks PTO, provides complete statistics, and has become a valuable piece of our administration."

Click here to read the full review.
Choosing The Best Paychex-Compatible PTO Tracker
As we hope we've made clear, while not every PTO Tracking tool is compatible with Paychex, there are quite a few – and each one is starkly different from the others. Figuring out which one works best for your team will be a matter of trial-and-error, though looking at each tools' features can help.
For example, if your business has a reliance on E-signatures, you might want to use BambooHR to help keep track of them. If you have a heavy reliance on documents, TimeClock Plus's document management might be vital for you.
But, if ultimately what you want is a PTO Tracking tool that:
Lets you enable or disable powerful features depending on what your employees best adapt to
Is simple and easy to use regardless of your employees' tech-savvyness, device, or location.
Has a responsive customer support team that will guide you through any questions or concerns you may have
Then you're looking for Buddy Punch.
Try Buddy Punch for Free
If you feel that Buddy Punch could be the PTO software for your business, sign up for a free trial. You can also book a one-on-one demo, or view a pre-recorded demo video.

You May Also Like…