Online Time Clock For Towing Company (3 Options)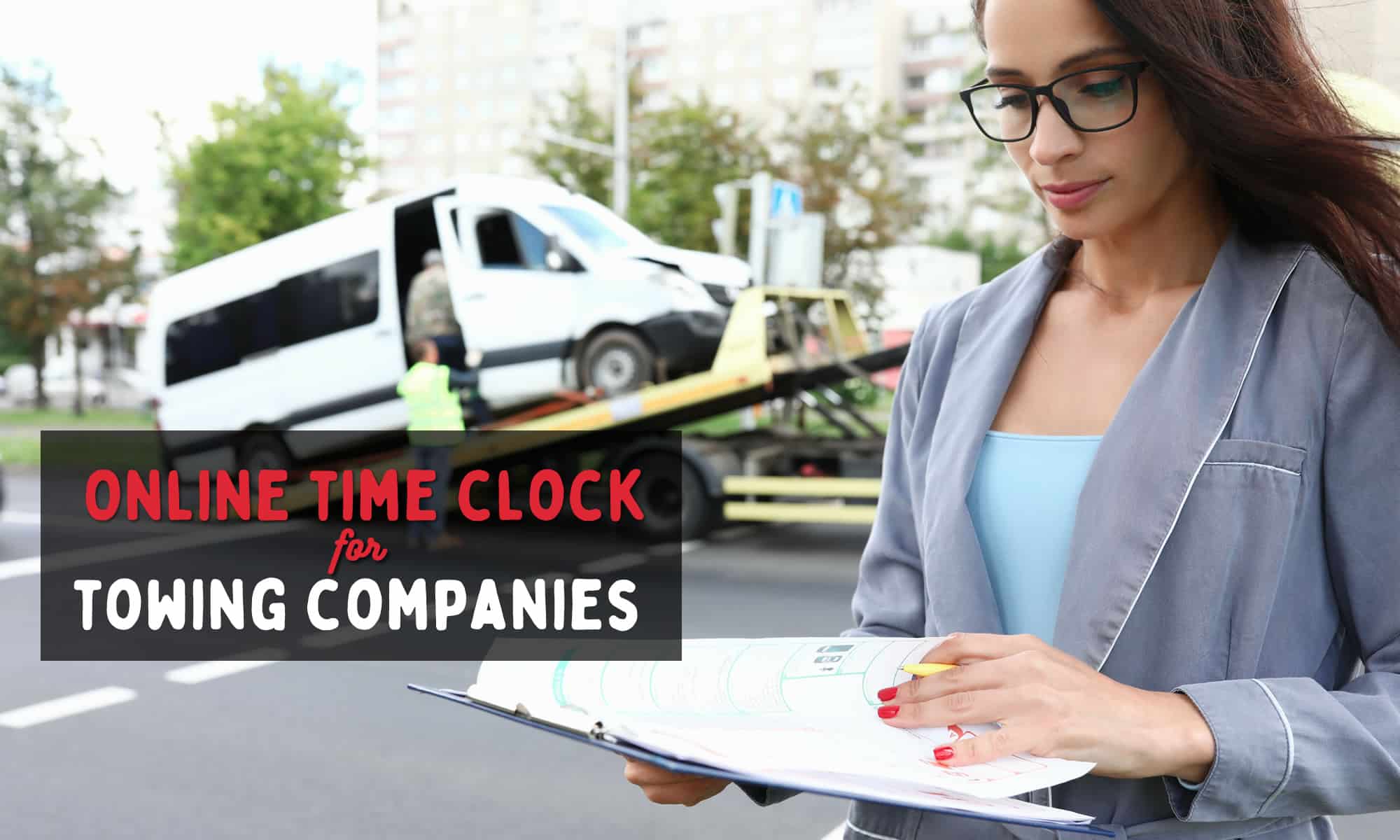 Are you looking for the best employee time tracking software for towing companies?
In the towing industry, with varying situations ranging from roadside assistance to impound services, effective time management is the crux of smooth operations. That's where our top three online time clock solutions for towing companies become crucial, offering:
Real-time employee tracking
Instant notifications and alerts
GPS location tracking of tow trucks
Mobile apps for easy punching in/out
Whether you are managing a towing company with a small fleet or you are overseeing a large-scale heavy-duty towing operation, these solutions will bolster your ability to monitor workday hours, coordinate team efforts, and boost overall productivity.
This article will delve into the best web-based time tracking systems for those delivering unparalleled towing services. Each system comes equipped with real-time data analytics, enabling informed decision-making and better surveillance of your team's progression.
If you aim to deliver an exceptional on-site service with your tow trucks, from pick-up to towing a towed vehicle or offering jump starts, your team must be operating at full capacity. This begins with having access to a robust time tracking solution.
The leading towing services and roadside assistance providers use time tracking platforms to ensure team members are ready to handle everything, from single motorcycles to heavy-duty jobs, and deliver superior services.
Let's explore how you can elevate your towing enterprise with these time tracking solutions.
Online Time Clock For Towing Companies
These management software options are particularly helpful for towing companies working with law enforcement and dealing with the specific requirements of heavy-duty work, providing a firm grip on each workday's needs. From flatbed trucks to light-duty tow trucks, these platforms will help your towing service be more efficient and effective.
1. Buddy Punch
Towing companies running digital operations can utilize Buddy Punch to coordinate their team members and ensure employees are prepared to manage the full spectrum of towing services. Mastering the complexities of running an efficient towing company is a daunting task. Whether you're overseeing real-life towing operations or coordinating a remote team for roadside assistance, it's crucial to have a team that's primed for performance.
If a time tracking platform that seamlessly integrates with your current payroll system is what you need, Buddy Punch is built to satisfy this requirement. Managers in your towing company can use Buddy Punch to boost productivity across your workforce and ensure employees are concentrating on essential tasks, such as coordinating tow truck dispatch or impound services.
How Buddy Punch's Time Clock Platform Works
Buddy Punch has been meticulously constructed to simplify time tracking, enabling employees to clock in and out seamlessly with just a button click. Our streamlined process makes time entries straightforward to fill, hence encouraging employees to fulfill these tasks promptly. Team leaders can access timesheet data and observe time entries in real-time.
Monitor Employee Attendance With GPS Tracking
Buddy Punch is equipped with an integrated GPS tracking feature, which allows team leaders and managers in your towing company to monitor where employees are clocking in and out. This function is particularly important for those managing remote or hybrid teams, as it encourages a culture of accountability and transparency.
Leverage Face Recognition To Prevent Timesheet Fraud
Buddy Punch includes a face recognition feature to bolster security and enhance workforce transparency. This tool requires employees to take a selfie with their device's camera when clocking in and out, thus reducing the chance of timesheet fraud. Employing this face recognition feature ensures honest time tracking and establishes an added level of security.
Instant Notifications & Alerts
Buddy Punch offers a wide range of customizable notifications that employees can opt to receive via email or mobile. These alerts cover everything from updates on paid time off (PTO) changes to time card approval statuses. This feature exemplifies the platform's commitment to keeping everyone in your organization connected and informed.
Are you intrigued by the potential of Buddy Punch for your towing business? Browse our "Knowledge Base" and discover all that Buddy Punch can bring to your workforce.
Additionally, if you have any specific questions, don't hesitate to contact our team directly.
You can book a one-on-one personalized demo here.
Buddy Punch Is An Essential Time Tracking App
Here are just some of the features available to Buddy Punch users:
Buddy Punch's Online Reviews
Buddy Punch's user reviews highlight the immense benefits of this platform. As of the writing date, Buddy Punch has 4.8 out of 5 stars and 852 reviews on Capterra.
Below, we'll list just a few reviews that speak to Buddy Punch's ease of use and great customer support service. (Click here to explore the full list of reviews.)
As reviewers have noted, Buddy Punch provides team leaders and project managers with the necessary tools to streamline timekeeping and monitor labor costs:
"Buddy Punch is easy to use, especially for someone who is not so good with computers!"

Click here to read the full review.
"Buddy Punch is very user-friendly. My company has been using Buddy Punch for about 8 months and have not had any issues. Great Service. Great Price."

Click here to read the full review.
"As a new user, I have found that this program is easy to use. I would recommend everyone to use this program."

Click here to read the full review.
"Cannot say enough about their support. Even if the product was not as amazing as it is, I would highly recommend Buddy Punch due to the unbelievable support!"

Click here to read the full review.
Try Buddy Punch for Free
If you feel that Buddy Punch might be the right fit for your business, sign up for a free trial. You can also book a one-on-one demo, or view a pre-recorded demo video.
2. QuickBooks Time
QuickBooks Time functions as a comprehensive time-tracking solution that merges with your go-to payroll provider. Not only does it perfectly align with QuickBooks' proprietary accounting software, QuickBooks Online, but it also integrates smoothly with a variety of other third-party solutions. If your towing company already uses QuickBooks for your accounting necessities, this integration could turn out to be an incredibly effective option.
It's a great timesheet app for Android and iPhone, and at the time of writing, QuickBooks Time has 4.7 out of 5 stars and 6,518 reviews on Capterra.
QuickBooks Time (formerly TSheets) has features that include but are not limited to:
"The fact that I can track my hours and what I am making all in one program. It helps me keep a ledger and I don't even really have to do anything it does all the work for me. Once you put in your credentials it does the rest."

Click here to read the full review.
3. TimeCamp
TimeCamp is a platform specially designed to streamline time-tracking. With its intuitive features, generating time tracking reports and overseeing employee progress becomes an efficient and hassle-free task. It furnishes business owners and team leaders in your organization with the necessary tools to effortlessly monitor work hours, thereby optimizing management and productivity.
At the time of writing, TimeCamp has a total of 591 reviews on Capterra, with an average of 4.7 out of 5 stars. TimeCamp offers a full range of practical features for teams:
"What impressed me the most is its real-time time tracking functionality. This feature makes it easy to collect accurate data about the time my team and I spend on each project, making it easy to calculate project profitability."

Click here to read the full review.
Try Buddy Punch for Free
If you feel that Buddy Punch could be the right fit for your business, sign up for a free trial. You can also book a one-on-one demo, or view a pre-recorded demo video.
You May Also Like…