Online Time Clock for Pet Salon Owners (Comparison Post)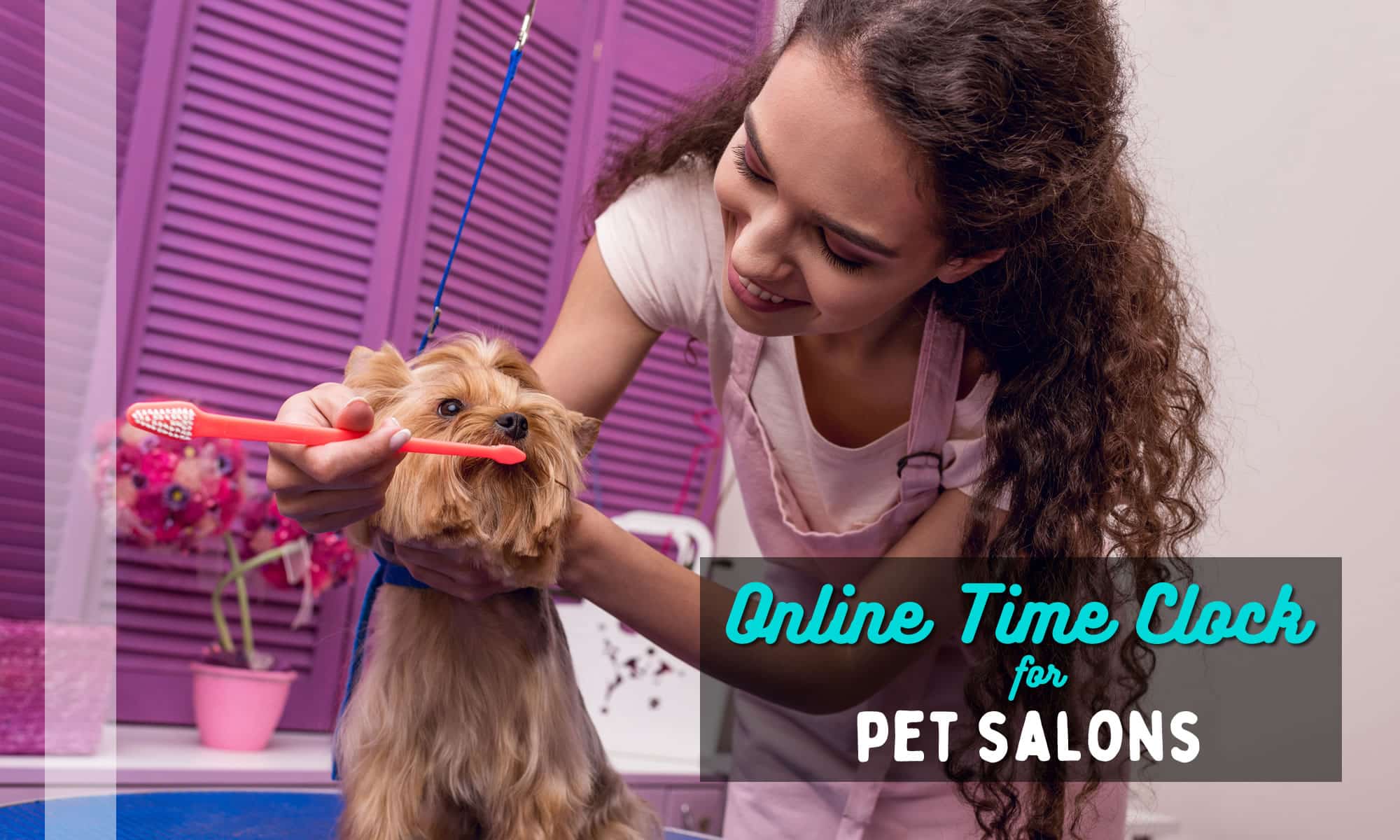 One of the hardest parts of managing a pet grooming salon is making sure your groomers can juggle making sure each first-time client and their pet is well attended to, while also providing quality grooming services when it actually comes down to the process. In Dog grooming especially, employees need to be able to maintain high energy and a personable demeanor around the clock, which can be difficult to keep up.
Luckily, business owners can help their employees get through the customer service & grooming process through adopting time clock software. In addition to helping team members keep up with the amount of time they spent on their tasks, timekeeping programs help automate other aspects of your pet grooming business (clocking in, staying notified of changes in the workplace, keeping up with the next grooming appointments) in a way that makes it easy for your employees to stay on task.
Not to mention the benefits you get on the administrative side. A time clock can help you optimize various aspects of your business, from greater transparency of how your team operates to being able to make informed decisions, ensuring that pet owners get the best service possible from the moment they walk in your salon.
Since not all time clock software functions the same, and some can even have a negative impact on business owners if they're overloaded with features or difficult for an employee to make use of without training, we're going to list our top 6 favorite options of time tracking grooming software to help optimize your pet care business.
Online Time Clock for Pet Salon Options
Starting off our list of time clock software for professional pet salons we have our very own Buddy Punch. When we first began to develop this software, we wanted to make sure we included options that would prove useful across all industries and all business types, including pet stores. The features we included all fed into our goal of improving employee accountability, maintaining design simplicity, and helping streamline payroll.
Fast forward to today, where functions such as Job Codes, Drag & Drop Scheduling, Shift Trades & Covers, Notifications, Overtime Calculations, PTO Management, Customizable Reports, Built-in Payroll Processing and more can help you and your stylists provide high quality pet services and give customers a complete "daycare" experience.
Next, we're going to dive into each of these features to show how they can specifically aid pet groomers in delivering their services.
Note: If you'd rather try Buddy Punch out for yourself rather than reading about it, you can start your 14-day trial by clicking here.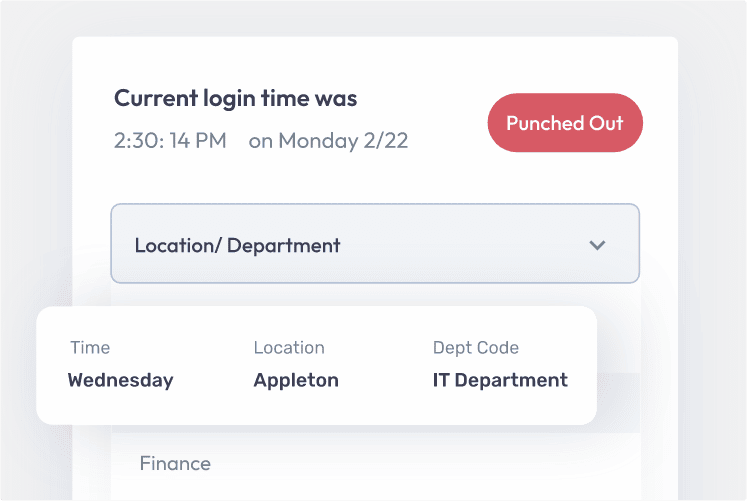 The Job Codes feature provides you with transparency on how your team works. When an employee clocks in, they can sign into a custom job code that describes the task they're working on (pet boarding, nail trims, going through online booking, looking up kennel software, etc.). These job codes can easily be swapped between while on the clock, and when you view their timecard you'll be able to see specifically what tasks they worked on, and for how long.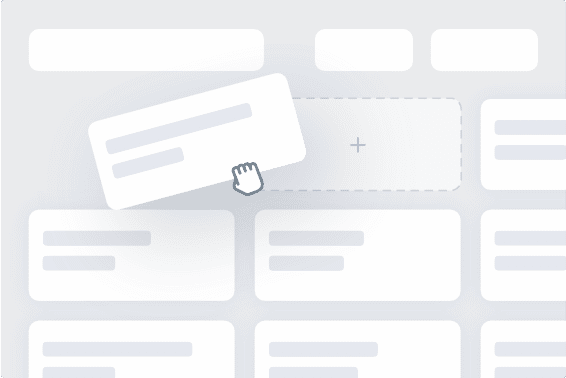 Buddy Punch lets you streamline shift management. You can create a new shift in the user interface by simply clicking on an empty cell, then drag and drop it to help build your schedule. Once you're satisfied with how your groomers are scheduled, publishing the shift will send an automatic notification to all your employees.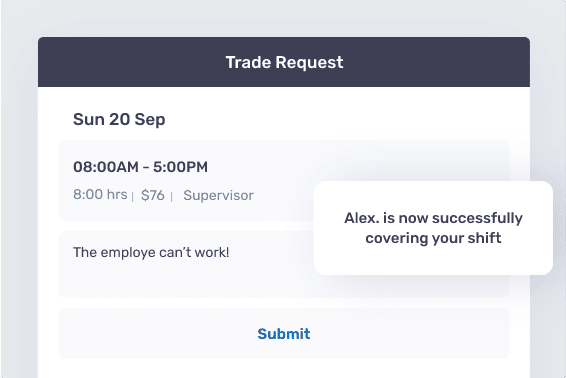 The Shift Trades feature allows employees, managers, or administrators to initiate a shift trade with another employee, while the Shift Covers option allows them to take over a shift that another employee is unable to work. Both of these options allow your groomers to exercise some self-service control over the weekly schedule without requiring oversight on your part.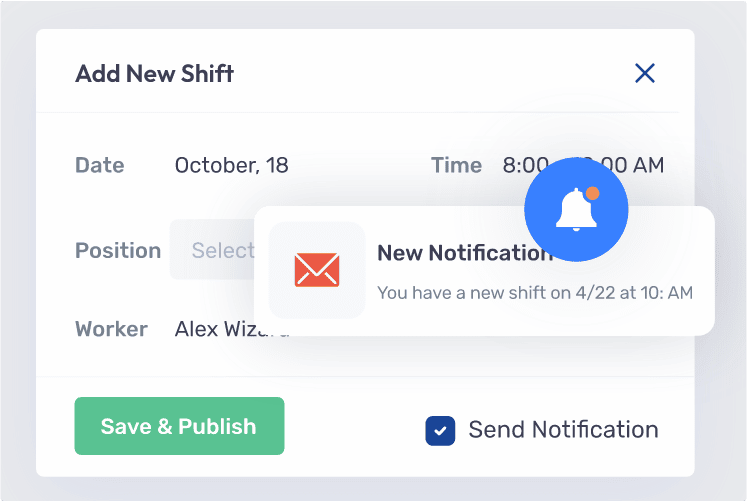 Buddy Punch's email and mobile notifications have an indirect productivity boosting impact on your workforce. Whether your groomers are inspecting coat conditions of new puppies or you've got your mobile groomers out doing a house call, the notifications feature will alert them if something needs their attention (such as punch change emails, time card approval status changes, PTO changes, and more).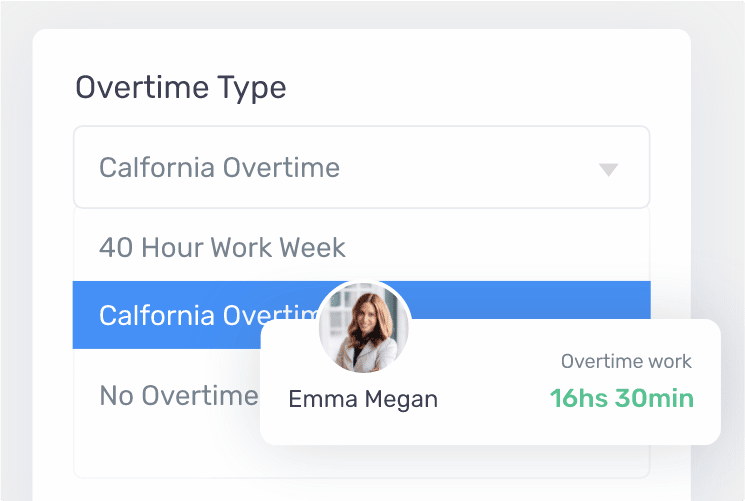 Buddy Punch lets you choose from more than a dozen different overtime types to determine how overtime pay should be calculated, all on a flexible, per-employee basis. Though our software includes many common types of overtime, we're always ready to add more – so reach out to us if you feel one type is missing. With regular, overtime, and double overtime being calculated for you, you can spend more time on other aspects of your business, such as looking into expanding your mobile grooming operations or working on adding a subscription to your services.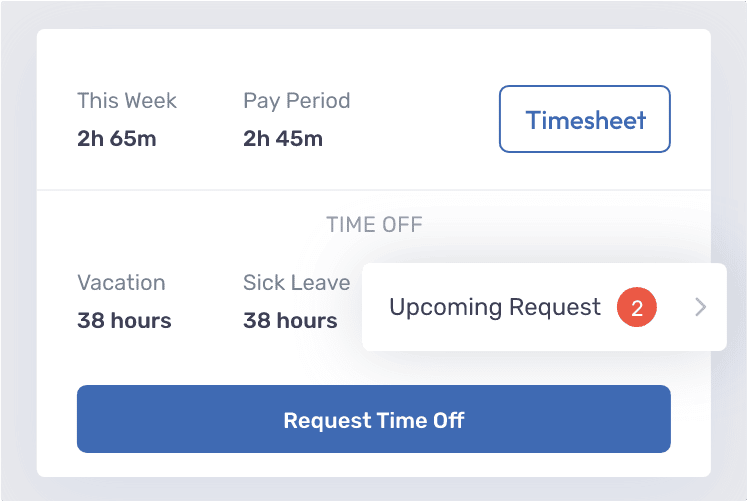 Buddy Punch's PTO Management features empower you beyond the more common types of paid leave (which are built-in to Buddy Punch's design). You can create custom PTO types at will and can even enable a self-service approach to paid time off for your groomers. With this active, your employees will be automatically approved when they request time off, without requiring your oversight. With this time freed up, you can devise better ways to make your pet salon appeal to pet parents.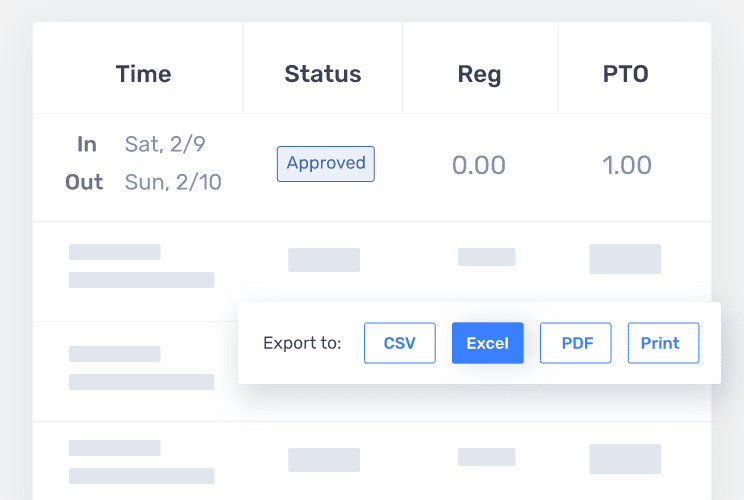 Buddy Punch offers numerous customizable reports that you can create on demand to get a better understanding of how your pet salon is running. From Hours Summaries and Employee Details to PTO Summaries and more, you can create and export these breakdowns as Excel CSVs or Adobe PDFs, depending on your preference (click here to view the full range of Buddy Punch's reports).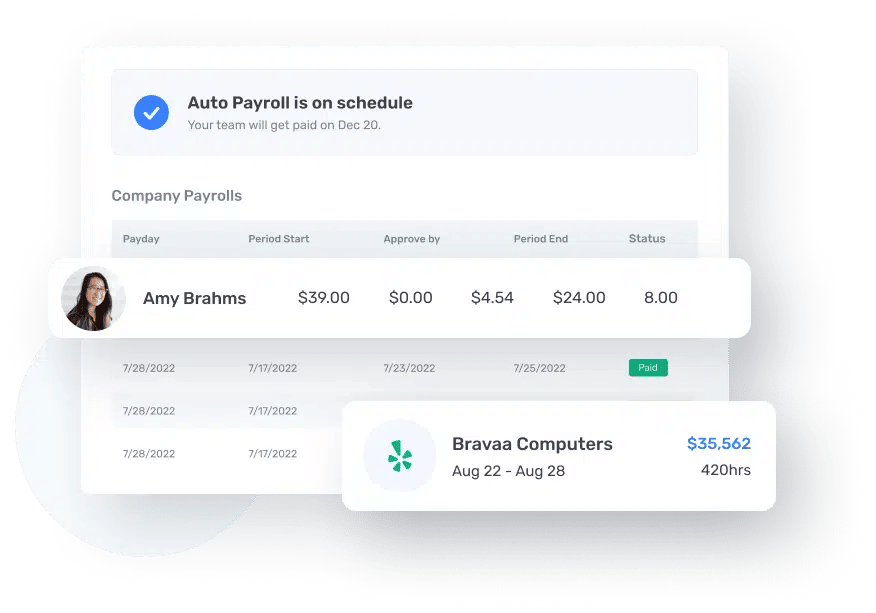 One last feature we want to highlight is Buddy Punch's built-in payroll system, which you can get access to by adding payroll to any paid plan. You'll no longer need to worry about whether you can integrate your current Payroll Processing System with a time tracker; we'll handle everything you need. Features of Buddy Punch's Payroll include: unlimited payroll runs, tax fillings, integrated timesheets, automated payroll payments, and more (click here to view the full breakdown).

Buddy Punch Brings More to Pet Salon Owners
As much as Buddy Punch facilitates the growth of your business, we're constantly growing ourselves. While we were only able to highlight a select few features, there's a lot more you get out of Buddy Punch.
There are also out-of-app benefits to using Buddy Punch to consider. Our Blog Section is consistently updated with new laws and strategies to help workforce management across industries, our Help Doc Center contains articles and videos that coach users on how to best utilize Buddy Punch, and our Customer Support Desk puts you in direct contact with our team via live chat to answer any of your questions.
Interested in our software for your pet salon? You can book a one-on-one personalized demo here.
Buddy Punch's Online Reviews
As of the writing date, Buddy Punch has 4.8 out of 5 stars and 724 reviews on Capterra.

Below, we'll list just a few reviews that speak to Buddy Punch's impact on workforce management. (Click here to explore the comprehensive list of reviews.)
As these reviewers mentioned, Buddy Punch streamlines operations and is easy for both employers and employees to use:
"The thing I like most about the software is the geographical location requirement. Every time you punch in/out it shows your employer your location. Making time clock fraud one less worry as a business owner and the employee more responsible about time maintenance because you cannot get paid if you are not physically at work."

Click here to read the full review.
"Buddy Punch has streamlined the clock-in/clock-out system for the firm I work for. Previous employers used different systems for timekeeping and they always seemed to cause more of an issue at the end of the month when billing and payroll would hit."

Click here to read the full review.
"The system is easy to use and our employees can operate it on their cell phones so we have more accurate time keeping as they travel to several properties and do many different types of projects in a day. The system allowed us to be able to add all the properties along with all project tasks so they simply have to just punch the buttons as opposed to having to type it all in themselves."

Click here to read the full review.
"Great app, check in and out with accuracy, keep in contact with supervisors and can submit photos for proof of visit if not using GPS."

Click here to read the full review.

Try Buddy Punch for Free
If you feel that Buddy Punch might be the right fit for your pet salon, sign up for a free trial. You can also book a one-on-one demo, or view a pre-recorded demo video here.
Coast is a newer time tracking app that comes with a wide variety of features including:
As of this post's writing, Coast App has a rating of 4.5 out of 5 stars, based on 47 reviews (see here on Capterra).
"We used to use multiple apps for scheduling, team communications, work orders, and tasks. It was cumbersome because our team constantly had to switch back and forth. With Coast, now we have everything in one place. Our work order process is streamlined, and we no longer text and email people to get status updates."

(Click here to read the full review.)
TimeCamp is a time tracker designed to make the entire process as easy as possible. It achieves this through features such as:
TimeCamp has a rating of 4.7/5 stars on Capterra (as of this post's writing) with a total of 562 reviews.
"I love so many things about it: – ease of use – flexibility – attention to detail – ability to parse projects or tasks into even smaller items – probably the one feature I appreciate the most has saved me on numerous occasions. I have several times, even in this past year, mistakenly shut down my browser while TimeCamp was still running."

Click here to read the full review.
Hubstaff is a popular time tracking software with a rating of 4.6/5 stars with 1289 reviews (see here). Some of its features include:
"I had used so many other softwares in my previous companies which also offers the same features with this software. However, the best thing I like most with Hubstaff is the accuracy of work done per agent by providing accurate timestamp, screenshots & productivity report per agent & a lot more. "

Click here to read the full review.
OnTheClock offers various features and functionality, some of which include:
As of this post's writing date, OnTheClock has 4.7 out of 5 stars and 516 reviews on Capterra.
"We love that there is an app and the majority of our staff use it. There have been very few times that we've needed to call customer service but when we do, they are fantastic and responding quickly and helping us resolve the issue. We used to do paper time sheets and will NEVER go back to that after switching to on the clock."

Click here to read the full review.
Findmyshift is an employee scheduling program with features including:
Findmyshift's has a rating of 4.6 out of 5 stars, based on 736 reviews.
" All of the staff find it a lot easier to log in and check shifts than rely on printouts. It makes it a lot easier to make up rotas when you can see a couple of weeks at a time and can see the overall picture to juggle shifts about, can also copy and paste which makes it easier. Also makes it a lot easier when trying to find cover, you can see easily who is available and find their contact details."

(Click here to read the full review).
Choosing The Best Online Time Clock for Pet Salons
Even though we've managed to curate this list of the 6 best timekeeping software options for pet salons, you'll still have to do some selecting in order to decide which one will prove best for your business. In our opinion, the easiest way to accomplish this is to take a close look at the features offered.
For example, If in-app messaging is important to you (maybe employees could use it to guide each other on how to groom dogs), you might like OnTheClock. If you have recurring tasks that have to be completed on a regular basis, maybe Coast would serve you best.
Otherwise, if all you're looking for is an effective time tracking solution that's easy for you and your employees to use, comes with powerful features that can be enabled or disabled at will, and comse accompanied by a helpful customer support team – then you really can't go wrong with Buddy Punch.

Try Buddy Punch for Free
If you want to try out Buddy Punch in your pet salon, sign up for a 14-day free trial. You can also book a one-on-one demo, or view a pre-recorded demo video.
You May Also Like…