Online Time Clock For Pest Control (3 Options For 2023)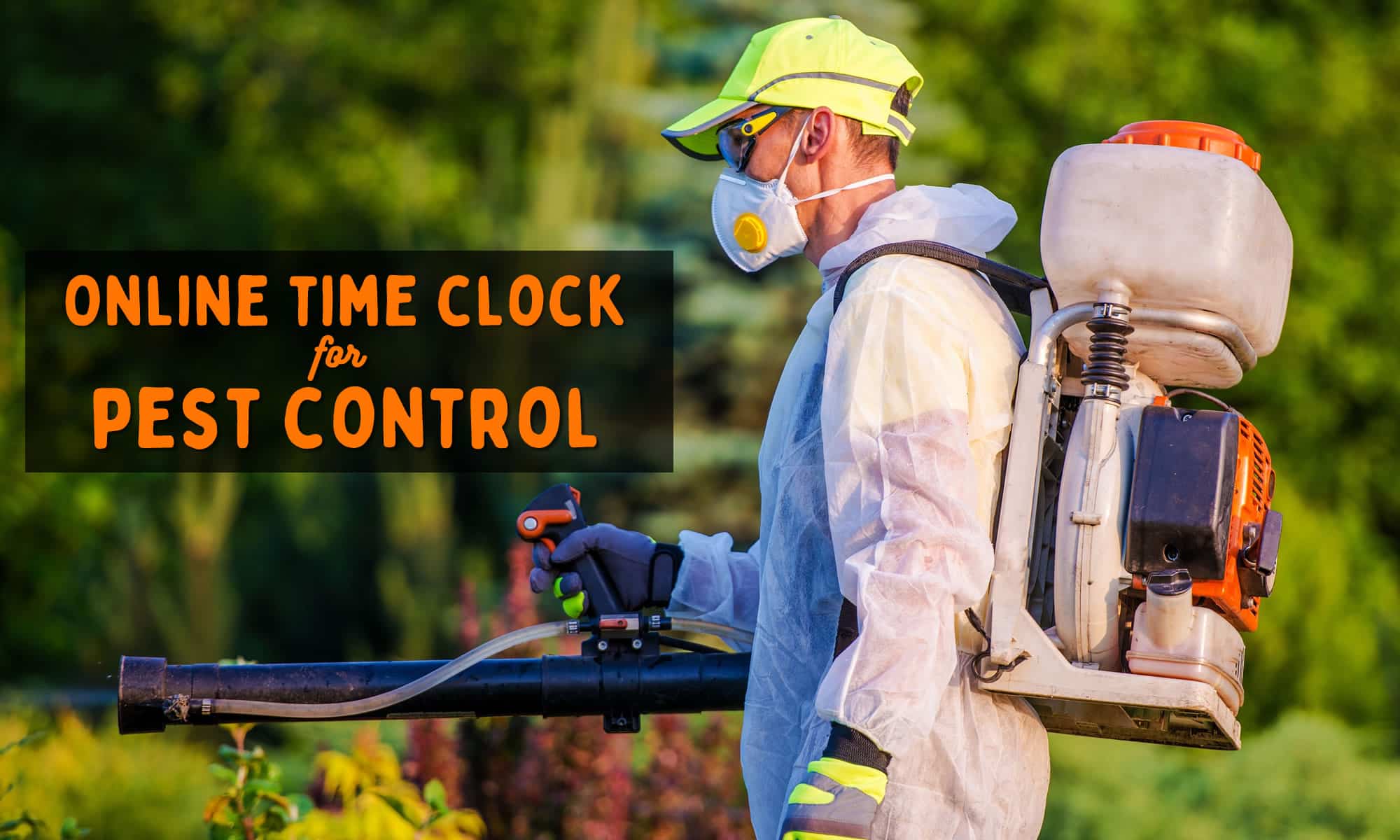 What is the best online time clock for pest control? You'll find out in this article.
Pest control businesses can skyrocket their efficiency by adopting an intuitive, cloud-based online time clock system.
Here's how a pest control company can supercharge its workflow with effective time tracking software:
Online Time Clock For Pest Control
Let's explore three of the best time tracking solutions on the market.
Optimize Workflow & Attendance Management
Business owners in the pest control business can benefit immensely from a comprehensive employee time tracking system, consolidating all employee attendance data.
This cloud-based pest control software not only helps monitor employee hours during shifts but also offers real-time insights, heightening overall service quality.
Biometric Features For Secure Clock-Ins
Enhance the security of your pest control software with biometric features like facial recognition.
This facilitates secure clock-ins and helps avoid time theft and fraud, addressing key business needs.
Seamless Payroll Integration & PTO Management
The pest control software can seamlessly merge attendance data and PTO with your payroll process.
By eliminating labor-intensive tasks, this software contributes to business optimization, letting you focus on core pest control tasks.
Streamlining Employee Time Management
A time clock solution effectively tracks employee hours throughout any pay period, ensuring optimal use of resources.
A free time clock app integrated into the system helps manage clock-ins and outs, reducing absenteeism by dispatching automated reminders via mobile devices.
Remote Clock-In & Clock-Out Via Mobile Devices
Embrace an intuitive time clock app that enables team members to clock in and out from job sites using iOS and Android smartphones.
This feature is particularly valuable in today's flexible, on-site work environment, providing an ideal solution for small businesses and field service management.
Monitoring Team Performance For Excellent Service Delivery
Invest in user-friendly pest control software that allows efficient tracking of labor costs and team performance, pivotal to business profitability.
A digital employee time clock system facilitates logging hours, proving invaluable for multi-site service companies.
Best Online Time Clock Solutions (3 Options)
1. Buddy Punch
Buddy Punch stands out as an ideal web-based platform for pest control companies of all sizes, addressing all the essential business needs.
With flexible punch-in options, integrated PTO management, and intuitive scheduling software, it offers a one-stop solution for field service management.
This platform simplifies task management by allowing team members to clock in and out from job sites using their mobile devices.
With features like geofencing and routing, it provides a robust solution for efficient field service management.
This comprehensive solution is not just a time tracking software, but a powerful tool that drives productivity and profitability in your pest control business.
With features like these, pest control professionals can concentrate more on core tasks, such as exterminating pests and managing infestations.
Buddy Punch's Online Reviews
Buddy Punch's user reviews highlight the potential benefits of this platform. As of the writing date, Buddy Punch has 4.8 out of 5 stars and 859 reviews on Capterra.
Below, we'll list just a few reviews that speak to Buddy Punch's ease of use and great customer support service. (Click here to explore the full list of reviews.)
As reviewers have noted, Buddy Punch provides team leaders and project managers with the necessary tools for accurate time tracking and employee location tracking:
"I love how quickly you can log in to the Buddy Punch site and just simply hit the "Clock In" button. The program is incredibly easy to use and required no training at all, which I really appreciated especially since I'm just a very part-time employee who only uses it once a week."
Click here to read the full review.
"Easy and convenient to use. I enjoy being able to clock in or out from my desk."
Click here to read the full review.
"We mainly use Buddy Punch for the time clock feature and use the GPS feature to track where our employees clock in and out since they do so at a remote site. The feature is accurate and is easy to use on our employees' phones. If there are any issues it is easy for the administrator to log in and correct them."
Click here to read the full review.
Try Buddy Punch for Free
If you feel that Buddy Punch might be the right fit for your business, sign up for a free trial. You can also book a one-on-one demo, or view a pre-recorded demo video.
2. Hubstaff
Hubstaff emerges as a superb time tracking solution specifically developed for businesses in the pest control sector.
With just one simple click, service professionals, including pest control experts, can log service hours and client appointments.
For managers of pest control businesses, this platform is invaluable, boasting a complete toolkit for the effective supervision of staff attendance and performance, even during field operations.
As of the writing date, Hubstaff has 4.6 out of 5 stars and 1,413 reviews on Capterra. Hubstaff offers a range of functionalities, some of which include:
"Hubstaff is dependable and includes rich time-following programming that can assist organizations and specialists with keeping steady over their errands and bill precisely. Be that as it may, it's vital to consider the cons, for example, the restricted free arrangement, absence of disconnected mode, and protection worries, prior to choosing if it's the right programming for your necessities."
Click here to read the full review.
3. Timely
Boosted by an extensive range of app integrations, Timely offers an automatic time tracking solution tailor-made for pest control businesses.
This seamless integration means that Timely can effortlessly collaborate with your entire technology stack.
For instance, it could smoothly connect with your payroll processing platform, simplifying the handling of timesheets for your pest control staff.
At the time of writing, Timely has a total of 211 reviews on Capterra, with an average of 4.7 out of 5 stars. Timely is loaded with a broad range of high-impact features:
"I have been using Timely for a while, It is good software with many essential functions. You can schedule your job easily and track the workflow and time-consuming."
Click here to read the full review.
Try Buddy Punch for Free
If you feel that Buddy Punch could be the right fit for your business, sign up for a free trial. You can also book a one-on-one demo, or view a pre-recorded demo video.
You May Also Like…