Online Time Clock for Nursing Home Providers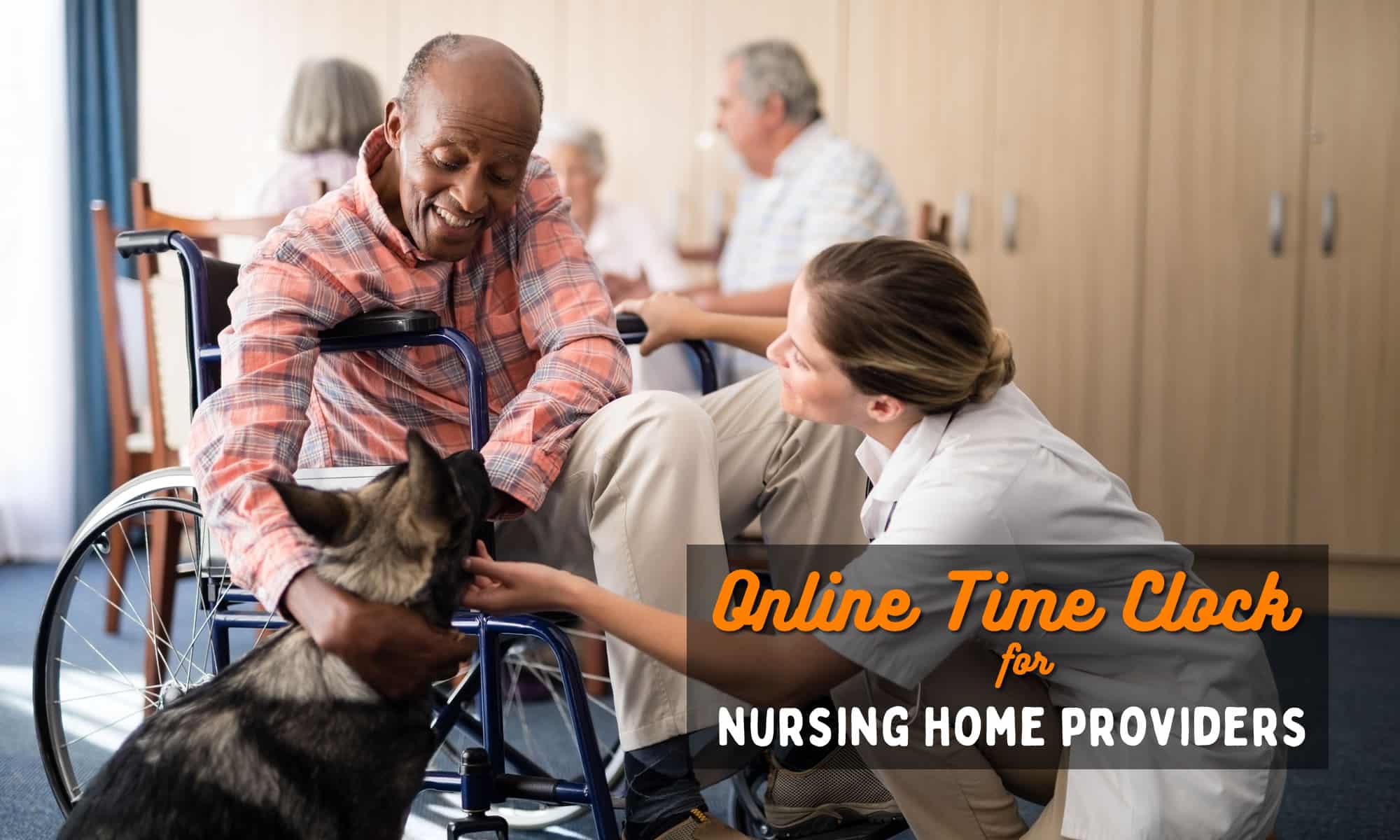 Healthcare providers working in nursing homes have an involved job demanding 24-hour supervision, regular meals, and everyday activities and personal care for patients. For even the most attentive and dedicated caregivers, it can quickly get overwhelming juggling their responsibilities as well as their individual patients.
Luckily, time tracking software can help nursing home healthcare providers stay on task and guarantee optimal service for patients that rely on it. Modern attendance tracking software has evolved over the years to far outclass manual timesheets, and whether you choose a web-based or cloud-based tool, you'll find that most scheduling software comes with a wide variety of functions that can streamline your team members' work.
All you have to do, in a normal scenario, is sort through dozens of time clock software options to find the one that seems the strongest for your nursing home. But we've helped take care of that.
In this article, we're going to highlight what we consider to be the top 5 online time clock options for nursing home providers on the market. Hopefully, by the end of this post you'll have found one that seems a good fit for you and your team.
Online Time Clocks for Nursing Home Providers
Kicking off our list of employee hour tracking software for nursing homes, we have our very own Buddy Punch. We first began development on this software when we were looking to improve our team's productivity and realized we'd have to transition away from manual methods of timekeeping if we wanted our staff to be held accountable for what they did while on the clock.
During our search for a digital employee time clock, we had a pretty focused list of criteria we wanted. Our chosen software had to be user-friendly (our team used a wide variety of devices, and some were more tech-savvy than others), come with strong features to ensure employees were on-task but not overwhelmed, and (this one was personal): streamline payroll. Unfortunately, we didn't really find a time clock that met all of these attributes.
So, we set off to develop our own.
Fast forward to today, where Buddy Punch has become the all-in-one solution for a variety of business owners, thanks to features like Job Codes, Drag & Drop Scheduling, Shift Trades & Covers, Facial Recognition, Managers Delegation, Customizable Reports, a Built-in Payroll System, and more.
Now let's dive into each of these features to help elaborate on why they'd be useful for nursing home providers.
Note: If you'd rather try out Buddy Punch for yourself, you can start a free 14-day trial by clicking here.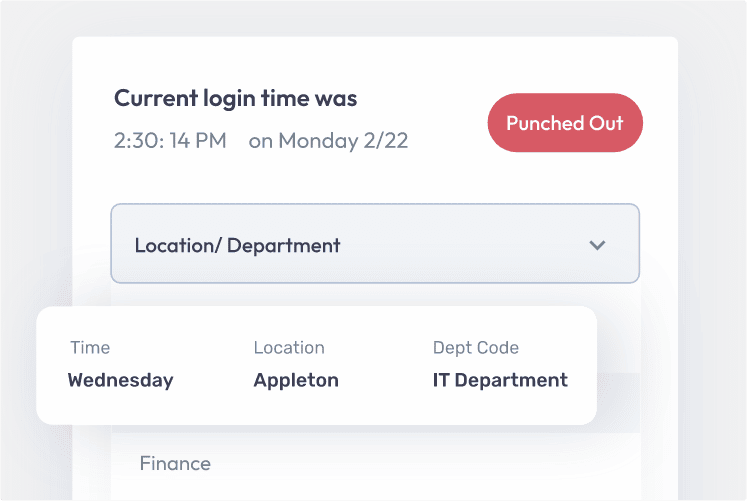 The Job Codes feature is great for any nursing home that wants to get a greater degree of transparency when it comes to the work their employees are completing while on the clock. With this, you can create a code for different types of jobs (hosting bingo, helping with speech therapy, etc.) and your employees will be able to clock into them when they punch in. They'll also be able to easily swap between codes as they work throughout their shift. Then, whenever you check their timecards, you'll see a breakdown of where they spent their time and for how long, which can help you calculate labor costs.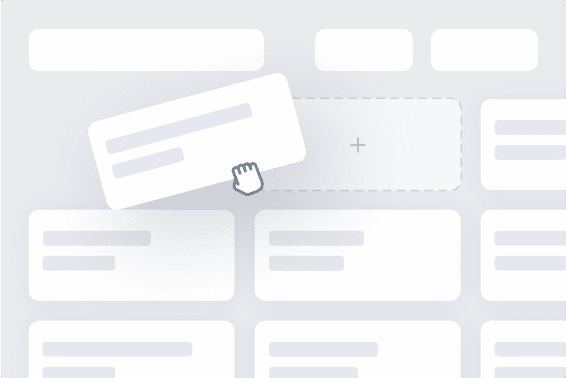 Buddy Punch's Drag & Drop Scheduling makes staffing a breeze to get through. Simply create a shift by clicking on an empty cell in Buddy Punch's interface, then move shifts around as needed until you've built a schedule you're happy with. Then publish it, upon which all scheduled employees will automatically receive a notification letting them know they have work.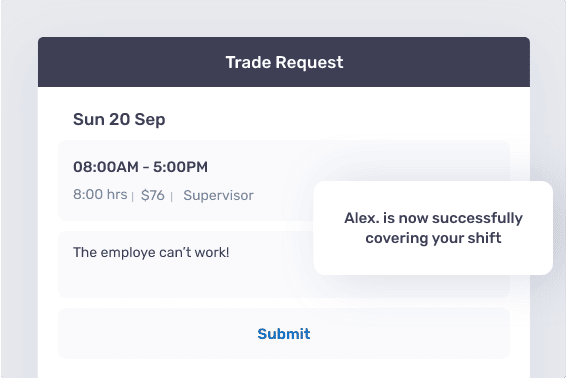 The Shift Trades & Covers Feature makes it much easier for nursing home owners to deal with scheduling conflicts. The shift trades feature lets employees, managers, and administrators trade shifts around depending on availability, where the covers feature will let your team members outright volunteer to take over shifts that can't be worked.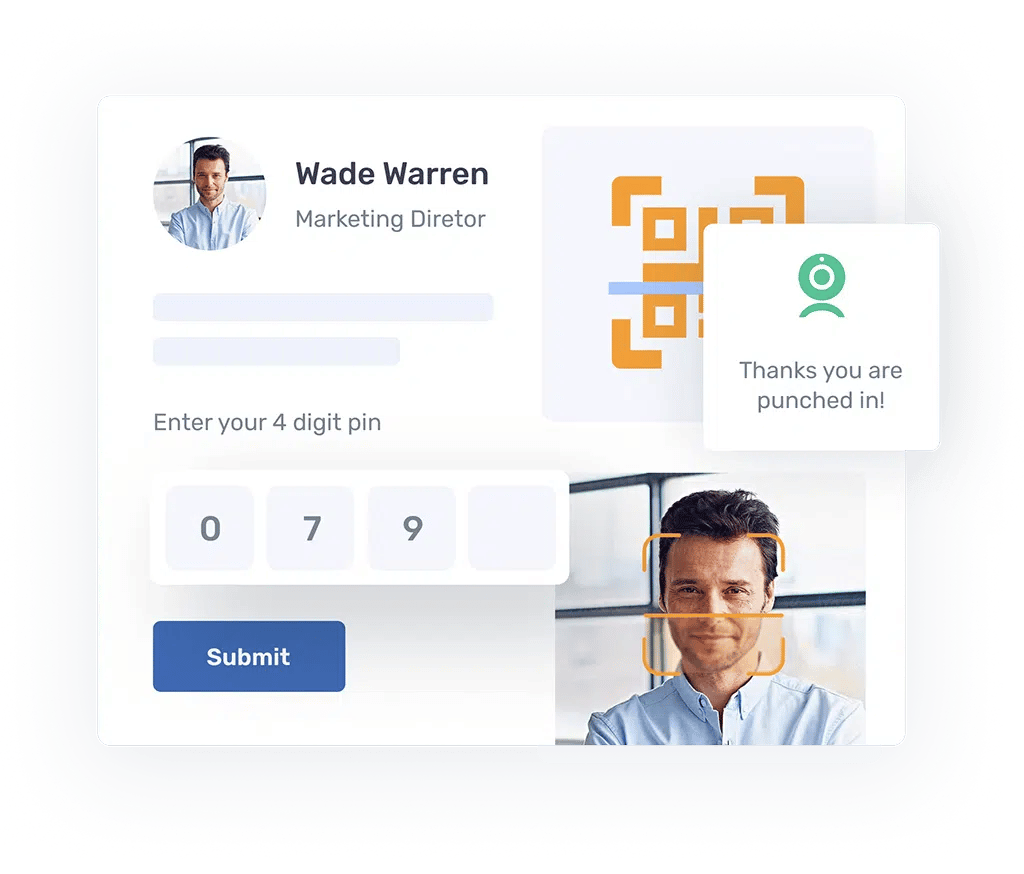 Want to ensure you're cutting down on time theft in your nursing home? The Facial recognition completely eliminates the odds that your employees are buddy punching for each other. This feature takes a picture of your employees as they clock in and compares that photo with one on file. Never again worry about what's happening with your employees' time entries, regardless of whether or not you're onsite.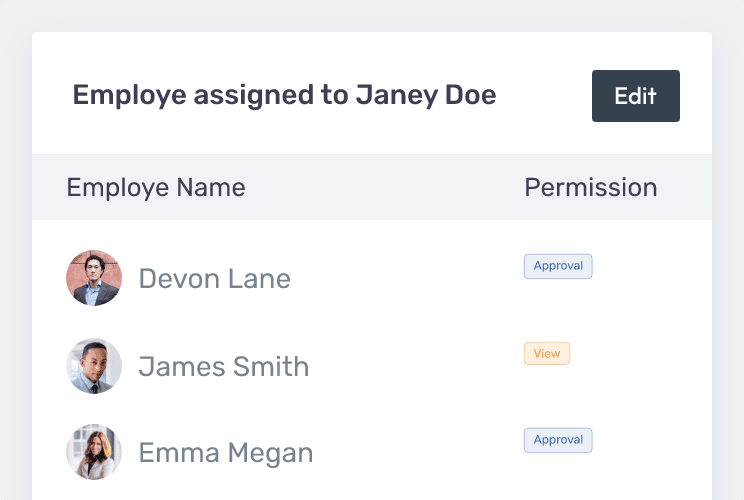 One unique feature Buddy Punch has is the ability to give an employee "manager" status in our software. Whether or not you want to include a title change and pay raise in person, the digital manager status will give employees either "view" or "approval" status over their fellow team members. With "View" status, they'll be able to see the timecards of the employees you assign to them. With "Approval" status, they'll be able to edit their timecards.
This turns Buddy Punch into more than just an automated tracking system, with your team members being able to keep each other accountable without you having to focus on it yourself.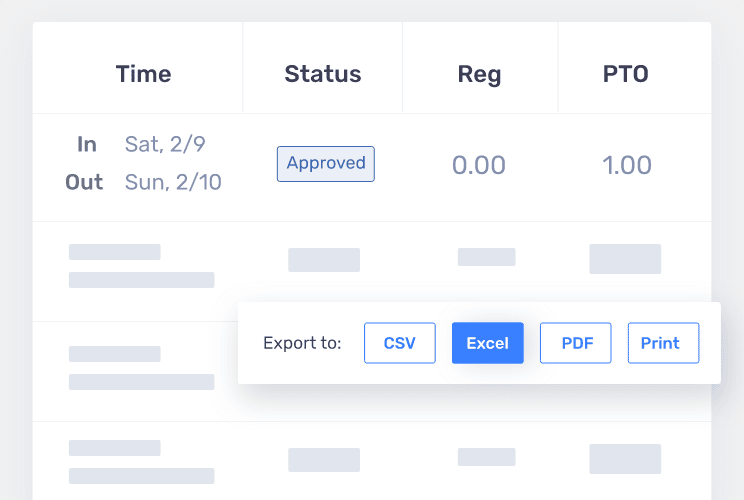 Buddy Punch offers several different customizable reports for care providers to generate, allowing you a detailed look at the numbers driving your service. From Payroll Exports to Hours Summaries or Employee Detail Reports, you can generate anything and everything as an Excel CSV or Adobe PDF.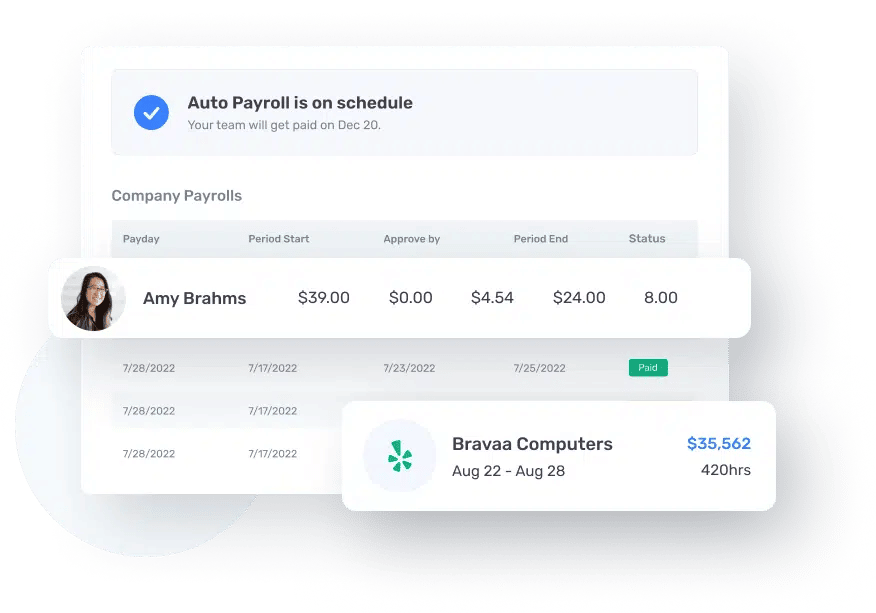 Buddy Punch can replace the need to use a third-party Payroll system to handle billing, invoicing, and payments in your business. This system – which can be added on to any paid plan – lets you handle integrated timesheets, automated payroll payments, unlimited payroll runs, and more (learn more about Buddy Punch's Payroll System here).

Buddy Punch Offers More to Nursing Home Providers
So far, we've only highlighted a select few of Buddy Punch's features, but it's important to note there's even more functions that are built in to the software:
Furthermore, the benefits of using Buddy Punch extend outside of our attendance software:
Buddy Punch was designed to work on any device with an internet connection, including mobile devices such as smartphones (iOS or Android) and tablets. You can book a one-on-one personalized demo here.
Buddy Punch's Online Reviews
As of this article's writing, Buddy Punch has 4.8 out of 5 stars and 725 reviews on Capterra.

Below, we'll list just a few reviews that speak to Buddy Punch's impact on workforce management. (Click here to explore the full list of reviews.)
"Pros: Easy to log in and review hours worked per day/week. I can send an Excel spreadsheet at the end of every two week period to track time, and vacation. Buddy punch has an app for my phone, but I prefer to log into the website on my phone."

Click here to read the full review.
"Pros: Buddy Punch is easy to use and user friendly for all ages, I clock in and out using buddy punch daily. I can go back and change my time if need, it shows when you have PTO, the exact time you clock in and out down to the second. I can clock in from my phone, laptop or desktop! Very convenient"

Click here to read the full review.
"Pros: What I love most about Buddy Punch is how simple it is for employees to clock in and out, add their lunch breaks, and write notes about their shifts. I also love how easy it is for me to import it into QuickBooks and pay payroll with it! Before I used Buddy Punch I was keeping time manually with 3 employees and it drove me crazy. Now I have over a dozen employees and I do not know what I would do without this software."

Click here to read the full review.
"Pros: I will say I truly do like working with Buddy Punch. Any time I have an issue, its immediately fixed and it seems like Buddy Punch is constantly taking customers issues and using those to fix the system overall. Every business is going to have issues, it's a matter of fixing them and improving"

Click here to read the full review.
As these reviewers noted, Buddy Punch is user-friendly and streamlines many aspects of employee management.

Try Buddy Punch for Free
If you feel that Buddy Punch might be the right fit for your business, sign up for a 14-day free trial. You can also book a one-on-one demo, or view a pre-recorded demo video.
As of this post's writing, Findmyshift has 740 reviews and 4.6 out of 5 stars on Capterra, which is no surprise seeing as it replaces the need for paper timesheets by providing features such as:
"FindMyShift is very straightforward and easy to use. Uploading your employee roster is simple. You can add multiple positions for the same emplyee on the same day, if need be. And the FindMyShift app is very easy to download and read."

(Click here to read the full review).
OnTheClock is a well-liked employee scheduling software that comes with features such as;
Like Buddy Punch, OnTheClock has a free trial you can use (no credit card) to decide if you like it or not. As of the writing date, OnTheClock has 4.7 out of 5 stars and 519 reviews on Capterra.
"I use OnTheClock the manage our medical simulation lab. It's extremely busy at all times. Each of our students must take shifts working in the lab. They can easily check schedules and clock in/out on their phone which makes it incredibly convenient."

Click here to read the full review.
Hubstaff helps you measure productivity, track time, automate payments, and more. Some of its other features include:
As of the writing date, Hubstaff has 4.6 out of 5 stars and 1290 reviews on Capterra.
"Hubstaff is a quick and easy way to track your time working on a project or projects. The software has many helpful features such as the ability to add or edit your tracked time in case you forget to clock in or out, as well as periodically taking and storing screenshots to help you see what you were working on at any given time (the screenshots are blurred so text is not visible, but you can see overall what was going on on the screen)."

Click here to read the full review.
Coast is a solid time tracking software that can keep you apprised of your team's activities across a variety of devices. Its features include:
"Hands down – the ability to customize my items to fit my company's unique needs. Most of other software I looked at were about 50-80% right for my needs. Coast fits 95+% because I can change things to what I need. Also, their customer service is amazing."

(Click here to read the full review.)
The Best Online Time Clock for Nursing Home Providers
Now that we've narrowed down the pool of time clock software to 5 of what we consider to be the best available options, you've still got a choice to make to determine which one you want to go with. Luckily, instead of having to trial each software one at a time to make a choice, you can pretty accurately narrow them down by looking closely at the features highlighted.
For example, if you're a big fan of reminders for your team (perhaps more than a few of them are known to be forgetful) you might like Findmyshift. If you run multiple nursing homes, you might like Hubstaff's geofence option.
Otherwise, if your only priority is having a time clock software that's easy for your team members to adapt to, comes with a wide variety of features that can be easily enabled or disabled at will, and has an accompanying customer support team that's helpful and useful, then you really can't go wrong with Buddy Punch.
Try Buddy Punch for Free
If you feel that Buddy Punch could be the right fit for your nursing home providers, sign up for a free trial. You can also book a one-on-one demo, or view a pre-recorded demo video.

You May Also Like…